| Home - Latest News | Introduction | Bayside Prophecies | Directives from Heaven | Order Form | Testimonies | Veronica Lueken | Miraculous Photos | Bible | Radio Program |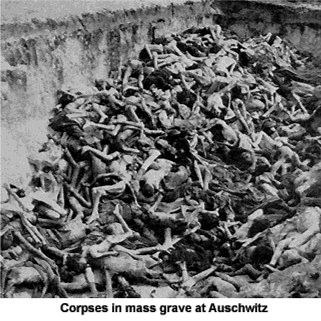 These Last Days News - March 28, 2012
Auschwitz in America...
"Who will be safe in your land, My children? You will one day grow old. Will you be a burden to your family, to be removed without heart? When you grow sick, you are ill, will you become too much of a burden to your society and they will remove you?" - Our Lady of the Roses, March 25, 1972
Orthodoxytoday.org reported on October 18, 2003:
by William J. Federer

Acceptance of Euthanasia in Weimar Germany Paved the Way for Nazi Barbarism.

Even before the rise of Adolf Hitler's Third Reich, the way for the gruesome Nazi Holocaust of human extermination and cruel butchery was being prepared in the 1930 German Weimar Republic through the medical establishment and philosophical elite's adoption of the "quality of life" concept in place of the "sanctity of life."

The Nuremberg trials, exposing the horrible Nazi war crimes, revealed that Germany's trend toward atrocity began with their progressive embrace of the Hegelian doctrine of "rational utility," where an individual's worth is in relation to their contribution to the state, rather than determined in light of traditional moral, ethical and religious values.

This gradual transformation of national public opinion, promulgated through media and education, was described in an article written by the British commentator Malcolm Muggeridge entitled "The Humane Holocaust" and in an article written by former United States Surgeon General, C. Everett Koop, M.D., entitled "The Slide to Auschwitz," both published in The Human Life Review, 1977 and 1980 respectively.

Muggeridge stated: "Near at hand, we have been accorded, for those that have eyes to see, an object lesson in what the quest for 'quality of life' without reference to 'sanctity of life' can involve ... [namely] the great Nazi Holocaust, whose TV presentation has lately been harrowing viewers throughout the Western world. In this televised version, an essential consideration has been left out -- namely, that the origins of the Holocaust lay, not in Nazi terrorism and anti-Semitism, but in pre-Nazi Weimar Germany's acceptance of euthanasia and mercy-killing as humane and estimable. ...

"It took no more than three decades to transform a war crime into an act of compassion, thereby enabling the victors in the war against Nazism to adopt the very practices for which the Nazis had been solemnly condemned at Nuremberg."

The transformation followed thus: The concept that the elderly and terminally ill should have the right to die was promoted in books, newspapers, literature and even entertainment films, the most popular of which were entitled "Ich klage an (I accuse)" and "Mentally Ill."

One euthanasia movie, based on a novel by a National Socialist doctor, actually won a prize at the world-famous Venice Film Festival! Extreme hardship cases were cited, which increasingly convinced the public to morally approve of euthanasia. The medical profession gradually grew accustomed to administering death to patients who, for whatever reasons, felt their low "quality of life" rendered their lives not worth living, or as it was put, lebensunwerten Lebens, (life unworthy of life).

In an Associated Press release published in the New York Times Oct. 10, 1933, entitled "Nazi Plan to Kill Incurables to End Pain; German Religious Groups Oppose Move," it was stated: "The Ministry of Justice, in a detailed memorandum explaining the Nazi aims regarding the German penal code, today announced its intentions to authorize physicians to end the sufferings of the incurable patient. The memorandum ... proposed that it shall be possible for physicians to end the tortures of incurable patients, upon request, in the interest of true humanity.

"This proposed legal recognition of euthanasia -- the act of providing a painless and peaceful death -- raised a number of fundamental problems of a religious, scientific and legal nature. The Catholic newspaper Germania hastened to observe: 'The Catholic faith binds the conscience of its followers not to accept this method.' ... In Lutheran circles, too, life is regarded as something that God alone can take. ... Euthanasia ... has become a widely discussed word in the Reich. ... No life still valuable to the State will be wantonly destroyed."

Nationalized health care and government involvement in medical care promised to improve the public's "quality of life." Unfortunately, the cost of maintaining government medical care was a contributing factor to the growth of the national debt, which reached astronomical proportions. Double and triple digit inflation crippled the economy, resulting in the public demanding that government cut expenses.

This precipitated the 1939 order to cut federal expenses. The national socialist government decided to remove "useless" expenses from the budget, which included the support and medical costs required to maintain the lives of the retarded, insane, senile, epileptic, psychiatric patients, handicapped, deaf, blind, the non-rehabilitatable ill and those who had been diseased or chronically ill for five years or more. It was labeled an "act of mercy" to "liberate them through death," as they were viewed as having an extremely low "quality of life," as well as being a tax burden on the public.

The public psyche was conditioned for this, as even school math problems compared distorted medical costs incurred by the taxpayer of caring for and rehabilitating the chronically sick with the cost of loans to newly married couples for new housing units.

The next whose lives were terminated by the state were the institutionalized elderly who had no relatives and no financial resources. These lonely, forsaken individuals were needed by no one and would be missed by no one. Their "quality of life" was considered low by everyone's standards, and they were a tremendous tax burden on the economically distressed state.

The next to be eliminated were the parasites on the state: the street people, bums, beggars, hopelessly poor, gypsies, prisoners, inmates and convicts. These were socially disturbing individuals incapable of providing for themselves whose "quality of life" was considered by the public as irreversibly below standard, in addition to the fact that they were a nuisance to society and a seed-bed for crime.

The liquidation grew to include those who had been unable to work, the socially unproductive and those living on welfare or government pensions. They drew financial support from the state, but contributed nothing financially back. They were looked upon as "useless eaters," leeches, stealing from those who worked hard to pay the taxes to support them. Their unproductive lives were a burden on the "quality of life" of those who had to pay the taxes.

The next to be eradicated were the ideologically unwanted, the political enemies of the state, religious extremists and those "disloyal" individuals considered to be holding the government back from producing a society which functions well and provides everyone a better "quality of life." The moving biography of the imprisoned Dietrich Bonhoffer chronicled the injustices. These individuals also were a source of "human experimental material," allowing military medical research to be carried on with human tissue, thus providing valuable information that promised to improve the nation's health.

Finally, justifying their actions on the purported theory of evolution, the Nazis considered the German, or "Aryan," race as "ubermenschen," supermen, being more advanced in the supposed progress of human evolution. This resulted in the twisted conclusion that all other races, and in particular the Jewish race, were less evolved and needed to be eliminated from the so-called "human gene pool," ensuring that future generations of humans would have a higher "quality of life."

Dr. Koop stated: "The first step is followed by the second step. You can say that if the first step is moral then whatever follows must be moral. The important thing, however, is this: Whether you diagnose the first step as being one worth taking or being one that is precarious rests entirely on what the second step is likely to be. ... I am concerned about this because when the first 273,000 German aged, infirm and retarded were killed in gas chambers there was no outcry from that medical profession either, and it was not far from there to Auschwitz."

Can this holocaust happen in America? Indeed, it has already begun. The idea of killing a person and calling it "death with dignity" is an oxymoron. The "mercy-killing" movement puts us on the same path as pre-Nazi Germany. The "quality of life" concept, which eventually results in the Hegelian utilitarian attitude of a person's worth being based on their contribution toward perpetuating big government, is in stark contrast to America's founding principles.

This philosophy which lowers the value of human life, shocked attendees at the Governor's Commission on Disability, in Concord, N.H., Oct. 5, 2001, as they heard the absurd comments of Princeton University professor Peter Singer.

The Associated Press reported Singer's comments: "I do think that it is sometimes appropriate to kill a human infant," he said, adding that he does not believe a newborn has a right to life until it reaches some minimum level of consciousness. "For me, the relevant question is, what makes it so seriously wrong to take a life?" Singer asked. "Those of you who are not vegetarians are responsible for taking a life every time you eat. Species is no more relevant than race in making these judgments."

Singer's views, if left unchecked, could easily lead to a repeat of the atrocities of Nazi Germany, if not something worse. Add to that unbridled advances in the technology of cloning, DNA tests that reveal physical defects, human embryos killed for the purpose of gathering stem cells to treat diseases ... and a haunting future unfolds before us. President Theodore Roosevelt's warning in 1909 seems appropriate:

"Progress has brought us both unbounded opportunities and unbridled difficulties. Thus, the measure of our civilization will not be that we have done much, but what we have done with that much. I believe that the next half century will determine if we will advance the cause of Christian civilization or revert to the horrors of brutal paganism. The thought of modern industry in the hands of Christian charity is a dream worth dreaming. The thought of industry in the hands of paganism is a nightmare beyond imagining. The choice between the two is upon us."

In his State of the Union address in 1905, Roosevelt stated:

"There are those who believe that a new modernity demands a new morality. What they fail to consider is the harsh reality that there is no such thing as a new morality. There is only one morality. All else is immorality. There is only true Christian ethics over against which stands the whole of paganism. If we are to fulfill our great destiny as a people, then we must return to the old morality, the sole morality. ... All these blatant sham reformers, in the name of a new morality, preach the old vice of self-indulgence which rotted out first the moral fiber and then even the external greatness of Greece and Rome."

In biblical comparison, Jesus showed mercy by healing the sick and giving sanity back to the deranged, but never did he kill them. This attitude is exemplified today by Mother Teresa of Calcutta, whose version of "death with dignity" was to gather the dying from off the street and show compassion to these rejected and abandoned members of the human race, all the while knowing that they may only survive for another half hour. Her "mercy-living" movement went to great trouble to house, wash and feed even the most hopeless and derelict, because of inherent respect for the "sanctity of life" of each individual.

This attitude is summed up in her statement: "I see Jesus in every human being. I say to myself, this is hungry Jesus, I must feed him. This is sick Jesus. This one has leprosy or gangrene; I must wash him and tend to him. I serve because I love Jesus."

Will America chose the "sanctity of life" concept as demonstrated by Mother Teresa, or will America chose the "quality of life" concept championed by self-proclaimed doctors of death -- such as in the case of the court-ordered starvation of Terri Schiavo -- and continue its slide toward Auschwitz? What kind of subtle anesthetic has been allowed to deaden our national conscience? What horrors await us? The question is not whether the suffering and dying person's life should be terminated; the question is what kind of nation will we become if they are. Their physical death is preceded only by our moral death.

Let Us All Pray the Rosary Together Around the World for the Defeat of the Euthanasia Movement... Click here...
"And I repeat again to all clergy in My Son's House: you shall not rationalize sin. Abortion is murder, and murder condemns you to hell without repentance! Euthanasia is murder, and murder condemns you to hell without repentance! The Commandments of your God must be followed, and no changes will be made upon them to suit the basic fallen nature of mankind." - Our Lady of the Roses, November 20, 1979
EDITOR'S COMMENT: Evil is accelerating and the Anti-Christ forces are gaining power in the world. When the persecution starts, all Christian web sites on the internet will be forced to close. Be sure to have in your possession all the following items: the Bayside Prophecy books, Bayside Medals, Douay-Rheims Bibles, the Protection Packets, Candles, Sacramentals, and Religious Books. Purchase these items now while they are still available! You will urgently need them in the days ahead. Also, you can print out all PDF files for the Directives from Heaven and all of the Bayside Prophecies. Copy Our Lady's messages and the Directives from Heaven now while they are still available! Pray to the Holy Spirit for wisdom and guidance on how to prepare now and for the days ahead when the Antichrist is revealed. God bless.
There are four sins that cry out to Heaven for vengeance (extreme punishment):
1) Willful murder.
2) The sin of Sodom.
3) Oppression of the poor.
4) Defrauding the laborer of his wages.
Euthanasia, abortion, physician-assisted suicide, mercy killing, and homosexuality cry out to Heaven for extreme punishment on the United States.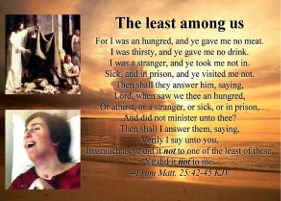 "Who will be safe in your land, My children? You will one day grow old. Will you be a burden to your family, to be removed without heart? When you grow sick, you are ill, will you become too much of a burden to your society and they will remove you?" - Our Lady of the Roses, March 25, 1972
The Awesome Bayside Prophecies... http://www.tldm.org/Bayside/default.htm
These prophecies came from Jesus, Mary, and the saints to Veronica Lueken at Bayside, NY, from 1968 to 1995:
EUTHANASIA
"The time will come, My child, when those who are upon the earth will envy those have passed beyond the veil. Insanity, sin. Sin is insanity. The aged will be put to death, the crippled will be put to death, the mentally ill will be eliminated. The value of life will be gone. The value for life will be destroyed. Murderers! Sanctioned among those with the power to destroy the souls!" – Jesus, March 18, 1974

TO MURDER THE ELDERLY
"My children, remove from your households all secular writings. Read only your Bible, the Book of love and life. Your children are being exposed to mind control. Your children are being taught to sin, to hate, to murder the elderly and the aged. Father against son, mother against daughter--strife within the household, as satan seeks to claim the souls of the young.
"The Commandments of the Eternal Father were written in full; the construction of My Son's Church was directed in full. All will be found written by the founding Fathers of the Church in the Bible, your Book of life and love." - Our Lady, May 23, 1979

TEMPLE OF THE HOLY SPIRIT
"No man shall murder--and it is murder, My children, when he shall give the excuse of saying an individual is no longer living or a part of the world because he has become emaciated, because he lives only with prayers and the help of all scientific means. The Eternal Father has placed a soul in that body. That body is the temple of the Holy Spirit! No man can know when that soul must return to the Eternal Father. No man shall hasten its exit from a body by murder! Euthanasia is murder! Shall you become a judge over the living and the dead?" - Our Lady, June 5, 1976

EXTERMINATION OF THE ELDERLY AND ILL
"Lucifer was cast from Heaven, but he retained much knowledge. He is the father of all liars. He is and was and still is a murderer and a promoter of murder. He will reverse the nature of the Christian if he can. He will have you create a monster while searching for scientific knowledge of the creation of life.
"He will promote in mankind a form of insanity, for sin is insanity. Man will descend to the level of the animal, degrading his body, committing murder, extermination of the elderly, extermination of the ill, destruction of the youth. Sorcery, drugs, witchcraft, My children. And don't laugh now: the snickers will be your downfall. Witchcraft is here now upon earth. It is no farce; it is no story; it is a fact. For it is diabolical, and the coming forth of demons." - Jesus, February 10, 1978

THE OLD SHALL LIVE IN FEAR
"Many are engaging in mass slaughter of the souls and the bodies of young children being given by the Father for a reason. They are placed on earth to bring glory to the Father in Heaven. However, they are being sent back to the Father with untimely deaths! Know now that you shall not escape the punishment due an ungrateful, degenerate generation. Man of science ever searching, but never finding the truth!
"It is a proven fact, My child, that when you take one step and go, it is like a habit. Murder will become a way of life. Charity of heart, charity to one's fellow man will diminish. All manner of iniquity will abound upon earth.
"The young shall be slaughtered. The old shall live in fear that they, too, will meet untimely ends, for the prince of darkness abounds upon your earth. He has captured the souls of many and using their human forms to do his will.
"Know, My children, that you gain nothing but an eternity of damnation when you have given yourselves to the ways of the world, the pleasures of the flesh and the devil. There is not one, not one, My child, My children, not one among you who can say that he will never die and pass over the veil. Judgment awaits each and every soul." – Our Lady, September 28, 1974

CONDEMNS TO HELL
"And I repeat again to all clergy in My Son's House: you shall not rationalize sin. Abortion is murder, and murder condemns you to hell without repentance! Euthanasia is murder, and murder condemns you to hell without repentance! The Commandments of your God must be followed, and no changes will be made upon them to suit the basic fallen nature of mankind.
"The road to Heaven, My children, is a narrow one; too few stay upon it. For they are often carried away with the cares of the world, and the pleasures of the materialistic pursuits, and their gathering of money and prestige and power. For what? For the few short years allotted to each human upon earth. I ask you to ask yourself: is it worth it to lose your soul? Many will sell their souls to get to the head." - Our Lady, November 20, 1979

START AND EXPIRATION OF LIFE
"The Eternal Father is much distressed by mankind's actions. They must not try to control the start and expiration of a life. Abortion is murder, My children, for you bring to an untimely end a mission of a soul. The Eternal Father breathes the spirit of life into the body at the moment of conception. No man shall destroy this body until it has completed its mission as directed by the Eternal Father, for any man who destroys the mission and the body is guilty of murder. Euthanasia, untimely death, My children, man has transgressed into a form of evil far worse than in the time of Noe or Sodom. Therefore, how great shall be the punishment to mankind!" - Our Lady, June 12, 1976

GREAT CHASTISEMENT
"My child and My children, the murders of the unborn will bring great chastisement upon the United States, Canada, and the nations of the world, that are now contributing not only to the delinquency of your children and the world's children, but are condoning murder and euthanasia. Euthanasia, My child and My children, is murder!
"We have been very patient. The Eternal Father has voiced His decision within My hearing, and I tell you, My children, your chastisement is just at hand." - Jesus, July 1, 1985

DOCTORS OF THE EARTH
"I have, O woe to man, this saddest of stories: one of man against man, brother against brother, mother against daughter, father against son, in the battle of the spirits. Now, O poor aged and helpless, poor on earth, you will now be victims of your own. Doctors of the earth, what have you done to yourselves in your practices? You do not seek to preserve life, but to destroy." – Our Lady, March 18, 1973
Directives from Heaven... http://www.tldm.org/directives/directives.htm
D23 - Abortion PDF Order copies...
D247 - Euthanasia and Murder PDF Order copies...
D314 - God's Plan for Every Life PDF Order copies...
D371 - The Aged and Infirm PDF Order copies...
D380 - The Ruling Elite PDF Order copies...
Articles...
Archbishop Burke warns U.S. legal infanticide, euthanasia are next
http://www.tldm.org/News10/EuthanasiaArchbishopBurke.htm

Euthanasia is murder
http://www.tldm.org/news6/euthanasia1.htm

Catholic hospitals defy John Paul II on feeding tubes
http://www.tldm.org/News6/euthanasia2.htm

Pope John Paul II said euthanasia "seeks to establish who can live and who must die"
http://www.tldm.org/news7/euthanasia3.htm

Cardinal Pell calls for "whole new form" of democracy and asks: "Does democracy need abortion, euthanasia and pornography to be democratic?"
http://www.tldm.org/news7/pell2.htm

Earlier screening for Down's Syndrome may fuel eugenic pogrom against disabled
http://www.tldm.org/news8/euthanasiadown%27ssyndrome.htm

Netherlands set to give go ahead to child euthanasia
http://www.tldm.org/news8/euthanasianetherlands.htm

Catholics in UK carrying ID cards asking not to be starved to death in hospitals
http://www.tldm.org/News10/UKCatholicsCarryingIDcards.htm
Place a Crucifix on the outside of your front and back door... The only real protection against terrorists...
Jesus - "Pray and wear your sacramentals. And, also, My children, I ask you again to place a crucifix upon your door. Both front and back doors must have a crucifix. I say this to you because there will be carnage within your areas, and this will pass you by if you keep your crucifix upon your doors." (6-30-84) (Testimonies of lives and homes saved by the crucifixes.) http://www.tldm.org/news/crucifix.htm
Heaven's Home Protection Packet...
Our Lord stated we must have crucifixes upon the outside of all of our outside doors. In the "Heaven's Home Protection Packet" there are instructions, four crucifixes, and a tube of special cement for wooden or metal crucifixes. Wooden crucifixes adhere better to the doors when the aluminum strap is removed from the back. Put a light coat of cement on the back of the crucifix and then press it to the outside of the door. If you have any problems, you can call us at 616-698-6448 for assistance. This Heaven's Home Protection Packet is available for a donation of $5.00 plus $3.00 shipping and handling. Send $8.00 to TLD Ministries, P.O. Box 40, Lowell, MI 49331. Item # P15 (Order Form)
Heaven's Personal Protection Packet . . .
Our Lady tells us to be protected from all evil, we must wear the following sacramentals around our necks: a rosary, a crucifix, the St. Benedict medal, Our Lady of the Roses medal, the Miraculous Medal, and the scapular. We have all of these sacramentals in a packet we call "Heaven's Personal Protection Packet." This packet is available for a donation of $5.00 plus $3.00 shipping and handling. Send $8.00 to TLD Ministries, P.O. Box 40, Lowell, MI 49331. Item # P5 (Order Form)
Our Lady of the Roses, Mary Help of Mothers promises to help protect our children. On September 13, 1977, She said, "He has an army of ogres wandering now throughout your country and all of the countries of the world. They are in possession of great power; so wear your sacramentals, and protect your children and your households. Learn the use every day of holy water throughout your household. Insist even with obstructions, insist that your children always wear a sacramental. One day they will understand that they will repel the demons."
On February 1, 1974, Our Lady said, "My children, know the value of these sacramentals. Guard your children well. You must awaken to the knowledge that you will not be protected without the sacramentals. Guard your children's souls. They must be surrounded with an aura of purity. Remove them if necessary from the sources of contamination, be it your schools or even false pastors."
This Heaven's Personal Protection Packet is available for a donation of $5.00 plus $3.00 shipping and handling. Send $8.00 to TLD Ministries, P.O. Box 40, Lowell, MI 49331. You may use your MasterCard, VISA, or American Express and call 1-616-698-6448. Item # P5 (Order Form)
The Virgin Mary's Bayside Prophesies book . . .
The six volumes have all of Our Lady's Bayside messages from 1970 through 1994. Some of these have never been published before. This is a type of a survival book. It tells what is coming and how to prepare for it spiritually and materially. It is a must book for the days ahead. This is a great way to spread Our Lady's messages to our family, friends and relatives. Item #001 Cost $6.95 (Order Form)
Incredible Bayside Prophecies on the United States and Canada book . . .
We have researched the Bayside Prophecies on the United States and Canada and put these outstanding prophecies in a 360 page pocket size paperback book. Veronica said it was very good. It tells what is going to happen here and how to prepare for it. Every North American must read this book! Item #B2 Cost $5.00 (Order Form)
Your names have been written in Heaven… "It is not by accident that you are called by My Mother, for your names have been written in Heaven.... But with this great grace you have great responsibility to send this Message from Heaven throughout the world, for if you are able to recover just one more for Heaven, an additional star shall be placed in your crown." - Jesus, August 5, 1975
A great obligation to go forward... "It is not by accident that you are called by My Mother, for it is by merit and the prayers that have risen to Heaven for your salvation. For those who have received the grace to hear the Message from Heaven, you have a great obligation to go forward and bring this Message to your brothers and sisters. Do not expect a rest upon your earth, for you will have eternal rest very soon." - Jesus, June 12, 1976
The sin of omission... "The sin of omission shall condemn many to hell, be they layman or Hierarchy. I repeat: not the sin of commission, but the sin of omission will commit many to hell." - Our Lady of the Roses, October 6, 1980
We encourage everyone to print or email copies of this web page to all the Bishops and all the clergy. Also, email or send this web page to the news media and as many people as possible.
| Home - Latest News | Introduction | Bayside Prophecies | Directives from Heaven | Order Form | Miracles & Cures | Veronica Lueken | Miraculous Photos | Bible | Radio Program |
The electronic form of this document is copyrighted.
Quotations are permissible as long as this web site is acknowledged with a hyperlink to: http://www.tldm.org
Copyright © These Last Days Ministries, Inc. 1996 - 2012. All rights reserved.
P.O. Box 40 616-698-6448
Lowell, MI 49331-0040
Revised: March 29, 2012