| Home - Latest News | Introduction | Bayside Prophecies | Directives from Heaven | Shopping Cart | Testimonies | Veronica Lueken | Miraculous Photos | Bible | Radio Program |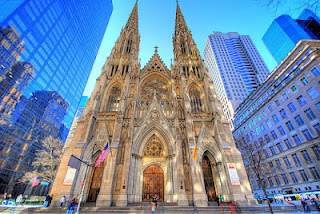 These Last Days News - April 19, 2012
If America Were A Fully Catholic Country, Here is What It Might Look Like...
"Learn a simple lesson from the past, My children. When the morals of a country start to go down into darkness, and the teachings turn from God to man, that country will soon be ended. First the spiritual life and then the material life of your country shall be destroyed." - Jesus, October 2, l976
Canterbury Tales reported on March 5, 2012:
As Catholics, we believe the principle of Saint Thomas Aquinas that grace perfects, heals, and elevates nature. The Catholic Church is the divinely appointed institution that gives the grace of Christ to the world. The State is a natural institution for the natural well-being of human society. The Church, then, should perfect the State just as grace perfects nature.

So then, what if we Catholics lived holy lives and lovingly evangelized as we should? What would the United States look like?

Americans, conditioned by our history, are very concerned about "our rights." So before looking at what a Catholic America might look like, let us establish that all human rights are given to us by the Creator. As our Declaration of Independence rightly explains: "they are endowed by their Creator with certain unalienable Rights."

Human rights, then, are not arbitrary but conform to what God has given and allowed. The right to life is one such right. Freedom of speech is a right, but it is limited so as to exclude blasphemy of God. God does not give us a "right" to acts which are contrary to His nature. He gives us a free will and we can sin with it, but He does not give us the protected "right" to sin. Nobody on Judgment Day will protest, "But I had the RIGHT to curse you and commit mortal sins!"

So then, God does not give us the "right" to curse Him, the "right" to kill innocents, nor the "right" to commit sodomy. The rights given by the Creator always conform to the law of the Creator.

With all this mind, what if America were a fully Catholic country, here is what it might look like...

The newly elected president would recite his oath of office, not only with his hand on the Holy Bible, but kneeling before the Blessed Sacrament in a monstrance held by the Cardinal Archbishop of Washington, DC. within the Shrine of the Immaculate Conception in Washington, DC. In other words, the President would make his oath directly to Christ.
January 21, the anniversary of Roe v. Wade, would be a perennial day of national penance.
Holy Matrimony would be honored and recognized as the most fundamental unit of American culture.
Large families would be encouraged and assisted through the US tax code.
The White House would no longer have a basketball court or bowling alley, but a glorious and beautiful chapel where the Holy Sacrifice of the Mass would be celebrated daily by a presidential Catholic chaplain.
Abortion, contraception, sodomy, euthanasia, and divorce would be illegal as these sins are contrary to the natural law. Of course, abused wives would be protected and assisted under law.
Public blasphemy and the abuse of the most holy name of

Jesus would be forbidden in film, television, and music. Think about it: why is not okay to say the F-word on TV but actors are allowed to mock and blaspheme Jesus? Which is worse, abusing God's name in vain or the F-word?
The United States would have the greatest foster care system in the world.
The Catholic Church,

not the State, would organize and perform the Seven Corporal Acts of Mercy (feeding the poor, clothing the naked, caring for the sick, etc.)
US courtrooms would have both the Ten Commandments and a Crucifix of Christ on the wall to proclaim the Justice of God and the Divine Mercy of God.
All Holy Days of Obligation would become federal holidays and Days of Obligation wouldnot

be transferred to Sundays since they would become holidays for all citizens. Ash Wednesday and Good Friday would also become nationally recognized holidays.
According to Saint Thomas Aquinas, the natural law prescribes that parents, not the State, are primarily responsible for the education of children. Saint Paul says: "And you, fathers...educate your children in the discipline and correction of the Lord." It is the job of fathers, not the State, to educate. This truth of Saint Paul would be recognized by law and encouraged through homeschooling, educational co-ops, parochial schools, and locally governed public schools on the pattern of subsidiarity.
Mary under her title "Immaculate Conception" is currently the patroness of the United States. She would become featured on our national seal and on our currency.
Streets, landmarks, parks, national monument, and our currency would be marked by the names and images of great American saints (St Elizabeth Anne Seton, St Katherine Drexel, St John Neumann, St Francesca S. Cabrini, St Rose Philippine Duchesne, St Damien of Molokai).
American foreign policy would conform to Catholic teaching regarding just war and prohibiting global policing and so-called "preventive wars."
A cross would be placed on top of the Washington Monument.
The solemnity of the Immaculate Conception would be a day in which the American bishops and all the faithful annually consecrated the nation to the Immaculate Heart of Mary.
Under the patronage of the Immaculate Conception, the United States would become known for its Marian devotion in a way that would rival medieval France and England.
The principle of subsidiarity would apply to our economic and political arrangement - which would include things like the encouragement of local natural food, local water, local governance, etc.
The sin of usury in form of credit cards, school loans, and other disadvantaging lending policies would be criminalized as contrary to natural law.
Our immigration policy would be firm, merciful and just by including a clear and regularized process for citizenship.
Pornography and even unwholesome advertisements and billboards would be outlawed.
America would be known as a place where the dignity of women, especially motherhood, is celebrated.
The bishops nationally or locally could ask civil leaders to appoint certain days as days of national thanksgiving or as days of penance or mourning.
The clergy (but especially our archbishops and bishops) would not live like royalty in mansions as in previous years but would live penitent and poor lives like great bishops of old such as St Martin of Tours, St Francis de Sales, St Augustine, and St Bonaventure.
The meetings of the Senate and Congress would begin with the Holy Sacrifice of the Mass and with prayers and benedictions from the clergy.
Red Masses invoking the aid of the Holy Spirit would be celebrated regularly to beg prudence for judges, attorneys, law school professors, students, and government officials.
Those of different religions would be tolerated and by no means forced to convert to Catholicism. Conversion, as the Popes have taught, is an act of the will and people shouldnot

be forced through political coercion.

This is what I'm praying for and this is what I'm working for. Not by force, but by patience, penance, and kindness. As Saint Paul wrote:

"Knowest thou not that the benignity of God leadeth thee to penance?" (Romans 2:4)

It's not enough to be on defense. It's not enough to "fix" the HHS debacle. It's not even enough to overturn Roe v. Wade. We have to be like the early Christians. We have to think like Saint Paul who wanted to convert not only individual souls but the entire Roman Empire. As the Apostle once wrote: "To re-establish all things in Christ!" (Eph1:10), which much later became the motto of Pope Saint Pius X: Instaurare omnia in Christo!

Addressing Some Objections:

1) This sounds medieval? Why go back?

Well, it's not nostalgia for the past. In fact, it is looking to the future. It's a desire to see Christ the King recognized for what He truly is "King of Kings and Lord of Lords." To think that a nation can be "not religious" is perhaps a case of modern naiveté.

2) How is this different than Sharia Law of the Mohammadans?

The difference is that the Church is distinct from the State. Islam does not have a concept of Church, but only the State. Moreover, Catholicism is the true religion and is most suited human flourishing. Islam is a false religion which does not embrace human dignity or recognize the goal of humanity in the Beatific Vision. Since Islam is based on a "master/slave" arrangement and not a "father/son" arrangement, it is politically dangerous and threatens the dignity of persons.

3) But what about separation of Church and State?

We must also affirm the public teaching of Pope Blessed Pius IX who condemned the separation of the Church from the State. Pope Blessed Pius IX taught that the following statement as an error and contrary to the Catholic Faith:

CONDEMNED: "The Church ought to be separated from the State, and the State from the Church." Syllabus of Errors, 55.

In other words, Catholics can not and should not believe in the so-called "separation of Church and State." This would be like believing in the separation of grace and nature...or worse in the separation of Christ's divine nature from His human nature. As Catholics, we long to see nature perfected by grace, not separated from grace.
"A country is known by the moral values, My children. In the history of your world, if you consult and look, My children, you will find that your country and many in your world are now proceeding along the same course taken before the fall of an empire!" - Our Lady of the Roses, February 10, 1976

Let Us All Pray the Rosary Together Around the World for our Elected Officials... Click here...
The awesome Bayside Prophecies... http://www.tldm.org/Bayside/default.htm
These prophecies came from Jesus, Mary, and the saints to Veronica Lueken at Bayside, NY, from 1968 to 1995:
PUT INTO YOUR GOVERNMENT GOD-FEARING MEN
"You must inform My children in your country that they must put into your government God-fearing men who follow the rules of the Father. If you bring murderers into the house, robbers and thieves, they will rob you until nothing remains. You will be stripped of all earthly wealth and this wealth will be turned over to one small group to govern the lives of many!" - Our Lady, November 1, 1974

TOO PROUD AND ARROGANT
"Pray, My children, a constant vigilance of prayer. I ask you in your country, the Americas, to pray, or you shall follow the same path as Portugal. The forces of evil are gathering within the United States. Your leaders are giving themselves to corruption, too proud and arrogant to be simple of heart and get down on their knees to beg guidance from the Eternal Father in Heaven.
"By their fruits will they be known. My children, you will recognize the faces of evil and the forces of evil about you! It is a sad fact that those who are leaders are setting examples of depravity, debasement. They cover themselves with the spirit of darkness. You will pray much for your leaders. All that is rotten will fall." – Our Lady, August 21, 1975

LIKE DUCKS
"Many are now proceeding as sheep to the slaughter. They travel with their leaders, neither thinking nor caring nor reasoning for the truth. They are truly, My children, like ducks fast going downstream and caught in a whirlpool to their own destruction. It is a game most disastrous of playing follow the leader. And who are your leaders, My children? They are souls that have been taken over by satan, and now are under his rule. Pray for them. Until they leave their human bodies, they still can be recovered. Pray for their conversion." – Our Lady, August 5, 1976

COMPLETE CAPITULATION
"Yes, My children, there are forces now gathering to dim the light in your world, to turn your world over to satan. Already in your country, America the once beautiful, the once strong—America, the United States, that has chosen to cast aside the light and go into darkness—yes, already many of the leaders of your country are falling in with the plan for the complete capitulation of your country to satan and world slavery under a one rule and a one religion. And this religion will have no resemblance to that given to you by My Son." - Our Lady, February 10, 1978

FALLEN TO SATAN
"We send from the Eternal Kingdom of the Lord high God in Heaven a warning to mankind. A great War will be soon upon you, claiming many lives throughout your earth. You will prepare yourselves and the souls of those you love.
"Your country has fallen to satan. Many countries throughout your world have given themselves to satan. The leaders in your country need many prayers." – St. Michael, June 18, 1975
EDITOR'S COMMENT: Evil is accelerating and the Anti-Christ forces are gaining power in the world. When the persecution starts, all Christian web sites on the internet will be forced to close. Be sure to have in your possession all the following items: the Bayside Prophecy books, Bayside Medals, Douay-Rheims Bibles, the Protection Packets, Candles, Sacramentals, and Religious Books. Purchase these items now while they are still available! You will urgently need them in the days ahead. Also, you can print out all PDF files for the Directives from Heaven and all of the Bayside Prophecies. Copy Our Lady's messages and the Directives from Heaven now while they are still available! Pray to the Holy Spirit for wisdom and guidance on how to prepare now and for the days ahead when the Antichrist is revealed. God bless.
Directives from Heaven... http://www.tldm.org/directives/directives.htm
D104

-

Invasion

PDF
Order copies...
D134

-

U.S. Government Leaders

PDF
Order copies...
D156

-

Terrorism

PDF
Order copies...

D158

-

America the Beautiful

PDF
Order copies...
D224 -

Restore America to One Nation Under God

PDF
Order copies...
D313 -

American Cities

PDF
Order copies..

.
D353 -

Dark Clouds Over America

PDF
Order copies..

.
There are 4 things you must have to survive the days ahead:
1.) The Douay-Rheims Holy Bible...
"You must all obtain a copy of the Book of life and love, the Bible. Do not accept the new mods. Try to find in your bookstores the old Bibles, My children, for many are being changed to suit the carnal nature of man. I repeat, sin has become a way of life." - Our Lady, October 6, 1992
"I must ask you all to read but a few short chapters a day now, the Book of life and love, your Bible. Knowledge must be gained for all the disciples of My Son, for you will be attacked by scientific minds. But do not be concerned what you will say to them when accosted, for the words will be given to you by the Spirit." - Our Lady, April 10, 1976 (Order Form)
2.) The total Virgin Mary's Bayside Prophecies in 6 paperback books...
The Virgin Mary brings directions from God, the Father in Heaven on how to survive the end times. God, the Father, through the Virgin Mary, tells what is coming, how to prepare for it, how to survive it, and how to even stop it. These six volumes along with the Bible are most important to save yourself and your loved ones. Order it now. Tomorrow may be to late. These 6 pocket size paperback books costs $33.00. (Order Form)
3.) Heaven's Home Protection Packet...
Heaven's Home Protection Packet...
Our Lord stated we must have crucifixes upon the outside of all of our outside doors. In the "Heaven's Home Protection Packet" there are instructions, four crucifixes, a tube of special cement for wooden or metal crucifixes. Wooden crucifixes adhere better to the doors when the aluminum strap is removed from the back. Put a light coat of cement on the back of the crucifix and then press it to the outside of the door. If you have any problems, you can call us at 616-698-6448 for assistance. This Heaven's Home Protection Packet is available for a donation of $5.00 plus $3.00 shipping and handling. Send $8.00 to TLD Ministries, P.O. Box 40, Lowell, MI 49331. Item # P15 (Order Form)

Crucifix on front and back door... The only real protection against terrorists...

Jesus - "Pray and wear your sacramentals. And, also, My children, I ask you again to place a crucifix upon your door. Both front and back doors must have a crucifix. I say this to you because there will be carnage within your areas, and this will pass you by if you keep your crucifix upon your doors." (6-30-84) (Testimonies of lives and homes saved by the crucifixes.) http://www.tldm.org/news/crucifix.htm (Order Form)
4.) Heaven's Personal Protection Packet...
Heaven's Personal Protection Packet . . .

Our Lady tells us to be protected from all evil, we must wear the following sacramentals around our necks: a Rosary, a crucifix, the St. Benedict medal, Our Lady of the Roses medal, the Miraculous Medal, and the scapular. We have all of these sacramentals in a packet we call "Heaven's Personal Protection Packet." This packet is available for a donation of $7.00 plus $3.00 shipping and handling. Send $10.00 to TLD Ministries, P.O. Box 40, Lowell, MI 49331. Item # P5 (Order Form)

Our Lady of the Roses, Mary Help of Mothers promises to help protect our children. On September 13, 1977, She said, "He has an army of ogres wandering now throughout your country and all of the countries of the world. They are in possession of great power; so wear your sacramentals, and protect your children and your households. Learn the use every day of holy water throughout your household. Insist even with obstructions, insist that your children always wear a sacramental. One day they will understand that they will repel the demons."
On February 1, 1974, Our Lady said, "My children, know the value of these sacramentals. Guard your children well. You must awaken to the knowledge that you will not be protected without the sacramentals. Guard your children's souls. They must be surrounded with an aura of purity. Remove them if necessary from the sources of contamination, be it your schools or even false pastors."
This Heaven's Personal Protection Packet is available for a donation of $7.00 plus $3.00 shipping and handling. Send $10.00 to TLD Ministries, P.O. Box 40, Lowell, MI 49331. You may use your MasterCard, VISA, or American Express and call 1-616-698-6448. Item # P5 (Order Form)

Your names have been written in Heaven… "It is not by accident that you are called by My Mother, for your names have been written in Heaven.... But with this great grace you have great responsibility to send this Message from Heaven throughout the world, for if you are able to recover just one more for Heaven, an additional star shall be placed in your crown." - Jesus, August 5, 1975

A great obligation to go forward... "It is not by accident that you are called by My Mother, for it is by merit and the prayers that have risen to Heaven for your salvation. For those who have received the grace to hear the Message from Heaven, you have a great obligation to go forward and bring this Message to your brothers and sisters. Do not expect a rest upon your earth, for you will have eternal rest very soon." - Jesus, June 12, 1976

The sin of omission... "The sin of omission shall condemn many to hell, be they layman or Hierarchy. I repeat: not the sin of commission, but the sin of omission will commit many to hell." Our Lady of the Roses, October 6, 1980

We encourage everyone to print or email copies of this web page to all the Bishops and all the clergy. Also, email or send this web page to the news media and as many people as possible.

| Home - Latest News | Introduction | Bayside Prophecies | Directives from Heaven | Order Form | Miracles & Cures | Veronica Lueken | Miraculous Photos | Bible | Radio Program |

The electronic form of this document is copyrighted.
Quotations are permissible as long as this web site is acknowledged with a hyperlink to: http://www.tldm.org
Copyright © These Last Days Ministries, Inc. 1996 - 2012 All rights reserved.
P.O. Box 40 616-698-6448
Lowell, MI 49331-0040
Revised: April 19, 2012