| Home - Latest News | Introduction | Bayside Prophecies | Directives from Heaven | Order Form | Testimonies | Veronica Lueken | Miraculous Photos | Bible | Radio Program |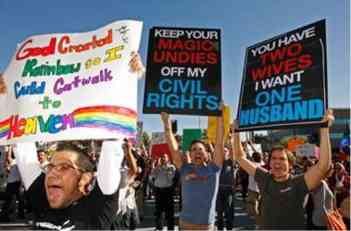 These Last Days News - March 8, 2012
Militant Homosexuals Have Increased Their Attacks on Priests, Especially Those Who Stand Up to Them...
"Any country that allows homosexuals to roam and to seduce the young shall be destroyed." - Our Lady of the Roses, June 30, 1984
La Nueva Primavera reported on March 3, 2012:
It is an unfortunate fact that we live in an age when the priesthood is under assault like never before. Nowhere is that assault more visible than in the culture war of homosexuality.

Homosexuals have made great gains in their quest of acceptance by using the courtroom and cloaking themselves in the mantle of Civil Rights. However, mere acceptance is not enough. Militant homosexuals will accept nothing less than unconditional approval from all sectors of society and will stop at nothing to destroy anyone who stands in their way. There is apparently a three-pronged attack on the priesthood, orchestrated by militant homosexuals and almost transparent in its obviousness for those who take the trouble to look beyond the headlines.

PRONG #1: INFILTRATE AND DISCREDIT THE PRIESTHOOD

It is hard to find any diocese in the United States that does not have a significant number of homosexual priests. However, we must be careful not to assume a priest is homosexual simply because he is soft-spoken, effeminate or has "that look". There are many effeminate men in this world who are perfectly normal in their sexual proclivities (think Brian Eno).

However, it cannot be denied that, generally, priests as a group are much more effeminate than they were two generations ago. In his book, Goodbye Good Men, author Michael Rose documents well how dioceses and seminaries across the country have been dominated by homosexuals for at least two decades.

Does this mean homosexuals are automatically bad people? No. What it means is that a homosexual priest is far less likely to freely teach what the Church teaches about human sexuality and other moral issues, because doing so would be a contradiction to his instincts (and, sometimes, lifestyle). So to change the way the Church teaches, homosexuals have attempted to infiltrate and take over the priesthood. They have been very effective.

PRONG #2: USE THE SULLIED REPUTATION OF THE PRIESTHOOD TO ATTACK PRIESTS

The result of the infiltration of the priesthood has been a sexual abuse crisis the likes of which Christianity has never seen before. The crisis, unearthed to the public at large in 2002, was so widespread that the USCCB commissioned a special study by the John Jay College of Criminal Justice. After finding that the report did not tell them what they wanted to hear, its findings have been downplayed: The majority of victims were adolescent males (translation: The offending priests were homosexuals).

Thanks to the homosexual infiltration of the priesthood, we have spent billions of dollars in settlements, had the unprecedented event of states lifting the statute of limitations on sex abuse cases (only in cases involving the Catholic Church, of course) and a new class of attorneys making a career out of suing dioceses.

If that's not enough, now whenever there is any story of any controversy surrounding a priest or bishop, you can count on at least one letter to the editor that begins like this:

"What do you expect from a closeted Church run by a bunch of child molesters..."

PRONG #3: USE THE "CIVIL RIGHTS" ARGUMENT TO DISCREDIT AND REMOVE PRIESTS WHO UPHOLD CHURCH TEACHING

Finally, now that the priesthood is under the cloud of suspicion that homosexuals themselves created for the Church, their final target are the true believers, the priests who refuse to be timid in their practice of teaching the Church and defending Her honor. Thankfully, less than 2 percent of all ordained priests have been involved with sexual abuse and there are still priests among us who teach the dogmas of the faith without compromise. As soon as a homosexual learns of one,the setup begins. These priests have to go. They not only have to go, they have to be disgraced as hate-filled bigots. And it's not hard to do, since most Catholics have been lulled to sleep with candy-coated religion for almost four decades now. Instead of defending these good priests, the average Catholic in the pew will join their voices with the Gay Lobby. Which brings us to our first Fall-Guy Priest:

Father Marcel Guarnizo

Father Guarnizo, as you probably know by now, officiated at a funeral Mass in the Archdiocese of Washington, D.C. last week, where he denied Communion to lesbian Barbara Johnson. Johnson claims that Fr. Guarnizo refused her Communion after learning just before the service about her lesbian relationship with her partner. However, it's not quite so simple as just a refusal of Holy Communion because of Johnson's sexual orientation. Canonists and hair-splitters are denouncing Fr. Guarnizo's actions because they insist he did not properly apply Canon 915, specifically, he did not discuss her gravely sinful and public situation with her and give her ample opportunity to repent (and go to Confession). In Barbara Johnson's case, true repentance would mean ending her lesbian "lifestyle" and no longer co-habitating with a woman she publicly boasts of as her lover. However, they were apparently not the only ones in the sacristy before Mass. A commenter on Deacon Greg Kandras' blog wrote this:

I happen to know "First hand" that Barbara went into the sacristy before the mass and introduced herself as a lesbian in an active lesbian relationship… introducing her partner as "her lover" (her words). She left the sacristy before Fr. could have the "private discussion" you talk about. Barbaras "Lover" blocked his way out of the sacristy when he attempted to speak with her further.

This testimony is also confirmed by Diego von Stauffenberg in a story at LifeSite News.

So it appears that Fr. Guarnizo was put in a very difficult position. He made a "battlefield decision" to protect the Blessed Sacrament by being profaned and the results are obvious: The Gay community is calling for his head. If this woman was raised Catholic, then she surely knew that her lifestyle is a polar opposite of what is permitted by the Catholic Church. Given her age, she may never have been taught that you must not receive Communion if you are in a state of mortal sin. Instead she is throwing around words like "judgmental" and milking this for everything she can. And it's worked. Instead of defending their priest, The Archdiocese of Washington has already issued a public apology. But Barbara Johnson is a mere pawn in a larger game. The Gay community cannot stand it that priests like this are permitted to minister in the Catholic Church and they will not rest until these kind of priests are eliminated. Don't be surprised if some sanction against Fr. Guarnizo follows.

Father Louis Solcia, C.R.S.P.

Father Solcia has been an associate pastor at Our Lady of the Rosary Catholic Church in San Diego since 1992. OLR is designated an Italian National Parish, which gives it some limited independence from the Diocese of San Diego and has been staffed by Barnabite (Clerks Regular of St. Paul) priests for many years. Fr. Solcia himself has a reputation of not mincing words, and this has been noted by San Diego's Gay community, since he is one of very few priests in the diocese to denounce the annual Gay Pride festival.

Their opportunity came in June of 2011 when prominent homosexual John Sanfilippo died. His family had been members of the parish and the surviving members allegedly arranged for a funeral Mass at OLR. However, the parish later informed the family that they could not permit a funeral Mass at the parish because of Sanfilippo's notoriety as an unrepentant homosexual. The Gay community lost no time in running to the media to complain. No fool he, Fr. Solcia told the congregation at one of his Masses later that week that the parish had been "set up". And he was right. However, this only fueled the fire, leaving the Diocese of San Diego trembling to appease the rage in its Gay community. The appeasement came in the form of a funeral Mass held at the chapel of Holy Cross Catholic cemetery. Fr. Solcia has been their target ever since, however, declining health has kept him out of the public eye.

The mainstream media neglected to mention more details about the funeral "refusal": Sanfilippo was the owner of a popular gay bar and had divorced his wife years before. While the gay media described him as a "devout" Catholic, he had not been active in OLR parish for years. It was his gay lover, not his "family" who approached OLR for a funeral Mass. He was not refused a Mass, but told that no Communion would be distributed to protect the Blessed Sacrament from being profaned.

And that's not a setup?

Father Joseph Baca

Father Joe Baca was ordained a priest for the Diocese of Fresno, California in 2001 after jumping around seminaries. One seminary, St. John's in Camarillo, sent him away three times. They didn't like his attitude. He didn't like their lack of orthodoxy and open homosexuality. After his ordination he served as an assistant at a few parishes before landing in St. Patrick's parish in Merced, California in 2003. Fr. Baca's presence quickly separated the Catholics from the rest of the crowd. He was drawing record numbers of people to his religious education classes and was the subject of critical letters to the diocese for his orthodox teaching and strict liturgical observances.

His pastor, Fr. Lastiri, was frequently away. While Fr. Lastiri was on one of his trips in Tahiti, Fr. Baca raised the ire of the person who was really running the parish, administrator Jean Smith. After Smith complained to Fr. Lastiri about Fr. Baca, Fr. Lastiri wrote Bishop Steinbock, asking for Fr. Baca's dismissal because of his "anger problems". Fr. Baca was removed and given no new assignment, and instructed to attend a facility for anger management training.

Two office workers in the parish quit the same week because of the way Smith had treated them and a large number of parishioners petitioned for the reinstatement of Fr. Baca, all to no avail. At the same time, it was discoverd that Fr. Lastiri had been posting himself on a homosexual website for men, seeking out other men.

Coincidence?

Fr. Lastiri took some "time off" and returned to parish work in 2005, and continues as a priest in good standing, wearing the mantle of popular respectability.

And Fr. Baca?

His path has not been so smooth. Fr. Baca languished in ecclesiastical limbo until 2010, when he was given permission by Bishop Steinbock to serve as a visiting priest to the Missionary Diocese of Whitehorse, Yukon.

It's always easy to blame the bishop for not supporting the priest in these cases, but Bishop Steinbock knew enough about his diocese to realize that the kind of priests he was stuck with would never welcome Fr. Baca back. Fr. Baca visited Bishop Steinbock in the hospital before his death in 2010 and he told Fr. Baca that he had no choice but to suspend him, since there was no pastor in the diocese that would accept him. Keep in mind, this is the same diocese that gave us Fr. Geoff Farrow, the homosexual priest who came out about his sexual identity and his support of homosexual marriage at a public Mass on Respect Life Sunday in 2008.

The prospects for the Diocese of Fresno may not be much better now, since their new bishop is Armando Ochoa, formerly the Bishop of El Paso. Bishop Ochoa is one of many bishops whose career path was nurtured by Cardinal Mahony. And, in case you've forgotten, Bishop Ochoa wasted no time in his handling of Fall-Guy Priest #4...

Father Michael Rodriguez

Fr. Rodriguez had two strikes against him in the first place: He was devoted to Tradition with a capital T and took advantage of Summorum Pontificum's liberation of the Traditional Latin Mass as far as any priest could. If that wasn't enough, he also became a very public voice in leading the opposition to El Paso politicians who supported homosexual marriage. Not exactly the way to endear yourself to a protege of Cardinal Mahony.

In October of 2011, Bishop Ochoa transferred the popular priest from his thriving El Paso parish and sent him packing to an obscure little church four hours south in Big Bend country near the Mexican border.

If that wasn't enough, Bishop Ochoa is suing Fr. Rodriguez for allegedly mishandling finances. For his part, Fr. Rodriguez insists that transfers are just a part of being a priest and he has accepted his new assignment with stoic indifference. As for the lawsuit, Fr. Rodriguez says he has nothing to hide and is preparing to make a vigorous defense, should it make it to the courtroom.

Fr. James Haley

Father James Haley should be the poster boy for Fall Guy Priests. Unfortunately, there is no picture available to put on the poster.

Fr. Haley had been bumped from parish to parish in the Diocese of Arlington, Virginia since his ordination in 1987. It seems that everywhere he went, the underground homosexual (and heterosexual) activity of unchaste priests made life increasingly difficult for him. His previous Bishop, John Keating, sympathized but did nothing. His succesor, Bishop Paul Loverde did do something, but not to any of the offending priests.

He suspended Fr. Haley in 2001 and ordered him to remain silent about everything he knew. Loverde, was further angered by Fr. Haley's testimony in a deposition against the diocese. That was Fr. Haley's only breach of the bishop's order of silence and he has remained silent since.

Fr. Haley's whereabouts remain unknown.

Five Fall-Guy Priests, presented for your consideration. Why does it seem like this is just the tip of the iceberg?

It would be easy to blame the homosexual movement for this attack, but they too are mere pawns in a greater game. The real enemy is the same one who has been attacking the Church from the beginning.

Let Us All Pray the Rosary Together Around the World for the persecution of priests who speak the Truth... Click here...
Click here to email this page to a friend.
"Man shall not condone evil or rationalize sin. Homosexuality is an abomination in the eyes of God and man! The Creator condemns those who do not repent of this sin." - Our Lady of the Roses, August 5, 1977
"Are you so blind that you do not recognize the acceleration of sin among you? Murders abound, thievery, all manner of carnage, destruction of young souls, abortion, homosexuality, condemned from the beginning of time by the Eternal Father. Yet sin has become a way of life. Sin is condoned now, even unto the highest judge of your land and your lands throughout the world. As you have sown so shall you reap. Sin is death, not only of the spirit, but of the body. Wars are a punishment for man's sin, his greed, his avarice." - Our Lady of the Roses, August 14, 1981
EDITOR'S COMMENT: Evil is accelerating and the Anti-Christ forces are gaining power in the world. When the persecution starts, all Christian web sites on the internet will be forced to close. Be sure to have in your possession all the following items: the Bayside Prophecy books, Bayside Medals, Douay-Rheims Bibles, the Protection Packets, Candles, Sacramentals, and Religious Books. Purchase these items now while they are still available! You will urgently need them in the days ahead. Also, you can print out all PDF files for the Directives from Heaven and all of the Bayside Prophecies. Copy Our Lady's messages and the Directives from Heaven now while they are still available! Pray to the Holy Spirit for wisdom and guidance on how to prepare now and for the days ahead when the Antichrist is revealed. God bless.
The awesome Bayside Prophecies... http://www.tldm.org/../Bayside/
These prophecies came from Jesus, Mary, and the saints to Veronica Lueken at Bayside, NY, from 1968 to 1995.
SIN IS INSANITY
"I have told you, counseled you in the past, that sin is insanity. Your world and its people are involved--they walk as on a treadmill, seeking power and money and material goods and pleasure. And they go round and about, never stopping as the world plunges faster to the abyss." – Our Lady, August 4, 1979

FREE WILL
"I say unto you, as your God, I bring not your destruction. You will bring about your own destruction, for I leave you, as your God, to the exercise of your free will. In your free will, if you reject your God and the plan for man's redemption as given from the beginning of time, I say unto you, you will destroy yourselves.
"Sin is insanity; insanity shall be loosed upon your world. There will come a time, if you continue on your present path, so vile and evil upon mankind that those who are living will envy the dead." – Jesus, May 18, 1977

THE GREAT FOUNDATION
"Pray constantly your Rosary, your beads of prayer to Heaven. Remain unified in your family lives. The institution of your country--the great foundation is based on family life. Destroy the family and you destroy your country. The enemies--the enemy is already within your country. Watch and pray well, My children." - Our Lady, June 18, 1980

READ YOUR BIBLES
"Your word of homosexuality can be explained by the story of Sodom and Gomorrah. Read in your Bibles or consult your clergy. Find yourselves, My children, a humble, pious clergy. Many have fallen away from the Faith." Our Lady, October 6, 1992

PASTORS HELD RESPONSIBLE
"We hold the pastors of My Son's House, We hold them as being responsible for the fall of the children. Be ye warned now, My children, that woe to the man who has this responsibility upon his conscience and his soul. Scandals have been brought into the lives of your children. Perversion, homosexuality, immorality, perverted sex, My children-where shall you stop but at the abyss!" Our Lady, December 7, 1977

AN ABOMINATION
"Man shall not condone evil or rationalize sin. Homosexuality is an abomination in the eyes of God and man! The Creator condemns those who do not repent of this sin." Our Lady, August 5, 1977

BLACK CLOUD OVER AMERICA
"In the days of Sodom, so too were men giving themselves over to all the pleasures of the flesh: eating, drinking, marrying, giving in marriage. All manner of sinful lusts are being committed. Men shameful with men, women casting aside their role of motherhood and lusting after women. As it was in the days of Sodom, so now is this black cloud over America." Our Lady, July 14, 1979

SODOM: "WE DESTROYED IT"
"And the great issue now of homosexuality in your country, that shall be on the balance that Michael holds. Unless this balance is evened by removing this evil from your country and bringing in just laws to prevent the spread of homosexuality, you cannot be saved; your country cannot be saved. Because I repeat again, as I have repeated in the past: When a country has given itself over to immorality and all pleasures of the flesh, and abominations of the flesh, then that country will fall! If you do not believe Me, My children, I say: You will read your history books, and you will find out that there was a Sodom and Gomorrah. And what did We do to that abominable city, Sodom? We destroyed it! And what did We do to Gomorrah? We destroyed it! And We destroyed all who did not follow the plan for their redemption." Jesus, November 1, 1985

SIN: FORERUNNER OF WAR
"For sin is always a forerunner for war, My children: murders, persecutions, robberies, all manners of sins of the flesh, homosexuality, lesbianism, perversion, sodomy. Sodom and Gomorrah fell for less sins than you have committed now upon your earth. Noah took to the ark and the world was in a better state spiritually than your world now; for you have accepted a sophisticated manner of sin, based on man's reasoning and not God's truth." Our Lady, October 2, 1979

ANY COUNTRY
"Any country that allows homosexuals to roam and to seduce the young shall be destroyed." Our Lady, June 30, 1984
Directives from Heaven... http://www.tldm.org/directives/directives.htm
D5 - The Holy Priesthood PDF Order copies...
D24 - Homosexuality, Part 1 PDF Order copies...
D36 - Bishops (Part 1) PDF Order copies...
D37 - Bishops (Part 2) PDF Order copies...
D38 - Priests (Part 1) PDF Order copies...
D39 - Priests (Part 2) PDF Order copies...
D167 - The Family - Part 1 PDF
D168 - The Family - Part 2 PDF
D174 - Homosexuality, Part 2 PDF
D175 - Defilement of the Young PDF
D176 - Sodom and Gomorrah PDF
D205 - Sin is insanity PDF
D285 - Restore Holiness to the Priesthood PDF Order copies...
Articles…
Homosexuality a disorder:

"Homosexuality is not hardwired," concludes head of the Human Genome Project
http://www.tldm.org/News10/HomosexualityNotHardwired.htm

Expert research finds homosexuality more dangerous than smoking
http://www.tldm.org/News10/HomosexualityMoreDangerousThanSmoking.htm

What the Saints say about the sin of homosexuality
http://www.tldm.org/news7/homosexualitySaints.htm

Pope Benedict: homosexuals destroy themselves
http://www.tldm.org/News9/PopeHomosexualsDestroyThemselves.htm

Pope Benedict blasts 'dismal theories' on gays
http://www.tldm.org/News9/homosexualityPopeDismalTheories.htm

U.S. sexuality survey shows homosexuals 107% more likely to engage in criminal activities
http://www.tldm.org/News8/homosexualityCriminalActivity.htm

Great Britain study says 43% of gays, lesbians, and bisexuals have a mental disorder
http://www.tldm.org/news7/GayMentalDisorder.htm

Spanish Archbishop refers to homosexuality as an "epidemic" and a "fount of psychological problems and painful frustrations"
http://www.tldm.org/News7/homosexualityArchbishopSebastian.htm

Canadian Bishop: The State must curtail homosexuality for the common good
http://www.tldm.org/News7/homosexualityBishopHenry.htm

Homosexuality and Hope: excerpts taken from a document by the Catholic Medical Association
http://www.tldm.org/news6/ssa.htm

Ghana bans homosexual conference, says its "culture, morality and heritage totally abhor homosexual and lesbian practices"
http://www.tldm.org/News9/homosexualityGhana.htm

Gay marriage:

Vatican: Gay marriage evil
http://www.tldm.org/News10/AbortionTerrorismWithAHumanFace.htm

John Paul II calls gay marriage part of "ideology of evil"
http://www.tldm.org/news7/homosexualMarriageIdeologyOfEvil.htm

Top Vatican Cardinal: gay marriage is "a crime which represents the destruction of the world"
http://www.tldm.org/News8/homosexualityCardinalTrujillo.htm

Canadian Cardinal warns Senate of impending anti-Christian prosecution with gay 'marriage'
http://www.tldm.org/News8/homosexualityAnti-ChristianProsecution.htm

Maryland Catholic bishops identify "coordinated effort" in homosexual war on the family
http://www.tldm.org/News8/HomosexualWarOnFamily.htm

America: Slouching towards Gomorrah
http://www.tldm.org/news5/gomorrah.htm

John Paul II urges authorities to stop gay marriages
http://www.tldm.org/News6/homosexuality10.htm
Click here to email this page to a friend.
Place a Crucifix on the outside of your front and back door... The only real protection against terrorists...
Jesus - "Pray and wear your sacramentals. And, also, My children, I ask you again to place a crucifix upon your door. Both front and back doors must have a crucifix. I say this to you because there will be carnage within your areas, and this will pass you by if you keep your crucifix upon your doors." (6-30-84) (Testimonies of lives and homes saved by the crucifixes.) http://www.tldm.org/news/crucifix.htm
Heaven's Home Protection Packet...
Our Lord stated we must have crucifixes upon the outside of all of our outside doors. In the "Heaven's Home Protection Packet" there are instructions, four crucifixes, and a tube of special cement for wooden or metal crucifixes. Wooden crucifixes adhere better to the doors when the aluminum strap is removed from the back. Put a light coat of cement on the back of the crucifix and then press it to the outside of the door. If you have any problems, you can call us at 616-698-6448 for assistance. This Heaven's Home Protection Packet is available for a donation of $7.00 plus $3.00 shipping and handling. Send $10.00 to TLD Ministries, P.O. Box 40, Lowell, MI 49331. Item # P15 (Order Form)
Heaven's Personal Protection Packet . . .
Our Lady tells us to be protected from all evil, we must wear the following sacramentals around our necks: a rosary, a crucifix, the St. Benedict medal, Our Lady of the Roses medal, the Miraculous Medal, and the scapular. We have all of these sacramentals in a packet we call "Heaven's Personal Protection Packet." This packet is available for a donation of $6.00 plus $3.00 shipping and handling. Send $9.00 to TLD Ministries, P.O. Box 40, Lowell, MI 49331. Item # P5 (Order Form)
Our Lady of the Roses, Mary Help of Mothers promises to help protect our children. On September 13, 1977, She said, "He has an army of ogres wandering now throughout your country and all of the countries of the world. They are in possession of great power; so wear your sacramentals, and protect your children and your households. Learn the use every day of holy water throughout your household. Insist even with obstructions, insist that your children always wear a sacramental. One day they will understand that they will repel the demons."
On February 1, 1974, Our Lady said, "My children, know the value of these sacramentals. Guard your children well. You must awaken to the knowledge that you will not be protected without the sacramentals. Guard your children's souls. They must be surrounded with an aura of purity. Remove them if necessary from the sources of contamination, be it your schools or even false pastors."
This Heaven's Personal Protection Packet is available for a donation of $6.00 plus $3.00 shipping and handling. Send $9.00 to TLD Ministries, P.O. Box 40, Lowell, MI 49331. You may use your MasterCard, VISA, or American Express and call 1-616-698-6448. Item # P5 (Order Form)
The Virgin Mary's Bayside Prophesies book . . .
The six volumes have all of Our Lady's Bayside messages from 1970 through 1994. Some of these have never been published before. This is a type of a survival book. It tells what is coming and how to prepare for it spiritually and materially. It is a must book for the days ahead. This is a great way to spread Our Lady's messages to our family, friends and relatives. (Order Form)
Incredible Bayside Prophecies on the United States and Canada book . . .
We have researched the Bayside Prophecies on the United States and Canada and put these outstanding prophecies in a 360 page pocket size paperback book. Veronica said it was very good. It tells what is going to happen here and how to prepare for it. Every North American must read this book! Item #B2 Cost $5.00 (Order Form)
Your names have been written in Heaven… "It is not by accident that you are called by My Mother, for your names have been written in Heaven.... But with this great grace you have great responsibility to send this Message from Heaven throughout the world, for if you are able to recover just one more for Heaven, an additional star shall be placed in your crown." - Jesus, August 5, 1975
A great obligation to go forward... "It is not by accident that you are called by My Mother, for it is by merit and the prayers that have risen to Heaven for your salvation. For those who have received the grace to hear the Message from Heaven, you have a great obligation to go forward and bring this Message to your brothers and sisters. Do not expect a rest upon your earth, for you will have eternal rest very soon." - Jesus, June 12, 1976
The sin of omission... "The sin of omission shall condemn many to hell, be they layman or Hierarchy. I repeat: not the sin of commission, but the sin of omission will commit many to hell." - Our Lady of the Roses, October 6, 1980
We encourage everyone to print or email copies of this web page to all the Bishops and all the clergy. Also, email or send this web page to the news media and as many people as possible.
| Home - Latest News | Introduction | Bayside Prophecies | Directives from Heaven | Order Form | Miracles & Cures | Veronica Lueken | Miraculous Photos | Bible | Radio Program |
The electronic form of this document is copyrighted.
Quotations are permissible as long as this web site is acknowledged with a hyperlink to: http://www.tldm.org
Copyright © These Last Days Ministries, Inc. 1996 - 2012 All rights reserved.
P.O. Box 40 616-698-6448
Lowell, MI 49331-0040
Revised: March 08, 2012