| Home - Latest News | Introduction | Bayside Prophecies | Directives from Heaven | Shopping Cart | Testimonies | Veronica Lueken | Miraculous Photos | Bible | Radio Program |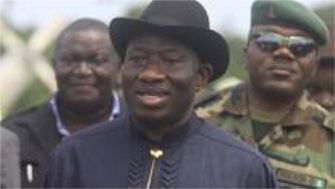 These Last Days News - August 9, 2012
Muslim Terrorists Tell Nigeria's Christian President Goodluck Jonathan: 'Convert or Resign'...
"The battle, My child, will accelerate very shortly for there will not only be a great war of weapons of mankind, but it will be known soon throughout the world as a religious war." - Our Lady of the Roses August 21, 1974
CNS News reported on August 7, 2012:
Boko Haram is demanding that Nigeria's Christian president convert to Islam or resign, a stance that again calls into question the Obama administration's playing down of religion as the primary motivation for the radical group.

In an online video clip released over the weekend, Boko Haram leader Abubakar Shekau told President Goodluck Jonathan to "repent and forsake Christianity."

The News Agency of Nigeria said Shekau, speaking in Hausa, said the president should convert or resign if he wanted Boko Haram to end its violent campaign.

Presidential spokesman Reuben Abati dismissed the demand as attempted "blackmail."

"When Nigerians voted overwhelmingly for President Jonathan in the 2011 general election, they knew they were voting for a Christian," he told reporters in the federal capital, Abuja.

"He has the mandate of Nigerians to serve his fatherland. Nobody should imagine that he will succumb to blackmail."

Inviting an enemy to convert to Islam or face the consequences is a longstanding tradition in Islam, modeled on the example set by the religion's seventh century prophet.

A hadith (the writings and sayings of the prophet) by Sahih al-Bukhari quotes Mohammed as saying, "I have been ordered (by Allah) to fight against the people until they testify that none has the right to be worshipped but Allah and that Muhammad is Allah's Apostle, and offer the prayers perfectly and give the obligatory charity, so if they perform a that, then they save their lives an property from me except for Islamic laws and then their reckoning (accounts) will be done by Allah."

(In 2006, Iranian President Mahmoud Ahmadinejad sent President Bush a letter interpreted by some scholars as incorporating an invitation to embrace Islam. He urged Bush to make "a genuine return to the teachings of prophets, to monotheism and justice, to preserve human dignity and obedience to the Almighty and his prophets." Reporting on the letter at the time, Iran's hardline Siasat-e Rooz daily said, "It has been the prophet's way to invite the infidel leaders to the right way.")

Boko Haram has claimed responsibility for dozens of deadly bombings and other attacks, mostly targeting Christians in northern parts of Africa's most populous country. It has vowed to cleanse northern Nigeria of Christians.

Declared goals of the group, whose name roughly translates "Western education is forbidden," include banning non-Islamic education and extendingshari'a (Islamic law) – currently implemented in 12 northern states – across the entire country, 40 percent of whose people are Christians.

Despite its increasingly bloody campaign, the Obama administration so far has resisted calls by U.S. lawmakers to designate Boko Haram as a foreign terrorist organization (FTO) under American law.

In June it did list Shekau and two other Boko Haram individuals, as "specially designated global terrorists" (SDGTs) under an executive order designed to disrupt funding to terrorists.

But Republican lawmakers Rep. Peter King (R-N.Y.), chairman of the Homeland Security Committee, and Rep. Patrick Meehan (R-Pa.), chairman of the committee's counterterrorism and intelligence subcommittee, said the step was "insufficient." They reiterated their earlier calls for FTO designation, pointing to a report released by the committee last November investigating the group as a potential threat to the U.S. homeland.

Asked at the time of the SDGT designation about the FTO issue, State Department spokeswoman Victoria Nuland said the administration was "continuing to look at the question of a broader designation."

"But as you know, Boko Haram is at the moment a loosely constructed group attached to trying to address grievances in the north. There are different views within the group, and we're continuing to look at that."

Despite Boko Haram's open targeting of Christians and its declared religious goals – after a recent armed raid on a Christian village the group warned that Christians "will not know peace again" if they do not accept Islam – Nuland is not alone in underlining the notion that Boko Haram is driven primarily by "grievances."

Testifying before the Senate Foreign Relations Committee last March, assistant secretary of state for African affairs Johnnie Carson said religion was "not the primary driver behind extremist violence in Nigeria." Boko Haram, he said, "attempts to exploit the legitimate grievances of northern populations to garner recruits and public sympathy."

Although Carson acknowledged "reports of contact and growing relationships between elements of Boko Haram and other extremists in Africa, including al-Qaeda in the Islamic Maghreb," he said the group's main focus was to discredit the Nigerian government and on "local Nigerian issues and actors."

Christian president, Muslim president

On Capitol Hill last month, Carson again addressed the issue, telling a House Foreign Affairs subcommittee hearing that "it is important that we understand what Boko Haram is and what it is not."

"Boko Haram is composed of at least two organizations, a larger organization focused primarily on discrediting the Nigerian government, and a smaller more dangerous group that is increasingly sophisticated and increasingly lethal," he continued.

Most Boko Haram followers, Carson said, were set on discrediting the government--both under the current Christian president and his Muslim predecessor--for its "failure to provide services to people."

In fact, Boko Haram's deadly campaign has largely overlapped the presidency of the Christian president, Jonathan.

Although Boko Haram was established in 2002, its violent campaign began around mid-2009, and escalated after its founder, Mohammed Yusuf, died in police custody in July of that year.

Early in 2010, then vice-president Jonathan assumed the powers of the presidency after President Umaru Musa Yar'Adua left the country for medical treatment. When Yar'Adua died that May, Jonathan served as interim president, and ran for election in early 2011.

His candidacy was controversial because he is a Christian southerner. An unwritten agreement in place since Nigeria emerged from military rule in 1999 held that the north and south would alternatively hold the presidency. Yar'Adua, a Muslim northerner, had succeeded a two-term Christian from the south but since his death cut his term short Muslims argued that the next president should also be a Muslim.

Although Jonathan won the election by a large margin, his Muslim rival won all 12 of Nigeria's states where shari'a had been introduced since 1999, underlining the religious divide and prompting warnings of worse to come. Indeed, more than 800 people were killed and dozens of churches torched during three days of rioting in the north after the election result was announced.

The U.S. Commission on International Religious Freedom, an independent body that advises the administration and Congress, acknowledges that issues of governance, poverty, and ethnicity are factors in the Nigerian violence but characterizes Boko Haram's actions as "religiously-related."
"All who continue in the battle ahead must accept martyrdom. it does not, My child, necessarily mean death of your body, but it will mean persecution. Stand fast in the faith. Keep the faith in the hearts of those you love. Extend your charity of heart to all of your brother and sisters throughout the world. Pray a constant vigilance of prayer." - Our Lady of the Roses, October 2, 1974
We urgently need your prayers and financial support to be able to continue to create these web pages. Click here... Thank you in advance.

Let Us All Pray the Rosary Together Around the World for Our Perseverance During the Coming Persecution... Click here...
The awesome Bayside Prophecies... http://www.tldm.org/Bayside/default.htm
These prophecies came from Jesus, Mary, and the saints to Veronica Lueken at Bayside, NY, from 1968 to 1995:
WASHED CLEAN
"The saints and those who were washed clean by the blood of martyrdom, they join all in Heaven crying for vengeance against deceitful mankind and the abominations that offend the Eternal Father--abominations in the House of God!" - St. Michael, September 13, 1974

IN THE FEW
"Many martyrs, My child, shall come in the days ahead, and defenders of the Faith. Carry your crosses, My children, for those who will be saved shall be in the few." - Jesus, November 20, 1975

IMMEDIATE ENTRANCE
"My children, are there so few who will suffer for the Faith? Are My children lost to the need for suffering and martyrdom for the Faith? Do you not understand, My children, that martyrdom means immediate entrance into Heaven. Is this not worth fighting for?" - Our Lady, November 20, 1978

MANY GREAT SAINTS SHALL RISE
"Awaken now from your slumber and seek your return from your course of destruction by getting down upon your knees and praying in heartfelt, sincere prayer to the Eternal Father, to guide you back from your present road of destruction.
"Your countrymen have sought to silence the voice of My Mother throughout your world. You will not continue to silence the voice-boxes throughout the world, for you are sowing the seeds of your own destruction!
"Amen, amen, I say to you: unless mankind returns God the Eternal Father to his life, he will not have the years of two hands to count upon!
"The present generation, My child, shall pass through this crucible of suffering. Many great saints shall rise from this persecution." – Jesus, June 5, 1975
Directives from Heaven... http://www.tldm.org/directives/directives.htm
D88 - Martyrdom PDF Order copies...
D104 - Invasion PDF Order copies...
D136 - Visions of the Great War: The Mideast PDF Order copies...
D156 - Terrorism PDF Order copies...
D157 - Revolution in Rome PDF Order copies...
D158 - America the Beautiful PDF Order copies...
D266 - Persecution PDF Order copies...
EDITOR'S COMMENT: Evil is accelerating and the Anti-Christ forces are gaining power in the world. When the persecution starts, all Christian web sites on the internet will be forced to close. Be sure to have in your possession all the following items: the Bayside Prophecy books, Bayside Medals, Douay-Rheims Bibles, the Protection Packets, Candles, Sacramentals, and Religious Books. Purchase these items now while they are still available! You will urgently need them in the days ahead. Also, you can print out all PDF files for the Directives from Heaven and all of the Bayside Prophecies. Copy Our Lady's messages and the Directives from Heaven now while they are still available! Pray to the Holy Spirit for wisdom and guidance on how to prepare now and for the days ahead when the Antichrist is revealed. Viva Cristo Rey!
Articles...
Christmas carols banned in Wisconsin school district, crucifix banned in UK school
http://www.tldm.org/news8/CrucifixBanned.htm

Archbishop Chaput candid about Islamic persecution of Christians
http://www.tldm.org/News8/IslamicPersecutionOfChristians.htm

Students barred from wearing Christian chastity symbol in UK school
http://www.tldm.org/News9/PersecutionUK.htm

Valedictorian speech cut off at the name of Christ
http://www.tldm.org/News9/PersecutionValedictorianSpeech.htm

House intervenes to save Mt. Soledad cross
http://www.tldm.org/News9/PersecutionMtSoledadCross.htm

Muslim terrorists behead 14-year-old Christian boy
http://www.tldm.org/News9/MuslimsBeheadChristianBoy.htm

Beheaded Christian girls were Ramadan 'trophies'
http://www.tldm.org/News9/IndonesianMilitantsBeheadGirls.htm

British Airways backs down on cross ban after international outrage
http://www.tldm.org/News9/PersecutionBritishAirways.htm

Two Catholic men sentenced to ten years in prison for "blasphemy"
http://www.tldm.org/News9/PersecutionPakistan.htm

The Rosary defeated the Muslims at the Battle of Lepanto
http://www.tldm.org/News6/lepanto.htm
Click here to email this page to a friend.
Place a Crucifix on the outside of your front and back door... The only real protection against terrorists...
Jesus - "Pray and wear your sacramentals. And, also, My children, I ask you again to place a crucifix upon your door. Both front and back doors must have a crucifix. I say this to you because there will be carnage within your areas, and this will pass you by if you keep your crucifix upon your doors." (6-30-84) (Testimonies of lives and homes saved by the crucifixes.) http://www.tldm.org/news/crucifix.htm
Heaven's Home Protection Packet...
Our Lord stated we must have crucifixes upon the outside of all of our outside doors. In the "Heaven's Home Protection Packet" there are instructions, four crucifixes, and a tube of special cement for wooden or metal crucifixes. Wooden crucifixes adhere better to the doors when the aluminum strap is removed from the back. Put a light coat of cement on the back of the crucifix and then press it to the outside of the door. If you have any problems, you can call us at 616-698-6448 for assistance. This Heaven's Home Protection Packet is available for a donation of $7.00 plus $3.00 shipping and handling. Send $10.00 to TLD Ministries, P.O. Box 40, Lowell, MI 49331. Item # P15 (Order Form)
Heaven's Personal Protection Packet . . .
Our Lady tells us to be protected from all evil, we must wear the following sacramentals around our necks: a rosary, a crucifix, the St. Benedict medal, Our Lady of the Roses medal, the Miraculous Medal, and the scapular. We have all of these sacramentals in a packet we call "Heaven's Personal Protection Packet." This packet is available for a donation of $6.00 plus $3.00 shipping and handling. Send $9.00 to TLD Ministries, P.O. Box 40, Lowell, MI 49331. Item # P5 (Order Form)
Our Lady of the Roses, Mary Help of Mothers promises to help protect our children. On September 13, 1977, She said, "He has an army of ogres wandering now throughout your country and all of the countries of the world. They are in possession of great power; so wear your sacramentals, and protect your children and your households. Learn the use every day of holy water throughout your household. Insist even with obstructions, insist that your children always wear a sacramental. One day they will understand that they will repel the demons."
On February 1, 1974, Our Lady said, "My children, know the value of these sacramentals. Guard your children well. You must awaken to the knowledge that you will not be protected without the sacramentals. Guard your children's souls. They must be surrounded with an aura of purity. Remove them if necessary from the sources of contamination, be it your schools or even false pastors."
This Heaven's Personal Protection Packet is available for a donation of $6.00 plus $3.00 shipping and handling. Send $9.00 to TLD Ministries, P.O. Box 40, Lowell, MI 49331. You may use your MasterCard, VISA, or American Express and call 1-616-698-6448. Item # P5 (Order Form)
The Virgin Mary's Bayside Prophesies book . . .
The six volumes have all of Our Lady's Bayside messages from 1970 through 1994. Some of these have never been published before. This is a type of a survival book. It tells what is coming and how to prepare for it spiritually and materially. It is a must book for the days ahead. This is a great way to spread Our Lady's messages to our family, friends and relatives. (Order Form)
Incredible Bayside Prophecies on the United States and Canada book . . .
We have researched the Bayside Prophecies on the United States and Canada and put these outstanding prophecies in a 360 page pocket size paperback book. Veronica said it was very good. It tells what is going to happen here and how to prepare for it. Every North American must read this book! Item #B2 Cost $5.00 (Order Form)
Your names have been written in Heaven… "It is not by accident that you are called by My Mother, for your names have been written in Heaven.... But with this great grace you have great responsibility to send this Message from Heaven throughout the world, for if you are able to recover just one more for Heaven, an additional star shall be placed in your crown." - Jesus, August 5, 1975
A great obligation to go forward... "It is not by accident that you are called by My Mother, for it is by merit and the prayers that have risen to Heaven for your salvation. For those who have received the grace to hear the Message from Heaven, you have a great obligation to go forward and bring this Message to your brothers and sisters. Do not expect a rest upon your earth, for you will have eternal rest very soon." - Jesus, June 12, 1976
The sin of omission... "The sin of omission shall condemn many to hell, be they layman or Hierarchy. I repeat: not the sin of commission, but the sin of omission will commit many to hell." - Our Lady of the Roses, October 6, 1980
We encourage everyone to print or email copies of this web page to all the Bishops and all the clergy. Also, email or send this web page to the news media and as many people as possible.
| Home - Latest News | Introduction | Bayside Prophecies | Directives from Heaven | Order Form | Miracles & Cures | Veronica Lueken | Miraculous Photos | Bible | Radio Program |
The electronic form of this document is copyrighted.
Quotations are permissible as long as this web site is acknowledged with a hyperlink to: http://www.tldm.org
Copyright © These Last Days Ministries, Inc. 1996 - 2012 All rights reserved.
P.O. Box 40 616-698-6448
Lowell, MI 49331-0040
Revised: August 09, 2012