| Home - Latest News | Introduction | Bayside Prophecies | Directives from Heaven | Order Form | Testimonies | Veronica Lueken | Miraculous Photos | Bible | Radio Program |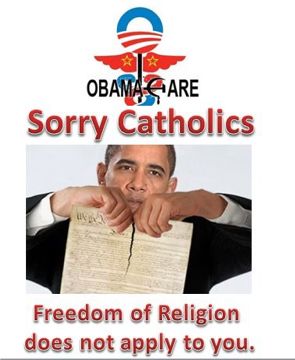 These Last Days News - February 16, 2012
Now Obama Has Proved It: He Really is an Enemy of the Catholic Church. But How Will That Affect the 54 Percent of Catholics Who Voted for Him Last Time?
"When a man has stepped over the threshold and allowed himself to fall into mortal sin, he must be purified by trial, but he must also, My children, be purified by the rule of penance and confession.
"What manner of evil is being set now upon mankind that compels him to lose his soul by rejecting the Sacraments, by no longer confessing to his confessor, but coming to receive My Son in sacrifice, while his soul is degraded by sin of mortal nature!" - Our Lady of the Roses, September 7, 1976
CatholicHerald.co.uk reported on January 27, 2012:
About a year ago, I wrote a blog entitled "Why Barack Obama has to be seen as an enemy of the Catholic Church". This was picked up by quite a few American Catholic blogs, for example this one, which reproduced the piece in full; and it attracted much favourable attention: but some of the reactions, also from American Catholics – who presumably were from that shameful 54 per cent of Catholics who voted for Obama – were not favourable.

Well, if ever there was any doubt about whether or not I was right, it has now been removed – that is for Catholics who understand, unlike the late Cardinal Bernardin, with his "seamless garment" theology (according to which abortion, say, was just one of a whole raft of other issues like war and peace, opposition to the death penalty, welfare reform and civil liberties), that actually "life issues" are not like others, negotiable or – like the morality of war, for instance – subject to context and circumstance: who understand, in other words, that abortion and euthanasia are always and under all circumstances, just wrong.

Obama's health secretary has now issued a ruling: that under his administration's Health Care Act not only must any provider of health care be prepared to supply artificial contraception (including drugs which, though labelled contraceptive, are in fact abortifacient) but that that definitely includes Catholics (for the CNS story, see here):

(CNSNews.com) – Cardinal Donald Wuerl, head of the Catholic archdiocese of Washington, DC, issued a warning last week against the implementation of an Obamacare regulation that would place many Catholic employers in an "untenable position" by requiring all health care plans to cover sterilization and abortion-inducing contraceptives, in violation of religious liberty and particularly Catholic moral teaching.

His warning coincided with a full-page ad by the U.S. Conference of Catholic Bishops (USCCB), which said the regulation, set to start on Aug. 1, 2012, could "severely curtail" Catholic health care providers.

Catholic institutions account for 12.7 percent of the nation's hospitals, according to the 2009 American Hospital Association Annual Survey, with more than 5.6 million patients admitted to Catholic hospitals in a one-year period. An additional 1,400 long-term care and other Catholic health facilities are present in all 50 states, according to the Catholic Health Association of the United States. Also, there are about 70 million Catholics in the United States.

So, American Catholics, you now know, if you didn't know before: you cannot, if you are a faithful Catholic, vote for this man. He is an enemy of your Church and everything it stands for. But that prompts the question: how come so many Catholics voted for him last time? How come, while we are about it, that one of the first things that happened in his presidency was the conferring on him of an honorary degree by Notre Dame, that renowned "Catholic" University?

This is a long and murky story. It involves telling (which I don't have time for here) all about the links between Notre Dame and certain clergy from the Archdiocese of Chicago (prop. the above-mentioned Cardinal Bernardin) and their connections with a legendary political radical, a Marxist atheist called Saul Alinsky, who despite his many attacks on the Church received vast funding from something called the Catholic Fund for Human Development (CHD), an agency of the USCCB which over the years has raised hundreds of millions from second collections taken up after Sunday Mass. The following are examples of some of the grants made by the CHD:

• 1985: $40,000 for Chicago's Developing Communities Project, led by then lead organiser, Barack Obama
• 1986: $33,000 for Obama's Developing Communities Project, which Obama continued to lead
• 1992: ACORN funding (see below) for Project Vote, a Chicago programme which Obama also led
• 1995: Cardinal Bernardin helped commit $116,000 from the national CHD fund to Chicago Metropolitan Sponsors, an Alinsky Industrial Areas Foundation organisation
• 2000 – 2008: $7m went to ACORN (Association of Community Organizations for Reform Now), an Alinsky-influenced, leftist network under criminal investigation in several states. ACORN supports radical, 'in your face' local and national causes as well as abortion. CHD funding stopped only in November 2008, well after every other American wondered when the bishops would halt the allocation of $1m to the group.
• Ongoing: $20,000 to $30,000 per community group across the country under the guise of 'community organisation'
• Also ongoing: 4% to 5% of total CHD funds to the Gamaliel Foundation, a Marxist socio-political network of Alinsky-inspired organisations
• Still ongoing: Alinsky's own Industrial Areas Foundation, which receives 16% of CHD funds annually!

No wonder that when Obama received his degree at Notre Dame, he spoke so warmly about Cardinal Bernardin: he was addressing an institution that had been deeply impregnated with the CHD mentality and with Cardinal Bernardin's seamless garment theology. No wonder that when he later spoke to a small group of Catholic journalists, he more or less told them that Cardinal Bernardin had given him his (very Left-wing) start in politics:

"The president said he had fond memories of Cardinal Bernardin and that when he started his neighborhood projects, they were funded by the Catholic Campaign for Human Development," he said. "After the first question, from the National Catholic Reporter's Joe Feuerherd, the president jokingly asked, 'Was there really [a controversy at Notre Dame]?'
"The president spoke about how during Cardinal Bernardin's time the US bishops spoke about the nuclear freeze, the sanctuary movement, immigration, and the poor, but that later a decided change took place," added Fr Kearns. "He said that the responses to his administration mirror the tensions in the Church overall, but that Cardinal Bernardin was pro-life and never hesitated to make his views known, but he had a consistent 'seamless garment' approach that emphasized the other issues as well. The president said that that part of the Catholic tradition continues to inspire him. Those issues, he said, seemed to have gotten buried by the abortion debate."

Well, Mr President, you're wrong: there has indeed been something, perhaps not yet enough, of a "decided change" (though what about the CHD? I'd like to know, if anyone can tell me): but American Catholics still take issues to do with social justice seriously, of course they do. Notre Dame, however, is now very clearly seen as being an institution which is Catholic in name only. And that is a very definite advance: at least American Catholics know where they are. It might be fitting, indeed, to end with the letter Archbishop Nienstedt of Saint Paul and Minneapolis wrote to the President of Notre Dame about his now notorious invitation to Obama, a letter which spelled out the parting of the ways very clearly:

Dear Father Jenkins:

I have just learned that you, as President of the University of Notre Dame, have invited President Barack Obama to be the graduation commencement speaker at the University's exercises on May 17, 2009. I was also informed that you will confer on the president an honorary doctor of laws degree, one of the highest honors bestowed by your institution.

I write to protest this egregious decision on your part. President Obama has been a pro-abortion legislator. He has indicated, especially since he took office, his deliberate disregard of the unborn by lifting the ban on embryonic stem cell research, by promoting the FOCA [Freedom of Choice Act] agenda and by his open support for gay rights throughout this country.

It is a travesty that the University of Notre Dame, considered by many to be a Catholic University, should give its public support to such an anti-Catholic politician.

I hope that you are able to reconsider this decision. If not, please do not expect me to support your University in the future.

Sincerely yours,

The Most Reverend John C. Nienstedt Archbishop of Saint Paul and Minneapolis

That about says it all; and now Obama's abortionist Health Care Act has put the matter beyond doubt. The question now is this: how will that 54 per cent of American Catholics (and that's a lot of votes) who helped put him into the presidency, vote this time? And why is it that I have a sinking feeling about the answer to that question?
"For that one reason among many, the United States will suffer unless there is placed into your government a group that fears the Lord if they cannot love the Lord. They will fear Him and find measures to stop the slaughter of the unborn." - Our Lady of the Roses, April 14, 1984
EDITOR'S COMMENT: Evil is accelerating and the Anti-Christ forces are gaining power in the world. When the persecution starts, all Christian web sites on the internet will be forced to close. Be sure to have in your possession all the following items: the Bayside Prophecy books, Bayside Medals, Douay-Rheims Bibles, the Protection Packets, Candles, Sacramentals, and Religious Books. Purchase these items now while they are still available! You will urgently need them in the days ahead. Also, you can print out all PDF files for the Directives from Heaven and all of the Bayside Prophecies. Copy Our Lady's messages and the Directives from Heaven now while they are still available! Pray to the Holy Spirit for wisdom and guidance on how to prepare now and for the days ahead when the Antichrist is revealed. God bless.
The awesome Bayside Prophecies... http://www.tldm.org/Bayside/default.htm
These prophecies came from Jesus, Mary, and the saints to Veronica Lueken at Bayside, NY, from 1968 to 1995:
SIN OF OMISSION
"The sin of omission shall condemn many to hell, be they layman or Hierarchy. I repeat: not the sin of commission, but the sin of omission will commit many to hell. Among them there will be also mitres." - Our Lady, October 6, 1980

THE UNITED STATES SHALL BE FIRST STRUCK
"One of the reasons the Eternal Father chose your city and your state for My appearance was because of abortion, the murder of the holy innocents. Your nation, without repentance, shall be the first struck." - Our Lady, March 15, 1978

THE UNITED STATES SHALL FALL
"How can a great country like the United States fall, you say, My child? You ask Me in your heart. I read your heart. I will tell you why. Because they have given themselves over to satan. When a country has lost its morality and seeks the pleasures of the flesh, giving over, themselves over, to all manner of abominations, like homosexuality, and condoning this up the highest courts of the land, then that country shall fall." - Our Lady of the Roses, November 1, 1985

DOCTORS
"Doctors now are profaning their profession, those who have given themselves over to destroying human life in abortions." - Jesus, June 6, 1987

FOULEST OF DEEDS
"Our hearts are torn because of the wanton murder of the young by evil man. Abortion, My children, is murder, the most foulest of deeds, that is punishable by death! And what is worse than death of the soul?
"I say unto you, as your Mother, that any man or woman who performs or takes part of this abomination of the murder of the unborn shall be given a heavy penance upon earth, or if this penance is not given upon earth, that person found guilty in the eyes of his God shall suffer eternal damnation in the fires of hell." - Our Lady, December 28, 1976

DESTROYED
"All who become part of or condone abortion, the murder of the young, shall be destroyed!" - Jesus, June 2, 1979

HUMAN LIFE IS SACRED
"The Eternal Father command that you stop these murders at once! You will not destroy the lives of the unborn. Human life is sacred in the eyes of your God. No man has the right to destroy a life. The Father, He sends this life to you, and only He will decide when it will return back to the Kingdom.
"Do not, My children, be deceived by the words of the evil ones about you who cry to you of no space left for man. There is space, for My Father has a plan for every life He sends." - Our Lady, August 5, 1971

WILL NEVER BE CONDONED
"You will remember, My children and My child, to guard the young. Your clergy have fallen into darkness. Abortion will never be condoned. But We must have others who fervently will go forward and bring out to the minds of those who have actually seduced the country and the children--bring them the knowledge of Heaven, hell and purgatory. Then they will not have free license to sin." - Our Lady, May 28, 1983

GOVERNMENT
"For that one reason among many, the United States will suffer unless there is placed into your government a group that fears the Lord if they cannot love the Lord. They will fear Him and find measures to stop the slaughter of the unborn." - Our Lady, April 14, 1984

NUNS
"That is what makes My heart ache, My child. That is one of the reasons Theresa is crying constantly when she looks into the convents and sees what is going on. Many now believe in abortion, the murders of the children; and many have committed this act upon themselves." - Jesus, October 1, 1988

SIXTY MILLION
"I say this for this reason: the Eternal Father is much disturbed at the numbers of abortions being committed throughout your country and the world. These numbers go upwards to fifty to sixty million in one year throughout the world." - Our Lady, June 18, 1986

TREATED AS GARBAGE
"O My child, My tears fall upon you all when I see all of the innocent little babies being slaughtered . . . cast into garbage pails like nothing but dirt and scum. They are living human beings! And all murderers shall get their just recompense." - Our Lady, March 18, 1983

BOMBS IN THE UNITED STATES
"These interlopers upon the serenity of the United States have dark skins.... With their plans there will be bombs placed in strategic places and many shall die at the hands of these ruffians....
"One big reason for permitting this disaster in New York would be the abortion mills throughout the city and the country." - Jesus, October 1, 1988

HOLY SPIRIT
"At the time of conception, the Holy Spirit makes the child, and the breath of the Almighty gives it life." - Our Lady, June 18, 1991

LIMBO
"And what, My children, are We going to do with all the aborted babies? O My child, I know you feel as I do, for I can see the great distress on your face. What are We going to do, My child? Do you understand when they come to Us, they must go to Limbo? They are in Heaven, a happy place, but they cannot see God." - Our Lady, October 2, 1987

SORROWFULLY
"Sorrowfully, the penance that is to come upon the world for the murders of the unborn shall be a chastisement far greater in severity than man has ever witnessed in the past nor ever shall pass through again. Your world is plunging into a deep chasm of suffering and destruction." - Our Lady, May 20, 1978

OATH
"Your once loyal to the oath of a doctor, your once loyal doctors are now butchers! For money they kill the young!" - Our Lady, February 10, 1978

WOE TO THE WOMAN
"Know, My child, this simple lesson, that in these days of the latter times, women will seek to cast off their role as mother and a woman. Women will cast it off under the direction of satan, and murder her children. Woe to the woman who does not repent of this vile abomination! She has walked the road to eternal damnation and hell. Repent, O woman, or forever be lost!" - Our Lady, March 18, 1975
Directives from Heaven... http://www.tldm.org/directives/directives.htm
D2 - The Holy Eucharist PDF
D23 - Abortion PDF
D146 - Honor the Eucharist, Part 1 PDF
D147 - Honor the Eucharist, Part 2 PDF
D161 - The Great Apostasy PDF
D186 - Excommunication PDF
Articles…
Catholics who vote pro-abortion commit a mortal sin
http://www.tldm.org/News6/VotingPro-Choice.htm

Vatican Cardinal ends debate: No Communion for pro-abortion politicians or Rainbow Sashers
http://www.tldm.org/News7/AbortionArinze.htm

Vatican warns Catholic pro-abortion politicians not to receive Holy Communion
http://www.tldm.org/news6/vaticanwarnsjohnkerrynocommunion.htm

Pope Benedict XVI says that refusing Holy Communion to pro-abortion politicians is a "doctrine of the Church"
http://www.tldm.org/News7/Ratzinger3.htm

Bishop Fred Henry: Holy Communion to be denied to gay "marriage" supporters and all "notorious public sinners"
http://www.tldm.org/News8/CommunionBishopHenry1.htm

Bishop Henry says he would refuse Prime Minister Holy Communion, would consider excommunication
http://www.tldm.org/News7/AbortionBishopHenry.htm

Pope Benedict XVI says public figures who dissent from Church teachings should not receive Holy Communion
http://www.tldm.org/news6/Ratzinger.htm

Full text of Cardinal Ratzinger's letter to U.S. bishops, that they must refuse Communion to pro-abort politicians
http://www.tldm.org/News7/Ratzinger.htm

Archbishop Burke: more profoundly sorrowful would be a bishop who failed "to safeguard the worthy reception of Communion"
http://www.tldm.org/news6/Burke2.htm

Archbishop Pell: people who reject Church teaching not entitled to Holy Communion
http://www.tldm.org/News4/Pell.htm

Sacrilegious Communion and the U.S. bishops
http://www.tldm.org/News6/sacrilege.htm
There are 4 things you must have to survive the days ahead:
1.) The Douay-Rheims Holy Bible...
"You must all obtain a copy of the Book of life and love, the Bible. Do not accept the new mods. Try to find in your bookstores the old Bibles, My children, for many are being changed to suit the carnal nature of man. I repeat, sin has become a way of life." - Our Lady, October 6, 1992
"I must ask you all to read but a few short chapters a day now, the Book of life and love, your Bible. Knowledge must be gained for all the disciples of My Son, for you will be attacked by scientific minds. But do not be concerned what you will say to them when accosted, for the words will be given to you by the Spirit." - Our Lady, April 10, 1976 (Order Form)
2.) The total Virgin Mary's Bayside Prophesies in 6 paperback books...
The Virgin Mary brings directions from God, the Father in Heaven on how to survive the end times. God, the Father, through the Virgin Mary, tells what is coming, how to prepare for it, how to survive it, and how to even stop it. These six volumes along with the Bible are most important to save yourself and your loved ones. Order it now. Tomorrow may be to late. These 6 pocket size paperback books costs $33.00. (Order Form)
3.) Heaven's Home Protection Packet...
Heaven's Home Protection Packet...
Our Lord stated we must have crucifixes upon the outside of all of our outside doors. In the "Heaven's Home Protection Packet" there are instructions, four crucifixes, a tube of special cement for wooden or metal crucifixes. Wooden crucifixes adhere better to the doors when the aluminum strap is removed from the back. Put a light coat of cement on the back of the crucifix and then press it to the outside of the door. If you have any problems, you can call us at 616-698-6448 for assistance. This Heaven's Home Protection Packet is available for a donation of $7.00 plus $3.00 shipping and handling. Send $10.00 to TLD Ministries, P.O. Box 40, Lowell, MI 49331. Item # P15 (Order Form)

Crucifix on front and back door... The only real protection against terrorists...
Jesus - "Pray and wear your sacramentals. And, also, My children, I ask you again to place a crucifix upon your door. Both front and back doors must have a crucifix. I say this to you because there will be carnage within your areas, and this will pass you by if you keep your crucifix upon your doors." (6-30-84) (Testimonies of lives and homes saved by the crucifixes.) http://www.tldm.org/news/crucifix.htm (Order Form)
4.) Heaven's Personal Protection Packet...
Heaven's Personal Protection Packet . . .

Our Lady tells us to be protected from all evil, we must wear the following sacramentals around our necks: a Rosary, a crucifix, the St. Benedict medal, Our Lady of the Roses medal, the Miraculous Medal, and the scapular. We have all of these sacramentals in a packet we call "Heaven's Personal Protection Packet." This packet is available for a donation of $6.00 plus $3.00 shipping and handling. Send $9.00 to TLD Ministries, P.O. Box 40, Lowell, MI 49331. Item # P5
(Order Form)
Our Lady of the Roses, Mary Help of Mothers promises to help protect our children. On September 13, 1977, She said, "He has an army of ogres wandering now throughout your country and all of the countries of the world. They are in possession of great power; so wear your sacramentals, and protect your children and your households. Learn the use every day of holy water throughout your household. Insist even with obstructions, insist that your children always wear a sacramental. One day they will understand that they will repel the demons."
On February 1, 1974, Our Lady said, "My children, know the value of these sacramentals. Guard your children well. You must awaken to the knowledge that you will not be protected without the sacramentals. Guard your children's souls. They must be surrounded with an aura of purity. Remove them if necessary from the sources of contamination, be it your schools or even false pastors."
This Heaven's Personal Protection Packet is available for a donation of $6.00 plus $3.00 shipping and handling. Send $9.00 to TLD Ministries, P.O. Box 40, Lowell, MI 49331. You may use your MasterCard, VISA, or American Express and call 1-616-698-6448. Item # P5 (Order Form)
| Home - Latest News | Introduction | Bayside Prophecies | Directives from Heaven | Order Form | Testimonies | Veronica Lueken | Miraculous Photos | Bible | Radio Program |
We encourage everyone to print or email copies of this web page to all the Bishops and all the clergy. Also, email or send this web page to the news media and as many people as possible.
The electronic form of this document is copyrighted.
Quotations are permissible as long as this web site is acknowledged through hyperlink to: http://www.tldm.org
Copyright © These Last Days Ministries, Inc. 1996 - 2012 All rights reserved.
P.O. Box 40 616-698-6448
Lowell, MI 49331-0040
Revised: February 16, 2012