| Home - Latest News | Introduction | Bayside Prophecies | Directives from Heaven | Order Form | Testimonies | Veronica Lueken | Miraculous Photos | Bible | Radio Program |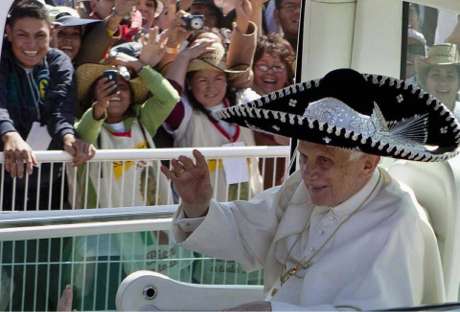 These Last Days News - March 28, 2012
Pope Benedict's Arrival in Mexico Sparks Surprising Emotion...
"Do not abandon My Son any longer by rejecting His Church. Do not judge My Son's Church by man. The foundation is My Son, Jesus. And though the walls may develop cracks, the foundation is solid. Will you not remain and patch these cracks, My children? We do not wish that you break apart into small groups of discord. No schisms must take place in My Son's Church. For all who are baptized a Roman Catholic must die Roman Catholics to enter Heaven. A rejection of the papacy, a rejection of the Faith because of human reasoning shall not be accepted by the Eternal Father in Heaven. Remain faithful and true forever unto the end." – Our Lady of the Roses, November 20, 1979
Myrtle Beach Online reported on March 24, 2012:
It had become tradition in Mexico. Before daybreak, youths would creep as close as security permitted and serenade their beloved Pope John Paul II with a song of greeting and celebration.

Now a new, less familiar pope had come, seeking to strengthen his own ties with the largest Spanish-speaking Catholic nation.

So well before dawn Saturday, two dozen youths from a Guadalajara church group gathered near the school where the Pope Benedict XVI was staying. "We sang with all our heart and all our force," said Maria Fernanda de Luna, a member of the group. "It gave us goosebumps to sing 'Las Mananitas' for him."

Songs, joyful throngs, church bells and confetti welcomed Benedict as he began his first trip to Mexico, a celebration that seemed to erupt spontaneously out of what had been a thin, sun-dazed crowd.

As Pope Benedict XVI's plane appeared in the shimmering heat of Friday afternoon, people poured from their homes. They packed sidewalks five and six deep, screaming ecstatically as the pope passed, waving slowly. Some burst into tears.

Many had said moments earlier that they could never love a pope as strongly as Benedict's predecessor, John Paul II. But the presence of a pope on Mexican soil touched a chord of overwhelming respect and adoration for the papacy itself, the personification for many of the Catholic Church, and God. Thousands found themselves taken aback by their own emotions.

As a girl, Celia del Rosario Escobar, 42, saw John Paul II on one of his five trips to Mexico, which brought him near-universal adoration.

"I was 12 and it's an experience that still makes a deep impression on me," she said. "I thought this would be different, but, no, the experience is the same."

"I can't speak," she murmured, pressing her hands to her chest and starting to cry.

Belief in the goodness and power of the pope runs deep in Guanajuato, the most observantly Catholic state in Mexico, a place of deep social conservatism and the wellspring of an armed uprising against harsh anti-clerical laws in the 1920s. Some in the crowd came for literal healing, a blessing from the pope's passage that would cure illness, or bring them more work. Others sought inspiration, rejuvenation of their faith, energy to be a better parent.

Many said the pope's message of peace and unity would help heal their country, traumatized by the deaths of more than 47,000 people in a drug war that has escalated during a government offensive against cartels that began more than five years ago.

In a speech on the airport tarmac shortly after arriving, Benedict said he was praying for all in need, "particularly those who suffer because of old and new rivalries, resentments and all forms of violence."

He said he had come to Mexico as a pilgrim of hope, to encourage Mexicans to "transform the present structures and events which are less than satisfactory and seem immovable or insurmountable while also helping those who do not see meaning or a future in life."

No part of Mexico has been spared at least a small scrape with drug gang violence, but Escobar said she hopes that Benedict will help turn around a society devastated by the drug trade and the brutal violence it spawns.

"I would like him to raise the consciousness of those people who are hurting Mexico, those involved in drug addiction, in the mafia," Escobar said. "I hope that we have will more respect for life."

Antonio Martinez, 57, said he wanted relief from diabetes and divine intervention that would bring him more than occasional work in Leon's shoe factories. He stood by the side of the road, resting against his bicycle, waiting for a glimpse of the pope.

"Simply greeting the pope and receiving his blessing can change our lives," Martinez said. "I believe that my health will improve, that more sources of work will appear."

The faithful lined more than 20 miles of the pope's route from the airport into Leon shouting the ultimate welcome: "Benedict, brother, you are now Mexican!"

The pope responded to the greeting as he stepped off his plane to wild cheers and the clamor of ringing bells.

"This is a proud country of hospitality, and nobody feels like a stranger in your land," Benedict said. "I knew that. Now I see it and now I feel it in my heart."

The pope had few public events on Saturday, but people from all over Mexico started pouring into a sprawling campground in the city of Silao to prepare for a papal Mass on Sunday.

Jose Luis Perez Daza, a 47-year-old lawyer who came by bus from Mexico City, wore a hat to protect himself from the hot sun on a three-mile trudge to the campsite with his sleeping bag.

Popes "have a personality, a positive energy," he said. "The simple fact of seeing him is a great satisfaction."

On Friday, Luz del Carmen Castillo Silva, a 15-year-old student at a Catholic women's technical college, said she came five hours from the city of Tlaxcala to strengthen a faith that already had her attending daily Mass.

"I want to become another person when I see the pope, ministering to people, speaking with God. … Seeing the pope, we see the love that we have for Christ," she said.

The weeklong trip to Mexico and Cuba is Benedict's first to both countries, and it will be a test of stamina for the pope, who turns 85 next month. At the airport Friday in Rome, he used a cane, apparently for the first time in public, while walking about 100 yards to the airliner's steps.

Papal aides, speaking on condition of anonymity, said Benedict has been using the cane in private for about two months because it makes him feel more secure and not for any medical reason. He left the cane aside as he stepped off the plane in Mexico.
MUST BE ACCEPTED, FOLLOWED
"Peter was My first Pope and your first Pope, and as all others who followed him, they must be accepted. Be they weak or noble, be they with sanctity or unholiness, they must be accepted and followed....
"I ask you not to judge another. You may counsel, you may give your viewpoints, but no violence must be used. And I do not want schism. I do not want any interference from separated brethren in My Church. They must be brought back. Convert the unbeliever! You must remain united with Rome.
"The gates of hell shall not prevail against My Church, for a cleansing will come about and all that is rotten will fall! And My Church shall be restored to its former glory!" - Jesus, June 9, 1979
EDITOR'S COMMENT: Evil is expanding and the Anti-Christ forces are gaining power in the world. When the persecution starts, Christian web sites on the internet will be forced to close, including this one. Be sure to have in your possession all the following items: the Bayside books, Bayside Medals, Douay-Rheims Bibles, the Protection Packets, Candles, Sacramentals, and Religious Books. Purchase these items now while they are still available! You will urgently need them in the days ahead. Also, you can print out all PDF files for the Directives from Heaven and all of the Bayside Prophecies. Copy Our Lady's messages and the Directives from Heaven now while they are still available! Pray to the Holy Spirit for guidance on how to prepare now and for the days ahead. God bless.

Let Us All Pray the Rosary Together Around the World for the Protection of Pope Benedict XVI... Click here...
Our Lady of the Roses awesome Bayside Prophecies... http://www.tldm.org/../Bayside/
These prophecies came from Jesus, Mary, and the saints to Veronica Lueken at Bayside, NY, from 1968 to 1995.
A MESSAGE FOR YOUR VICAR
"My child and My children, do not cast aside this message, for it is most urgent. The War, the great War, will soon come upon you, taking many from the earth.
"I have given to you, My child, a message for your Vicar, and he must act upon it. Should he proceed by following the ways of man, using humanism and modernism to the destruction of souls and My Son's Church, I cannot then any longer hold back the heavy hand of punishment from mankind." - Our Lady, December 7, 1978

CHASTISEMENT SORELY DUE FOR DISOBEDIENCE TO VICAR
"Your world, My child and My children, has not progressed back to the Eternal Father. Should you receive now one chastisement so sorely due to you for your disobedience to Our Vicar? Do you as a nation, do you, all nations of the world, deserve the continuance of the struggle of Our Vicar for your salvation, or shall you, through your own actions, force the hand of the Eternal Father upon you by abandoning you to your sin? Your nation, the United States, and all nations of the earth--none shall escape the fires." – Our Lady, May 30, 1981

UNITED
"We do not want division within the Church. That will solve nothing. You cannot separate yourself from the Holy Father in Rome!" - Our Lady, September 27, 1986

YOU ACT IN DISOBEDIENCE
"Mankind will go about with their heads in clouds, with itching ears, accepting false doctrines from false teachers. Novelty, experimentation, modernism, humanism! Because you sin and lose the light, you now fall prey to these creations of satan. Have you not been warned before from the Seat of Peter? Oh, no! You cast aside the direction of your Holy Father in the Eternal City of Rome! Evil men of the cross, you act in disobedience to your Vicar." – Our Lady, February 10, 1977
Directives from Heaven... http://www.tldm.org/directives/directives.htm
D123 - Catholic Church, Part 1 PDF
D124 - Catholic Church, Part 2 PDF
D265 - The Papacy PDF
There are 4 things you must have to survive the end times:
1.) The Douay-Rheims Holy Bible...
"You must all obtain a copy of the Book of life and love, the Bible. Do not accept the new mods. Try to find in your bookstores the old Bibles, My children, for many are being changed to suit the carnal nature of man. I repeat, sin has become a way of life." - Our Lady, October 6, 1992
"I must ask you all to read but a few short chapters a day now, the Book of life and love, your Bible. Knowledge must be gained for all the disciples of My Son, for you will be attacked by scientific minds. But do not be concerned what you will say to them when accosted, for the words will be given to you by the Spirit." - Our Lady, April 10, 1976 (Order Form)
2.) The total Virgin Mary's Bayside Prophesies in 6 paperback books...
The Virgin Mary brings directions from God, the Father in Heaven on how to survive the end times. God, the Father, through the Virgin Mary, tells what is coming, how to prepare for it, how to survive it, and how to even stop it. These six volumes along with the Bible are most important to save yourself and your loved ones. Order it now. Tomorrow may be to late. These 6 pocket size paperback books costs $33.00. (Order Form)
3.) Heaven's Home Protection Packet...
Heaven's Home Protection Packet...
Our Lord stated we must have crucifixes upon the outside of all of our outside doors. In the "Heaven's Home Protection Packet" there are instructions, four crucifixes, a tube of special cement for wooden or metal crucifixes. Wooden crucifixes adhere better to the doors when the aluminum strap is removed from the back. Put a light coat of cement on the back of the crucifix and then press it to the outside of the door. If you have any problems, you can call us at 616-698-6448 for assistance. This Heaven's Home Protection Packet is available for a donation of $5.00 plus $3.00 shipping and handling. Send $8.00 to TLD Ministries, P.O. Box 40, Lowell, MI 49331. Item # P15 (Order Form)

Crucifix on front and back door... The only real protection against terrorists...

Jesus - "Pray and wear your sacramentals. And, also, My children, I ask you again to place a crucifix upon your door. Both front and back doors must have a crucifix. I say this to you because there will be carnage within your areas, and this will pass you by if you keep your crucifix upon your doors." (6-30-84) (Testimonies of lives and homes saved by the crucifixes.) http://www.tldm.org/news/crucifix.htm (Order Form)
4.) Heaven's Personal Protection Packet...
Heaven's Personal Protection Packet . . .
Our Lady tells us to be protected from all evil, we must wear the following sacramentals around our necks: a Rosary, a crucifix, the St. Benedict medal, Our Lady of the Roses medal, the Miraculous Medal, and the scapular. We have all of these sacramentals in a packet we call "Heaven's Personal Protection Packet." This packet is available for a donation of $5.00 plus $3.00 shipping and handling. Send $8.00 to TLD Ministries, P.O. Box 40, Lowell, MI 49331. Item # P5 (Order Form)

Our Lady of the Roses, Mary Help of Mothers promises to help protect our children. On September 13, 1977, She said, "He has an army of ogres wandering now throughout your country and all of the countries of the world. They are in possession of great power; so wear your sacramentals, and protect your children and your households. Learn the use every day of holy water throughout your household. Insist even with obstructions, insist that your children always wear a sacramental. One day they will understand that they will repel the demons."
On February 1, 1974, Our Lady said, "My children, know the value of these sacramentals. Guard your children well. You must awaken to the knowledge that you will not be protected without the sacramentals. Guard your children's souls. They must be surrounded with an aura of purity. Remove them if necessary from the sources of contamination, be it your schools or even false pastors."
This Heaven's Personal Protection Packet is available for a donation of $5.00 plus $3.00 shipping and handling. Send $8.00 to TLD Ministries, P.O. Box 40, Lowell, MI 49331. You may use your MasterCard, VISA, or American Express and call 1-616-698-6448. Item # P5 (Order Form)
Your names have been written in Heaven… "It is not by accident that you are called by My Mother, for your names have been written in Heaven.... But with this great grace you have great responsibility to send this Message from Heaven throughout the world, for if you are able to recover just one more for Heaven, an additional star shall be placed in your crown." - Jesus, August 5, 1975
A great obligation to go forward... "It is not by accident that you are called by My Mother, for it is by merit and the prayers that have risen to Heaven for your salvation. For those who have received the grace to hear the Message from Heaven, you have a great obligation to go forward and bring this Message to your brothers and sisters. Do not expect a rest upon your earth, for you will have eternal rest very soon." - Jesus, June 12, 1976
The sin of omission... "The sin of omission shall condemn many to hell, be they layman or Hierarchy. I repeat: not the sin of commission, but the sin of omission will commit many to hell." Our Lady of the Roses, October 6, 1980
We encourage everyone to print or email copies of this web page to all the Bishops and all the clergy. Also, email or send this web page to the news media and as many people as possible.
| Home - Latest News | Introduction | Bayside Prophecies | Directives from Heaven | Order Form | Miracles & Cures | Veronica Lueken | Miraculous Photos | Bible | Radio Program |
The electronic form of this document is copyrighted.
Quotations are permissible as long as this web site is acknowledged with a hyperlink to: http://www.tldm.org
Copyright © These Last Days Ministries, Inc. 1996 - 2012 All rights reserved.
P.O. Box 40 616-698-6448
Lowell, MI 49331-0040
Revised: March 28, 2012