| Home - Latest News | Introduction | Bayside Prophecies | Directives from Heaven | Order Form | Testimonies | Veronica Lueken | Miraculous Photos | Bible | Radio Program |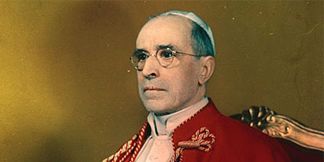 These Last Days News - March 8, 2012
Vatican Archive Letter Shows Jewish Inmates Thanking Pius XII for His Protection...
"My child and My children, you are all My children. I judge you not by color or race, and I do not judge you by your creed; however, should the knowledge of the One True Church be given to you, and the way to Heaven along the narrow road be given to you, you will follow it or you will be rejected." - Our Lady, August 21, 1985
The Telegraph reported on March 2, 2012:
Pius XII, who was elected in 1939, has been accused of turning a blind eye to the Nazis' extermination of the Jews in Europe, including a round-up by the Gestapo of 2,000 Italian Jews in Rome's Ghetto area in 1943.

They were sent to concentration camps, including Auschwitz, and only a handful survived the war.

The Vatican has until now refused to release any documents from Pius's papacy, despite calls for them to be made available by Jewish groups and historians, who in the past have dubbed the Italian pontiff "Hitler's Pope" and accused him of being anti-Semitic.

But in an historic move, seven documents from the so-called "closed period" went on display this week in an exhibition of 100 historic items from the Vatican Secret Archives.

They suggested that the Pope showed more concern for the plight of Jews during the war than he is often credited with.

In 1941 he sent a Vatican official, Francesco Borgongini-Duca, to check on the welfare of Jews and other prisoners being held in seven internment camps in southern Italy.

In April 1942 a rabbi and a doctor who were being held in one of the camps wrote a long letter to thank the Pope for clothing that the Vatican sent to interned children and for his concern for prisoners.

The document to cast Pius in the most flattering light is a letter from October 1944, after Italy signed an armistice with the Allies and switched sides, in which former inmates expressed their gratitude for his support during their imprisonment.

"While in nearly all the countries of Europe we were persecuted, imprisoned and threatened with death because we belong to the Jewish people and profess the Jewish faith, Your Holiness not only sent notable and generous gifts to our camp through the apostolic nuncio... but also showed your fatherly interest in our physical and spiritual well-being," they wrote in German.

"(You) intrepidly raised your universally venerated voice against our enemies – still so powerful at that time – to openly support our rights to human dignity.

"When in 1942 we were under the threat of deportation to Poland, Your Holiness extended your fatherly hand to protect us and prevented the deportation of the Jews imprisoned in Italy, thereby saving us from almost certain death."

The document was carefully chosen by Vatican archivists to bolster the case that Pius did all he could to help the Jews during the war.

But it is just one of two million papers from his 1939-1958 papacy and will not stop scholars and Jewish organisations from asking for the release of the entire archive.

Monsignor Sergio Pagano, the head of the Secret Archives, promised that the full archive would be made available "within one or two years", although he said the final decision would depend on Pope Benedict XVI.

The Catholic Church has long argued that Pius secretly saved many Jews by allowing them to hide in monasteries and convents and that he held back from being more critical of Hitler because he feared it would prompt even more savage persecution.
The Holy Douay-Rheims Bible...
I will bless them that bless thee (Jews), and curse them that curse thee (Jews), and IN THEE (Jews) shall all the kindred of the earth be blessed... Genesis 12:3 DRB
[TLDM Editor's Note: The Jews are still the chosen people of God. The covenant that God made with Abraham was never rescinded. In fact, the Jewish people have been called "our elder brothers" by Blessed Pope John Paul II.]
Pope Gregory X's Papal Bull "Papal Protection of the Jews" issued October 7, 1272:
Gregory, bishop, servant of the servants of God, extends greetings and the apostolic benediction to the beloved sons in Christ, the faithful Christians, to those here now and to those in the future.

Even as it is not allowed to the Jews in their assemblies presumptuously to undertake for themselves more than that which is permitted them by law, even so they ought not to suffer any disadvantage in those [privileges] which have been granted them. [This sentence, first written by Gregory I in 598, embodies the attitude of the Church to the Jew.] Although they prefer to persist in their stubbornness rather than to recognize the words of their prophets and the mysteries of the Scriptures [which, according to the Church, foretold the coming of Jesus], and thus to arrive at a knowledge of Christian faith and salvation; nevertheless, inasmuch as they have made an appeal for our protection and help, we therefore admit their petition and offer them the shield of our protection through the clemency of Christian piety. In so doing we follow in the footsteps of our predecessors of blessed memory, the popes of Rome -- Calixtus, Eugene, Alexander, Clement, Innocent, and Honorius.

We decree moreover that no Christian shall compel them or any one of their group to come to baptism unwillingly. But if any one of them shall take refuge of his own accord with Christians, because of conviction, then, after his intention will have been manifest, he shall be made a Christian without any intrigue. For, indeed, that person who is known to have come to Christian baptism not freely, but unwillingly, is not believed to posses the Christian faith.

[The Church, in principle, never approved of compulsory baptism of Jews.]

Moreover no Christian shall presume to seize, imprison, wound, torture, mutilate, kill or inflict violence on them; furthermore no one shall presume, except by judicial action of the authorities of the country, to change the good customs in the land where they live for the purpose of taking their money or goods from them or from others.

In addition, no one shall disturb them in any way during the celebration of their festivals, whether by day or by night, with clubs or stones or anything else. Also no one shall exact any compulsory service of them unless it be that which they have been accustomed to render in previous times.

[Up to this point Gregory X has merely repeated the bulls of his predecessors.]

Inasmuch as the Jews are not able to bear witness against the Christians, we decree furthermore that the testimony of Christians against Jews shall not be valid unless there is among these Christians some Jew who is there for the purpose of offering testimony.

[the Church council at Carthage, as early as 419, had forbidden Jews to bear witness against Christians; Justinian's law of 531 repeats this prohibition. Gregory X here -- in accordance with the medieval legal principle that every man has the right to be judged by his peers -- insists that Jews can only be condemned if there are Jewish as well as Christian witnesses against them. A similar law to protect Jews was issued before 825 by Louis the Pious (814 - 840) of the Frankish Empire.]

Since it happens occasionally that some Christians lose their children, the Jews are accused by their enemies of secretly carrying off and killing these same Christian children and of making sacrifices of the heart and blood of these very children. It happens, too, that the parents of these very children, or some other Christian enemies of these Jews, secretly hide these very children in order that they may be able to injure these Jews, and in order that they may be able to extort from them a certain amount of money by redeeming them from their straits. [Following the lead of Innocent IV, 1247, Gregory attacks the ritual murder charge at length.]

And most falsely do these Christians claim that the Jews have secretly and furtively carried away these children and killed them, and that the Jews offer sacrifices from the heart and the blood of these children, since their law in this matter precisely and expressly forbids Jews to sacrifice, eat, or drink the blood, or to eat the flesh of animals having claws. This has been demonstrated many times at our court by Jews converted to the Christian faith: nevertheless very many Jews are often seized and detained unjustly because of this.

We decree, therefore, that Christians need not be obeyed against Jews in a case or situation of this type, and we order that Jews seized under such a silly pretext be freed from imprisonment, and that they shall not be arrested henceforth on such a miserable pretext, unless -- which we do not believe -- they be caught in the commission of the crime. We decree that no Christian shall stir up anything new against them, but that they should be maintained in that status and position in which they were in the time of our predecessors, from antiquity till now.

We decree in order to stop the wickedness and avarice of bad men, that no one shall dare to devastate or to destroy a cemetery of the Jews or to dig up human bodies for the sake of getting money. [The Jews had to pay a ransom before the bodies of their dead were restored to them.] Moreover, if any one, after having known the content of this decree, should -- which we hope will not happen -- attempt audaciously to act contrary to it, then let him suffer punishment in his rank and position, or let him be punished by the penalty of excommunication, unless he makes amends for his boldness by proper recompense. Moreover, we wish that only those Jews who have not attempted to contrive anything toward the destruction of the Christian faith be fortified by support of such protection ...

Given at Orvieto by the hand of the Magister John Lectator, vice-chancellor of the Holy Roman Church, on the 7th of October, n the first indiction [cycle of fifteen years], in the year 1272 of the divine incarnation, in the first year of the pontificate of our master, the Pope Gregory X.

Let Us All Pray the Rosary Together Around the World for the Protection and Conversion of the Jews... Click here...
EDITOR'S COMMENT: Evil is accelerating and the Anti-Christ forces are gaining power in the world. When the persecution starts, all Christian web sites on the internet will be forced to close. Be sure to have in your possession all the following items: the Bayside Prophecy books, Bayside Medals, Douay-Rheims Bibles, the Protection Packets, Candles, Sacramentals, and Religious Books. Purchase these items now while they are still available! You will urgently need them in the days ahead. Also, you can print out all PDF files for the Directives from Heaven and all of the Bayside Prophecies. Copy Our Lady's messages and the Directives from Heaven now while they are still available! Pray to the Holy Spirit for wisdom and guidance on how to prepare now and for the days ahead when the Antichrist is revealed. God bless.
"My children, the saints in Heaven cry for all of the abominations being committed in My House upon earth, the Church. We do not want a separation within the ranks. United you will stand; divided you will fall!
"There was great unity in My House upon earth, but man became unpious, unholy, and with itching ears he has listened to doctrines set forth by demons. Now, My shepherds, you will close your ears to your modernists and those who seek change and who will build a church of man. No, I say unto you, this shall not be tolerated by the Eternal Father! You are permitted a long rule for reason. The Eternal Father hopes, in His merciful heart, that you will come out of your slumber and see the light. You are walking in darkness." - Jesus, July 15, 1977
The awesome Bayside Prophecies... http://www.tldm.org/Bayside/default.htm
These prophecies came from Jesus, Mary, and the saints to Veronica Lueken at Bayside, NY, from 1968 to 1995:
FAITH AND MORALS
"Many now rebel against their leader, their God-given leader, your Vicar. In matters of faith and morals, man must not change the God-given laws, coming from the seat of Peter, and established through tradition upon earth through My Son's Church." - Our Lady, October 6, 1979

A REJECTION OF THE PAPACY SHALL NOT BE ACCEPTED
"Do not abandon My Son any longer by rejecting His Church. Do not judge My Son's Church by man. The foundation is My Son, Jesus. And though the walls may develop cracks, the foundation is solid. Will you not remain and patch these cracks, My children? We do not wish that you break apart into small groups of discord. No schisms must take place in My Son's Church. For all who are baptized a Roman Catholic must die Roman Catholics to enter Heaven. A rejection of the papacy, a rejection of the Faith because of human reasoning shall not be accepted by the Eternal Father in Heaven. Remain faithful and true forever unto the end." – Our Lady, November 20, 1979

REMAIN WITH ROME
"We ask you from Heaven not to leave, not to create a schism from your main body in Rome. You must remain within My Son's Church and pray a constant vigilance of prayer. Satan and his agents have entered in full battle upon My Son's Church. Satan has entered into the highest ranks within My Son's Church and the world. He will manipulate powers, provincials, until he brings about a great chastisement, because man will not listen and mend his ways." - Our Lady, February 10, 1977

PETER'S DESCENDANTS SHALL RULE
"You must not compromise your Faith, My children, by bringing in those who have separated themselves from your true Church. This Church was founded by My Son, and He set a leader, a Pope, among you.
"Peter and his descendants shall rule. There shall not be set up a governing body of hierarchy!" - Our Lady, November 20, 1975

MUST BE ACCEPTED, FOLLOWED
"Peter was My first Pope and your first Pope, and as all others who followed him, they must be accepted. Be they weak or noble, be they with sanctity or unholiness, they must be accepted and followed....
"I ask you not to judge another. You may counsel, you may give your viewpoints, but no violence must be used. And I do not want schism. I do not want any interference from separated brethren in My Church. They must be brought back. Convert the unbeliever! You must remain united with Rome.
"The gates of hell shall not prevail against My Church, for a cleansing will come about and all that is rotten will fall! And My Church shall be restored to its former glory!" - Jesus, June 9, 1979

MANKIND ON PATH OF SCHISM
"The Eternal Father in Heaven is watching as mankind is setting himself fast upon a path of schism. There will be much strife within the Eternal City, My child. You must keep a constant vigilance of prayer." - Our Lady, April 10, 1976

PROTECT THE PAPACY
"My children, there is a war now going on far worse than any physical war that man can experience, for it is a war of the spirits. Many saints of the latter days shall come forward from this era. My children, do not compromise your Faith but defend it against the forces of evil. Protect with love, with prayer, with sacrifice, the Eternal City of Rome and the papacy." – Our Lady, December 31, 1976

MAINTAIN THE PAPACY
"I ask you again not to abandon your parish churches. You will maintain the papacy in Rome. I tell you anew that 666 now is in Rome. Do not judge My Son's Church by His pastors. In their human nature they can err; however, as legitimate legally-ordained Roman Catholic priests they will bring My Son to you if you come seeking Him at the tabernacles of the world. The Mass is valid, I say unto you!
"My Son is waiting for you at the tabernacles of His Church. My children, do not abandon Him in these days of deep spiritual darkness. You must all keep a constant vigilance of prayer going throughout your country, the United States, and Canada, and all of the countries throughout your world." – Our Lady, June 10, 1978
Directives from Heaven... http://www.tldm.org/directives/directives.htm
D127 - Vatican II PDF
D163 - Schism PDF
D265 - The Papacy PDF
D279 - Unity PDF
There are 4 things you must have to survive the end times:
1.) The Douay-Rheims Holy Bible...
"You must all obtain a copy of the Book of life and love, the Bible. Do not accept the new mods. Try to find in your bookstores the old Bibles, My children, for many are being changed to suit the carnal nature of man. I repeat, sin has become a way of life." - Our Lady, October 6, 1992
"I must ask you all to read but a few short chapters a day now, the Book of life and love, your Bible. Knowledge must be gained for all the disciples of My Son, for you will be attacked by scientific minds. But do not be concerned what you will say to them when accosted, for the words will be given to you by the Spirit." - Our Lady, April 10, 1976 (Order Form)
2.) The total Virgin Mary's Bayside Prophesies in 6 paperback books...
The Virgin Mary brings directions from God, the Father in Heaven on how to survive the end times. God, the Father, through the Virgin Mary, tells what is coming, how to prepare for it, how to survive it, and how to even stop it. These six volumes along with the Bible are most important to save yourself and your loved ones. Order it now. Tomorrow may be to late. These 6 pocket size paperback books costs $33.00. (Order Form)
3.) Heaven's Home Protection Packet...
Heaven's Home Protection Packet...
Our Lord stated we must have crucifixes upon the outside of all of our outside doors. In the "Heaven's Home Protection Packet" there are instructions, four crucifixes, a tube of special cement for wooden or metal crucifixes. Wooden crucifixes adhere better to the doors when the aluminum strap is removed from the back. Put a light coat of cement on the back of the crucifix and then press it to the outside of the door. If you have any problems, you can call us at 616-698-6448 for assistance. This Heaven's Home Protection Packet is available for a donation of $5.00 plus $3.00 shipping and handling. Send $8.00 to TLD Ministries, P.O. Box 40, Lowell, MI 49331. Item # P15 (Order Form)

Crucifix on front and back door... The only real protection against terrorists...

Jesus - "Pray and wear your sacramentals. And, also, My children, I ask you again to place a crucifix upon your door. Both front and back doors must have a crucifix. I say this to you because there will be carnage within your areas, and this will pass you by if you keep your crucifix upon your doors." (6-30-84) (Testimonies of lives and homes saved by the crucifixes.) http://www.tldm.org/news/crucifix.htm (Order Form)
4.) Heaven's Personal Protection Packet...
Heaven's Personal Protection Packet . . .

Our Lady tells us to be protected from all evil, we must wear the following sacramentals around our necks: a Rosary, a crucifix, the St. Benedict medal, Our Lady of the Roses medal, the Miraculous Medal, and the scapular. We have all of these sacramentals in a packet we call "Heaven's Personal Protection Packet." This packet is available for a donation of $5.00 plus $3.00 shipping and handling. Send $8.00 to TLD Ministries, P.O. Box 40, Lowell, MI 49331. Item # P5 (Order Form)

Our Lady of the Roses, Mary Help of Mothers promises to help protect our children. On September 13, 1977, She said, "He has an army of ogres wandering now throughout your country and all of the countries of the world. They are in possession of great power; so wear your sacramentals, and protect your children and your households. Learn the use every day of holy water throughout your household. Insist even with obstructions, insist that your children always wear a sacramental. One day they will understand that they will repel the demons."
On February 1, 1974, Our Lady said, "My children, know the value of these sacramentals. Guard your children well. You must awaken to the knowledge that you will not be protected without the sacramentals. Guard your children's souls. They must be surrounded with an aura of purity. Remove them if necessary from the sources of contamination, be it your schools or even false pastors."
This Heaven's Personal Protection Packet is available for a donation of $5.00 plus $3.00 shipping and handling. Send $8.00 to TLD Ministries, P.O. Box 40, Lowell, MI 49331. You may use your MasterCard, VISA, or American Express and call 1-616-698-6448. Item # P5 (Order Form)

Your names have been written in Heaven… "It is not by accident that you are called by My Mother, for your names have been written in Heaven.... But with this great grace you have great responsibility to send this Message from Heaven throughout the world, for if you are able to recover just one more for Heaven, an additional star shall be placed in your crown." - Jesus, August 5, 1975

A great obligation to go forward... "It is not by accident that you are called by My Mother, for it is by merit and the prayers that have risen to Heaven for your salvation. For those who have received the grace to hear the Message from Heaven, you have a great obligation to go forward and bring this Message to your brothers and sisters. Do not expect a rest upon your earth, for you will have eternal rest very soon." - Jesus, June 12, 1976

The sin of omission... "The sin of omission shall condemn many to hell, be they layman or Hierarchy. I repeat: not the sin of commission, but the sin of omission will commit many to hell." Our Lady of the Roses, October 6, 1980

We encourage everyone to print or email copies of this web page to all the Bishops and all the clergy. Also, email or send this web page to the news media and as many people as possible.

| Home - Latest News | Introduction | Bayside Prophecies | Directives from Heaven | Order Form | Miracles & Cures | Veronica Lueken | Miraculous Photos | Bible | Radio Program |

The electronic form of this document is copyrighted.
Quotations are permissible as long as this web site is acknowledged with a hyperlink to: http://www.tldm.org
Copyright © These Last Days Ministries, Inc. 1996 - 2012. All rights reserved.
P.O. Box 40 616-698-6448
Lowell, MI 49331-0040
Revised: March 07, 2012