| Home - Latest News | Introduction | Bayside Prophecies | Directives from Heaven | Order Form | Testimonies | Veronica Lueken | Miraculous Photos | Bible | Radio Program |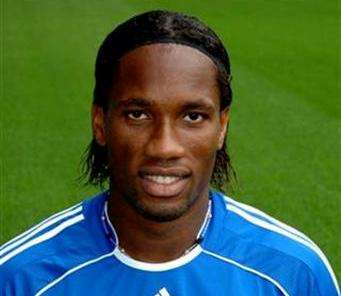 These Last Days News - May 23, 2012
Vatican Pays Tribute to Catholic Soccer Star Didier Drogba...
"Pray, pray much, My children, for those who are in darkness. You who have been graced to have your eyes opened to the truth are under obligation now to spread the word and recover those who need your help in prayers and sacrifice. These graces were given to you so that you will be champions in the battle." - Our Lady, February 10, 1973
CNA reported on May 23, 2012:
The Vatican's sports office has paid tribute to Chelsea striker Didier Drogba after the Catholic soccer star gave credit to God for his team's UEFA Champions League victory.

"The Vatican and the Holy Father is always very interested in such athletes as they are role models for others," Father Kevin Lixey, the director of the Vatican's Office of Church and Sport, told CNA in a May 21 interview.

He explained that "if they give thanks to God for their talents, it is good for the young people who admire these star athletes."

Drogba and his Chelsea teammates clinched European soccer's ultimate prize against Germany's Bayern Munich on May 19, with the Ivory Coast striker proving to be the hero of the night for the London club.

Drogba's heroics began with him evening the score at 1-1 with only two minutes left on the clock. The game was still a draw after extra time expired, leading to a shoot out in which Drogba drove home the winning goal.

On both occasions the African player celebrated by blessing himself with the Sign of the Cross.

"It was fate, I believe a lot in destiny. I pray a lot. It was written a long time ago. God is wonderful. This team is amazing,"34-year-old Drogba told the media after the game.

Saturday is not the first time that Didier Drogba has thanked God for his soccer skills. Before leaving in 2004 from his previous club, Olympique de Marseille in France, he gave his team shirt to the local Cathedral of Notre-Dame de la Garde, where it is still on display.

Away from the soccer pitch, Drogba has attempted to use his fame to bring peace to his native Ivory Coast. The small West African state has been plagued by civil wars during the past decade. Drogba is one of 11 members of the country's Truth and Reconciliation Commission, and last year was named in Time magazine's 100 most influential people in recognition for his work.

Fr. Lixey, an American priest based in Rome, drew a parallel between Didier Drogba's comments and the conduct of American football player Tim Tebow.

He explained how the New York Jets backup quarterback also recognizes that he has "a short time to witness to his faith" and views his career as "a window of opportunity" to evangelize.

Fr. Lixey believes there is "no correlation between victory and their prayers," but he does think that Christian sportsmen are more likely to "give more to others in the team and can get along better with teammates."
EDITOR'S COMMENTS: Let us pray for God's blessings, guidance, and protection for Didier Drogba as he courageously professes his Faith. May he inspire and may God bless us with many more young people like him.

Let Us All Pray the Rosary Together Around the World for More Catholic to Publicly Profess Their Faith... Click here...
"Do not be misguided by those who, in the spirit of darkness, take the knowledge of the supernatural from you. Yes, in order, My children, to stay in the light, you will be rejected by many. You will be scorned; you will be called insane, because, I repeat: there is nothing in common between the light and the darkness. As they rejected Me upon your earth, you, too, must go the way of the cross. But carry your cross, My children, with purpose and fortitude. And I assure you, as your God, that the road you follow in the light will be well worth your perseverance. The joys of Heaven are for all, but all do not attain this height, My children, for they are not willing to sacrifice and do penance and to follow the way of the cross." - Jesus, November 1, 1976
EDITOR'S COMMENT: Evil is accelerating and the Anti-Christ forces are gaining power in the world. When the persecution starts, all Christian web sites on the internet will be forced to close. Be sure to have in your possession all the following items: the Bayside Prophecy books, Bayside Medals, Douay-Rheims Bibles, the Protection Packets, Candles, Sacramentals, and Religious Books. Purchase these items now while they are still available! You will urgently need them in the days ahead. Also, you can print out all PDF files for the Directives from Heaven and all of the Bayside Prophecies. Copy Our Lady's messages and the Directives from Heaven now while they are still available! Pray to the Holy Spirit for guidance on how to prepare now and for the days ahead when the Antichrist is revealed. God bless.
Our Lady of the Roses awesome Bayside Prophecies... http://www.tldm.org/../Bayside/
These prophecies came from Jesus, Mary, and the saints to Veronica Lueken at Bayside, NY, from 1968 to 1995.
KNOWLEDGE IN FAITH
"The lessons of your Faith have been given to you for all time without change. My Son is forever, for God is, God was, and God always will be. My Son is your God in the Father and the Holy Ghost. Do not cast aside your knowledge in faith of the Trinity. Do not cast aside your knowledge in faith of My Son's divinity. Do not recrucify My Son upon your earth and in His Church, His House. You call upon you a heavy hand of punishment from the Eternal Father!" - Our Lady, December 24, 1976

OFFENSES
"Many victim souls are needed, victims in reparation for the offenses to the divinity of My Son." - Our Lady, December 24, 1974

DISTORT AND DENY
"Do you not recognize, My children, that satan will seek to distort and deny My words? Open your ears! Pray for the light! As shepherds, why do you choose to cast Me aside when I have been sent to you by the Father?
"The offenses to the divinity of My Son are great!" - Our Lady, October 6, 1974

SINISTER PLAN
"It was, My children, a sinister plan from the depths of hell to remove the knowledge of the divinity of My Son from among you. A Church in darkness wears a band of death about it. All that is rotten shall fall!" - Our Lady, February 10, 1978

PROTEST
"My children, you must protest the offenses being committed against the divinity of My Son. Prayer is a great weapon, but unless you act and pray too, My children, you proceed nowhere. You become lax, indifferent; apathy sets in. Each and every individual of conscionable age shall be tested." - Our Lady, November 1, 1977

LABOR OF LOVE
"My children, My Son, in the Father and the Spirit of light, blesses you all for coming to attest to your love, devotion, and dedication to the Mission from Heaven.
"My children, graces are given in abundance far beyond what your human mind could understand or comprehend. In due time you will all realize the fruits of your dedication. It is truly for you all a labor of love." - Our Lady, February 10, 1978

GREAT TEST
"My children, understand: it is a great test for all mankind. You who have been given the knowledge of what is happening now upon earth must go forward as apostles, disciples of My Son, and pass this knowledge on to all. If you are too concerned of your own pride and personal comforts, My children, you will not be able to work as an apostle and disciple. It must be a full dedication in the spirit." - Our Lady, July 15, 1978

MANY MORE
"My child and My children, many have accepted the Message from Heaven at this time, but there are many more of My sheep who have not received the knowledge of Our coming here to the sacred grounds. You will all be sure to keep the Message going out as fast as is humanly possible and within your means from prayer and dedication." - Jesus, June 18, 1983

SIMPLE LESSON
"Learn a simple lesson, My child. You will meet with rejection by many, for by rejecting My message they can place it as far from mind as possible. When one does not wish to accept a truth they try to disprove and sully this truth." - Our Lady, July 25, 1975

GREATEST EVIL
"If you know in your hearts, O pastors, that souls are in danger of being corrupted, misled, and even destroyed, and you do nothing about it, because you do not wish to offend your superiors, because you value your life in this world too much and your good living; I assure you, O pastors, you shall stand before My Son and He shall not know you. You will be disowned, banished from eternal life in Heaven, and you shall join your father who is the father of all liars, satan, and the prince of darkness.
"The greatest evil being now committed in My Son's House is denying His divinity, defiling His sacred Body, casting mockery upon it, allowing immorality to enter into My Son's House." - Our Lady, March 18, 1977

TO TEAR DOWN
"Many offenses are being committed in the House of God and the hearts of many: offenses to tear down the divinity and true existence of My Son in the Father." - Our Lady, May 10, 1973

NEW RELIGION
"You were given a foundation of Faith based on Tradition and knowledge of the prophets. You cannot start this new religion, for it will lead you to one religion that is not of My Son, that will not have His true foundation, and you will take My Son's Body and defame it, no longer giving the knowledge of His divinity. What manner of foul escapades are you planning, O you of little faith? Whatever shall become of you?" - Our Lady, August 5, 1976

RESPECT
"Cover your body before My Son! Do not defame and disgust Him by your presence and your acceptance of His divinity! Why, you are naked like pagans! Cover your heads! You do not follow the modernism and modes of an evil generation. No! The angels demand that all respect be given to the divinity of the Son of God in the houses throughout the world. Do not be misled by false pastors--those who care more for their worldly living and their easy living, and those who will not stand forward because the faith has become weak, and defend My Son before the enemies of God! No! They, too, will be cast aside with the goats. Fair warning I give. I cannot say that the Father is satisfied with the teaching of those He has chosen to guide the children and sheep of the world. No! I must say, there is great sorrow in Heaven." - Our Lady, August 14, 1974

DESECRATED
"Even in My Son's churches I have watched My children approaching the Sacred Species, My Son's Body and Blood--His divinity being desecrated by young women, young men, and even middle-aged, wearing satan's emblems! How foolish you are not to recognize the cross and the sacramentals given by the institutionalized churchesthe Roman Catholic Church of My Son--even though sadly I have often cried at the many denominations that came from the first Church of My Son. However, the cross is your salvation, and many of My children are wearing Lucifer's symbols. You wear a horn about your neck, and you say it is the Italian horn of plenty. It is not! It is the horn of Lucifer!" - Our Lady, November 25, 1978

LITTLE CHILDREN
"You will all keep a constant vigilance of prayer going throughout your country and the world. I admonish all parents now to spend at least fifteen minutes of your day reading the Bible to your children and your family. It is now a command from the Eternal Father! For the little children no longer know or recognize the angel guardians. The little children have no conception of the truth of the divinity or the existence of My Son. The little children are now being taught the ways of satan." - Our Lady, November 21, 1977
Directives from Heaven... http://www.tldm.org/directives/directives.htm
D33 - The Holy Bible, Part 1 PDF
D65 - The Home (Part1) PDF
D87 - Divinity of Jesus Christ PDF
D119 - Jesus Christ, Redeemer PDF
D182 - Bible Rewritten PDF
D227 - Champions of Heaven PDF
D266 - Persecution PDF
D271 - Atheists and Unbelievers PDF
D305 - The Home (Part 2) PDF
D398 - Fidelity PDF
D415 - Holy Bible, Part 2 PDF
D416 - Holy Bible, Part 3 PDF
D417 - Bible Prophecies PDF
There are 4 things you must have to survive the days ahead:
1.) The Douay-Rheims Holy Bible...
"You must all obtain a copy of the Book of life and love, the Bible. Do not accept the new mods. Try to find in your bookstores the old Bibles, My children, for many are being changed to suit the carnal nature of man. I repeat, sin has become a way of life." - Our Lady, October 6, 1992
"I must ask you all to read but a few short chapters a day now, the Book of life and love, your Bible. Knowledge must be gained for all the disciples of My Son, for you will be attacked by scientific minds. But do not be concerned what you will say to them when accosted, for the words will be given to you by the Spirit." - Our Lady, April 10, 1976 (Order Form)
2.) The total Virgin Mary's Bayside Prophesies in 6 paperback books...
The Virgin Mary brings directions from God, the Father in Heaven on how to survive the end times. God, the Father, through the Virgin Mary, tells what is coming, how to prepare for it, how to survive it, and how to even stop it. These six volumes along with the Bible are most important to save yourself and your loved ones. Order it now. Tomorrow may be to late. These 6 pocket size paperback books costs $33.00. (Order Form)
3.) Heaven's Home Protection Packet...
Heaven's Home Protection Packet...
Our Lord stated we must have crucifixes upon the outside of all of our outside doors. In the "Heaven's Home Protection Packet" there are instructions, four crucifixes, a tube of special cement for wooden or metal crucifixes. Wooden crucifixes adhere better to the doors when the aluminum strap is removed from the back. Put a light coat of cement on the back of the crucifix and then press it to the outside of the door. If you have any problems, you can call us at 616-698-6448 for assistance. This Heaven's Home Protection Packet is available for a donation of $7.00 plus $3.00 shipping and handling. Send $10.00 to TLD Ministries, P.O. Box 40, Lowell, MI 49331. Item # P15 (Order Form)

Crucifix on front and back door... The only real protection against terrorists...
Jesus - "Pray and wear your sacramentals. And, also, My children, I ask you again to place a crucifix upon your door. Both front and back doors must have a crucifix. I say this to you because there will be carnage within your areas, and this will pass you by if you keep your crucifix upon your doors." (6-30-84) (Testimonies of lives and homes saved by the crucifixes.) http://www.tldm.org/news/crucifix.htm (Order Form)
4.) Heaven's Personal Protection Packet...
Heaven's Personal Protection Packet . . .

Our Lady tells us to be protected from all evil, we must wear the following sacramentals around our necks: a Rosary, a crucifix, the St. Benedict medal, Our Lady of the Roses medal, the Miraculous Medal, and the scapular. We have all of these sacramentals in a packet we call "Heaven's Personal Protection Packet." This packet is available for a donation of $6.00 plus $3.00 shipping and handling. Send $9.00 to TLD Ministries, P.O. Box 40, Lowell, MI 49331. Item # P5
(Order Form)
Our Lady of the Roses, Mary Help of Mothers promises to help protect our children. On September 13, 1977, She said, "He has an army of ogres wandering now throughout your country and all of the countries of the world. They are in possession of great power; so wear your sacramentals, and protect your children and your households. Learn the use every day of holy water throughout your household. Insist even with obstructions, insist that your children always wear a sacramental. One day they will understand that they will repel the demons."
On February 1, 1974, Our Lady said, "My children, know the value of these sacramentals. Guard your children well. You must awaken to the knowledge that you will not be protected without the sacramentals. Guard your children's souls. They must be surrounded with an aura of purity. Remove them if necessary from the sources of contamination, be it your schools or even false pastors."
This Heaven's Personal Protection Packet is available for a donation of $6.00 plus $3.00 shipping and handling. Send $9.00 to TLD Ministries, P.O. Box 40, Lowell, MI 49331. You may use your MasterCard, VISA, or American Express and call 1-616-698-6448. Item # P5 (Order Form)
| Home - Latest News | Introduction | Bayside Prophecies | Directives from Heaven | Order Form | Testimonies | Veronica Lueken | Miraculous Photos | Bible | Radio Program |
We encourage everyone to print or email copies of this web page to all the Bishops and all the clergy. Also, email or send this web page to the news media and as many people as possible.
The electronic form of this document is copyrighted.
Quotations are permissible as long as this web site is acknowledged through hyperlink to: http://www.tldm.org
Copyright © These Last Days Ministries, Inc. 1996 - 2012 All rights reserved.
P.O. Box 40 616-698-6448
Lowell, MI 49331-0040
Revised: May 23, 2012