| Home - Latest News | Introduction | Bayside Prophecies | Directives from Heaven | Order Form | Testimonies | Veronica Lueken | Miraculous Photos | Bible | Radio Program |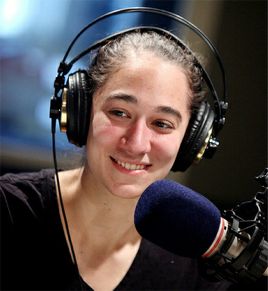 These Last Days News - June 20, 2012
Atheist Blogger "Leah Libresco" Shocks Secular Community by Announcing Conversion to Catholicism...
"I have given a procedure from the beginning of the Book of life and through to the end. You must follow fully the procedure. My Church will not be subdued, though it goes through great trial now.
"I do not want you to leave your parish churches. I want you and counsel you as your God to remain! If you have any dispute, I ask you for the preservation of your salvation upon earth, to not cast aside the role of the priesthood as given through the Apostles, My followers.
"Peter was My first Pope and your first Pope, and as all others who followed him, they must be accepted. Be they weak or noble, be they with sanctity or unholiness, they must be accepted and followed....
"I ask you not to judge another. You may counsel, you may give your viewpoints, but no violence must be used. And I do not want schism. I do not want any interference from separated brethren in My Church. They must be brought back. Convert the unbeliever! You must remain united with Rome.
"The gates of hell shall not prevail against My Church, for a cleansing will come about and all that is rotten will fall! And My Church shall be restored to its former glory!...
"All baptized Roman Catholics must die as baptized Roman Catholics, or they shall not enter the Kingdom of Heaven!" - Jesus, June 9, 1979
TheBlaze reported on June 19, 2012:
Atheist blogger Leah Libresco shocked the secular community this week when she announced on her Patheos blog that she has converted to Christianity. Her article, entitled, "This is my last post for the Patheos Atheist Portal," explained her conversion to Catholicism, which has sent shock-waves through the atheist blogosphere.

In her post, Libresco details her personal struggles with understanding the root of moral law. Obviously, non-believers don't see morality as coming from a central source. Instead, they see humanity as living on its own, disconnected from any fertile source of knowledge and goodness. For Libresco, this ideal has come full-circle, as she inevitably arrived at an understanding that aligns with a Christ-centered world-view.

Debate after debate and discussion after discussion, the non-believing blogger details how she found herself constantly exploring this paradigm — that is, until she finally accepted the notion that truth and moral goodness come from God. She explains:

I believed that the Moral Law wasn't just a Platonic truth, abstract and distant. It turns out I actually believed it was some kind of Person, as well as Truth. And there was one religion that seemed like the most promising way to reach back to that living Truth. I asked my friend what he suggest we do now, and we prayed the night office of the Liturgy of the Hours together (I've kept up with that since). Then I suggested hugs and playing Mumford and Sons really, really loudly.

After I changed my mind, I decided to take a little time to make sure I really believed what I thought I believed, before telling my friends, family, and, now, all of you. That left me with the question of what to do about my atheism blog. My solution was to just not write anything I disagreed with. Enough of my friends had accused me of writing in a crypto-Catholic style that I figured no one would notice if I were actually crypto-Catholic for a month and a half (i.e. everything from "Upon this ROC…" on).

Despite making this major announcement, Libresco admits that there are some elements of the Christian faith — and Catholicism in particular — that she's still not sure about. Among them, the church's teaching about homosexuality. But based on her final blog post announcing her conversion, she seems set on a path to explore these specified issues as diligently as she has the overarching existence of a higher power.

Libresco continues, promising to further discuss her conversion in future blog posts:

This post isn't the final word on my conversion. I'm sure there's a lot more explaining and arguing to do, so be a little charitable in your read of this post and try to give me a little time to expand my ideas over the next few weeks. (Based on my in-person arguments to date, it seems like most of my atheist friends disagree two or three steps back from my deciding Morality is actually God. They usually diverge back around the bit where I assert morality, like math, is objective and independent of humans. As one of my friends said, "Well, I guess if I were a weird quasi-Platonist virtue ethicist, this would probably convince me").

Responses, thus far, have been intriguing. Obviously, many people in the secular community are opposed to this massive transition, but at least one prominent atheist is being somewhat supportive. On his "Friendly Atheist" blog, Hemant Mehta wrote the following about the conversion:

It happens. Far less frequently than the other way around, but it happens. (A few years ago, a popular blogger called The Raving Atheist announced he was a Christian and changed his site to The Raving Theist.)

I won't pretend to understand whatever she's going through. But whenever you make a big announcement like that, it's like a huge weight has been lifted off your shoulders. It's even harder to do that when you talk about religion so publicly. Anyway, I wish Leah the best.

The comments on the post in which Libresco made the announcement range from surprised to enthusiastic. His blog, "Unequally Yoked," will be moved to Patheos' Catholic channel starting today, where she will continue to blog about her transformation.

"You have been given by your baptism entrance into the only true religion upon earth, the Roman Catholic Church under My Son, Jesus. Though man in his arrogance and pride has forgotten His role and His rule, you must carry it forward. Retain the Faith and the truth in the hearts of mankind." - Our Lady of the Roses, September 7, 1978

"I gave you a simple plan with the construction of My House, My Church, upon earth. But now you want to reform it, until you will split My House asunder with many denominations, many new denominations. I ask that My Church be universal, apostolic, and the saver of souls. However, there are rules to be followed, doctrines to remain unchanged." - Jesus, September 7, 1978

Let Us All Pray the Rosary Together Around the World for the Conversion of Atheists and Those Outside the Church... Click here...
Our Lady of the Roses awesome Bayside Prophecies... http://www.tldm.org/../Bayside/
These prophecies came from Jesus, Mary, and the saints to Veronica Lueken at Bayside, NY, from 1968 to 1995.
ONLY TRUE RELIGION
"O My children, I will not go into a long discourse now with you about charity and love for your neighbor, but you must understand: you cannot judge your neighbor. You must pray for them. However, you cannot become weak and permissive. You must stand forth as bearers of the light, carriers of the truth. You have been given by your baptism entrance into the only true religion upon earth, the Roman Catholic Church under My Son, Jesus. Though man in his arrogance and pride has forgotten His role and His rule, you must carry it forward. Retain the Faith and the truth in the hearts of mankind." - Our Lady, September 7, 1978

YOUR BIRTHRIGHT
"As in the past, rejection has been the start of a fallen man. Sin has become a way of life with many. You live in a delusion if you believe that you can offend the Eternal Father and then gain eternal life in the Kingdom. No, I say to you: many are called, but few are chosen.
"Ask and you shall receive, believe and you will be given the way. But you must merit the Kingdom. Your birthright was a start, but you must make your way to the Kingdom. Others may gain these graces for you by prayer and acts of sacrifice, but you will accept or reject the key." - Jesus, May 26, 1976

ONE TRUE CHURCH
"My child and My children, you are all My children. I judge you not by color or race, and I do not judge you by your creed; however, should the knowledge of the One True Church be given to you, and the way to Heaven along the narrow road be given to you, you will follow it or you will be rejected." - Our Lady, August 21, 1985

RELIGION OF THE CROSS
"There is only one religion that can save your country and all of the countries of the world: the religion of the cross and My Son's sacrifice upon that cross." - Our Lady, November 25, 1978

SEPARATED BRETHREN
"O My children, pray much! We do not want to see a division in My Son's House. The Roman Catholic Church must remain one! But this does not mean, as the church of man states, that you will bring all manner of heretics and separated brethren in. No, My children, that is an error, a delusion from satan. You cannot change My Son's House and bring them in and change for them! They must change and come back to the original rule given by My Son and those who were with Him in the building of the foundation.
"I repeat, My child and My children: separated brethren must change. They have protested in the past; they have taken themselves away from the truth and the one true Church. They must reject the errors they have made in the past and come back and start again. They cannot bring their errors into My Son's House.
"You are opening the doors now for all manner of heretics, separated brethren. They do not come to unite in good spirit and heart; they come to take over. They seek to change you, O pastors, who are being deluded. And what do I see in My Son's House but separated brethren upon His pulpit! Even from the temples, the synagogues of satan, upon His pulpit! And for what?
"And who are My pastors now that have joined in this plan of destruction? Who ordained some of them? Not legitimate hands. They come to destroy. They come in like rats, burrowing, undermining My Son's Church! Do you think you are not watched? Are you above your Creator that you think you can deceive the world permanently? No, I say unto you! You are being given your time, for you who have given yourselves to satan are now exposing your true nature to the world." - Our Lady, March 18, 1977

ESTABLISHED BY JESUS CHRIST
"There are many deceptions taking place among you, and one being the falsification of the manner of the salvation of souls. When I was upon earth, I established the rules and I gave you My Church, My House. However, now I watch as many have gone forward with itching ears and novelty, and they are setting upon the world a new religion." - Jesus, May 20, 1978

WILL STAND
"Do not be deluded, My children, by the agents of satan among you in human form who preach doctrines of devils. The truth has been given to mankind through the ages. The Holy Roman Catholic Church of My Son will stand. The members shall be reduced to few. Only a remnant, My child, shall carry the banner Faithful and True. But the gates of hell shall fight a heavy battle against My Son's Church, but they shall not succeed." - Our Lady, May 14, 1977

ONLY SANCTIFIED HOUSE
"Your children are wandering into the web of satan, going farther from the House of My Son. The truth is being removed from their hearts. They are setting among themselves groups. They shall not remove from their lives vows of My Son. As the only sanctified House upon earth, their souls will be destroyed when they are not given the Bread of living life. This Bread will only be obtained in the sanctified House of My Son. Satan seeks to remove the tabernacle from among you." - Our Lady, August 5, 1973
Directives from Heaven... http://www.tldm.org/directives/directives.htm
D85 - Tradition PDF Order copies...
D123 - Catholic Church, Part 1 PDF Order copies...
D124 - Catholic Church, Part 2 PDF Order copies...
D125 - Ecumenism PDF Order copies...
EDITOR'S COMMENT: Evil is expanding and the Anti-Christ forces are gaining power in the world. When the persecution starts, Christian web sites on the internet will be forced to close, including this one. Be sure to have in your possession all the following items: the Bayside books, Bayside Medals, Douay-Rheims Bibles, the Protection Packets, Candles, Sacramentals, and Religious Books. Purchase these items now while they are still available! You will urgently need them in the days ahead. Also, you can print out all PDF files for the Directives from Heaven and all of the Bayside Prophecies. Copy Our Lady's messages and the Directives from Heaven now while they are still available! Pray to the Holy Spirit for guidance on how to prepare now and for the days ahead. Viva Cristo Rey.
Articles...
Outside the Catholic Church ... no salvation
http://www.tldm.org/News6/Church2.htm

How old is your church?
http://www.tldm.org/News6/Church.htm

Redemption and its effects
http://www.tldm.org/lent/redemption.htm
There are 4 things you must have to survive the days ahead:
1.) The Douay-Rheims Holy Bible...
"You must all obtain a copy of the Book of life and love, the Bible. Do not accept the new mods. Try to find in your bookstores the old Bibles, My children, for many are being changed to suit the carnal nature of man. I repeat, sin has become a way of life." - Our Lady, October 6, 1992
"I must ask you all to read but a few short chapters a day now, the Book of life and love, your Bible. Knowledge must be gained for all the disciples of My Son, for you will be attacked by scientific minds. But do not be concerned what you will say to them when accosted, for the words will be given to you by the Spirit." - Our Lady, April 10, 1976 (Order Form)
2.) The total Virgin Mary's Bayside Prophesies in 6 paperback books...
The Virgin Mary brings directions from God, the Father in Heaven on how to survive the end times. God, the Father, through the Virgin Mary, tells what is coming, how to prepare for it, how to survive it, and how to even stop it. These six volumes along with the Bible are most important to save yourself and your loved ones. Order it now. Tomorrow may be to late. These 6 pocket size paperback books costs $33.00. (Order Form)
3.) Heaven's Home Protection Packet...
Heaven's Home Protection Packet...
Our Lord stated we must have crucifixes upon the outside of all of our outside doors. In the "Heaven's Home Protection Packet" there are instructions, four crucifixes, a tube of special cement for wooden or metal crucifixes. Wooden crucifixes adhere better to the doors when the aluminum strap is removed from the back. Put a light coat of cement on the back of the crucifix and then press it to the outside of the door. If you have any problems, you can call us at 616-698-6448 for assistance. This Heaven's Home Protection Packet is available for a donation of $7.00 plus $3.00 shipping and handling. Send $10.00 to TLD Ministries, P.O. Box 40, Lowell, MI 49331. Item # P15 (Order Form)

Crucifix on front and back door... The only real protection against terrorists...
Jesus - "Pray and wear your sacramentals. And, also, My children, I ask you again to place a crucifix upon your door. Both front and back doors must have a crucifix. I say this to you because there will be carnage within your areas, and this will pass you by if you keep your crucifix upon your doors." (6-30-84) (Testimonies of lives and homes saved by the crucifixes.) http://www.tldm.org/news/crucifix.htm (Order Form)
4.) Heaven's Personal Protection Packet...
Heaven's Personal Protection Packet . . .

Our Lady tells us to be protected from all evil, we must wear the following sacramentals around our necks: a Rosary, a crucifix, the St. Benedict medal, Our Lady of the Roses medal, the Miraculous Medal, and the scapular. We have all of these sacramentals in a packet we call "Heaven's Personal Protection Packet." This packet is available for a donation of $6.00 plus $3.00 shipping and handling. Send $9.00 to TLD Ministries, P.O. Box 40, Lowell, MI 49331. Item # P5

(Order Form)

Our Lady of the Roses, Mary Help of Mothers promises to help protect our children. On September 13, 1977, She said, "He has an army of ogres wandering now throughout your country and all of the countries of the world. They are in possession of great power; so wear your sacramentals, and protect your children and your households. Learn the use every day of holy water throughout your household. Insist even with obstructions, insist that your children always wear a sacramental. One day they will understand that they will repel the demons."
On February 1, 1974, Our Lady said, "My children, know the value of these sacramentals. Guard your children well. You must awaken to the knowledge that you will not be protected without the sacramentals. Guard your children's souls. They must be surrounded with an aura of purity. Remove them if necessary from the sources of contamination, be it your schools or even false pastors."
This Heaven's Personal Protection Packet is available for a donation of $6.00 plus $3.00 shipping and handling. Send $9.00 to TLD Ministries, P.O. Box 40, Lowell, MI 49331. You may use your MasterCard, VISA, or American Express and call 1-616-698-6448. Item # P5 (Order Form)

Amount: $

| Home - Latest News | Introduction | Bayside Prophecies | Directives from Heaven | Order Form | Miracles & Cures | Veronica Lueken | Miraculous Photos | Bible | Radio Program |

We encourage everyone to print or email copies of this web page to all the Bishops and all the clergy. Also, send this page to as many people as possible.

The electronic form of this document is copyrighted.
Quotations are permissible as long as this web site is acknowledged through hyperlink to: http://www.tldm.org
Copyright © These Last Days Ministries, Inc. 1996 - 2012 All rights reserved.
P.O. Box 40 616-698-6448
Lowell, MI 49331-0040
Revised: June 20, 2012