| Home - Latest News | Introduction | Bayside Prophecies | Directives from Heaven | Order Form | Testimonies | Veronica Lueken | Miraculous Photos | Bible | Radio Program |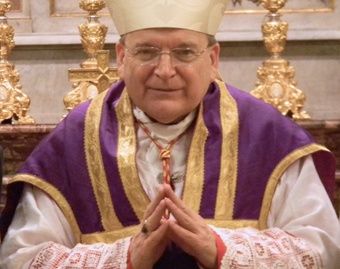 These Last Days News - August 1, 2012
Cardinal Burke Cautions Against Over-Use of Concelebration...
"Jesus is not pleased with the manner in which His clergy are carrying out their vocations, and, also, the Mass. Jesus wishes that the Old Mass be returned to wipe out many of the errors that have crept in since the New Mass has started." – Veronica, July 1, 1985
CNA reported on July 10, 2012:
Cardinal Raymond L. Burke believes that the "excessive" use of concelebration – the practice of priests saying Mass collectively – can result in their unique role in the sacred liturgy being obscured.

"I don't think there should be an excessive encouragement of concelebration because the norm is for the individual priest to offer the holy sacrifice of the Mass," the head of the Supreme Tribunal of the Apostolic Signatura told CNA July 9.

"If it is repeated too frequently, it can develop within him a sense of being another one of the participants instead of actually being the priest who is offering the Mass."

One of the Catholic Church's most senior American prelates spoke to CNA moments after addressing an international liturgical conference in the Irish city of Cork. The three-day event, organized by the St. Colman's Society for Catholic Liturgy, explored the issue of "Celebrating the Eucharist: Sacrifice and Communion."

The former Archbishop of St. Louis worried that, whereas the priest's action is distinct, he "can seem to be participating in the Mass in the same manner as the congregation" if he concelebrates too often. "That's the danger I see in excessive concelebration," he said.

The cardinal's words of caution echo comments made recently by the head of the Vatican's Congregation for Divine Worship, Cardinal Antonio Cañizares. He told a gathering at Rome's University of the Holy Cross on March 5 that that the "widening of the faculty to concelebrate needs to be moderated, as we can see when we read the (Second Vatican) Council texts."

Cardinal Cañizares explained that concelebration "is an extraordinary, solemn and public rite, normally presided over by the bishop or his delegate," surrounded by his priests and the entire community. But "the daily concelebrations of priests only, which are practiced 'privately'…do not form part of the Latin liturgical tradition," he said.

In a wide-ranging interview, Cardinal Burke also outlined the reasons why a priest should not ad-lib his own words or prayers during Mass, since he "is the servant of the rite" and "not the protagonist – Christ is."

"So it is absolutely wrong for the priest to think, 'how can I make this more interesting?' or 'how can I make this better?'" he said.

He also noted with approval how the 1917 Code of Canon Law – since superseded by a new code promulgated in 1983 – explicitly stated that a priest should "accurately and devoutly observe the rubrics of his liturgical books to beware lest he add other ceremonies or prayers according to his own judgment."

"What kind of thinking is it on our part for me to think that I can improve on the liturgy that has been handed on in the Church down the centuries? This is absurd," Cardinal Burke stated.

Similarly, the cardinal commended the 1917 Code for its clear stipulation that a priest in the state of mortal sin should refrain from celebrating Mass "without first availing himself of sacramental confession" or as soon as possible "in the absence of a confessor," when the Mass is "a case of necessity" and he has "made an act of perfect contrition."

"Well, simply that canon that was in the 1917 code was eliminated and I think it should be reintroduced, because the idea of worthiness pertains in a preeminent way to the priest who is offering the sacrifice," he said.

The 64-year-old from Wisconsin now resides in Rome, where he is a close collaborator of Pope Benedict XVI. Like the present pontiff, Cardinal Burke also believes that any reform of the sacred liturgy "has to be rooted in the teaching of the Second Vatican Ecumenical Council" and "properly connected to the tradition" of the Church.

That means avoiding or removing various innovations, including the regular use of "communion services" led by a layperson or religious whenever a parish is without a priest to offer Sunday Mass.

"It is not good for people to participate repeatedly in these kinds of services on a Sunday because they lose the sense that the Blessed Sacrament, Holy Communion comes from the sacrifice," he explained.

He recalled his early years as a bishop when he insisted that parishes re-instate weekly Mass and he was told by some parishioners that they preferred "the deacon's Mass" or "Sister's Mass."

The over-use of such services, he suggested, can also discourage priestly vocations, as the separation of the Eucharist "from the vocation and mission of the priest which is primarily to offer the holy Sacrifice of the Mass" means that a young man who is called to the priesthood "no longer sees before his eyes the identity of the vocation to which he is being called." In response, vocation numbers "plummet."

The Church's chief justice also believes that there is a direct correlation between "the hesitation" in applying canonical penalties in recent decades and "the abuses and the violation of Church law" that have occurred in liturgical areas.

Such penalties, he explained, are "firstly medicinal," aimed at "getting a person's attention to the gravity of what he is doing and to call him back."

"The penalties are needed," he said.

"If in 20 centuries of the life of the Church there was always the need for sanctions, why in our century should we suddenly think they are not necessary? This is also absurd."
"O pastors in My Son's House, how many times must I warn you of the dangers of your innovations, the dangers of your experimenting in My Son's House? You will not convert, you will not return Our straying sheep with your improvisions. You must return discipline to My Son's House. This discipline must start with the rulers in My Son's House." - Our Lady, November 22, 1976

We immediately need your prayers and financial support to be able to continue to create these web pages. Click here... Thank you in advance.

Let Us All Pray the Rosary Together Around the World for a Return to the Traditions of the Church... Click here...
The awesome Bayside Prophecies... http://www.tldm.org/Bayside/default.htm
These prophecies came from Jesus, Mary, and the saints to Veronica Lueken at Bayside, NY, from 1968 to 1995:
YOU WILL STOP EXPERIMENTING
"My child and My children, I come once more with an urgent and pleading message to the hierarchy in the Church, My Church upon earth. I want you to know now that We look upon you and find many that do not fall into grace. They are falling out of grace and misleading many of Our sheep.
"Therefore, I warn you now as your God: You will stop your intricacies within My Church. You will stop experimenting. I gave you the rules to follow many years ago, two thousand years approximately. And why now, two thousand years later, do you deem it necessary to change My Church upon earth? I, your God, say to you, you will be judged accordingly. You will return My Church to its former glory, and in that manner you will have more vocations and more entering the seminaries, and not fleeing from them as they hear the heresies and all other innovations that are going on within My Church. This is My last and final word to My clergy: Change now or suffer a just punishment and banishment." - Jesus, June 18, 1986

RETURN TO YOUR TRADITIONAL RITES
"I send to My clergy, those whom I have given the grace to represent Heaven upon earth, this warning: You must now return to your traditional rites! You must restore My House from its crumbling exterior and rotting interior. You must rebuild what you seek to destroy--now!
"Many who call themselves My chosen ones have set themselves to destroy from within. Your actions have not gone by unnoticed by the Eternal Father. Error, deception, deceit, in the guise of sanctity and piousness! You are unmasked before the Eternal Father. You shall start little by little and repair the foundation, or you shall be within and destroy.
"I look upon all manner of abominations being committed in My House. Do you think you will go much longer without chastisement? Awaken from your slumber, My clergy! You deceive no one!" - Jesus, November 22, 1975

CHANGING THE CONSTRUCTION
"You will not bring about a conversion of those who are presently apostate by compromising your Faith or changing the construction of the exterior lines of My Church; and by that I mean the physical appearance and the manner in which you conduct the Holy Sacrifice of the Mass.
"Many are giving My Body in a manner that can only be called blasphemy. Many are accepting My Body in the Eucharist in a manner that defames the Divinity, and also promotes unholiness, paganism, and impurity of heart and actions during the Holy Sacrifice of the Mass." - Jesus, May 26, 1979

CHANGES MUST BE STOPPED AND REVERSED
"There is no excuse accepted now by the Eternal Father among the clergy, who now offend the Eternal Father by misleading the children of God upon earth. The experimentation and changes must be stopped and reversed! There is no other course." – Our Lady, August 4, 1979

"RESTORE MY HOUSE!"
"My Mother has given you My way. It is a simple road that must be followed. The rules have been given to you that must not be changed, as you cater to the basic carnal nature of man, a generation that has fallen! You will not make changes within My House, for you have dispersed My sheep. You will restore My House to its former glory. Strip you hearts of your pride! Recognize your errors and restore My House!
"I say this to you for your Creator, as your God: Restore My House, or I shall come down and restore it Myself with a firm hand! And shall you stand before Me, O pastors, and say that your teachings have been pure in My sight? I shall take you and spit you out as spittle into the fires of eternal damnation! Vermin that came out of the flowers!" – Jesus, December 28, 1976

STOP CHANGE AND NOVELTY
"My child and My children, make it known to all that the road to Heaven was never easy, but you can make it much easier upon yourselves and your families if you follow the rules, if you follow the Commandments from the Eternal Father. The changes that We see taking place in My House and upon earth are not good, for many, many souls are falling into hell. And a great measure of responsibility now is with those who have been called to the holy orders, who have given themselves to represent Me upon earth. Shall I say that I have found many Judases now within My House? Cannot this situation be changed?
"There is only one way that this can be stopped, this evil that has seeped into My House and into the hearts of all mankind. You must stop now your seeking for change and novelty. You must restore My Church to its former glory. Admit your error. Do not conceal this with pride and arrogance.
"Remember there was the time when it was necessary to cast Luciel and his followers from Heaven--Lucifer, who now goads you on to hell with him, upon earth. He had to be cast from Heaven because he, too, became prideful and arrogant, seeking to make himself another living god. This cannot be done. You cannot be above your Creator." – Jesus, September 7, 1978

DO NOT ACCEPT
"My children, you must retain Tradition; you must retain a firm foundation of your faith by keeping all of the good publications. Do not accept the changes that have been made by satan to seduce your souls." – Jesus, November 19, 1977

INDOCTRINATED
Veronica - The books are being changed to cover the evil being perpetrated now. The young are being indoctrinated to accept changes which will take away Tradition and even doctrine. Our Lady said we must all pray a constant vigilance of prayer. It has a great power over the demons. – November 19, 1977

NOT FROM HOLY SPIRIT
"I must, My child, make it known at this time that you must go back in the immediate years and bring the knowledge to mankind that these changes, the changes that have given bad fruits, have not been given to you through the Holy Spirit and through your Vicar, Pope Paul VI. It is the web of satan reaching out. Many are now, My child, puppets. The strings are being pulled by Benelli, Villot, and Casaroli and their followers." – Our Lady, September 27, 1975

YOU HAVE STRAYED
"O My children, how far you have strayed from the truth! The knowledge given to you by your prophets were written down in truth to guide you, but now you change the words to suit your basic carnal human natures. Go back and read, My children, the true words of your prophets. But do not accept changes in the Book, for these changes have been promoted by satan. Heresy, O mournful heresy, whatever shall become of you!
"Parents, I caution you anew to guard the souls of your children by your teaching and example. You cannot save your children's souls by giving them to false teachers and the world, for the world has now been given to satan." – Our Lady, June 5, 1976

"WE DO NOT CONDONE VARIATIONS AND CHANGES"
"It has grieved Me much in the past, as it grieves Me now, that mankind is making changes to My words. I assure you, My children and pastors within My houses, My Church upon earth, there is no necessity to change My words. Heaven, hell, purgatory, and especially, My children, the word 'hell' must be retained in your prayers.
"Repeat, My child, the confessional prayer.
O my God, I am heartily sorry for having offended Thee, and I confess to all my sins, because I dread the loss of Heaven and the pains of hell, but most of all because I love Thee, my God, Who are all-good and deserving of all my love. I firmly resolve, with the help of Thy grace, to confess my sins, to do penance, and to amend my life. Amen.
"Yes, My child, We do not condone variations and changes. It is the enemies of your God that have set themselves to promote change upon My words. The word of your God is eternal and must not be changed." – Jesus, February 10, 1977

ONLY SATAN SEEKS CHANGE
"We ask--the Eternal Father speaks, and demands that all bishops in the houses of God throughout your world must turn back to prayer. They must turn back from the road they have chosen, a road filled with error, corruption, and sin. Man will not make changes in the House of God to please the basic carnal nature of mankind! But man in the House of God--the leaders, the clergy chosen by the Eternal Father, shall turn man from his path of destruction and bring him into the House of God. This he will not accomplish by lowering the rule or standards. Man must change his ways and follow the ways of God.
"You are, My children, living in the era of Antichrist. Recognize the signs of your times, and you will not fall into error. Read the Book, My children. You read books of corruption and vile debauchery. Restore the truth in your heart, into your children and homes. Open the good Book, the Bible, and read it in your homes.
"My Son has already set up the rule for the houses throughout the world, the churches. They are written in the Book of love and life, the Bible. Read and learn, and follow the truth!
"There is no time or change in Heaven. The Father never changes. It is only satan who seeks change to disturb, corrupt, and degrade. Satan roams wherever there is darkness of spirit. He will debase mankind in a manner so foul that you will know that no human could conceive of such vileness of sin." – Our Lady, March 22, 1975
Directives from Heaven… http://www.tldm.org/directives/directives.htm
D1 - The Holy Sacrifice of the Mass PDF Order copies...
D19 - Prayers PDF Order copies...
D20 - Importance of Prayer (Part 1) PDF Order copies...
D21 - Importance of Prayer (Part 2) PDF Order copies...
D79 - Restore My Church PDF Order copies...
D85 - Tradition PDF Order copies...
D127 - Vatican II PDF Order copies...
D280 - Ungodly Music PDF Order copies...
D294 - The Prophets of Old, Part 1 PDF Order copies...
D295 - The Prophets of Old, Part 2 PDF Order copies...
D315 - Starving for the Light PDF Order copies...
D331 - Teaching Pure In God's Sight? PDF Order copies...
D341 - No Evil Is Ever Triumphant PDF Order copies...
D360 - Hand of God PDF Order copies...
D383 - Wolves in Sheep's Clothing PDF Order copies...
D399 - Doctrine PDF Order copies...
D421 - "Listen to Me", Part 1 PDF Order copies...
D422 - "Listen to Me", Part 2 PDF Order copies...
EDITOR'S COMMENT: Evil is expanding and the Anti-Christ forces are gaining power in the world. When the persecution starts, Christian web sites on the internet will be forced to close, including this one. Be sure to have in your possession all the following items: the Bayside books, Bayside Medals, Douay-Rheims Bibles, the Protection Packets, Candles, Sacramentals, and Religious Books. Purchase these items now while they are still available! You will urgently need them in the days ahead. Also, you can print out all PDF files for the Directives from Heaven and all of the Bayside Prophecies. Copy Our Lady's messages and the Directives from Heaven now while they are still available! Pray to the Holy Spirit for guidance on how to prepare now and for the days ahead. Viva Cristo Rey!
Articles...
Pope Benedict XVI: the Mass reduced to a show
http://www.tldm.org/News7/PopeBenedictXVIMassReducedToAShow.htm

Pope Benedict XVI on the disintegration of the liturgy
http://www.tldm.org/news7/PopeBenedictXVIDisintegrationOfLiturgy.htm

Our Lady of the Roses message to Pope Paul VI
http://www.tldm.org/news6/PaulVI.htm

Latin, the universal language of the Catholic Church
http://www.tldm.org/news5/latin.htm

"Kneel before your God in the Eucharist"
http://www.tldm.org/News5/kneeling.htm

Vatican on kneeling for holy Communion
http://www.tldm.org/vatican%20letter.htm

Should women cover their heads in Church?
http://www.tldm.org/news6/veils.htm

Pope John Paul II recommends praying the St. Michael Exorcism
http://www.tldm.org/news6/exorcism.htm

Restore the high altar
http://www.tldm.org/news5/main%5Faltar.htm

"You cannot separate Tradition from your Faith"
http://www.tldm.org/news6/tradition1.htm

Vatican II, part 1: Infiltration of the Church
http://www.tldm.org/News6/VaticanII-1.htm

Vatican II, part 2: Dark clouds forming before Vatican II
http://www.tldm.org/News6/VaticanII-2.htm

Vatican II, part 3: the satanic revolution gains momentum at the Council
http://www.tldm.org/News6/VaticanII-3.htm
There are 4 things you must have to survive the days ahead:
1.) The Douay-Rheims Holy Bible...
"You must all obtain a copy of the Book of life and love, the Bible. Do not accept the new mods. Try to find in your bookstores the old Bibles, My children, for many are being changed to suit the carnal nature of man. I repeat, sin has become a way of life." - Our Lady, October 6, 1992
"I must ask you all to read but a few short chapters a day now, the Book of life and love, your Bible. Knowledge must be gained for all the disciples of My Son, for you will be attacked by scientific minds. But do not be concerned what you will say to them when accosted, for the words will be given to you by the Spirit." - Our Lady, April 10, 1976 (Order Form)
2.) The total Virgin Mary's Bayside Prophesies in 6 paperback books...
The Virgin Mary brings directions from God, the Father in Heaven on how to survive the end times. God, the Father, through the Virgin Mary, tells what is coming, how to prepare for it, how to survive it, and how to even stop it. These six volumes along with the Bible are most important to save yourself and your loved ones. Order it now. Tomorrow may be to late. These 6 pocket size paperback books costs $33.00. (Order Form)
3.) Heaven's Home Protection Packet...
Heaven's Home Protection Packet...
Our Lord stated we must have crucifixes upon the outside of all of our outside doors. In the "Heaven's Home Protection Packet" there are instructions, four crucifixes, a tube of special cement for wooden or metal crucifixes. Wooden crucifixes adhere better to the doors when the aluminum strap is removed from the back. Put a light coat of cement on the back of the crucifix and then press it to the outside of the door. If you have any problems, you can call us at 616-698-6448 for assistance. This Heaven's Home Protection Packet is available for a donation of $7.00 plus $3.00 shipping and handling. Send $10.00 to TLD Ministries, P.O. Box 40, Lowell, MI 49331. Item # P15 (Order Form)

Crucifix on front and back door... The only real protection against terrorists...
Jesus - "Pray and wear your sacramentals. And, also, My children, I ask you again to place a crucifix upon your door. Both front and back doors must have a crucifix. I say this to you because there will be carnage within your areas, and this will pass you by if you keep your crucifix upon your doors." (6-30-84) (Testimonies of lives and homes saved by the crucifixes.) http://www.tldm.org/news/crucifix.htm (Order Form)
4.) Heaven's Personal Protection Packet...
Heaven's Personal Protection Packet . . .

Our Lady tells us to be protected from all evil, we must wear the following sacramentals around our necks: a Rosary, a crucifix, the St. Benedict medal, Our Lady of the Roses medal, the Miraculous Medal, and the scapular. We have all of these sacramentals in a packet we call "Heaven's Personal Protection Packet." This packet is available for a donation of $6.00 plus $3.00 shipping and handling. Send $9.00 to TLD Ministries, P.O. Box 40, Lowell, MI 49331. Item # P5
(Order Form)
Our Lady of the Roses, Mary Help of Mothers promises to help protect our children. On September 13, 1977, She said, "He has an army of ogres wandering now throughout your country and all of the countries of the world. They are in possession of great power; so wear your sacramentals, and protect your children and your households. Learn the use every day of holy water throughout your household. Insist even with obstructions, insist that your children always wear a sacramental. One day they will understand that they will repel the demons."
On February 1, 1974, Our Lady said, "My children, know the value of these sacramentals. Guard your children well. You must awaken to the knowledge that you will not be protected without the sacramentals. Guard your children's souls. They must be surrounded with an aura of purity. Remove them if necessary from the sources of contamination, be it your schools or even false pastors."
This Heaven's Personal Protection Packet is available for a donation of $6.00 plus $3.00 shipping and handling. Send $9.00 to TLD Ministries, P.O. Box 40, Lowell, MI 49331. You may use your MasterCard, VISA, or American Express and call 1-616-698-6448. Item # P5 (Order Form)
| Home - Latest News | Introduction | Bayside Prophecies | Directives from Heaven | Order Form | Miracles & Cures | Veronica Lueken | Miraculous Photos | Bible | Radio Program |
"My children, My little humble children, I appeal to you as your Mother, go forward on foot, knock on the doors; bring the light to your brothers and sisters. For those who have been given great grace, much is expected of them." Our Lady of the Roses May 26, 1976
We encourage everyone to print or email copies of this web page to all the Bishops and all the clergy. Also, email or send this web page to the news media and as many people as possible.
The electronic form of this document is copyrighted.
Quotations are permissible as long as this web site is acknowledged through hyperlink to: http://www.tldm.org
Copyright © These Last Days Ministries, Inc. 1996 - 2012 All rights reserved.
P.O. Box 40 616-698-6448
Lowell, MI 49331-0040
Revised: August 01, 2012