| Home - Latest News | Introduction | Bayside Prophecies | Directives from Heaven | Order Form | Testimonies | Veronica Lueken | Miraculous Photos | Bible | Radio Program |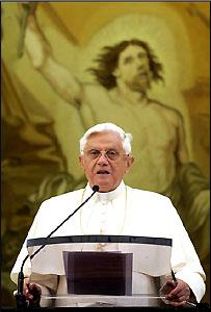 These Last Days News - June 12, 2012
Pope Benedict Deplores 'VatiLeaks' Scandal, Prays for Quake Victims...
"Do not abandon My Son any longer by rejecting His Church. Do not judge My Son's Church by man. The foundation is My Son, Jesus. And though the walls may develop cracks, the foundation is solid. Will you not remain and patch these cracks, My children? We do not wish that you break apart into small groups of discord. No schisms must take place in My Son's Church. For all who are baptized a Roman Catholic must die Roman Catholics to enter Heaven. A rejection of the papacy, a rejection of the Faith because of human reasoning shall not be accepted by the Eternal Father in Heaven. Remain faithful and true forever unto the end." – Our Lady of the Roses, November 20, 1979
CNS reported on May 30, 2012:
Pope Benedict XVI voiced regret for the turmoil surrounding the recent publication of leaked Vatican documents, but thanked the vast majority of people who work at the Vatican for their dedication and fidelity.

Speaking at the end of his weekly general audience May 30, the pope said much of the media coverage of the leak of private letters and of the arrest May 23 of his personal assistant has been exaggerated and "completely gratuitous, and has gone far beyond the facts, offering an image of the Holy See that does not correspond to reality."

Pope Benedict said that while the scandal has saddened him, "it has never weakened my firm certainty that, despite human weakness, difficulties and trials, the church is guided by the Holy Spirit and will never be without the Lord's help to support it in its journey." He offered "encouragement to my closest collaborators and all those who, each day with fidelity and a spirit of sacrifice and in silence, help me fulfill my ministry."

The pope also offered his prayers for the people of Italy's Emilia Romagna region after a second earthquake in nine days caused at least 15 deaths and seriously damaged many buildings, including several churches.

"With my prayers and affection, I am close to the injured and those who are suffering difficulties, and I express my deepest sympathy to the families of those who lost their lives," the pope said.

The earthquake May 29 brought death when roofs, walls and even church bell towers came crashing down. Hundreds were sent to area hospitals and thousands were left homeless. A quake May 20 had left five people dead and has been blamed for undermining the stability of many of the buildings that fell nine days later.

After the first quake, Pope Benedict sent close to $125,000 to the region's dioceses to help them assist victims.

During his main talk during the audience in St. Peter's Square, Pope Benedict continued his series of talks about prayer in the letters of St. Paul.

With the help of the Holy Spirit, prayer is a personal encounter with God, the pope said. It begins with God's "yes" to the creatures he loves and should end with the believer's "Amen," or yes to God.

God's love consoles believers in times of tribulation and gives them the strength to console others. Like St. Paul, who was "afflicted with every type of tribulation," each Christian should know that there is never a moment when God turns his back or moves away, the pope said.

"Dear brothers and sisters, our lives and our journeys often are marked by difficulty, misunderstandings and suffering -- we all know this -- but through a faithful relationship with God, through constant daily prayer, we can concretely experience the consolation of God. This is a strength of our faith," he said.

Despite human failings and infidelity, God is always faithful and continually reaches out to each person with love and support, the pope said. "God's way of acting -- far different from our own -- gives us consolation, strength and hope."

"There is no one who is not reached by God's faithful love, which is able to reach even those who continue to respond with a 'no'" and try to turn their backs on God, he said. "God is waiting for us, is always seeking us out, wants to welcome us into communion, forgive us and give us all fullness of life, hope and peace."
MUST BE ACCEPTED, FOLLOWED
"Peter was My first Pope and your first Pope, and as all others who followed him, they must be accepted. Be they weak or noble, be they with sanctity or unholiness, they must be accepted and followed....
"I ask you not to judge another. You may counsel, you may give your viewpoints, but no violence must be used. And I do not want schism. I do not want any interference from separated brethren in My Church. They must be brought back. Convert the unbeliever! You must remain united with Rome.
"The gates of hell shall not prevail against My Church, for a cleansing will come about and all that is rotten will fall! And My Church shall be restored to its former glory!" - Jesus, June 9, 1979

Let Us All Pray the Rosary Together Around the World for Pope Benedict's Continued Health, Wisdom and Protection... Click here...
Our Lady of the Roses awesome Bayside Prophecies... http://www.tldm.org/../Bayside/
These prophecies came from Jesus, Mary, and the saints to Veronica Lueken at Bayside, NY, from 1968 to 1995.
THOSE WHO HAVE CHOSEN TO SELL THEIR SOULS
"My children, 666, the forces of satan, have accelerated the evil among you. Those who have chosen to sell their souls will gather momentum and run fast into the abyss. The greatest sorrow in Heaven now is the knowledge that 666 has set up his place among the rulers of Rome. I, your God and your Judge eternal, give you in command the direction to turn back and restore My House while there is time. I plan in the near future to come among you and set My House to right." - Jesus, August 5, 1976

SATANIC ATTACK UPON MY HOUSE
"There is a satanic attack upon My House. The forces of 666 have entered upon Rome! Heresy, O mournful heresy! Whatever shall become of you? I repeat in warning—and act upon this warning: the Red Hat has fallen and the Purple Hat is being misled." - Jesus, October 2, 1976

THE CAPITULATION OF THE SEAT OF PETER
"My children, the forces of 666, the forces of darkness now are gathering to do full war with all of the children of God in the light. It will be a battle that will call for great spirit, great sacrifice, and one must retain the knowledge of the Faith, for it will give you necessary strength in the battle. In Rome, the Eternal City of the hills, My children, the forces are gathering to bring about the capitulation of the Seat of Peter to communism and atheism, all promoted in the name of humanism. My children, all this is coming about fast because man has neglected sacrifice and prayer." - Our Lady, March 18, 1978

MAINTAIN THE PAPACY
"I ask you again not to abandon your parish churches. You will maintain the papacy in Rome. I tell you anew that 666 now is in Rome. Do not judge My Son's Church by His pastors. In their human nature they can err; however, as legitimate legally-ordained Roman Catholic priests they will bring My Son to you if you come seeking Him at the tabernacles of the world. The Mass is valid, I say unto you!
"My Son is waiting for you at the tabernacles of His Church. My children, do not abandon Him in these days of deep spiritual darkness. You must all keep a constant vigilance of prayer going throughout your country, the United States, and Canada, and all of the countries throughout your world." – Our Lady, June 10, 1978

SEEKING TO SET UPON THE CHAIR OF PETER AN AGENT FROM HELL
"You would do well now, parents, to prepare your household. There will be much woe and gnashing of teeth set upon the earth by the evil one. The agents of hell, known by you as 666 are now loosed in full force upon mankind. And now 666 has entered into Rome, the Eternal City, seeking to set upon the Chair of Peter an agent of hell! My Church, My House upon earth, shall not crumble by the onslaught of satan! It will be a good and just battleground allowed by the Eternal Father for separating the wheat from the chaff. The harvest shall be great, and all that is rotten shall fall! And the chaff shall be gathered and cast into the fires! The numbers to be saved shall be counted in the few, but better, My children, a few with quality than quantity with nothingness!" - Jesus, June 16, 1977

A MESSAGE FOR YOUR VICAR
"My child and My children, do not cast aside this message, for it is most urgent. The War, the great War, will soon come upon you, taking many from the earth.
"I have given to you, My child, a message for your Vicar, and he must act upon it. Should he proceed by following the ways of man, using humanism and modernism to the destruction of souls and My Son's Church, I cannot then any longer hold back the heavy hand of punishment from mankind." - Our Lady, December 7, 1978
Directives from Heaven... http://www.tldm.org/directives/directives.htm
D123 - Catholic Church, Part 1 PDF Order copies...
D124 - Catholic Church, Part 2 PDF Order copies...
D265 - The Papacy PDF Order copies...
D300 - Satan's War Against the Papacy, Part 1 PDF

Order copies..

.
D301 - Satan's war against the Papacy, Part 2 PDF

Order copies..

.
EDITOR'S COMMENT: Evil is accelerating and the Anti-Christ forces are gaining power in the world. When the persecution starts, all Christian web sites on the internet will be forced to close. Be sure to have in your possession all the following items: the Bayside Prophecy books, Bayside Medals, Douay-Rheims Bibles, the Protection Packets, Candles, Sacramentals, and Religious Books. Purchase these items now while they are still available! You will urgently need them in the days ahead. Also, you can print out all PDF files for the Directives from Heaven and all of the Bayside Prophecies. Copy Our Lady's messages and the Directives from Heaven now while they are still available! Pray to the Holy Spirit for wisdom and guidance on how to prepare now and for the days ahead when the Antichrist is revealed. God bless.
There are 4 things you must have to survive the end times:
1.) The Douay-Rheims Holy Bible...
"You must all obtain a copy of the Book of life and love, the Bible. Do not accept the new mods. Try to find in your bookstores the old Bibles, My children, for many are being changed to suit the carnal nature of man. I repeat, sin has become a way of life." - Our Lady, October 6, 1992
"I must ask you all to read but a few short chapters a day now, the Book of life and love, your Bible. Knowledge must be gained for all the disciples of My Son, for you will be attacked by scientific minds. But do not be concerned what you will say to them when accosted, for the words will be given to you by the Spirit." - Our Lady, April 10, 1976 (Order Form)
2.) The total Virgin Mary's Bayside Prophesies in 6 paperback books...
The Virgin Mary brings directions from God, the Father in Heaven on how to survive the end times. God, the Father, through the Virgin Mary, tells what is coming, how to prepare for it, how to survive it, and how to even stop it. These six volumes along with the Bible are most important to save yourself and your loved ones. Order it now. Tomorrow may be to late. These 6 pocket size paperback books costs $33.00. (Order Form)
3.) Heaven's Home Protection Packet...
Heaven's Home Protection Packet...
Our Lord stated we must have crucifixes upon the outside of all of our outside doors. In the "Heaven's Home Protection Packet" there are instructions, four crucifixes, a tube of special cement for wooden or metal crucifixes. Wooden crucifixes adhere better to the doors when the aluminum strap is removed from the back. Put a light coat of cement on the back of the crucifix and then press it to the outside of the door. If you have any problems, you can call us at 616-698-6448 for assistance. This Heaven's Home Protection Packet is available for a donation of $5.00 plus $3.00 shipping and handling. Send $8.00 to TLD Ministries, P.O. Box 40, Lowell, MI 49331. Item # P15 (Order Form)

Crucifix on front and back door... The only real protection against terrorists...

Jesus - "Pray and wear your sacramentals. And, also, My children, I ask you again to place a crucifix upon your door. Both front and back doors must have a crucifix. I say this to you because there will be carnage within your areas, and this will pass you by if you keep your crucifix upon your doors." (6-30-84) (Testimonies of lives and homes saved by the crucifixes.) http://www.tldm.org/news/crucifix.htm (Order Form)
4.) Heaven's Personal Protection Packet...
Heaven's Personal Protection Packet . . .
Our Lady tells us to be protected from all evil, we must wear the following sacramentals around our necks: a Rosary, a crucifix, the St. Benedict medal, Our Lady of the Roses medal, the Miraculous Medal, and the scapular. We have all of these sacramentals in a packet we call "Heaven's Personal Protection Packet." This packet is available for a donation of $5.00 plus $3.00 shipping and handling. Send $8.00 to TLD Ministries, P.O. Box 40, Lowell, MI 49331. Item # P5 (Order Form)

Our Lady of the Roses, Mary Help of Mothers promises to help protect our children. On September 13, 1977, She said, "He has an army of ogres wandering now throughout your country and all of the countries of the world. They are in possession of great power; so wear your sacramentals, and protect your children and your households. Learn the use every day of holy water throughout your household. Insist even with obstructions, insist that your children always wear a sacramental. One day they will understand that they will repel the demons."
On February 1, 1974, Our Lady said, "My children, know the value of these sacramentals. Guard your children well. You must awaken to the knowledge that you will not be protected without the sacramentals. Guard your children's souls. They must be surrounded with an aura of purity. Remove them if necessary from the sources of contamination, be it your schools or even false pastors."
This Heaven's Personal Protection Packet is available for a donation of $5.00 plus $3.00 shipping and handling. Send $8.00 to TLD Ministries, P.O. Box 40, Lowell, MI 49331. You may use your MasterCard, VISA, or American Express and call 1-616-698-6448. Item # P5 (Order Form)
Your names have been written in Heaven… "It is not by accident that you are called by My Mother, for your names have been written in Heaven.... But with this great grace you have great responsibility to send this Message from Heaven throughout the world, for if you are able to recover just one more for Heaven, an additional star shall be placed in your crown." - Jesus, August 5, 1975
A great obligation to go forward... "It is not by accident that you are called by My Mother, for it is by merit and the prayers that have risen to Heaven for your salvation. For those who have received the grace to hear the Message from Heaven, you have a great obligation to go forward and bring this Message to your brothers and sisters. Do not expect a rest upon your earth, for you will have eternal rest very soon." - Jesus, June 12, 1976
The sin of omission... "The sin of omission shall condemn many to hell, be they layman or Hierarchy. I repeat: not the sin of commission, but the sin of omission will commit many to hell." Our Lady of the Roses, October 6, 1980
We encourage everyone to print or email copies of this web page to all the Bishops and all the clergy. Also, email or send this web page to the news media and as many people as possible.
| Home - Latest News | Introduction | Bayside Prophecies | Directives from Heaven | Order Form | Miracles & Cures | Veronica Lueken | Miraculous Photos | Bible | Radio Program |
The electronic form of this document is copyrighted.
Quotations are permissible as long as this web site is acknowledged with a hyperlink to: http://www.tldm.org
Copyright © These Last Days Ministries, Inc. 1996 - 2012 All rights reserved.
P.O. Box 40 616-698-6448
Lowell, MI 49331-0040
Revised: June 12, 2012