| Home - Latest News | Introduction | Bayside Prophecies | Directives from Heaven | Shopping Cart | Testimonies | Veronica Lueken | Miraculous Photos | Bible | Radio Program |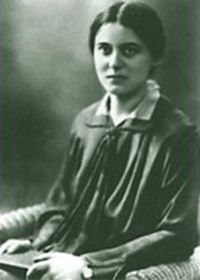 These Last Days News - August 23, 2012
3 Lessons from St. Teresa Benedict of the Cross on Being a Lady...
"You must instruct and bring to your children the knowledge of your saints. Their example is in the light, My children. Those you have set up to idolize upon earth now are the creations of satan. You must accept and follow the example of your saints, those who have been given this honor by your holy Church. They, too, My child, did not win their crowns without trial, rejection, and often, martyrdom." - Jesus, June 5, 1975
Peter's List reported on August 17, 2012:
Sisters, in this modern society it is hard for a woman to understand precisely what it means to be a woman. Women are torn between a multitude of different theories concerning what the true feminine vocation is. When I was younger I felt as if I was being pulled between the "Girl Power" mentality and the supposed "Make me a sandwich" mentality. I know that I hated it when my brothers teased me by saying that I should "Shut up, and know [my] role," but I also seethed with contempt when some said to me "You go, girl!" while saucily snapping their fingers (clearly, I am a child of the nineties). None of those ideals seemed to work for me. None of these theories were enough. Being a woman had to be more than just being blindly submissive or just being intolerably proud. Both theories seemed either self-deprecating or selfish. By the time I entered college, I was confused and disgruntled because there was no clear answer for me. Then, when I decided to convert Catholicism, the whole game of feminine vocation changed for me. I was directed by my priest (Msgr. Gaalaas) to read a series of essays by Edith Stein. It was then when I started to realize that my role as a woman was to serve…the Lord. That simple truth made all the difference.

St. Teresa Benedicta of the Cross (aka Edith Stein) lived a very fascinating and tragic life. She was born a Jew and later converted to Catholicism. She received her doctorate in Philosophy in 1916. She became a Carmelite nun April 21, 1938. She was arrested by Gestapo and was sent to Auschwitz where she died in the gas chamber August 9, 1942. She was canonized May 1, 1987. Her life is very interesting and I recommend reading further on the Vatican website.

Her essays on the vocation and spirituality of women certainly can help guide Catholic women through the muddled mess of the rhetoric and pressure of modern society. She delves into the ideas of the religious and secular life in a balanced and thoughtful manner. She makes a distinction between three kinds of vocations for women:

The Natural Vocation — Wife and Mother
The Other Natural Vocation — Worker in the Secular Arena
The Supernatural Vocation — The Consecrated Life

The following list is three reflections from one of her essays entitled "The Ethos of Women's Professions" where she discusses the different options to fulfill the feminine vocation. You can find this essay in the book entitled Essays on Woman.¹ Now onto the 3 lessons on being a lady:

1. When in Doubt, Ask Yourself "What Would Mary do?"

Were we to present in contrast the image of the purely developed character of spouse and mother as it should be according to her natural vocation, we must gaze upon the Virgin Mary. In the center of her life stands her son. She awaits His birth in blissful expectation; she watches over His childhood; near or far, indeed, wherever He wishes, she follows Him on His way; she holds the crucified body in her arms; she carries out the will of the departed. But not as her action does she do all this: she is the Handmaid of the Lord; she fulfills that to which God has called her. And that is why she does not consider the child as her own property.: she has welcomed Him from God's hands; she lays Him back into God's hands by dedicating Him in the Temple and by being with Him at the crucifixion. Should we consider the Mother of God as spouse, we find a quite, limitless trust which in turn depends on limitless, trust, silent obedience, and obviously faithful communion in suffering. She does all this in surrender to the will of God who has bestowed her husband upon her as human protector and visible guide.

The image of the Mother of God demonstrates the basic spiritual attitude which corresponds to woman's natural vocation; her relation to her husband is one of obedience, trust, and participation in his life as she furthers his objective tasks and personality development; to the child she gives true care, encouragement, and formation of his God-given talents; she offers both selfless surrender and a quiet withdrawal when unneeded. All is based on the concept of marriage and mother as a vocation from God; it is carried out for God's sake and under His Guidance. –Page 45-46

2. A True "Liberated" Lady Lives A Eucharistic and Prayerful Life

To have divine love as its inner form, a woman's life must be a Eucharistic life. Only in daily, confidential relationship with the Lord in the tabernacle can one forget self, become free of all one's own wishes and pretensions, and have a heart open to all the needs and wants of others. Whoever seeks to consult with the Eucharistic God in all her concerns, whoever lets herself be purified by the sanctifying power coming from the sacrifice at the altar, offering herself to the Lord in this sacrifice, whoever receives the Lord in her soul's innermost depth in Holy Communion cannot but be drawn ever more deeply and powerfully in to the flow of divine life, incorporated into the Mystical Body of Christ, her heart converted to the likeness of the divine heart

Something else is closely related to this. When we entrust all the troubles of our early existence confidently to the divine heart, we are relieved of them. Then our soul is free to participate in the divine life [...] Therefore, the life of an authentic Catholic woman is also a liturgical life. Whoever prays together with the Church in spirit and in truth knows that her whole life must be formed by this life of prayer. –Page 55-56

3. A Lady is Born to Serve…the Lord

Must all women become religious in order to fulfill their vocation as women? Certainly not. But it certainly does mean that the fallen perverted feminine nature can be restored to its purity and led to the heights of the vocational ethos which this pure nature indicates only if it is completely surrendered to God. Whether she is a mother in the home, or occupies a place in the limelight of public life, or lives behind quiet cloister walls, she must be a handmaid of the Lord everywhere. So had the Mother of God in all circumstances of her life, as the Temple virgin enclosed in that hallowed precinct, by her quiet work in Bethlehem and Nazareth, as guide to the apostles and the Christian community after the death of her son. Were each woman an image of the Mother of God, a spouse of Christ, an apostle of the divine Heart, then would each fulfill her feminine vocation no matter what conditions she lived and what worldly activity absorbed her life. –Page 52

St. Teresa Benedict of the Cross, pray for us

¹All quotes were taken from the following book:
Stein, Edith. Essays on Woman from The Collected Works of Edith Stein Vol. 2. Washington D. C.: ICS Publications 1987.
"Full dedication is the road to purity, sanctification, and sainthood, My child. There will be many latter-day saints created. But there is a price for it, My child. Remember this when the thorns are heavy and piercing." – Jesus, November 20, 1978
We urgently need your prayers and financial support to be able to continue to create these web pages. Click here... Thank you in advance.

Let Us All Pray the Rosary Together Around the World for a Greater Value of Human Life and that More People will Imitate the Lives of the Saints... Click here...
The awesome Bayside Prophecies... http://www.tldm.org/../Bayside/
These prophecies came from Jesus, Mary, and the saints to Veronica Lueken at Bayside, NY, from 1968 to 1995.
CHALLENGE
"My children, though these days can be called desperate, you are living in the times wished to be lived in by many saints; for they knew the challenge it was to their Faith, and they knew the value of living in these times for the redemption of souls for all Heaven." – Jesus, May 3, 1978

CROWNS THROUGH SUFFERING
"There are many saints, My child, in the Kingdom of the Father now who have won their crowns through suffering. The road to Heaven is not an easy one. It is filled with thorns." – Our Lady, November 1, 1974

CRY BITTER TEARS
"My Mother and the saints in Heaven cry bitter tears of remorse and anguish for you. Your country and the world, My children, has become obsessed with immodesty and filth--all creations of satan, all soul destroyers. And how many of you go along your way--not My way, My children, but your way--to your damnation with your permissiveness, with your self-satisfaction, with your lust, and your desire for the material! Have you destroyed your soul so that you no longer recognize that one day each and every one of you must die in your body and come out of your body in your soul, your spirit eternal, that will live on forever?" – Jesus, December 31, 1976

INSTRUCT CHILDREN
"You must instruct and bring to your children the knowledge of your saints. Their example is in the light, My children. Those you have set up to idolize upon earth now are the creations of satan. You must accept and follow the example of your saints, those who have been given this honor by your holy Church. They, too, My child, did not win their crowns without trial, rejection, and often, martyrdom." – Jesus, June 5, 1975

BOOKS OF TRUTH
"My children, why do you not learn the value of suffering? The books of truth have been removed from among you. You must read the lives of the founders of My Son's House and those great saints who cry in Heaven for vengeance upon satan and his agents--now! For many souls are being taken into the abyss." – Our Lady, February 10, 1974

SECOND COMING
"I must caution you in the days ahead to look not in vain for the coming of My Son. There will be many false christs among you. He will come to you in only one way: descending from Heaven as He ascended into Heaven, and He will come accompanied with the forces, the warriors of Heaven and the saints. Remember well, many false christs will come into your world. Reject them! Do not be misled by their false miracles. Reject them, knowing that Jesus will come down in view of all with the saints and the angels." – Our Lady, February 10, 1974

CROWNS OF JOY
"There will be many saints coming out of the great tribulation. They will be called the latter-day saints, My children. There are crowns of joy, stars, and lights awaiting many who will come over the veil as martyrs." – Our Lady, December 6, 1975

LIVES OF THE SAINTS
"The greatest trials are given, My children, to those who are on the narrow road to the Kingdom. You must all learn the value of suffering. The Eternal Father allows this for reason. If you will study the past lives of your saints, My children, you will understand why I say that penance and suffering are truly the way of the cross." – Our Lady, October 2, 1976
Directives from Heaven... http://www.tldm.org/directives/directives.htm
D31 - Love of God

PDF Order copies...
D35 - Nuns

PDF
Order copies...
D77 - Obedience

PDF
Order copies...
D123 - Catholic Church, Part 1

PDF
Order copies...
D124 - Catholic Church, Part 2

PDF
Order copies...
D202
-
Victim Souls, Part 1

PDF
Order copies...

D203
-
Victim Souls, Part 2

PDF
Order copies...
D204
-
The Saints

PDF
Order copies...
D210
-
Purity

PDF Order copies...

EDITOR'S COMMENT: Evil is accelerating and the Anti-Christ forces are gaining power in the world. When the persecution starts, all Christian web sites on the internet will be forced to close. Be sure to have in your possession all the following items: the Bayside Prophecy books, Bayside Medals, Douay-Rheims Bibles, the Protection Packets, Candles, Sacramentals, and Religious Books. Purchase these items now while they are still available! You will urgently need them in the days ahead. Also, you can print out all PDF files for the Directives from Heaven and all of the Bayside Prophecies. Copy Our Lady's messages and the Directives from Heaven now while they are still available! Pray to the Holy Spirit for wisdom and guidance on how to prepare now and for the days ahead when the Antichrist is revealed. Viva Cristo Rey!

Crucifix on front and back door... The only real protection against terrorists...
Jesus - "Pray and wear your sacramentals. And, also, My children, I ask you again to place a crucifix upon your door. Both front and back doors must have a crucifix. I say this to you because there will be carnage within your areas, and this will pass you by if you keep your crucifix upon your doors." (6-30-84) (Testimonies of lives and homes saved by the crucifixes.) http://www.tldm.org/news/crucifix.htm

Heaven's Home Protection Packet...
Our Lord stated we must have crucifixes upon the outside of all of our outside doors. In the "Heaven's Home Protection Packet" there are instructions, four crucifixes, and a tube of special cement for wooden or metal crucifixes. Wooden crucifixes adhere better to the doors when the aluminum strap is removed from the back. Put a light coat of cement on the back of the crucifix and then press it to the outside of the door. If you have any problems, you can call us at 616-698-6448 for assistance. This Heaven's Home Protection Packet is available for a donation of $5.00 plus $3.00 shipping and handling. Send $8.00 to TLD Ministries, P.O. Box 40, Lowell, MI 49331. Item # P15 (Order Form)

Heaven's Personal Protection Packet . . .
Our Lady tells us to be protected from all evil, we must wear the following sacramentals around our necks: a rosary, a crucifix, the St. Benedict medal, Our Lady of the Roses medal, the Miraculous Medal, and the scapular. We have all of these sacramentals in a packet we call "Heaven's Personal Protection Packet." This packet is available for a donation of $5.00 plus $3.00 shipping and handling. Send $8.00 to TLD Ministries, P.O. Box 40, Lowell, MI 49331. Item # P5 (Order Form)

Our Lady of the Roses, Mary Help of Mothers promises to help protect our children. On September 13, 1977, She said, "He has an army of ogres wandering now throughout your country and all of the countries of the world. They are in possession of great power; so wear your sacramentals, and protect your children and your households. Learn the use every day of holy water throughout your household. Insist even with obstructions, insist that your children always wear a sacramental. One day they will understand that they will repel the demons."
On February 1, 1974, Our Lady said, "My children, know the value of these sacramentals. Guard your children well. You must awaken to the knowledge that you will not be protected without the sacramentals. Guard your children's souls. They must be surrounded with an aura of purity. Remove them if necessary from the sources of contamination, be it your schools or even false pastors."
This Heaven's Personal Protection Packet is available for a donation of $5.00 plus $3.00 shipping and handling. Send $8.00 to TLD Ministries, P.O. Box 40, Lowell, MI 49331. You may use your MasterCard, VISA, or American Express and call 1-616-698-6448. Item # P5 (Order Form)

The Virgin Mary's Bayside Prophesies book . . .
The six volumes have all of Our Lady's Bayside messages from 1970 through 1994. Some of these have never been published before. This is a type of a survival book. It tells what is coming and how to prepare for it spiritually and materially. It is a must book for the days ahead. This is a great way to spread Our Lady's messages to our family, friends and relatives. Item #001 Cost $6.95 (Order Form)

Incredible Bayside Prophecies on the United States and Canada book . . .
We have researched the Bayside Prophecies on the United States and Canada and put these outstanding prophecies in a 360 page pocket size paperback book. Veronica said it was very good. It tells what is going to happen here and how to prepare for it. Every North American must read this book! Item #B2 Cost $5.00 (Order Form)

Your names have been written in Heaven… "It is not by accident that you are called by My Mother, for your names have been written in Heaven.... But with this great grace you have great responsibility to send this Message from Heaven throughout the world, for if you are able to recover just one more for Heaven, an additional star shall be placed in your crown." - Jesus, August 5, 1975

A great obligation to go forward... "It is not by accident that you are called by My Mother, for it is by merit and the prayers that have risen to Heaven for your salvation. For those who have received the grace to hear the Message from Heaven, you have a great obligation to go forward and bring this Message to your brothers and sisters. Do not expect a rest upon your earth, for you will have eternal rest very soon." - Jesus, June 12, 1976

The sin of omission... "The sin of omission shall condemn many to hell, be they layman or Hierarchy. I repeat: not the sin of commission, but the sin of omission will commit many to hell." Our Lady of the Roses, October 6, 1980

Amount: $

We encourage everyone to print or email copies of this web page to all the Bishops and all the clergy. Also, email or send this web page to the news media and as many people as possible.

| Home - Latest News | Introduction | Bayside Prophecies | Directives from Heaven | Order Form | Miracles & Cures | Veronica Lueken | Miraculous Photos | Bible | Radio Program |

The electronic form of this document is copyrighted.
Quotations are permissible as long as this web site is acknowledged with a hyperlink to: http://www.tldm.org
Copyright © These Last Days Ministries, Inc. 1996 - 2012 All rights reserved.
P.O. Box 40 616-698-6448
Lowell, MI 49331-0040
Revised: August 23, 2012