| Home - Latest News | Introduction | Bayside Prophecies | Directives from Heaven | Shopping Cart | Testimonies | Veronica Lueken | Miraculous Photos | Bible | Radio Program |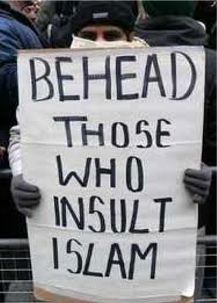 These Last Days News - October 1, 2012
Legally Establishing Insults to Islam as Being Likely to Cause Violence is a Tactic for Infiltrating the West...
"The battle, My child, will accelerate very shortly for there will not only be a great war of weapons of mankind, but it will be known soon throughout the world as a religious war." - Our Lady of the Roses August 21, 1974
PJ Media reported on September 19, 2012:
Immediately following the initial Islamist violence in Egypt and Libya, which has now spread throughout the Islamic world, the White House and Hillary Clinton's State Department blamed a barely seen video that mocked the Prophet Mohammad. While a mainly compliant media reinforced this notion, some criticism has hit the public square. In response, the administration is doubling down on this notion of causation despite facts demonstrating the Muslim hostilities were pre-planned, tied to al-Qaeda, timed in part for 9/11, and so forth.

Why? A surface answer would suggest that, as a campaign matter, the administration is so invested in the notion of an "Arab Spring" that it can not permit the appearance of failure. President Obama's foreign policy itself has centered upon the fantasy that his mere presence is sufficient to calm the Muslim world. It is easy to imagine the Axelrod/Plouffe team prancing around the Oval Office demanding that Americans, not Muslims, be the perpetrators.

A deeper psychological explanation is precisely what Obama has been well able to manipulate. For decades, the American mind has found innumerable ways to place itself as the cause of jihadist activities. The secret behind this maneuver is that it feeds the illusion that the threat is something we can control. That part of our minds so desperately frightened by the concept that we could have an enemy whose singular purpose is our destruction (the "Control Factor") has developed an ingenious set of maneuvers in order to restore the fantasy that we actually can control this threat. As soon as any evidence of the threat pops up, the Control Factor quickly jumps in to stabilize the American internal emotional state. By consistently repeating the causal connection, the administration feeds our deep need. At bottom, if we caused the violence, we can always change ourselves and control it.

There is a less-explored explanation for the full-court press on tying the violence to the film. Obama has cleverly narrowed the definition of the threat we face to "violent extremists" (and al-Qaeda in particular). Following the killing of Osama bin Laden, Obama sold his "gutsy warrior" image in part for re-election purposes, in part to convey the battle is over. This approach, however, allows Obama, Clinton, and their press to ignore the more potent levels of threat we face: that of the civilization jihad (led by the Muslim Brotherhood to infiltrate all levels of our government and society until enough power is obtained to transform the U.S. from the inside and establish Shariah law) and the international institutional jihad (led primarily by the largest Islamic organization, the Organization of Islamic Cooperation (OIC), to force similar changes from without). Both jihads are intended to proceed only as fast as they are able to stay true to their design and able to appear to the U.S. as gradual as to be non-existent; much like a frog would perceive slowly boiling water.

A fundamental precept of Shariah law is to forbid any criticism of Islam or Mohammad, and a major goal of these jihads is to erode our treasured freedom of expression. If we can not criticize Islam freely we can not control it; in fact, it will control us. Accordingly, in 2005 the OIC presented its "Ten Year Program of Action" which institutionalizes notions of "Islamophobia" and "extremism" in order to install speech restrictions on a global basis, including in the U.S. In 2011, Clinton colluded and co-sponsored Human Rights Council Resolution 16/18, which further institutionalizes "religious intolerance," "religious hatred," and "profiling."

U.S. law values and permits the right to blaspheme. Justice Clark in 1952 wrote: "[I]t is enough to point out that the state has no legitimate interest in protecting any or all religions from views distasteful to them. … It is not the business of government in our nation to suppress real or imagined attacks upon a particular religious doctrine." Justice Frankfurter noted that beliefs " … dear to one may seem the rankest 'sacrilege' to another," and added concerning "sacrilegious" speech: "[H]istory does not encourage reliance on the wisdom and moderation of the censor." This fairly describes the law as it sits today.

The relevant tension comes from speech that can be considered to cause violence. Generally, speech can be civilly actionable if it is both likely to incite imminent violence and is intended to do so. Clinton's 16/18 calls on states, however, to adopt "measures to criminalize incitement to imminent violence based on religion or belief." Clinton took a reservation to 16/18 that the U.S. not be required to "authorize legislation" or take "other action" that is "incompatible with the provisions of the Constitution." Presumably, she wants to be able to say 16/18 will not conflict with U.S. law.

Maybe, maybe not. The greater concern is the effort to expand U.S. law and practice to conform to 16/18. The OIC and the Brotherhood have already successfully pressured for such laws within Europe. The language of Clinton's recent public statements appears specifically orchestrated to comply with other demands of 16/18 including "expressing deep concern" for "stigmatizing" Muslims and "religious intolerance," "condemning hatred" of Muslims, and "speaking out against religious intolerance, including advocacy of religious hatred that constitutes incitement to discrimination, hostility, or violence."

These words simultaneously tell the jihadists that the U.S. is playing ball.

While the violence commenced on 9/11, it was more importantly timed to set the ground for the upcoming UN meetings. The OIC is the largest voting bloc in the General Assembly. Right on script, Egypt's prime minister is reported to have called for the U.S. to "take the necessary measures" to make sure that insults do not happen and that recompense is made. Similarly, Saudi Arabia's senior religious leader is reported to have called for criminalizing such speech. The many White House meetings and relationships with Muslim Brotherhood associates and associated entities appear to have paid off well.

At its core, the effort seeks to more firmly implant into our culture the narrative that insults to or inflammatory speech against Islam or Mohammad so enrages Muslims that violence is certain to ensue. The more this narrative of the "Fragile Muslim" (that Muslims uniquely can not emotionally handle such outrageous speech to be able to control their behavior) becomes common "truth," the more statutes and case law will embody it and the more easily the jihadists will be able to "evolve" the rules in their favor. Once the first prong of our law — that speech against Islam is certain to cause violence — becomes a common notion, liability or guilt will rest solely on whether a defendant intended to produce that result.

If that becomes the status of our law, free speech against Islam will necessarily have disappeared. As a mere procedural matter, no one will be willing to test a judge or jury on their determination of intent. Indeed, the likely intention of the FBI in interviewing the filmmaker that allegedly "caused" the riots is to gain evidence on his intention to cause violence. If this course is allowed to develop further, however, the two prongs will implicitly converge. That is, once it becomes so accepted that such speech causes violence, the intention will be inferred from the speech itself. At that point, Shariah will have been established and the Ten Year Program will have been successful.

This alone should be reason enough to prevent any further saturation of the ridiculous notion that this film (or ones by Geert Wilders or Theo Van Gogh, or cartoons of the Prophet, or novels by Salman Rushdie) causes violence. These events should finally convince Americans to cease to accept responsibility for the behavior of Muslims. They should finally spell the end of the fantasy of the "Fragile Muslim."

Furthermore, the difference between the presidential candidates concerning this trend could not have been better reflected in their initial statements following the violence. The words coming from Obama and Clinton shared the same structure: we support fighting "religious intolerance" but not as a result of violence which we abhor. This formulation disregards the true conflict, religious tolerance vs. freedom of expression. Moreso, it is a set-up to return with some "reasonable" intoned call to bargain restrictions in favor of religious (read "Islamic") tolerance in exchange for the cessation of violence accompanied, perhaps, with some form of reparation/punishment (for instance the release of the blind sheikh or criminal charges for the filmmaker). In essence, submission to Islamic extortion.

Candidate Mitt Romney, on the other hand, has no use for "religious tolerance"; it is simply a canard. Before the Libyan murders, Romney appropriately attacked a State Department apology for the film. His later statement also refused to acknowledge any causal connection between the video and the violence. Rather, his formulation was simple: violence seeking to erode our constitutional rights, including the freedom of expression, must be fought firmly.

Given this distinction, along with Obama's deep saturation with Muslim Brotherhood associates and associated entities as well as Clinton's collusive actions in furtherance of Brotherhood and OIC goals, our choice this November could not be clearer. If we do not speak up now, we face losing that right later.
"All who continue in the battle ahead must accept martyrdom. it does not, My child, necessarily mean death of your body, but it will mean persecution. Stand fast in the faith. Keep the faith in the hearts of those you love. Extend your charity of heart to all of your brother and sisters throughout the world. Pray a constant vigilance of prayer." - Our Lady of the Roses, October 2, 1974
We urgently need your prayers and financial support to be able to continue to create these web pages. Click here... Thank you in advance.
We strongly encourage you to print and/or email copies of this web page to all the bishops and clergy. Also, email or mail a copy of this web page to the news media and as many other people as possible. Email this page to a friend.

When you pray the Holy Rosary, you have Our Lady's hand in your hand. When you pray the Holy Rosary, you have the power of God in your hands. Start now! Let's All Pray the Rosary Together Around the World for an end to terrorism and the conversion of Muslims... Click here...
The Awesome Bayside Prophecies... http://www.tldm.org/Bayside/default.htm
These prophecies came from Jesus, Mary, and the saints to Veronica Lueken at Bayside, NY, from 1968 to 1995:
THE GREAT WAR
Our Lady - "Your Vicar, My child, will be set upon by the forces known as antichrist. These forces will unite in the promotion of the great War, a war that mankind has never seen before, a war so violent, so destructive that no human flesh would be left if My Son does not intervene."
Veronica - Oh, I—Our Lady is pointing over to the left side, by Her right side. And I see... it's... looks like a desert. It's a land I never saw before. It's very hilly, but it looks very dry. The dirt has a very yellowish, dried, caked look. I think it's a desert. And I see many, many people. They look, they're dark-skinned, and they're all holding rifles. And now they're pushing also some type of machines in place. They look like they're getting ready for a, a battle. Oh!
Now Our Lady is pointing over beyond them. And I see more people, hundreds and hundreds of people. They're dressed in uniforms. They're like, they look like brownish-green uniforms. I can't tell... they seem like men and women—yes, they're men and women, but they're all dressed alike, in pants. And they're marching. And they're carrying a flag; it's a white flag with a red circle on it. A white flag with a red circle. And they're marching now, and they're carrying guns, long rifles. Oh, and they are also like preparing for war. - December 24, 1974

OUT OF EGYPT
Veronica - Our Lady now is walking over to a large rock. There's a large rock. It seems like the land is very barren. It almost looks like a desert land. I, I see in the distance large hills. Oh, they do look like pyramids, like you would find in Egypt—pyramids.
Now Our Lady has found a small rock, and She's sitting on the rock now, and—oh, She's bowing Her head forward and placing Her hands over Her face. Our Lady is crying.
Now Our Lady is pointing over to the large hills, and one in particular now is becoming very clear. It has a carved figure. Oh, I recognize it. It's the sphinx, the sphinx. They have a carved, like animal-like head. And now Our Lady is pointing to it, and She is saying:
Our Lady -"From out of this land will come number six (Antichrist), completing the reign of the spirits. He will promote the great War. Many will leave the earth by extermination of warfare." - December 31, 1973

MIDEAST
"Wars are a punishment for man's sins. Already your sons are being sent to be there with the invasion in the Mideast. Is this what you want, My children? Can you not give your prayers and acts of reparation for those who have no one to pray for them? They are all Our sheep and We wish that they would be gathered into a holy land. The word 'holy' strikes a chord of misery, My child; I have no way to explain but to tell you, misery." - Our Lady, May 25, 1983

U.S. TO BE CLEANSED BY TRIAL
Veronica - Our Lady has moved over to the left side of the flagpole. She's pointing to a map. It's over the waters, way over the waters. And I see . . . they look--yes, Chinese people and dark-skinned people. And She said:
Our Lady - "This is a small measure of what is in store for your country. Many children will be taken from your country. It is the only recourse for an errant parenthood, a misguided society, and a land that has turned its back on its God. Trials will cleanse your country. Death will be commonplace in your country. Prepare yourselves well now.
"The Father is not unmerciful. I have cried, I have wandered throughout the world, pleading with you to listen to Me. I have also come to your earth to gather those who will be left to build and rebuild the shambles of My Son's House, the shambles that satan has created by using the will of a fallen generation." - August 5, 1972

RACE WAR TO COVER UNITED STATES
Veronica - Now in the United States I see people running, but this is a race war. I see a whole group--it looked like the whole continent--running, but they're dark-skinned, they're black-skinned. And they have all types of instruments. I think one is a machine gun that shoots many bullets, and he's--tat-tat-tat-tat-tat-tat-tat-tat-tat-tat. Oh-h. [Veronica sighs heavily.] And they're lying on the ground, dead. Ugh, oh, and it's terrible. [Veronica sighs heavily again.] – July 25, 1985

NUCLEAR WARHEADS, MISSILES
Veronica - Over on the left side, I see... I know it's Africa. It's all in flames. I've seen the flames before, but this is horrible. They're going wild; they all look dark - skinned, yet they're killing each other.
Jesus - "My child, you see war, the beginning of a war. It will be father against son, mother against daughter, and satan will be in their midst. Those who have the power are exercising it now in the wrong direction, My children. Better that they take the monies coming to them from out of the world, better that they try to construct a country with joy and happiness and peace among the brothers.
"Thou shalt not kill, and yet you kill. Thou shalt not bear witness, and you condemn others to death with your testimony. Where is your love that you call out for? Love, My children, how many of you know the true meaning of love? Love is in giving, love is kindness; love is not murder, love is not selling your soul to the devil for power. Many of the rulers throughout the world are doing this now.
"Nuclear warheads, missiles, all manner of contraptions: what dignified name can I give to them, My children? They are destruction to all mankind. I repeat again: If you commit this to come upon you, there will soon be no flesh left. My child and My children, and those who hear Our pleadings, Our hearts are extended to you to help Us to save mankind from his own course of destruction. You have very little time to do this in, My children. I assure you, your time is running out.
"My Mother, for many earth-years, has acted with Her heart to protect you. How many times the heavy hand of the Eternal Father reached down to start out the calamities with the Ball, and how many times did Our Lady rush forward. How many times did My Mother rush forward to save you? The world knows My Mother, but they cast Her aside. And those who are agents of hell now, demons in human form, they cannot be retrieved; their abode will be hell. But sad to say, it hurts My heart to know that I cannot be rid of these thorns that I am forced to accept for your salvation." - July 25, 1985

DICTATOR
"The state of your world has been reduced by the immorality. The state of your world is capitulating now to all of the forces of the octopus that will seek to bring about a one-world religion and a one-world government under a supreme dictator of evil." - Our Lady, March 18, 1978
Directives from Heaven... http://www.tldm.org/directives/directives.htm
D12 - One World Government / Religion PDF Order copies...
D103 - Communism PDF Order copies...
D104 - Invasion PDF Order copies...
D122 - Antichrist PDF Order copies...
D180 - UN & One World Government PDF Order copies...
D309 - Masons and Illuminati PDF Order copies...
D380 - The Ruling Elite PDF Order copies...
EDITOR'S COMMENT: Evil is accelerating and the Anti-Christ forces are gaining power in the world. When the persecution starts, all Christian web sites on the internet will be forced to close. Be sure to have in your possession all the following items: the Bayside Prophecy books, Bayside Medals, Douay-Rheims Bibles, the Protection Packets, Candles, Sacramentals, and Religious Books. Purchase these items now while they are still available! You will urgently need them in the days ahead. Also, you can print out all PDF files for the Directives from Heaven and all of the Bayside Prophecies. Copy Our Lady's messages and the Directives from Heaven now while they are still available! Pray to the Holy Spirit for wisdom and guidance on how to prepare now and for the days ahead when the Antichrist is revealed. Viva Cristo Rey!
Click here to email this page to a friend.
Place a Crucifix on the outside of your front and back door... The only real protection against terrorists...
Jesus - "Pray and wear your sacramentals. And, also, My children, I ask you again to place a crucifix upon your door. Both front and back doors must have a crucifix. I say this to you because there will be carnage within your areas, and this will pass you by if you keep your crucifix upon your doors." (6-30-84) (Testimonies of lives and homes saved by the crucifixes.) http://www.tldm.org/news/crucifix.htm
Heaven's Home Protection Packet...
Our Lord stated we must have crucifixes upon the outside of all of our outside doors. In the "Heaven's Home Protection Packet" there are instructions, four crucifixes, and a tube of special cement for wooden or metal crucifixes. Wooden crucifixes adhere better to the doors when the aluminum strap is removed from the back. Put a light coat of cement on the back of the crucifix and then press it to the outside of the door. If you have any problems, you can call us at 616-698-6448 for assistance. This Heaven's Home Protection Packet is available for a donation of $7.00 plus $3.00 shipping and handling. Send $10.00 to TLD Ministries, P.O. Box 40, Lowell, MI 49331. Item # P15 (Order Form)
Heaven's Personal Protection Packet . . .
Our Lady tells us to be protected from all evil, we must wear the following sacramentals around our necks: a rosary, a crucifix, the St. Benedict medal, Our Lady of the Roses medal, the Miraculous Medal, and the scapular. We have all of these sacramentals in a packet we call "Heaven's Personal Protection Packet." This packet is available for a donation of $6.00 plus $3.00 shipping and handling. Send $9.00 to TLD Ministries, P.O. Box 40, Lowell, MI 49331. Item # P5 (Order Form)
Our Lady of the Roses, Mary Help of Mothers promises to help protect our children. On September 13, 1977, She said, "He has an army of ogres wandering now throughout your country and all of the countries of the world. They are in possession of great power; so wear your sacramentals, and protect your children and your households. Learn the use every day of holy water throughout your household. Insist even with obstructions, insist that your children always wear a sacramental. One day they will understand that they will repel the demons."
On February 1, 1974, Our Lady said, "My children, know the value of these sacramentals. Guard your children well. You must awaken to the knowledge that you will not be protected without the sacramentals. Guard your children's souls. They must be surrounded with an aura of purity. Remove them if necessary from the sources of contamination, be it your schools or even false pastors."
This Heaven's Personal Protection Packet is available for a donation of $6.00 plus $3.00 shipping and handling. Send $9.00 to TLD Ministries, P.O. Box 40, Lowell, MI 49331. You may use your MasterCard, VISA, or American Express and call 1-616-698-6448. Item # P5 (Order Form)
The Virgin Mary's Bayside Prophesies book . . .
The six volumes have all of Our Lady's Bayside messages from 1970 through 1994. Some of these have never been published before. This is a type of a survival book. It tells what is coming and how to prepare for it spiritually and materially. It is a must book for the days ahead. This is a great way to spread Our Lady's messages to our family, friends and relatives. (Order Form)
Incredible Bayside Prophecies on the United States and Canada book . . .
We have researched the Bayside Prophecies on the United States and Canada and put these outstanding prophecies in a 360 page pocket size paperback book. Veronica said it was very good. It tells what is going to happen here and how to prepare for it. Every North American must read this book! Item #B2 Cost $5.00 (Order Form)
Your names have been written in Heaven… "It is not by accident that you are called by My Mother, for your names have been written in Heaven.... But with this great grace you have great responsibility to send this Message from Heaven throughout the world, for if you are able to recover just one more for Heaven, an additional star shall be placed in your crown." - Jesus, August 5, 1975
A great obligation to go forward... "It is not by accident that you are called by My Mother, for it is by merit and the prayers that have risen to Heaven for your salvation. For those who have received the grace to hear the Message from Heaven, you have a great obligation to go forward and bring this Message to your brothers and sisters. Do not expect a rest upon your earth, for you will have eternal rest very soon." - Jesus, June 12, 1976
The sin of omission... "The sin of omission shall condemn many to hell, be they layman or Hierarchy. I repeat: not the sin of commission, but the sin of omission will commit many to hell." - Our Lady of the Roses, October 6, 1980
We encourage everyone to print or email copies of this web page to all the Bishops and all the clergy. Also, email or send this web page to the news media and as many people as possible.
| Home - Latest News | Introduction | Bayside Prophecies | Directives from Heaven | Order Form | Miracles & Cures | Veronica Lueken | Miraculous Photos | Bible | Radio Program |
The electronic form of this document is copyrighted.
Quotations are permissible as long as this web site is acknowledged with a hyperlink to: http://www.tldm.org
Copyright © These Last Days Ministries, Inc. 1996 - 2012 All rights reserved.
P.O. Box 40 616-698-6448
Lowell, MI 49331-0040
Revised: October 01, 2012