| Home - Latest News | Introduction | Bayside Prophecies | Directives from Heaven | Shopping Cart | Testimonies | Veronica Lueken | Miraculous Photos | Bible | Radio Program |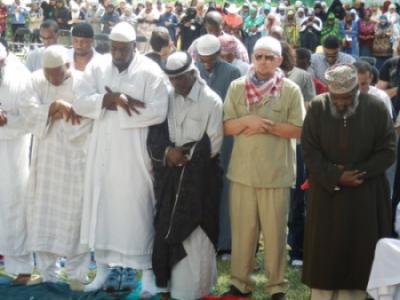 These Last Days News - September 7, 2012
Muslim Prayers at Democratic National Convention Cause Shockwaves Across the Country...
Veronica - Now Michael is turning back, and he's pointing over to the left side of the flagpole, beyond the left side. And I see . . . oh, I see a terrible, terrible fighting, a war. I don't believe it's in the United States, because these people look like they're Egyptians, and Arabs, and dark-skinned people. And now, though, as the—I hear the great roar of bombs.
I'm looking up, and the sky's becoming very lighted. And I am seeing thousands and thousands of people marching. But they look like Chinese, or Mongolian. No, they're—I believe they're Chinese; they're Asiatic. They're marching across the land, and they're boarding some kind of transport. They're going onto the water. Oh, it's a great War. Oh! Oh!
Now Michael is coming over to the left side of the flagpole, and he's looking down.
St. Michael - "My child, we have asked you to send the word to mankind that they will read in the Book of life, the Bible, the words given to them that will fulfill the prophecy of the latter days, Apocalypse. You are living the days of the Revelations. Read them and be knowledgeable, and you will not be caught without the light." - July 8, 1974
The 10 Kingdoms of the New World Order

1. NAFTA (America, Canada and Mexico)

2. The E.U. – countries of the European Union, Western Europe as a whole

3. Japan

4. Australia, New Zealand, South Africa

5. Eastern Europe, Pakistan, Afghanistan, Russia and the former countries of the Soviet Union

6. Central and South America, Cuba and Caribbean Islands

7. The Middle East and North Africa

8. The rest of Africa, except South Africa

9. South and Southeast Asia, including India

10. China (Mongolia is now included with China)
The Plans for the 10 Kingdoms was Created, September 17, 1973, by the Club of Rome for the New World Order
http://www.bibliotecapleyades.net/sociopolitica/esp_sociopol_clubrome10.htm
The Holy Douay-Rheims Bible... http://www.tldm.org/bible/bible.htm
And the ten horns which thou sawest are ten kings, who have not yet received a kingdom: but shall receive power as kings, one hour after the beast (arrival of Antichrist). These have one design: and their strength and power they shall deliver to the beast. Apocalypse 17:12-13
Ragged, Torn American Flag Used as Scarf at Democrat 'Jumah Prayer' Service...
Examiner reported on September 3, 2012:
What was touted as a 20,000 strong Muslim Jumah prayer service, actually drew "several hundred" according to MSNBC.

Yet the lack of numbers didn't keep an unnamed Muslim participant from making what many view as a political statement during the gathering.

As seen at the very public gathering at nearby Charlotte's Marshall Park, one individual opted to pray using a torn and ripped American flag as a scarf.

Men To The Front, Women To The Back...

While the Democrats have accused the Republican Party of waging a so-called "war on women," there was no comment from the DNC as to explain why the Muslim women were segregated to the rear from the men by at least 100 feet at the Jumah.

As explained on the website IslamNewsRoom.com, the gender segregation is explained:

"Provisions are provided at almost every place of worship for women to offer their worship in private, so as not to be exposed and compromised while in salat (daily prayers)."

As explained by an unnamed "convert sister," a female Muslim stated:

"Another reason, easily understood by Americans, is while praying men and women go through different positions considered embarrassing or immodest to do while in front of the opposite sex, like in the case of prostration.

As a woman I definitely prefer to pray and prostrate away from the view of men because of the position I am putting my body in, sometimes it could be considered suggestive."

In the case of the North Carolina Democratic National Convention prayer service, the Jumah was a public event, vice private.

Also, there was no laying prostrate by any of the participants.

Hence, the sex-based segregation was unneeded and unnecessary.
'Jumah at the DNC' Speaker: 'Muslims Visited America Prior to Columbus' & 'It Was a Muslim' Who Guided Him to the 'New World'...
The Blaze reported on September 1, 2012:
The Bureau of Indigenous Muslim Affairs (BIMA) predicted that roughly 20,000 people would participate in its "Jumah at the DNC" open-air prayer ceremony Friday, but, according to reports, only a few hundred showed up.

That does not mean, however, that it was completely devoid of noteworthy activity.

During his comments at the prayer service, BIMA spokesman Jibril Hough reportedly claimed that Muslims reached the Americas before Christopher Columbus.

He stated, according to the Washington Times: "Muslims visited America prior to Columbus…It was a Muslim who guided Columbus on his voyage to the new world."

Breitbart adds that BIMA is upsetting some Native Americans for claiming to be "indigenous," including a passage from Miki Booth at the Western Center for Journalism:

Native Americans are very angry to learn that Muslims in the United States of America are being touted as "indigenous", a complete falsehood. The fact is, American Indians are the indigenous people of North America, as Hawai'ians are to Hawai'i and the Aborigine to Australia. Organizations like BIMA marginalize native Americans in favor of Muslims, and Indians are not pleased.

In one of the photos of the event, where the men stand in front of the women to pray, one attendee is seemingly wearing a Yasser Arafat-style American flag scarf around his neck.

The event's leaders have come under fire by other Muslims for being radical and, in the words of Dr. Zuhdi Jasser, wanting "to replace the US Constitution with the Quran."

The event was quietly removed from the "Charlotte in 2012" page last week after its leaders' radical connections were revealed, prompting an angry response from BIMA spokesperson Jibril Hough.

"This is about caving in to fear and ignorance," he claimed after a senior Host Committee official told NBC the event was determined to be not "appropriate and relevant."
"All who continue in the battle ahead must accept martyrdom. it does not, My child, necessarily mean death of your body, but it will mean persecution. Stand fast in the faith. Keep the faith in the hearts of those you love. Extend your charity of heart to all of your brother and sisters throughout the world. Pray a constant vigilance of prayer." - Our Lady of the Roses, October 2, 1974
We urgently need your prayers and financial support to be able to continue to create these web pages. Click here... Thank you in advance.

When you pray the Holy Rosary, you have Our Lady's hand in your hand. When you pray the Holy Rosary, you have the power of God in your hands. Start now! Let's All Pray the Rosary Together Around the World for an end to terrorism and the conversion of Muslims... Click here...
The Awesome Bayside Prophecies... http://www.tldm.org/Bayside/default.htm
These prophecies came from Jesus, Mary, and the saints to Veronica Lueken at Bayside, NY, from 1968 to 1995:
THE GREAT WAR
Our Lady - "Your Vicar, My child, will be set upon by the forces known as antichrist. These forces will unite in the promotion of the great War, a war that mankind has never seen before, a war so violent, so destructive that no human flesh would be left if My Son does not intervene."
Veronica - Oh, I—Our Lady is pointing over to the left side, by Her right side. And I see... it's... looks like a desert. It's a land I never saw before. It's very hilly, but it looks very dry. The dirt has a very yellowish, dried, caked look. I think it's a desert. And I see many, many people. They look, they're dark-skinned, and they're all holding rifles. And now they're pushing also some type of machines in place. They look like they're getting ready for a, a battle. Oh!
Now Our Lady is pointing over beyond them. And I see more people, hundreds and hundreds of people. They're dressed in uniforms. They're like, they look like brownish-green uniforms. I can't tell... they seem like men and women—yes, they're men and women, but they're all dressed alike, in pants. And they're marching. And they're carrying a flag; it's a white flag with a red circle on it. A white flag with a red circle. And they're marching now, and they're carrying guns, long rifles. Oh, and they are also like preparing for war. - December 24, 1974

OUT OF EGYPT
Veronica - Our Lady now is walking over to a large rock. There's a large rock. It seems like the land is very barren. It almost looks like a desert land. I, I see in the distance large hills. Oh, they do look like pyramids, like you would find in Egypt—pyramids.
Now Our Lady has found a small rock, and She's sitting on the rock now, and—oh, She's bowing Her head forward and placing Her hands over Her face. Our Lady is crying.
Now Our Lady is pointing over to the large hills, and one in particular now is becoming very clear. It has a carved figure. Oh, I recognize it. It's the sphinx, the sphinx. They have a carved, like animal-like head. And now Our Lady is pointing to it, and She is saying:
Our Lady -"From out of this land will come number six (Antichrist), completing the reign of the spirits. He will promote the great War. Many will leave the earth by extermination of warfare." - December 31, 1973

MIDEAST
"Wars are a punishment for man's sins. Already your sons are being sent to be there with the invasion in the Mideast. Is this what you want, My children? Can you not give your prayers and acts of reparation for those who have no one to pray for them? They are all Our sheep and We wish that they would be gathered into a holy land. The word 'holy' strikes a chord of misery, My child; I have no way to explain but to tell you, misery." - Our Lady, May 25, 1983

U.S. TO BE CLEANSED BY TRIAL
Veronica - Our Lady has moved over to the left side of the flagpole. She's pointing to a map. It's over the waters, way over the waters. And I see . . . they look--yes, Chinese people and dark-skinned people. And She said:
Our Lady - "This is a small measure of what is in store for your country. Many children will be taken from your country. It is the only recourse for an errant parenthood, a misguided society, and a land that has turned its back on its God. Trials will cleanse your country. Death will be commonplace in your country. Prepare yourselves well now.
"The Father is not unmerciful. I have cried, I have wandered throughout the world, pleading with you to listen to Me. I have also come to your earth to gather those who will be left to build and rebuild the shambles of My Son's House, the shambles that satan has created by using the will of a fallen generation." - August 5, 1972

RACE WAR TO COVER UNITED STATES
Veronica - Now in the United States I see people running, but this is a race war. I see a whole group--it looked like the whole continent--running, but they're dark-skinned, they're black-skinned. And they have all types of instruments. I think one is a machine gun that shoots many bullets, and he's--tat-tat-tat-tat-tat-tat-tat-tat-tat-tat. Oh-h. [Veronica sighs heavily.] And they're lying on the ground, dead. Ugh, oh, and it's terrible. [Veronica sighs heavily again.] – July 25, 1985

NUCLEAR WARHEADS, MISSILES
Veronica - Over on the left side, I see... I know it's Africa. It's all in flames. I've seen the flames before, but this is horrible. They're going wild; they all look dark - skinned, yet they're killing each other.
Jesus - "My child, you see war, the beginning of a war. It will be father against son, mother against daughter, and satan will be in their midst. Those who have the power are exercising it now in the wrong direction, My children. Better that they take the monies coming to them from out of the world, better that they try to construct a country with joy and happiness and peace among the brothers.
"Thou shalt not kill, and yet you kill. Thou shalt not bear witness, and you condemn others to death with your testimony. Where is your love that you call out for? Love, My children, how many of you know the true meaning of love? Love is in giving, love is kindness; love is not murder, love is not selling your soul to the devil for power. Many of the rulers throughout the world are doing this now.
"Nuclear warheads, missiles, all manner of contraptions: what dignified name can I give to them, My children? They are destruction to all mankind. I repeat again: If you commit this to come upon you, there will soon be no flesh left. My child and My children, and those who hear Our pleadings, Our hearts are extended to you to help Us to save mankind from his own course of destruction. You have very little time to do this in, My children. I assure you, your time is running out.
"My Mother, for many earth-years, has acted with Her heart to protect you. How many times the heavy hand of the Eternal Father reached down to start out the calamities with the Ball, and how many times did Our Lady rush forward. How many times did My Mother rush forward to save you? The world knows My Mother, but they cast Her aside. And those who are agents of hell now, demons in human form, they cannot be retrieved; their abode will be hell. But sad to say, it hurts My heart to know that I cannot be rid of these thorns that I am forced to accept for your salvation." - July 25, 1985

DICTATOR
"The state of your world has been reduced by the immorality. The state of your world is capitulating now to all of the forces of the octopus that will seek to bring about a one-world religion and a one-world government under a supreme dictator of evil." - Our Lady, March 18, 1978
Directives from Heaven... http://www.tldm.org/directives/directives.htm
D12 - One World Government / Religion PDF Order copies...
D103 - Communism PDF Order copies...
D104 - Invasion PDF Order copies...
D122 - Antichrist PDF Order copies...
D180 - UN & One World Government PDF Order copies...
D309 - Masons and Illuminati PDF Order copies...
D380 - The Ruling Elite PDF Order copies...
EDITOR'S COMMENT: Evil is accelerating and the Anti-Christ forces are gaining power in the world. When the persecution starts, all Christian web sites on the internet will be forced to close. Be sure to have in your possession all the following items: the Bayside Prophecy books, Bayside Medals, Douay-Rheims Bibles, the Protection Packets, Candles, Sacramentals, and Religious Books. Purchase these items now while they are still available! You will urgently need them in the days ahead. Also, you can print out all PDF files for the Directives from Heaven and all of the Bayside Prophecies. Copy Our Lady's messages and the Directives from Heaven now while they are still available! Pray to the Holy Spirit for wisdom and guidance on how to prepare now and for the days ahead when the Antichrist is revealed. Viva Cristo Rey!
Click here to email this page to a friend.
Place a Crucifix on the outside of your front and back door... The only real protection against terrorists...
Jesus - "Pray and wear your sacramentals. And, also, My children, I ask you again to place a crucifix upon your door. Both front and back doors must have a crucifix. I say this to you because there will be carnage within your areas, and this will pass you by if you keep your crucifix upon your doors." (6-30-84) (Testimonies of lives and homes saved by the crucifixes.) http://www.tldm.org/news/crucifix.htm
Heaven's Home Protection Packet...
Our Lord stated we must have crucifixes upon the outside of all of our outside doors. In the "Heaven's Home Protection Packet" there are instructions, four crucifixes, and a tube of special cement for wooden or metal crucifixes. Wooden crucifixes adhere better to the doors when the aluminum strap is removed from the back. Put a light coat of cement on the back of the crucifix and then press it to the outside of the door. If you have any problems, you can call us at 616-698-6448 for assistance. This Heaven's Home Protection Packet is available for a donation of $7.00 plus $3.00 shipping and handling. Send $10.00 to TLD Ministries, P.O. Box 40, Lowell, MI 49331. Item # P15 (Order Form)
Heaven's Personal Protection Packet . . .
Our Lady tells us to be protected from all evil, we must wear the following sacramentals around our necks: a rosary, a crucifix, the St. Benedict medal, Our Lady of the Roses medal, the Miraculous Medal, and the scapular. We have all of these sacramentals in a packet we call "Heaven's Personal Protection Packet." This packet is available for a donation of $6.00 plus $3.00 shipping and handling. Send $9.00 to TLD Ministries, P.O. Box 40, Lowell, MI 49331. Item # P5 (Order Form)
Our Lady of the Roses, Mary Help of Mothers promises to help protect our children. On September 13, 1977, She said, "He has an army of ogres wandering now throughout your country and all of the countries of the world. They are in possession of great power; so wear your sacramentals, and protect your children and your households. Learn the use every day of holy water throughout your household. Insist even with obstructions, insist that your children always wear a sacramental. One day they will understand that they will repel the demons."
On February 1, 1974, Our Lady said, "My children, know the value of these sacramentals. Guard your children well. You must awaken to the knowledge that you will not be protected without the sacramentals. Guard your children's souls. They must be surrounded with an aura of purity. Remove them if necessary from the sources of contamination, be it your schools or even false pastors."
This Heaven's Personal Protection Packet is available for a donation of $6.00 plus $3.00 shipping and handling. Send $9.00 to TLD Ministries, P.O. Box 40, Lowell, MI 49331. You may use your MasterCard, VISA, or American Express and call 1-616-698-6448. Item # P5 (Order Form)
The Virgin Mary's Bayside Prophesies book . . .
The six volumes have all of Our Lady's Bayside messages from 1970 through 1994. Some of these have never been published before. This is a type of a survival book. It tells what is coming and how to prepare for it spiritually and materially. It is a must book for the days ahead. This is a great way to spread Our Lady's messages to our family, friends and relatives. (Order Form)
Incredible Bayside Prophecies on the United States and Canada book . . .
We have researched the Bayside Prophecies on the United States and Canada and put these outstanding prophecies in a 360 page pocket size paperback book. Veronica said it was very good. It tells what is going to happen here and how to prepare for it. Every North American must read this book! Item #B2 Cost $5.00 (Order Form)
Your names have been written in Heaven… "It is not by accident that you are called by My Mother, for your names have been written in Heaven.... But with this great grace you have great responsibility to send this Message from Heaven throughout the world, for if you are able to recover just one more for Heaven, an additional star shall be placed in your crown." - Jesus, August 5, 1975
A great obligation to go forward... "It is not by accident that you are called by My Mother, for it is by merit and the prayers that have risen to Heaven for your salvation. For those who have received the grace to hear the Message from Heaven, you have a great obligation to go forward and bring this Message to your brothers and sisters. Do not expect a rest upon your earth, for you will have eternal rest very soon." - Jesus, June 12, 1976
The sin of omission... "The sin of omission shall condemn many to hell, be they layman or Hierarchy. I repeat: not the sin of commission, but the sin of omission will commit many to hell." - Our Lady of the Roses, October 6, 1980
We encourage everyone to print or email copies of this web page to all the Bishops and all the clergy. Also, email or send this web page to the news media and as many people as possible.
| Home - Latest News | Introduction | Bayside Prophecies | Directives from Heaven | Order Form | Miracles & Cures | Veronica Lueken | Miraculous Photos | Bible | Radio Program |
The electronic form of this document is copyrighted.
Quotations are permissible as long as this web site is acknowledged with a hyperlink to: http://www.tldm.org
Copyright © These Last Days Ministries, Inc. 1996 - 2012 All rights reserved.
P.O. Box 40 616-698-6448
Lowell, MI 49331-0040
Revised: September 07, 2012