| Home - Latest News | Introduction | Bayside Prophecies | Directives from Heaven | Order Form | Testimonies | Veronica Lueken | Miraculous Photos | Bible | Radio Program |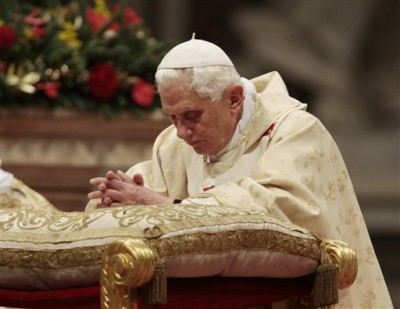 These Last Days News - September 26, 2012
Pope Benedict XVI: There is No Such Thing as a Superfluous or Useless Prayer...
"Do not abandon My Son any longer by rejecting His Church. Do not judge My Son's Church by man. The foundation is My Son, Jesus. And though the walls may develop cracks, the foundation is solid. Will you not remain and patch these cracks, My children? We do not wish that you break apart into small groups of discord. No schisms must take place in My Son's Church. For all who are baptized a Roman Catholic must die Roman Catholics to enter Heaven. A rejection of the papacy, a rejection of the Faith because of human reasoning shall not be accepted by the Eternal Father in Heaven. Remain faithful and true forever unto the end." – Our Lady of the Roses, November 20, 1979
UNANSWERED
"Your prayers will not go unanswered. Ask, and you shall receive; seek and you shall find the way. Believe and you will be given the way." - Jesus, October 6, 1979
WEAPON
"Pray, for prayer is the greatest weapon given to you now to remove this evil from among you." - Our Lady, September 7, 1974
ACTION
"Pray, but act also, for prayers without action is like placing a mess of meat on a dead man's grave." - Jesus, August 5, 1978
What Does The Prayer Really Say? reported on September 12, 2012:
During his general audience, held this morning in the Paul VI Hall, Benedict XVI focused his catechesis on prayer in the second part of the Book of Revelation in which, he noted, attention moves from the interior life of the Church "to the entire world, because the Church advances through history and is a part thereof".

In this second part of Revelation, the Christian assembly is called "to undertake a profound interpretation of the history in which it lives, learning to discern events with faith so that, through its actions, it may collaborate in the advancement of the kingdom of God. Such interpretation, discernment and action are closely associated with prayer".

The assembly is invited to ascend unto heaven "in order to see reality with the eyes of God". There, according to St. John's narrative, we find three symbols with which to interpret history: the throne, the scroll and the Lamb. On the throne sits Almighty God "Who has not remained isolated in heaven but has approached man and entered into a covenant with him". The scroll "contains God's plan for history and mankind, but it is hermetically sealed with seven seals and no one can read it. … Yet there is a remedy to man's confusion before the mystery of history. Someone is able to open the scroll and illuminate him".

That someone appears in the third symbol: "Christ, the Lamb, Who was immolated in the sacrifice of the cross but stands in sign of His resurrection. The Lamb, Christ, Who died and rose again, will progressively open the seals so as to reveal the plan of God, the profound meaning of history".

These symbols, the Pope explained, "remind us of the path we must follow to interpret the events of history and of our own lives. Raising our gaze to God's heaven in an unbroken relationship with Christ, … in individual and community prayer, we learn to see things in a new way and to grasp their most authentic significance". The Lord invites the Christian community "to a realistic examination of the present time in which they are living. The Lamb then opens the first four seals of the scroll and the Church sees the world of which she is part; a world containing … the evils accomplished by man, such as violence … and injustice, … to which must be added the evils man suffers such as death, hunger, and sickness".

"In the face of these often dramatic issues the ecclesial community is invited never to lose hope, but to remain firm in the belief that the apparent omnipotence of the Evil One in fact comes up against true omnipotence, that of God". St. John speaks of the white horse, which symbolises that "the power of God has entered man's history, a power capable not only of counterbalancing evil, but also of overcoming it. … God became so close as to descend into the darkness of death and illuminate it with the splendour of divine life. He took the evil of the world upon Himself to purify it with the fire of His love".

The Holy Father went on: "How can we progress in this Christian interpretation of reality? The Book of Revelation tells us that prayer nourishes this vision of light and profound hope in each one of us and in our communities. … The Church lives in history, she is not closed in herself but courageously faces her journey amidst difficulties and sufferings, forcefully affirming that evil does not defeat good, that darkness does not shade God's splendour. This is an important point for us too: as Christians we can never be pessimists. … Prayer, above all, educates us to see the signs of God, His presence and His action; or rather, it educates us to become lights of goodness, spreading hope and indicating that the victory is God's".

At the end of the vision an angel places grains of incense in a censer then throws it upon the earth. Those grains represent our prayers, the Pope said. "and we can be sure that there is no such thing as a superfluous or useless prayer. No prayer is lost. … God is not oblivious to our prayers. … When faced with evil we often have the sensation that we can do nothing, but our prayers are in fact the first and most effective response we can give, they strengthen our daily commitment to goodness. The power of God makes our weakness strong".
MUST BE ACCEPTED, FOLLOWED
"Peter was My first Pope and your first Pope, and as all others who followed him, they must be accepted. Be they weak or noble, be they with sanctity or unholiness, they must be accepted and followed....
"I ask you not to judge another. You may counsel, you may give your viewpoints, but no violence must be used. And I do not want schism. I do not want any interference from separated brethren in My Church. They must be brought back. Convert the unbeliever! You must remain united with Rome.
"The gates of hell shall not prevail against My Church, for a cleansing will come about and all that is rotten will fall! And My Church shall be restored to its former glory!" - Jesus, June 9, 1979

Let Us All Pray the Rosary Together Around the World That All Will Remain United With the Holy Father... Click here...
Our Lady of the Roses awesome Bayside Prophecies... http://www.tldm.org/../Bayside/
These prophecies came from Jesus, Mary, and the saints to Veronica Lueken at Bayside, NY, from 1968 to 1995.
ONE LITTLE AVE
"These are human qualities--fear, indecision, doubt, uncertainty--but, My child, when you pray one little Ave, lifting your heart to Heaven, these fears will be dispelled." -Our Lady, October 6, 1974

RESCUED
"Those who are destined for Lucifer's kingdom have already chosen their path, My child. But they, too, can be rescued by your prayers and sacrifices." - Our Lady, November 1, 1971

FORGOTTEN
"Your world and leaders--and yes, those in My Son's House--have forgotten the value of prayer. They will not recover and ransom souls with idle talk." - Our Lady, November 20, 1972

RINGING
"I give you this lesson of reality, My children: the demons cannot stay with the sound of prayer ringing in the air." - Jesus, September 14, 1976

HOPE
"There will come a time, My child, when prayer shall strengthen you and give you the hope, the faith, and the charity to live in a world that goes into complete darkness of spirit." - Our Lady, May 17, 1975

DECISION
"Whenever you have a decision to make, I repeat, you will pray once, pray again, and then you will be given the light of understanding. Pray once, pray again, and you will be given the light." - Our Lady, November 20, 1974

USE IT
"The greatest weapon you have now is prayer; you will use it." - Our Lady, May 30, 1973

LADDER
"The only ladder to Heaven is found in our climbing in prayer; each step will be shorter and higher if we just try a little to care." - St. Theresa, May 23, 1969 Occulations from Heaven

ARMOR
"Use the armor that My Mother has given to you, of prayer, penance, and sacrifice. Learn, My children, to cast aside the things of your world that bring your soul into darkness. Keep your minds filled with pure and holy thoughts, for it is the main point of entrance for the evil spirits." - Jesus, September 28, 1972

BISHOPS
"My children, pray constantly, and in true charity, pray for your cardinals and your bishops. Many shall fall because of too few prayers and acts of sacrifice for them." -Jesus, November 20, 1979

A MESSAGE FOR YOUR VICAR
"My child and My children, do not cast aside this message, for it is most urgent. The War, the great War, will soon come upon you, taking many from the earth.
"I have given to you, My child, a message for your Vicar, and he must act upon it. Should he proceed by following the ways of man, using humanism and modernism to the destruction of souls and My Son's Church, I cannot then any longer hold back the heavy hand of punishment from mankind." - Our Lady, December 7, 1978

CHASTISEMENT SORELY DUE FOR DISOBEDIENCE TO VICAR
"Your world, My child and My children, has not progressed back to the Eternal Father. Should you receive now one chastisement so sorely due to you for your disobedience to Our Vicar? Do you as a nation, do you, all nations of the world, deserve the continuance of the struggle of Our Vicar for your salvation, or shall you, through your own actions, force the hand of the Eternal Father upon you by abandoning you to your sin? Your nation, the United States, and all nations of the earth--none shall escape the fires." – Our Lady, May 30, 1981

UNITED
"We do not want division within the Church. That will solve nothing. You cannot separate yourself from the Holy Father in Rome!" - Our Lady, September 27, 1986

YOU ACT IN DISOBEDIENCE
"Mankind will go about with their heads in clouds, with itching ears, accepting false doctrines from false teachers. Novelty, experimentation, modernism, humanism! Because you sin and lose the light, you now fall prey to these creations of satan. Have you not been warned before from the Seat of Peter? Oh, no! You cast aside the direction of your Holy Father in the Eternal City of Rome! Evil men of the cross, you act in disobedience to your Vicar." – Our Lady, February 10, 1977
Directives from Heaven... http://www.tldm.org/directives/directives.htm
D19 - Prayers PDF Order copies...
D20 - Importance of Prayer (Part 1) PDF Order copies...
D21 - Importance of Prayer (Part 2) PDF Order copies...
D123 - Catholic Church, Part 1 PDF Order copies...
D124 - Catholic Church, Part 2 PDF Order copies...
D244 - Prayer and Works PDF Order copies...
D265 - The Papacy PDF Order copies...
There are 4 things you must have to survive the end times:
1.) The Douay-Rheims Holy Bible...
"You must all obtain a copy of the Book of life and love, the Bible. Do not accept the new mods. Try to find in your bookstores the old Bibles, My children, for many are being changed to suit the carnal nature of man. I repeat, sin has become a way of life." - Our Lady, October 6, 1992
"I must ask you all to read but a few short chapters a day now, the Book of life and love, your Bible. Knowledge must be gained for all the disciples of My Son, for you will be attacked by scientific minds. But do not be concerned what you will say to them when accosted, for the words will be given to you by the Spirit." - Our Lady, April 10, 1976 (Order Form)
2.) The total Virgin Mary's Bayside Prophesies in 6 paperback books...
The Virgin Mary brings directions from God, the Father in Heaven on how to survive the end times. God, the Father, through the Virgin Mary, tells what is coming, how to prepare for it, how to survive it, and how to even stop it. These six volumes along with the Bible are most important to save yourself and your loved ones. Order it now. Tomorrow may be to late. These 6 pocket size paperback books costs $33.00. (Order Form)
3.) Heaven's Home Protection Packet...
Heaven's Home Protection Packet...
Our Lord stated we must have crucifixes upon the outside of all of our outside doors. In the "Heaven's Home Protection Packet" there are instructions, four crucifixes, a tube of special cement for wooden or metal crucifixes. Wooden crucifixes adhere better to the doors when the aluminum strap is removed from the back. Put a light coat of cement on the back of the crucifix and then press it to the outside of the door. If you have any problems, you can call us at 616-698-6448 for assistance. This Heaven's Home Protection Packet is available for a donation of $5.00 plus $3.00 shipping and handling. Send $8.00 to TLD Ministries, P.O. Box 40, Lowell, MI 49331. Item # P15 (Order Form)

Crucifix on front and back door... The only real protection against terrorists...

Jesus - "Pray and wear your sacramentals. And, also, My children, I ask you again to place a crucifix upon your door. Both front and back doors must have a crucifix. I say this to you because there will be carnage within your areas, and this will pass you by if you keep your crucifix upon your doors." (6-30-84) (Testimonies of lives and homes saved by the crucifixes.) http://www.tldm.org/news/crucifix.htm (Order Form)
4.) Heaven's Personal Protection Packet...
Heaven's Personal Protection Packet . . .
Our Lady tells us to be protected from all evil, we must wear the following sacramentals around our necks: a Rosary, a crucifix, the St. Benedict medal, Our Lady of the Roses medal, the Miraculous Medal, and the scapular. We have all of these sacramentals in a packet we call "Heaven's Personal Protection Packet." This packet is available for a donation of $5.00 plus $3.00 shipping and handling. Send $8.00 to TLD Ministries, P.O. Box 40, Lowell, MI 49331. Item # P5 (Order Form)

Our Lady of the Roses, Mary Help of Mothers promises to help protect our children. On September 13, 1977, She said, "He has an army of ogres wandering now throughout your country and all of the countries of the world. They are in possession of great power; so wear your sacramentals, and protect your children and your households. Learn the use every day of holy water throughout your household. Insist even with obstructions, insist that your children always wear a sacramental. One day they will understand that they will repel the demons."
On February 1, 1974, Our Lady said, "My children, know the value of these sacramentals. Guard your children well. You must awaken to the knowledge that you will not be protected without the sacramentals. Guard your children's souls. They must be surrounded with an aura of purity. Remove them if necessary from the sources of contamination, be it your schools or even false pastors."
This Heaven's Personal Protection Packet is available for a donation of $5.00 plus $3.00 shipping and handling. Send $8.00 to TLD Ministries, P.O. Box 40, Lowell, MI 49331. You may use your MasterCard, VISA, or American Express and call 1-616-698-6448. Item # P5 (Order Form)
Your names have been written in Heaven… "It is not by accident that you are called by My Mother, for your names have been written in Heaven.... But with this great grace you have great responsibility to send this Message from Heaven throughout the world, for if you are able to recover just one more for Heaven, an additional star shall be placed in your crown." - Jesus, August 5, 1975
A great obligation to go forward... "It is not by accident that you are called by My Mother, for it is by merit and the prayers that have risen to Heaven for your salvation. For those who have received the grace to hear the Message from Heaven, you have a great obligation to go forward and bring this Message to your brothers and sisters. Do not expect a rest upon your earth, for you will have eternal rest very soon." - Jesus, June 12, 1976
The sin of omission... "The sin of omission shall condemn many to hell, be they layman or Hierarchy. I repeat: not the sin of commission, but the sin of omission will commit many to hell." Our Lady of the Roses, October 6, 1980
We encourage everyone to print or email copies of this web page to all the Bishops and all the clergy. Also, email or send this web page to the news media and as many people as possible.
| Home - Latest News | Introduction | Bayside Prophecies | Directives from Heaven | Order Form | Miracles & Cures | Veronica Lueken | Miraculous Photos | Bible | Radio Program |
The electronic form of this document is copyrighted.
Quotations are permissible as long as this web site is acknowledged with a hyperlink to: http://www.tldm.org
Copyright © These Last Days Ministries, Inc. 1996 - 2012 All rights reserved.
P.O. Box 40 616-698-6448
Lowell, MI 49331-0040
Revised: September 26, 2012