| Home - Latest News | Introduction | Bayside Prophecies | Directives from Heaven | Order Form | Testimonies | Veronica Lueken | Miraculous Photos | Bible | Radio Program |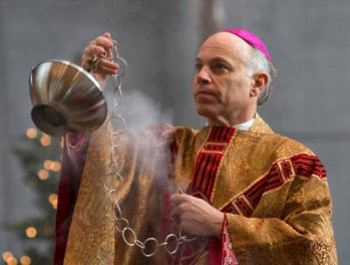 These Last Days News - October 8, 2012
San Francisco's New Archbishop Worries Homosexuals who Pretend to be Catholic...
"Pray constantly your Rosary, your beads of prayer to Heaven. Remain unified in your family lives. The institution of your country--the great foundation is based on family life. Destroy the family and you destroy your country." - Our Lady of the Roses, June 18, 1980
"It was the will of the Eternal Father that one universal language be used along with, in comparison with, together with the language of the land. This universal language, Latin, befit and was chosen by the Eternal Father as a universal language for the universal Church, the Roman Catholic Church...." – Our Lady of the Roses, April 10, 1976
TURN BACK
"This evil has penetrated far into the very heart of My House. You must now turn back and restore My House. I, your God, give you this command for the salvation of your own soul." - Jesus, August 21, 1976
The New York Times reported on September 29, 2012:
At Most Holy Redeemer Catholic Church in the Castro, this city's largest gay district, about 20 of the faithful gathered for 8 a.m. Mass recently, clustering in the middle pews. Led by a visiting priest from nearby Oakland, the parishioners joined in celebrating the 30th anniversary of a gay couple.

The celebration was not out of place in San Francisco, at least not in those parishes that have somehow bridged the colossal gap between their gay members' lives and church doctrine. But the appointment of a new leader of the archdiocese here — Bishop Salvatore Cordileone, 56, a rising conservative who led the fight against same-sex marriage in California — has many gay and lesbian Roman Catholics worried about the fate of these sanctuaries.

At a cafe where some of the parishioners met after Mass, many said they would take "a wait-and-see" attitude toward Bishop Cordileone, who has led the Oakland Diocese for the past three years and is scheduled to be installed as archbishop here on Thursday, the feast of St. Francis, San Francisco's patron saint. Some expressed hope that in getting to know his followers here, Bishop Cordileone would come to see things their way.

Others were more defiant, saying nothing would shake their faith.

"In a sense, I am glad that the church is sending the top guy that they have — the top antigay — because it means that we, as a community of Catholics, have done something good to deserve attention," said George Woyames, 68, who added that he was raised as a Roman Catholic but became committed to the religion only after joining Most Holy Redeemer in 1987.

Bishop Cordileone was one of the leading proponents of Proposition 8, which banned same-sex marriage in November 2008 by defining marriage in California as between only a man and a woman. The proposition, which voters endorsed after hard-fought campaigns on both sides, overturned a decision just months earlier by the California Supreme Court that legalized same-sex marriage. But legal challenges to the ban have been working their way through higher courts since then.

Bishop Cordileone is also the chairman of the United States Conference of Catholic Bishops' subcommittee for the defense of marriage, whose mandate is "promoting and defending the authentic teaching of the church regarding the nature of marriage as a covenant between one man and one woman."

In The Voice, the newspaper of the Oakland Diocese, Bishop Cordileone said it was "too early to say" what he would focus on as the archbishop of San Francisco.

"I need to get a better lay of the land," he said.

Asked what is the one thing people in San Francisco should know about him, Bishop Cordileone, who has also been active against the death penalty and in favor of an immigration overhaul, said he was "not a single-issue person."

But experts said the appointment of a figure so strongly associated with opposition to same-sex marriage as archbishop of San Francisco, the heart of the gay rights movement, inevitably carries a message from the Vatican. In keeping with the growing conservatism of the Catholic Church in the United States, Bishop Cordileone's installation comes as the Supreme Court prepares to weigh in on the issue of same-sex marriage.

"It's very difficult to know why a particular appointment is made of a certain bishop to a certain diocese by the Vatican," said Vincent Pizzuto, an associate professor of religious studies at the University of San Francisco, a Jesuit school. "But in this instance, it's very difficult not to see this as a signaling of an attempt to rein in the diocese, particularly on hot-button issues like homosexuality and same-gender marriage."

Supporters of Proposition 8 said they were heartened by the selection of Bishop Cordileone.

"It's great for the church, and it's great for San Francisco that he'll be archbishop," said Brian Brown, the president of the National Organization for Marriage, one of the many groups that campaigned for Proposition 8. "He's a real leader on this issue."

In 2007, Bishop Cordileone, who was auxiliary bishop in San Diego at the time, led an effort to put what would become Proposition 8 on the ballot, Mr. Brown said.

"I don't know whether it would have gotten on the ballot in the first place," he said. "So he was very indispensable."

As the chairman of the defense of marriage subcommittee, Bishop Cordileone has written that marriage should be limited to the union between a man and a woman because "marriage has been and should remain a child-centered institution." Bishop Cordileone has described the push for same-sex marriage as the latest evidence of the erosion of the institution of marriage in American society that began with the availability of contraceptives in the 1960s.

"The current proposal to redefine marriage in the law is the latest step in a sequence of deeply felt woundedness, brokenness and confusion in our families," he wrote in a report for the subcommittee.

In the Oakland Diocese, Bishop Cordileone began an investigation in December 2010 of the Catholic Association for Lesbian and Gay Ministry, an organization based in Berkeley. The bishop raised concerns about the content and language of the group's Web site,describing, for example, its use of the term "gay and lesbian" as politically charged, said Arthur Fitzmaurice, a board member of the group.

This year, the bishop asked the board to sign an oath supporting church teachings, which its members have rejected twice, Mr. Fitzmaurice said, adding that negotiations were still under way on the group's status.

Bishop Cordileone was busy preparing for his installation and was unavailable for an interview, said Mike Brown, a spokesman for the Oakland Diocese. Last month, the bishop was arrested in San Diego on a drunken-driving charge; he apologized in a statement.

The bishop's record on marriage stands in contrast, experts said, to those of predecessors who have tried to accommodate gay residents of San Francisco. Some of those archbishops regularly visited parishes like Most Holy Redeemer or appointed priests sympathetic to parishes with many gay members.

For nearly two decades, until 1995, the San Francisco Archdiocese was led by Archbishop John R. Quinn, a standard-bearer of liberal Catholicism. He made strategic appointments, naming, for example, a priest who helped bring about Most Holy Redeemer's transformation from an aging parish to one made up mostly of gay men, said the Rev. Donal Godfrey, a Jesuit priest and author of "Gays and Grays," a history of Most Holy Redeemer.

In 1997, Archbishop William Levada brokered a deal that allowed the church to comply with a city regulation requiring that benefits be paid to the unmarried partners of people doing business with the city.

Father Godfrey said: "None of them would have challenged the actual teaching of the church. But at the same time, each of them had a different relationship with the parish and the gay community."

Dignity/San Francisco, an organization of gay and lesbian Roman Catholics, used to meet at local parishes and hold services led by local priests. But it moved to a Presbyterian church after Pope John Paul II issued a statement on homosexuality in 1986, calling it "an intrinsic moral evil." Nevertheless, gay and lesbian Catholics have had good relations with the local leadership over the years, said Paul Riofski, a co-chairman of the group.

"We're concerned because currently there are fairly healthy environments available for people to integrate their identity and their faith, including many welcoming parishes and other church organizations," Mr. Riofski said. "At this point, everyone is in a state of anticipation wondering what will happen and what will be the focus of this archbishop."
"Many now rebel against their leader, their God-given leader, your Vicar. In matters of faith and morals, man must not change the God-given laws, coming from the seat of Peter, and established through tradition upon earth through My Son's Church." - Our Lady of the Roses, October 6, 1979
"Because of the fall in Babylon, many new languages were given because of the sin of Babylon. Therefore, as a member of one country, My children, with a universal language, you carried with you your own country's translation, and were you to visit abroad, you could enter upon any foreign edifice, Church of My Son, and feel comfortable and in one with the man, the priest, the one chosen by My Son to represent Him in His House.
"If you were, My child, to go from your United States to France, could you understand the words in French? But, My child, you would recognize the words in Latin and you would have your book with you to read in your American language, just as those in France could read in their French language, bringing upon the world a beautiful and common bond of language among all who have been given the grace to be called to the Roman Catholic Church of My Son.
"Do not leave My Son's Church though, My children, because they have taken this language from among you. You must wait and persevere and weep with My Son for this defilement by man." - Our Lady, April 10, 1976
Veronica - Jesus wants you to know that many marriages are not approved of by Heaven. The example within the homes have led many children onto the road to hell. There will be no rationalization of adultery, there will be no rationalization of the breaking up of the home in divorce. Marriages, consummated and blessed by God the Father, shall not be dissolved by the whims of man.
Know ye now that satan rules throughout your world for a short time. He has the power to turn the husband against his spouse, and the wife against her husband. Know you now that you cannot escape the fires of hell if you dissolve a marriage blessed by God the Father. It is permanent, and in the eyes of God, permanent unto death. - October 2, 1973
We urgently need your prayers and financial support to be able to continue to create these web pages. Click here... Thank you in advance.
We strongly encourage you to print and/or email copies of this web page to all the bishops and clergy. Also, email or mail a copy of this web page to the news media and as many other people as possible. Email a copy of this page to everyone you know.

When you pray the Holy Rosary, you have Our Lady's hand in your hand. When you pray the Holy Rosary, you have the power of God in your hands. Start now! Let's All Pray the Rosary Together Around the World for an end of homosexuality or the wrath of God will be upon us... Click here...
The awesome Bayside Prophecies... http://www.tldm.org/Bayside/default.htm
These prophecies came from Jesus, Mary, and the saints to Veronica Lueken at Bayside, NY, from 1968 to 1995:
YOU WILL STOP EXPERIMENTING
"My child and My children, I come once more with an urgent and pleading message to the hierarchy in the Church, My Church upon earth. I want you to know now that We look upon you and find many that do not fall into grace. They are falling out of grace and misleading many of Our sheep.
"Therefore, I warn you now as your God: You will stop your intricacies within My Church. You will stop experimenting. I gave you the rules to follow many years ago, two thousand years approximately. And why now, two thousand years later, do you deem it necessary to change My Church upon earth? I, your God, say to you, you will be judged accordingly. You will return My Church to its former glory, and in that manner you will have more vocations and more entering the seminaries, and not fleeing from them as they hear the heresies and all other innovations that are going on within My Church. This is My last and final word to My clergy: Change now or suffer a just punishment and banishment." - Jesus, June 18, 1986

RETURN TO YOUR TRADITIONAL RITES
"I send to My clergy, those whom I have given the grace to represent Heaven upon earth, this warning: You must now return to your traditional rites! You must restore My House from its crumbling exterior and rotting interior. You must rebuild what you seek to destroy--now!
"Many who call themselves My chosen ones have set themselves to destroy from within. Your actions have not gone by unnoticed by the Eternal Father. Error, deception, deceit, in the guise of sanctity and piousness! You are unmasked before the Eternal Father. You shall start little by little and repair the foundation, or you shall be within and destroy.
"I look upon all manner of abominations being committed in My House. Do you think you will go much longer without chastisement? Awaken from your slumber, My clergy! You deceive no one!" - Jesus, November 22, 1975

CHANGING THE CONSTRUCTION
"You will not bring about a conversion of those who are presently apostate by compromising your Faith or changing the construction of the exterior lines of My Church; and by that I mean the physical appearance and the manner in which you conduct the Holy Sacrifice of the Mass.
"Many are giving My Body in a manner that can only be called blasphemy. Many are accepting My Body in the Eucharist in a manner that defames the Divinity, and also promotes unholiness, paganism, and impurity of heart and actions during the Holy Sacrifice of the Mass." - Jesus, May 26, 1979

CHANGES MUST BE STOPPED AND REVERSED
"There is no excuse accepted now by the Eternal Father among the clergy, who now offend the Eternal Father by misleading the children of God upon earth. The experimentation and changes must be stopped and reversed! There is no other course." – Our Lady, August 4, 1979

"RESTORE MY HOUSE!"
"My Mother has given you My way. It is a simple road that must be followed. The rules have been given to you that must not be changed, as you cater to the basic carnal nature of man, a generation that has fallen! You will not make changes within My House, for you have dispersed My sheep. You will restore My House to its former glory. Strip you hearts of your pride! Recognize your errors and restore My House!
"I say this to you for your Creator, as your God: Restore My House, or I shall come down and restore it Myself with a firm hand! And shall you stand before Me, O pastors, and say that your teachings have been pure in My sight? I shall take you and spit you out as spittle into the fires of eternal damnation! Vermin that came out of the flowers!" – Jesus, December 28, 1976

STOP CHANGE AND NOVELTY
"My child and My children, make it known to all that the road to Heaven was never easy, but you can make it much easier upon yourselves and your families if you follow the rules, if you follow the Commandments from the Eternal Father. The changes that We see taking place in My House and upon earth are not good, for many, many souls are falling into hell. And a great measure of responsibility now is with those who have been called to the holy orders, who have given themselves to represent Me upon earth. Shall I say that I have found many Judases now within My House? Cannot this situation be changed?
"There is only one way that this can be stopped, this evil that has seeped into My House and into the hearts of all mankind. You must stop now your seeking for change and novelty. You must restore My Church to its former glory. Admit your error. Do not conceal this with pride and arrogance.
"Remember there was the time when it was necessary to cast Luciel and his followers from Heaven--Lucifer, who now goads you on to hell with him, upon earth. He had to be cast from Heaven because he, too, became prideful and arrogant, seeking to make himself another living god. This cannot be done. You cannot be above your Creator." – Jesus, September 7, 1978

DO NOT ACCEPT
"My children, you must retain Tradition; you must retain a firm foundation of your faith by keeping all of the good publications. Do not accept the changes that have been made by satan to seduce your souls." – Jesus, November 19, 1977

INDOCTRINATED
Veronica - The books are being changed to cover the evil being perpetrated now. The young are being indoctrinated to accept changes which will take away Tradition and even doctrine. Our Lady said we must all pray a constant vigilance of prayer. It has a great power over the demons. – November 19, 1977

NOT FROM HOLY SPIRIT
"I must, My child, make it known at this time that you must go back in the immediate years and bring the knowledge to mankind that these changes, the changes that have given bad fruits, have not been given to you through the Holy Spirit and through your Vicar, Pope Paul VI. It is the web of satan reaching out. Many are now, My child, puppets. The strings are being pulled by Benelli, Villot, and Casaroli and their followers." – Our Lady, September 27, 1975

YOU HAVE STRAYED
"O My children, how far you have strayed from the truth! The knowledge given to you by your prophets were written down in truth to guide you, but now you change the words to suit your basic carnal human natures. Go back and read, My children, the true words of your prophets. But do not accept changes in the Book, for these changes have been promoted by satan. Heresy, O mournful heresy, whatever shall become of you!
"Parents, I caution you anew to guard the souls of your children by your teaching and example. You cannot save your children's souls by giving them to false teachers and the world, for the world has now been given to satan." – Our Lady, June 5, 1976

"WE DO NOT CONDONE VARIATIONS AND CHANGES"
"It has grieved Me much in the past, as it grieves Me now, that mankind is making changes to My words. I assure you, My children and pastors within My houses, My Church upon earth, there is no necessity to change My words. Heaven, hell, purgatory, and especially, My children, the word 'hell' must be retained in your prayers.
"Repeat, My child, the confessional prayer.
O my God, I am heartily sorry for having offended Thee, and I confess to all my sins, because I dread the loss of Heaven and the pains of hell, but most of all because I love Thee, my God, Who are all-good and deserving of all my love. I firmly resolve, with the help of Thy grace, to confess my sins, to do penance, and to amend my life. Amen.
"Yes, My child, We do not condone variations and changes. It is the enemies of your God that have set themselves to promote change upon My words. The word of your God is eternal and must not be changed." – Jesus, February 10, 1977

ONLY SATAN SEEKS CHANGE
"We ask--the Eternal Father speaks, and demands that all bishops in the houses of God throughout your world must turn back to prayer. They must turn back from the road they have chosen, a road filled with error, corruption, and sin. Man will not make changes in the House of God to please the basic carnal nature of mankind! But man in the House of God--the leaders, the clergy chosen by the Eternal Father, shall turn man from his path of destruction and bring him into the House of God. This he will not accomplish by lowering the rule or standards. Man must change his ways and follow the ways of God.
"You are, My children, living in the era of Antichrist. Recognize the signs of your times, and you will not fall into error. Read the Book, My children. You read books of corruption and vile debauchery. Restore the truth in your heart, into your children and homes. Open the good Book, the Bible, and read it in your homes.
"My Son has already set up the rule for the houses throughout the world, the churches. They are written in the Book of love and life, the Bible. Read and learn, and follow the truth!
"There is no time or change in Heaven. The Father never changes. It is only satan who seeks change to disturb, corrupt, and degrade. Satan roams wherever there is darkness of spirit. He will debase mankind in a manner so foul that you will know that no human could conceive of such vileness of sin." – Our Lady, March 22, 1975

COMMON-LAW
"O My child and My children, never have We seen from the beginning of time a world in such chaos. And also, I shall not speak with words that affright your heart, my child, but I wish it known that this new modern role of what they call 'marriage without marriage'-which means living as 'common-law,' I understand--My children shall not be tolerated in Heaven. It was never the plan of the Eternal Father that man and woman shall live as animals.
"Fornication shall never be accepted. There is no excuse for fornication. If you cannot remain celibate, better then that you must then be married. It is better, My child and My children, to be married than to burn in hell.
"I also ask that all of My children of the world review the Ten Commandments." - Our Lady, November 1, 1985

BLACK CLOUD
"My children, when My Son returns upon your earth, will He find even a flicker of faith left in the hearts of mankind? In the days of Sodom, so too were men giving themselves over to all the pleasures of the flesh: eating, drinking, marrying, giving in marriage. All manner of sinful lusts were being committed. Men shameful with men, women casting aside their role of motherhood and lusting after women. As it was in the days of Sodom, so now is this black cloud over America." - Our Lady, July 14, 1979

SACREDNESS
"The sacredness of marriage and the married life of man and woman must not be destroyed by debased sensuality. It is a private consummation between man and woman and the family. It is not an object of derisive laughter and scornful jokes, My children.
"Your actions are observed by the Eternal Father Who looks into your heart. Pure thoughts, pure mind, pure spirit--what goes into the heart will come out." - Our Lady, August 21, 1975

FAMILY
"Pray constantly your Rosary, your beads of prayer to Heaven. Remain unified in your family lives. The institution of your country--the great foundation is based on family life. Destroy the family and you destroy your country." - Our Lady, June 18, 1980

DISINTEGRATION
"My children, if you could only recover the peace and quiet of spirit that was once much evident in your homes and now has been replaced by all manner of creations of Satan, creations that distract the minds of the innocent....
"The parents of many have fallen into the error of feeding the body and starving the young souls. These souls, in the eyes of the Eternal Father, are young flowers that must be nourished with pure waters of truth, purpose, dedication to the road--place them on the road that will lead to the eternal Kingdom of God your Father in Heaven." - Our Lady, July 24, 1976

DO HONOR
"Families, bring honor to your homes. Fathers, be a father; discipline your children. Mothers, do not discard your role as the mother. Why have you sought to stand side by side with your husband without being subservient to him? You have lost your honor. The example you give to your children can lead them nowhere but into the darkness. A strong tree will bear good fruit. A tree that is fed with impure waters will not grow to maturity, but will die and wither on the vine." - St. Joseph, March 18, 1974

ARTIFICIAL MEANS
"Man shall not seek to create life by artificial means, for you destroy the very nature of your humanity. And you shall receive for such actions a just punishment, in chastisement from the Eternal Father." - Our Lady, October 6, 1979

PRAYER
"We are quite pleased with the words the Spirit sent unto man that the family that prays together will stay together, My child. No truer a message was ever coined. The family that prays together will stay together." - Our Lady, June 18, 1974
Directives from Heaven... http://www.tldm.org/directives/directives.htm
D1 - The Holy Sacrifice of the Mass PDF Order copies...
D15 - Holy Matrimony PDF
D15 - Holy Matrimony PDF Order copies...
D16 - Role of Parents PDF Order copies...
D211 - Changes, Part 1 PDF Order copies...
D212 - Changes, Part 2 PDF Order copies...
D223 - Adultery & Divorce PDF Order copies...
D224 - Restore America to One Nation Under God PDF Order copies...
D265 - The Papacy PDF Order copies...
D271 - Atheists and Unbelievers PDF Order copies...
D299 - All That Is Rotten Will Fall PDF Order copies...
D318 - A Man-made Morality and Theology PDF Order copies...
D340 - Signs of the Times PDF Order copies...
D341 - No Evil Is Ever Triumphant PDF Order copies...
D356 - U.S. Headed for Destruction PDF Order copies...
D357 - Spiritual Combat PDF Order copies...
D433 - This Generation, Part 1 PDF Order copies...
D434 - This Generation, Part 2 PDF Order copies...
EDITOR'S COMMENT: Evil is accelerating and the Anti-Christ forces are gaining power in the world. When the persecution starts, all Christian web sites on the internet will be forced to close. Be sure to have in your possession all the following items: the Bayside Prophecy books, Bayside Medals, Douay-Rheims Bibles, the Protection Packets, Candles, Sacramentals, and Religious Books. Purchase these items now while they are still available! You will urgently need them in the days ahead. Also, you can print out all PDF files for the Directives from Heaven and all of the Bayside Prophecies. Copy Our Lady's messages and the Directives from Heaven now while they are still available! Pray to the Holy Spirit for wisdom and guidance on how to prepare now and for the days ahead when the Antichrist is revealed. Viva Cristo Rey!
Articles…
Pope Benedict XVI: "Discover the beauty of the truth of marriage"
http://www.tldm.org/News10/PopeDiscoverBeautyOfTruthOfMarriage.htm

Cohabitation and divorce
http://www.tldm.org/news2/divorce.htm

John Paul II tells bishops to make known full teaching of Church on defense of marriage
http://www.tldm.org/News7/marriage1.htm

Pope John Paul II says Catholic lawmakers must defend sanctity of life, marriage
http://www.tldm.org/news10/PopeCatholicLawmakersMustDefendMarriage.htm

John Paul II says family "under attack" in modern society
http://www.tldm.org/news4/family.htm

Bishop Fred Henry calls on Catholics to "push back" in the battle against traditional marriage
http://www.tldm.org/News9/homosexualityBishopHenry.htm

Wisconsin Bishop says attack on marriage teaching "intimidation" against the Church by political groups
http://www.tldm.org/News9/marriageDefenseBishopMorlino.htm

New York Times gets another story very wrong - this time it's about marriage
http://www.tldm.org/News10/MarriageStoryNYTimes.htm

Husbands, love your wives; wives, be subject to your husbands
http://www.tldm.org/News10/HusbandsLoveYourWives.htm

Study finds materialistic spouses more likely to have marriage problems
http://www.tldm.org/News10/MaterialisticSpouses.htm

Church hierarchy's lack of willingness to discipline said "biggest reason" for loss of marriage battle in Massachusetts
http://www.tldm.org/News10/MassachusettsMarriageBattle.htm

Vatican to reinforce shift on Latin Mass
http://www.tldm.org/News11/VaticanToReinforceShiftOnLatinMass.htm

University of Notre Dame students demand Latin Mass after rescript
http://www.tldm.org/News11/NotreDameStudentsDemandLatinMass.htm

The case for the Latin Mass
http://www.tldm.org/news5/latinmass.htm

Latin: the universal language of the Catholic Church
http://www.tldm.org/news5/latin.htm

Pope Benedict XVI on the disintegration of the liturgy
http://www.tldm.org/news7/PopeBenedictXVIDisintegrationOfLiturgy.htm

Pope Benedict XVI and his support for the Old Mass
http://www.tldm.org/News8/PopeBenedictSupportsOldMass.htm

The removal of the Latin Mass by the impostor pope (replaced Pope Paul VI); the restoration by Pope Benedict XVI
http://www.tldm.org/News11/LatinMassRemovedByImpostorPope.htm

Msgr. Klaus Gamber's insights are strikingly close to Our Lady of the Roses messages on the Mass and tradition
http://www.tldm.org/news6/Gamber.htm

Cardinal Arinze questions suitability of guitars at Mass
http://www.tldm.org/News8/ArinzeQuestionsGuitarMasses.htm

Pro multis means "for many," Vatican rules
http://www.tldm.org/News9/ForMany.htm

Cardinal Arinze: Catholics are "forced to endure" secularization in liturgy which "does damage to Catholic faith"
http://www.tldm.org/News10/ArinzeSecularizationInLiturgy.htm

Vatican official acknowledges liturgical crisis
http://www.tldm.org/News10/VaticanAcknowledgesLiturgicalCrisis.htm

Knees to love Jesus
http://www.tldm.org/News10/KneesToLoveJesus.htm

Bishop Vasa: Dress, demeanor, discipline show how we value Holy Mass
http://www.tldm.org/News10/modestyBishopVasa.htm

"Kneel before your God in the Eucharist"
http://www.tldm.org/News5/kneeling.htm

Vatican on kneeling for holy Communion
http://www.tldm.org/vatican%20letter.htm

Should women cover their heads in Church?
http://www.tldm.org/news6/veils.htm

Pope John Paul II recommends praying the St. Michael Exorcism
http://www.tldm.org/news6/exorcism.htm

Restore the high altar
http://www.tldm.org/news5/main%5Faltar.htm

"You cannot separate Tradition from your Faith"
http://www.tldm.org/news6/tradition1.htm

Vatican II, part 1: Infiltration of the Church
http://www.tldm.org/News6/VaticanII-1.htm

Vatican II, part 2: Dark clouds forming before Vatican II
http://www.tldm.org/News6/VaticanII-2.htm

Vatican II, part 3: the satanic revolution gains momentum at the Council
http://www.tldm.org/News6/VaticanII-3.htm
Links…
Mass appeal to Latin tradition, Washington Times, October 28, 2007
http://washingtontimes.com/article/20071028/NATION/110280043/1001

Latin Mass returns to Mexico City's cathedral, California Catholic
http://www.calcatholic.com/news/newsArticle.aspx?id=ff5cc479-c389-4714-894f-3c26f58d2668

Why Latin? The Latin Mass Society of Ireland
http://indigo.ie/~colmgren/latsoc/template/latin_hist.htm

The Popes on the Latin language, Una Voce
http://www.unavoce.org/popes.htm

Pope John Paul II strongly encourages use of "immortal language", Una Voce
http://www.unavoce.org/popelatin.htm

The Sacredness of Tradition, by Alice Von Hildebrand

Una Voce website
www.unavoce.org
There are 4 things you must have to survive the days ahead:
1.) The Douay-Rheims Holy Bible...
"You must all obtain a copy of the Book of life and love, the Bible. Do not accept the new mods. Try to find in your bookstores the old Bibles, My children, for many are being changed to suit the carnal nature of man. I repeat, sin has become a way of life." - Our Lady, October 6, 1992
"I must ask you all to read but a few short chapters a day now, the Book of life and love, your Bible. Knowledge must be gained for all the disciples of My Son, for you will be attacked by scientific minds. But do not be concerned what you will say to them when accosted, for the words will be given to you by the Spirit." - Our Lady, April 10, 1976 (Order Form)
2.) The total Virgin Mary's Bayside Prophesies in 6 paperback books...
The Virgin Mary brings directions from God, the Father in Heaven on how to survive the end times. God, the Father, through the Virgin Mary, tells what is coming, how to prepare for it, how to survive it, and how to even stop it. These six volumes along with the Bible are most important to save yourself and your loved ones. Order it now. Tomorrow may be to late. These 6 pocket size paperback books costs $33.00. (Order Form)
3.) Heaven's Home Protection Packet...
Heaven's Home Protection Packet...
Our Lord stated we must have crucifixes upon the outside of all of our outside doors. In the "Heaven's Home Protection Packet" there are instructions, four crucifixes, a tube of special cement for wooden or metal crucifixes. Wooden crucifixes adhere better to the doors when the aluminum strap is removed from the back. Put a light coat of cement on the back of the crucifix and then press it to the outside of the door. If you have any problems, you can call us at 616-698-6448 for assistance. This Heaven's Home Protection Packet is available for a donation of $5.00 plus $3.00 shipping and handling. Send $8.00 to TLD Ministries, P.O. Box 40, Lowell, MI 49331. Item # P15 (Order Form)

Crucifix on front and back door... The only real protection against terrorists...

Jesus - "Pray and wear your sacramentals. And, also, My children, I ask you again to place a crucifix upon your door. Both front and back doors must have a crucifix. I say this to you because there will be carnage within your areas, and this will pass you by if you keep your crucifix upon your doors." (6-30-84) (Testimonies of lives and homes saved by the crucifixes.) http://www.tldm.org/news/crucifix.htm (Order Form)
4.) Heaven's Personal Protection Packet...
Heaven's Personal Protection Packet . . .

Our Lady tells us to be protected from all evil, we must wear the following sacramentals around our necks: a Rosary, a crucifix, the St. Benedict medal, Our Lady of the Roses medal, the Miraculous Medal, and the scapular. We have all of these sacramentals in a packet we call "Heaven's Personal Protection Packet." This packet is available for a donation of $5.00 plus $3.00 shipping and handling. Send $8.00 to TLD Ministries, P.O. Box 40, Lowell, MI 49331. Item # P5 (Order Form)

Our Lady of the Roses, Mary Help of Mothers promises to help protect our children. On September 13, 1977, She said, "He has an army of ogres wandering now throughout your country and all of the countries of the world. They are in possession of great power; so wear your sacramentals, and protect your children and your households. Learn the use every day of holy water throughout your household. Insist even with obstructions, insist that your children always wear a sacramental. One day they will understand that they will repel the demons."
On February 1, 1974, Our Lady said, "My children, know the value of these sacramentals. Guard your children well. You must awaken to the knowledge that you will not be protected without the sacramentals. Guard your children's souls. They must be surrounded with an aura of purity. Remove them if necessary from the sources of contamination, be it your schools or even false pastors."
This Heaven's Personal Protection Packet is available for a donation of $5.00 plus $3.00 shipping and handling. Send $8.00 to TLD Ministries, P.O. Box 40, Lowell, MI 49331. You may use your MasterCard, VISA, or American Express and call 1-616-698-6448. Item # P5 (Order Form)

Your names have been written in Heaven… "It is not by accident that you are called by My Mother, for your names have been written in Heaven.... But with this great grace you have great responsibility to send this Message from Heaven throughout the world, for if you are able to recover just one more for Heaven, an additional star shall be placed in your crown." - Jesus, August 5, 1975

A great obligation to go forward... "It is not by accident that you are called by My Mother, for it is by merit and the prayers that have risen to Heaven for your salvation. For those who have received the grace to hear the Message from Heaven, you have a great obligation to go forward and bring this Message to your brothers and sisters. Do not expect a rest upon your earth, for you will have eternal rest very soon." - Jesus, June 12, 1976

The sin of omission... "The sin of omission shall condemn many to hell, be they layman or Hierarchy. I repeat: not the sin of commission, but the sin of omission will commit many to hell." Our Lady of the Roses, October 6, 1980

We encourage everyone to print or email copies of this web page to all the Bishops and all the clergy. Also, email or send this web page to the news media and as many people as possible.

| Home - Latest News | Introduction | Bayside Prophecies | Directives from Heaven | Order Form | Miracles & Cures | Veronica Lueken | Miraculous Photos | Bible | Radio Program |

The electronic form of this document is copyrighted.
Quotations are permissible as long as this web site is acknowledged with a hyperlink to: http://www.tldm.org
Copyright © These Last Days Ministries, Inc. 1996 - 2012 All rights reserved.
P.O. Box 40 616-698-6448
Lowell, MI 49331-0040
Revised: October 08, 2012