| Home - Latest News | Introduction | Bayside Prophecies | Directives from Heaven | Shopping Cart | Testimonies | Veronica Lueken | Miraculous Photos | Bible | Radio Program |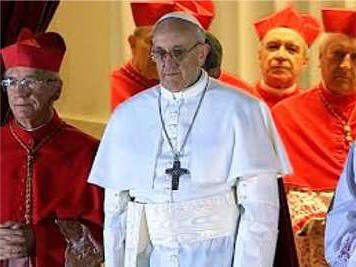 These Last Days News - March 13, 2013
New Pope Francis: No Communion for Pro-Abortion Politicians...
"When a man has stepped over the threshold and allowed himself to fall into mortal sin, he must be purified by trial, but he must also, My children, be purified by the rule of penance and confession.
"What manner of evil is being set now upon mankind that compels him to lose his soul by rejecting the Sacraments, by no longer confessing to his confessor, but coming to receive My Son in sacrifice, while his soul is degraded by sin of mortal nature!" - Our Lady of the Roses, September 7, 1976
by Breitbart News 13 Mar 2013, 1:06 PM PDT
New Pope Francis I is a conservative in the mold of his predecessor, Pope Benedict XVI and Pope John Paul II. That's especially true on the issue of abortion, which he called a "death sentence" for the unborn in 2007. "We aren't in agreement with the death penalty," he said during that speech, "but in Argentina we have the death penalty. A child conceived by the rape of a mentally ill or retarded woman can be condemned to death."

In the Aparecida Document, a document that represents a joint statement by Latin American church leaders but presented by Francis in 2007, the leaders stated, "we should commit ourselves to 'eucharistic coherence,' that is, we should be conscious that people cannot receive holy communion and at the same time act or speak against the commandments, in particular when abortions, euthanasia, and other serious crimes against life and family are facilitated. This responsibility applies particularly to legislators, governors, and health professionals."

Francis is also anti-euthanasia: "Today," he wrote, "elderly people are discarded when, in reality, they are the seat of wisdom of the society. The right to life means allowing people to live and not killing, allowing them to grow, to eat, to be educated, to be healed, and to be permitted to die with dignity."
"You must inform My children in your country that they must put into your government God-fearing men who follow the rules of the Father. If you bring murderers into the house, robbers and thieves, they will rob you until nothing remains. You will be stripped of all earthly wealth and this wealth will be turned over to one small group to govern the lives of many!" - Our Lady, November 1, 1974
We strongly encourage you to print and/or email copies of this web page to all the bishops and clergy. Also, email or mail a copy of this web page to the news media and as many other people as possible. Email a copy of this page to everyone you know.
We urgently need your prayers and financial support to be able to continue to create these web pages. Click here... Thank you in advance.

When you pray the Holy Rosary, you have Our Lady's hand in your hand. When you pray the Holy Rosary, you have the power of God in your hands. Start now! Let's All Pray the Rosary Together Around the World for Pope Francis, an end to abortion, and the conversion of liberal politicians... Click here...
Our Lady of the Roses Awesome Bayside Prophecies... http://www.tldm.org/Bayside/
These prophecies came from Jesus, Mary, and the saints to Veronica Lueken at Bayside, NY, from 1968 to 1995.
LIFE BEGINS AT CONCEPTION
"The Eternal Father sends each life with reason. The spirit of life is breathed into that body at the moment of conception. At the moment of conception the soul is united to the body. Though it grows from a small seed, it is living and must not be destroyed! It is murder My children, to destroy the seed.
"All who commit this terrible act of murder, My children, cannot enter into the Kingdom of Heaven unless they repent of this foul crime. They must in their repentance accept a penance upon earth for their acts that bring great sorrow to the Heart of the Eternal Father." - Our Lady, December 27, 1975

DOCTORS
"Doctors now are profaning their profession, those who have given themselves over to destroying human life in abortions." - Jesus, June 6, 1987

FOULEST OF DEEDS
"Our hearts are torn because of the wanton murder of the young by evil man. Abortion, My children, is murder, the most foulest of deeds, that is punishable by death! And what is worse than death of the soul?
"I say unto you, as your Mother, that any man or woman who performs or takes part of this abomination of the murder of the unborn shall be given a heavy penance upon earth, or if this penance is not given upon earth, that person found guilty in the eyes of his God shall suffer eternal damnation in the fires of hell." - Our Lady, December 28, 1976

DESTROYED
"All who become part of or condone abortion, the murder of the young, shall be destroyed!" - Jesus, June 2, 1979

SHALL BE FIRST STRUCK
"One of the reasons the Eternal Father chose your city and your state for My appearance was because of abortion, the murder of the holy innocents. Your nation, without repentance, shall be the first struck." - Our Lady, March 15, 1978

HUMAN LIFE IS SACRED
"The Eternal Father command that you stop these murders at once! You will not destroy the lives of the unborn. Human life is sacred in the eyes of your God. No man has the right to destroy a life. The Father, He sends this life to you, and only He will decide when it will return back to the Kingdom.
"Do not, My children, be deceived by the words of the evil ones about you who cry to you of no space left for man. There is space, for My Father has a plan for every life He sends." - Our Lady, August 5, 1971

WILL NEVER BE CONDONED
"You will remember, My children and My child, to guard the young. Your clergy have fallen into darkness. Abortion will never be condoned. But We must have others who fervently will go forward and bring out to the minds of those who have actually seduced the country and the children--bring them the knowledge of Heaven, hell and purgatory. Then they will not have free license to sin." - Our Lady, May 28, 1983

GOVERNMENT
"For that one reason among many, the United States will suffer unless there is placed into your government a group that fears the Lord if they cannot love the Lord. They will fear Him and find measures to stop the slaughter of the unborn." - Our Lady, April 14, 1984

NUNS
"That is what makes My heart ache, My child. That is one of the reasons Theresa is crying constantly when she looks into the convents and sees what is going on. Many now believe in abortion, the murders of the children; and many have committed this act upon themselves." - Jesus, October 1, 1988

ROCK MUSIC
"You must remove from your homes these diabolical agents of hell, the recordings of Lucifer [rock-and-roll], that will put into your child a spell, a hypnotism leading to promiscuity, deviant sex, homosexuality, drugs, murders, abortions, and all manner of foul deeds that could only be conceived in the mind of the prince of darkness, Lucifer himself." - Our Lady, September 14, 1979
Directives from Heaven... http://www.tldm.org/directives/directives.htm
D23 - Abortion PDF Order copies...
D134 - U.S. Government Leaders PDF Order copies...
D135 - Moral Issues PDF Order copies...
D146 - Honor the Eucharist, Part 1 PDF Order copies...
D147 - Honor the Eucharist, Part 2 PDF Order copies...
D148 - Adoration PDF Order copies...
D186 - Excommunication PDF Order copies...
D188 - Wrath of God PDF Order copies...
D196 - Life Begins at Conception PDF Order copies...
EDITOR'S COMMENT: Evil is accelerating and the Anti-Christ forces are gaining power in the world. When the persecution starts, all Christian web sites on the internet will be forced to close. Be sure to have in your possession all the following items: the Bayside Prophecy books, Bayside Medals, Douay-Rheims Bibles, the Protection Packets, Candles, Sacramentals, and Religious Books. Purchase these items now while they are still available! You will urgently need them in the days ahead. Also, you can print out all PDF files for the Directives from Heaven and all of the Bayside Prophecies. Copy Our Lady's messages and the Directives from Heaven now while they are still available! Pray to the Holy Spirit for wisdom and guidance on how to prepare now and for the days ahead when the Antichrist is revealed. Viva Cristo Rey!
Articles...
Archbishop Burke preaches tough Communion rule: Turn away abortion-rights backers under pain of mortal sin
http://www.tldm.org/News11/ArchbishopBurkeToughCommunionRule.htm

Archbishop Burke: Bishops must discipline pro-abortion Catholic politicians
http://www.tldm.org/News11/ArchbishopBurkeDisciplineProAbortCatholicPoliticians.htm

Pope Benedict supports excommunication for pro-abortion politicians: "Incompatible with receiving Communion"
http://www.tldm.org/News10/PopeExcommunicateDenyCommunionToProAbortCatholicPoliticians.htm

Pope Benedict XVI says that refusing Holy Communion to pro-abortion politicians is a "doctrine of the Church"
http://www.tldm.org/News7/Ratzinger3.htm

Honduran Cardinal: "A politician who publicly supports abortion, he excommunicates himself"
http://www.tldm.org/News10/HonduranCardinalCommunionMustBeDenied.htm

Pope Benedict warns pro-abortion politicians against receiving Communion unworthily
http://www.tldm.org/News10/PopeUnworthyCommunion.htm

Catholics must be free of grave sin to receive Holy Communion
http://www.tldm.org/News6/ReceptionofCommunion.htm

Archbishop Burke: more profoundly sorrowful would be a bishop who failed "to safeguard the worthy reception of Communion"
http://www.tldm.org/news6/Burke2.htm

Sacrilegious Communion and the U.S. bishops
http://www.tldm.org/News6/sacrilege.htm

Austrian Bishop Lugner says mall owner excommunicated for providing space for abortion clinic
http://www.tldm.org/News10/AbortionBishop%20Lugner.htm

Bishop Henry says he would refuse Prime Minister Holy Communion, would consider excommunication
http://www.tldm.org/News7/AbortionBishopHenry.htm
Links...
Bishops and bald eagles, Judie Brown, March 2, 2007
http://www.renewamerica.us/columns/brown/070302

Cardinal Ratzinger said, "The minister of Holy Communion must refuse to distribute it." He did not say 'could,' or 'may,' but that he "must," Barbara Kralis, July 6, 2004
http://www.renewamerica.us/columns/kralis/040706

Prohibition is worthless without enforcement, Barbara Kralis, June 24, 2004
http://www.renewamerica.us/columns/kralis/040624

Is not murder just as evil as lust in the eyes of God? Barbara Kralis, June 8, 2004
http://www.renewamerica.us/columns/kralis/040607

Ten questions regarding the denial of the Eucharist, Barbara Kralis, May 24, 2004
http://www.renewamerica.us/columns/kralis/040524
There are 4 things you must have to survive the days ahead:
1.) The Douay-Rheims Holy Bible...
"You must all obtain a copy of the Book of life and love, the Bible. Do not accept the new mods. Try to find in your bookstores the old Bibles, My children, for many are being changed to suit the carnal nature of man. I repeat, sin has become a way of life." - Our Lady, October 6, 1992
"I must ask you all to read but a few short chapters a day now, the Book of life and love, your Bible. Knowledge must be gained for all the disciples of My Son, for you will be attacked by scientific minds. But do not be concerned what you will say to them when accosted, for the words will be given to you by the Spirit." - Our Lady, April 10, 1976 (Order Form)
2.) The total Virgin Mary's Bayside Prophesies in 6 paperback books...
The Virgin Mary brings directions from God, the Father in Heaven on how to survive the end times. God, the Father, through the Virgin Mary, tells what is coming, how to prepare for it, how to survive it, and how to even stop it. These six volumes along with the Bible are most important to save yourself and your loved ones. Order it now. Tomorrow may be to late. These 6 pocket size paperback books costs $33.00. (Order Form)
3.) Heaven's Home Protection Packet...
Heaven's Home Protection Packet...
Our Lord stated we must have crucifixes upon the outside of all of our outside doors. In the "Heaven's Home Protection Packet" there are instructions, four crucifixes, a tube of special cement for wooden or metal crucifixes. Wooden crucifixes adhere better to the doors when the aluminum strap is removed from the back. Put a light coat of cement on the back of the crucifix and then press it to the outside of the door. If you have any problems, you can call us at 616-698-6448 for assistance. This Heaven's Home Protection Packet is available for a donation of $5.00 plus $3.00 shipping and handling. Send $8.00 to TLD Ministries, P.O. Box 40, Lowell, MI 49331. Item # P15 (Order Form)

Crucifix on front and back door... The only real protection against terrorists...

Jesus - "Pray and wear your sacramentals. And, also, My children, I ask you again to place a crucifix upon your door. Both front and back doors must have a crucifix. I say this to you because there will be carnage within your areas, and this will pass you by if you keep your crucifix upon your doors." (6-30-84) (Testimonies of lives and homes saved by the crucifixes.) http://www.tldm.org/news/crucifix.htm (Order Form)
4.) Heaven's Personal Protection Packet...
Heaven's Personal Protection Packet . . .

Our Lady tells us to be protected from all evil, we must wear the following sacramentals around our necks: a Rosary, a crucifix, the St. Benedict medal, Our Lady of the Roses medal, the Miraculous Medal, and the scapular. We have all of these sacramentals in a packet we call "Heaven's Personal Protection Packet." This packet is available for a donation of $5.00 plus $3.00 shipping and handling. Send $8.00 to TLD Ministries, P.O. Box 40, Lowell, MI 49331. Item # P5 (Order Form)

Our Lady of the Roses, Mary Help of Mothers promises to help protect our children. On September 13, 1977, She said, "He has an army of ogres wandering now throughout your country and all of the countries of the world. They are in possession of great power; so wear your sacramentals, and protect your children and your households. Learn the use every day of holy water throughout your household. Insist even with obstructions, insist that your children always wear a sacramental. One day they will understand that they will repel the demons."
On February 1, 1974, Our Lady said, "My children, know the value of these sacramentals. Guard your children well. You must awaken to the knowledge that you will not be protected without the sacramentals. Guard your children's souls. They must be surrounded with an aura of purity. Remove them if necessary from the sources of contamination, be it your schools or even false pastors."
This Heaven's Personal Protection Packet is available for a donation of $5.00 plus $3.00 shipping and handling. Send $8.00 to TLD Ministries, P.O. Box 40, Lowell, MI 49331. You may use your MasterCard, VISA, or American Express and call 1-616-698-6448. Item # P5 (Order Form)

Your names have been written in Heaven… "It is not by accident that you are called by My Mother, for your names have been written in Heaven.... But with this great grace you have great responsibility to send this Message from Heaven throughout the world, for if you are able to recover just one more for Heaven, an additional star shall be placed in your crown." - Jesus, August 5, 1975

A great obligation to go forward... "It is not by accident that you are called by My Mother, for it is by merit and the prayers that have risen to Heaven for your salvation. For those who have received the grace to hear the Message from Heaven, you have a great obligation to go forward and bring this Message to your brothers and sisters. Do not expect a rest upon your earth, for you will have eternal rest very soon." - Jesus, June 12, 1976

The sin of omission... "The sin of omission shall condemn many to hell, be they layman or Hierarchy. I repeat: not the sin of commission, but the sin of omission will commit many to hell." Our Lady of the Roses, October 6, 1980

We encourage everyone to print or email copies of this web page to all the Bishops and all the clergy. Also, email or send this web page to the news media and as many people as possible.

| Home - Latest News | Introduction | Bayside Prophecies | Directives from Heaven | Order Form | Miracles & Cures | Veronica Lueken | Miraculous Photos | Bible | Radio Program |

The electronic form of this document is copyrighted.
Quotations are permissible as long as this web site is acknowledged with a hyperlink to: http://www.tldm.org
Copyright © These Last Days Ministries, Inc. 1996 - 2013 All rights reserved.
P.O. Box 40 616-698-6448
Lowell, MI 49331-0040
Revised: December 17, 2013