| Home - Latest News | Introduction | Bayside Prophecies | Directives from Heaven | Shopping Cart | Testimonies | Veronica Lueken | Miraculous Photos | Bible | Radio Program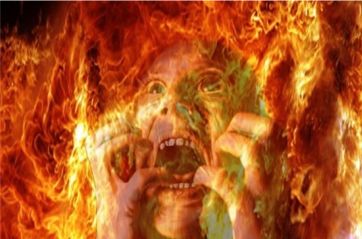 These Last Days News - June 25, 2012
Belief in Hell Lowers Crime Rate, According to International Study...
"You have but two final destinies: Heaven and hell. Know that satan will try to remove the reality of the existence of his kingdom, hell, from you. If he makes a farce of his existence among you, he will deceive you so that you will sin and remove yourselves from the Spirit of light. And when you remove yourselves from the Spirit of light, you remove yourselves from eternal life in the Kingdom of your Father, the most high God in Heaven." - Our Lady of the Roses, February 1, 1975
The Church Report reported on June 19, 2012:
Religions are thought to serve as bulwarks against unethical behaviors. However, when it comes to predicting criminal behavior, the specific religious beliefs one holds is the determining factor, says a University of Oregon psychologist.

The study, appearing in the Public Library of Science journal PLoS ONE, found that criminal activity is lower in societies where people's religious beliefs contain a strong punitive component than in places where religious beliefs are more benevolent. A country where many more people believe in heaven than in hell, for example, is likely to have a much higher crime rate than one where these beliefs are about equal. The finding surfaced from a comprehensive analysis of 26 years of data involving 143,197 people in 67 countries.

"The key finding is that, controlling for each other, a nation's rate of belief in hell predicts lower crime rates, but the nation's rate of belief in heaven predicts higher crime rates, and these are strong effects," said Azim F. Shariff, professor of psychology and director of the Culture and Morality Lab at the UO. "I think it's an important clue about the differential effects of supernatural punishment and supernatural benevolence. The finding is consistent with controlled research we've done in the lab, but here shows a powerful 'real world' effect on something that really affects people -- crime."

Last year, in the International Journal for the Psychology of Religion, Shariff reported that undergraduate students were more likely to cheat when they believe in a forgiving God than a punishing God.

Religious belief generally has been viewed as "a monolithic construct," Shariff said. "Once you split religion into different constructs, you begin to see different relationships. In this study, we found two differences that go in opposite directions. If you look at overall religious belief, these separate directions are washed out and you don't see anything. There's no hint of a relationship."

The new findings, he added, fit into a growing body of evidence that supernatural punishment had emerged as a very effective cultural innovation to get people to act more ethically with each other. In 2003, he said, Harvard University researchers Robert J. Barro and Rachel M. McCleary had found that gross domestic product was higher in developed countries when people believed in hell more than they did in heaven.

"Supernatural punishment across nations seems to predict lower crime rates," Shariff said. "At this stage, we can only speculate about mechanisms, but it's possible that people who don't believe in the possibility of punishment in the afterlife feel like they can get away with unethical behavior. There is less of a divine deterrent."

He added, however, that these are correlational data, and so caution should be taken with the conclusions. Though Shariff and study co-author Mijke Rhemtulla of the Center for Research Methods and Data Analysis at the University of Kansas tried to account for obvious alternative explanations, more research is needed to explore other interpretations for the findings.

The data for belief in hell and heaven, belief in God and religious attendance were culled from World Values and European Values surveys done across various time periods between 1981 and 2007. Crime data were pulled from United Nations records on homicide, robbery, rape, kidnapping, assault, theft, drug-related crimes, auto theft, burglary and human trafficking. Other factors accounted for included such things as nations' dominant religion (Roman Catholic, other Christian and Muslim), income inequality, life expectancy and incarceration rate.

ďThere is blindness much worse than loss of physical sight, the blindness of heart. So many are heading for the flames blindly. Man seeks to destroy the evidence of Hell, but he will learn the truth soon enough. Hell exists and Heaven exists. The sins of the flesh send more souls to hell." - Jesus, October 2, 1970

We immediately need your prayers and financial support to be able to continue to create these web pages. Click here... Thank you in advance.
Let Us All Pray the Rosary Together Around the World for a Greater Belief in Hell... Click here...
Our Lady of the Roses awesome Bayside Prophecies... http://www.tldm.org/../Bayside/ These prophecies came from Jesus, Mary, and the saints to Veronica Lueken at Bayside, NY, from 1968 to 1995.
A CHOICE
"Your life upon your earth is but a short pilgrimage. Your life eternal is forever. And where shall you be when you pass over the veil? The choice is yours, My children." - Our Lady of the Roses - December 7, 1976
THE STENCH
Veronica - Oh, my goodness! I see--oh, it's a stench! The odor is so horrible! I see a huge pit, and it's real burning. The walls are orange and burning hot. Oh! Oh, and I see these horrible creatures; they're clinging to the sides of the rocks. Some have wings on them with horrible--they look almost human, half human, half animal, but they have pointed ears. And they have ... "oh, my God! Please, Blessed Mother, take me out of here!" Oh, my God, they have feet that look like claws and arms with hair, but they also--the fingers have long fingernails; they're like claws. And they have the most horrible grinning expressions on their faces. Now I see, I see bodies of humans falling, falling. As they fall they're starting to glow. They're glowing like an orange color, like coals. And they're screaming, "Help! Mercy! Mercy! Too late! Too late!" Oh! Oh, my God! And I see they're going so fast. I don't know where they're falling from. They seem to be raining, like almost from the sky into this pit. And I see--oh, my God! I see some are priests. Oh! Oh, and I see one, he has oh, my God!-a cardinal's hat on his head. And there are three. Now I can count them, there are three. They have mitres on their heads. Oh, my God! Oh, it's so horrible! The heat is so great, and the stench! I feel like I'm just burning....
Our Lady - "My child, you have viewed the poor souls lost forever into eternity." - Our Lady of the Roses, September 7, 1974
PARENTS
"Parents are responsible for the guidance and the salvation now of their children's souls. Discipline must be returned to the homes, and parents must set an example of purity and godliness in their homes. Do not expect others to replace you in guiding your children. It is your duty; it is your purpose; it is your station in life; and you will not reject your responsibility, for then you reject your children and will cast them onto the road to hell." - Jesus, April 10, 1976
FREE WILL
"Repent of your ways, and you will be accepted back into the Kingdom. No man shall fall into hell unless he has gone this way of his own free will, My child." - Our Lady of the Roses, February 10, 1975
HOMOSEXUALITY
"Homosexuality shall not be condoned. It is an abomination in the eyes of the Eternal Father, and as such, is condemning many to hell." - Jesus, June 18. 1991
MITRES
"There will be many mitres in hell. Many priests are on the road to damnation; with them they take others. For this, the lowest pit of the abyss will be eternity! Those entrusted in My Son's House w ill be held accountable for the fall of young souls. Your rank will be no guarantee of your entrance into the Kingdom." - Our Lady of the Roses, July 25, 1972
COMMANDMENTS
"These are the Commandments of the Father. Break one and the gates of hell are open to you." - Moses, March 24, 1974
Directives from Heaven... http://www.tldm.org/directives/directives.htm
D23 - Abortion PDF Order copies...
D24 - Homosexuality, Part 1 PDF Order copies...
D28 - Hell PDF Order copies...
D44 - The Occult PDF Order copies...
D45 - UFOs PDF Order copies...
D89 - Sin PDF Order copies...
D149 - Satanism, Part 1 PDF Order copies...
D150 - Satanism, Part 2 PDF Order copies...
D151 - Possession PDF Order copies...
D152 - Angel of light PDF Order copies...
D153 - Astrology PDF Order copies...
D174 - Homosexuality, Part 2 PDF Order copies...
D175 - Defilement of the Young PDF Order copies...
D176 - Sodom and Gomorrah PDF Order copies...
D260 - Satan, the Deceiver of Mankind PDF Order copies...
D261 - Punishment PDF Order copies...
D262 - Many will be lost PDF Order copies...
D263 - Good vs. Evil PDF Order copies...
D403 - Sins of the Flesh, Part 1 PDF Order copies...
D404 - Sins of the Flesh, Part 2 PDF Order copies...
EDITOR'S COMMENT: Evil is accelerating and the Anti-Christ forces are gaining power in the world. When the persecution starts, all Christian web sites on the internet will be forced to close. Be sure to have in your possession all the following items: the Bayside Prophecy books, Bayside Medals, Douay-Rheims Bibles, the Protection Packets, Candles, Sacramentals, and Religious Books. Purchase these items now while they are still available! You will urgently need them in the days ahead. Also, you can print out all PDF files for the Directives from Heaven and all of the Bayside Prophecies. Copy Our Lady's messages and the Directives from Heaven now while they are still available! Pray to the Holy Spirit for wisdom and guidance on how to prepare now and for the days ahead when the Antichrist is revealed. Viva Cristo Rey!
Articles...
The reality of hell: stories of persons who visited hell and apparitions of the damned
http://www.tldm.org/News8/realityofhell.htm

A letter from a soul in hell
http://www.tldm.org/news6/hell2.htm

St. Theresa of Avila's vision of hell
http://www.tldm.org/News6/hell3.htm

Two-thirds of Americans think they are bound for Heaven
http://www.tldm.org/news6/hell1.htm

Pope Paul VI on confronting the devil's power
http://www.tldm.org/news6/devil.htm

The lure of the occult
http://www.tldm.org/news6/occult.htm

David Berkowitz (the "Son of Sam") confirms he was possessed, as Our Lady of the Roses says he was
http://www.tldm.org/news6/berkowitz.htm

Demonic possession
http://www.tldm.org/news6/possession.htm

Discernment and help for the possessed, part 1 (free will and possession)
http://www.tldm.org/News8/possession1.htm

Discernment and help for the possessed, part 2 (common misconceptions about possession)
http://www.tldm.org/news8/possession2.htm

The Ouija board and demonic possession
http://www.tldm.org/News9/possessionOuijaBoard.htm

Hitler and Stalin were possessed by the Devil, says Vatican exorcist
http://www.tldm.org/News9/PossessionHitlerStalin.htm

"The Truth about the Devil": One of the best references ever written about the devil and exorcism
http://www.tldm.org/News9/TruthAboutTheDevil.htm

Vatican's new rite of exorcism called "a blunt weapon" by world's most famous exorcist
http://www.tldm.org/News6/exorcism1.htm

Conversations with an exorcist
http://www.tldm.org/news9/conversationswithexorcist.htm
There are 4 things you must have to survive the days ahead:
1.) The Douay-Rheims Holy Bible...
"You must all obtain a copy of the Book of life and love, the Bible. Do not accept the new mods. Try to find in your bookstores the old Bibles, My children, for many are being changed to suit the carnal nature of man. I repeat, sin has become a way of life." - Our Lady, October 6, 1992
"I must ask you all to read but a few short chapters a day now, the Book of life and love, your Bible. Knowledge must be gained for all the disciples of My Son, for you will be attacked by scientific minds. But do not be concerned what you will say to them when accosted, for the words will be given to you by the Spirit." - Our Lady, April 10, 1976 (Order Form)
2.) The total Virgin Maryís Bayside Prophesies in 6 paperback books...
The Virgin Mary brings directions from God, the Father in Heaven on how to survive the end times. God, the Father, through the Virgin Mary, tells what is coming, how to prepare for it, how to survive it, and how to even stop it. These six volumes along with the Bible are most important to save yourself and your loved ones. Order it now. Tomorrow may be to late. These 6 pocket size paperback books costs $33.00. (Order Form)
3.) Heaven's Home Protection Packet...
Heavenís Home Protection Packet...
Our Lord stated we must have crucifixes upon the outside of all of our outside doors. In the "Heavenís Home Protection Packet" there are instructions, four crucifixes, a tube of special cement for wooden or metal crucifixes. Wooden crucifixes adhere better to the doors when the aluminum strap is removed from the back. Put a light coat of cement on the back of the crucifix and then press it to the outside of the door. If you have any problems, you can call us at 616-698-6448 for assistance. This Heavenís Home Protection Packet is available for a donation of $5.00 plus $3.00 shipping and handling. Send $8.00 to TLD Ministries, P.O. Box 40, Lowell, MI 49331. Item # P15 (Order Form)

Crucifix on front and back door... The only real protection against terrorists...

Jesus - "Pray and wear your sacramentals. And, also, My children, I ask you again to place a crucifix upon your door. Both front and back doors must have a crucifix. I say this to you because there will be carnage within your areas, and this will pass you by if you keep your crucifix upon your doors." (6-30-84) (Testimonies of lives and homes saved by the crucifixes.) http://www.tldm.org/news/crucifix.htm (Order Form)
4.) Heaven's Personal Protection Packet...
Heavenís Personal Protection Packet . . .

Our Lady tells us to be protected from all evil, we must wear the following sacramentals around our necks: a Rosary, a crucifix, the St. Benedict medal, Our Lady of the Roses medal, the Miraculous Medal, and the scapular. We have all of these sacramentals in a packet we call "Heaven's Personal Protection Packet." This packet is available for a donation of $5.00 plus $3.00 shipping and handling. Send $8.00 to TLD Ministries, P.O. Box 40, Lowell, MI 49331. Item # P5 (Order Form)

Our Lady of the Roses, Mary Help of Mothers promises to help protect our children. On September 13, 1977, She said, "He has an army of ogres wandering now throughout your country and all of the countries of the world. They are in possession of great power; so wear your sacramentals, and protect your children and your households. Learn the use every day of holy water throughout your household. Insist even with obstructions, insist that your children always wear a sacramental. One day they will understand that they will repel the demons."
On February 1, 1974, Our Lady said, "My children, know the value of these sacramentals. Guard your children well. You must awaken to the knowledge that you will not be protected without the sacramentals. Guard your children's souls. They must be surrounded with an aura of purity. Remove them if necessary from the sources of contamination, be it your schools or even false pastors."
This Heavenís Personal Protection Packet is available for a donation of $5.00 plus $3.00 shipping and handling. Send $8.00 to TLD Ministries, P.O. Box 40, Lowell, MI 49331. You may use your MasterCard, VISA, or American Express and call 1-616-698-6448. Item # P5 (Order Form)

Your names have been written in HeavenÖ "It is not by accident that you are called by My Mother, for your names have been written in Heaven.... But with this great grace you have great responsibility to send this Message from Heaven throughout the world, for if you are able to recover just one more for Heaven, an additional star shall be placed in your crown." - Jesus, August 5, 1975

A great obligation to go forward... "It is not by accident that you are called by My Mother, for it is by merit and the prayers that have risen to Heaven for your salvation. For those who have received the grace to hear the Message from Heaven, you have a great obligation to go forward and bring this Message to your brothers and sisters. Do not expect a rest upon your earth, for you will have eternal rest very soon." - Jesus, June 12, 1976

The sin of omission... "The sin of omission shall condemn many to hell, be they layman or Hierarchy. I repeat: not the sin of commission, but the sin of omission will commit many to hell." Our Lady of the Roses, October 6, 1980

We encourage everyone to print or email copies of this web page to all the Bishops and all the clergy. Also, email or send this web page to the news media and as many people as possible.

| Home - Latest News | Introduction | Bayside Prophecies | Directives from Heaven | Order Form | Miracles & Cures | Veronica Lueken | Miraculous Photos | Bible | Radio Program |

The electronic form of this document is copyrighted.
Quotations are permissible as long as this web site is acknowledged with a hyperlink to: http://www.tldm.org
Copyright © These Last Days Ministries, Inc. 1996 - 2012 All rights reserved.
P.O. Box 40 616-698-6448
Lowell, MI 49331-0040
Revised: June 27, 2012