| Home - Latest News | Introduction | Bayside Prophecies | Directives from Heaven | Order Form | Testimonies | Veronica Lueken | Miraculous Photos | Bible | Radio Program |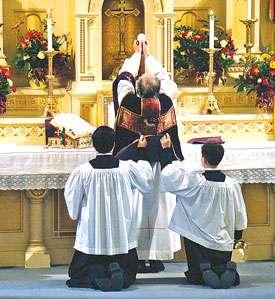 These Last Days News - May 8, 2012
Bishop Robert Morlino's Response to Liberal Parish Revolt Against Traditional Priests...
"In the Holy Sacrifice that I left with you, I did not ask for women to be upon the altar, nor try to be a high priestess. They carry this on in the churches of satan; therefore, it shall not be carried on in My Church.
"When I had the Last Supper with the Apostles, My Mother was not present. If I had it in My power from the Eternal Father to make a priestess, I would surely have chosen My Mother; but, no, there were no women present at the first Dedication." Jesus, October 2, 1987
"It was the will of the Eternal Father that one universal language be used along with, in comparison with, together with the language of the land. This universal language, Latin, befit and was chosen by the Eternal Father as a universal language for the universal Church, the Roman Catholic Church...." – Our Lady of the Roses, April 10, 1976
TURN BACK
"This evil has penetrated far into the very heart of My House. You must now turn back and restore My House. I, your God, give you this command for the salvation of your own soul." - Jesus, August 21, 1976
The Wall Street Journal reported on May 7, 2012:
A Wisconsin bishop's rebuke of Roman Catholics who bristled at the conservative practices of their parish priests has become another example of tension among U.S. Catholics over tradition's role in the church.

The two priests are members of a Spanish group assigned two years ago to Platteville, a farming community 60 miles southwest of Madison. They have attracted new parishioners but driven away many others by banning females as altar servers, enforcing a dress code for Mass (no shorts or short skirts) and emphasizing doctrinal orthodoxy in their sermons.

Declining attendance and a drop-off in donations at St. Mary Catholic Church, the larger of Platteville's two parishes, since the priests' arrival has forced the parish to plan to close its 77-year old school. Attendance and donations are also down, though slightly, at the city's other Catholic congregation, on the campus of the University of Wisconsin-Platteville.

Last month, soon after the parish announced it planned to close its school, Bishop Robert Morlino issued a public letter. He wrote that after investigating allegations from parishioners that the priests aren't teaching according to the precepts of the church, he found that the faith is being taught in the proper manner, but "what remains are personal likes and dislikes, along with inflated rumors and gossip, some which may even rise to the level of calumnious inciting of hatred of your priests, the faith and myself." The bishop had earlier objected to the some church members' efforts to oust the priests, including seminars on protest-letter writing, leafleting of vehicles and gathering signatures on a petition door-to-door.

In last month's letter, he also asked parishioners to "reflect prayerfully" on texts he attached. Those included the Code of Canon Law, which empowers the bishop to censure parishioners and effectively ban them from receiving sacraments, such as Holy Communion, in a step known as an interdict.

Nicholas Cafardi, an expert on church law and dean emeritus of Duquesne University in Pittsburgh, said the bishop's warning was "rare." Bishop Morlino "is telling them, 'Let's not go down this road,' " he said.

The Platteville conflict is another flare-up in the Catholic Church's internal struggle between traditionalists and those who believe it must do more to adapt to the times. In Washington state recently, local priests bridled at taking part in a referendum drive endorsed by their archbishop to repeal a recent law legalizing same-sex marriage there.

Soon after the Spanish priests arrived, more than 400 of Platteville's roughly 900 Catholic parishioners signed a petition demanding their removal, though some area Catholics embraced them.

The Rev. Faustino Ruiz, one of the two Spanish priests in Platteville, said his more traditionalist beliefs are in line with a return to Catholicism's core values led by Pope Benedict XVI. "The Catholic Church is now in a time of crisis and confusion," he said, "and we have to restore the tradition of the Catholic Church in order to have our identity."

Father Ruiz and the other priest in Platteville are members of the Society of Jesus Christ the Priest, a group of several dozen traditionalist pastors from Murcia, Spain, that emphasizes traditional Catholic practices and concepts such as the importance of regular confession as a means of salvation.

The Madison diocese, which comprises 132 churches, employs eight of the society's pastors and at least nine consecrated women, who are similar to nuns, in eight churches, said diocese spokesman Brent King. The diocese has welcomed the society's members in part because it needs priests, Mr. King said.

Weekend attendance at St. Mary's is off by a third since 2009, just before the first priests arrived, said the diocese. Weekly donations have also fallen 45% to an average of $6,000.

Even before the priests came, the community's school-age population had been declining. The per-pupil costs of education at the school have nearly doubled in the past five years, said diocese spokesman Brent King, while tuition has gone up only slightly. The church had been making up the difference with donations, which peaked in the 2009-2010 school year at 75% of total school costs.

But last year, as donations began to fall, the parish subsidy to the school fell to 54% of costs. This year, the financial gap became too big.

"Because of the high parish subsidy of the school, and the decrease in parish offertory (whether as a matter of protest or because a family had left), the parish could simply no longer afford to subsidize the school's budget," Mr. King wrote in an email.

Some area Catholics approved of the message brought by the new priests. Gregory Merrick, 62 years old, began driving the 20 miles to St. Mary's when he heard the new priests were traditionalist. Catholicism "is first about the good news that we are saved, but that news is hooked irrevocably to the notion that we're sinners," he said. "Do we as Catholics want to conform to the church, or do we want the church to conform to us? I suggest the latter of those two possibilities is a disaster"

Retired teacher Rosemary Anderson, a former St. Mary's council member, left the church in February. She said the two priests, Father Ruiz and the Rev. John Del Priore, "are very conservative, very much their-way-or-the-highway," and that she believed their sermons emphasize confession and sin while lacking discussion of charity and embracing others.

Father Ruiz called that characterization "unfair" and said he and Father Del Priore preach and practice both salvation and charity.

The Rev. Steven Avella, a history professor at Marquette University in Milwaukee, said only two U.S. dioceses bar females as altar servers.

(TLDM Staff Note: St. Mary Catholic Church in Platteville, Wisconsin is operated by the Society of Jesus Christ the Priest and offers the Latin Mass 6 days a week.)
EDITOR'S COMMENT: Evil is accelerating and the Anti-Christ forces are gaining power in the world. When the persecution starts, all Christian web sites on the internet will be forced to close. Be sure to have in your possession all the following items: the Bayside Prophecy books, Bayside Medals, Douay-Rheims Bibles, the Protection Packets, Candles, Sacramentals, and Religious Books. Purchase these items now while they are still available! You will urgently need them in the days ahead. Also, you can print out all PDF files for the Directives from Heaven and all of the Bayside Prophecies. Copy Our Lady's messages and the Directives from Heaven now while they are still available! Pray to the Holy Spirit for wisdom and guidance on how to prepare now and for the days ahead when the Antichrist is revealed. God bless.

Let Us All Pray the Rosary Together Around the World for the Return of the Traditions of the Church and for the Return of the Latin Tridentine Mass to Every Parish in the World... Click here...
"Many now rebel against their leader, their God-given leader, your Vicar. In matters of faith and morals, man must not change the God-given laws, coming from the seat of Peter, and established through tradition upon earth through My Son's Church." - Our Lady of the Roses, October 6, 1979
Veronica - Saint Paul is carrying a very huge Bible. And he has a small stick, and he appears to be pointing to a page in his writings.... The rule he's pointing to, I can read, refers to discipline during the Holy Sacrifice of the Mass.
[Veronica reads the following:]
"The conduct of women during the Holy Sacrifice of the Mass shall be one of silence. No woman shall speak out during the Holy Sacrifice of the Mass. Women must wear head coverings when they enter the House of God. The House of God is a place of prayer, and not a meeting place or dance hall. No woman shall speak from the pulpit. No woman shall enter the ministry." December 7, 1976
What Does the Holy Douay-Rheims Bible Say About Women at the Mass?
Let women keep silence in the churches: for it is not permitted them to speak but to be subject, as also the law saith. But if they would learn anything, let them ask their husbands at home. For it is a shame for a woman to speak in the church. 1 Cor 14:34-35

But every woman praying or prophesying (teaching) with her head not covered disgraceth her head: for it is all one as if she were shaven. For if a woman be not covered, let her be shorn. But if it be a shame to a woman to be shorn or made bald, let her cover her head. The man indeed ought not to cover his head: because he is the image and glory of God. But the woman is the glory of the man. For the man is not of the woman: but the woman of the man. For the man was not created for the woman: but the woman for the man. Therefore ought the woman to have a power over her head, because of the angels. 1 Cor 11:5-10

In like manner, women also in decent apparel: adorning themselves with modesty and sobriety, not with plaited hair, or gold, or pearls, or costly attire: But, as it becometh women professing godliness, with good works. Let the woman learn in silence with all subjection. But I suffer not a woman to teach, nor to use authority over the man: but to be in silence. For Adam was first formed; then Eve. And Adam was not seduced; but the woman, being seduced, was in the transgression. Yet she shall be saved through child bearing; if she continue in faith and love and sanctification with sobriety. 1 Tim 2:9-15
The Amazing Bayside Prophecies... http://www.tldm.org/Bayside/default.htm
These prophecies came from Jesus, Mary, and the saints to Veronica Lueken at Bayside, NY, from 1968 to 1995.
YOU WILL STOP EXPERIMENTING
"My child and My children, I come once more with an urgent and pleading message to the hierarchy in the Church, My Church upon earth. I want you to know now that We look upon you and find many that do not fall into grace. They are falling out of grace and misleading many of Our sheep.
"Therefore, I warn you now as your God: You will stop your intricacies within My Church. You will stop experimenting. I gave you the rules to follow many years ago, two thousand years approximately. And why now, two thousand years later, do you deem it necessary to change My Church upon earth? I, your God, say to you, you will be judged accordingly. You will return My Church to its former glory, and in that manner you will have more vocations and more entering the seminaries, and not fleeing from them as they hear the heresies and all other innovations that are going on within My Church. This is My last and final word to My clergy: Change now or suffer a just punishment and banishment." - Jesus, June 18, 1986

RETURN TO YOUR TRADITIONAL RITES
"I send to My clergy, those whom I have given the grace to represent Heaven upon earth, this warning: You must now return to your traditional rites! You must restore My House from its crumbling exterior and rotting interior. You must rebuild what you seek to destroy--now!
"Many who call themselves My chosen ones have set themselves to destroy from within. Your actions have not gone by unnoticed by the Eternal Father. Error, deception, deceit, in the guise of sanctity and piousness! You are unmasked before the Eternal Father. You shall start little by little and repair the foundation, or you shall be within and destroy.
"I look upon all manner of abominations being committed in My House. Do you think you will go much longer without chastisement? Awaken from your slumber, My clergy! You deceive no one!" - Jesus, November 22, 1975

CHANGING THE CONSTRUCTION
"You will not bring about a conversion of those who are presently apostate by compromising your Faith or changing the construction of the exterior lines of My Church; and by that I mean the physical appearance and the manner in which you conduct the Holy Sacrifice of the Mass.
"Many are giving My Body in a manner that can only be called blasphemy. Many are accepting My Body in the Eucharist in a manner that defames the Divinity, and also promotes unholiness, paganism, and impurity of heart and actions during the Holy Sacrifice of the Mass." - Jesus, May 26, 1979

CHANGES MUST BE STOPPED AND REVERSED
"There is no excuse accepted now by the Eternal Father among the clergy, who now offend the Eternal Father by misleading the children of God upon earth. The experimentation and changes must be stopped and reversed! There is no other course." – Our Lady, August 4, 1979

"RESTORE MY HOUSE!"
"My Mother has given you My way. It is a simple road that must be followed. The rules have been given to you that must not be changed, as you cater to the basic carnal nature of man, a generation that has fallen! You will not make changes within My House, for you have dispersed My sheep. You will restore My House to its former glory. Strip you hearts of your pride! Recognize your errors and restore My House!
"I say this to you for your Creator, as your God: Restore My House, or I shall come down and restore it Myself with a firm hand! And shall you stand before Me, O pastors, and say that your teachings have been pure in My sight? I shall take you and spit you out as spittle into the fires of eternal damnation! Vermin that came out of the flowers!" – Jesus, December 28, 1976

STOP CHANGE AND NOVELTY
"My child and My children, make it known to all that the road to Heaven was never easy, but you can make it much easier upon yourselves and your families if you follow the rules, if you follow the Commandments from the Eternal Father. The changes that We see taking place in My House and upon earth are not good, for many, many souls are falling into hell. And a great measure of responsibility now is with those who have been called to the holy orders, who have given themselves to represent Me upon earth. Shall I say that I have found many Judases now within My House? Cannot this situation be changed?
"There is only one way that this can be stopped, this evil that has seeped into My House and into the hearts of all mankind. You must stop now your seeking for change and novelty. You must restore My Church to its former glory. Admit your error. Do not conceal this with pride and arrogance.
"Remember there was the time when it was necessary to cast Luciel and his followers from Heaven--Lucifer, who now goads you on to hell with him, upon earth. He had to be cast from Heaven because he, too, became prideful and arrogant, seeking to make himself another living god. This cannot be done. You cannot be above your Creator." – Jesus, September 7, 1978

DO NOT ACCEPT
"My children, you must retain Tradition; you must retain a firm foundation of your faith by keeping all of the good publications. Do not accept the changes that have been made by satan to seduce your souls." – Jesus, November 19, 1977

INDOCTRINATED
Veronica - The books are being changed to cover the evil being perpetrated now. The young are being indoctrinated to accept changes which will take away Tradition and even doctrine. Our Lady said we must all pray a constant vigilance of prayer. It has a great power over the demons. – November 19, 1977

NOT FROM HOLY SPIRIT
"I must, My child, make it known at this time that you must go back in the immediate years and bring the knowledge to mankind that these changes, the changes that have given bad fruits, have not been given to you through the Holy Spirit and through your Vicar, Pope Paul VI. It is the web of satan reaching out. Many are now, My child, puppets. The strings are being pulled by Benelli, Villot, and Casaroli and their followers." – Our Lady, September 27, 1975

HIGH PRIESTESS
"I ask this of you as your God: in the Holy Sacrifice that I left with you, I did not ask for women to be upon the altar, nor try to be a high priestess. They carry this on in the churches of Satan; therefore, it shall not be carried on in My Church. When I had the Last Supper with the Apostles, My Mother was not present. If I had it in My power from the Eternal Father to make a priestess, I would surely have chosen My Mother; but, no, there were no women present at the first Dedication." - Jesus, October 2, 1987

HERESY*
"Already We hear you clamor for the ordination of woman. No woman shall stand in My House to represent Me! How dare you bring in this heresy to My House! I shall go among you and I shall sling you out from My temples!" Jesus, December 27, 1975

"Pope Gelasius in his ninth letter (chap. 26) to the bishops of Lucania condemned the evil practice which had been introduced of women serving the priest at the celebration of Mass. Since this abuse had spread to the Greeks, Innocent IV strictly forbade it in his letter to the bishop of Tusculum: 'Women should not dare to serve at the altar; they should be altogether refused this ministry.' We too have forbidden this practice in the same words...." (Pope Benedict XIV, Encyclical Allatae Sunt, July 26, 1755)

TRADITION A SAFEGUARD
"My child and My children, I need not repeat to you the necessity to retain tradition. It was like a valve, a safeguard from the eruption of My Son's Church, a schism, a division within My Son's House upon earth. I cry unto you, your Mother, as I hasten back and forth bringing you the Message, the counsel from Heaven. You must recognize--bishops, cardinals and pastors--you must recognize what is happening now in My Son's House. There is being rebuilt before your very eyes another religion, another church of man. No angels are helping in this building." Our Lady, September 7, 1978

DECEPTION FROM SATAN
"My child, make it known to the world that woman must keep her place in respect to her husband. It was not Adam, the man, who fell, but he followed the fall of Eve, his wife. For man came from God and Eve was brought forth from man. Therefore, My child, this word I hear 'liberation' is a deception from satan!
"Do you not recognize, My children, the signs of your times? Read and learn: 'Women will become unlike women. They shall go forth, and seven women will take hold of one man and say to him: Make me as you are. I wish to eat your bread.' [see Isaias 4:1]
"Know, My child, this simple lesson, that in these days of the latter times, women shall seek to cast off their role as mother and a woman. Woman will cast it off under the direction of satan, and murder her children. Woe to the woman who does not repent of this vile abomination! She has walked the road to eternal damnation and hell. Repent, O woman, or forever be lost!" - Our Lady, March 18, 1975

BIBLE PROPHECY
"The mystery in woman is her greatest asset. Satan seeks to take away woman's identity. The holy Bible has in prophecy: the time will come in the end that woman will seek to be as man. They will wear his clothes and want to eat his bread. [see Isaias 4:1]" - Our Lady, May 10, 1972

GOOD OR EVIL
"My child, you will make it known to mankind that the head of an earthly family is the father. The Father Eternal will guide the father, the head of the household. A woman of earth shall not cast aside her role as mother and housekeeper. In her role as mother, she shall be the guardian of her children's souls and a helpmate of her husband, and a guardian also of his earthly soul and the soul eternal. By her example in her household, she has the power, as woman, for good or evil. She shall stay in her home and guide her children." - St. Joseph, July 15, 1975

READ ST. PAUL
"All who have received the Holy Spirit have consecrated hands. And I say unto you none but legally-ordained priests in My House shall bring My Body to the multitudes! No woman shall stand in the holy place! No woman shall vie or compete for rulership in My House. I say unto you, you must go back and read the Commandments of the Eternal Father; you must go back and read the rules that Paul gave to you. You cast him aside and you write another book, a bible, a tome; you write it to suit your own basic carnal human nature." Jesus, July 15, 1977

SEWING, MUSIC
"Big girls, there is so much the mothers could teach them. They do not sew anymore. They do not play the instruments of music. Better they play this way than to go out and find the creations of Satan. They do not stay in their homes, because their homes are not homes. They are castles of sin!" - St. Theresa, October 2, 1974
Directives from Heaven... http://www.tldm.org/../directives/directives.htm
D34 - Woman PDF
D173 - Women Priests PDF
D178 – Head Coverings PDF
D179 – Women's Liberation PDF
D184 – Church of Man, Part 1 PDF
D185 – Church of Man, Part 2 PDF
There are 4 things you must have to survive the end times:
1.) The Douay-Rheims Holy Bible...
"You must all obtain a copy of the Book of life and love, the Bible. Do not accept the new mods. Try to find in your bookstores the old Bibles, My children, for many are being changed to suit the carnal nature of man. I repeat, sin has become a way of life." - Our Lady, October 6, 1992
"I must ask you all to read but a few short chapters a day now, the Book of life and love, your Bible. Knowledge must be gained for all the disciples of My Son, for you will be attacked by scientific minds. But do not be concerned what you will say to them when accosted, for the words will be given to you by the Spirit." - Our Lady, April 10, 1976 (Order Form)
2.) The total Virgin Mary's Bayside Prophesies in 6 paperback books...
The Virgin Mary brings directions from God, the Father in Heaven on how to survive the end times. God, the Father, through the Virgin Mary, tells what is coming, how to prepare for it, how to survive it, and how to even stop it. These six volumes along with the Bible are most important to save yourself and your loved ones. Order it now. Tomorrow may be to late. These 6 pocket size paperback books costs $33.00. (Order Form)
3.) Heaven's Home Protection Packet...
Heaven's Home Protection Packet...
Our Lord stated we must have crucifixes upon the outside of all of our outside doors. In the "Heaven's Home Protection Packet" there are instructions, four crucifixes, a tube of special cement for wooden or metal crucifixes. Wooden crucifixes adhere better to the doors when the aluminum strap is removed from the back. Put a light coat of cement on the back of the crucifix and then press it to the outside of the door. If you have any problems, you can call us at 616-698-6448 for assistance. This Heaven's Home Protection Packet is available for a donation of $7.00 plus $3.00 shipping and handling. Send $10.00 to TLD Ministries, P.O. Box 40, Lowell, MI 49331. Item # P15 (Order Form)

Crucifix on front and back door... The only real protection against terrorists...

Jesus - "Pray and wear your sacramentals. And, also, My children, I ask you again to place a crucifix upon your door. Both front and back doors must have a crucifix. I say this to you because there will be carnage within your areas, and this will pass you by if you keep your crucifix upon your doors." (6-30-84) (Testimonies of lives and homes saved by the crucifixes.) http://www.tldm.org/news/crucifix.htm (Order Form)
4.) Heaven's Personal Protection Packet...
Heaven's Personal Protection Packet . . .

Our Lady tells us to be protected from all evil, we must wear the following sacramentals around our necks: a Rosary, a crucifix, the St. Benedict medal, Our Lady of the Roses medal, the Miraculous Medal, and the scapular. We have all of these sacramentals in a packet we call "Heaven's Personal Protection Packet." This packet is available for a donation of $6.00 plus $3.00 shipping and handling. Send $9.00 to TLD Ministries, P.O. Box 40, Lowell, MI 49331. Item # P5 (Order Form)

Our Lady of the Roses, Mary Help of Mothers promises to help protect our children. On September 13, 1977, She said, "He has an army of ogres wandering now throughout your country and all of the countries of the world. They are in possession of great power; so wear your sacramentals, and protect your children and your households. Learn the use every day of holy water throughout your household. Insist even with obstructions, insist that your children always wear a sacramental. One day they will understand that they will repel the demons."
On February 1, 1974, Our Lady said, "My children, know the value of these sacramentals. Guard your children well. You must awaken to the knowledge that you will not be protected without the sacramentals. Guard your children's souls. They must be surrounded with an aura of purity. Remove them if necessary from the sources of contamination, be it your schools or even false pastors."
This Heaven's Personal Protection Packet is available for a donation of $6.00 plus $3.00 shipping and handling. Send $9.00 to TLD Ministries, P.O. Box 40, Lowell, MI 49331. You may use your MasterCard, VISA, or American Express and call 1-616-698-6448. Item # P5 (Order Form)

Your names have been written in Heaven… "It is not by accident that you are called by My Mother, for your names have been written in Heaven.... But with this great grace you have great responsibility to send this Message from Heaven throughout the world, for if you are able to recover just one more for Heaven, an additional star shall be placed in your crown." - Jesus, August 5, 1975

A great obligation to go forward... "It is not by accident that you are called by My Mother, for it is by merit and the prayers that have risen to Heaven for your salvation. For those who have received the grace to hear the Message from Heaven, you have a great obligation to go forward and bring this Message to your brothers and sisters. Do not expect a rest upon your earth, for you will have eternal rest very soon." - Jesus, June 12, 1976

The sin of omission... "The sin of omission shall condemn many to hell, be they layman or Hierarchy. I repeat: not the sin of commission, but the sin of omission will commit many to hell." Our Lady of the Roses, October 6, 1980

We encourage everyone to print or email copies of this web page to all the Bishops and all the clergy. Also, email or send this web page to the news media and as many people as possible.

| Home - Latest News | Introduction | Bayside Prophecies | Directives from Heaven | Order Form | Miracles & Cures | Veronica Lueken | Miraculous Photos | Bible | Radio Program |

The electronic form of this document is copyrighted.
Quotations are permissible as long as this web site is acknowledged with a hyperlink to: http://www.tldm.org
Copyright © These Last Days Ministries, Inc. 1996 - 2012 All rights reserved.
P.O. Box 40 616-698-6448
Lowell, MI 49331-0040
Revised: December 11, 2012