| Home - Latest News | Introduction | Bayside Prophecies | Directives from Heaven | Order Form | Testimonies | Veronica Lueken | Miraculous Photos | Bible | Radio Program |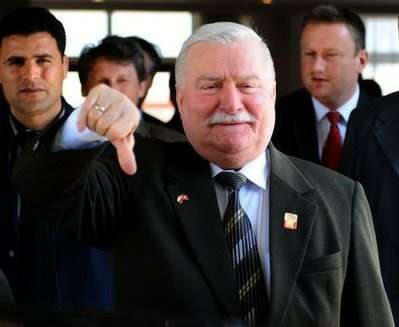 These Last Days News - June 4, 2012
Legendary Anti-Communist Hero Lech Walesa Refuses to Meet With Obama...
"My child, you must not have fear at speaking the truth. It is for the salvation of souls and the recovery of your country. America the beautiful must not fall to communism, My child. America the beautiful shall not be sold into slavery. Cast out the money changers in your government! What manner of government is there that condones sin? Abomination upon abomination--giving monies for the murder of children, giving monies for the murder of the elderly! Your government, My child, has been infiltrated by men of sin." - Our Lady of the Roses, September 13, 1975
Weasel Zippers reported on May 27, 2012:
Lech Walesa, Polandís Solidarity-era legend, ex-president and 1983 Nobel Peace Prize winner said Friday he would not accept an invitation to meet with fellow Nobel winner US President Barack Obama.

ďItís difficult to tell journalists what youíd like to say to the president of a superpower. This time I wonít tell him, I wonít meet him, it doesnít suit me,Ē Walesa told Polandís public broadcaster TVP.

Obama is due to arrive in Poland later Friday after the G8 summit in France.

Walesa was originally scheduled to meet Obama Saturday along with other key figures in Polandís post-1989 transition from communism to democracy.

According to sources close to Walesa, he was expecting a personal invitation from Obama, who won the Nobel Peace Prize in 2009 shortly after taking office.

Let Us All Pray the Rosary Together Around the World for the Defeat of the Communist Forces... Click here...
"O My children of the United States, do you not understand what is ahead for you? Your country, the United States, has not known what it is to suffer through destructive forces. My children, you shall not escape the destruction that the Bear of communism has set upon many countries in Europe and the world. You cannot compromise your Faith to save what there is left, for everything upon earth shall fall as rubble with the Chastisement. A ball of fire, a chastisement, a baptism of fire, is heading for mankind. Can you not understand?" - Our Lady of the Roses, November 20, 1978
Directives from Heaven... http://www.tldm.org/directives/directives.htm
D10 - Consecrate Russia PDF Order copies...
D13 - Secret Societies PDF Order copies...
D103 - Communism PDF Order copies...
D104 - Invasion PDF Order copies...
D158 - America the Beautiful PDF Order copies...
D309 - Masons and Illuminati PDF Order copies...
EDITOR'S COMMENT: Evil is accelerating and the Anti-Christ forces are gaining power in the world. When the persecution starts, all Christian web sites on the internet will be forced to close. Be sure to have in your possession all the following items: the Bayside Prophecy books, Bayside Medals, Douay-Rheims Bibles, the Protection Packets, Candles, Sacramentals, and Religious Books. Purchase these items now while they are still available! You will urgently need them in the days ahead. Also, you can print out all PDF files for the Directives from Heaven and all of the Bayside Prophecies. Copy Our Lady's messages and the Directives from Heaven now while they are still available! Pray to the Holy Spirit for wisdom and guidance on how to prepare now and for the days ahead when the Antichrist is revealed. God bless.
ArticlesÖ
Communism's 45 goals to destroy the United States
http://www.tldm.org/news7/CommunismInAmerica.htm

Kerry dismissed the threat of global communism as "bogus" before a Senate hearing in 1971
http://www.tldm.org/News7/KerryCommunism2.htm
Kerry's campaign slogan taken from a communist poem
http://www.tldm.org/news7/KerryCommunism1.htm
Clinton's White House
http://www.tldm.org/news2/sellout.htm
Nancy Pelosi: WND reports that Democratsí likely top House official part of powerful, socialist-linked bloc
http://www.tldm.org/news5/pelosi.htm
Russian espionage and penetration of the U.S. government
http://www.tldm.org/news6/espionage.htm
Global communism, part 1
http://www.tldm.org/news2/global-1.htm
Global communism: Africa, part 2
http://www.tldm.org/news2/africa.htm
Henry Kissinger: traitor to America
http://www.tldm.org/news2/kissinger.htm
Russia's master plan
http://www.tldm.org/news/master_plan.htm
U.S. invasion through Mexico
http://www.tldm.org/news3/Nicaragua.htm
There are 4 things you must have to survive the days ahead:
1.) The Douay-Rheims Holy Bible...
"You must all obtain a copy of the Book of life and love, the Bible. Do not accept the new mods. Try to find in your bookstores the old Bibles, My children, for many are being changed to suit the carnal nature of man. I repeat, sin has become a way of life." - Our Lady, October 6, 1992
"I must ask you all to read but a few short chapters a day now, the Book of life and love, your Bible. Knowledge must be gained for all the disciples of My Son, for you will be attacked by scientific minds. But do not be concerned what you will say to them when accosted, for the words will be given to you by the Spirit." - Our Lady, April 10, 1976 (Order Form)
2.) The total Virgin Maryís Bayside Prophesies in 6 paperback books...
The Virgin Mary brings directions from God, the Father in Heaven on how to survive the end times. God, the Father, through the Virgin Mary, tells what is coming, how to prepare for it, how to survive it, and how to even stop it. These six volumes along with the Bible are most important to save yourself and your loved ones. Order it now. Tomorrow may be to late. These 6 pocket size paperback books costs $33.00. (Order Form)
3.) Heaven's Home Protection Packet...
Heavenís Home Protection Packet...
Our Lord stated we must have crucifixes upon the outside of all of our outside doors. In the "Heavenís Home Protection Packet" there are instructions, four crucifixes, a tube of special cement for wooden or metal crucifixes. Wooden crucifixes adhere better to the doors when the aluminum strap is removed from the back. Put a light coat of cement on the back of the crucifix and then press it to the outside of the door. If you have any problems, you can call us at 616-698-6448 for assistance. This Heavenís Home Protection Packet is available for a donation of $7.00 plus $3.00 shipping and handling. Send $10.00 to TLD Ministries, P.O. Box 40, Lowell, MI 49331. Item # P15 (Order Form)

Crucifix on front and back door... The only real protection against terrorists...
Jesus - "Pray and wear your sacramentals. And, also, My children, I ask you again to place a crucifix upon your door. Both front and back doors must have a crucifix. I say this to you because there will be carnage within your areas, and this will pass you by if you keep your crucifix upon your doors." (6-30-84) (Testimonies of lives and homes saved by the crucifixes.) http://www.tldm.org/news/crucifix.htm (Order Form)
4.) Heaven's Personal Protection Packet...
Heavenís Personal Protection Packet . . .

Our Lady tells us to be protected from all evil, we must wear the following sacramentals around our necks: a Rosary, a crucifix, the St. Benedict medal, Our Lady of the Roses medal, the Miraculous Medal, and the scapular. We have all of these sacramentals in a packet we call "Heaven's Personal Protection Packet." This packet is available for a donation of $6.00 plus $3.00 shipping and handling. Send $9.00 to TLD Ministries, P.O. Box 40, Lowell, MI 49331. Item # P5

(Order Form)

Our Lady of the Roses, Mary Help of Mothers promises to help protect our children. On September 13, 1977, She said, "He has an army of ogres wandering now throughout your country and all of the countries of the world. They are in possession of great power; so wear your sacramentals, and protect your children and your households. Learn the use every day of holy water throughout your household. Insist even with obstructions, insist that your children always wear a sacramental. One day they will understand that they will repel the demons."
On February 1, 1974, Our Lady said, "My children, know the value of these sacramentals. Guard your children well. You must awaken to the knowledge that you will not be protected without the sacramentals. Guard your children's souls. They must be surrounded with an aura of purity. Remove them if necessary from the sources of contamination, be it your schools or even false pastors."
This Heavenís Personal Protection Packet is available for a donation of $6.00 plus $3.00 shipping and handling. Send $9.00 to TLD Ministries, P.O. Box 40, Lowell, MI 49331. You may use your MasterCard, VISA, or American Express and call 1-616-698-6448. Item # P5 (Order Form)

Amount: $

| Home - Latest News | Introduction | Bayside Prophecies | Directives from Heaven | Order Form | Testimonies | Veronica Lueken | Miraculous Photos | Bible | Radio Program |

We encourage everyone to print or email copies of this web page to all the Bishops and all the clergy. Also, email or send this web page to the news media and as many people as possible.

The electronic form of this document is copyrighted.
Quotations are permissible as long as this web site is acknowledged through hyperlink to: http://www.tldm.org
Copyright © These Last Days Ministries, Inc. 1996 - 2012 All rights reserved.
P.O. Box 40 616-698-6448
Lowell, MI 49331-0040
Revised: June 04, 2012