| Home - Latest News | Introduction | Bayside Prophecies | Directives from Heaven | Shopping Cart | Testimonies | Veronica Lueken | Miraculous Photos | Bible | Radio Program |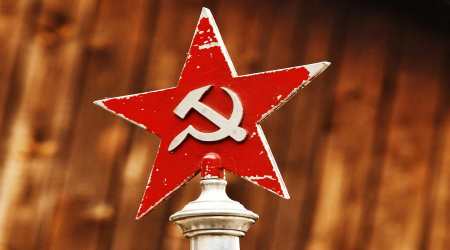 These Last Days News - December 20, 2016
Have the "Errors of Russia" Now Infected Rome?
INFILTRATION
"Bishops, cardinals in Rome, a plan is set afoot against you. Many have entered from the socialist
—
the Union of Socialist Republic, Russia, have entered the Church to destroy you!"
- Our Lady, November 20, 1978
YOU DID NOT LISTEN
"I have asked you in countless visitations to earth to pray and pray again that Russia would not send her errors throughout the world. But you did not listen, carried away with the cares of your world, being materialistic, casting aside spirituality for power and greed. What will you gain if you obtain this power and you leave your earth without merit and cannot enter the eternal Kingdom of Heaven?" - Our Lady, March 15, 1978
"I see that the high priests of the House of God have become soft in their ways. They cater to their bodies and do not wish to sacrifice and make penance. There will be no easy road to the Kingdom. They will get down on their knees, and they will starve their worldly bodies until they rid themselves of the demons within them.
"Unless you listen now to my words of caution, you will fall into the trap that is being set for you. The enemy is within the House of God. He will seek to remove your Vicar from among you, and when he does he will place a man of dark secrets upon the Seat of Peter!" - St. Thomas Aquinas, August 21, 1972
"Rome will lose the faith and will become the seat of Antichrist." – Our Lady of La Salette, September 19, 1846
"Without the number of prayers needed to balance the scale and acts of reparation from the children of earth, there will be placed upon the Seat of Peter one who will put and place souls and the House of God into deep darkness." - Our Lady, March 18, 1974
The above Messages from Our Lady were given to Veronica Lueken at Bayside, New York. Read more
OnePeterFive.com reported on December 13, 2016:
by Maike Hickson

One hundred years ago, Our Lady of Fatima mysteriously warned us of the danger that the then-unspecified "errors of Russia" would somehow come to spread throughout the whole world if Russia would not first be adequately and solemnly consecrated to the Immaculate Heart of Mary. Such a consecration, moreover, was prophesied to attain Russia's own fuller conversion to the Catholic Faith and, thus, to the genuine incarnational life and culture of the Faith.

But, what, then, are the "errors of Russia" as they were developing at the time of the Bolshevik-Russian Revolution shortly after the Fatima apparitions? It would seem that they include, among other things, the following list of characteristics:

A reductively atheistic materialist world-view which aims at undermining anything Christian in society;
An ideology that is disconnected from Truth and reality;
A cultural Marxism that later permeated also the West with the help of the Frankfurt School and Antonio Gramsci's ideas;
A revolutionary socialistic spirit that undermines especially major aspects of family life – especially with the help of feminism, divorce and abortion;
A Hegelian dialectic philosophy, along with dialectic materialism, which claims that strife and ongoing contention in society are necessary in order to bring about higher and unfolding forms of life; such an approach essentially denies and purportedly transcends the principle or law of non-contradiction.
A form of governing "revolutionary socialism" that is also constitutionally called "Democratic Centralism," the latter formulation meaning that things have the appearance of being openly democratic, yet they are all centrally organized and managed in the background (Dr. Robert Hickson recently applied this principle to the current situation in the Church – especially with regard to the Family Synods – here);
A disregard for tradition and for the traditional institutions of society (or now of the Church, such as the Curia?) as "counter-revolutionary forces";
A deceitful misuse of language with the intent to manipulate the public;
A method of branding one's own opponents with sweeping and demeaning epithets that abstractly categorize them as "right-wing" or "counter-revolutionary";
An approach to ongoing revolutionary changes where there is both "a slow path" and "a fast path" of the Revolution; such is "the Dialectic" and the "dialectical process";
Toward more moderate and compromising opponents, one first tries to incorporate them into the professed new system so as to use them as Lenin's "useful idiots" in the sense that they help give to the world the illusory idea that nothing has really changed;
As a last element – but of course a very important and painful one for those who lived under Communism – there is a constant sense of distrust and fear, unto the imprisonment and killing of one's intransigent opponents.

For some months now, a certain expression has recurrently come back to me in my reflections: "The errors of Russia have reached Rome!" Let me attempt to explain why this insight may be so.

There have come to us now several witnesses who speak of an atmosphere of fear and suppression of free speech in Catholic Rome. Just very recently, Edward Pentin, a Rome Correspondent with much inside knowledge, revealed in an interview just how fearful people in employment at the Vatican now are:

The reaction [to the dubia] has been interesting so far: almost all the College of Cardinals and the Roman Curia have remained silent, neither supporting the cardinals, nor, more importantly, coming out in support of the Pope and his decision not to respond. If silence is taken to mean consent for the dubia, then one could therefore argue that the vast majority are in favor of the four cardinals. That can only be speculative of course, but it could conceivably be true as for months one has heard from one significant part of the Curia that they feel great unease about what is happening. The phrases "reign of terror" and "Vatican martial law" are frequently bandied around.

Steve Skojec, as well, has reported on similar details concerning the atmosphere of fear in the Vatican:

I have heard reports that the Vatican is like an occupied state. Certain sources I've spoken with have a fear that communications with Vatican officials are being monitored; some have even reported suspicious anomalies in their telephone conversations in which, after a dropped call, the audio of the last moments of their conversation has played over and over again on a loop, as though they are hearing a recording. Some individuals who work within the Vatican are advising their contacts on the outside not to share sensitive information via email or their Vatican-issued cell phones. [emphasis added]

The recent intense responses against the Four Cardinals' dubia – to include threats and insults thrown at them, instead of properly responding to the substance of their fundamental questions – is another hint of the increasingly suffocating ideological atmosphere in Rome. Not the substance matters, but whether you are in line with the pope's own methods and procedures and ambiguous proposals. Those who at all disagree with the new line of thought are being intimidated (or removed from office, as was Cardinal Raymond Leo Burke). Just as in earlier Communist times, those who oppose the regime of subversive or coercive novelties are called "right-wing" and "being backwards." For example, one leading figure in this detraction and method of labeling people is Father Antonio Spadaro, S.J, who just recently came out mocking those "balanced" blogs who report on the Vatican but who have so suddenly, in his eyes, now turned into "right-wing propaganda machines." Here is his full "tweet":

After #dubia many so called "balanced" blogs about Church are taking off their mask showing themselves as right wing propaganda machines! [my emphasis]

This tweet by one of the closest friends and advisors of the pope shows how the atmosphere in the Catholic Church has been constricted and politicized under the pontificate of Pope Francis. This is also what Edward Pentin himself has extensively observed in his recent above-mentioned interview:

The Pope's reaction, of going so far as to question the [Four] cardinals' mental state, has been read as a manifestation of his own anger at having his agenda taken off course. And instead of taking the four cardinals at their word (they have said they are acting primarily out of charity towards the Holy Father, justice and deep pastoral concern), they are seen as adversaries. I understand he has also been working behind the scenes to ensure his agenda is not thwarted. From strategically placed articles in L'Osservatore Romano to equivocations from those who publicly criticized the dubia when asked if the Pope had asked them to do so, Francis has been acting, as one observer put it, like a "behind-the-scenes political lobbyist." In the three weeks after the dubia were published, the Pope gave three interviews to the world's media, each of them aimed at legitimizing his position while denigrating his critics.

Lastly, it's important to point out that simply by matching facts with words coming from the Pope and his allies, it's clear there is significant lying and deceit taking place, as well as calumnies and the besmirching of reputations of those labeled to be "on the right" just because they are publicly critical of Amoris Laetitia, or merely report on such criticism. It genuinely pains me to say all this, because as a Catholic journalist one doesn't wish in any way to diminish the Petrine Office, but I feel I have an obligation to report the facts on what is happening. [my emphasis]

Not only do Pope Francis and his allies use a typical leftist rhetoric against their opponents, but they have now also shown, in general, more sympathy toward left-wing and liberal personalities and politicians, as well as for progressivist themes, such as environmentalism and anti-Capitalism.

One very troubling event that took place under Francis' pontificate is that a Vatican conference discussed the question as how to use children as "change agents" with regard to implementing an ecological world-view in the world.

In light of all of these grave and fundamental changes in the permeating atmosphere and in the preponderant themes that are now being promoted in Rome, it might be worthwhile to consider Pope Francis' own recent words about conflict and strife. It seems that the pope himself knows that he is causing strife – instability and insecurity – in the Church, and that he regards such strife (i.e., struggle and dialectical oppositions) as something positive and "constructive" and "creative." Francis recently said that "oppositions help" and added: "Human life is structured in oppositional form. And that is also what is happening now in the Church. Tensions need not necessarily be resolved and regulated. They are not like contradictions." His unofficial spokesman, Fr. Antonio Spadaro, S.J said on 9 December 2016 the following about the pope's attitude toward conflicts: "The pope knows very well that the reform process in the Church – if it is effective – creates and develops tensions and that it is good if they somehow find expression." [my emphasis] Does this view as expressed here with regard to the positive aspects of conflict remind us perhaps of the positive view upon conflict within the Hegelian-Marxist world-view?

All these new developments, to include the new atmosphere in Rome, remind some of the current major Catholic witnesses of their own prior experience in Communist Russia. There is, for example, the witness of Bishop Athanasius Schneider himself who grew up under the terror of Soviet Communism. He himself recently described the atmosphere in Rome as being comparable to that in the former Soviet Union. According to LifeSiteNews:

"The reaction to the dubia is a proof of the climate in which we actually live in the Church right now," Bishop Schneider said. "We live in a climate of threats and of denial of dialogue towards a specific group."

Schneider went to say that "dialogue seems to be accepted only if you think like everyone else – that is practically like a regime."

Schneider brought up his experience in Russia, where he was born in the time of the Soviet Union. His parents were sent by Stalin to work camps, or "Gulags," after the Second World War. "If you didn't follow the line of the party, or you questioned it, you couldn't even ask. That is for me a very clear parallel to what is happening now in the reactions to the dubia – questions – of the Cardinals."

Another eye witness of Communism has also recently given us further proof that the current anti-family and gender ideology – which finds increasing acceptance in Vatican circles, to include the pope himself – has troubling similarities to historical Communism. Dr. Anca-Maria Cernea, a Catholic medical doctor and participant at the 2015 Synod of Bishops on the Family, recently gave an interview to Edward Pentin where she says the following (I shall also print here in italics some of Pentin's own specific questions put to Dr. Cernea):

Would you say your and others' experience of communism in Central and Eastern Europe has a lot to offer, in terms of tacking this crisis in the Church?

Yes, for us, also, it's easier, because we went through this for decades. … Now, we're in a better position to fight this aggression. We are better placed to fight, those of us interested in this. We are more familiar with real Marxism than our brothers and sisters in the West.

You see more clearly what's happening?

Yes, and there's no doubt that it is Marxism. In our country, when you visit some internet pages, if there's a new article about political correctness, you can see people commenting, and they're saying it [political correctness] is communism, and asking, "Don't you people realize it's communism?" It is communism, and the people who make such comments tend to have a very clear intuition. They are correct.

Dr. Cernea says that it is a form of cultural Marxism and of Gramscianism that stands behind the current crisis of the family. Now, with the more permissive laxity appearing in the Church's moral teaching on marriage and the family, it seems that this same ideology is also seeping into, and sometimes even flooding into, the Catholic Church. I remember conducting an interview with Bishop Athanasius Schneider during the 2015 Synod on the Family and asking him about the new language of "inclusion" and "diversity" that was then coming up and infiltrating into the debate. He answered, in general, and then specifically drew an important parallel to his upbringing under Communism:

This is again to use language without content to make and express an accumulation of letters with beautiful sound, but without sound substance. This is a perversion of language, in order to achieve an aim which is against the Word of God. And this is typical Gnosticism. […]

I grew up in Communism, I went five years to Communist schools, and I remember very well this seductive language, and quite completely; for, they used the same terms, concepts, but in a perverted manner, when they spoke of "peace." They said: "Oh we are promoting peace," but we knew that in that Communist time that they were not promoting peace by exporting weapons to Cuba, to Angola, and so on; and, so, this was "the peace." And this is cynical and is likewise perverting the true meaning of the words [such as mercy?].

For example, I remember as a child in the Communist school, that we had to learn a famous Communist song, quite famous at that time, and it goes like this: our country is a beautiful country with trees and forest, and I don't know another country where people can breathe so freely. Freely! I had to sing this song again and again. A country where you can breathe so freely – and, in actuality, it was a country filled with prisons and with concentration camps. It is very sad that now this innovative group of bishops in the Synod are using a perverted language to promote an anti-Christian agenda. [my emphasis]

It is worthwhile to present this extended quote because I believe that all of us Catholics should learn from the experience of those members of the Church who have had to live under some form of Communism and its "cultural hegemony" – and who might help us now to "come out from under the rubble," and "not to live the lie" (two expressions of the great Aleksandr Solzhenitsyn, who, like Dostoievsky, is much beloved by my own husband).

Another example of a prelate who grew up under Communism and who now has had the courage to stand up against the new stifling ideology in Rome is Cardinal Joachim Meisner. As we just reported, he wrote a most beautiful little text where he mentions his upbringing in Communist East Germany – where Catholics had to suffer variously and very much for their Faith – and where he even chooses to quote a prayer he often prayed as a young man. This prayer may now be of help to all of us, as well. It reads:

"Lord, let me stand

where the storms are blowing,

and do not spare me.

The child has to disappear,

and the man has to appear:

do not be afraid!"

May this prayer also inspire those prelates within the Catholic Church who are now holding back from their private and, if necessary, their own public fraternal correction of Pope Francis – those such as Cardinal Robert Sarah and Cardinal Gerhard Müller, both of whom are Prefects of Congregations under Francis. May they consider the extent to which their loyalty toward Francis should effectively stand above their prior loyalty toward Christ.

Cardinal Müller has now – in obedience to Pope Francis' order – explicitly declined to comment on the case of the Four Cardinals. However, his demurral to comment upon the dubia of the Four Cardinals can unfortunately now also be interpreted in such a way as to imply his adverse criticism of them. None other than the prominent German newspaper Die Zeit has even made such an inference. In a 8 December 2016 article for its sub-section Christ & Welt, the author Christine Rietz says the following with regard to the Four Cardinals' Letter:

For this open attack on Amoris Laetitia, they are now being sharply criticized by high-ranking curial cardinals and theologians. The Prefect of the Congregation for the Doctrine of the Faith, Cardinal Müller, already showed, for now, the instruments [for a possible intervention] and commented, correspondingly: well, we would intervene and "mediate" if we received the [pope's] marching order… If the Holy Office wants to "mediate" something, things become interesting.

That is to say, Cardinal Müller's own hesitancy to come to the rescue of the Four Cardinals might even be used as a further instrumentality against these very cardinals with whom he has worked so closely in the recent past, especially in order to defend the fuller Catholic teaching on marriage and the family! Do we now need also to receive from him a further "clarification"?

Cardinal Müller and other prelates who might likewise aim at remaining somewhat quiet in order to "survive" this pontificate would perhaps do well consider a recent article from John L. Allen. In this article, Allen presents well the method of Pope Francis: his ignoring those prelates in the Church who are opposing his reform and doing it by often bypassing them and by promoting other prelates to places that are above them in rank, importance, or at least to be more deferred to in practice.

Allen gives an Italian example of this method, with reference to the Italian Bishops' Conference which is currently run by Cardinal Angelo Bagnasco who is reputed to be considerably more conservative than Pope Francis. Allen – who is by no means himself a conservative Catholic journalist – describes the pope's dealing with this "personnel" problem, as follows:

One option for the pontiff would have been to remove Bagnasco and [to] name someone else as president of the conference. Instead, he's chosen to leave Bagnasco in the job, while putting his own man in the number two slot and making it so clear that Nunzio [Galantino] enjoys his favor that everyone understands he's the real papal point of reference in the Italian episcopacy. [emphasis added]

Is this not also what Pope Francis has effectively now done with Cardinal Gerhard Müller, leaving him in his office but putting above him as an effective doctrinal authority Cardinal Christoph Schönborn?

In light of the theme of this article – namely, that there is a growing similarity between the current crisis in Rome and the techniques used by Communist regimes and their Nomenklatura in Russia and its Satellites (but for the network of Gulags) – some of our current prelates might also well consider the history of the Communist takeover in Russia and elsewhere: how the Mencheviks softened up and further prepared things for the more coercive Bolsheviks. To give a small example, Dr. Cernea said in a very important May 2016 talk:

[In the face of the silence of many Catholic bishops with regard to Communism,] No wonder that Christian-Democrats not only failed to oppose communism in Latin America, they even became instruments of the communist take-over of their countries – Salvador Allende took power in Chile thanks to the support of Eduardo Frei. Rafael Caldera was Hugo Chávez's godfather, both in the literal and the political sense. [my emphasis]

In general, those well-meaning politicians (mostly social democrats and progressive socialists) in emerging Communist countries were then soon removed from their offices of power, in spite of their attempts to make accommodations with the new and more coercive system for the sake of "doing something good from within the system." These politicians might also not have been sufficiently aware of how their own collaboration – as "useful idiots" (Lenin) – was useful to the new regime from the beginning by giving enough cover and credibility to it so as not to awaken undue alarm and provocative suspicion too soon. The people had to be tranquilized.

Thus we may continue to pray for those who have not yet spoken up – or sufficiently woken up. May they all come out and help all of us to come out from under the asphyxiating rubble. Christ's truth, we trust, shall set us free! May also the Blessed Mother – who warned us nearly 100 years ago against the spreading of the "errors of Russia" – help us now to fight against these subtle (and sometimes blatant) errors back in Rome. Our Lady of Fatima, pray for us.

Editor's Comments: Matthew 16:18 "And I say to thee: That thou art Peter; and upon this rock I will build my church, and the gates of hell shall not prevail against it." Jesus said; "the gates of hell shall not prevail against 'IT'" (the Church) not 'HIM' (the Pope).
The Church survived the Imposter Pope Paul VI in the 1970's. http://www.tldm.org/News3/impostor.htm The Church survived erroneous popes in the past history of the Church and "IT" will survive them in the future.
"There will be an uncanonically elected pope who will cause a great schism, there will be diverse thoughts preached which will cause many, even those in the different orders to doubt, yea, even agree with those heretics which will cause my Order to divide, then will there be such universal dissensions and persecutions that if those days were not shortened even the elect would be lost." - St. Francis of Assisi (The Reign of Antichrist, Fr. R. Gerald Culleton)

EDITOR'S NOTTE: We welcome your comments at the end of this page. Email a link or print out a copy of this web page to your clergy, family, friends and relatives. Email this page to a friend./span>
I HAVE BEGGED
"In the past years of your earth's time, I have begged for the conversion of Russia. My words have been taken lightly then, as they are now by many. You must pray for the conversion of Russia, for she will send her errors throughout the world." - Our Lady, July 25, 1975
CURIA
"My children, what I have warned you of the past is developing fast in Rome. The agents of 666 now are in full control of the Curia. O My children, I beg you, as your Mother, to pray and pray for your Vicar. Do much penance and acts of atonement for your bishops. Many shepherds have fallen asleep. Satan has poisoned the minds of many. The doors of the Eternal City of Rome were opened and demons entered to wreak havoc in the House of My Son." - Our Lady, June 18, 1977
WAR AMONG YOUR CLERGY
"The Eternal City of Rome shall go through labor pains. The struggle shall lead to blood within the streets. There shall be a war among your clergy. It shall be bishop against bishop and cardinal against cardinal, for 666 has entered upon Rome. I repeat, My children: awaken from your slumber! 666, the forces and agents of satan, have entered upon Rome!" - Our Lady, July 24, 1976
We strongly encourage you to print and/or email copies of this web page to all the bishops and clergy. Also, email or mail a copy of this web page to the news media and as many other people as possible. Email a copy of this page to everyone you know.
We urgently need your prayers and financial support to be able to continue to create these web pages. Click here... Thank you in advance.
When you pray the Holy Rosary, you have Our Lady's hand in your hand. When you pray the Holy Rosary, you have the power of God in your hands. Start now! Let's All Pray the Rosary Together Around the World for God to Restrain the Hierarchy of the Catholic Church from Error... Click here...

The Virgin Mary's Bayside Prophecy Books are Now Available in E-book Version. Click Here Now!
Our Lady of the Roses Awesome Bayside Prophecies... http://www.tldm.org/Bayside/ These prophecies came from Jesus, Mary, and the saints to Veronica Lueken at Bayside, NY, from 1968 to 1995.
LIARS, MURDERERS, DECEIVERS
"O My children, how I wanted to caress you and tell you good news, for I am not the bearer of bad news always. I am your Mother and must tell you the truth. I repeat again. My child Veronica, you repeat now in your weakened state, again: the Pope, John Paul II, and all the bishops of the world must allot one day on which they will pray for the conversion of Russia. Not one day for the world, but one day for Russia; or else, I tell you now, Russia will go about and annihilate, destroy many countries. Nations shall disappear from the face of the earth in the twinkling of an eye. That is how desperate the situation is now throughout your world, My children.
"The word of Russia is not good, for what communism means is liars, and murderers, deceivers straight from the bowels of hell." - Our Lady, October 2, 1987

COSMETIC ACT TO DELUDE YOU
"I assure you, My children, there is no freedom in Russia. It is all a delusion.
"They seek the monies of the world from the nations of the world. And why do you not learn a lesson? It happened in the time of Lenin; it happened in the time of Stalin. And there you are all on the same road, ready to give billions of monies that should be given to those of your nation and the free nations of the world.
"Do not be deceived, My children, Russia is not free. It is a cosmetic act to delude you. Lenin and Stalin used the same tactics, My children. Why do you not learn from your errors?" - Our Lady, June 18, 1992

COMPLETE CAPITULATION
"We have asked you in the past and your present time to pray for the conversion of Russia. Too few have come forward to pray for this conversion; therefore, their errors now have been spread throughout your world.
"Your country, America the beautiful, is being prepared now for complete capitulation. Now you know, My children, and now you must act upon this knowledge, or you, too, will feel captivity and slavery and the closing of My houses throughout your country. You have blindly walked right into the trap of enslavement set upon you through devious infiltration of your government, your schools, and your medias of communication.
"Awaken now from your slumber and seek your return from your course of destruction by getting down upon your knees and praying in heartfelt, sincere prayer to the Eternal Father, to guide you back from your present road of destruction.
"Your countrymen have sought to silence the voice of My Mother throughout your world. You will not continue to silence the voice-boxes throughout the world, for you are sowing the seeds of your own destruction!" - Jesus, June 5, 1975

HIGHEST MITRES
"Do not be misled by the outer clothing of man, for there are many wolves in sheep's clothing, wearing the apparel of rank. Know that many have given themselves to satan.
"Pray, pray much for those who wear the highest mitres, for they, too, have set themselves onto the road to hell. Your prayers and your acts of sacrifice and those who hear My voice, pray much for the Red Hats that have gone onto the wide road." - Our Lady, October 2, 1974

HIGHEST PLACES OF THE CHURCH
"We ask that you pray much. Pray for those in the House of God who have lost their way. Many mitres are now going onto the road to perdition. Pray for them, for it is of great sorrow to Our hearts to see a man of God fall from his mission.
"Satan has entered into the highest places of the Church.
"Pray much. I have asked you in the past to help patch the cracks. The bark of Peter flounders.
"You will stand fast with Our Vicar. Do not allow your hearts, through your ears and human senses, to be misled. The enemies of God send out false interpretations." - Our Lady, April 13, 1974

CONTROL OF MANY MAJOR POSITIONS
"Control—you must know, my child, and tell the world that satan has control now of many major positions in the House of God, in the Eternal City of Rome. Traitors surround your Vicar. His sufferings are great.
"Already they have chosen his successor. But pray, my children, pray much that he does not be removed, for woe to the world! The crucifixion of the Mystical Body of Christ! Woe to mankind!"
Veronica - Now Michael is stepping back, and he's now pointing with his spear. He has a spear in his right hand. He's pointing with his spear now, and he's pointing to a cardinal. And he's now writing above his head: "W".
Now he's going over—I should be able to see him; he's standing right in front of him, and he's pointing to the next cardinal, and he's writing above his head: "A".
And he's then going to the next one—he's sitting way over at the end, though, and he's writing above his head: "S".
Now he's coming forward, and he's pointing his spear with disdain at a "V", a big "V". A big "V" now is appearing on the head of, I guess he's a bishop, or archbishop. He's wearing the same kind of a, like a . . . a . . . he's got a biretta-like, one of those little round hats. It's sort of a purplish color. And now above his head is written the letter "V".
Now Michael is bending forward.
St. Michael - "They are the initials, my child. You will pray for them, and ask many of earth's children to pray that they come out of the darkness. Their souls wallow in sin. They are blinded, and they are misleading those under their rule.
"V. does much damage to the Holy Father [Pope Paul VI] by changing his correspondence. V. rewrites his letters. V. censors his mail. He did not, my child, receive the medals you sent to him. He did not receive your correspondence, my child. The Holy Father shall receive his knowledge from Mary, the Queen of Heaven and his Mother." - St. Michael, August 21, 1974

"SET TO RIGHTS THE DAMAGE"
"I, Michael, guardian of the House of God, give fair warning to all cardinals and bishops in all houses upon earth, churches, that you must set to rights the damage that you have created, the damage that has destroyed many souls.
"It will be a command of the Father from Heaven that all in authority defrock and excommunicate those under their rule who seek to destroy the Faith as given by the Father from Heaven.
"Speak, my child; speak now as I have directed you. There is a major law in the Faith of Jesus Christ that none shall enter into secret societies of the Masons. The sons of satan are rulers, known by the name of Freemasons. All who join this heinous..."
Veronica - Oh! Oh, my goodness! Oh!
St. Michael - "All who join this secret society will immediately be condemned to the abyss forever.
"Those in rule will excommunicate and defrock all who enter and make pact with the separated brethren and who will compromise the Faith with the separated brethren." - St. Michael, August 21, 1974

PLAN OF LUCIFER
"You will stand behind your Vicar. The agents of hell surround him. They will not remove him from the Seat of Peter. A greater punishment falls upon man should he be removed from the Seat of Peter! It is the plan of Lucifer to sit his agent upon the Seat. I have warned you many times that your ways have led you into great destruction.
"The hand of God will fall heavy upon your world. For a man to let himself fall into perdition in his lay life . . . but when this perdition has entered into the House of God, it calls for a speedy and fast destruction! For all that is rotten will fall. Weak vines will break, boughs will be bent, but the cross of the living God shall not be bent by the will of man and to satisfy the desires of a corrupt generation! No-o-o! For woe to those who promote evil in the House of God! They will be held accountable in full measure for the fall of the souls entrusted to their care." - Our Lady, May 30, 1973

ANTIPOPE OF HISTORY
"My children, in the past My Church, My people have gone through crucibles of suffering, but I say unto you: My House, My Church upon earth is passing through a trial far greater than any in past history. Lucifer and his agents now are working with diligence and are most successful at this moment in their striving to topple the Seat of Peter and to place in Rome a pope that is the antipope of history." - Jesus, June 18, 1978

SATAN'S AGENT
"The Holy Father will soon undergo a great trial. You will all gather round him and support him on his cross. You will not set up the machinery for the entrance of satan's agent onto the Seat of Peter, for when you do you have reached the beginning of the end!" - St. Peter, August 5, 1972

TRAVELING ROAD OF FALLEN ANGELS
"To all of Our bishops and cardinals: awaken from your sleep! This warning is given so that you will have time to make amends. You are burrowing like rats into the foundation of My House! In your quest to improve, you are destroying My House! In your arrogance, you are traveling the road of the fallen angels! Modernization—you shall not change to please human nature! You will bring man to his God through discipline. The rules have been given to you, set down very clearly in the Book of life, the Bible. You will not change the words to suit your fallen nature! My word to you is this: Return My House to the rule! A House in darkness will shut its doors. The filth must be cleansed!" - Jesus, December 6, 1974

USING RANK TO DESTROY SOULS
"Those who have the highest rank in My Son's House, in the houses throughout your world, are using their rank to destroy many souls. Pray, pray much for them, for they, too, shall burn in the fires of hell." - Our Lady, August 14, 1974

MAN OF DARK SECRETS
"I see that the high priests of the House of God have become soft in their ways. They cater to their bodies and do not wish to sacrifice and make penance. There will be no easy road to the Kingdom. They will get down on their knees, and they will starve their worldly bodies until they rid themselves of the demons within them.
"Unless you listen now to my words of caution, you will fall into the trap that is being set for you. The enemy is within the House of God. He will seek to remove your Vicar from among you, and when he does he will place a man of dark secrets upon the Seat of Peter!" - St. Thomas Aquinas, August 21, 1972

CARDINAL AGAINST CARDINAL
"When I am returned to remain guard at the tabernacles, and my name is returned, you will find the people flocking back into the houses of their God. Instead, now I have been locked out and satan has been invited in. His agents fill the seats of the houses of God. The battle will rage with great ferocity in the House of God—bishop against bishop, cardinal against cardinal, until the score has been settled in favor of the Eternal Father, your Creator." - St. Michael, August 21, 1974
Directives from Heaven... http://www.tldm.org/directives/directives.htm
D10 - Consecrate Russia PDF
D36 - Bishops (Part 1) PDF
D37 - Bishops (Part 2) PDF
D122 - Antichrist PDF
D129 - Third Secret, Part 1 - 666 in Rome PDF
D130 - Third Secret, Part 2 - Satan entered the Church in 1972 PDF
D131 - Third Secret, Part 3 - Satan in highest realms of the hierarchy PDF
D132 - Third Secret, Part 4 - Bishop against bishop, cardinal against cardinal PDF
D133 - The Apocalypse / Revelations PDF
D155 - Antipope of History PDF
D186 - Excommunication PDF
D188 - Wrath of God PDF
D190 - Cardinals, Part 1 PDF
D191 - Cardinals, Part 2 PDF
D192 - Cardinals, Part 3 PDF
D283 - The Deceit of Russia PDF
D300 - Satan's War Against the Papacy, Part 1 PDF
D301 - Satan's war against the Papacy, Part 2 PDF
EDITOR'S COMMENT: Evil is accelerating and the Anti-Christ forces are gaining power in the world. When the persecution starts, all Christian web sites on the internet will be forced to close. Be sure to have in your possession all the following items: the Bayside Prophecy books, Bayside Medals, Douay-Rheims Bibles, the Protection Packets, Candles, Sacramentals, and Religious Books. Purchase these items now while they are still available! You will urgently need them in the days ahead. Also, you can print out all PDF files for the Directives from Heaven and all of the Bayside Prophecies. Copy Our Lady's messages and the Directives from Heaven now while they are still available! Pray to the Holy Spirit for wisdom and guidance on how to prepare now and for the days ahead when the Antichrist is revealed. Viva Cristo Rey!
Articles...
Bishop Athanasius Schneider: Synod Interim Report 'Clearly a Prefabricated Text' Representing a 'Radical Neo-Pagan Ideology'...
http://www.tldm.org/News25/Bishop-Athanasius-Schneider-Synod-Interim-Report-Clearly-A-Prefabricated-Text-Representing-A-Radical-Neo-Pagan-Ideology.htm

Archbishop Burke preaches tough Communion rule: Turn away abortion-rights backers under pain of mortal sin
http://www.tldm.org/News11/ArchbishopBurkeToughCommunionRule.htm

Archbishop Burke: Bishops must discipline pro-abortion Catholic politicians
http://www.tldm.org/News11/ArchbishopBurkeDisciplineProAbortCatholicPoliticians.htm

Pope Benedict supports excommunication for pro-abortion politicians: "Incompatible with receiving Communion"
http://www.tldm.org/News10/PopeExcommunicateDenyCommunionToProAbortCatholicPoliticians.htm

Pope Benedict XVI says that refusing Holy Communion to pro-abortion politicians is a "doctrine of the Church"
http://www.tldm.org/News7/Ratzinger3.htm

Honduran Cardinal: "A politician who publicly supports abortion, he excommunicates himself"
http://www.tldm.org/News10/HonduranCardinalCommunionMustBeDenied.htm

Pope Benedict warns pro-abortion politicians against receiving Communion unworthily
http://www.tldm.org/News10/PopeUnworthyCommunion.htm

Catholics must be free of grave sin to receive Holy Communion
http://www.tldm.org/News6/ReceptionofCommunion.htm

Archbishop Burke: more profoundly sorrowful would be a bishop who failed "to safeguard the worthy reception of Communion"
http://www.tldm.org/news6/Burke2.htm

Sacrilegious Communion and the U.S. bishops
http://www.tldm.org/News6/sacrilege.htm

Austrian Bishop Lugner says mall owner excommunicated for providing space for abortion clinic
http://www.tldm.org/News10/AbortionBishop%20Lugner.htm

Bishop Henry says he would refuse Prime Minister Holy Communion, would consider excommunication
http://www.tldm.org/News7/AbortionBishopHenry.htm
Links...
Bishops and bald eagles, Judie Brown, March 2, 2007
http://www.renewamerica.us/columns/brown/070302

Cardinal Ratzinger said, "The minister of Holy Communion must refuse to distribute it." He did not say 'could,' or 'may,' but that he "must," Barbara Kralis, July 6, 2004
http://www.renewamerica.us/columns/kralis/040706

Prohibition is worthless without enforcement, Barbara Kralis, June 24, 2004
http://www.renewamerica.us/columns/kralis/040624

Is not murder just as evil as lust in the eyes of God? Barbara Kralis, June 8, 2004
http://www.renewamerica.us/columns/kralis/040607

Ten questions regarding the denial of the Eucharist, Barbara Kralis, May 24, 2004
http://www.renewamerica.us/columns/kralis/040524
There are 4 Things You Must Have to Survive the End Times:
1.) The Douay-Rheims Holy Bible...
"I ask that all who hear My voice will take their Bibles, and if they do not have one, search, but find the right Bible, those printed not after 1965, My children." - Jesus, October 5, 1985
"You must all obtain a copy of the Book of life and love, the Bible. Do not accept the new mods. Try to find in your bookstores the old Bibles, My children, for many are being changed to suit the carnal nature of man. I repeat, sin has become a way of life." - Our Lady, October 6, 1992
"I must ask you all to read but a few short chapters a day now, the Book of life and love, your Bible. Knowledge must be gained for all the disciples of My Son, for you will be attacked by scientific minds. But do not be concerned what you will say to them when accosted, for the words will be given to you by the Spirit." - Our Lady, April 10, 1976
The Douay-Rheims Bible was published in 1899. It is the official Bible of the Roman Catholic Church. Almost all other Bibles have been rewritten by Satan. See: http://www.tldm.org/directives/d33.htm , http://www.tldm.org/directives/d415.htm and http://www.tldm.org/directives/d182.htm If you don't have a Douay-Rheims Bible order it now! (Order Form) Yours and your loved ones salvation could depend on it.
Read the Bible cover to cover. If you read 4 chapters a day, you will complete the whole Bible in 334 days. I have read the Bible 2 times and working on the third time. A 75 year old Baptism gentleman told me that he and his wife have read the Bible nine times. Wow!
2.) The Complete Virgin Mary's Bayside Prophesies in 6 Paperback Books...
The Virgin Mary brings directions from God, the Father in Heaven on how to survive the end times. God, the Father, through the Virgin Mary, tells what is coming, how to prepare for it, how to survive it, and how to even stop it. These six volumes along with the Bible are most important to save yourself and your loved ones. Order it now. Tomorrow may be to late. These 6 pocket size paperback books costs $33.00. (Order Form)
3.) Heaven's Home Protection Packet...
Heaven's Home Protection Packet...
Our Lord stated we must have crucifixes upon the outside of all of our outside doors. In the "Heaven's Home Protection Packet" there are instructions, four crucifixes, a tube of special cement for wooden or metal crucifixes. Wooden crucifixes adhere better to the doors when the aluminum strap is removed from the back. Put a light coat of cement on the back of the crucifix and then press it to the outside of the door. If you have any problems, you can call us at 616-698-6448 for assistance. This Heaven's Home Protection Packet is available for a donation of $10.00 plus $4.00 shipping and handling. Send $14.00 to TLD Ministries, P.O. Box 40, Lowell, MI 49331. Item # P15 (Order Form)

Crucifix on front and back door... The only real protection against terrorists...
Jesus - "Pray and wear your sacramentals. And, also, My children, I ask you again to place a crucifix upon your door. Both front and back doors must have a crucifix. I say this to you because there will be carnage within your areas, and this will pass you by if you keep your crucifix upon your doors." (6-30-84) (Testimonies of lives and homes saved by the crucifixes.) http://www.tldm.org/news/crucifix.htm (Order Form)
4.) Heaven's Personal Protection Packet...
Heaven's Personal Protection Packet . . .
Our Lady tells us to be protected from all evil, we must wear the following sacramentals around our necks: a Rosary, a crucifix, the St. Benedict medal, Our Lady of the Roses medal, the Miraculous Medal, and the scapular. We have all of these sacramentals in a packet we call "Heaven's Personal Protection Packet." This packet is available for a donation of $7.00 plus $3.00 shipping and handling. Send $10.00 to TLD Ministries, P.O. Box 40, Lowell, MI 49331. Item # P5 (Order Form)

Our Lady of the Roses, Mary Help of Mothers promises to help protect our children. On September 13, 1977, She said, "He has an army of ogres wandering now throughout your country and all of the countries of the world. They are in possession of great power; so wear your sacramentals, and protect your children and your households. Learn the use every day of holy water throughout your household. Insist even with obstructions, insist that your children always wear a sacramental. One day they will understand that they will repel the demons."
On February 1, 1974, Our Lady said, "My children, know the value of these sacramentals. Guard your children well. You must awaken to the knowledge that you will not be protected without the sacramentals. Guard your children's souls. They must be surrounded with an aura of purity. Remove them if necessary from the sources of contamination, be it your schools or even false pastors."
This Heaven's Personal Protection Packet is available for a donation of $7.00 plus $3.00 shipping and handling. Send $10.00 to TLD Ministries, P.O. Box 40, Lowell, MI 49331. You may use your MasterCard, VISA, or American Express and call 1-616-698-6448. Item # P5 (Order Form)
Incredible Bayside Prophecies on the United States and Canada book . . .
We have researched the Bayside Prophecies on the United States and Canada and put these outstanding prophecies in a 360 page pocket size paperback book. Veronica said it was very good. It tells what is going to happen here and how to prepare for it. Every North American must read this book! Item #B2 Cost $5.00 (Order Form)
Your names have been written in Heaven… "It is not by accident that you are called by My Mother, for your names have been written in Heaven.... But with this great grace you have great responsibility to send this Message from Heaven throughout the world, for if you are able to recover just one more for Heaven, an additional star shall be placed in your crown." - Jesus, August 5, 1975
A great obligation to go forward... "It is not by accident that you are called by My Mother, for it is by merit and the prayers that have risen to Heaven for your salvation. For those who have received the grace to hear the Message from Heaven, you have a great obligation to go forward and bring this Message to your brothers and sisters. Do not expect a rest upon your earth, for you will have eternal rest very soon." - Jesus, June 12, 1976
The sin of omission... "The sin of omission shall condemn many to hell, be they layman or Hierarchy. I repeat: not the sin of commission, but the sin of omission will commit many to hell." Our Lady of the Roses, October 6, 1980
My gift to help spread Our Lady of the Roses' messages to the world.

We encourage everyone to print or email copies of this web page to all the Bishops and all the clergy. Also, email or send this web page to the news media and as many people as possible.
| Home - Latest News | Introduction | Bayside Prophecies | Directives from Heaven | Order Form | Miracles & Cures | Veronica Lueken | Miraculous Photos | Bible | Radio Program |
The electronic form of this document is copyrighted.
Quotations are permissible as long as this web site is acknowledged with a hyperlink to: http://www.tldm.org
Copyright © These Last Days Ministries, Inc. 1996 - 2016 All rights reserved.
P.O. Box 40 616-698-6448
Lowell, MI 49331-0040
Revised: December 20, 2016