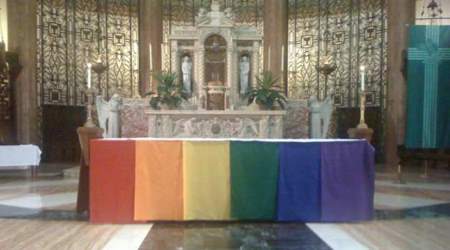 These Last Days News - February 27, 2016
Catholic Parishes Across the US are Openly Celebrate Homosexuality and the Bishops are Silent...
FRUITS HAVE BEEN ROTTEN
"I give, as your God, a warning to all bishops and cardinals to stop! Hasten to review the past. The fruits have been rotten, and I am about to shake you from the vine! Do not starve My sheep! There are many sheep to gather. The pastures are rich but the sheep grow thin. They are starving for the spirit of light." - Jesus, September 7, 1978
"I will not stand for My priests who condone homosexuality and allow it in My priesthood! I will not stand for My priests who allow the murder of the unborn with their permissiveness! I will not stand by and allow My priesthood to be destroyed!"
"My child, I did not mean to affrighten you. I was giving vent to the hurt of My Heart. But I wish to bring across to mankind that I, too, can no longer allow these--the carnalities, the abominations that men are committing upon earth to continue. My hand is coming down and it will strike!" - Jesus, June 18, 1982
TURN BACK
"This evil has penetrated far into the very heart of My House. You must now turn back and restore My House. I, your God, give you this command for the salvation of your own soul." - Jesus, August 21, 1976
LiveSiteNews.com reported on January 17, 2017:
By Matthew Cullinan Hoffman

As controversy continues to rage over Pope Francis' doctrines on communion for the divorced and remarried, an even more controversial practice proliferating in the shadows for decades is becoming increasingly open and explicit: same-sex couples exerting their influence in Catholic parishes throughout the United States and Canada.

At a rapidly growing number of proudly "gay-friendly" parishes, same-sex couples who flout the Church's teaching on the immorality of homosexual acts are exercising leadership roles and receiving Communion with encouragement from their pastors.

The phenomenon can be found in dioceses led by bishops with reputations as orthodox "conservatives" as well as notoriously liberal ones. However, a common thread seems to run through all of them: the persistent unwillingness of the diocesan authority to enter into conflict with a powerful and aggressive homosexual movement.

Since the 1970s when certain American and Canadian parishes became known as "gay-friendly," and wayward clergy and laity began "non-judgmental" homosexual outreach ministries such as "New Ways" and "Dignity USA," the number of parishes that tolerate or accept homosexual behavior has ballooned to include parishes in most of the dioceses of the United States.

Although New Ways Ministries has been repeatedly condemned by the Catholic hierarchy, it currently lists about 240 parishes in 165 cities and towns that conform to its "gay-friendly" standards. Nine archdioceses and dioceses have four or more such parishes listed by New Ways, such as Chicago (11), Los Angeles (10), New York (6), Tucson (5), Brooklyn (5), Portland, Oregon (5), San Francisco (4), Philadelphia (4), and Baltimore (4).

These parishes often maintain "LGBT outreach" programs that affirm the homosexuality of members and even encourage homosexuals to be "proud" of their sexual activity. They publicly celebrate anniversaries of the unions of same-sex partners, listing them in parish bulletins. They place active homosexuals in positions of parish leadership. They participate in homosexual pride parades in which same-sex acts are condoned and even engaged in, and celebrate Masses commemorating the parades and other events of importance to the "gay" subculture.

What appears to be absent in such parishes is any mention of the Catholic Church's doctrine regarding the natural purpose of human sexuality and the intrinsic evil of homosexual acts.

According to Catholic teaching, the sexual act exists to reinforce the unity of a man and a woman united in marriage and to produce offspring. The Catechism of the Catholic Church unequivocally condemns homosexual sodomy as "acts of grave depravity" and "intrinsically disordered."

In "gay-friendly" parishes, however, the Church's concept of marriage, family, and sexuality is openly treated differently. Instead of guiding those with "same-sex attraction" to a life of celibacy and addressing psychological problems, homosexuals are told that their impulses stem from their very nature, that they were created by God as homosexuals and that the "gay" ethos is part of their identity.

Although complaints have been made to diocesan authorities for decades regarding these parishes, the Catholic hierarchy rarely acts to correct them. In fact, some have actively encouraged the "gay" activity. Even bishops with a reputation for faithful adherence to Catholic doctrine have made only timid attempts to rein them in, and rarely act decisively to end abuses. The result is an atmosphere of impunity in which pastors and parishioners are growing increasingly bold in their public declarations in favor of the homosexual lifestyle.

At San Francisco's Most Holy Redeemer parish, which is situated in the predominantly homosexual Castro district, the gay subculture has received open support since the 1970s by pastors and parishioners. Under the guidance of "gay friendly" leadership, the parish openly subverts Catholic teaching on human sexuality, participating in parades that celebrate the homosexual lifestyle, commemorating anniversaries of same-sex unions, and maintaining a library of books defending and celebrating same-sex sodomy.

In the Archdiocese of Los Angeles, where New Ways lists no less than 10 "gay-friendly" parishes, a homosexual couple was recently permitted to bring up the gifts during the offertory rite of a nationally-televised Mass presided over by Archbishop José Gomez. The event was the culmination of years of cooperation in the homosexual subculture on the part of the archdiocese, including active participation in "gay pride" events by its "Catholic Ministry with Gay and Lesbian Persons."

In Baltimore, St. Matthew Parish hosts the LGBT Educating & Affirming Diversity (LEAD) program, which has produced a series of promotional videos openly accepting and even celebrating homosexual behavior. In another part of town, the Jesuit parish of St. Ignatius holds homosexual "pride prayer services" to commemorate "gay pride" festivities.

Joseph Sciambra, who participated in the "gay" subculture in his youth as a porn actor and later abandoned the lifestyle after returning to the Catholic faith, has been working for years to bring about a reform of such parishes and programs, and to alert the public about the harm being done to Catholics who suffer from "same-sex attraction." However, the bishops and diocesan administrations consistently ignore him and others who complain.

"For the most part, my attempts at instigating a dialogue or discourse with certain bishops in terms of sharing my experiences about gay-affirmative parishes and ministries has failed," Sciambra told LifeSiteNews. "In some cases, it has taken years to elicit a single response. Then they have recommended patience."

Patience, however, is difficult for Sciambra, who watched dozens of friends die as a result of their homosexual lifestyle.

"As someone who lost friends to AIDS, partially because they were willfully deceived by priests who recommended that they remain in the 'gay' lifestyle, watching as these parishes and ministries continue to confuse and mislead others, sometimes for over 30 years, it's difficult to remain patiently silent," Sciambra told LifeSiteNews. "I tend to look at it this way: When a doctor is treating someone suffering from a leg infected by gangrene, does the doctor advise patience, or does he act swiftly and decisively in order to save the person? Because time is of the essence."

Sciambra himself sought help from the "gay friendly" Most Holy Redeemer parish in San Francisco but found that instead of discouraging him from his self-destructive behavior, they encouraged him to embrace his "gay" identity.

"One day, after partaking in an especially gruesome sex act, I felt an inexplicable need to 'confess' it. A priest at Most Holy Redeemer told me to settle down with one person. But he assured me that I was in the right place (the Castro) – because, after all, I was born gay."

Sciambra says he "felt curiously cheated" by the encounter and didn't return to the confessional for years. The result was that he became hardened in his embrace of homosexuality and continued down his self-destructive path.

"What I think I subconsciously wanted to hear from the priest was that my life I had gone out of control, that I wasn't 'gay,' and that I wasn't where I needed to be. Although, inside, I was fighting against homosexuality, against my 'gay' identity, this incident locked those things into place. Because, now, I felt like I had nowhere else to go. This was my lot in life, and, like the priest advised me, I better make the best of it."

When he was in danger of dying as a result of his behavior, Sciambra says he went to a second priest – and was given similar advice.

"Later, after I stayed in the homosexual lifestyle, and almost died, another priest inexplicably told me much the same thing. At that point, I wised up very quickly and became extremely discriminating about to whom I sought out for Confession."

In Sciambra's experience, such parishes absolutely refuse any association with Courage and other Catholic ministries that encourage those afflicted with "same-sex attraction" to remain chaste and celibate. "Any suggestion about establishing a Courage chapter at these parishes has been met with immediate indignation. The very concept itself is viewed as an impossibility," he told LifeSiteNews.

However, such parishes supply an endless lineup of speakers who subtly or not-so-subtly promote the gay agenda. "At these talks, it's often easy to become convinced that the Church is wrong, that I was created by God as a 'gay' person, and that soon the teachings on homosexuality will all change. This is a clear deception." Among these speakers are "priests who are themselves confused and conflicted about their own sexuality, or are trying to settle their differences with the Church by fomenting dissention on the parish level."

Members of the parish are therefore further ensconced in their misconception of their own true identities as men and women, as well as the authentic doctrines of the Catholic Church on human sexuality. "As a result, 'gay' men and women, including those who may have been open to at least considering another way of viewing themselves and their sexuality, are confirmed in the homosexual orientation," Sciambra says. Instead of offering a choice, by presenting the Truth, these gay-affirmative parishes and ministries pander to the fears and insecurities of the "gay" community."

"They have encouraged a false hope. They are neither loving nor merciful; for true love and mercy cannot exist without the Truth," Sciambra says.

EDITOR'S NOTE: We welcome your comments at the end of this page. Email a link or print out a copy of this web page to your clergy, family, friends and relatives. Email this page to a friend.
CURIA
"My children, what I have warned you of the past is developing fast in Rome. The agents of 666 now are in full control of the Curia. O My children, I beg you, as your Mother, to pray and pray for your Vicar. Do much penance and acts of atonement for your bishops. Many shepherds have fallen asleep. Satan has poisoned the minds of many. The doors of the Eternal City of Rome were opened and demons entered to wreak havoc in the House of My Son." - Our Lady, June 18, 1977
"Are you so blind that you do not recognize the acceleration of sin among you? Murders abound, thievery, all manner of carnage, destruction of young souls, abortion, homosexuality, condemned from the beginning of time by the Eternal Father. Yet sin has become a way of life. Sin is condoned now, even unto the highest judge of your land and your lands throughout the world. As you have sown so shall you reap. Sin is death, not only of the spirit, but of the body. Wars are a punishment for man's sin, his greed, his avarice." - Our Lady of the Roses, August 14, 1981
We urgently need your prayers and financial support to be able to continue to create these web pages. Click here... Thank you in advance.
We strongly encourage you to print and/or email copies of this web page to all the bishops and clergy. Also, email or mail a copy of this web page to the news media and as many other people as possible. Email a copy of this page to everyone you know.

When you pray the Holy Rosary, you have Our Lady's hand in your hand. When you pray the Holy Rosary, you have the power of God in your hands. Start now! Let's All Pray the Rosary Together Around the World for the Return of Catholic Traditions or the Wrath of God will be upon us... Click here...
Our Lady of the Roses Awesome Bayside Prophecies... http://www.tldm.org/Bayside/
These prophecies came from Jesus, Mary, and the saints to Veronica Lueken at Bayside, NY, from 1968 to 1995:
DISMAY AND SADNESS

"My children, I am certain that you all are familiar with the corruption and the evil that has entered upon your government and all of the governments throughout your world. I have watched with dismay and sadness of heart as your governments gather together in a united nation. I feel that they have surrendered themselves now to the enemies of your God, for the major powers are gaining forces, forces of evil to destroy their fellow men."
- Jesus, March 18, 1977
CLERGY FALLING INTO THE PLAN
"The Faith is being attacked in My House upon earth, My Church, and many of My clergy are falling into the plan with the octopus, the great world powers that seek to gather all nations into a rule of a one-world government and a one-world religion based on humanism and modernism." - Jesus, July 25, 1978
SATAN DELUDES THEM
"Know that when they have given over My Church to the world, and as satan deludes them to unite all into a one-world religion and a one-world government, you are enslaved and it is the end!" - Jesus, April 2, 1977
INTERNATIONAL CONSPIRACY
"The octopus of evil, the international conspiracy of evil, has at its head a Grand Master. I cannot at this time, My children, reveal in entirety the order of succession of those who seek to enslave your world." - Our Lady of the Roses, May 26, 1976
GIANT POLITICAL MACHINE
"Your country and many countries throughout your world have already fallen. They have now been entered upon by the giant political machine that seeks to enslave the world--the octopus of evil. For the love of money, prestige, and power, many shall sell their souls to get to the head. O My children, when My Son returns, will He find even a small flicker of faith left in your hearts?" - Our Lady of the Roses, May 29, 1976
HIGHEST MITRES
"Do not be misled by the outer clothing of man, for there are many wolves in sheep's clothing, wearing the apparel of rank. Know that many have given themselves to satan.
"Pray, pray much for those who wear the highest mitres, for they, too, have set themselves onto the road to hell. Your prayers and your acts of sacrifice and those who hear My voice, pray much for the Red Hats that have gone onto the wide road." - Our Lady, October 2, 1974
HIGHEST PLACES OF THE CHURCH
"We ask that you pray much. Pray for those in the House of God who have lost their way. Many mitres are now going onto the road to perdition. Pray for them, for it is of great sorrow to Our hearts to see a man of God fall from his mission.
"Satan has entered into the highest places of the Church.
"Pray much. I have asked you in the past to help patch the cracks. The bark of Peter flounders.
"You will stand fast with Our Vicar. Do not allow your hearts, through your ears and human senses, to be misled. The enemies of God send out false interpretations." - Our Lady, April 13, 1974
CONTROL OF MANY MAJOR POSITIONS
"Control—you must know, my child, and tell the world that satan has control now of many major positions in the House of God, in the Eternal City of Rome. Traitors surround your Vicar. His sufferings are great.
"Already they have chosen his successor. But pray, my children, pray much that he does not be removed, for woe to the world! The crucifixion of the Mystical Body of Christ! Woe to mankind!"
Veronica - Now Michael is stepping back, and he's now pointing with his spear. He has a spear in his right hand. He's pointing with his spear now, and he's pointing to a cardinal. And he's now writing above his head: "W".
Now he's going over—I should be able to see him; he's standing right in front of him, and he's pointing to the next cardinal, and he's writing above his head: "A".
And he's then going to the next one—he's sitting way over at the end, though, and he's writing above his head: "S".
Now he's coming forward, and he's pointing his spear with disdain at a "V", a big "V". A big "V" now is appearing on the head of, I guess he's a bishop, or archbishop. He's wearing the same kind of a, like a . . . a . . . he's got a biretta-like, one of those little round hats. It's sort of a purplish color. And now above his head is written the letter "V".
Now Michael is bending forward.
St. Michael - "They are the initials, my child. You will pray for them, and ask many of earth's children to pray that they come out of the darkness. Their souls wallow in sin. They are blinded, and they are misleading those under their rule.
"V. does much damage to the Holy Father [Pope Paul VI] by changing his correspondence. V. rewrites his letters. V. censors his mail. He did not, my child, receive the medals you sent to him. He did not receive your correspondence, my child. The Holy Father shall receive his knowledge from Mary, the Queen of Heaven and his Mother." - St. Michael, August 21, 1974
SIN IS INSANITY
"I have told you, counseled you in the past, that sin is insanity. Your world and its people are involved--they walk as on a treadmill, seeking power and money and material goods and pleasure. And they go round and about, never stopping as the world plunges faster to the abyss." – Our Lady of the Roses, August 4, 1979
PASTORS HELD RESPONSIBLE
"We hold the pastors of My Son's House, We hold them as being responsible for the fall of the children. Be ye warned now, My children, that woe to the man who has this responsibility upon his conscience and his soul. Scandals have been brought into the lives of your children. Perversion, homosexuality, immorality, perverted sex, My children-where shall you stop but at the abyss!" Our Lady of the Roses, December 7, 1977
AN ABOMINATION
"Man shall not condone evil or rationalize sin. Homosexuality is an abomination in the eyes of God and man! The Creator condemns those who do not repent of this sin." Our Lady of the Roses, August 5, 1977
SODOM: "WE DESTROYED IT"
"And the great issue now of homosexuality in your country, that shall be on the balance that Michael holds. Unless this balance is evened by removing this evil from your country and bringing in just laws to prevent the spread of homosexuality, you cannot be saved; your country cannot be saved. Because I repeat again, as I have repeated in the past: When a country has given itself over to immorality and all pleasures of the flesh, and abominations of the flesh, then that country will fall! If you do not believe Me, My children, I say: You will read your history books, and you will find out that there was a Sodom and Gomorrah. And what did We do to that abominable city, Sodom? We destroyed it! And what did We do to Gomorrah? We destroyed it! And We destroyed all who did not follow the plan for their redemption." Jesus, November 1, 1985
SIN: FORERUNNER OF WAR
"For sin is always a forerunner for war, My children: murders, persecutions, robberies, all manners of sins of the flesh, homosexuality, lesbianism, perversion, sodomy. Sodom and Gomorrah fell for less sins than you have committed now upon your earth. Noah took to the ark and the world was in a better state spiritually than your world now; for you have accepted a sophisticated manner of sin, based on man's reasoning and not God's truth." Our Lady of the Roses, October 2, 1979
ANY COUNTRY
"Any country that allows homosexuals to roam and to seduce the young shall be destroyed." Our Lady of the Roses, June 30, 1984
YOU WILL STOP EXPERIMENTING
"My child and My children, I come once more with an urgent and pleading message to the hierarchy in the Church, My Church upon earth. I want you to know now that We look upon you and find many that do not fall into grace. They are falling out of grace and misleading many of Our sheep.
"Therefore, I warn you now as your God: You will stop your intricacies within My Church. You will stop experimenting. I gave you the rules to follow many years ago, two thousand years approximately. And why now, two thousand years later, do you deem it necessary to change My Church upon earth? I, your God, say to you, you will be judged accordingly. You will return My Church to its former glory, and in that manner you will have more vocations and more entering the seminaries, and not fleeing from them as they hear the heresies and all other innovations that are going on within My Church. This is My last and final word to My clergy: Change now or suffer a just punishment and banishment." - Jesus, June 18, 1986
SACREDNESS
"The sacredness of marriage and the married life of man and woman must not be destroyed by debased sensuality. It is a private consummation between man and woman and the family. It is not an object of derisive laughter and scornful jokes, My children.
"Your actions are observed by the Eternal Father Who looks into your heart. Pure thoughts, pure mind, pure spirit--what goes into the heart will come out." - Our Lady of the Roses, August 21, 1975
FAMILY
"Pray constantly your Rosary, your beads of prayer to Heaven. Remain unified in your family lives. The institution of your country--the great foundation is based on family life. Destroy the family and you destroy your country." - Our Lady of the Roses, June 18, 1980
DISINTEGRATION
"My children, if you could only recover the peace and quiet of spirit that was once much evident in your homes and now has been replaced by all manner of creations of Satan, creations that distract the minds of the innocent....
"The parents of many have fallen into the error of feeding the body and starving the young souls. These souls, in the eyes of the Eternal Father, are young flowers that must be nourished with pure waters of truth, purpose, dedication to the road--place them on the road that will lead to the eternal Kingdom of God your Father in Heaven." - Our Lady of the Roses, July 24, 1976
DO HONOR
"Families, bring honor to your homes. Fathers, be a father; discipline your children. Mothers, do not discard your role as the mother. Why have you sought to stand side by side with your husband without being subservient to him? You have lost your honor. The example you give to your children can lead them nowhere but into the darkness. A strong tree will bear good fruit. A tree that is fed with impure waters will not grow to maturity, but will die and wither on the vine." - St. Joseph, March 18, 1974
ARTIFICIAL MEANS
"Man shall not seek to create life by artificial means, for you destroy the very nature of your humanity. And you shall receive for such actions a just punishment, in chastisement from the Eternal Father." - Our Lady of the Roses, October 6, 1979
PRAYER
"We are quite pleased with the words the Spirit sent unto man that the family that prays together will stay together, My child. No truer a message was ever coined. The family that prays together will stay together." - Our Lady of the Roses, June 18, 1974
Directives from Heaven... http://www.tldm.org/directives/directives.htm
D1 - The Holy Sacrifice of the Mass PDF
D36 - Bishops (Part 1) PDF
D37 - Bishops (Part 2) PDF
D132 - Third Secret, Part 4 - Bishop against bishop, cardinal against cardinal PDF
D186 - Excommunication PDF
D188 - Wrath of God PDF
D190 - Cardinals, Part 1 PDF
D191 - Cardinals, Part 2 PDF
D192 - Cardinals, Part 3 PDF
D211 - Changes, Part 1 PDF
D212 - Changes, Part 2 PDF
D223 - Adultery & Divorce PDF
D224 - Restore America to One Nation Under God PDF
D265 - The Papacy PDF
D299 - All That Is Rotten Will Fall PDF
D318 - A Man-made Morality and Theology PDF
D340 - Signs of the Times PDF
D341 - No Evil Is Ever Triumphant PDF
D357 - Spiritual Combat PDF
D433 - This Generation, Part 1 PDF
D434 - This Generation, Part 2 PDF
EDITOR'S COMMENT: Evil is accelerating and the Anti-Christ forces are gaining power in the world. When the persecution starts, all Christian web sites on the internet will be forced to close. Be sure to have in your possession all the following items: the Bayside Prophecy books, Bayside Medals, Douay-Rheims Bibles, the Protection Packets, Candles, Sacramentals, and Religious Books. Purchase these items now while they are still available! You will urgently need them in the days ahead. Also, you can print out all PDF files for the Directives from Heaven and all of the Bayside Prophecies. Copy Our Lady's messages and the Directives from Heaven now while they are still available! Pray to the Holy Spirit for wisdom and guidance on how to prepare now and for the days ahead when the Antichrist is revealed. Viva Cristo Rey!
Articles…
Homosexuality a disorder:

"Homosexuality is not hardwired," concludes head of the Human Genome Project
http://www.tldm.org/News10/HomosexualityNotHardwired.htm

Expert research finds homosexuality more dangerous than smoking
http://www.tldm.org/News10/HomosexualityMoreDangerousThanSmoking.htm

What the Saints say about the sin of homosexuality
http://www.tldm.org/news7/homosexualitySaints.htm

Pope Benedict: homosexuals destroy themselves
http://www.tldm.org/News9/PopeHomosexualsDestroyThemselves.htm

Pope Benedict blasts 'dismal theories' on gays
http://www.tldm.org/News9/homosexualityPopeDismalTheories.htm

U.S. sexuality survey shows homosexuals 107% more likely to engage in criminal activities
http://www.tldm.org/News8/homosexualityCriminalActivity.htm

Great Britain study says 43% of gays, lesbians, and bisexuals have a mental disorder
http://www.tldm.org/news7/GayMentalDisorder.htm

Spanish Archbishop refers to homosexuality as an "epidemic" and a "fount of psychological problems and painful frustrations"
http://www.tldm.org/News7/homosexualityArchbishopSebastian.htm

Canadian Bishop: The State must curtail homosexuality for the common good
http://www.tldm.org/News7/homosexualityBishopHenry.htm

Homosexuality and Hope: excerpts taken from a document by the Catholic Medical Association
http://www.tldm.org/news6/ssa.htm

Ghana bans homosexual conference, says its "culture, morality and heritage totally abhor homosexual and lesbian practices"
http://www.tldm.org/News9/homosexualityGhana.htm

Gay marriage:

Vatican: Gay marriage evil
http://www.tldm.org/News10/AbortionTerrorismWithAHumanFace.htm

John Paul II calls gay marriage part of "ideology of evil"
http://www.tldm.org/news7/homosexualMarriageIdeologyOfEvil.htm

Top Vatican Cardinal: gay marriage is "a crime which represents the destruction of the world"
http://www.tldm.org/News8/homosexualityCardinalTrujillo.htm

Canadian Cardinal warns Senate of impending anti-Christian prosecution with gay 'marriage'
http://www.tldm.org/News8/homosexualityAnti-ChristianProsecution.htm

Maryland Catholic bishops identify "coordinated effort" in homosexual war on the family
http://www.tldm.org/News8/HomosexualWarOnFamily.htm

America: Slouching towards Gomorrah
http://www.tldm.org/news5/gomorrah.htm

John Paul II urges authorities to stop gay marriages
http://www.tldm.org/News6/homosexuality10.htm
There are 4 Things You Must Have to Survive the End Times:
1.) The Douay-Rheims Holy Bible...
"I ask that all who hear My voice will take their Bibles, and if they do not have one, search, but find the right Bible, those printed not after 1965, My children." - Jesus, October 5, 1985
"You must all obtain a copy of the Book of life and love, the Bible. Do not accept the new mods. Try to find in your bookstores the old Bibles, My children, for many are being changed to suit the carnal nature of man. I repeat, sin has become a way of life." - Our Lady, October 6, 1992
"I must ask you all to read but a few short chapters a day now, the Book of life and love, your Bible. Knowledge must be gained for all the disciples of My Son, for you will be attacked by scientific minds. But do not be concerned what you will say to them when accosted, for the words will be given to you by the Spirit." - Our Lady, April 10, 1976
The Douay-Rheims Bible was published in 1899. It is the official Bible of the Roman Catholic Church. Almost all other Bibles have been rewritten by Satan. See: http://www.tldm.org/directives/d33.htm , http://www.tldm.org/directives/d415.htm and http://www.tldm.org/directives/d182.htm If you don't have a Douay-Rheims Bible order it now! (Order Form) Yours and your loved ones salvation could depend on it.
Read the Bible cover to cover. If you read 4 chapters a day, you will complete the whole Bible in 334 days. I have read the Bible 2 times and working on the third time. A 75 year old Baptism gentleman told me that he and his wife have read the Bible nine times. Wow!
2.) The Complete Virgin Mary's Bayside Prophesies in 6 Paperback Books...
The Virgin Mary brings directions from God, the Father in Heaven on how to survive the end times. God, the Father, through the Virgin Mary, tells what is coming, how to prepare for it, how to survive it, and how to even stop it. These six volumes along with the Bible are most important to save yourself and your loved ones. Order it now. Tomorrow may be to late. These 6 pocket size paperback books costs $33.00. (Order Form)
3.) Heaven's Home Protection Packet...
Heaven's Home Protection Packet...
Our Lord stated we must have crucifixes upon the outside of all of our outside doors. In the "Heaven's Home Protection Packet" there are instructions, four crucifixes, a tube of special cement for wooden or metal crucifixes. Wooden crucifixes adhere better to the doors when the aluminum strap is removed from the back. Put a light coat of cement on the back of the crucifix and then press it to the outside of the door. If you have any problems, you can call us at 616-698-6448 for assistance. This Heaven's Home Protection Packet is available for a donation of $10.00 plus $4.00 shipping and handling. Send $14.00 to TLD Ministries, P.O. Box 40, Lowell, MI 49331. Item # P15 (Order Form)

Crucifix on front and back door... The only real protection against terrorists...
Jesus - "Pray and wear your sacramentals. And, also, My children, I ask you again to place a crucifix upon your door. Both front and back doors must have a crucifix. I say this to you because there will be carnage within your areas, and this will pass you by if you keep your crucifix upon your doors." (6-30-84) (Testimonies of lives and homes saved by the crucifixes.) http://www.tldm.org/news/crucifix.htm (Order Form)
4.) Heaven's Personal Protection Packet...
Heaven's Personal Protection Packet . . .
Our Lady tells us to be protected from all evil, we must wear the following sacramentals around our necks: a Rosary, a crucifix, the St. Benedict medal, Our Lady of the Roses medal, the Miraculous Medal, and the scapular. We have all of these sacramentals in a packet we call "Heaven's Personal Protection Packet." This packet is available for a donation of $7.00 plus $3.00 shipping and handling. Send $10.00 to TLD Ministries, P.O. Box 40, Lowell, MI 49331. Item # P5 (Order Form)

Our Lady of the Roses, Mary Help of Mothers promises to help protect our children. On September 13, 1977, She said, "He has an army of ogres wandering now throughout your country and all of the countries of the world. They are in possession of great power; so wear your sacramentals, and protect your children and your households. Learn the use every day of holy water throughout your household. Insist even with obstructions, insist that your children always wear a sacramental. One day they will understand that they will repel the demons."
On February 1, 1974, Our Lady said, "My children, know the value of these sacramentals. Guard your children well. You must awaken to the knowledge that you will not be protected without the sacramentals. Guard your children's souls. They must be surrounded with an aura of purity. Remove them if necessary from the sources of contamination, be it your schools or even false pastors."
This Heaven's Personal Protection Packet is available for a donation of $7.00 plus $3.00 shipping and handling. Send $10.00 to TLD Ministries, P.O. Box 40, Lowell, MI 49331. You may use your MasterCard, VISA, or American Express and call 1-616-698-6448. Item # P5 (Order Form)
Incredible Bayside Prophecies on the United States and Canada book . . .
We have researched the Bayside Prophecies on the United States and Canada and put these outstanding prophecies in a 360 page pocket size paperback book. Veronica said it was very good. It tells what is going to happen here and how to prepare for it. Every North American must read this book! Item #B2 Cost $5.00 (Order Form)
Your names have been written in Heaven… "It is not by accident that you are called by My Mother, for your names have been written in Heaven.... But with this great grace you have great responsibility to send this Message from Heaven throughout the world, for if you are able to recover just one more for Heaven, an additional star shall be placed in your crown." - Jesus, August 5, 1975
A great obligation to go forward... "It is not by accident that you are called by My Mother, for it is by merit and the prayers that have risen to Heaven for your salvation. For those who have received the grace to hear the Message from Heaven, you have a great obligation to go forward and bring this Message to your brothers and sisters. Do not expect a rest upon your earth, for you will have eternal rest very soon." - Jesus, June 12, 1976
The sin of omission... "The sin of omission shall condemn many to hell, be they layman or Hierarchy. I repeat: not the sin of commission, but the sin of omission will commit many to hell." Our Lady of the Roses, October 6, 1980
My gift to help spread Our Lady of the Roses' messages to the world.

We encourage everyone to print or email copies of this web page to all the Bishops and all the clergy. Also, email or send this web page to the news media and as many people as possible.
| Home - Latest News | Introduction | Bayside Prophecies | Directives from Heaven | Order Form | Miracles & Cures | Veronica Lueken | Miraculous Photos | Bible | Radio Program |
The electronic form of this document is copyrighted.
Quotations are permissible as long as this web site is acknowledged with a hyperlink to: http://www.tldm.org
Copyright © These Last Days Ministries, Inc. 1996 - 2017 All rights reserved.
P.O. Box 40 616-698-6448
Lowell, MI 49331-0040
Revised: February 27, 2017