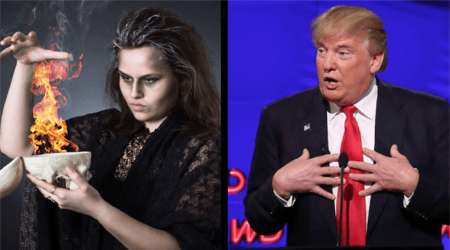 These Last Days News - February 24, 2017
Witches Worldwide are Targeting President Trump with Mass Occult Ritual, Friday February 24th at Midnight...
Our Lady - "Your country, My child and My children, will lose a great statesman...
Jesus - "I repeat what My Mother has said to you: a statesman will be removed from among you. And then what will happen?" - 10-1-83
"For our wrestling is not against flesh and blood; but against principalities and powers, against the rulers of the world of this darkness, against the spirits of wickedness in the high places." Ephesians 6:12 (DRB)
WICCA
"Listen well, My children, and understand that I ask you to remove all diabolical musical recordings from your homes. Your children are bringing demons into your homes because, at the time that these records were produced, called rock, 'hard rock,' they were produced in the temple of satan - consecrated to Satan! You do not understand, My children, but many of your companies, your record companies, are under the control of Wicca, the international organization of witches and warlocks. Do not laugh! It is true!" - Our Lady, November 25, 1978
The above Messages from Our Lord and Our Lady were given to Veronica Lueken at Bayside, New York. Read more
WND.com reported on February 23, 2017:
It's not just a political battle anymore. It's spiritual warfare now.

Exorcists, witches and occultists "in a number of magical groups" are announcing plans for a ritual designed to "bind Donald Trump and all who abet him."

It's to happen Friday at midnight at a variety of locations across the nation, and again every month until Donald Trump is no longer in office.

The rite, requiring a stub of a candle, a pin, salt, matches, a tarot card, a feather and other odds and ends, calls on spirits to ensure President Trump will "fail utterly." It also includes burning a picture of the commander in chief, visualizing him "blowing apart into dust or ash."

Participants apparently have the option of using a baby carrot instead of an orange candle.

Among the various spirits invoked are the "demons of the infernal realms."

There is even a Facebook page networking those who want to participate in the ritual. Some media outlets are also looking to film whatever happens.

It's not the first time anti-Trump occultists have tried to use black magic against the president.

The far-left feminist blog Jezebel, named after the biblical queen who mandated the worship of Baal and Asherah instead of God, published a gushing story in September 2015 about "Brooklyn Witches" of immigrant descent cursing Trump because they "wholeheartedly believe that Trump and the rest of the GOP are garbage."

Trump evidently overcame the curse, along with everything else in his way, to win the presidency a year later.

Still, Christian leaders believe these kinds of spiritual threats should be taken seriously, condemned and countered.

Jan Markell of Olive Tree Ministries said the left's open embrace of demonic imagery is revealing.

"It shows that the level of hatred against Donald Trump is generated by Satan himself," she said. "Donald Trump is not a perfect man. But he is trying to stop the runaway freight train of evil that has existed for eight years emanating out of Washington and the Democratic Party.

"The left is mesmerized by issues that tear down and that grieve the heart of God. Donald Trump doesn't have the power to neutralize these people and their agenda, but he is trying to make significant inroads to stop the tremendous slide to the dark side in America. He has some solid Bible-believing Christians at his side. Together they can make a huge difference and repair some of the damage done by evildoers."

Markell, featured in the WND Film "Trapped in Hitler's Hell," argues occultism is being normalized in an increasingly degenerate nation.

"The Bible says that in the last days evil will wax worse and worse," she said. "A part of that is that the paranormal is being normalized.

"I have done two-dozen radio programs on this topic as it is so alarming. Children as young as 4 and 5 are being desensitized to the occult. After-school 'Satan clubs' have been launched in public schools to offset the good that the 'Good News Clubs' have been doing for decades. If parents don't wake up and rise up, we are going to have a society steeped in occult practices in a few years, much worse than the situation is today."

Pastor Mark Biltz of El Shaddai Ministries, author of "God's Day Timer," cited Deuteronomy 18:10-12 to argue those who use occult practices are an "abomination" in God's sight, according to the Scriptures. He agreed with Markell that such practices are becoming increasingly common.

"We are living at the time of the coming of the Messiah," he warned. "The world will be getting worse until Messiah's return. We are to always pray for those who are our leaders. Not only should Christians pray, but they should get actively involved."

Some Christians are doing just that. One group announced a "Day of Prayer" to counter the occult effort.

Pastors such as Carl Gallups, author of "When the Lion Roars," urge Christians to join the effort.

"America's born again believers should cover President Trump in prayer," Gallups said. "It's obvious that the demonic realm is stirred by his presence. It's also obvious that the antichrist agenda of the globalist community is going berserk over a Trump presidency. These are simply signs to those of us who know God's word that President Trump is being used by the Lord in these prophetic times. Pray for him. Pray for our nation. And, then, get on with the work of the Kingdom."

Gallups recalled he was once the target of spiritual warfare by a group of supposed witches. And he argued faith in Jesus Christ is an effective counter to any form of spiritual attack.

"I have been a senior pastor of a church in one location for 30 years," he said. "Very early on in my ministry there, I too became the directed target of witchcraft through an organized witch coven. We even had a couple from the coven who were sent/paid to disrupt one of our worship services. All kinds of promises of 'evil' were made that would befall me. I gave no credence to it whatsoever. They went to jail, and I went on with my life and my work for the Kingdom of Jesus Christ, simply claiming the promise of God's protection along the way.

"Twenty-five years later I am still at that church, the church is powerful in the Lord and reaching the world for Jesus, and the Lord continues to bless my life and ministry beyond anything I ever imagined," he said.

"I am certain that the demonic activities against me and my ministry have never let up; it's just that I purposely pay them no mind. My trust is in Jesus; I have no fear of magic 'spells' and the silly incantations of Christ deniers who are burning candles and looking for signs in a deck of cards."

Karl Payne, the former chaplain of the NFL's Seattle Seahawks and an expert in exorcism who penned "Spiritual Warfare" as a guide for Christians dealing with unseen forces, denounced those behind the spiritual attack on Trump as "so ideologically driven, they do not see straight."

But he also warned occult forces are being increasingly normalized in popular culture through an anti-Christian media.

"It is not possible to watch major television stations, cable stations or movies without being inundated with shows and movies on the paranormal," he said. "To think that the constant exposure to these types of shows will not have an impact on those watching them is as naïve as it is to believe people can watch and play hours of video games glorifying murder and mayhem and it not make an indelible impact on their minds.

"Garbage in, garbage out. In the computer world, this used to be voiced as a truism. Now walking and talking with the dead, casting spells, witches, warlocks, zombies, blood, guts and horror are promoted as innocent entertainment and people's minds and lives are being destroyed as a result in some cases.

"Those denying this are typically those with private agendas hoping to see occultism normalized, and those who profit financially from it with no care or concern for the destructive collateral damage incurred as a result."

Payne said that "too many Christians and churches are more concerned about making friends and straddling an ever eroding moral, ethical and cultural divide in hopes of appearing politically correct rather than being biblically correct."

He urged Christians to pray for President Trump, but he also said Christians are commanded to pray for everyone in authority over them, even those who are hostile to the Christian faith.

"Christians should not 'begin' praying for President Trump; they should already have been praying for him and his administration, just like they should have been doing for Presidents Bush, Clinton and Obama when they were president, whether they were one's first choice, second choice or no choice," he said.

However, Payne also said this is a critical time of choosing for American Christians, too many of whom, he claimed, are not standing up for their faith.

"It is time for Christians to view themselves as victors in Christ because of His selfless sacrifice on the cross, rather than apologize for their faith, hiding in fear and volunteering to ride in the back of the bus in hopes of not offending someone or being dragged into the scrum," he said.

"I personally prefer truth to pretense and posturing, and I refuse to apologize for the One who loved me enough to die for me. Occultists, witches and political hacks should remember the One who lives in Christians is greater than the ones who oppose Christians, natural or supernatural.

"Maybe it is time for Christians to be motivated by courage and faith rather than compromise and fear," he continued. "Maybe it is time for Christians to step out of the closet too; seems everyone else already has. Christians in this country supposedly represent a 50 million strong voting bloc. Maybe it is time they began to think like a guard dog rather than a posturing, prancing poodle. Jesus did not hide, the apostles did not hide, the early church did not hide, so why should we hide?

"Maybe Christians should view blending into culture rather than shining through it as the compromise that it really represents rather than an art form to be perfected. Jesus was perfect, and the Romans and Jewish leadership still teamed up to crucify Him. Why should we think that if we make friends with everyone, and try not to offend anyone, we will be treated any better than Jesus in this country or around the world?"

As spiritual warfare moves into the headlines, Markell argues it is time for believers to wake up to what is truly at stake.

"Christians need to get educated about the paranormal and just what the agenda is," she told WND. "It is all evil. The topic may be dark and unpleasant, but learning that loved ones have been snared by the occult is worse. The occult is bold today and growing bolder each day."

However, Markell also said Christians should remember victory in spiritual warfare is assured if they take up the battle.

"Christians can also unite in individual or corporate prayer on behalf of President Trump, Vice President Pence and all in this new administration," she said. "We need to push back against the darkness that has consumed Washington, D.C., in recent years.

"The secular world knows nothing of spiritual warfare. This should get Christians galvanized to restore decency and righteousness in America's highest leaders."

TLDM Editor's Note: Prayer changes things. "Realize the power in your hand with the Rosary, for in your hands you hold the power of God." - Our Lady, October 6, 1970 At this critical time, we must offer many Rosaries and Masses for Donald Trump's protection.
[TLDM Editor's note: Our Lord requested that we recite the St. Michael Exorcism below for the defeat of all of the devil's works.]
PRAYER AGAINST SATAN And THE REBELUOUS ANGELS
PUBLISHED BY ORDER OF H. H. POPE LEO XIII
The Holy Father exhorts priests to say this prayer as often as possible, as a simple exorcism to curb the power of the devil and prevent him from doing harm. The faithful also may say it in their own name, for the same purpose, as any approved prayer. Its use is recommended whenever action of the devil is suspected, causing malice in men, violent temptations and even storms and various calamities. It could be used as a solemn exorcism (an official and public ceremony, in Latin), to expel the devil. It would then be said by a priest, in the name of the Church and only with the Bishop's permission.
In the Name of the Father, and of the Son, and of the Holy Ghost. Amen.
PRAYER TO SAINT MICHAEL THE ARCHANGEL
Most glorious Prince of the Heavenly Armies, Saint Michael the Archangel, defend us in "our battle against principalities and powers, against the rulers of this world of darkness, against the spirits of wickedness in the high places" (Ephes., VI, 12). Come to the assistance of men whom God has created to His likeness and whom He has redeemed at a great price from the tyranny of the devil. Holy Church venerates thee as her guardian and protector; to thee, the Lord has entrusted the souls of the redeemed to be led into heaven. Pray therefore the God of Peace to crush Satan beneath our feet, that he may no longer retain men captive and do injury to the Church. Offer our prayers to the Most High, that without delay they may draw His mercy down upon us; take hold of "the dragon, the old serpent, which is the devil and Satan", bind him and cast him into the bottomless pit "so that he may no longer seduce the nations" (Apoc. XX, 2).
EXORCISM
In the Name of Jesus Christ, our God and Lord, strengthened by the intercession of the Immaculate Virgin Mary, Mother of God, of Blessed Michael the Archangel, of the Blessed Apostles Peter and Paul and all the Saints, (and powerful in the holy authority of our ministry), we confidently undertake to repulse the attacks and deceits of the devil.
Psalm 67: God arises; His enemies are scattered and those who hate Him flee before Him.
As smoke is driven away, so are they driven; as wax melts before the fire, so the wicked perish at the presence of God.
V. Behold the Cross of the Lord, flee bands of enemies.
R. He has conquered, the Lion of the tribe of Judah, the offspring of David,
V. May thy mercy, Lord, descend upon us.
R. As great as our hope in Thee.
The crosses indicate a blessing to be given if a priest recites the Exorcism; if a lay person recites it, they indicate the Sign of the Cross to be made silently by that person.
We drive you from us, whoever you may be, unclean spirits, all satanic powers, all infernal invaders, all wicked legions, assemblies and sects; iii the Name and by the power of Our Lord Jesus Christ, + may you be snatched away and driven, from the Church of God and from the souls made to the image and likeness of God and redeemed by the Precious Blood of the Divine Lamb. + Most cunning serpent, you shall no more dare to deceive the human race, persecute the Church, torment God's elect and sift them as wheat. + The Most High God commands you. + He with whom in your great insolence, you still claim to be equal;
"He who wants all men to be saved and to come to the knowledge of the truth" (I Tim., II, 4). God the Father commands you. + God the Son commands you. + God the Holy Ghost commands you. + Christ, God's Word made flesh, commands you; + He who to save our race outdone through your envy, "humbled Himself, becoming obedient even unto death" (Phil., II, 8); He who has built His Church on the firm rock and declared that the gates of hell shall not prevail against Her, because He will dwell with Her "all days even to the end of the world" (St. Mat., XXVIII, 20). The sacred Sign of the Cross commands you, + as does also the power of the mysteries of the Christian Faith. + The glorious Mother of God, the Virgin Mary, commands you; + She who by her humility and from the first moment of her Immaculate Conception, crushed your proud head. The faith of the Holy Apostles Peter and Paul and of the other Apostles commands you. + The blood of the Martyrs and the pious intercession of all the Saints command you. +
Thus, cursed dragon, and you, diabolical legions, we adjure you by the living God, + by the true God, + by the holy God, + by the God "who so loved the world that He gave us His only Son, that every soul believing in Him might not perish but have life everlasting" (St. John, III); stop deceiving human creatures and pouring out to them the poison of eternal damnation; stop harming the Church and hindering her liberty. Be gone, Satan, inventor and master of all deceit, enemy of man's salvation. Give place to Christ in whom you have found none of your works; give place to the One, Holy, Catholic and Apostolic Church acquired by Christ at the price of His Blood. Stoop beneath the all-powerful Hand of God; tremble and flee when we invoke the Holy and terrible Name of Jesus, this Name which causes hell to tremble, this Name to which the Virtues, Powers and Dominations of heaven are humbly submissive, this Name which the Cherubim and Seraphim praise unceasingly repeating: Holy, Holy, Holy is the Lord, the God of Armies.
V O Lord, hear my prayer.
K. And let my cry come unto Thee. V. May the Lord be with thee.
K. And with thy spirit.
Let us pray, God of heaven, God of earth, God of Angels, God of Archangels, God of Patriarchs, God of Prophets, God of Apostles, God of Martyrs, God of Confessors, God of Virgins, God who has power to give life after death and rest after work, because there is no other God than Thee and there can be no other, for Thou art the Creator of all things, visible and invisible, of whose reign there shall be no end, we humbly prostrate ourselves before Thy glorious Majesty and we beseech Thee to deliver us by Thy power from all the tyranny of the infernal spirits, from their snares, their lies and their furious wickedness; design, 0 Lord, to grant us Thy powerful protection and to keep us safe and sound, We beseech Thee through Jesus Christ Our Lord, Amen.
From the snares of the devil, deliver us, O Lord.
That Thy Church may serve Thee in peace and liberty, we beseech Thee to hear us.
That Thou may crush down all enemies of Thy Church, we beseech Thee to hear us.
(Holy water is sprinkled in the place where we may be)
Imprimatur: +- Henri, O. M. I.
Vicar Apostolic of James Bay — Aug. 15, 1967
<![if !vml]>
<![endif]>
Saint Michael the Archangel, defend us in battle. Be our protection against
the wickedness and snares of the devil. May God rebuke him we humbly pray. And do thou, O prince of the heavenly host, by the divine power of God, cast into hell, satan, and all evil spirits who wander throughout the world seeking the ruin of souls. Amen.
Most Sacred Heart of Jesus; have mercy on us (3 times)
"O My children of the United States, do you not understand what is ahead for you? Your country, the United States, has not known what it is to suffer through destructive forces. My children, you shall not escape the destruction that the Bear of communism has set upon many countries in Europe and the world. You cannot compromise your Faith to save what there is left, for everything upon earth shall fall as rubble with the Chastisement. A ball of fire, a chastisement, a baptism of fire, is heading for mankind. Can you not understand?" - Our Lady of the Roses, November 20, 1978
OCCULT
"For many years this monster lay hidden in the guise of secret societies. My child and My children, the occult must be removed from your country! ... Satan has an advantage, My children. He has convinced many that he is not there, or around, or even exists! He has convinced many that he is a myth!" - Our Lady, December 31, 1977

EDITOR'S NOTE: We welcome your comments at the end of this page.
We strongly encourage you to print and/or email copies of this web page to all the bishops and clergy. Also, email or mail a copy of this web page to the news media and as many other people as possible. Email a copy of this page to everyone you know.
We urgently need your prayers and financial support to be able to continue to create these web pages. Click here... Thank you in advance.

Wars are a punishment for man's sins. Abortion, homosexuality, and the changes in the Catholic Church cry out to Heaven for just punishment.
When you pray the Holy Rosary, you have Our Lady's hand in your hand. When you pray the Holy Rosary, you have the power of God in your hands. Start now! Let's All Pray the Rosary Together Around the World for the safety of Donald Trump and all political candidates... Click here...

The Virgin Mary's Bayside Prophecy Books are Now Available in E-book Version. Click Here Now!
Our Lady of the Roses Awesome Bayside Prophecies... http://www.tldm.org/Bayside/
These prophecies came from Jesus, Mary, and the saints to Veronica Lueken at Bayside, NY, from 1968 to 1995.
DAMNED FOREVER
"Cursed be those who fall to their knees and worship at satan's idols of deceit. Damned forever to the eternal fires are the worshipers of satan!" - Our Lady, July 15, 1972

VAMPIRE
"There is one called 'man' among you now who is diabolical of nature, using a human body.
"This evil one We have named 'the vampire,' because in his diabolical nature, in his supernatural state, he has developed a necessity for the consumption of human blood to retain the human body he travels in. Know ye well now that he is going about your city looking for young blood." - Jesus, September 13, 1977

ITALIAN HORN
"You wear a horn about your neck, and you say it is the Italian horn of plenty. It is not! It is the horn of Lucifer!" - Our Lady, November 25, 1978

ASTROLOGY, OUIJA BOARD
"Do not accept the false religions of the evil one. Many have given themselves over to astrology, tarot cards, ouija boards, and now you have reaped your reward in murders and bloodbaths, and a form of insanity in the young...." - Jesus, September 13, 1977

CHALICE OF BLOOD
Veronica - There are thirteen people. Now they're all standing in a circle. And in the middle of that circle is a man. He's dressed with horns on his head, like satan, and he has a black cape which is red inside....
And now he's going over and there's a man tied, just like Jesus was, to a post. And he's taking this horrible, horrible thing in his hand and he's burning the skin of the man. I can hear his screams; the man is screaming--he's burning the prongs of the pitchfork on the man's back....
There's a woman there... she's taking a--it's a long knife, like a hunting knife, and cutting him in his back.... They're all dressed in black capes with red on the interior--there's another woman.... She has a chalice in her hands and she's placing it underneath the drops of blood that are coming out of the gash she's made in the man's back. And they're all laughing....
And now the woman is coming over and she's passing - it's a chalice, oh, it's a chalice, but she's passing it among them all and they're drinking the man's blood. - Veronica, March 18, 1983

ILLUMINATI
"There is a group in the United States and the world... calling itself the Illuminati, coming from the word 'light bearer.' Naturally, My children, this light that they bear stands for Lucifer, and as such they have gone through the world secretly known as Luciferians. They have brought into your country, the United States, and your neighbor Canada, a group of witchcraft practices.
"Well have they laid their plan to destroy your children with drugs, using your school systems, your medias of communication...." - Our Lady, November 25, 1978

LIKE DUCKS
"Many are now proceeding as sheep to the slaughter. They travel with their leaders, neither thinking nor caring nor reasoning for the truth. They are truly, My children, like ducks fast going downstream and caught in a whirlpool to their own destruction. It is a game most disastrous of playing follow the leader. And who are your leaders, My children? They are souls that have been taken over by satan, and now are under his rule. Pray for them. Until they leave their human bodies, they still can be recovered. Pray for their conversion." – Our Lady, August 5, 1976

COMPLETE CAPITULATION
"Yes, My children, there are forces now gathering to dim the light in your world, to turn your world over to satan. Already in your country, America the once beautiful, the once strong—America, the United States, that has chosen to cast aside the light and go into darkness—yes, already many of the leaders of your country are falling in with the plan for the complete capitulation of your country to satan and world slavery under a one rule and a one religion. And this religion will have no resemblance to that given to you by My Son." - Our Lady, February 10, 1978

FALLEN TO SATAN
"We send from the Eternal Kingdom of the Lord high God in Heaven a warning to mankind. A great War will be soon upon you, claiming many lives throughout your earth. You will prepare yourselves and the souls of those you love.
"Your country has fallen to satan. Many countries throughout your world have given themselves to satan. The leaders in your country need many prayers." – St. Michael, June 18, 1975

"YOU HOLD THE BALANCE"
"Your country, the United States of America, and many other countries of the world are being deceived. While they go forward seeking peace, the enemies of your God and your country are fast preparing to attack. Pray a constant vigilance of prayer, and recognize the faces of evil about you. Pray for the leaders of your country, My children. You hold the balance for the fate of your country." – Our Lady, August 21, 1976

COUNTRY UNPROTECTED
"As I have warned you in the past, My children, while foolish man ran about crying peace, love, and brotherhood, planning to disarm, to leave your country unprotected, others whom your leaders shake hands with are planning your destruction.
"My children, an arsenal of arms now are being gathered throughout the world. They are major instruments of destruction. It is the regime of terror that man has brought upon himself by rejecting his God.
"Your country, the United States and America, has become a land of pagans. Your country and America and many countries of the world have given themselves over to all manner of pleasures of the flesh and defilement of the human body and desecration of their bodies and their spirits." – Our Lady, February 1, 1978

ULTIMATE FALL
"The plan for the capitulation and ultimate fall of your country, America the beautiful, desecrated for gain—the plan is evolving fast. Your government, your media have given themselves unto the agents of satan.
"Yes, My child, if man had prayed more and turned to the Father, much could have been avoided. Man has been given a free will; and it is in the plan of the Father that he, as man and human, will seek his eventual life in the Kingdom of God, or with satan in the abyss." – Our Lady, September 13, 1974

LEADERS: LAX AND CORRUPT
"Women have become immoral; men have debased their bodies. Homosexuality is rampant throughout your country and all the nations of the world. Your leaders are lax and corrupt. There are very few voices with authority crying out against the sins that shall bring destruction upon your nation and many nations of the world." – Our Lady, July 14, 1979

PRAY FOR LEADERS
"The leaders of your country and the leaders throughout the world have taken upon themselves a measure of sin creating insanity.
"In the light of the Spirit descending from Heaven, you shall be given the knowledge of truth, My children. Accept it and take it as your candle, for you must now go throughout your world saving your brothers, preparing them for what lies ahead." – Our Lady, September 13, 1975
Directives from Heaven... http://www.tldm.org/directives/directives.htm
D12 - One World Government / Religion PDF
D13 - Secret Societies PDF
D149 - Satanism, Part 1 PDF
D150 - Satanism, Part 2 PDF
D180 - UN & One World Government PDF
D213 - Riches, Part 1 PDF
D214 - Riches, Part 2 PDF
D215 - Money PDF
D224 - Restore America to One Nation Under God PDF
D280 - Ungodly Music PDF
D309 - Masons and Illuminati PDF
D348 - Fall of the Nations PDF
D353 - Dark Clouds Over America PDF
D356 - U.S. Headed for Destruction PDF
D380 - The Ruling Elite PDF
D443 - Politics, Part 1 PDF
D444 - Politics, Part 2 PDF
EDITOR'S COMMENT: Evil is accelerating and the Anti-Christ forces are gaining power in the world. When the persecution starts, all Christian web sites on the internet will be forced to close. Be sure to have in your possession all the following items: the Bayside Prophecy books, Bayside Medals, Douay-Rheims Bibles, the Protection Packets, Candles, Sacramentals, and Religious Books. Purchase these items now while they are still available! You will urgently need them in the days ahead. Also, you can print out all PDF files for the Directives from Heaven and all of the Bayside Prophecies. Copy Our Lady's messages and the Directives from Heaven now while they are still available! Pray to the Holy Spirit for wisdom and guidance on how to prepare now and for the days ahead when the Antichrist is revealed. Viva Cristo Rey!
Articles...
Communism's 45 goals to destroy the United States
http://www.tldm.org/news7/CommunismInAmerica.htm

Kerry dismissed the threat of global communism as "bogus" before a Senate hearing in 1971
http://www.tldm.org/News7/KerryCommunism2.htm

Kerry's campaign slogan taken from a communist poem
http://www.tldm.org/news7/KerryCommunism1.htm

Clinton's White House
http://www.tldm.org/news2/sellout.htm

Nancy Pelosi: WND reports that Democrats' likely top House official part of powerful, socialist-linked bloc
http://www.tldm.org/news5/pelosi.htm

Russian espionage and penetration of the U.S. government
http://www.tldm.org/news6/espionage.htm

Global communism, part 1
http://www.tldm.org/news2/global-1.htm

Global communism: Africa, part 2
http://www.tldm.org/news2/africa.htm

Henry Kissinger: traitor to America
http://www.tldm.org/news2/kissinger.htm

Russia's master plan
http://www.tldm.org/news/master_plan.htm

U.S. invasion through Mexico
http://www.tldm.org/news3/Nicaragua.htm
There are 4 Things You Must Have to Survive the End Times:
1.) The Douay-Rheims Holy Bible...
"I ask that all who hear My voice will take their Bibles, and if they do not have one, search, but find the right Bible, those printed not after 1965, My children." - Jesus, October 5, 1985
"You must all obtain a copy of the Book of life and love, the Bible. Do not accept the new mods. Try to find in your bookstores the old Bibles, My children, for many are being changed to suit the carnal nature of man. I repeat, sin has become a way of life." - Our Lady, October 6, 1992
"I must ask you all to read but a few short chapters a day now, the Book of life and love, your Bible. Knowledge must be gained for all the disciples of My Son, for you will be attacked by scientific minds. But do not be concerned what you will say to them when accosted, for the words will be given to you by the Spirit." - Our Lady, April 10, 1976
The Douay-Rheims Bible was published in 1899. It is the official Bible of the Roman Catholic Church. Almost all other Bibles have been rewritten by Satan. See: http://www.tldm.org/directives/d33.htm , http://www.tldm.org/directives/d415.htm and http://www.tldm.org/directives/d182.htm If you don't have a Douay-Rheims Bible order it now! (Order Form) Yours and your loved ones salvation could depend on it.
Read the Bible cover to cover. If you read 4 chapters a day, you will complete the whole Bible in 334 days. I have read the Bible 2 times and working on the third time. A 75 year old Baptism gentleman told me that he and his wife have read the Bible nine times. Wow!
2.) The Complete Virgin Mary's Bayside Prophesies in 6 Paperback Books...
The Virgin Mary brings directions from God, the Father in Heaven on how to survive the end times. God, the Father, through the Virgin Mary, tells what is coming, how to prepare for it, how to survive it, and how to even stop it. These six volumes along with the Bible are most important to save yourself and your loved ones. Order it now. Tomorrow may be to late. These 6 pocket size paperback books costs $33.00. (Order Form)
3.) Heaven's Home Protection Packet...
Heaven's Home Protection Packet...
Our Lord stated we must have crucifixes upon the outside of all of our outside doors. In the "Heaven's Home Protection Packet" there are instructions, four crucifixes, a tube of special cement for wooden or metal crucifixes. Wooden crucifixes adhere better to the doors when the aluminum strap is removed from the back. Put a light coat of cement on the back of the crucifix and then press it to the outside of the door. If you have any problems, you can call us at 616-698-6448 for assistance. This Heaven's Home Protection Packet is available for a donation of $10.00 plus $4.00 shipping and handling. Send $14.00 to TLD Ministries, P.O. Box 40, Lowell, MI 49331. Item # P15 (Order Form)

Crucifix on front and back door... The only real protection against terrorists...
Jesus - "Pray and wear your sacramentals. And, also, My children, I ask you again to place a crucifix upon your door. Both front and back doors must have a crucifix. I say this to you because there will be carnage within your areas, and this will pass you by if you keep your crucifix upon your doors." (6-30-84) (Testimonies of lives and homes saved by the crucifixes.) http://www.tldm.org/news/crucifix.htm (Order Form)
4.) Heaven's Personal Protection Packet...
Heaven's Personal Protection Packet . . .
Our Lady tells us to be protected from all evil, we must wear the following sacramentals around our necks: a Rosary, a crucifix, the St. Benedict medal, Our Lady of the Roses medal, the Miraculous Medal, and the scapular. We have all of these sacramentals in a packet we call "Heaven's Personal Protection Packet." This packet is available for a donation of $7.00 plus $3.00 shipping and handling. Send $10.00 to TLD Ministries, P.O. Box 40, Lowell, MI 49331. Item # P5 (Order Form)

Our Lady of the Roses, Mary Help of Mothers promises to help protect our children. On September 13, 1977, She said, "He has an army of ogres wandering now throughout your country and all of the countries of the world. They are in possession of great power; so wear your sacramentals, and protect your children and your households. Learn the use every day of holy water throughout your household. Insist even with obstructions, insist that your children always wear a sacramental. One day they will understand that they will repel the demons."
On February 1, 1974, Our Lady said, "My children, know the value of these sacramentals. Guard your children well. You must awaken to the knowledge that you will not be protected without the sacramentals. Guard your children's souls. They must be surrounded with an aura of purity. Remove them if necessary from the sources of contamination, be it your schools or even false pastors."
This Heaven's Personal Protection Packet is available for a donation of $7.00 plus $3.00 shipping and handling. Send $10.00 to TLD Ministries, P.O. Box 40, Lowell, MI 49331. You may use your MasterCard, VISA, or American Express and call 1-616-698-6448. Item # P5 (Order Form)
Incredible Bayside Prophecies on the United States and Canada book . . .
We have researched the Bayside Prophecies on the United States and Canada and put these outstanding prophecies in a 360 page pocket size paperback book. Veronica said it was very good. It tells what is going to happen here and how to prepare for it. Every North American must read this book! Item #B2 Cost $5.00 (Order Form)
My gift to help spread Our Lady of the Roses' messages to the world.

| Home - Latest News | Introduction | Bayside Prophecies | Directives from Heaven | Shopping Cart | Testimonies | Veronica Lueken | Miraculous Photos | Bible | Radio Program |
We encourage everyone to print or email copies of this web page to all the Bishops and all the clergy. Also, email or send this web page to the news media and as many people as possible.
The electronic form of this document is copyrighted.
Quotations are permissible as long as this web site is acknowledged through hyperlink to: http://www.tldm.org
Copyright © These Last Days Ministries, Inc. 1996 - 2017 All rights reserved.
P.O. Box 40 616-698-6448
Lowell, MI 49331-0040
Revised: February 27, 2017