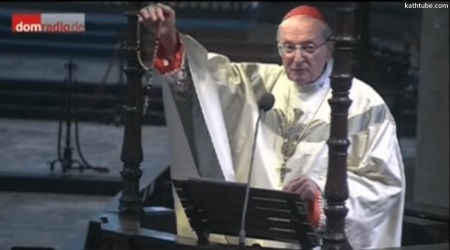 These Last Days News - July 10, 2017
Cardinal Meisner's Witness Concerning Fatima and the Dubia...
"I WARNED YOU"
"As I warned you in the past and you did not listen, unless you prayed more, did more penance, sacrifice, communism would go throughout your world, ravishing nations, destroying your Faith, entering into the highest places of My Son's House. Can you deny what is happening now in your world? Remove the blindness from your eyes and look! Come out of the darkness before it is too late, for a House in darkness wears a band of death about it! I repeat: a Church in darkness will close its doors." - Our Lady, March 18, 1977
FATIMA
"My child, how many warnings have I sent upon the world, and yet they go unheeded.
"I wish that you make known, or refresh the memory of My children with My visit to the land of Fatima." - Our Lady, April 13, 1974
The above Messages from Our Lady were given to Veronica Lueken at Bayside, New York. Read more
OnePeterFive.com reported on July 8, 2017:
by Maike Hickson

As we reported earlier this week, Cardinal Joachim Meisner, one of the four dubia cardinals, passed away on 5 July. The German cardinal fell peacefully asleep while praying his breviary in preparation for offering the Holy Sacrifice of the Mass in the morning.

In the wake of the news of Cardinal Meisner's death, Dr. Michael Hesemann – the German Church historian who had earlier provided us with an important 1918 document from the Vatican archives concerning the Freemasonic plan to attack throne and altar – wrote on his own Facebook page a tribute to the German cardinal whom he knew personally and well.

In this tribute, Dr. Hesemann quotes from a private letter which Cardinal Meisner had written to him on 29 December 2016, and these words now aptly seem to be a part of the cardinal's own spiritual testament. (Meisner did also write a public spiritual testament to which we later shall return. But this more private testament is even more pertinent, inasmuch as Cardinal Meisner himself was the only one of the four dubia cardinals who never made public statements about his own participation and support of the dubia.) Here follow some of Cardinal Meisner's private words in late 2016, as quoted by Dr. Hesemann:

"We live in a time of confusion, not only in society, but also in the Church," he [Meisner] wrote to me still on 29 December 2016; how much he was right! And he added – writing it down as a message for all bishops, and at the same time, as an explanation for his signing the dubia: "The shepherd is appointed by Christ in order to preserve the herd from error and from confusion." [emphasis added]

After quoting these memorable words about the current crisis in the Church and the intrinsic duty of the pope, Dr. Hesemann continues, by referring also to the importance which Cardinal Meisner had laid upon the message of Fatima:

He [Meisner] who is more closely connected with the message of Fatima than any other German bishop, and who had met Sister Lucia, the seer, several times, put at the time [December 2016] very much hope upon the Fatima Year 2017 and also hoped "that the Mother of God would not let us drown in confusion and sin." [emphasis added]

How piercing these words of prayer are, can be seen when we consider Dr. Hesemann's subsequent words:

That in the same year [2017] the Federal Government [of Germany] would easily pass and wave through the anti-Christian homo-"marriage," he [Meisner] could not then foresee [see here for more information]. However, his last words which he then wrote to me have become now even more pertinent – yes, they sound like a testament, his last warning, for our time: "Ever since in our society, there barely exists any more the memory of creation, one has also forgotten who and what man is. And that is why everything goes topsy turvy now, and one even still thinks thereby, at most, to serve mankind."

We are grateful to Dr. Hesemann for publishing these words of one of the courageous four dubia cardinals, and who himself had also received in the recent past much criticism for his own signing of the dubia. In December 2016, we reported on the sharp tones that came from German sources – that is to say, from the German branch of Vatican Radio and from Katholisch.de, the website of the German Bishops' Conference – which used words such as "treason" and "renegade" with regard to Cardinal Meisner. As we reported at the time, Meisner might also have been especially singled out for such criticism for the very fact that he himself had been the driving force at the 2005 Conclave to have Joseph Ratzinger elected pope.

Paul Badde, a German journalist, scholar, and Vatican specialist who knew Cardinal Meisner personally, and intimately, and for many years – and even had him as his counselor when writing on Church news – also reminded us in his own very moving tribute to the German cardinal of his important role at the 2005 Conclave. Badde says that it was Meisner who "had, during the Conclave, uncovered and thwarted a plot of the so-called Sankt Gallen Group against that same election [of Joseph Ratzinger]." Badde continues, saying:

At that time, he became the "pope-maker," next to the Holy Ghost of course. "Today, I fought as never before in my life," he told me at the time on the way home from the Sistine Chapel to his lodging at the bottom of the Gianicolo hill. More he was not allowed to say. [my emphasis]

Let us now return to the theme of Fatima. Cardinal Meisner once described at a conference how, during his more than 40 years of life under Communism in East Germany, the Communists always had a special aversion against Fatima, and he reported that they never allowed a Catholic to travel to Fatima. "That was always denied to us." "We were not allowed to talk much about Fatima, because it would always be interpreted as anti-Soviet propaganda," explained Cardinal Meisner. For him personally, it was a sign that "the devil smells when he gets seriously into trouble [wo es ihm an den Kragen geht]."

In 2016, shortly after the brief meeting in Cuba between Pope Francis and the Orthodox Patriarch Kirill, Cardinal Meisner proposed at the same above-mentioned conference that this historic event could and should inspire both the Catholic and the Orthodox leaders to "consecrate us all to the Mother of God in the midst of the current difficulties, just as the seer children of Fatima proposed it." [emphasis added] Thus he supported the idea of a Consecration of Russia to the Immaculate Heart of Mary.

Moreover, Cardinal Meisner showed his devotion to Fatima also on other occasions. In 2013, in a homily on the Vigil of the Feast of Our Lady of Fatima on 13 May, Cardinal Meisner gave a most beautiful presentation about the importance of Fatima, and of the Rosary in particular. Remembering the year 1917, the prelate said:

The light of the Faith went out in East Europe [with the Russian Revolution], but in the West, the light of the Faith once more arose: that is, Mary's message about the overcoming of evil with the good, about the conquering of tanks and canons through prayer. And that was in Fatima.

Meisner added that it was in Fatima – in Portugal – that Our Lady "found a bridgehead from which she helped to overcome the unbelief." Thus, he adds: "Blessed art thou, Portugal, because you have believed!"

It was after the attempted killing of Pope John Paul II in 1981 – who strongly believed that it was through Our Lady of Fatima's intercession that his life was saved – that the pope asked Cardinal Meisner to celebrate a Holy Mass in Fatima itself, in 1990, and on "the first Fatima Day without the Bolshevist Empire," and to do it "in thanksgiving for the liberation from Communism." (We shall soon come back to this 1990 homily.) In Meisner's eyes, it was through Fatima, that the political change took place in 1989 in East Europe. "As a weapon against the godlessness, the Mother of God gave us prayer, but especially the prayer of the Rosary," explained the cardinal.

Cardinal Meisner, who had a very vivid and warm way of giving his homilies, remembered also an encounter he once had, in 1975, as a young bishop, still in Communist Germany. There came to his Mass in Erfurt (East Germany) a group of visiting tourists which turned out to be Catholics from the Soviet Union (Kazakhstan) and who had not been at Holy Mass for 30 years! "We are homesick for the Church!" they told him after Mass. And one man put a very pertinent question to Meisner: "Could you give to me some very important information? Which doctrines of the Faith do we have to pass on to our children and to our children's children so that they may attain to eternal life?" [emphasis added]

Cardinal Meisner was still so touched by these words when he related them again in his 2013 homily: "Such an important question had not been put to me before, nor ever thereafter," he said. However, when he had then proposed to this man that he give to him and to each of his companions a Bible and the Catechism, the man from the Soviet Union politely declined, saying that they are not even permitted to have religious books in their own homes. When asked about taking home a Rosary, the man responded: "Yes, we can do that. But, what does this have to do with my question?" And Cardinal Meisner answered – holding up his Rosary:

At the beginning of the Rosary is the cross, where we pray the creed which contains our whole Faith. Then come the three pearls: Faith, Hope, Charity – the whole teaching for life. That is what we have to live. Then follow the other pearls, the whole gospels in a kind of secret or blind script, which can only be understood by the praying hands and hearts.

The man took the Rosary into his hands and said: "What? Then I have the whole Catholic Faith in one hand!" [emphasis added] This description of that unexpected and abiding conversation, as related by Cardinal Meisner, should be savored in full in the original homily, in German, in order to see the fuller moral beauty of this true story. Would that we could know what happened to these Catholics from Russia ever since 1975!

Throughout this homily, for example, Cardinal Meisner used some beautiful poetic images and combinations of words that spring from his deep Faith and ardent Love of God. He said, for example: "When I reach out to the hand of God, I want to have something in my hand. That is the Rosary!" [emphasis added] And: "Whoever prays the Rosary again and again, will feel what the brethren felt on the way to Emmaus, when they asked each other: 'Did not our hearts burn?'" And here Cardinal Meisner said: "The heart that is burning for Christ is the hope of the world. Mary brought this fire to our world in Fatima." [emphasis added] "Not theories, but burning hearts will change the world," added the prelate. He also used the beautiful image of the sick woman who touched the seam of Our Lord's garment. "If I only touch this seam, I will be healed." Thus said Meisner: "It is with the Rosary, that that seam of Jesus is given into our hands."

For the sake of the beauty of this one homily, let me cite some other poetic images, as expressed by this prelate:

When we, along with these pearls, receive the words of His Life, then these spiritual seeds will bear fruit – 30-fold, 60-fold, 100-fold, unto eternal life! Each pearl is a mysterious germ of life, because it brings us the Gospel into our life and [brings] our life into the Gospel. [emphasis added]

Cardinal Meisner's ardent love for the Rosary becomes even clearer when he makes the following public testament:

When I will have died, then the canons will come and take away my ring, my crosier […] But: I have written my testament: you have to leave me my Rosary! I want to take it into my coffin! I wish to show it to the Mother of God so that she may show me, after this exile, Jesus, the Blessed Fruit of her life!

In his fuller spiritual testament, which has now been published in Cologne, Germany, Cardinal Meisner writes a letter to Jesus Christ as a testament of gratitude to God, first for having created him as a human being, then for having made him a priest and a bishop, "formed and consecrated by your wounds," and for having "used me at your Cross, and for having made me worthy of your wounds." Written in 2011 – during the pontificate of Pope Benedict XVI – he also implores his flock always to remain loyal to Peter and thus to remain in the Faith.

Let us now consider what Cardinal Meisner had to say about Our Lady of Fatima in 1990, when he visited Fatima for the first time in his life, and upon request of Pope John Paul II. Dr. Hesemann kindly made this homily available to me which Cardinal Meisner gave to him for publication for Hesemann's own book on Fatima (Das Letzte Geheimnis von Fatima – The Last Secret of Fatima).

On 13 May 1990, Cardinal Meisner had thus stated

In our old Europe which was once the homeland of Christendom, Jesus Christ barely appears in public any more. Mary – and with her the Church – has been pushed to the margins of the European societies. Portugal, however, welcomed Mary 73 years ago – just like John under the Cross – into its own. In Fatima, this famous nation has given a realm and homeland to Mary. From Fatima, Mary could start her path in order to carry Christ back to Europe. In Russia and the other East European states, the Christian faith was nearly forbidden. The peoples of East Europe that highly venerate Mary were only able to give her very little space, since atheism had conquered almost all living space. That is why Mary came from Fatima in order to help the distressed disciples of her Son in the East European states. Fatima is, so to speak, the bridgehead of Mary from whence Mary subverted the East European people in order to bring them Christ, who truly liberates man. Europe must never forget to thank Portugal for having opened the doors to Mary so that she may convert the godless states in the East of our continent. […] In those years [of Communism], Mary was the most unassuming, but omnipresent companion in suffering and the helper of the distressed. […] Not Marx has given man greatness and dignity, but Mary.

When we read these words, we must remember that they were written under the deep impression of a final end of Communism in the East, after decades of oppression. The deep gratitude of this prelate is palpable in these words. (Let us remember that in 2016, almost twenty years later, he came to the conclusion that we still were in need of the assistance of Our Lady of Fatima.) But, there are even deeper reasons for Cardinal Meisner's devotion to Our Lady. In a 2016 interview about his own life – he was born in 1933 under the Nazi regime, lived for more than 40 years under Communism in East Germany and then faced the challenges of cultural relativism and liberal Catholicism in the West as Archbishop of Cologne – it becomes clear that it was his own mother who taught him the love of the Blessed Mother and of the Rosary.

In 1945, his mother had to flee from the approaching Soviets from Breslau (which is today Polish) to the West, taking along with her not only her four own sons, but six other relatives – two grandmothers and four more children! (Meisner's father was among the Fallen in Russia – die Gefallenen in Russland – and never returned home.) On their way to the West, the extended Meisner family endured terrible situations such as being abandoned in a van in a heap of snow off the main country road, in the winter, in freezing temperatures below zero. In the middle of this dramatic situation and after having even dropped down a slope in this van, the mother lifted up her Rosary, saying: "God is with us!" When later searching in vain for hours for a room at night in a little village in soon-to-be Communist Germany, the mother suddenly stood still and calmly explained to her four young sons that she, their mother, was now not able to provide for them and that thus they together now must turn to Mary for help. After saying a special German Marian prayer (Hilf Maria, jetzt ist Zeit) three times, a man came out onto the street to them, inviting them into his house with the words: "I cannot any longer watch upon a mother and her children standing out on the street at night."

The whole story of Cardinal Meisner's life is a story of warmth and courage. I have seldom seen such a unique combination of a warm heart and a strong conviction, which gained respect even among his professed opponents. Even Germany's most prominent feminist, Alice Schwarzer, recently gave her tribute to Cardinal Meisner upon his death, saying: "Yes, I liked him." She felt a friendship with him and she cherished "his humanity and child-like Faith" in spite of their differences of opinion, for example, concerning abortion, as Schwarzer wrote. She continued, saying that at their last meeting a year ago, Meisner gave her a little prayer card with a poem of St. Teresa of Avila. The lines "nothing shall frighten you, nothing scare you. Everything shall pass, God alone remains the same" touched Schwarzer especially as being quite "consoling."

Is this not a true Catholic witness who stands firm in the truth and reaches out in charity with Christ's touch to his own opponents? Is this not also the combination of Our Lord and Our Lady? The Truth and Love combined?

Some of the added inspiration for Meisner's own courage and Catholic witness comes from none other than Cardinal Jozef Mindszenty himself, the great Hungarian martyr of Communism. It was on 6 May 2017, not long before he died, that Cardinal Meisner gave witness to this great man. In a homily in Budapest, Hungary, Meisner recounts how he as a 13-year-old boy happened to see a picture of Cardinal Mindszenty in a Communist Courtroom under accusation. Meisner was so touched by this image – which reminded him immediately of Our Lord's own being so falsely accused – that he fastened this image at the wall of his bedroom and thus always looked upon this cardinal before he fell asleep, and when he woke up. "He was the model of a bishop for me," explained Cardinal Meisner in his homily. He adds:

And in me grew the desire that I, one day, wished to be like the cardinal, a Witness of Christ who has the courage also to stand up against the Powerful of this world. [emphasis added]

Later, Cardinal Meisner happened to find the same picture of Cardinal Mindszenty again. He put this image then into his breviary – "so that I am connected with him in prayer every day" – and it was that same breviary which lay in Cardinal Meisner's hands when he died. "When we bishops are not any more confessors, then the people of God are not in a good situation," Meisner added, after first speaking about Mindszenty's own courageous witness and engagement for mankind. Meisner showed himself especially grateful for Mindszenty's compassion and solidarity with the 9 million Germans who had to flee their homeland after World War II – among them the Meisner family. "Except for Cardinal Mindszenty, no other bishop then defended us," [emphasis added] added Meisner. "Bishops have not only to pay attention to a good response from the media, but especially to the proclamation of the truth which has been entrusted to them."

Cardinal Meisner did not only challenge his own fellow bishops. He also challenged all of us Catholics when he once said, in 2016, that now is the "great chance to become a full Christian – half-Christians will perish!" "Now one responsibly has to hold up one's head [den Kopf hinhalten], or one will lose it." He saw a "great chance truly to witness that we are Christians!" And this witness – which we have also learned now from Cardinal Meisner and from his life and his final act of signing the dubia – we can only accomplish with the help of Mary, rooted in the love for Christ.

On 4 April 2005, Cardinal Meisner – significantly just before the upcoming 18-19 April 2005 Conclave in which he played such an important role – visited together with Paul Badde/a> the Holy Face (Volto Santo) of Manoppello. The Cardinal was so deeply touched by the loving Face of God that he made a little, once more poetic, inscription in the shrine's own guest book, an inscription which should inspire us all to a deeper love of Our Lord:

The Face is the Monstrance of the Heart. On the Volto Santo, the Heart of God becomes Visible. + Joachim Card. Meisner, Archbishop of Cologne, Pax Vobis! 4/4/2005 [emphasis added]

Love helps overcome fear, as Professor Josef Pieper once explained and exemplified to my husband, Dr. Robert Hickson. The Latin word cor – heart – can also be found in the word courage. Love makes one courageous, like Cardinal Meisner's mother fighting for her own little ones. May we all learn to love Our Lord and Our Lady so much that we will fight like lions for them. May we pray for the repose of the soul of Cardinal Meisner, and may we also fittingly hope that he soon will also intercede for us. And may thus his 2016 words about Fatima and the dubia also reach the heart of Pope Francis.

EDITOR'S NOTE: We welcome your comments at the end of this pagea>. Email a link or print out a copy of this web page to your clergy, family, friends and relatives. Email this page to a friend.
ENSLAVED
"My children, no country now shall be free from the evils of communism. My heart is torn, for I have come to you in countless appearances upon earth to warn you as Our children to avoid compromise with the enemies of God, though they come to you with smooth tongues, rationalizing their behavior. And because man has fallen out of grace, he will accept these lies and become enslaved." - Our Lady, May 13, 1978
CAST ASIDE
"You have cast aside the warnings of My Mother. She warned and warned of the encroachment of the bear upon mankind. She warned of the evils of communism to mankind, but how many of you listen and act upon these warnings? Now is it too late, My children?" - Jesus, June 12, 1976
We strongly encourage you to print and/or email copies of this web page to all the bishops and clergy. Also, email or mail a copy of this web page to the news media and as many other people as possible. Email a copy of this page to everyone you know.
We urgently need your prayers and financial support to be able to continue to create these web pages. Click here... Thank you in advance.
When you pray the Holy Rosary, you have Our Lady's hand in your hand. When you pray the Holy Rosary, you have the power of God in your hands. Start now! Let's All Pray the Rosary Together Around the World for people to finally obey Our Lady of Fatima and Consecrate Russia... Click here...

The Virgin Mary's Bayside Prophecy Books are Now Available in E-book Version. Click Here Now!
Our Lady of the Roses Awesome Bayside Prophecies... http://www.tldm.org/Bayside These prophecies came from Jesus, Mary, and the saints to Veronica Lueken at Bayside, NY, from 1968 to 1995.
CONSECRATE RUSSIA!
"When I came to Fatima many years ago, I knew that communism would go throughout the world destroying many nations and attacking My Son's Church. Therefore, I made a promise that if the Pope, the Pope of those days and the Pope today, would unite with all the bishops of the world, all together on one day-not the world-but the bishops and the Pope will unite and pray for the consecration of Russia. I do not mean the world, My children; I mean Russia-Russia, the scourge of mankind. You will pray for Russia. One day must be allotted in which Pope John Paul II and also, all the bishops of the world must unite on one day, I repeat, and pray for Russia; or Russia will continue to be the scourge from God. Russia will continue to go throughout the world annihilating people and places and countries." - Our Lady, October 2, 1987

SCORNED, DISCARDED, HIDDEN
"Many years have gone by, My children, since I tried to warn you at Fatima. My message was scorned then by many, discarded and hidden from the world, but My message now cannot be discarded or kept hidden, for you have reached now a point in your life, My children, your lifetime upon your earth, when your days are now being counted." - Our Lady, February 10, 1977

"I WARNED YOU"
"O My children, I warned you many years ago, I warned you in Fatima that, unless you prayed and did penance, Russia and the agents of the sickle and the hammer would go throughout the world cutting down nations and bringing death, destruction, and slavery.
"And you, My country, America the beautiful, you are all-wise but stupid in management, for you have the picture of your coming destruction right before your face and you refuse to look. Like drunkards, you build your hopes on what? Not faith! On man? You think that man shall stop the destruction? No, I say unto you! Because of your fall to immorality, because of your loss of faith and turning from your God, you are allowed to be blinded. You do not even recognize the darkness you are living in, for sin has become a way of life among you." - Our Lady, April 2, 1977

FATIMA
"My child, how many warnings have I sent upon the world, and yet they go unheeded.
"I wish that you make known, or refresh the memory of My children with My visit to the land of Fatima." - Our Lady, April 13, 1974

THIRD SECRET
"My child, they converse of the secret that I gave at Fatima. It is a simple explanation. It could not be fully revealed because of the drastic nature of My message. How I warned and warned that satan would enter into the highest realms of the hierarchy in Rome. The Third Secret, My child, is that satan would enter into My Son's Church." - Our Lady, May 13, 1978

"YOU DID NOT LISTEN"
"My Mother came to you at Fatima warning that unless man stopped his path to perdition, Russia would spread her errors throughout your world causing misery, sufferings, and death and enslavement. My children, you did not listen and act upon Her counsel then, just as many now do not listen and act upon Her counsel. It is a part of human nature to exercise too free a will to reject. And this, I say, falls also onto My pastors who are scattering My sheep in My House." - Our Lady, May 27, 1978

TRUE PEACE
"For peace, My child . . . there is much asked for peace upon earth. I must tell you this: There will be no peace, My children, until what has happened in the past with My visit to Fatima is consummated. Now this has to be done, My children: I repeat this anew, as I have repeated it, as I have gone hinder and yon across the earth to try to enlighten My children as to the road to true peace-you must now cast aside, abrogate the union of Rome with Russia. For Russia must be consecrated to My Immaculate Heart for a true peace." - Our Lady, June 6, 1987

"MAKE KNOWN"
Jesus-"Make known the journey of My Mother at Fatima."
Veronica-Oh, this one. I will print more. Jesus says I will print more words to give to the people of the story of the journey of His Mother at Fatima. It is most important. - June 16, 1973
Directives from Heaven... http://www.tldm.org/directives/directives.htm
D105 - Fatima PDF
D122 - Antichrist PDF
D125 - Ecumenism PDF
D186 - Excommunication PDF
D188 - Wrath of God PDF
D129 - Third Secret, Part 1 - 666 in Rome PDF
D130 - Third Secret, Part 2 - Satan entered the Church in 1972 PDF
D131 - Third Secret, Part 3 - Satan in highest realms of the hierarchy PDF
D132 - Third Secret, Part 4 - Bishop against bishop, cardinal against cardinal PDF
D421 - "Listen to Me", Part 1 PDF
D422 - "Listen to Me", Part 2 PDF
D446 - Kingdom of God, Part 1 PDF
D447 - Kingdom of God, Part 2 PDF
D448 - Kingdom of God, Part 3 PDF
EDITOR'S COMMENT: Evil is accelerating and the Anti-Christ forces are gaining power in the world. When the persecution starts, all Christian web sites on the internet will be forced to close. Be sure to have in your possession all the following items: the Bayside Prophecy books, Bayside Medals, Douay-Rheims Bibles, the Protection Packets, Candles, Sacramentals, and Religious Books. Purchase these items now while they are still available! You will urgently need them in the days ahead. Also, you can print out all PDF files for the Directives from Heaven and all of the Bayside Prophecies. Copy Our Lady's messages and the Directives from Heaven now while they are still available! Pray to the Holy Spirit for wisdom and guidance on how to prepare now and for the days ahead when the Antichrist is revealed. Viva Cristo Rey!
Links...
Bishops and bald eagles, Judie Brown, March 2, 2007
http://www.renewamerica.us/columns/brown/070302

Cardinal Ratzinger said, "The minister of Holy Communion must refuse to distribute it." He did not say 'could,' or 'may,' but that he "must," Barbara Kralis, July 6, 2004
http://www.renewamerica.us/columns/kralis/040706

Prohibition is worthless without enforcement, Barbara Kralis, June 24, 2004
http://www.renewamerica.us/columns/kralis/040624

Is not murder just as evil as lust in the eyes of God? Barbara Kralis, June 8, 2004
http://www.renewamerica.us/columns/kralis/040607

Ten questions regarding the denial of the Eucharist, Barbara Kralis, May 24, 2004
http://www.renewamerica.us/columns/kralis/040524
There are 4 Things You Must Have to Survive the End Times:
1.) The Douay-Rheims Holy Bible...
"I ask that all who hear My voice will take their Bibles, and if they do not have one, search, but find the right Bible, those printed not after 1965, My children." - Jesus, October 5, 1985
"You must all obtain a copy of the Book of life and love, the Bible. Do not accept the new mods. Try to find in your bookstores the old Bibles, My children, for many are being changed to suit the carnal nature of man. I repeat, sin has become a way of life." - Our Lady, October 6, 1992
"I must ask you all to read but a few short chapters a day now, the Book of life and love, your Bible. Knowledge must be gained for all the disciples of My Son, for you will be attacked by scientific minds. But do not be concerned what you will say to them when accosted, for the words will be given to you by the Spirit." - Our Lady, April 10, 1976
The Douay-Rheims Bible was published in 1899. It is the official Bible of the Roman Catholic Church. Almost all other Bibles have been rewritten by Satan. See: http://www.tldm.org/directives/d33.htm , http://www.tldm.org/directives/d415.htm and http://www.tldm.org/directives/d182.htm If you don't have a Douay-Rheims Bible order it now! (Order Form) Yours and your loved ones salvation could depend on it.
Read the Bible cover to cover. If you read 4 chapters a day, you will complete the whole Bible in 334 days. I have read the Bible 2 times and working on the third time. A 75 year old Baptism gentleman told me that he and his wife have read the Bible nine times. Wow!
2.) The Complete Virgin Mary's Bayside Prophesies in 6 Paperback Books...
The Virgin Mary brings directions from God, the Father in Heaven on how to survive the end times. God, the Father, through the Virgin Mary, tells what is coming, how to prepare for it, how to survive it, and how to even stop it. These six volumes along with the Bible are most important to save yourself and your loved ones. Order it now. Tomorrow may be to late. These 6 pocket size paperback books costs $33.00. (Order Form)
3.) Heaven's Home Protection Packet...
Heaven's Home Protection Packet...
Our Lord stated we must have crucifixes upon the outside of all of our outside doors. In the "Heaven's Home Protection Packet" there are instructions, four crucifixes, a tube of special cement for wooden or metal crucifixes. Wooden crucifixes adhere better to the doors when the aluminum strap is removed from the back. Put a light coat of cement on the back of the crucifix and then press it to the outside of the door. If you have any problems, you can call us at 616-698-6448 for assistance. This Heaven's Home Protection Packet is available for a donation of $10.00 plus $4.00 shipping and handling. Send $14.00 to TLD Ministries, P.O. Box 40, Lowell, MI 49331. Item # P15 (Order Form)

Crucifix on front and back door... The only real protection against terrorists...
Jesus - "Pray and wear your sacramentals. And, also, My children, I ask you again to place a crucifix upon your door. Both front and back doors must have a crucifix. I say this to you because there will be carnage within your areas, and this will pass you by if you keep your crucifix upon your doors." (6-30-84) (Testimonies of lives and homes saved by the crucifixes.) http://www.tldm.org/news/crucifix.htm (Order Form)
4.) Heaven's Personal Protection Packet...
Heaven's Personal Protection Packet . . .
Our Lady tells us to be protected from all evil, we must wear the following sacramentals around our necks: a Rosary, a crucifix, the St. Benedict medal, Our Lady of the Roses medal, the Miraculous Medal, and the scapular. We have all of these sacramentals in a packet we call "Heaven's Personal Protection Packet." This packet is available for a donation of $7.00 plus $3.00 shipping and handling. Send $10.00 to TLD Ministries, P.O. Box 40, Lowell, MI 49331. Item # P5 (Order Form)

Our Lady of the Roses, Mary Help of Mothers promises to help protect our children. On September 13, 1977, She said, "He has an army of ogres wandering now throughout your country and all of the countries of the world. They are in possession of great power; so wear your sacramentals, and protect your children and your households. Learn the use every day of holy water throughout your household. Insist even with obstructions, insist that your children always wear a sacramental. One day they will understand that they will repel the demons."
On February 1, 1974, Our Lady said, "My children, know the value of these sacramentals. Guard your children well. You must awaken to the knowledge that you will not be protected without the sacramentals. Guard your children's souls. They must be surrounded with an aura of purity. Remove them if necessary from the sources of contamination, be it your schools or even false pastors."
This Heaven's Personal Protection Packet is available for a donation of $7.00 plus $3.00 shipping and handling. Send $10.00 to TLD Ministries, P.O. Box 40, Lowell, MI 49331. You may use your MasterCard, VISA, or American Express and call 1-616-698-6448. Item # P5 (Order Form)
Incredible Bayside Prophecies on the United States and Canada book...
We have researched the Bayside Prophecies on the United States and Canada and put these outstanding prophecies in a 360 page pocket size paperback book. Veronica said it was very good. It tells what is going to happen here and how to prepare for it. Every North American must read this book! Item #B2 Cost $5.00 (Order Form)
Your names have been written in Heaven… "It is not by accident that you are called by My Mother, for your names have been written in Heaven.... But with this great grace you have great responsibility to send this Message from Heaven throughout the world, for if you are able to recover just one more for Heaven, an additional star shall be placed in your crown." - Jesus, August 5, 1975
A great obligation to go forward... "It is not by accident that you are called by My Mother, for it is by merit and the prayers that have risen to Heaven for your salvation. For those who have received the grace to hear the Message from Heaven, you have a great obligation to go forward and bring this Message to your brothers and sisters. Do not expect a rest upon your earth, for you will have eternal rest very soon." - Jesus, June 12, 1976
The sin of omission... "The sin of omission shall condemn many to hell, be they layman or Hierarchy. I repeat: not the sin of commission, but the sin of omission will commit many to hell." Our Lady of the Roses, October 6, 1980
My gift to help spread Our Lady of the Roses' messages to the world.

We encourage everyone to print or email copies of this web page to all the Bishops and all the clergy. Also, email or send this web page to the news media and as many people as possible.
| Home - Latest News | Introduction | Bayside Prophecies | Directives from Heaven | Order Form | Miracles & Cures | Veronica Lueken | Miraculous Photos | Bible | Radio Program |
The electronic form of this document is copyrighted.
Quotations are permissible as long as this web site is acknowledged with a hyperlink to: http://www.tldm.org
Copyright © These Last Days Ministries, Inc. 1996 - 2017 All rights reserved.
P.O. Box 40 616-698-6448
Lowell, MI 49331-0040
Revised: July 10, 2017