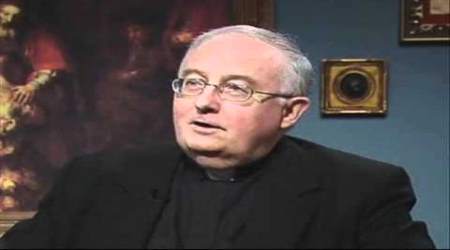 These Last Days News - June 23, 2017
Fr. Brian Harrison O.S. "Satan Shaking the Church"...
FAMILY CIRCLE
"The strength for souls will be found in the family circle." - Our Lady, December 31, 1972
GREATEST ATTACK
"Evil creations from hell--all manner of abominations are entering into the homes of your nation and the countries throughout the world. It will be an absolute necessity now for all parents to act as a director, a leader in the homes. The greatest attack from satan shall be upon family life. If you break down the family, you will break down the nation." - St. Joseph, March 15, 1978
The above Messages from Our Lady were given to Veronica Lueken at Bayside, New York. Read more
TraditionalCatholicPriest.com reported on March 18, 2014:
by Father Brian Harrison

Dear Dr. Moynihan,

In your latest Letter from Rome, commenting on the new appointments to the College of Cardinals, you report rather nonchalantly that "[Archbishop Gerhard Ludwig] Müller is also known for having said that the Church's position on admitting to divorced and remarried Catholics to the sacrament of Communion is not something that can or will be changed. But other German Church leaders, including Cardinal Walter Kasper, have recently gone on record saying the teaching may and will be changed."

Your brief, matter-of-fact report on this controversy reminds me of the tip of an iceberg. It alludes to, but does not reveal the immensity of, a massive, looming threat that bids fair to pierce, penetrate and rend in twain Peter's barque – already tossing perilously amid stormy and icy seas. The shocking magnitude of the doctrinal and pastoral crisis lurking beneath this politely-worded dispute between scholarly German prelates can scarcely be overstated. For what is at stake here is fidelity to a teaching of Jesus Christ that directly and profoundly affects the lives of hundreds of millions of Catholics: the indissolubility of marriage.

The German bishops have devised a pastoral plan to admit divorced and remarried Catholics to Communion, whether or not a Church tribunal has granted a decree of nullity of their first marriage. Cardinal-elect Müller, as Prefect of the Congregation for the Doctrine of the Faith, has not only published a strong article in L'Osservatore Romano reaffirming the perennial Catholic doctrine confirmed by John Paul II in Familiaris Consortio; he has also written officially to the German Bishops' Conference telling them to rectify their heterodox pastoral plan. But the bishops, led by their conference president and by Cardinal Kasper, are openly defying the head of the CDF, and predicting that the existing doctrine and discipline will soon be changed!

Think of the appalling ramifications of this. If German Catholics don't need decrees of nullity, neither will any Catholics anywhere. Won't the world's Catholic marriage tribunals then become basically irrelevant? (Will they eventually just close down?) And won't this reversal of bimillennial Catholic doctrine mean that the Protestants and Orthodox, who have allowed divorce and remarriage for century after century, have been more docile to the Holy Spirit on this issue than the true Church of Christ? Indeed, how credible, now, will be her claim to be the true Church? On what other controverted issues, perhaps, has the Catholic Church been wrong, and the separated brethren right?

And what of Jesus' teaching that those who remarry after divorce commit adultery? Admitting them to Communion without a commitment to continence will lead logically to one of three faith-breaking conclusions: (a) our Lord was mistaken in calling this relationship adulterous – in which case he can scarcely have been the Son of God; (b) adultery is not intrinsically and gravely sinful – in which case the Church's universal and ordinary magisterium has always been wrong; or (c) Communion can be given to some who are living in objectively grave sin – in which case not only has the magisterium also erred monumentally by always teaching the opposite, but the way will also be opened to Communion for fornicators, practicing homosexuals, pederasts, and who knows who else? (And, please, spare us the sophistry that Jesus' teaching was correct "in his own historical and cultural context", but that since about Martin Luther's time that has all changed.)

Let us make no mistake: Satan is right now shaking the Church to her very foundations over this divorce issue. If anything, the confusion is becoming even graver than that over contraception between 1965 and 1968, when Paul VI's seeming vacillation allowed Catholics round the world to anticipate a reversal of perennial Church teaching. If the present Successor of Peter now keeps silent about divorce and remarriage, thereby tacitly telling the Church and the world that the teaching of Jesus Christ will be up for open debate at a forthcoming Synod of Bishops, one fears a terrible price will soon have to be paid.

Fr. Brian W. Harrison, O.S.
St. Louis, Missouri

EDITOR'S NOTTE: We welcome your comments at the end of this page. Email a link or print out a copy of this web page to your clergy, family, friends and relatives. Email this page to a friend.
THE FOUNDATION
"My child, you are observing the foundation for all life and dedication to the Eternal Father-the home and the family. In your world today that has been caught in the snare of the wiles of satan, many families are heading to oblivion, disintegration, and destruction. The forces of evil, the agents of 666, have now infiltrated into the very heart of mankind: the home, the family." - Our Lady, July 24, 1976
We strongly encourage you to print and/or email copies of this web page to all the bishops and clergy. Also, email or mail a copy of this web page to the news media and as many other people as possible. Email a copy of this page to everyone you know.
We urgently need your prayers and financial support to be able to continue to create these web pages. Click here... Thank you in advance.
When you pray the Holy Rosary, you have Our Lady's hand in your hand. When you pray the Holy Rosary, you have the power of God in your hands. Start now! Let's All Pray the Rosary Together Around the World for God to Restrain the Hierarchy of the Catholic Church from Error... Click here...

The Virgin Mary's Bayside Prophecy Books are Now Available in E-book Version. Click Here Now!
Our Lady of the Roses Awesome Bayside Prophecies... http://www.tldm.org/Bayside/ These prophecies came from Jesus, Mary, and the saints to Veronica Lueken at Bayside, NY, from 1968 to 1995.
JOINED
"The act of marriage blessed by the Father must not be dissolved to suit mankind in his carnal nature and loss of the knowledge of God. What God has joined together no man shall place asunder." - Our Lady, December 28, 1974

DESPICABLE
"The Eternal Father has given mankind a set of rules, and in discipline they must be obeyed. It behooves Me to say that My heart is torn by the actions, the despicable actions, of My clergy. I unite, as your God, man and woman into the holy state of matrimony. And what I have bound together no man must place asunder. And what do I see but broken homes, marriages dissolved through annulments! It has scandalized your nation, and it is scandalizing the world. Woe to the teachers and leaders who scandalize the sheep!" - Jesus, May 3, 1978

PROPAGATION
"The act of the union of the flesh was created as the means for the propagation of life upon your earth. We have seen the defaming of this sacred ritual of your God. You fornicate like animals, and when you sin you will not stand up and accept the fruits of your vulgarity.
"The union of the flesh will produce as the Father has deemed it. Should you use this in any manner contrary to the laws of your God, you shall reap what you have
sown." - Our Lady, May 10, 1972

STOP CHANGES
"Pastors, those who have in their care Our sheep, you must stop now these changes that you seek in novelty, for they are destroying the young souls and scattering Our sheep.
"I repeat, My children, the great Council in Rome of Vatican II, the promises were great, but satan sat among you and he played you like the chessboard.
"You were given a foundation of Faith based on Tradition and knowledge of the prophets. You cannot start this new religion, for it will lead you to one religion that is not of My Son, that will not have His true foundation, and you will take My Son's Body and defame it, no longer giving the knowledge of His Divinity. What manner of foul escapades are you planning, O you of little faith? Whatever shall become of you? The Red Hats have fallen and the Purple Hats are being misled. Woe, woe, woe to the inhabitants of the earth!" - Our Lady, August 5, 1976

SAFEGUARD
"My child and My children, I need not repeat to you the necessity to retain tradition. It was like a valve, a safeguard from the eruption of My Son's Church, a schism, a division within My Son's House upon earth. I cry unto you, your Mother, as I hasten back and forth bringing you the Message, the counsel from Heaven. You must recognize--bishops, cardinals and pastors, you must recognize what is happening now in My Son's House. There is being rebuilt before your very eyes another religion, another church of man. No angels are helping in this building." - Our Lady, September 7, 1978

YOUR SIN
"Shall you stand, O Red Hats and Purple Hats, before My Son and say that your teaching has been pure in His sight? I say unto you: you cannot cover your sin. My Son looks into your hearts, and you too, who have received glory in your vocation upon earth--you too, without merit, shall be cast into the abyss of hell. Woe to the teachers who have gone forward with itching ears, implementing, experimenting with My Son's doctrines and teachings, casting aside all Tradition for a modern way. And this way is from satan!" - Our Lady, May 20, 1978

NO COMPROMISE
"You must not, O pastors, you must not compromise your faith; do not be misled. O pastors, you have forgotten your teachings. You must renew in a manner that is not new. You must go back, I say, go back and start anew with Tradition! You cannot separate Tradition, for you held the truth. You were given the grace, the greatest of gifts to mankind, to be born into or come into by conversion, My Son's Church. And now you go about, O you of little Faith, to chip away and chop at the walls until it crumbles. But you shall not remove the foundation, for the foundation is My Son. You are re-crucifying Him in His own House." - Our Lady, April 10, 1976

GUIDE CHILDREN
"The children must be guided by the family. The truth, the Faith, the Tradition, must be instilled in their hearts by the mothers and fathers of a family. Do not expect your children to go beyond your doors and be instructed in truth, for the world has been given to satan. Many who should be showing a firm and true example, have gone the easy way of the flesh, for they care more for the treasures and glory of this world, earth, than what the future has for them." - Our Lady, December 6, 1975

ASSUME RESPONSIBILITY
"Parents will assume the greatest responsibility for keeping Tradition and Faith, the firm foundation of Faith in the hearts of their children. There will be much woe set upon the earth by the evil on. 666, the forces of hell, are now doing full battle against the children of God." - Our Lady, June 16, 1977
Directives from Heaven... http://www.tldm.org/directives/directives.htm
D15 - Holy Matrimony PDF
D85 - Tradition PDF
D167 - The Family - Part 1 PDF
D168 - The Family - Part 2 PDF
EDITOR'S COMMENT: Evil is accelerating and the Anti-Christ forces are gaining power in the world. When the persecution starts, all Christian web sites on the internet will be forced to close. Be sure to have in your possession all the following items: the Bayside Prophecy books, Bayside Medals, Douay-Rheims Bibles, the Protection Packets, Candles, Sacramentals, and Religious Books. Purchase these items now while they are still available! You will urgently need them in the days ahead. Also, you can print out all PDF files for the Directives from Heaven and all of the Bayside Prophecies. Copy Our Lady's messages and the Directives from Heaven now while they are still available! Pray to the Holy Spirit for wisdom and guidance on how to prepare now and for the days ahead when the Antichrist is revealed. Viva Cristo Rey!
There are 4 Things You Must Have to Survive the End Times:
1.) The Douay-Rheims Holy Bible...
"I ask that all who hear My voice will take their Bibles, and if they do not have one, search, but find the right Bible, those printed not after 1965, My children." - Jesus, October 5, 1985
"You must all obtain a copy of the Book of life and love, the Bible. Do not accept the new mods. Try to find in your bookstores the old Bibles, My children, for many are being changed to suit the carnal nature of man. I repeat, sin has become a way of life." - Our Lady, October 6, 1992
"I must ask you all to read but a few short chapters a day now, the Book of life and love, your Bible. Knowledge must be gained for all the disciples of My Son, for you will be attacked by scientific minds. But do not be concerned what you will say to them when accosted, for the words will be given to you by the Spirit." - Our Lady, April 10, 1976
The Douay-Rheims Bible was published in 1899. It is the official Bible of the Roman Catholic Church. Almost all other Bibles have been rewritten by Satan. See: http://www.tldm.org/directives/d33.htm , http://www.tldm.org/directives/d415.htm and http://www.tldm.org/directives/d182.htm If you don't have a Douay-Rheims Bible order it now! (Order Form) Yours and your loved ones salvation could depend on it.
Read the Bible cover to cover. If you read 4 chapters a day, you will complete the whole Bible in 334 days. I have read the Bible 2 times and working on the third time. A 75 year old Baptism gentleman told me that he and his wife have read the Bible nine times. Wow!
2.) The Complete Virgin Mary's Bayside Prophesies in 6 Paperback Books...
The Virgin Mary brings directions from God, the Father in Heaven on how to survive the end times. God, the Father, through the Virgin Mary, tells what is coming, how to prepare for it, how to survive it, and how to even stop it. These six volumes along with the Bible are most important to save yourself and your loved ones. Order it now. Tomorrow may be to late. These 6 pocket size paperback books costs $33.00. (Order Form)
3.) Heaven's Home Protection Packet...
Heaven's Home Protection Packet...
Our Lord stated we must have crucifixes upon the outside of all of our outside doors. In the "Heaven's Home Protection Packet" there are instructions, four crucifixes, a tube of special cement for wooden or metal crucifixes. Wooden crucifixes adhere better to the doors when the aluminum strap is removed from the back. Put a light coat of cement on the back of the crucifix and then press it to the outside of the door. If you have any problems, you can call us at 616-698-6448 for assistance. This Heaven's Home Protection Packet is available for a donation of $10.00 plus $4.00 shipping and handling. Send $14.00 to TLD Ministries, P.O. Box 40, Lowell, MI 49331. Item # P15 (Order Form)

Crucifix on front and back door... The only real protection against terrorists...
Jesus - "Pray and wear your sacramentals. And, also, My children, I ask you again to place a crucifix upon your door. Both front and back doors must have a crucifix. I say this to you because there will be carnage within your areas, and this will pass you by if you keep your crucifix upon your doors." (6-30-84) (Testimonies of lives and homes saved by the crucifixes.) http://www.tldm.org/news/crucifix.htm (Order Form)
4.) Heaven's Personal Protection Packet...
Heaven's Personal Protection Packet . . .
Our Lady tells us to be protected from all evil, we must wear the following sacramentals around our necks: a Rosary, a crucifix, the St. Benedict medal, Our Lady of the Roses medal, the Miraculous Medal, and the scapular. We have all of these sacramentals in a packet we call "Heaven's Personal Protection Packet." This packet is available for a donation of $7.00 plus $3.00 shipping and handling. Send $10.00 to TLD Ministries, P.O. Box 40, Lowell, MI 49331. Item # P5 (Order Form)

Our Lady of the Roses, Mary Help of Mothers promises to help protect our children. On September 13, 1977, She said, "He has an army of ogres wandering now throughout your country and all of the countries of the world. They are in possession of great power; so wear your sacramentals, and protect your children and your households. Learn the use every day of holy water throughout your household. Insist even with obstructions, insist that your children always wear a sacramental. One day they will understand that they will repel the demons."
On February 1, 1974, Our Lady said, "My children, know the value of these sacramentals. Guard your children well. You must awaken to the knowledge that you will not be protected without the sacramentals. Guard your children's souls. They must be surrounded with an aura of purity. Remove them if necessary from the sources of contamination, be it your schools or even false pastors."
This Heaven's Personal Protection Packet is available for a donation of $7.00 plus $3.00 shipping and handling. Send $10.00 to TLD Ministries, P.O. Box 40, Lowell, MI 49331. You may use your MasterCard, VISA, or American Express and call 1-616-698-6448. Item # P5 (Order Form)
Incredible Bayside Prophecies on the United States and Canada book...
We have researched the Bayside Prophecies on the United States and Canada and put these outstanding prophecies in a 360 page pocket size paperback book. Veronica said it was very good. It tells what is going to happen here and how to prepare for it. Every North American must read this book! Item #B2 Cost $5.00 (Order Form)
Your names have been written in Heaven… "It is not by accident that you are called by My Mother, for your names have been written in Heaven.... But with this great grace you have great responsibility to send this Message from Heaven throughout the world, for if you are able to recover just one more for Heaven, an additional star shall be placed in your crown." - Jesus, August 5, 1975
A great obligation to go forward... "It is not by accident that you are called by My Mother, for it is by merit and the prayers that have risen to Heaven for your salvation. For those who have received the grace to hear the Message from Heaven, you have a great obligation to go forward and bring this Message to your brothers and sisters. Do not expect a rest upon your earth, for you will have eternal rest very soon." - Jesus, June 12, 1976
The sin of omission... "The sin of omission shall condemn many to hell, be they layman or Hierarchy. I repeat: not the sin of commission, but the sin of omission will commit many to hell." Our Lady of the Roses, October 6, 1980
My gift to help spread Our Lady of the Roses' messages to the world.

We encourage everyone to print or email copies of this web page to all the Bishops and all the clergy. Also, email or send this web page to the news media and as many people as possible.
| Home - Latest News | Introduction | Bayside Prophecies | Directives from Heaven | Order Form | Miracles & Cures | Veronica Lueken | Miraculous Photos | Bible | Radio Program |
The electronic form of this document is copyrighted.
Quotations are permissible as long as this web site is acknowledged with a hyperlink to: http://www.tldm.org
Copyright © These Last Days Ministries, Inc. 1996 - 2017 All rights reserved.
P.O. Box 40 616-698-6448
Lowell, MI 49331-0040
Revised: June 23, 2017