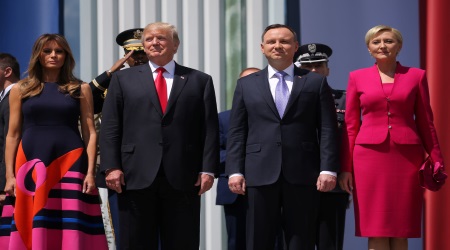 These Last Days News - July 11, 2017
President Trump Gives Incredible Pro-Life, Pro-God Speech in Poland...
"You must inform My children in your country that they must put into your government God-fearing men who follow the rules of the Father. If you bring murderers into the house, robbers and thieves, they will rob you until nothing remains. You will be stripped of all earthly wealth and this wealth will be turned over to one small group to govern the lives of many!" - Our Lady, November 1, 1974
CLEANSE YOUR NATION
"Many warnings have been given in the past to mankind, that have been rejected as being a natural catastrophe. I assure you, My children, many have not been natural, but supernatural in origin. They have been coming from the Eternal Father to warn you that your time is growing short. You must cleanse your nation and all of the nations of the world of their sins of impurity. They must restore each nation under God." - Our Lady, May 23, 1979
Our Lady - "Your country, My child and My children, will lose a great statesman...
Jesus - "I repeat what My Mother has said to you: a statesman will be removed from among you. And then what will happen?" - 10-1-83
Editor's Comment: Please pray for the safety of President Donald Trump and his family.
The above Messages from Our Lord and Our Lady were given to Veronica Lueken at Bayside, New York. Read more
LifeSiteNews.com reported on June 1, 2017
by Fr. Mark Hodges

Enthusiastic Poles interrupted U.S. President Donald Trump's well-received speech several times on Thursday with chants of "Donald Trump! Donald Trump!"

In Europe for the Group of 20 economic summit of world leaders, Trump first stopped in Warsaw to strengthen the already friendly alliance between his country and Poland. "America is eager to expand our partnership with you," Trump said.

He addressed more than 15,000 Poles in attendance at historic Krasinski Square in front of a monument commemorating the 1944 Warsaw Uprising during Nazi occupation in World War II.

"Poland is the geographic heart of Europe. But more importantly, in the Polish people, we see the soul of Europe," the president said in the highly acclaimed speech. "Your nation is great because your spirit is great and your spirit is strong."

Poles came from throughout the country to see Trump. "We are here from our own convictions and belief," Stanislaw Niesyn, who traveled 170 miles for the occasion, told the Associated Press.

Trump noted the historic ties between the two nations. "Polish heroes and American patriots fought side by side in our War of Independence and in many wars that followed," he said. "Our soldiers still serve together today in Afghanistan and Iraq, combating the enemies of all civilization."

"The signs of this friendship stand in our nation's capital. Just steps from the White House, we've raised statues of men with names like Pulaski and Kosciuszko," Trump pointed out. "The same is true in Warsaw, where street signs carry the name of George Washington and a monument stands to one of the world's greatest heroes, Ronald Reagan."

At that point, thousands in attendance began shouting "Donald Trump! Donald Trump!"

"Poland is a land of great heroes. You are the proud nation of Copernicus ... Chopin, St. John Paul II," Trump continued. "And so, I am here today not just to visit an old ally, but to hold it up as an example for others who seek freedom and who wish to summon the courage and the will to defend our civilization."

Former President Lech Walesa, who led Poland to freedom from communism with his "Solidarity" movement, was also present and listened attentively to Trump's remarks.

The leader of the free world recounted Poland's heroic stands against Nazism and Communism. "For two centuries, Poland suffered constant and brutal attacks. Despite every effort to transform you, oppress you or destroy you, you endured and overcame," he praised. "The triumph of the Polish spirit over centuries of hardship gives us all hope for a future in which good conquers evil and peace achieves victory over war."

Quoting the Polish Catholic Bishop and martyr Michal Kozal, "More horrifying than a defeat of arms is a collapse of the human spirit," President Trump recounted the Poles' life or death struggle under Communism.

"Through four decades of Communist rule, Poland and the other captive nations of Europe endured a brutal campaign to demolish your freedom, your faith, your laws, your history, your identity; indeed, the very essence of your culture and your humanity," he said. "Yet through it all, you never lost that spirit. Your oppressors tried to break you, but Poland could not be broken."

Then the U.S. President attributed Poland's ultimate victory to prayer.

"On June 2nd, 1979, one million Poles gathered around Victory Square for their very first Mass with their Polish pope," he said. "That day every Communist in Warsaw must have known that their oppressive system would soon come crashing down."

"They must have known it at the exact moment during Pope John Paul II's sermon when a million Polish men, women and children suddenly raised their voices in a single prayer."

"A million Polish people did not ask for wealth. They did not ask for privilege. Instead, one million Poles said three simple words: 'We want God.'"

"In those words, the Polish people ... found new courage to face down their oppressors," the president said.

"Together with Pope John Paul II, the Poles reasserted their identity as a nation devoted to God," Trump said. "And with that powerful declaration of who you are, you came to understand what to do and how to live."

Not letting up on the theme of crying out to God for deliverance and victory, President Trump said true Americans pray that same prayer. "The people of Poland, the people of America and the people of Europe still cry out, 'We want God!'"

Trump's audience again shouted their cheers of approval: "Donald Trump! Donald Trump!"

Listing many strengths of Polish culture and faith, Trump said the United States shares those same strengths, including "cherish(ing) inspiring works of art that honor God."

"We put faith and family, not government and bureaucracy, at the center of our lives," the president added.

"And above all," the president told pro-life Poland, "we value the dignity of every human life, protect the rights of every person, and share the hope of every soul to live in freedom."

"That is who we are," Trump declared. "Those are the priceless ties that bind us together as nations, as allies and as a civilization."

With that pro-life declaration, Poles again chanted, "Donald Trump! Donald Trump!"

"As long as we know our history, we will know how to build our future," the superpower leader advised.

The President then noted the alliance of countries that helped free Poland from oppression and connected NATO to today's global challenges. "This continent no longer confronts the specter of communism. But today … there are dire threats to our security and to our way of life," he said.

"We are confronted by another oppressive ideology, one that seeks to export terrorism and extremism all around the globe," Trump soberly warned. "We are fighting hard against radical Islamic terrorism. And we will prevail."

"We cannot accept those who reject our values and who use hatred to justify violence against the innocent."

"We must work together to confront forces, whether they come inside or out, from the south or the east, that threaten over time to undermine these values and to erase the bonds of culture, faith and tradition that make us who we are," he said.

"The fundamental question of our time is whether the West has the will to survive," Trump said. "Do we have the confidence in our values to defend them at any cost?"

"Do we have the desire and the courage to preserve our civilization in the face of those who would subvert and destroy it?" he rhetorically asked.

"We can have the largest economies and the most lethal weapons anywhere on Earth, but if we do not have strong families and strong values, then we will be weak and we will not survive."

Trump said the war is one for our values and traditions. "Our own fight for the West does not begin on the battlefield," he said. "It begins with our minds, our wills and our souls."

"Just as Poland could not be broken, I declare today for the world to hear that the West will never, ever be broken," the president proclaimed. "Our values will prevail, our people will thrive, and our civilization will triumph."

"Donald Trump! Donald Trump!"

The Commander-in-Chief reiterated the U.S. pledge to "stand firmly behind Article 5," a NATO promise to defend member nations if they come under attack.

Trump alluded to "powers that seek to test our will … and challenge our interests," and then got specific, "urging" Russia "to cease its destabilizing activities in Ukraine and elsewhere, and its support of hostile regimes, including Syria and Iraq."

Summarizing his stance on border protection, legal vs. illegal immigration, and vetting refugees, the President said, "While we will always welcome new citizens who share our values and love our people, our borders will always be closed to terrorism and extremism of any kind."

From the crowd came more shouts of approval.

"So together let us all fight like the Poles, for family, for freedom, for country and for God," the president concluded. "God bless you, God bless the Polish people, God bless our allies, and God bless the United States of America."

The President's entire speech can be found here.
GOVERNMENT
"For that one reason among many, the United States will suffer unless there is placed into your government a group that fears the Lord if they cannot love the Lord. They will fear Him and find measures to stop the slaughter of the unborn." - Our Lady, April 14, 1984
THE UNITED STATES SHALL BE FIRST STRUCK
"One of the reasons the Eternal Father chose your city and your state for My appearance was because of abortion, the murder of the holy innocents. Your nation, without repentance, shall be the first struck." - Our Lady, March 15, 1978

EDITOR'S NOTE: We welcome your comments at the end of this page.
We strongly encourage you to print and/or email copies of this web page to all the bishops and clergy. Also, email or mail a copy of this web page to the news media and as many other people as possible. Email a copy of this page to everyone you know.
We urgently need your prayers and financial support to be able to continue to create these web pages. Click here... Thank you in advance.

Wars are a punishment for man's sins. Abortion, homosexuality, and the changes in the Catholic Church cry out to Heaven for just punishment.
When you pray the Holy Rosary, you have Our Lady's hand in your hand. When you pray the Holy Rosary, you have the power of God in your hands. Start now! Let's All Pray the Rosary Together Around the World for Everyone to Pray for God-fearing Candidates. Also, pray for Donald Trump's safety... Click here...

The Virgin Mary's Bayside Prophecy Books are Now Available in E-book Version. Click Here Now!
Our Lady of the Roses Awesome Bayside Prophecies... http://www.tldm.org/Bayside/
These prophecies came from Jesus, Mary, and the saints to Veronica Lueken at Bayside, NY, from 1968 to 1995.
FOULEST OF DEEDS
"Our hearts are torn because of the wanton murder of the young by evil man. Abortion, My children, is murder, the most foulest of deeds, that is punishable by death! And what is worse than death of the soul?
"I say unto you, as your Mother, that any man or woman who performs or takes part of this abomination of the murder of the unborn shall be given a heavy penance upon earth, or if this penance is not given upon earth, that person found guilty in the eyes of his God shall suffer eternal damnation in the fires of hell." - Our Lady, December 28, 1976

DESTROYED
"All who become part of or condone abortion, the murder of the young, shall be destroyed!" - Jesus, June 2, 1979

HUMAN LIFE IS SACRED
"The Eternal Father command that you stop these murders at once! You will not destroy the lives of the unborn. Human life is sacred in the eyes of your God. No man has the right to destroy a life. The Father, He sends this life to you, and only He will decide when it will return back to the Kingdom.
"Do not, My children, be deceived by the words of the evil ones about you who cry to you of no space left for man. There is space, for My Father has a plan for every life He sends." - Our Lady, August 5, 1971

WILL NEVER BE CONDONED
"You will remember, My children and My child, to guard the young. Your clergy have fallen into darkness. Abortion will never be condoned. But We must have others who fervently will go forward and bring out to the minds of those who have actually seduced the country and the children--bring them the knowledge of Heaven, hell and purgatory. Then they will not have free license to sin." - Our Lady, May 28, 1983

GOVERNMENT
"For that one reason among many, the United States will suffer unless there is placed into your government a group that fears the Lord if they cannot love the Lord. They will fear Him and find measures to stop the slaughter of the unborn." - Our Lady, April 14, 1984

NUNS
"That is what makes My heart ache, My child. That is one of the reasons Theresa is crying constantly when she looks into the convents and sees what is going on. Many now believe in abortion, the murders of the children; and many have committed this act upon themselves." - Jesus, October 1, 1988

BRING BACK PUBLIC PRAYER
"Your country must bring back public prayer. Your country must make atonement for the offenses being committed against the God, your Lord, the King of Heaven and earth, your Creator.
"Man upon earth has chosen to give honor to man. After the great cleansing, the fruits of man's hands shall fall! Much will be reduced to ashes and rubble. He will rebuild in the manner the Father directs, under the direction of the Father." - Our Lady, August 21, 1973

TO REMOVE CHRISTIANITY
"My dear parents, please! Listen to your Mother. Listen to what I have to say to you, for I tell you the truth. The Eternal Father sees all, and makes us knowledgeable as to what is happening upon earth that will bring its eventual destruction. Your children are being educated in the schools to take all Christianity from their lives, and believe not in the supernatural things of God, but the diabolical processes of satan, in cults." - Our Lady, June 18, 1987

PRAYER OUTLAWED
"My child and My children, prayer has not become a way of life for many. That is why communism has got such a foothold in your country and in other countries of the world. The prayers given to you in your childhood will be remembered always, I know, My children; but there are those who have not received these prayers in their schools, for prayer has been outlawed in many areas of your country and the world. It took but a few without faith to bring down the flag, for even your country's flag is being defiled, My children." - Our Lady, October 2, 1987

THE BIBLE
"You will go forward with the cross in your right hand and the Bible, the Book of life, in your left. And all who deny this Book are not of the light." - Our Lady, May 22, 1974

DISCIPLINARIAN
"Parents, you must now become the disciplinarian in your home. You have the major responsibility now for safeguarding the souls of your family. Do not expect your children to be guided the right way in the light by the teachers in your school systems, for all have fallen to satan." - Jesus, November 1, 1977

YOUTH INDOCTRINATED
"Your children must be protected from the evils that abound in your school systems in your country and most nations throughout the world. They are being taught immorality and a loss of faith in the supernatural and the knowledge of their God. All manner of heresy has been indoctrinated into their youthful minds. It is a diabolical plan of Lucifer." - Our Lady, June 18, 1979

A FOUL SITUATION
"A foul situation has come about in the schools, both public and private. They are now teaching sex education, My children. And this is a debauchery of your young souls. Parents, are you so blind that you do not investigate, or ask your children what has happened in their classes today at school? Show you no interest as you go about the world gathering materialism, and seeking to break your home apart by husband and wife going in both directions; neither do they work together to hold the home together, but they work apart, many leaving the children astray by not having counsel over them." - Our Lady, September 27, 1986

PRAY FOR LEADERS
"The leaders of your country and the leaders throughout the world have taken upon themselves a measure of sin creating insanity.
"In the light of the Spirit descending from Heaven, you shall be given the knowledge of truth, My children. Accept it and take it as your candle, for you must now go throughout your world saving your brothers, preparing them for what lies ahead." – Our Lady, September 13, 1975
Directives from Heaven... http://www.tldm.org/directives/directives.htm
D134 - U.S. Government Leaders PDF
D139 - Preparations: Spiritual PDF
D140 - Preparations: Material PDF
D224 - Restore America to One Nation Under God PDF
D443 - Politics, Part 1 PDF
D444 - Politics, Part 2 PDF
EDITOR'S COMMENT: Evil is accelerating and the Anti-Christ forces are gaining power in the world. When the persecution starts, all Christian web sites on the internet will be forced to close. Be sure to have in your possession all the following items: the Bayside Prophecy books, Bayside Medals, Douay-Rheims Bibles, the Protection Packets, Candles, Sacramentals, and Religious Books. Purchase these items now while they are still available! You will urgently need them in the days ahead. Also, you can print out all PDF files for the Directives from Heaven and all of the Bayside Prophecies. Copy Our Lady's messages and the Directives from Heaven now while they are still available! Pray to the Holy Spirit for wisdom and guidance on how to prepare now and for the days ahead when the Antichrist is revealed. Viva Cristo Rey!
Articles...
Communism's 45 goals to destroy the United States
http://www.tldm.org/news7/CommunismInAmerica.htm

Kerry dismissed the threat of global communism as "bogus" before a Senate hearing in 1971
http://www.tldm.org/News7/KerryCommunism2.htm

Kerry's campaign slogan taken from a communist poem
http://www.tldm.org/news7/KerryCommunism1.htm

Clinton's White House
http://www.tldm.org/news2/sellout.htm

Nancy Pelosi: WND reports that Democrats' likely top House official part of powerful, socialist-linked bloc
http://www.tldm.org/news5/pelosi.htm

Russian espionage and penetration of the U.S. government
http://www.tldm.org/news6/espionage.htm

Global communism, part 1
http://www.tldm.org/news2/global-1.htm

Global communism: Africa, part 2
http://www.tldm.org/news2/africa.htm

Henry Kissinger: traitor to America
http://www.tldm.org/news2/kissinger.htm

Russia's master plan
http://www.tldm.org/news/master_plan.htm

U.S. invasion through Mexico
http://www.tldm.org/news3/Nicaragua.htm
There are 4 Things You Must Have to Survive the End Times:
1.) The Douay-Rheims Holy Bible...
"I ask that all who hear My voice will take their Bibles, and if they do not have one, search, but find the right Bible, those printed not after 1965, My children." - Jesus, October 5, 1985
"You must all obtain a copy of the Book of life and love, the Bible. Do not accept the new mods. Try to find in your bookstores the old Bibles, My children, for many are being changed to suit the carnal nature of man. I repeat, sin has become a way of life." - Our Lady, October 6, 1992
"I must ask you all to read but a few short chapters a day now, the Book of life and love, your Bible. Knowledge must be gained for all the disciples of My Son, for you will be attacked by scientific minds. But do not be concerned what you will say to them when accosted, for the words will be given to you by the Spirit." - Our Lady, April 10, 1976
The Douay-Rheims Bible was published in 1899. It is the official Bible of the Roman Catholic Church. Almost all other Bibles have been rewritten by Satan. See: http://www.tldm.org/directives/d33.htm , http://www.tldm.org/directives/d415.htm and http://www.tldm.org/directives/d182.htm If you don't have a Douay-Rheims Bible order it now! (Order Form) Yours and your loved ones salvation could depend on it.
Read the Bible cover to cover. If you read 4 chapters a day, you will complete the whole Bible in 334 days. I have read the Bible 2 times and working on the third time. A 75 year old Baptism gentleman told me that he and his wife have read the Bible nine times. Wow!
2.) The Complete Virgin Mary's Bayside Prophesies in 6 Paperback Books..
The Virgin Mary brings directions from God, the Father in Heaven on how to survive the end times. God, the Father, through the Virgin Mary, tells what is coming, how to prepare for it, how to survive it, and how to even stop it. These six volumes along with the Bible are most important to save yourself and your loved ones. Order it now. Tomorrow may be to late. These 6 pocket size paperback books costs $33.00. (Order Form)
3.) Heaven's Home Protection Packet...
Heaven's Home Protection Packet...
Our Lord stated we must have crucifixes upon the outside of all of our outside doors. In the "Heaven's Home Protection Packet" there are instructions, four crucifixes, a tube of special cement for wooden or metal crucifixes. Wooden crucifixes adhere better to the doors when the aluminum strap is removed from the back. Put a light coat of cement on the back of the crucifix and then press it to the outside of the door. If you have any problems, you can call us at 616-698-6448 for assistance. This Heaven's Home Protection Packet is available for a donation of $10.00 plus $4.00 shipping and handling. Send $14.00 to TLD Ministries, P.O. Box 40, Lowell, MI 49331. Item # P15 (Order Form)

Crucifix on front and back door... The only real protection against terrorists...
Jesus - "Pray and wear your sacramentals. And, also, My children, I ask you again to place a crucifix upon your door. Both front and back doors must have a crucifix. I say this to you because there will be carnage within your areas, and this will pass you by if you keep your crucifix upon your doors." (6-30-84) (Testimonies of lives and homes saved by the crucifixes.) http://www.tldm.org/news/crucifix.htm (Order Form)
4.) Heaven's Personal Protection Packet...
Heaven's Personal Protection Packet . . .
Our Lady tells us to be protected from all evil, we must wear the following sacramentals around our necks: a Rosary, a crucifix, the St. Benedict medal, Our Lady of the Roses medal, the Miraculous Medal, and the scapular. We have all of these sacramentals in a packet we call "Heaven's Personal Protection Packet." This packet is available for a donation of $7.00 plus $3.00 shipping and handling. Send $10.00 to TLD Ministries, P.O. Box 40, Lowell, MI 49331. Item # P5 (Order Form)

Our Lady of the Roses, Mary Help of Mothers promises to help protect our children. On September 13, 1977, She said, "He has an army of ogres wandering now throughout your country and all of the countries of the world. They are in possession of great power; so wear your sacramentals, and protect your children and your households. Learn the use every day of holy water throughout your household. Insist even with obstructions, insist that your children always wear a sacramental. One day they will understand that they will repel the demons."
On February 1, 1974, Our Lady said, "My children, know the value of these sacramentals. Guard your children well. You must awaken to the knowledge that you will not be protected without the sacramentals. Guard your children's souls. They must be surrounded with an aura of purity. Remove them if necessary from the sources of contamination, be it your schools or even false pastors."
This Heaven's Personal Protection Packet is available for a donation of $7.00 plus $3.00 shipping and handling. Send $10.00 to TLD Ministries, P.O. Box 40, Lowell, MI 49331. You may use your MasterCard, VISA, or American Express and call 1-616-698-6448. Item # P5 (Order Form)
Incredible Bayside Prophecies on the United States and Canada book . . .
We have researched the Bayside Prophecies on the United States and Canada and put these outstanding prophecies in a 360 page pocket size paperback book. Veronica said it was very good. It tells what is going to happen here and how to prepare for it. Every North American must read this book! Item #B2 Cost $5.00 (Order Form)
My gift to help spread Our Lady of the Roses' messages to the world.

| Home - Latest News | Introduction | Bayside Prophecies | Directives from Heaven | Shopping Cart | Testimonies | Veronica Lueken | Miraculous Photos | Bible | Radio Program |
We encourage everyone to print or email copies of this web page to all the Bishops and all the clergy. Also, email or send this web page to the news media and as many people as possible.
The electronic form of this document is copyrighted.
Quotations are permissible as long as this web site is acknowledged through hyperlink to: http://www.tldm.org
Copyright © These Last Days Ministries, Inc. 1996 - 2017 All rights reserved.
P.O. Box 40 616-698-6448
Lowell, MI 49331-0040
Revised: July 26, 2017