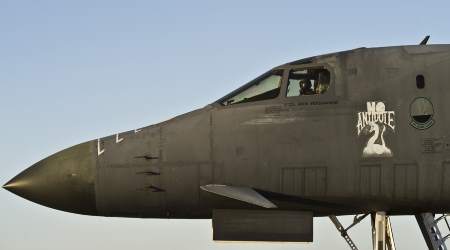 These Last Days News - August 3, 2017
The US Military is in Really Bad Shape...
YOUR COUNTRY HAS FALLEN
"Your country, the eagle, has fallen and been plucked by satan. The great bird no longer flies high. No, I say unto you: because of your immorality, your materialistic seeking, your scientific pursuits to outdo the Eternal Father in His plan for mankind, you bring upon yourselves great trial and punishment." – Jesus, November 19, 1977
YOUR COUNTRY IS NOW IN A TERRIBLE STATE
"My child and My children, your country is now in a terrible state. As I gave you the photograph with the plucked eagle, you can well imagine that the eagle, representing the United States, looks like it has drawn its last breath." – Jesus, June 18, 1983
The above Messages from Our Lady were given to Veronica Lueken at Bayside, New York. Read more
DailySignal.com on February 10, 2017 :
by John Cooper

This week on Capitol Hill, several top U.S. military leaders from across the armed services presented a sobering case to Congress: U.S. military readiness is the lowest it has been in decades, leaving it unprepared to defend America's interests at home and abroad.

In testimony before the Senate and House Armed Services committees, the vice chiefs of staff of the Army, Navy, Marines, and Air Force articulated pressing concerns about the state of their branchs' readiness to respond to conflicts overseas or attacks on the homeland.

The hearing highlighted substantial readiness and capacity issues within each of the services:

Army: Of 58 total brigade combat teams (the Army's main combat building block), only three are considered ready for combat.
Navy: The Navy's fleet is the smallest it has been in nearly 100 years. This makes ship repairs harder to complete, as those vessels are needed on the waterways.
Marine Corps: Eighty percent of Marine aviation units do not have even the minimum number of aircraft they need for training and basic operations.
Air Force: The Air Force is the smallest and, in terms of many of its aircraft, oldest it has ever been. The service had 8,600 aircraft in 1991 while today it only has 5,500, and those aircraft are an average of 27 years old. Worse, fewer than half of those aircraft are prepared to take on and defeat our adversaries.

These troubling findings by the services echo those laid out by The Heritage Foundation in its 2017 Index of U.S. Military Strength, which rated the Army as "Weak" and the other three branches as "Marginal" in terms of their ability to fight and win major conflicts.

What was noteworthy about the vice chiefs' testimony beyond these startling numbers, however, was their brutal honesty.

For eight years under the Obama administration, top defense officials were largely silenced and prevented from articulating their concerns about budget cuts and decreased readiness to policymakers with the ability to reverse undeniable decline.

What this hearing and other recent public statements are showing, however, is that defense leaders believe they can now begin to speak openly about the challenges they face, and that Congress and the administration can address these negative trends—especially those caused by diminishing resources.

Make no mistake—budget cuts, especially sequestration cuts implemented indiscriminately across the board beginning more than five years ago, have been devastating to the U.S. military.

Look at flying hours, for example.

Navy, Marine, and Air Force pilots have all seen their flying hours substantially reduced because there simply is not enough money to fly sorties. This has led to pilots being unable to maintain cockpit skills, which like everything else, will atrophy without constant tuning and training.

Worse, this inability to maintain proficiency has led to lethal accidents and loss of aircraft, which may have been preventable—to say nothing of the danger of thrusting our service men and women into combat without giving them the opportunity to train and maximize their readiness.

John Venable, a Heritage senior research fellow for defense policy and retired F-16 pilot with more than 4,400 hours in the cockpit, has written that the 2015 Air Force average of 150 flight hours per year per pilot (just under three a week) means "the most current and qualified Air Force fighter pilots are flying at a rate so low that we would have considered them unfit for combat in the 80s and 90s."

And this is 20 to 30 years later, in a world where our enemies have become stronger, more advanced, and more aggressive.

Even if the budget for flight hours existed, however, in many cases it simply would not matter, because the majority of the services' aircraft are not even considered flyable.

According to multiple reports just this week, about two-thirds of the Navy's fighter/attack aircraft and more than half of the Marine Corps' total aircraft fleet are unable to even get off the ground.

These problems are merely the tip of the iceberg. The American people can expect to hear more accounts like these in the coming months as we learn more about the declining state of U.S. military readiness.

However, hope is not lost. Congress and the Trump administration can act to begin reversing this trend. Eliminating sequestration cuts implemented by the Budget Control Act is a necessary first step.

Congress should also allocate more resources to the military in the fiscal year 2018 budget. Commanders must be given the ability to both field a potent fighting force today, and invest in modernizing aircraft, weapons, and equipment for tomorrow.

Both must be priorities for this administration, and under the leadership of Secretary of Defense James Mattis—who declared in his confirmation hearing, we can "afford survival"—there is hope for such a balance.

Much of my service on active duty was spent under the burden of sequestration, and while I can attest to the "can do" mentality, in spite of the challenges, of those with whom I served, we should never have placed such a burden on them to begin with.

The Trump administration and Congress have a chance to reverse the decline in America's military. The only thing that remains to be seen is whether or not they will capitalize on it.

EDITOR'S NOTE: We welcome your comments at the end of this page. Email a link or print out a copy of this web page to your clergy, family, friends and relatives. Email this page to a friend.
SKELETON OF ITS FORMER GLORY
"Your country, with the symbol of the eagle, the proud bald eagle so pure and white, has been plucked! It is but a skeleton of its former glory, slowly starved of the light.
"Lucifer, 666, working through the man of sin to destroy you in your human nature until your soul is bare to him and he may destroy that, too. Your bodies are the temple of your spirit, the abode of the light, unless you cast it out and accept the prince of darkness, who now seeks to be the master of your world. The majesty of darkness--is this what you want?" – Our Lady, September 28, 1979
IT WILL NOT RISE AGAIN UNLESS...
"The agents of satan have gained control in the major medias of your country. The great eagle has been plucked. It will not rise again unless a major miracle of return to the Father, return to Faith, is accomplished." – Our Lady, September 7, 1974
We strongly encourage you to print and/or email copies of this web page to all the bishops and clergy. Also, email or mail a copy of this web page to the news media and as many other people as possible. Email a copy of this page to everyone you know.
We urgently need your prayers and financial support to be able to continue to create these web pages. Click here... Thank you in advance.

Wars are a punishment for man's sins. Abortion, homosexuality, and the changes in the Catholic Church cry out to Heaven for just punishment.
When you pray the Holy Rosary, you have Our Lady's hand in your hand. When you pray the Holy Rosary, you have the power of God in your hands. Start now! Let's All Pray the Rosary Together Around the World for the protection of the United States of America... Click here...

The Virgin Mary's Bayside Prophecy Books are Now Available in E-book Version. Click Here Now!
Our Lady of the Roses Awesome Bayside Prophecies... http://www.tldm.org/Bayside/ These prophecies came from Jesus, Mary, and the saints to Veronica Lueken at Bayside, NY, from 1968 to 1995.
"THAT COUNTRY SHALL FALL"
"How can a great country like the United States fall, you say, My child? You ask Me in your heart. I read your heart. I will tell you why. Because they have given themselves over to satan. When a country has lost its morality and seeks the pleasures of the flesh, giving over, themselves over, to all manner of abominations, like homosexuality, and condoning this up the highest courts of the land, then that country shall fall." - Our Lady, November 1, 1985

UNITED STATES HELD RESPONSIBLE
"I hold your country, My child, at fault because too few who are in power in the government and the teachers from My Church on earth, too few are willing to fight against the abomination of the homosexuality that is raging throughout the United States, Canada, and the world. In no way will homosexuality be accepted, for it means damnation and destruction." - Jesus, July 1, 1985

"YOU HOLD THE BALANCE"
"Your country, the United States of America, and many other countries of the world are being deceived. While they go forward seeking peace, the enemies of your God and your country are fast preparing to attack. Pray a constant vigilance of prayer, and recognize the faces of evil about you. Pray for the leaders of your country, My children. You hold the balance for the fate of your country." – Our Lady, August 21, 1976

YEARS OF PLENTITUDE
Veronica - Now Jesus is going over, directly above our flag, the American flag, and He's pointing downward to the flag.
Jesus - "Look, My children, upon a nation, America the beautiful, that has given itself to satan. Look upon a nation that has conspired with the enemy, the enemies of God. Look upon a nation guided by My Mother for years of plentitude on earth, and look upon a nation that shall be chastised through suffering." - July 15, 1976

LEADERS LAX, CORRUPT
"Homosexuality is rampant throughout your country and all of the nations of the world. Your leaders are lax and corrupt. There are very few voices with authority crying out against the sins that shall bring destruction upon your nation and many nations of the world." - Our Lady, July 14, 1979

ONCE BEAUTIFUL-OF-SPIRIT
"Since your perverse generation has chosen of free will to cast aside the warning from Heaven, you will, in diverse places and in your country—the once beautiful-of-spirit United States shall suffer great trial and come to its knees. What was to happen in the future shall be now! Mankind shall now determine the date." - St. Michael, June 8, 1974

FALL OF AN EMPIRE
"A country is known by the moral values, My children. In the history of your world, if you consult and look, My children, you will find that your country and many in your world are now proceeding along the same course taken before the fall of an empire!" - Our Lady, February 10, 1976

SOILED WITH CORRUPTION
"All of the major countries of your world, My children, are preparing for war. All cry peace, peace, and place a mask over their intentions as they prepare for war. Your country, I promise, as I have promised in the past, to give you My protection. America the beautiful has become soiled with corruption. America, once beautiful, has taken on a new leader, and his name is satan. A country that has cast aside a true moral value, a country that has abandoned its God to seek more and more of the material and power over the lives of mankind, this country has sown the seeds for its own destruction." - Our Lady of the Roses, August 5, 1976

HOW MANY LISTENED?
"America the beautiful has fallen to satan. The eagle, the illustrious eagle, has fallen to satan, plucked by sin and corruption from within!
"O My children, I wish, I desire, in My Mother's heart, to bring you a message of great joy; but how can I do this now, for it has become too late! I cautioned you, I begged you, I wandered through many earth-years warning you of this time, but how many listened to My counsel and acted upon it?" - Our Lady of the Roses, September 7, 1977

MEASURE FOR MEASURE
"Measure by measure, America the beautiful shall be purged by trial and suffering for turning away from God. Measure for measure, all countries of the earth shall go through a crucible of trial and suffering for the rejection of their God." - Our Lady of the Roses, May 14, 1977
Directives from Heaven... http://www.tldm.org/directives/directives.htm
D158 - America the Beautiful PDF
D275 - The Eagle has been Plucked PDF
D353 - Dark Clouds Over America PDF
EDITOR'S COMMENT: Evil is accelerating and the Anti-Christ forces are gaining power in the world. When the persecution starts, all Christian web sites on the internet will be forced to close. Be sure to have in your possession all the following items: the Bayside Prophecy books, Bayside Medals, Douay-Rheims Bibles, the Protection Packets, Candles, Sacramentals, and Religious Books. Purchase these items now while they are still available! You will urgently need them in the days ahead. Also, you can print out all PDF files for the Directives from Heaven and all of the Bayside Prophecies. Copy Our Lady's messages and the Directives from Heaven now while they are still available! Pray to the Holy Spirit for wisdom and guidance on how to prepare now and for the days ahead when the Antichrist is revealed. Viva Cristo Rey!
There are 4 Things You Must Have to Survive the End Times:
1.) The Douay-Rheims Holy Bible...
"I ask that all who hear My voice will take their Bibles, and if they do not have one, search, but find the right Bible, those printed not after 1965, My children." - Jesus, October 5, 1985
"You must all obtain a copy of the Book of life and love, the Bible. Do not accept the new mods. Try to find in your bookstores the old Bibles, My children, for many are being changed to suit the carnal nature of man. I repeat, sin has become a way of life." - Our Lady, October 6, 1992
"I must ask you all to read but a few short chapters a day now, the Book of life and love, your Bible. Knowledge must be gained for all the disciples of My Son, for you will be attacked by scientific minds. But do not be concerned what you will say to them when accosted, for the words will be given to you by the Spirit." - Our Lady, April 10, 1976
The Douay-Rheims Bible was published in 1899. It is the official Bible of the Roman Catholic Church. Almost all other Bibles have been rewritten by Satan. See: http://www.tldm.org/directives/d33.htm , http://www.tldm.org/directives/d415.htm and http://www.tldm.org/directives/d182.htm If you don't have a Douay-Rheims Bible order it now! (Order Form) Yours and your loved ones salvation could depend on it.
Read the Bible cover to cover. If you read 4 chapters a day, you will complete the whole Bible in 334 days. I have read the Bible 2 times and working on the third time. A 75 year old Baptism gentleman told me that he and his wife have read the Bible nine times. Wow!
2.) The Complete Virgin Mary's Bayside Prophesies in 6 Paperback Books...
The Virgin Mary brings directions from God, the Father in Heaven on how to survive the end times. God, the Father, through the Virgin Mary, tells what is coming, how to prepare for it, how to survive it, and how to even stop it. These six volumes along with the Bible are most important to save yourself and your loved ones. Order it now. Tomorrow may be to late. These 6 pocket size paperback books costs $33.00. (Order Form)
3.) Heaven's Home Protection Packet...
Heaven's Home Protection Packet...
Our Lord stated we must have crucifixes upon the outside of all of our outside doors. In the "Heaven's Home Protection Packet" there are instructions, four crucifixes, a tube of special cement for wooden or metal crucifixes. Wooden crucifixes adhere better to the doors when the aluminum strap is removed from the back. Put a light coat of cement on the back of the crucifix and then press it to the outside of the door. If you have any problems, you can call us at 616-698-6448 for assistance. This Heaven's Home Protection Packet is available for a donation of $10.00 plus $4.00 shipping and handling. Send $14.00 to TLD Ministries, P.O. Box 40, Lowell, MI 49331. Item # P15 (Order Form)

Crucifix on front and back door... The only real protection against terrorists...
Jesus - "Pray and wear your sacramentals. And, also, My children, I ask you again to place a crucifix upon your door. Both front and back doors must have a crucifix. I say this to you because there will be carnage within your areas, and this will pass you by if you keep your crucifix upon your doors." (6-30-84) (Testimonies of lives and homes saved by the crucifixes.) http://www.tldm.org/news/crucifix.htm (Order Form)
4.) Heaven's Personal Protection Packet...
Heaven's Personal Protection Packet . . .
Our Lady tells us to be protected from all evil, we must wear the following sacramentals around our necks: a Rosary, a crucifix, the St. Benedict medal, Our Lady of the Roses medal, the Miraculous Medal, and the scapular. We have all of these sacramentals in a packet we call "Heaven's Personal Protection Packet." This packet is available for a donation of $7.00 plus $3.00 shipping and handling. Send $10.00 to TLD Ministries, P.O. Box 40, Lowell, MI 49331. Item # P5 (Order Form)

Our Lady of the Roses, Mary Help of Mothers promises to help protect our children. On September 13, 1977, She said, "He has an army of ogres wandering now throughout your country and all of the countries of the world. They are in possession of great power; so wear your sacramentals, and protect your children and your households. Learn the use every day of holy water throughout your household. Insist even with obstructions, insist that your children always wear a sacramental. One day they will understand that they will repel the demons."
On February 1, 1974, Our Lady said, "My children, know the value of these sacramentals. Guard your children well. You must awaken to the knowledge that you will not be protected without the sacramentals. Guard your children's souls. They must be surrounded with an aura of purity. Remove them if necessary from the sources of contamination, be it your schools or even false pastors."
This Heaven's Personal Protection Packet is available for a donation of $7.00 plus $3.00 shipping and handling. Send $10.00 to TLD Ministries, P.O. Box 40, Lowell, MI 49331. You may use your MasterCard, VISA, or American Express and call 1-616-698-6448. Item # P5 (Order Form)
Incredible Bayside Prophecies on the United States and Canada book...
We have researched the Bayside Prophecies on the United States and Canada and put these outstanding prophecies in a 360 page pocket size paperback book. Veronica said it was very good. It tells what is going to happen here and how to prepare for it. Every North American must read this book! Item #B2 Cost $5.00 (Order Form)
Your names have been written in Heaven… "It is not by accident that you are called by My Mother, for your names have been written in Heaven.... But with this great grace you have great responsibility to send this Message from Heaven throughout the world, for if you are able to recover just one more for Heaven, an additional star shall be placed in your crown." - Jesus, August 5, 1975
A great obligation to go forward... "It is not by accident that you are called by My Mother, for it is by merit and the prayers that have risen to Heaven for your salvation. For those who have received the grace to hear the Message from Heaven, you have a great obligation to go forward and bring this Message to your brothers and sisters. Do not expect a rest upon your earth, for you will have eternal rest very soon." - Jesus, June 12, 1976
The sin of omission... "The sin of omission shall condemn many to hell, be they layman or Hierarchy. I repeat: not the sin of commission, but the sin of omission will commit many to hell." Our Lady of the Roses, October 6, 1980
My gift to help spread Our Lady of the Roses' messages to the world.

We encourage everyone to print or email copies of this web page to all the Bishops and all the clergy. Also, email or send this web page to the news media and as many people as possible.
| Home - Latest News | Introduction | Bayside Prophecies | Directives from Heaven | Order Form | Miracles & Cures | Veronica Lueken | Miraculous Photos | Bible | Radio Program |
The electronic form of this document is copyrighted.
Quotations are permissible as long as this web site is acknowledged with a hyperlink to: http://www.tldm.org
Copyright © These Last Days Ministries, Inc. 1996 - 2017 All rights reserved.
P.O. Box 40 616-698-6448
Lowell, MI 49331-0040
Revised: August 03, 2017