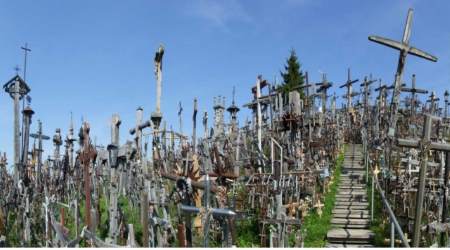 These Last Days News - September 21, 2017
URGENT: Forward a link to this web page to your clergy, family, friends and relatives.
Remembering 1917: the War on Religion...
"My children, My Mother's counsel, Her directives, must go with great haste throughout the world. Mankind has not made amends to the Eternal Father for his blasphemy, mankind's blasphemy and his cursing. The voices of blasphemy have reached all Heaven. The saints who suffered upon earth to win their crowns cry out now with hearts heavy with sadness: 'O when, O Lord, just and true, shall You set upon mankind a firm and just punishment for their continued disobedience to the law of the Lord high God in Heaven? Oh when, Faithful and True, shall You smite mankind with a chastisement that will be necessary to cleanse Lucifer and his agents from earth?'" Jesus, 6-18-78
FULL SCOURGE?
"I cry out, as your Mother, as a Mediatrix from God to mankind. Listen to Me, and act upon the directions from Heaven. Save yourselves and your children. There is little time left.
"Shall you be given a full scourge of communism and slavery? Shall the elements be used against you to cleanse your world? Shall mankind feel the great heat and burning of the Ball of Redemption? You who laugh and scorn this message, the day will come when there shall be much gnashing of teeth and woe set upon the earth.
"As it was in the days of Noe, so it is now that man never learns from his history. He repeats his mistakes over and over." - Our Lady, February 1, 1977
The above Messages from Our Lady were given to Veronica Lueken at Bayside, New York. Read more
Mercatornet.com reported on September 20, 2017:
by Paul Kengor

November 7 marks the 100th anniversary of the Russian Revolution (or October 25th in the old Julian Calendar). On that day the Bolsheviks stormed the Winter Palace in Petrograd (St Petersburg) and launched their take-over of the Russian government. This led to a five-year civil war, followed by the iron hand of totalitarianism. Although most of the world, even Russia, would prefer to forget the failed experiment of Communism, we have to learn from our mistakes. In the coming weeks we will present reflections on the impact of the Russian Revolution. Here Paul Kengor discusses the Soviet war on religion.

********

As Mikhail Gorbachev aptly stated, the Soviet communist state carried out a comprehensive "war on religion." 1 He lamented that the Bolsheviks, his predecessors, even after the civil war ended in the early 1920s, during a time of "peace," had "continued to tear down churches, arrest clergymen, and destroy them. This was no longer understandable or justifiable. Atheism took rather savage forms in our country at that time." 2

The Soviet Union, reflective of the communist world as a whole, was openly hostile to religion and officially atheist; it was not irreligious or unreligious, with no stance on religion, but took the position that there was no God. Moreover, that atheism translated into a form of vicious anti-religion that included a systematic, often brutal campaign to eliminate belief. This began from the outset of the Soviet communist state and still continues in various forms in communist countries to this day, from China to North Korea to Cuba.

Communist Teaching

The roots of this hatred and intolerance of religion lie in the essence of communist ideology. Marx dubbed religion the "opiate of the masses," and opined that, "Communism begins where atheism begins." 3 Speaking on behalf of the Bolsheviks in his famous October 2, 1920 speech, Lenin stated matter-of-factly: "We do not believe in God." Lenin insisted that "all worship of a divinity is a necrophilia." 4 He wrote in a November 1913 letter that "any religious idea, any idea of any God at all, any flirtation even with a God is the most inexpressible foulness … the most dangerous foulness, the most shameful 'infection.'" James Thrower of the University of Virginia (a Russia scholar and also a translator) says that in this letter the type of "infection" Lenin was referring to was venereal disease. 5

"There can be nothing more abominable than religion," wrote Lenin in a letter to Maxim Gorky in January 1913. 6 On December 25, 1919, Christmas Day, Comrade Lenin issued the following order, in his own writing: "To put up with 'Nikola' [the religious holiday] would be stupid—the entire Cheka must be on the alert to see to it that those who do not show up for work because of 'Nikola' are shot." 7 Under Lenin, this was not an isolated occurrence.

Along with Trotsky, Lenin became involved in the creation of groups with names like the Society of the Godless, also known as the League of the Militant Godless, which was responsible for the dissemination of anti-religious propaganda in the USSR. 8 This institutionalized bigotry continued to thrive under Lenin's disciples, most notably Stalin, and even under more benign leaders like Nikita Khrushchev.

This atheism was endemic to the communist experiment. Even those communists unable to secure political power—and thus lacking the ability to persecute believers—still did their best to persecute the teachings of organized religion and ridicule the idea of the existence of God. Even in America, it was no surprise to stroll by a city newsstand and catch bold front-page headlines like this in the Daily Worker, the communist organ published by CPUSA: "THERE IS NO GOD." 9 Communists were proud of their atheism, and militant about it.

Equal Opportunity Discriminator

This armed assault on religious faith was aimed not just at Christians—Protestants, Catholics, Eastern Orthodox—but against Jews, Muslims, Buddhists, and other faiths. 10 For every Cardinal Mindszenty in Hungary, there was a Cardinal Wyszynski in Poland, a Richard Wurmbrand in Romania, a Natan Sharansky or Walter Ciszek in Russia, a Vasyl Velychkovsky or Severian Baranyk or Zenobius Kovalyk in the Ukraine, a Moaddedi clan in Afghanistan, a Lutheran or Methodist missionary or follower of the Dalai Lama in China, a jailed nun in Cuba, or a Buddhist monk forced to renounce his vows in Cambodia. Whether the despot was Fidel Castro or Pol Pot or Stalin, the sentiment was the same: "Religion is poison," as Mao Tse-Tung was said to have stated. Wherever they went, from East to West, from Africa to Asia, from Phnom Penh to St. Petersburg, communists pursued an all-out assault on religion. Communists quibbled over the details of how to implement Marx's vision, but they were unanimous in one thing: religion was the enemy, a rival to Marxist mind control, and it had to be vanquished regardless of costs and difficulties.

Moscow was the source and summit for much of this effort. Yet, Soviet apparatchiks sought to replicate the campaign through their eager comrades atop leadership posts elsewhere. The repression took place, in varying degrees, throughout Eastern Europe. For example, communist anti-religious indoctrination of school children was especially rigorous in Czechoslovakia in the 1970s. Czechoslovakia was infamous for this form of atheism.

Among the most religiously repressive nations in the communist empire was Romania. There, the hatred of religion was evident through the extraordinary means employed to try to banish it.

Romania: the Richard Wurmbrand Experience

As part of atheistic education, communist states published and widely disseminated counter-Christian literature. In Romania, the work of perhaps the greatest Romanian writer, Sadoveanu, The Lives of Saints, was re-published as The Legend of Saints.

Significantly, communists did not merely try to block or halt religious faith but to reverse it. This was particularly true for Romania, even before the Nicolae Ceaușescu era. This meant not just forbidding religious practice and jailing ministers and believers but employing torture to force them to renounce their faith. It was not enough to contain, silence, even punish believers in prison; it was decided they must be tortured in truly unimaginably degrading ways to attempt to undo religious faith.

One of the best sources on how communists went through extraordinary pains to reverse belief is Richard Wurmbrand, a pastor who endured 14 years of earthly hell in a Romanian prison. He later detailed some of the cruelty he witnessed in testimony before the U.S. Congress and in his famous Tortured for Christ, first published in 1967. Here are a few passages from Wurmbrand's gripping book:

Thousands of believers from churches of all denominations were sent to prison at that time. Not only were clergymen put in jail, but also simple peasants, young boys and girls who witnessed for their faith. The prisons were full, and in Romania, as in all communist countries, to be in prison means to be tortured…

A pastor by the name of Florescu was tortured with red-hot iron pokers and with knives. He was beaten very badly. Then starving rats were driven into his cell through a large pipe. He could not sleep because he had to defend himself all the time. If he rested a moment, the rats would attack him.

He was forced to stand for two weeks, day and night…. Eventually, they brought his fourteen-year-old son to the prison and began to whip the boy in front of his father, saying that they would continue to beat him until the pastor said what they wished him to say. The poor man was half mad. He bore it as long as he could, then he cried to his son, "Alexander, I must say what they want! I can't bear your beating anymore!" The son answered, "Father, don't do me the injustice of having a traitor as a parent. Withstand! If they kill me, I will die with the words, 'Jesus and my fatherland'." The communists, enraged, fell upon the child and beat him to death, with blood spattered over the walls of the cell. He died praising God. Our dear brother Florescu was never the same after seeing this. 11

Wurmbrand recalled story after story about the torture he witnessed. He not only saw torture of his fellow believers but also experienced it himself. His captors carved him in a dozen separate parts of his body. They burned 18 holes in him. Among the many forms of torture he endured was the "refrigerator cell"—a large frozen icebox. The believer would be locked inside with little or no clothing. Prison doctors would peer through an opening until they saw symptoms of freezing to death, then they would signal the guards, who would rush in and defrost the victims. They would be thawed and then re-frozen within minutes of death. This process was repeated.

All of this, of course, took considerable effort by the captors. "What the communists have done to Christians surpasses … human understanding," wrote Wurmbrand. "I have seen communists whose faces while torturing believers shone with rapturous joy. They cried out while torturing the Christians, 'We are the devil!'" He called communism "a force of evil" that could only be countered by a greater spiritual force, "the Spirit of God." He added:

The communist torturers often [told me], "There is no God, no hereafter, no punishment for evil. We can do what we wish." I heard one torturer say, "I thank God in whom I don't believe, that I have lived to this hour when I can express all the evil in my heart."

In his May 1966 testimony before the Internal Security Subcommittee of the U.S. Senate, Wurmbrand described crucifixion at the hands of communists. Christians were tied to crosses for four days and nights. That was bad enough. But the communists were imaginative, and sought to ensure that those crucified would suffer greater humiliation than Christ himself:

The crosses were placed on the floor and hundreds of prisoners had to fulfill their bodily necessities over the faces and bodies of the crucified ones. Then the crosses were erected again and the communists jeered and mocked: "Look at your Christ! How beautiful he is! What fragrance he brings from heaven!"… [A]fter being driven nearly insane with tortures, a priest was forced to consecrate human excrement and urine and give Holy Communion to Christians in this form. This happened in the Romanian prison of Pitesti. I asked the priest afterward why he did not prefer to die rather than participate in this mockery. He answered, "Don't judge me, please! I have suffered more than Christ!" All the biblical descriptions of hell and the pains of Dante's Inferno are nothing in comparison with the tortures in communist prisons.

This is only a very small part of what happened on one Sunday and on many other Sundays in the prison of Pitesti. Other things simply cannot be told. My heart would fail if I should tell them again and again. They are too terrible and obscene to put in writing…

If I were to continue to tell all the horrors of communist tortures and all the self-sacrifices of Christians, I would never finish.

We see here an almost unbelievable dedication by communists to reverse and undo belief. This involved not only extraordinary abuse but also state attention. The fact that the communist state devoted so much time and effort shows its remarkable devotion—ironically, an almost religious devotion—to the goal of eliminating religious faith. It also reflected the communist conviction that religion truly was an incompatible threat to Marxism-Leninism.

Ultimately this vicious persecution backfired. For every Richard Wumrbrand, or for every Severian Baranyk that the communists killed with a cross-shaped slash across his chest, or Zenobius Kovalyk, executed in a mock crucifixion, it also produced an Albanian named Agnes Gonxha Bojaxhiu (Mother Teresa), who prayed for their souls, or a Karol Wojtyla (Pope John Paul II), who worked with the likes of Ronald Reagan, Margaret Thatcher, Lech Walesa, and Vaclav Havel—among others—to seek the peaceful collapse of their atheistic empire.

Relevance Today

Why does this information matter today, with the Cold War over and the Soviet communist empire no more? At a human level, it is very important to those who suffered the persecution. Many are still alive; they want this tale to be told; they want the world to know what they endured. They know that history, for history's sake, needs to be set straight, and not repeated. At another level, the next generation of Cold War scholars has little knowledge and even less recognition of the crucial role of religion in the Cold War experience. Not only are they uninformed regarding the sources and degree of the persecution, they do not appreciate how the institutionalized atheism of the USSR helped fuel the bipartisan American opposition to Moscow in the early Cold War. Democrats like Harry Truman and John F. Kennedy and Republicans like John Foster Dulles and Ronald Reagan decried the scourge of "godless Soviet communism," as did extremely popular religious figures like Francis Cardinal Spellman, Bishop Fulton Sheen, and Dr. Fred Schwarz through his Christian Anti-Communist Crusade. 12 Religiously speaking, the eventual effort to undo atheistic communism was a bipartisan effort of American Protestants and Catholics.

Little of this is appreciated today. We cannot ignore this vital component of Cold War history. Tragically, much of this information remains unknown to not only the public at large but also to the scholarly community. To be sure, there are academics who are aware of this material but are generally unconcerned, dismissing it as a paranoid curiosity of the "Christian right" and anti-communists, whom they view as crude and unsophisticated. "Under the [communists], there was this persecution of the church," notes Richard Pipes, Harvard Professor Emeritus of Russian History. "And it's quite true that the subject has received little to virtually no attention from scholars." 13

Protestants, Catholics, Jews, Muslims, Buddhists—the communists tortured them all. And members of all faiths have a vested interest that this vicious conspiracy should finally receive the light of truth. No one, least of all a central organization, has told the victims' stories. Many of them are bitter, and all are frustrated that this vast web of brutal bigotry has never been fully exposed. High-school history texts are rich with accounts of the Crusades, but completely silent on the infinitely more repressive communist war on religion. 14

It remains for groups like the Victims of Communism Memorial Foundation to tell this story, to reveal this history, and to honor the victims.

Paul Kengor is professor of political science at Grove City College in Grove City, Pennsylvania. His books include "God and Ronald Reagan: A Spiritual Life" (HarperCollins, 2004), "The Judge: William P. Clark, Ronald Reagan's Top Hand" (Ignatius Press, 2007), and "The Crusader: Ronald Reagan and the Fall of Communism" (HarperPerennial, 2007).

This article has been republished with permission from the Victims of Communism Memorial Foundation.

Notes

1 Mikhail Gorbachev, Memoirs (NY: Doubleday, 1996), p. 328.

2 Mikhail Gorbachev, On My Country and the World, (NY: Columbia University Press, 2000), pp. 20-1.

3 The "opiate of the masses" remark is well-known. The source for the quote, "communism begins where atheism begins," is Fulton J. Sheen, Communism and the Conscience of the West (Indianapolis and NY: Bobbs-Merrill, 1948). Sheen, who spoke and read several languages, translated the quote into English from an un-translated Marx work.

4 Lenin wrote this in a November 13 or 14, 1913 letter to Maxim Gorky. See: James Thrower, God's Commissar: Marxism-Leninism as the Civil Religion of Soviet Society (Lewiston, NY: Edwin Mellen Press, 1992), p. 39.

5 Quoted in Thrower, God's Commissar, p. 39. Another translation of this quote comes from Robert Conquest, in his "The Historical Failings of CNN," in Arnold Beichman, ed., CNN's Cold War Documentary(Stanford, CA: Hoover Institution Press, 2000), p. 57.

6 See: J. M. Bochenski, "Marxism-Leninism and Religion," in B. R. Bociurkiw et al, eds., Religion and Atheism in the USSR and Eastern Europe (London: MacMillan, 1975), p. 11.

7 This item was published in a 2002 book by Yale University Press. See: Alexander N. Yakovlev, A Century of Violence in Soviet Russia (New Haven and London: Yale University Press, 2002), p. 157.

8 See: Daniel Peris, Storming the Heavens: The Soviet League of the Militant Godless (Ithaca, NY: Cornell University Press, 1998).

9 See: Bertram D. Wolfe, A Life in Two Centuries (Stein and Day, 1981), pp. 403-4.

10 The repression was pursued in varying degrees among the Soviet bloc nations. Among them, Romania, Albania, East Germany, and Czechoslovakia were especially repressive.

11 Richard Wurmbrand, Tortured for Christ (Bartlesville, OK: Living Sacrifice Book Company, 1998), pp. 33-8.

12 See: Paul Kengor, God and Ronald Reagan: A Spiritual Life (NY: HarperCollins, 2004).

13 Richard Pipes speaking at Grove City College, Grove City, Pennsylvania, September 27, 2005.

14 Paul Kengor compared the treatment of the two in an exhaustive, year-long research project that examined history texts used in Wisconsin public schools, which were the same texts used in all states. See: Paul Kengor, "Searching for Bias: World History Texts in Wisconsin Public Schools," Wisconsin Policy Research Institute, June 2002. A copy of the study is posted on the website of WPRI.

EDITOR'S NOTE: We welcome your comments at the end of this page. Email a link or print out a copy of this web page to your clergy, family, friends and relatives. Email this page to a friend.
LIARS
"My children, I could give you many names that would encompass and describe the entrance of satan into your world: the forces of communism, the forces of atheism. O My children, what manner of words can describe the activity of these agents? They promote delusion: they promote heresy, defilement, misconceptions. And as satan is the father of all liars, they, too, are liars." - Our Lady, November 19, 1977
YOU SHALL NOT ESCAPE
"O My children of the United States, do you not understand what is ahead for you? Your country, the United States, has not known what it is to suffer through destructive forces. My children, you shall not escape the destruction that the Bear of communism has set upon many countries in Europe and the world. You cannot compromise your Faith to save what there is left, for everything upon earth shall fall as rubble with the Chastisement. A ball of fire, a chastisement, a baptism of fire, is heading for mankind. Can you not understand?" - Our Lady, November 20, 1978
DARKNESS OF THE SPIRIT
"My children of the world, you stand now upon a hill, a hill that you have built upon humanistic values and materialistic manners, as you sought to build a world of your own, cutting off the light, and building a utopia, built with humanism and socialism, and communism-all under the heading of love and brotherhood, but covered with a blanket of darkness of the spirit. For this, the Eternal Father has allowed you to pursue your own course. The awakening shall come in shock to many." - Jesus, November 20, 1979
We urgently need your prayers and financial support to be able to continue to create these web pages. Click here... Thank you in advance.
We strongly encourage you to print and/or email copies of this web page to all the bishops and clergy. Also, email or mail a copy of this web page to the news media and as many other people as possible. Email a copy of this page to everyone you know.

When you pray the Holy Rosary, you have Our Lady's hand in your hand. When you pray the Holy Rosary, you have the power of God in your hands. Start now! Let's All Pray the Rosary Together Around the World for the Conversion of All Communists and Socialists... Click here...
Our Lady of the Roses' Awesome Bayside Prophecies... http://www.tldm.org/Bayside/default.htm These prophecies came from Jesus, Mary, and the saints to Veronica Lueken at Bayside, NY, from 1968 to 1995:
ENSLAVED
"My children, no country now shall be free from the evils of communism. My heart is torn, for I have come to you in countless appearances upon earth to warn you as Our children to avoid compromise with the enemies of God, though they come to you with smooth tongues, rationalizing their behavior. And because man has fallen out of grace, he will accept these lies and become enslaved." - Our Lady, May 13, 1978
FIFTH COLUMN
"There is, My children, a great conspiracy of evil now throughout your world-the forces, the columns of evil. Man has given them many names-the fifth column. They have been broken up into political parties, including communism. O My children, they are but small arms of the octopus, the gigantic conspiracy of evil that will unite your world and My Son's Church under the rule of despots!
"There is in Rome, My children, a great struggle for power, a political machine controlled by satan. There shall be a war of the spirits. It shall be bishop against bishop and cardinal against cardinal." - Our Lady, May 15, 1976
TO REMOVE CHRISTIANITY
"One arm of the octopus is communism, atheistic communism. This arm of the octopus will promote discontent, revolution, death. This arm of the octopus will seek to remove Christianity from the earth. O woe unto a man who joins this force!" - Our Lady, June 10, 1978
ONE PLAN IN MIND
"There is now a plan in the national and international seat of satan . . . . It is a group, My child, that is united with other groups throughout the world. They have one plan in mind: to bring about the fall of all nations and the introduction of communism to all nations, by destroying the young with drugs and all manners of debasity." - Our Lady, June 18, 1987
PROMISES OF AN ATHEIST ARE NOT TRUE
"Your world cries, 'peace, peace' where there is no peace. You consort with devils. The word of an atheist is not binding. The promises of an atheist are not true. You are falling in with the plan like sheep to the slaughter." – Our Lady, May 30, 1972
NO HONOR IN THE ATHEIST
"You must remember, My children, when you accept the talking's and the words of an atheist: there is no honor in the atheist. There is no truth in the atheist. They will cajole you, and buy you, until you no longer are what is called a 'free nation,' but you will be enslaved--if they do not kill the multitudes before, My child. I say 'if,' because it is their plan to destroy your nation and rebuild it by themselves. The cost of life means nothing to them, as you can recognize in all of the countries around your world that have been invaded by Russia, or Russia is the secret agent giving over the firearms and the destructive missiles to destroy the United States and Canada." – Our Lady, September 14, 1985
FOLLOWERS OF DARKNESS
"Michael, guardian of the Faith, guardian of My Church, must be returned! You have cast aside your guardian and opened My doors to all manner of heretics and liars! You cannot accept the word of an atheist! You must not accept the word of a communist, for they are not of your God, but they are followers of darkness!
"My children, do not be deceived by those who go throughout your world and say, love and brotherhood; peace and prosperity, with love and brotherhood. Peace, peace, you cry, when man does not make peace. He prepares for war! Love and brotherhood--there is no love in the hearts of man, and neither is there love in the hearts of man for his God! His spirit is darkened, his eyes are blind, his heart is hardened, and that is why your world must be cleansed." – Jesus, December 28, 1976
COMMUNISM IS ATHEISM
"Atheists abound upon your earth creating a form known as communism. Communism is atheism!
"Satan is the father of all liars, and he will draw you into his web with all promises, but the promises of an atheist mean nothing, for he justifies all by what he gets in the end that he wants! Liars! Just as the father of all liars is satan.
"My children, do not be deceived by the voices that cry 'Love, love!' when they know not the meaning of love. Love is God the Father! The love being created by mankind leading to a new religion and a new world rule is a love based on humanism and modernism! The Church I established upon earth is eternal, though it suffers now in a crisis." – Jesus, August 5, 1977
DO YOU THINK THERE IS HONESTY AMONG ATHEISTS?
"My children, I do not wish to place fear in your heart, but I cannot allow you to go forward without knowing what is happening about you. I assure you, My children, it is not productive to keep the truth from all and to substitute a climate of false hope and false peace. Know, My children, it is by peace, peace, peace--when the world cries peace the highest and the loudest, know that the destruction is at hand! Do you think there is honesty among thieves? Do you think there is honesty among atheists? Are you so blind, My children, not to recognize that communism has a great hold upon your country and the countries of the world?
"O My children, I warned you many years ago, I warned you in Fatima that, unless you prayed and did penance, Russia and the agents of the sickle and the hammer would go throughout the world cutting down nations and bringing death, destruction, and slavery.
"And you, My country, America the beautiful, you are all-wise but stupid in management, for you have the picture of your coming destruction right before your face and you refuse to look. Like drunkards, you build your hopes on what? Not faith! On man? You think that man shall stop the destruction? No, I say unto you! Because of your fall to immorality, because of your loss of faith and turning from your God, you are allowed to be blinded. You do not even recognize the darkness you are living in, for sin has become a way of life among you." – Our Lady, April 2, 1977

"THE PROMISES AND WORDS OF ATHEISTS WILL GET YOU NOWHERE"
"In your search for love and brotherhood, you have opened My Church in the name of love and brotherhood to all manners of evil and demons! I assure you, My children, compromise will get you nowhere; the promises and the words of atheists will get you nowhere. You will not win souls by lowering your standards or making changes to suit the basic carnal fallen nature of mankind." – Jesus, April 2, 1977

CAN YOU FIND THE TRUTH AMONG ATHEISTS?
"My voice, My children, and the voice of many from Heaven have cried out to warn you, to prepare you, for you hold the balance for your own destruction or salvation. Your country and many countries throughout the world now are in darkness of spirit. Your medias of communication are controlled. Can you find the truth among atheists? The truth, My children, you will have to carry in your hearts. Shall My Son come back and find even a small light of faith left upon your earth?" – Our Lady, May 26, 1976
"Your children must be returned to learning the Scriptures of the prophets. All parents must gather their children and remove them from the agents of satan. Bring the truth to your children through the Book of life, the writings of the prophets of old, the Bible. This legacy was left to man to guide him in his daily life. Instead, man has chosen to read and absorb, to destroy his eternal soul with books of evil, corruption, blasphemy, atheism—all soul destructors, destroyers of purity of heart and body." Our Lady, 9-13-73

Jesus - "My child and My children, you are now approaching grave days. My Mother has prepared all of you for the trials ahead. Needless to say, I shall not repeat again the counsel given to you by My Mother. This counsel has been rejected by many, and for all of Her heart that My Mother has extended to you, many have returned this gift with bitterness, mockery and derision, and blasphemy." 7-15-78

The voices of blasphemy have reached all Heaven
Jesus - "My children, My Mother's counsel, Her directives, must go with great haste throughout the world. Mankind has not made amends to the Eternal Father for his blasphemy, mankind's blasphemy and his cursing. The voices of blasphemy have reached all Heaven. The saints who suffered upon earth to win their crowns cry out now with hearts heavy with sadness: 'O when, O Lord, just and true, shall You set upon mankind a firm and just punishment for their continued disobedience to the law of the Lord high God in Heaven? Oh when, Faithful and True, shall You smite mankind with a chastisement that will be necessary to cleanse Lucifer and his agents from earth?'" 6-18-78

Veronica – Our Lady referred to the cult of devil worshippers, and also the black mass now in existence in various cities of our United States—New York and San Francisco. They are conducting sacrificial rites of a demonic nature involving desecration of the human body, and blasphemy and mockery of the soul and denial of the majesty of the Eternal Kingdom of the Father! Many people of high social standing have joined these groups. They seek the wrath of God! Their debauchery has been publicized on television and in many of the papers. 8-21-70

"We view now the vilest of desecrations being perpetrated in My Son's House. You who have been given the grace to bring the light have chosen to use your power to destroy. What are you telling the children? The young souls are learning blasphemy, heresy, satanism! You will not escape the flames!" Our Lady, 12-7-71

"My children, you have been given every opportunity to act upon the warnings from Heaven and the counsel of My Mother. In Her mission to Her children, She has met with rejection, defamation, blasphemy, and every abuse that Lucifer could implant into the hearts and minds of man. As a great Mother of great sorrows, She has opened Her heart to all mankind, choosing of Her own free will to act as your Mother, the Mother of all nations, the Mother of all children of earth, to guide you back to the road to Heaven." Jesus, 10-6-79

Major offenses against God
St. Michael - "I shall list the major offenses against the God of Heaven and earth: 1. Blasphemy! 2. Infamy! 3. Immodesty! 4. Worship of false idols! 5. Disrespect of authority! 6. Infidelity in the family! 7...." 6-16-73

"You cannot live in the world and be of the world and stay on the road to the Kingdom of Heaven. You cannot love two masters, for one will you grow to hate. And, My children, it tears My heart anew to hear the blasphemy being committed against My Son even in His own House!" Our Lady, 2-1-78
Directives from Heaven... http://www.tldm.org/directives/directives.htm
D103 - Communism PDF
D161 - The Great Apostasy PDF
D188 - Wrath of God PDF
D238 - Freedom PDF
D253 - Evil PDF
D271 - Atheists and Unbelievers PDF
D283 - The Deceit of Russia PDF
D318 - A Man-made Morality and Theology PDF
D319 - Angel of Death PDF
D427 - Slavery, Part 1 PDF
D428 - Slavery, Part 2 PDF
EDITOR'S COMMENT: Evil is accelerating and the Anti-Christ forces are gaining power in the world. When the persecution starts, all Christian web sites on the internet will be forced to close. Be sure to have in your possession all the following items: the Bayside Prophecy books, Bayside Medals, Douay-Rheims Bibles, the Protection Packets, Candles, Sacramentals, and Religious Books. Purchase these items now while they are still available! You will urgently need them in the days ahead. Also, you can print out all PDF files for the Directives from Heaven and all of the Bayside Prophecies. Copy Our Lady's messages and the Directives from Heaven now while they are still available! Pray to the Holy Spirit for wisdom and guidance on how to prepare now and for the days ahead when the Antichrist is revealed. Viva Cristo Rey!
There are 4 Things You Must Have to Survive the End Times:
1.) The Douay-Rheims Holy Bible...
"I ask that all who hear My voice will take their Bibles, and if they do not have one, search, but find the right Bible, those printed not after 1965, My children." - Jesus, October 5, 1985
"You must all obtain a copy of the Book of life and love, the Bible. Do not accept the new mods. Try to find in your bookstores the old Bibles, My children, for many are being changed to suit the carnal nature of man. I repeat, sin has become a way of life." - Our Lady, October 6, 1992
"I must ask you all to read but a few short chapters a day now, the Book of life and love, your Bible. Knowledge must be gained for all the disciples of My Son, for you will be attacked by scientific minds. But do not be concerned what you will say to them when accosted, for the words will be given to you by the Spirit." - Our Lady, April 10, 1976
The Douay-Rheims Bible was published in 1899. It is the official Bible of the Roman Catholic Church. Almost all other Bibles have been rewritten by Satan. See: http://www.tldm.org/directives/d33.htm , http://www.tldm.org/directives/d415.htm and http://www.tldm.org/directives/d182.htm If you don't have a Douay-Rheims Bible order it now! (Order Form) Yours and your loved ones salvation could depend on it.
Read the Bible cover to cover. If you read 4 chapters a day, you will complete the whole Bible in 334 days. I have read the Bible 2 times and working on the third time. A 75 year old Baptism gentleman told me that he and his wife have read the Bible nine times. Wow!
2.) The Complete Virgin Mary's Bayside Prophesies in 6 Paperback Books...
The Virgin Mary brings directions from God, the Father in Heaven on how to survive the end times. God, the Father, through the Virgin Mary, tells what is coming, how to prepare for it, how to survive it, and how to even stop it. These six volumes along with the Bible are most important to save yourself and your loved ones. Order it now. Tomorrow may be to late. These 6 pocket size paperback books costs $33.00. (Order Form)
3.) Heaven's Home Protection Packet...
Heaven's Home Protection Packet...
Our Lord stated we must have crucifixes upon the outside of all of our outside doors. In the "Heaven's Home Protection Packet" there are instructions, four crucifixes, a tube of special cement for wooden or metal crucifixes. Wooden crucifixes adhere better to the doors when the aluminum strap is removed from the back. Put a light coat of cement on the back of the crucifix and then press it to the outside of the door. If you have any problems, you can call us at 616-698-6448 for assistance. This Heaven's Home Protection Packet is available for a donation of $10.00 plus $4.00 shipping and handling. Send $14.00 to TLD Ministries, P.O. Box 40, Lowell, MI 49331. Item # P15 (Order Form)

Crucifix on front and back door... The only real protection against terrorists...
Jesus - "Pray and wear your sacramentals. And, also, My children, I ask you again to place a crucifix upon your door. Both front and back doors must have a crucifix. I say this to you because there will be carnage within your areas, and this will pass you by if you keep your crucifix upon your doors." (6-30-84) (Testimonies of lives and homes saved by the crucifixes.) http://www.tldm.org/news/crucifix.htm (Order Form)
4.) Heaven's Personal Protection Packet...
Heaven's Personal Protection Packet . . .
Our Lady tells us to be protected from all evil, we must wear the following sacramentals around our necks: a Rosary, a crucifix, the St. Benedict medal, Our Lady of the Roses medal, the Miraculous Medal, and the scapular. We have all of these sacramentals in a packet we call "Heaven's Personal Protection Packet." This packet is available for a donation of $7.00 plus $3.00 shipping and handling. Send $10.00 to TLD Ministries, P.O. Box 40, Lowell, MI 49331. Item # P5 (Order Form)

Our Lady of the Roses, Mary Help of Mothers promises to help protect our children. On September 13, 1977, She said, "He has an army of ogres wandering now throughout your country and all of the countries of the world. They are in possession of great power; so wear your sacramentals, and protect your children and your households. Learn the use every day of holy water throughout your household. Insist even with obstructions, insist that your children always wear a sacramental. One day they will understand that they will repel the demons."
On February 1, 1974, Our Lady said, "My children, know the value of these sacramentals. Guard your children well. You must awaken to the knowledge that you will not be protected without the sacramentals. Guard your children's souls. They must be surrounded with an aura of purity. Remove them if necessary from the sources of contamination, be it your schools or even false pastors."
This Heaven's Personal Protection Packet is available for a donation of $7.00 plus $3.00 shipping and handling. Send $10.00 to TLD Ministries, P.O. Box 40, Lowell, MI 49331. You may use your MasterCard, VISA, or American Express and call 1-616-698-6448. Item # P5 (Order Form)
Incredible Bayside Prophecies on the United States and Canada book . . .
We have researched the Bayside Prophecies on the United States and Canada and put these outstanding prophecies in a 360 page pocket size paperback book. Veronica said it was very good. It tells what is going to happen here and how to prepare for it. Every North American must read this book! Item #B2 Cost $5.00 (Order Form)
Your names have been written in Heaven… "It is not by accident that you are called by My Mother, for your names have been written in Heaven.... But with this great grace you have great responsibility to send this Message from Heaven throughout the world, for if you are able to recover just one more for Heaven, an additional star shall be placed in your crown." - Jesus, August 5, 1975
A great obligation to go forward... "It is not by accident that you are called by My Mother, for it is by merit and the prayers that have risen to Heaven for your salvation. For those who have received the grace to hear the Message from Heaven, you have a great obligation to go forward and bring this Message to your brothers and sisters. Do not expect a rest upon your earth, for you will have eternal rest very soon." - Jesus, June 12, 1976
The sin of omission... "The sin of omission shall condemn many to hell, be they layman or Hierarchy. I repeat: not the sin of commission, but the sin of omission will commit many to hell." - Our Lady of the Roses, October 6, 1980
My gift to help spread Our Lady of the Roses' messages to the world.

We encourage everyone to print or email copies of this web page to all the Bishops and all the clergy. Also, email or send this web page to the news media and as many people as possible.
| Home - Latest News | Introduction | Bayside Prophecies | Directives from Heaven | Order Form | Miracles & Cures | Veronica Lueken | Miraculous Photos | Bible | Radio Program |
The electronic form of this document is copyrighted.
Quotations are permissible as long as this web site is acknowledged with a hyperlink to: http://www.tldm.org
Copyright © These Last Days Ministries, Inc. 1996 - 2017. All rights reserved.
P.O. Box 40 616-698-6448
Lowell, MI 49331-0040
Revised: September 21, 2017