| Home - Latest News | Introduction | Bayside Prophecies | Directives from Heaven | Shopping Cart | Testimonies | Veronica Lueken | Miraculous Photos | Bible | Radio Program |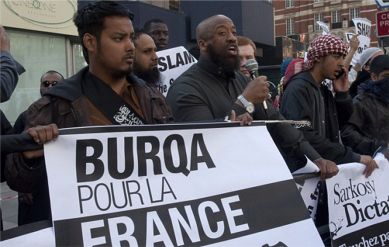 These Last Days News - April 13, 2011
French Move to Enforce Burka Ban Amid Muslim Protests. Will This Lead to a Bloody Revolution in France?
"The battle, My child, will accelerate very shortly for there will not only be a great war of weapons of mankind, but it will be known soon throughout the world as a religious war." - Our Lady of the Roses August 21, 1974
Hilaire Belloc wrote the following in his book, "The Great Heresies:"
"Mohammedanism was a heresy: that is the essential point to grasp before going any further. It began as a heresy, not as a new religion. It was not a pagan contrast with the Church; it was not an alien enemy. It was a perversion of Christian doctrine. Its vitality and endurance soon gave it the appearance of a new religion, but those who were contemporary with its rise saw it for what it was-not a denial, but an adaptation and a misuse, of the Christian thing. It differed from most (not from all) heresies in this, that it did not arise within the bounds of the Christian Church. The chief heresiarch, Mohammed himself, was not, like most heresiarchs, a man of Catholic birth and doctrine to begin with. He sprang from pagans. But that which he taught was in the main Catholic doctrine, oversimplified. It was the great Catholic world-on the frontiers of which he lived, whose influence was all around him and whose territories he had known by travel-which inspired his convictions. He came of, and mixed with, the degraded idolaters of the Arabian wilderness, the conquest of which had never seemed worth the Romans' while.
He took over very few of those old pagan ideas which might have been native to him from his descent. On the contrary, he preached and insisted upon a whole group of ideas which were peculiar to the Catholic Church and distinguished it from the paganism which it had conquered in the Greek and Roman civilization. Thus the very foundation of his teaching was that prime Catholic doctrine, the unity and omnipotence of God. The attributes of God he also took over in the main from Catholic doctrine: the personal nature, the all-goodness, the timelessness, the providence of God, His creative power as the origin of all things, and His sustenance of all things by His power alone. The world of good spirits and angels and of evil spirits in rebellion against God was a part of the teaching, with a chief evil spirit, such as Christendom had recognized. Mohammed preached with insistence that prime Catholic doctrine, on the human side-the immortality of the soul and its responsibility for actions in this life, coupled with the consequent doctrine of punishment and reward after death." ...
Now, why did this new, simple, energetic heresy have its sudden overwhelming success? One answer is that it won battles. It won them at once, as we shall see when we come to the history of the thing. But winning battles could not have made Islam permanent or even strong had there not been a state of affairs awaiting some such message and ready to accept it."
Jordan's Islamist Leader Says France's Ban on Face Veil is War on Muslims
By The Associated Press – 1 day ago
AMMAN, Jordan — The head of Jordan's Muslim Brotherhood says France's ban on the Islamic face veil is a war against Muslims. Hammam Saeed claims the move is a violation of French civil liberties and underlines a "new crusader behaviour" against Muslims. Saeed said in a statement on Tuesday that it "marks the beginning of a dangerous war" between cultures. The Brotherhood's political arm, the Islamic Action Front, is Jordan's largest opposition group.
The Brotherhood advocates the introduction of strict Islamic Sharia laws in the country. Jordan is a key U.S. ally in the Mideast and along with Egypt is the only nation in the region with a peace treaty with Israel. The first government-imposed ban on the face veil took effect in France on Monday.
Editor's note: Could this be the start of the revolution in Western Europe that Our Lady warned of? Read more here: http://www.tldm.org/news2/comingevents.htm.
Jihad Watch reported on April 11, 2011:
"They fear Muslims extremists will use the law to provoke fights with officers, while rich visitors from countries like Saudi Arabia will also cause trouble."

Note also the supremacist overtones of the protest site, in front of the Cathedral of Notre Dame. It's not exactly a charm offensive the Muslim community has embarked upon here. Perhaps they feel they have the strength in numbers not to care anymore, but displays like this may yet be politically counterproductive. "French burka ban: police arrest two veiled women," by Peter Allen for the Telegraph, April 11:

The women were arrested along with several other people protesting in front of Notre Dame cathedral in Paris against the new law.

Jourrnalists at the scene said the arrests came after police moved in to break up the protest which had not been authorized.

On Saturday police arrested 59 people, including 19 veiled women, who turned up for a banned protest in Paris against the draconian new law, the first of its kind to be enforced in Europe.

Draconian? You'd think we were talking about floggings, stonings, and amputations here. Is daylight on the human face now classified as torture? What is at issue here is the expectation that people in France behave according to French values and customs in public.

If that's draconian, leave France.

Earlier, French police said they will be enforcing the country's new burka ban "extremely cautiously" because of fears of provoking violence.

They fear Muslims extremists will use the law to provoke fights with officers, while rich visitors from countries like Saudi Arabia will also cause trouble .

All garments which cover the face were officially banned from first thing this morning, with offenders facing fines of 150 euros (£133).

But police admitted that they feared being accused of discrimination against Muslims, whether approaching women in tinderbox housing projects or on the Champs Elysee.

"The law will be very difficult to apply on certain estates," said Patrice Ribeiro, of the Synergie police union.

Referring to two Paris suburbs where riots regularly break out because of alleged discrimination against Muslims, Mr Ribeiro said: "I can't see police going to book dozens of veiled women doing their shopping in Venissieux or in Trappes.

"It will be the same when a police officer is about to arrest a veiled Saudi who is about to go into Louis Vuitton on the Champs Elysees. In all cases, the forces of order will have to be measured and cautious in their behaviour."

The moment someone is untouchable, the rule of law is shot. Saudis in France must obey French law. To treat anyone otherwise only feeds and validates Islamic supremacism.

Synergie has already instructed its members to view the ban as a "low priority", and Mr Ribeiro said there would "inevitably be incidents".

Mohamed Douhane, another Paris police officer and Synergie member, said he and his colleagues also "expected provocation by a minority."

Mr Douhane added: "Fundamentalist movements are eager to raise the stakes. The police know they will be held responsible for any public order disturbances."

Police have already been warned not to arrest women "in or around" mosques, and "citizen's de-veilings" are also banned.

The strict instructions, from Interior Minister Claude Guent, are contained in a nine page circular issued to officers.

With tensions running high within the country's six million strong Muslim community, officers have been told to look out for members of the public taking the law into their own hands.

Instead they will have to call the police, who will in turn have four hours to consider whether an offender should be fined.

This will apply to all garments which cover the eyes, although scarfs, hats, and sunglasses are excluded.

As well as a mosque, Muslims will also be able to put on a veil in the privacy of their own homes, a hotel room, or even a car, as long as they are not driving.

Police have already complained that they will have to waste time on "burka-chasing", with Denis Jacob, of the Alliance police union, adding: "We have more important matters to be dealing with."

The ban means France is officially the second country in Europe, after Belgium, to introduce a full ban on a garment which immigration minister Eric Besson has called a "walking coffin".

While French women face the fines and 'civic duty' guidance if they break the law, men who force their wives or daughters to wear burkas will face up to a year in prison, and fines of up to 25,000 pounds.

Posters have already gone up in town halls across France reading:

"The Republic lives with its face uncovered."

Belgium introduced a full ban last year, although it has not been enforced with any vigour. A ban also looks likely in Holland, Spain and Switzerland.

There are no plans to introduce a similar ban in Britain, although politicians from the UK Independence Party and some Tory backbenchers have suggested one.
"All who continue in the battle ahead must accept martyrdom. it does not, My child, necessarily mean death of your body, but it will mean persecution. Stand fast in the faith. Keep the faith in the hearts of those you love. Extend your charity of heart to all of your brother and sisters throughout the world. Pray a constant vigilance of prayer." - Our Lady of the Roses, October 2, 1974
Click here to email this page to a friend.
EDITOR'S COMMENT: The Anti-Christ forces will soon remove all Christian web sites from the internet. This web site will be shut down. Be sure to order all the items listed below. Also, you can print out all PDF files for the Directives from Heaven and all of theBayside Prophecies. Copy Our Lady's messages now! Soon they will not be available. Be sure to have in your possession theBayside books, Bayside Medals, Douay-Rheims Bibles and the Items Recommended by Our Lady. Purchase these items now while they are still available!
The awesome Bayside Prophecies... http://www.tldm.org/Bayside/default.htm
These prophecies came from Jesus, Mary, and the saints to Veronica Lueken at Bayside, NY, from 1968 to 1995:
WASHED CLEAN
"The saints and those who were washed clean by the blood of martyrdom, they join all in Heaven crying for vengeance against deceitful mankind and the abominations that offend the Eternal Father--abominations in the House of God!" - St. Michael, September 13, 1974

IN THE FEW
"Many martyrs, My child, shall come in the days ahead, and defenders of the Faith. Carry your crosses, My children, for those who will be saved shall be in the few." - Jesus, November 20, 1975

IMMEDIATE ENTRANCE
"My children, are there so few who will suffer for the Faith? Are My children lost to the need for suffering and martyrdom for the Faith? Do you not understand, My children, that martyrdom means immediate entrance into Heaven. Is this not worth fighting for?" - Our Lady, November 20, 1978

MANY GREAT SAINTS SHALL RISE
"Awaken now from your slumber and seek your return from your course of destruction by getting down upon your knees and praying in heartfelt, sincere prayer to the Eternal Father, to guide you back from your present road of destruction.
"Your countrymen have sought to silence the voice of My Mother throughout your world. You will not continue to silence the voice-boxes throughout the world, for you are sowing the seeds of your own destruction!
"Amen, amen, I say to you: unless mankind returns God the Eternal Father to his life, he will not have the years of two hands to count upon!
"The present generation, My child, shall pass through this crucible of suffering. Many great saints shall rise from this persecution." – Jesus, June 5, 1975
Directives from Heaven... http://www.tldm.org/directives/directives.htm
D88 - Martyrdom PDF
D104 - Invasion PDF
D136 - Visions of the Great War: The Mideast PDF
D156 - Terrorism PDF
D158 - America the Beautiful PDF
D266 - Persecution PDF
Articles...
Christmas carols banned in Wisconsin school district, crucifix banned in UK school
http://www.tldm.org/news8/CrucifixBanned.htm

Archbishop Chaput candid about Islamic persecution of Christians
http://www.tldm.org/News8/IslamicPersecutionOfChristians.htm

Students barred from wearing Christian chastity symbol in UK school
http://www.tldm.org/News9/PersecutionUK.htm

Valedictorian speech cut off at the name of Christ
http://www.tldm.org/News9/PersecutionValedictorianSpeech.htm

House intervenes to save Mt. Soledad cross
http://www.tldm.org/News9/PersecutionMtSoledadCross.htm

Muslim terrorists behead 14-year-old Christian boy
http://www.tldm.org/News9/MuslimsBeheadChristianBoy.htm

Beheaded Christian girls were Ramadan 'trophies'
http://www.tldm.org/News9/IndonesianMilitantsBeheadGirls.htm

British Airways backs down on cross ban after international outrage
http://www.tldm.org/News9/PersecutionBritishAirways.htm

Two Catholic men sentenced to ten years in prison for "blasphemy"
http://www.tldm.org/News9/PersecutionPakistan.htm

The Rosary defeated the Muslims at the Battle of Lepanto
http://www.tldm.org/News6/lepanto.htm
Click here to email this page to a friend.
Place a Crucifix on the outside of your front and back door... The only real protection against terrorists...
Jesus - "Pray and wear your sacramentals. And, also, My children, I ask you again to place a crucifix upon your door. Both front and back doors must have a crucifix. I say this to you because there will be carnage within your areas, and this will pass you by if you keep your crucifix upon your doors." (6-30-84) (Testimonies of lives and homes saved by the crucifixes.) http://www.tldm.org/news/crucifix.htm
Heaven's Home Protection Packet...
Our Lord stated we must have crucifixes upon the outside of all of our outside doors. In the "Heaven's Home Protection Packet" there are instructions, four crucifixes, and a tube of special cement for wooden or metal crucifixes. Wooden crucifixes adhere better to the doors when the aluminum strap is removed from the back. Put a light coat of cement on the back of the crucifix and then press it to the outside of the door. If you have any problems, you can call us at 616-698-6448 for assistance. This Heaven's Home Protection Packet is available for a donation of $7.00 plus $3.00 shipping and handling. Send $10.00 to TLD Ministries, P.O. Box 40, Lowell, MI 49331. Item # P15 (Order Form)
Heaven's Personal Protection Packet . . .
Our Lady tells us to be protected from all evil, we must wear the following sacramentals around our necks: a rosary, a crucifix, the St. Benedict medal, Our Lady of the Roses medal, the Miraculous Medal, and the scapular. We have all of these sacramentals in a packet we call "Heaven's Personal Protection Packet." This packet is available for a donation of $6.00 plus $3.00 shipping and handling. Send $9.00 to TLD Ministries, P.O. Box 40, Lowell, MI 49331. Item # P5 (Order Form)
Our Lady of the Roses, Mary Help of Mothers promises to help protect our children. On September 13, 1977, She said, "He has an army of ogres wandering now throughout your country and all of the countries of the world. They are in possession of great power; so wear your sacramentals, and protect your children and your households. Learn the use every day of holy water throughout your household. Insist even with obstructions, insist that your children always wear a sacramental. One day they will understand that they will repel the demons."
On February 1, 1974, Our Lady said, "My children, know the value of these sacramentals. Guard your children well. You must awaken to the knowledge that you will not be protected without the sacramentals. Guard your children's souls. They must be surrounded with an aura of purity. Remove them if necessary from the sources of contamination, be it your schools or even false pastors."
This Heaven's Personal Protection Packet is available for a donation of $6.00 plus $3.00 shipping and handling. Send $9.00 to TLD Ministries, P.O. Box 40, Lowell, MI 49331. You may use your MasterCard, VISA, or American Express and call 1-616-698-6448. Item # P5 (Order Form)
The Virgin Mary's Bayside Prophesies book . . .
The six volumes have all of Our Lady's Bayside messages from 1970 through 1994. Some of these have never been published before. This is a type of a survival book. It tells what is coming and how to prepare for it spiritually and materially. It is a must book for the days ahead. This is a great way to spread Our Lady's messages to our family, friends and relatives. (Order Form)
Incredible Bayside Prophecies on the United States and Canada book . . .
We have researched the Bayside Prophecies on the United States and Canada and put these outstanding prophecies in a 360 page pocket size paperback book. Veronica said it was very good. It tells what is going to happen here and how to prepare for it. Every North American must read this book! Item #B2 Cost $5.00 (Order Form)
Your names have been written in Heaven… "It is not by accident that you are called by My Mother, for your names have been written in Heaven.... But with this great grace you have great responsibility to send this Message from Heaven throughout the world, for if you are able to recover just one more for Heaven, an additional star shall be placed in your crown." - Jesus, August 5, 1975
A great obligation to go forward... "It is not by accident that you are called by My Mother, for it is by merit and the prayers that have risen to Heaven for your salvation. For those who have received the grace to hear the Message from Heaven, you have a great obligation to go forward and bring this Message to your brothers and sisters. Do not expect a rest upon your earth, for you will have eternal rest very soon." - Jesus, June 12, 1976
The sin of omission... "The sin of omission shall condemn many to hell, be they layman or Hierarchy. I repeat: not the sin of commission, but the sin of omission will commit many to hell." - Our Lady of the Roses, October 6, 1980
We encourage everyone to print or email copies of this web page to all the Bishops and all the clergy. Also, email or send this web page to the news media and as many people as possible.
| Home - Latest News | Introduction | Bayside Prophecies | Directives from Heaven | Order Form | Miracles & Cures | Veronica Lueken | Miraculous Photos | Bible | Radio Program |
The electronic form of this document is copyrighted.
Quotations are permissible as long as this web site is acknowledged with a hyperlink to: http://www.tldm.org
Copyright © These Last Days Ministries, Inc. 1996 - 2012 All rights reserved.
P.O. Box 40 616-698-6448
Lowell, MI 49331-0040
Revised: May 16, 2012