---
In 1917 the Virgin Mary gave warnings and prophecies to three children in Fatima, Portugal. Many of these prophecies have already occurred with 100% accuracy. At Bayside, New York, Mother Mary explained in great detail the Fatima prophecies and the events soon to befall mankind.

Veronica Lueken, the seer of Bayside,
was a wife and mother of five children. She lived on Long Island, New York. The story of her heavenly visitations goes back to the year 1968 when St. Theresa began appearing to her and dictating sacred poem-messages. St. Theresa prepared Veronica for the first heavenly visitation of Our Lady in 1970. Before this Veronica had not received any manifestations from Heaven.
Our Lady Herself appeared to Veronica in her home on April 7, 1970, informing her that She would appear on the grounds of the old St. Robert Bellarmine Church in Bayside, New York, on June 18, 1970. Our Lady said there will be a miraculous spring and Our Lady will appear over the old church building and then the Bishop could not deny Her appearances. It will be called the "Lourdes of America." Our Lady asked that vigils of prayer be held there (now temporarily held at the Vatican Pavilion site in Flushing), and that full directions be given to the clergy of the parish to prepare for Our Lady's first visit there. Our Lady also requested that a Shrine and Basilica be erected on this Her chosen sacred site, which is to be named "Our Lady of the Roses, Mary Help of Mothers." She promised to come on the eve of the great feast days of the Church, which dates would be given to Veronica to disseminate the messages given to her throughout the whole world.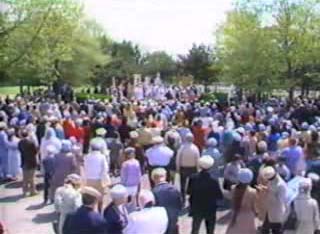 Our Lady requested that the Rosary be recited aloud by the crowd during the whole of the Vigil. All are requested to kneel in the presence of Jesus. At each vigil Veronica described what she saw and repeated the Messages word for word, all recorded on audio tape. These tapes have been transcribed and sent around the world.
These Bayside prophecies come directly from the Eternal Father in Heaven. He is telling what is going to happen in North America with 100% accuracy. In the Bible we learn God always warns a nation or a people before He chastises: "For the Lord God doth nothing without revealing his secret to his servants the prophets." (Amos 3:7) He is warning us now!
In Genesis, Chapter 3, verse 15 God tells the serpent: "I will put enmities between thee (satan) and the woman (Mary), and thy seed (demons and condemned souls) and her seed (Jesus): she shall crush thy head, and thou shalt lie in wait for her heel". God was saying that Mary, under the direction of the Holy Trinity, would lead the fight against the devil until She would crush his head, his rule, and he, the snake, satan would lie in wait knowing the plan.
The Eternal Father sends the humble Blessed Virgin Mary to guide and save us from the forces of evil in the momentous days ahead. The Saints longed to live in these days and witness the many great miracles to come. We are seeing Bible prophecies unfold that were written thousands of years ago.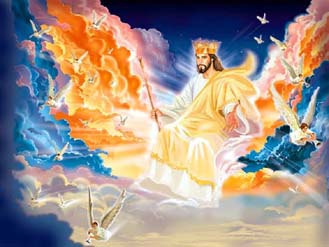 This web site is a great source of end times prophecy. The Bayside prophecies will give you great wisdom and comfort in a troubled world. With these prophecies you will discover how to prepare your family and loved ones for these last days. This is the second most important source of prophecy after the Holy Bible, in these last days before that glorious day when Jesus returns to the earth.
You will discover a new peace and serenity in a troubled world. You will see how much the Virgin Mary and Jesus love you. Most of all you will discover how to prepare yourself and your loves ones for the great misfortunes coming in the near future.
Consider this a great blessing that God has guided you to this web site. Call upon the Holy Ghost to enlighten you as you go through these pages. Prayerfully read it and discover the great wisdom, knowledge, grace, and peace it will bring to you.
Gary Wohlscheid
President of TLDM
---
Learning more about Our Lady of the Roses message:
We encourage anyone who is new to Our Lady of the Roses message to scan through the directives page, and read subjects that catch your interest. You can view some of the many miraculous photos taken by pilgrims at Our Lady of the Roses Shrine in New York. Testimonies of numerous cures and conversions are available in our testimonies webpage.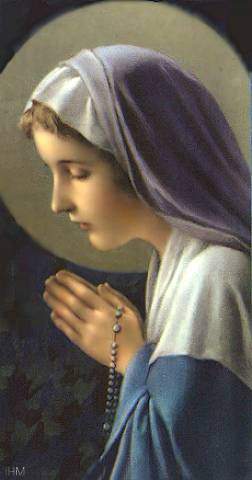 Our Lady asks that we pray the Rosary daily, wear the Brown Scapular for protection, and receive the sacraments frequently. Prayer and the sacraments are the major means of receiving grace from God.
We encourage you to purchase a copy of the Bayside 'Blue Book,' truly one of the most beautiful and best introductory books on Our Lady's message available. Once you read this book, you will have a good overall understanding of what Our Lady is telling us, and what she is asking us to do to prepare ourselves and our loved ones.
Videos on Our Lady of the Roses message are available for viewing on our video webpage. We highly recommend that you view The Miraculous Story of Bayside video, a classic and inspirational introduction to Our Lady's message.
May Jesus and Our Lady of the Roses richly bless you and your family!
| Home - Latest News | Introduction | Bayside Prophecies | Directives from Heaven | Shopping Cart | Testimonies | Veronica Lueken | Miraculous Photos | Bible | Radio Program
The electronic form of this document is copyrighted.
Copyright © These Last Days Ministries, Inc. 2017 All rights reserved.
Revised: January 19, 2017