| Home - Latest News | Introduction | Bayside Prophecies | Directives from Heaven | Shopping Cart | Testimonies | Veronica Lueken | Miraculous Photos | Bible | Radio Program |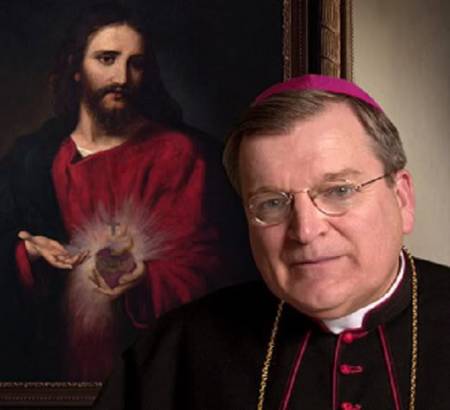 These Last Days News - September 3, 2012
Cardinal Burke Says after Vatican II Priests Disobeying Canon Law Devastated the Church...
"The discipline and rules set down by My Son and those He chose to write the Book of life and love must be adhered to. We direct, in the name of the Trinity, that you bishops and cardinals of the world must use your full powers as hierarchy to excommunicate and defrock all who seek to dethrone My Son and destroy the Faith!" - Our Lady of the Roses, August 21, 1974
CatholicCulture reported on August 31, 2012:
Lamenting a clerical culture dismissive of canon law in the decades following the Second Vatican Council, Cardinal Raymond Burke addressed a Kenyan canon law convention on August 28 about "the essential service of canon law in the work of the new evangelization."

"After I began my studies of Canon Law in September of 1980, I soon learned how much the Church's discipline was disdained by her priests, in general," he recounted. "Institutes of the Church's law, which, in her wisdom, she had developed down the Christian centuries, were set aside without consideration of their organic relationship to the life of the Church or of the chaos which would necessarily result from their neglect or abandonment."

"The 'hermeneutic of discontinuity and rupture,' which has tried to hijack the renewal mandated by the Second Vatican Ecumenical Council, is marked by a pervasively antinomian culture, epitomized by the Paris student riots of 1968, and has had a particularly devastating effect on the Church's discipline," he continued. "It is profoundly sad to note, for instance, how the failure of knowledge and application of the canon law, which was indeed still in force, contributed significantly to the scandal of the sexual abuse of minors by the clergy in our some parts of the world."

The prefect of the Apostolic Signatura continued:

The years of a lack of knowledge of the Church's discipline and even of a presumption that such discipline was no longer fitting to the nature of the Church indeed reaped gravely harmful fruits in the Church. For example, I think of the pervasive violation of the liturgical law of the Church, of the revolution in catechesis which often rendered the teaching of the faith vacuous and confused, if not erroneous; of the breakdown of the discipline of priestly formation and priestly life, of the abandonment of the essential elements of religious life and the devastating loss of fundamental direction in many congregations of religious Sisters, Brothers and priests; of the loss of the identity of charitable, educational and healthcare institutions bearing the name of Catholic; and the failure of respect for the nature of marriage and the time-proven process for judging claims of nullity of marriage in ecclesiastical tribunals.

"From the above considerations, it should be clear that the knowledge of and respect for canonical discipline is indispensable to the Church's response to the call to a new evangelization," he added. "Liturgical law must enjoy the primacy among canonical norms, for it safeguards the most sacred realities in the Church."
We urgently need your prayers and financial support to be able to continue to create these web pages. Click here... Thank you in advance.

When you pray the Holy Rosary, you have Our Lady's hand in your hand. When you pray the Holy Rosary, you have the power of God in your hands. Start now! Let's All Pray the Rosary Together Around the World for the Defense of Celibacy and Orthodoxy... Click here...
"The Eternal City of Rome must now take action by those in rule, the cardinals and the bishops, to restore this city to the light. Those who seek to build a church of man must be removed by the power of excommunication given to those who rule as representatives in My houses, churches upon your earth.
"As it was in the time of Noe, as it was in the days of Sodom and Gomorrha, so shall it be upon your earth. Man shall be permitted to fall fast into the abyss. Why? Because he has hardened his heart and closed his ears to the truth. He has given himself to all manners of pleasures of the flesh. Sin has become a way of life in your country and in the countries throughout your earth.
"The children of God, the candles upon earth, My child, shall suffer much persecution from the agents of darkness.
"Man runs amiss, My child. He scatters the sheep. He seeks peace where there is no peace. He is going farther into darkness.
"You shall not gather your flocks, My pastors, by compromising your Faith! You shall not gather the flocks for the Eternal Father in Heaven by giving yourselves to the world, by adopting humanism and modernism as your guide.
"It is a simple lesson of faith that you must give to the children and to all in your care. As pastor you shall stand before Me and shall you say to Me that your teaching has been pure in My sight? Amen I say unto you, I shall cast you from Me and send you into the abyss. As you sow, so shall you reap." - Jesus, December 31, 1975
The Awesome Bayside Prophecies... http://www.tldm.org/Bayside/default.htm
These prophecies came from Jesus, Mary, and the saints to Veronica Lueken at Bayside, NY, from 1968 to 1995:
PRAY FOR CLERGY, LIVING AND DEAD
"And the souls are falling fast into hell now daily. My Mother's visits into purgatory bring out fewer and fewer now. And who has the responsibility for these souls in purgatory but you, My children. You do not pray for your relatives! You do not pray for your dead clergy. They have no special passport to Heaven. Many are in purgatory. Pray for your clergy, living and dead! Pray for your family, for many parents shall shed tears of anguish." – Jesus, August 14, 1979

OBEDIENCE HAS BEEN DISTORTED
"Pray for your clergy. Obedience has been distorted now to make them servants of those who are not true rulers." – Our Lady, June 18, 1979

"FINAL WORD TO MY CLERGY"
"My child and My children, I come once more with an urgent and pleading message to the hierarchy in the Church, My Church upon earth. I want you to know now that We look upon you and find many that do not fall into grace. They are falling out of grace and misleading many of Our sheep.
"Therefore, I warn you now as your God: You will stop your intricacies within My Church. You will stop experimenting. I gave you the rules to follow many years ago, two thousand years approximately. And why now, two thousand years later, do you deem it necessary to change My Church upon earth? I, your God, say to you, you will be judged accordingly. You will return My Church to its former glory, and in that manner you will have more vocations and more entering the seminaries, and not fleeing from them as they hear the heresies and all other innovations that are going on within My Church. This is My last and final word to My clergy: Change now or suffer a just punishment and banishment." - Jesus, June 18, 1986

GRIEVED AT CONDUCT
"I say unto the cardinals and bishops in My Son's Church: I am much grieved at your conduct. You will be accountable to the Eternal Father for the destruction of souls. And the abuses that go forward against My Son cannot be tolerated by the Eternal Father. My Son suffers greatly upon earth. Have you forgotten so soon how He sacrificed His very Being for you all? And what are you doing in return?" - Our Lady, October 2, 1989

"WARN OUR CLERGY"
"You must warn Our clergy that many are being deceived. They must merit the respect of their flock by their example and holiness. The more they enter into the world, the less they will be of the spirit of light. Man must live in the world but not be of the world.
"So many are now catering to the basic carnal nature of mankind. They seek to bring a false maxim of goodness to mankind by feeding them all the pleasures of your lifetime, all the material things of your world, but their spirit, the eternal life within them, is being starved." - Our Lady, August 5, 1975

FOUND WANTING
"Pastors in the House of God, We have been watching and finding you wanting. How many warnings shall you receive as you conduct yourselves and your sheep like pagans in the House of prayer? You are setting up money changers in My House, and I shall cleanse them again!
"No man shall defile the House of God. No man shall use this House for self gain. All that is rotten shall fall!" - Jesus, October 6, 1975
Directives from Heaven... http://www.tldm.org/directives/directives.htm
D186 - Excommunication PDF Order copies...
D225 - Final Warning to the Clergy PDF Order copies...
D311 - Pray for Your Clergy PDF Order copies...
EDITOR'S COMMENT: Evil is accelerating and the Anti-Christ forces are gaining power in the world. When the persecution starts, all Christian web sites on the internet will be forced to close. Be sure to have in your possession all the following items: the Bayside Prophecy books, Bayside Medals, Douay-Rheims Bibles, the Protection Packets, Candles, Sacramentals, and Religious Books. Purchase these items now while they are still available! You will urgently need them in the days ahead. Also, you can print out all PDF files for the Directives from Heaven and all of the Bayside Prophecies. Copy Our Lady's messages and the Directives from Heaven now while they are still available! Pray to the Holy Spirit for wisdom and guidance on how to prepare now and for the days ahead when the Antichrist is revealed. Viva Cristo Rey!
Articles...
Courageous Bishop Fabian Bruskewitz of Nebraska says "NO" to altar girls
http://www.tldm.org/news9/noaltargirlsbruskewitznebraska.htm

Bishop Henry says he would refuse Prime Minister Holy Communion, would consider excommunication
http://www.tldm.org/News7/AbortionBishopHenry.htm

Bishop Bruskewitz will deny Kerry Holy Communion
http://www.tldm.org/news6/bruskewitz.htm

Canadian priest who supported women's ordination excommunicated
http://www.tldm.org/news9/womenpriests5.htm

Kerry is excommunicated: Vatican does not deny that he has been automatically excommunicated
http://www.tldm.org/News7/KerryIsExcommunicated.htm
There are 4 things you must have to survive the days ahead:
1.) The Douay-Rheims Holy Bible...
"You must all obtain a copy of the Book of life and love, the Bible. Do not accept the new mods. Try to find in your bookstores the old Bibles, My children, for many are being changed to suit the carnal nature of man. I repeat, sin has become a way of life." - Our Lady, October 6, 1992
"I must ask you all to read but a few short chapters a day now, the Book of life and love, your Bible. Knowledge must be gained for all the disciples of My Son, for you will be attacked by scientific minds. But do not be concerned what you will say to them when accosted, for the words will be given to you by the Spirit." - Our Lady, April 10, 1976 (Order Form)
2.) The total Virgin Mary's Bayside Prophesies in 6 paperback books...
The Virgin Mary brings directions from God, the Father in Heaven on how to survive the end times. God, the Father, through the Virgin Mary, tells what is coming, how to prepare for it, how to survive it, and how to even stop it. These six volumes along with the Bible are most important to save yourself and your loved ones. Order it now. Tomorrow may be to late. These 6 pocket size paperback books costs $33.00. (Order Form)
3.) Heaven's Home Protection Packet...
Heaven's Home Protection Packet...
Our Lord stated we must have crucifixes upon the outside of all of our outside doors. In the "Heaven's Home Protection Packet" there are instructions, four crucifixes, a tube of special cement for wooden or metal crucifixes. Wooden crucifixes adhere better to the doors when the aluminum strap is removed from the back. Put a light coat of cement on the back of the crucifix and then press it to the outside of the door. If you have any problems, you can call us at 616-698-6448 for assistance. This Heaven's Home Protection Packet is available for a donation of $5.00 plus $3.00 shipping and handling. Send $8.00 to TLD Ministries, P.O. Box 40, Lowell, MI 49331. Item # P15 (Order Form)

Crucifix on front and back door... The only real protection against terrorists...

Jesus - "Pray and wear your sacramentals. And, also, My children, I ask you again to place a crucifix upon your door. Both front and back doors must have a crucifix. I say this to you because there will be carnage within your areas, and this will pass you by if you keep your crucifix upon your doors." (6-30-84) (Testimonies of lives and homes saved by the crucifixes.) http://www.tldm.org/news/crucifix.htm (Order Form)
4.) Heaven's Personal Protection Packet...
Heaven's Personal Protection Packet . . .

Our Lady tells us to be protected from all evil, we must wear the following sacramentals around our necks: a Rosary, a crucifix, the St. Benedict medal, Our Lady of the Roses medal, the Miraculous Medal, and the scapular. We have all of these sacramentals in a packet we call "Heaven's Personal Protection Packet." This packet is available for a donation of $5.00 plus $3.00 shipping and handling. Send $8.00 to TLD Ministries, P.O. Box 40, Lowell, MI 49331. Item # P5 (Order Form)

Our Lady of the Roses, Mary Help of Mothers promises to help protect our children. On September 13, 1977, She said, "He has an army of ogres wandering now throughout your country and all of the countries of the world. They are in possession of great power; so wear your sacramentals, and protect your children and your households. Learn the use every day of holy water throughout your household. Insist even with obstructions, insist that your children always wear a sacramental. One day they will understand that they will repel the demons."
On February 1, 1974, Our Lady said, "My children, know the value of these sacramentals. Guard your children well. You must awaken to the knowledge that you will not be protected without the sacramentals. Guard your children's souls. They must be surrounded with an aura of purity. Remove them if necessary from the sources of contamination, be it your schools or even false pastors."
This Heaven's Personal Protection Packet is available for a donation of $5.00 plus $3.00 shipping and handling. Send $8.00 to TLD Ministries, P.O. Box 40, Lowell, MI 49331. You may use your MasterCard, VISA, or American Express and call 1-616-698-6448. Item # P5 (Order Form)

Your names have been written in Heaven… "It is not by accident that you are called by My Mother, for your names have been written in Heaven.... But with this great grace you have great responsibility to send this Message from Heaven throughout the world, for if you are able to recover just one more for Heaven, an additional star shall be placed in your crown." - Jesus, August 5, 1975

A great obligation to go forward... "It is not by accident that you are called by My Mother, for it is by merit and the prayers that have risen to Heaven for your salvation. For those who have received the grace to hear the Message from Heaven, you have a great obligation to go forward and bring this Message to your brothers and sisters. Do not expect a rest upon your earth, for you will have eternal rest very soon." - Jesus, June 12, 1976

The sin of omission... "The sin of omission shall condemn many to hell, be they layman or Hierarchy. I repeat: not the sin of commission, but the sin of omission will commit many to hell." Our Lady of the Roses, October 6, 1980

We encourage everyone to print or email copies of this web page to all the Bishops and all the clergy. Also, email or send this web page to the news media and as many people as possible.

| Home - Latest News | Introduction | Bayside Prophecies | Directives from Heaven | Order Form | Miracles & Cures | Veronica Lueken | Miraculous Photos | Bible | Radio Program |

The electronic form of this document is copyrighted.
Quotations are permissible as long as this web site is acknowledged with a hyperlink to: http://www.tldm.org
Copyright © These Last Days Ministries, Inc. 1996 - 2011 All rights reserved.
P.O. Box 40 616-698-6448
Lowell, MI 49331-0040
Revised: September 03, 2012