| Home - Latest News | Introduction | Bayside Prophecies | Directives from Heaven | Shopping Cart | Testimonies | Veronica Lueken | Miraculous Photos | Bible | Radio Program |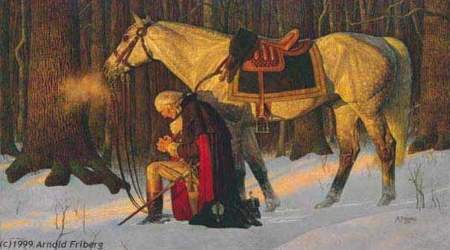 These Last Days News - November 24, 2016
George Washington's 1789 Thanksgiving Proclamation...
"Do Not Let Anyone Claim to be a True American if They Ever Attempt to Remove Religion From Politics"
- George Washington

The Prayer at Valley Forge
"I was riding with Mr. Potts near to the Valley Forge where the army lay during the war of ye Revolution, when Mr. Potts said, 'Do you see that woods & that plain? There laid the army of Washington. It was a most distressing time of ye war, and all were for giving up the Ship but that great and good man. In that woods (pointing to a close in view) I heard a plaintive sound as of a man at prayer. I tied my horse to a sapling & went quietly into the woods. To my astonishment I saw the great George Washington on his knees alone, with his sword on one side and his cocked hat on the other. He was at Prayer to the God of the Armies, beseeching to interpose with his Divine aid, as it was ye Crisis & the cause of the country, of humanity & of the world. Such a prayer I never heard from the lips of man. I left him alone praying. I went home & told my wife. We never thought a man could be a soldier & a Christian, but if there is one in the world, it is Washington. We thought it was the cause of God & America could prevail." - Source: Eyewitness testimony of Isaac Potts, a Valley Forge resident who shared the following story with the Rev. Nathaniel Randolph Snowden (1770-1851), who then recorded it in his "Diary and Remembrances."
1789 Thanksgiving Proclamation
"Whereas it is the duty of all nations to acknowledge the providence of Almighty God, to obey His will, to be grateful for His benefits, and humbly to implore His protection and favor; and Whereas both Houses of Congress have, by their joint committee, requested me "to recommend to the people of the United States a day of public thanksgiving and prayer, to be observed by acknowledging with grateful hearts the many and signal favors of Almighty God, especially by affording them an opportunity peaceably to establish a form of government for their safety and happiness:
"Now, therefore, I do recommend and assign Thursday, the 26th day of November next, to be devoted by the people of these States to the service of that great and glorious Being who is the beneficent author of all the good that was, that is, or that will be; that we may then all unite in rendering unto Him our sincere and humble thanks for His kind care and protection of the people of this country previous to their becoming a nation; for the signal and manifold mercies and the favorable interpositions of His providence in the course and conclusion of the late war; for the great degree of tranquility, union, and plenty which we have since enjoyed; for the peaceable and rational manner in which we have been enable to establish constitutions of government for our safety and happiness, and particularly the national one now lately instituted' for the civil and religious liberty with which we are blessed, and the means we have of acquiring and diffusing useful knowledge; and, in general, for all the great and various favors which He has been pleased to confer upon us." - George Washington, Thanksgiving Proclamation, October 3, 1789
1789 Inaugural Address
On April 30, 1789, George Washington delivered his famous Inaugural Address to both Houses of Congress. He had just taken the oath of office on the balcony of Federal Hall in New York City, with his hand upon a Bible opened to Deuteronomy, Chapter 28:
"Such being the impressions under which I have, in obedience to the public summons, repaired to the present station, it would be peculiarly improper to omit, in this first official act, my fervent supplications to that Almighty Being who rules over the universe, who presides in the councils of nations and whose providential aides can supply every human defect; that His benediction may consecrate to the liberties and happiness of the people of the United States a government instituted by themselves for these essential purposes; and may enable every instrument employed in its administration to execute with success, the functions allotted to his charge. In tendering this homage to the Great Author of every public and private good, I assure myself that it expresses your sentiments not less than my own; nor those of my fellow citizens at large, less than either. No people can be bound to acknowledge and adore the Invisible Hand which conducts the affairs of men more than the people of the United States. Every step by which they have advanced to the character of an independent nation seems to have been distinguished by some token of providential agency. And in the important revolution just accomplished, in the system of their United government, the tranquil deliberations and voluntary consent of so many distinct communities, from which the event has resulted, can not be compared with the means by which most governments have been established, without some return of pious gratitude, along with an humble anticipation of the future blessings which the past seem to presage ... We ought to be no less persuaded that the propitious smiles of Heaven can never be expected on a nation that disregards the eternal rules of order and right which Heaven itself has ordained; and since the preservation of the sacred fire of liberty and the destiny of the republican model of government are justly considered as deeply, perhaps finally, staked on the experiment...
George Washington's Farewell Address, 1796
"Of all the dispositions and habits which lead to political prosperity, religion and morality are indispensable supports. In vain would that man claim the tribute of patriotism who should labor to subvert these great pillars of human happiness -- these firmest props of the duties of men and citizens. The mere politician, equally with the pious man, ought to respect and to cherish them. A volume could not trace all their connections with private and public felicity. Let it simply be asked, Where is the security for property, for reputation, for life, if the sense of religious obligation desert the oaths which are the instruments of investigation in courts of justice? And let us with caution indulge the supposition that morality can be maintained without religion. Whatever may be conceded to the influence of refined education on minds of peculiar structure, reason and experience both forbid us to expect that national morality can prevail in exclusion of religious principle."
"It is impossible to rightly govern the world without God and the Bible." - George Washington
"O My children, how happy were the days when I could look down from Heaven upon you and find that America was so beautiful—a Christian nation, devout, pious, and following the road as given by the Eternal Father, through My Son and the Holy Spirit of light. And now the light has been darkened." - Our Lady of the Roses, December 24, 1979
The awesome Bayside Prophecies... http://www.tldm.org/Bayside/default.htm
These prophecies came from Jesus, Mary, and the saints to Veronica Lueken at Bayside, NY, from 1968 to 1995:
SAVE AMERICA THE ROSARY WAY
"I am the Queen of the Universe, the Mediatrix of all graces, but first and above all I am your Mother! I have come to warn you, to protect you for many will be lost to us. You all, in the final decision, will have made your own choice. I bless you all, My children, with a shower of graces from Heaven. Come to Me at this hallowed place. Be with Me in spirit. Save America the Rosary way—a constant vigil of prayer!" Our Lady of the Roses, September 7, 1971

"ACCEPT OUR COUNSEL NOW"
"You see, My children, as long as there is someone praying the Rosary in your country, We will be here to guide you. But accept Our counsel now. Do not wait until it is too late. America the beautiful will fall!" Our Lady of the Roses, June 18, 1992

HUNGER, REVOLUTION
"Your country, America the beautiful, shall know hunger. Your country, America the beautiful, shall know revolution. The just shall be crucified. Evil shall run rampant, My children. This curse upon mankind is allowed for the redemption of those few who shall be saved. My children, I have warned you through countless visitations upon earth to mend your ways that offend the Eternal Father very much."
Our Lady of the Roses, June 1, 1978

UNLESS...
"The cross, My child, that was placed upon your flag* has full meaning now to you, for your country, America the beautiful, shall fall unless there is now a complete reversal—not a renewal, My child, but a reversal of the ways that have set you into darkness." Our Lady of the Roses, May 29, 1976

CROSS OF LIGHT
"My Son's hand grows heavy. I cannot hold it back much longer. Your country shall receive the cross, My child! Now you understand, My child the photograph.* The cross to many shall be their salvation. The cross, My child, as you observed upon the photograph was a cross of light, beaming with life." Our Lady of the Roses, May 15, 1976

STARVED FOR THE LIGHT
"Your country, My children, America, the once beautiful, has become a nation of sin, corruption, vileness—lacking charity, modesty, piety, and lacking the knowledge of God the Father Eternal. Your children—the children of your country and the children of your world—their souls are being starved for the light." Our Lady of the Roses, August 5, 1975

COMPLETE CAPITULATION
"Your country, America the beautiful, is being prepared now for complete capitulation. Now you know, My children, and now you must act upon this knowledge, or you, too, will feel captivity and slavery and the closing of My houses throughout your country. You have blindly walked right into the trap of enslavement set upon you through devious infiltration of your government, your schools, and your medias of communication.
"Awaken now from your slumber and seek your return from your course of destruction by getting down upon your knees and praying in heartfelt, sincere prayer to the Eternal Father, to guide you back from your present road of destruction.
"Your countrymen have sought to silence the voice of My Mother throughout your world. You will not continue to silence the voice-boxes throughout the world, for you are sowing the seeds of your own destruction!" Jesus, June 5, 1975

SHALL BE CLEANSED
Our Lady - "Your country, the United States, has fast gone into darkness. America the beautiful shall be cleansed by trial."
Veronica - Our Lady is coming down now and standing next to Michael. She's passed Her hands across Her face. She's very sad.
Our Lady - "My child, My heart is heavy, pierced with a great sorrow at what is to befall your country. My heart is torn for those with the influence who have cast aside My message. They have cared more for worldly acknowledgment and goods, selling their souls to get to the head." March 18, 1976

SOILED WITH CORRUPTION
"All of the major countries of your world, My children, are preparing for war. All cry peace, peace, and place a mask over their intentions as they prepare for war. Your country, I promise, as I have promised in the past, to give you My protection. America the beautiful has become soiled with corruption. America, once beautiful, has taken on a new leader, and his name is satan. A country that has cast aside a true moral value, a country that has abandoned its God to seek more and more of the material and power over the lives of mankind, this country has sown the seeds for its own destruction." Our Lady of the Roses, August 5, 1976

HOW MANY LISTENED?
"America the beautiful has fallen to satan. The eagle, the illustrious eagle, has fallen to satan, plucked by sin and corruption from within!
"O My children, I wish, I desire, in My Mother's heart, to bring you a message of great joy; but how can I do this now, for it has become too late! I cautioned you, I begged you, I wandered through many earth-years warning you of this time, but how many listened to My counsel and acted upon it?"
Our Lady of the Roses, September 7, 1977

MEASURE FOR MEASURE
"Measure by measure, America the beautiful shall be purged by trial and suffering for turning away from God. Measure for measure, all countries of the earth shall go through a crucible of trial and suffering for the rejection of their God." Our Lady of the Roses, May 14, 1977

YEARS OF PLENTITUDE
Veronica - Now Jesus is going over, directly above our flag, the American flag, and He's pointing downward to the flag.
Jesus - "Look, My children, upon a nation, America the beautiful, that has given itself to satan. Look upon a nation that has conspired with the enemy, the enemies of God. Look upon a nation guided by My Mother for years of plentitude on earth, and look upon a nation that shall be chastised through suffering." July 15, 1975

ONCE BEAUTIFUL-OF-SPIRIT
"Since your perverse generation has chosen of free will to cast aside the warning from Heaven, you will, in diverse places and in your country—the once beautiful-of-spirit United States shall suffer great trial and come to its knees. What was to happen in the future shall be now! Mankind shall now determine the date." St. Michael, June 8, 1974

FALL OF AN EMPIRE
"A country is known by the moral values, My children. In the history of your world, if you consult and look, My children, you will find that your country and many in your world are now proceeding along the same course taken before the fall of an empire!" Our Lady of the Roses, February 10, 1976

HOW HAPPY THE DAYS...
"Why do you not listen? And you do not learn by your past! I have come to earth many times in the past, My children, to counsel you when you were in great danger. Some heeded this counsel and were saved; others turned away and were lost.
"O My children, how happy were the days when I could look down from Heaven upon you and find that America was so beautiful—a Christian nation, devout, pious, and following the road as given by the Eternal Father, through My Son and the Holy Spirit of light. And now the light has been darkened." Our Lady of the Roses, December 24, 1979
Directives from Heaven... http://www.tldm.org/directives/directives.htm
D47 - United States (Part 1) PDF
D48 - United States (Part 2) PDF
D158 - America the Beautiful PDF
| Home | Introduction | Prophecies | Directives | Order Form | Testimonies | Veronica | News | Photos | Bible | Magazine | Newsletters | Radio Show |
We encourage everyone to print or email copies of this web page to all the Bishops and all the clergy. Also, send this page to as many people as possible.
The electronic form of this document is copyrighted.
Quotations are permissible as long as this web site is acknowledged through hyperlink to: http://www.tldm.org
Copyright © These Last Days Ministries, Inc. 1996 - 2016 All rights reserved.
P.O. Box 40
Lowell, MI 49331-0040
Revised: November 23, 2016