| Home - Latest News | Introduction | Bayside Prophecies | Directives from Heaven | Order Form | Testimonies | Veronica Lueken | Miraculous Photos | Bible | Radio Program |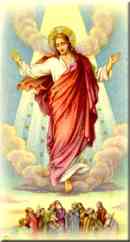 Religious Orders and Consecrated Life:
Detachment for religious...
"Work for the Father in Heaven. Do not give yourselves to the world, for your only true home is with Us over the veil." - Our Lady of the Roses, September 28, 1974
The following is taken from the book, The Practice of the Vows by Louis Colin, C.SS.R.
The heart sinks countless roots into the whole of creation. Not content with being unduly attached to persons it will cling to anything, however trifling, like a shrub that will strike root and grow in the cranny of a rock. It if is to be transplanted into God, it must first be uprooted, torn completely away from the earth.

Those who practice total detachment will also preserve themselves from the thousand and one little ties that are so common in the monastery. For one forms an attachment to anything and nothing: a cell, a habit, a travel bag, a watch, a pen, a medal, or a collection of post cards. And the proof that one is "caught" is that one would feel it very much if the article were removed. A ninety-year-old religious, on the eve of his death, insisted upon leaving the infirmary and returning to his cell, for fear—so he said—lest one of his brethren should take advantage of his condition and occupy it.

These little failings are to be found in even great souls. Père Lacordaire said, one day, about one of his habits: "That is a habit which I was weak enough to prize. I did not want it used to patch others. It is the one I wore in Notre Dame when I made the funeral oration of O'Connell, and my discourse on the vocation of the French nation. I will cling to it no more. Take it." A child, saying his prayers at his mother's knee, came to the words: "My God I give You all that I have," stopped and added under his breath, "Except my little rabbit." There are many little rabbits running around the cloisters.

Periodically, let us make an inventory of everything in our use, and if we find that we have developed an attachment, let us break it. Another form of detachment, which is sometimes painful and demands great self-sacrifice is detachment from posts, duties and offices, including that of superior. If it is right that one should like work, and the occupations allotted by obedience, it is not permissible to cling to them desperately and refuse to give them up. Those in authority must be free to employ a religious in any capacity, and without any resistance to make use of his person or his talents for the benefit of the Community and the Church. Here again, how often we find a sorry state of affairs. Faced with a transfer or a retirement what objections are put forward, what entreaties are made, what complaints both public and private, what discouragement is shown. It has been said that it is easier to overthrow a Minister of the Republic than to change the employment of a religious. Yet, the silent smile of a religious who is poor and who prizes nothing but the will of God would have been, in such circumstances, so fine and meritorious! To remove certain nuns from their occupation as portress, infirmarian, or sacristan can be distressing, even a tragic occurrence and can sometimes cause temptations against the vocation. An old monk who had been withdrawn from the guest quarters and attached to the library was still speaking bitterly of the change a year later. And a cellarer, given another occupation, harbored a grudge for months!

If it is right that one should like work, and the occupations allotted by obedience, it is not permissible to cling to them desperately and refuse to give them up. Those in authority must be free to employ a religious in any capacity, and without any resistance to make use of his person or his talents for the benefit of the Community and the Church.

The superior, who is aware of his responsibilities, should cling to his office even less than his subjects. What could be more true to the spirit of humility, detachment and obedience, than to relinquish it gladly at the first sign from those above him, and to return modestly and joyfully to the place, in the middle of his brethren, that in his own estimation he should never have left. Every morning a mother superior said this prayer: "My God, do not let me grow attached to my office; may I love it, since it is Thy Will, but may I never take pleasure in it." Another woman, outstanding for her virtue and powers of organization, had been for twenty years at the head of a large community, yet certainly had never taken pleasure in her position. When recalled suddenly to the Motherhouse, to fulfill there a function of no importance, she greeted her Superior General with the delightfully simple words: "Well, Reverend Mother, here I am! Thank you, first of all, for relieving me of a burden that was too heavy for me, and now, do with me what you can; not much, I expect!" A gesture as rare as it is noble!

To detachment from office must be added indifference as to abode: both convent and country. If, in the Monastic Orders the monk takes root in the place where he had made the vow of stability and, with regard to the Apostolate, is content with static warfare, it is a very different matter for the flying columns formed by most of the modern Congregations. The religious is a campaigning soldier, bivouacking anywhere, and settling nowhere; always ready, on the order of his chiefs, to strike camp, and go and pitch his tent in twenty different places; North, South, East and West, France or Africa. He changes his residence like a garrison officer. The true homeland of an apostle, until he gets to Heaven, is anywhere there are souls to save, and harvests to bring home. Nothing is so opposed to the religious spirit as to build oneself a little mossy nest somewhere, and to decide to settle there, even if it means trying out a thousand stratagems and supplying one's superiors with all sorts of motives of health, influences, connections, even of zeal, when one does not go so far as to enlist the intervention of outsiders. The poor religious will cling to his residence no more than the bird to the branch. When Brother Lucidus, the companion of Saint Francis, had stayed more than a month in a certain place, and had grown attached to it, he fled elsewhere saying: "Our only abode is Heaven!"

Père Tissot, the Superior General, asked an old Father who had returned to Europe, worn out with long years of apostolate: "If you were sent to India, Père Larive, how much time would you need for you preparations?" "Three hours!" Then after a moment's thought, "Or rather, no, Father Superior! I can go at once." As we move from one place to another, let us think of Our Lady, going to Bethlehem, fleeing to Egypt, returning to Nazareth, but let us not forget to take Jesus with us in our arms as she did, or at least in our hearts, and say: "I have with me, here, in my heart, all that I must have, all that I may have. I have my God! My God is my family, my friends, my brethren, my glory, my riches, He is truly my inheritance, my share of the chalice. If I possess Him, can I be exiled, can I be alone?"

Finally, the truly poor are detached from life itself. They do not care whether they live or die, since nothing retains them here below, and moreover, they are assured of the hereafter. In patience and resignation they await the hour fixed by Providence, the hour in which God will throw open the gates of Paradise … and will gather them to His bosom with poor Lazarus of the Gospel.

Happy are they who are detached from all things, for it is in their royal poverty that they will find, as we have already said, the fullness of all riches and all spiritual gifts; fullness of light, strength, liberty, peace and joy; fullness of virtues and fullness of love; fullness of union with God in purity and contemplation.

Blessed are the poor, for they belong to the race of saints!
"In the Mission from Heaven, you must give yourselves over fully to the spirit. The more you become attached to worldly gain or endeavors, seeking the material before the spiritual, the father you will go from the truth." - Jesus, May 30, 1977
Our Lady of the Roses awesome Bayside Prophecies... http://www.tldm.org/../Bayside/
These prophecies came from Jesus, Mary, and the saints to Veronica Lueken at Bayside, NY, from 1968 to 1995.
PURPOSE OF LIFE
"While you are upon earth you are there to do honor and glory to your God in Heaven. You must know Him, love Him, and serve Him in this world, so that you will be happy with Him forever in the next." - Our Lady, June 1, 1978
THE DEDICATED ARE LEAVING
"My child, We watch and see the houses of My Son crumbling, being destroyed throughout your world. Doors are closing, convents are emptying, and the dedicated are leaving and falling into all manner of sin and abominations. Who shall be in the remnant? Only a few will be saved." - Our Lady, May 26, 1976
INFILTRATED
"Yes, My child, I spoke to you of the evil ones who have infiltrated into the clergy. They are not entering with dedication and spirits of light, but they are bringing in the spirit of darkness. By their fruits will you know them, My child. I have asked you to be not fooled by those who wear the garments of the dedicated but have fouled their garments. You must pray more for the light and recognize the faces of evil about you, My child." - Jesus, June 5, 1975
OBEDIENCE
"In the cause of obedience, pastors and Our dedicated nuns, remember this: you cannot be obedient to one who has defamed his habit, to one who has cast aside his Faith, to one who goes forward as a destroyer of souls. The rabat is the teacher of life, but do not be fooled by those who foul these habits." - Our Lady, August 5, 1976
COME FORWARD
"Will you not, My children, you who are children of the light, come forward and become nuns, nuns with good hearts, with a good foundation of the Faith and the truth, and nourish Our sheep?" - Our Lady, June 18, 1982
JESUS MADE THE RULE
"Jesus the Lord, your Lord, my sisters and brothers, has made the rule. You cannot change it to suit yourselves. You have been blinded by satan. The liberation in your hearts has been placed there by satan. You gain nothing but your own destruction. Nuns, those who have accepted the rule and taken the habit, must remain in the habit." - St. Theresa, October 2, 1975
GARMENT OF PURITY
"Holiness and piety! Man—men of God, you must wear your garment of purity, dedication, and piety. What manner of foul deeds do you perform for the destruction of your sheep! For what? Material gain and pride and arrogance? You shall be cast into the abyss! Rank shall give you no advantage when you come over the veil." - St. Michael, December 24, 1975
WOE
"And woe to the clergy who has given himself over to worldliness and sin! Woe to the clergy who rejects his vocation and chooses a life upon earth after he has taken his vows! I say unto him: the judgment will fall great upon him." - Jesus, August 4, 1979
MOCKED
"Know now, my brothers and sisters of religious orders, you will be mocked, you will be scorned, but you will please the Eternal Father and receive your reward in the Kingdom." - St. Francis, May 28, 1975
THE "BUCK-PASSER"
"I see, My children, a great evil transpiring upon earth. Those who have the power to stop the evil have chosen to go downstream like ducks upon water, letting everything slide off their backs, neither caring nor visualizing the future. And why? Because they have given themselves to the world.
"Just as My Son stood before Pilate and he washed his hands and said: 'This man is innocent; I see no wrong in him,' however, in his heart he knew of innocence but he feared reprisal from the crowd, My children; he valued his life, he loved his sin, and he was too much involved with the pleasures of this life and the world.
"You see, My children, it is taking place all over again for those in command in rule. They go along 'passing,' as you say, 'the buck,' each one not willing to admit his error or his participation in evil, but only too willingly allowing others to take the blame or the responsibility. And I assure you, My children, if evil is being allowed, the 'buck passer' is just as guilty as the original one who had started the evil.
"If you know in your hearts, O pastors, that souls are in danger of being corrupted, misled, and even destroyed, and you do nothing about it, because you do not wish to offend your superiors, because you value your life in this world too much and your good living; I assure you, O pastors, you shall stand before My Son and He shall not know you. You will be disowned, banished from eternal life in Heaven, and you shall join your father who is the father of all liars, satan, and the prince of darkness." - Our Lady, March 18, 1977
DO NOT LEAVE
"Do not leave when you are discouraged by those who satan has sent into your convents. Stand forth as an example of purity and godliness. You will not be cast aside by your God, as you will by man, as you stand to defend your God. Pick up your cross and carry it." - St. Theresa, November 20, 1972
TELEVISION / RADIOS
"Modernism must not be a way of life for Our dedicated. Our nuns have to have discipline, My children. Do not bring the world into the convents. I ask that the convents remain free of all television and radios, and return to their prayer life." - Our Lady, June 18, 1990
FOR GOOD
"Pastors, you shall be called and shall you stand before, in judgment, the Eternal Father and say that your teaching has been pure in His sight? Better that you fear your God than man! Obedience? Obedience is commanded by the Eternal Father for good, not for evil!" - Our Lady, May 26, 1976
Directives from Heaven... http://www.tldm.org/directives/directives.htm
D31 - Love of God PDF
D32 - Love of Neighbor PDF
D78 - Charity PDF
D159 - Religious Orders and the Dedicated: Part 1 PDF
D160 - Religious Orders and the Dedicated: Part 2 PDF
D233 - Vocations, Part 1 PDF
D234 - Vocations, Part 2 PDF
Articles...
The sources of growth and decline in religious orders
http://www.tldm.org/news7/Foley1.htm

Pope Pius XI warned religious orders to maintain rigorous discipline
http://www.tldm.org/news7/Foley2.htm

The new Commandment of Jesus
http://www.tldm.org/News7/Colin1.htm

Love of God and love of neighbor
http://www.tldm.org/News7/Colin2.htm

Beware of groups forming that have alienated themselves from their hierarchy
http://www.tldm.org/News7/AlienatedFromHierarchy.htm

We have dialogued enough! We have experimented enough!
http://www.tldm.org/news7/Timlin.htm

"What is a priest?" by St. Theresa the Little Flower
http://www.tldm.org/News7/WhatIsAPriest.htm

The dangers of not observing the rule
http://www.tldm.org/News7/Colin5.htm
| Home - Latest News | Introduction | Bayside Prophecies | Directives from Heaven | Order Form | Testimonies | Veronica Lueken | Miraculous Photos | Bible | Radio Program |
We encourage everyone to print or email copies of this web page to all the Bishops and all the clergy. Also, email or send this web page to the news media and as many people as possible.
The electronic form of this document is copyrighted.
Quotations are permissible as long as this web site is acknowledged through hyperlink to: http://www.tldm.org
Copyright © These Last Days Ministries, Inc. 1996 - 2013 All rights reserved.
P.O. Box 40 616-698-6448
Lowell, MI 49331-0040
Revised: April 01, 2013