| Home - Latest News | Introduction | Bayside Prophecies | Directives from Heaven | Order Form | Testimonies | Veronica Lueken | Miraculous Photos | Bible | Radio Program |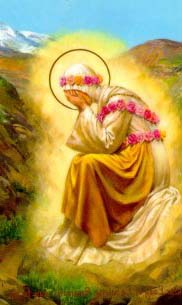 Melanie Calvat's description of Our Lady of La Salette...
Veronica - And over on our right side of the sky I can see Our Lady, however She's sitting upon a very large boulder, a rock. Our Lady is leaning forward. She looks very terrible upset. Now She has on Her head a very strange - looking crown with points in it. It's circular on Her head but it fans out. It's a most unusual - looking headpiece.
Our Lady is looking up now, and She's motioning with Her hand, high into the sky. And I see words now taking form in the sky. Oh. L - A - La Salette. S - A - L - E - T - T - E. La Salette, La Salette. Oh.
Now Our Lady is standing up. She doesn't have Her hair covered. It's the first time I have ever seen Our Lady with Her hair flowing. She looks just about like a little girl. Oh, She looks very beautiful!
Now it's becoming dark, and Our Lady is pointing up to the sky, and I can see a countryside. And it's a very barren, desolate - looking place, and I do believe it's France; I know it's France, from the countryside, and instinctively I know it's France.
Our Lady now is motioning with Her hand like this, and placing Her first finger to Her lips.
Our Lady - "Repeat, My child, after Me.
"As I gave you warning in the past, so I come to you now as your Mother and give you a just counsel that unless you listen and act upon all of My counsels of the past, what happened at La Salette shall be minute in scope in comparison to what faces the world now as a just chastisement from the Eternal Father." - June 1, 1978
On September 19, 1846, sixteen years after the Marian apparition in Rue du Bac, Paris, and twelve years before the famous appearances of Mary in Lourdes, France, Our Blessed Mother appeared weeping to two young shepherds at La Salette in the French Alps. Mary spoke to the children, Melanie Calvat and Maximin Giraud, about many things that upset her Son. The following is Melanie's description of Our Lady:
The Most Holy Virgin was tall and well-proportioned. She seemed so light that a mere breath could have stirred Her, yet She was motionless and perfectly balanced. Her face was majestic, imposing, but not imposing in the manner of the Lords here below. She compelled a respectful fear. At the same time as Her Majesty compelled respect mingled with love, She drew me to Her. Her gaze was soft and penetrating. Her eyes seemed to speak to mine, but the conversation came out of a deep and vivid feeling of love for this ravishing beauty who was liquefying me. The softness of Her gaze, Her air of incomprehensible goodness made me understand and feel that she was drawing me to Her and wanted to give Herself. It was an expression of love which cannot be expressed with the tongue of the flesh, nor with the letters of the alphabet.

The clothing of the Most Holy Virgin was silver white and quite brilliant. It was quite intangible. It was made up of light and glory, sparkling and dazzling. There is no expression nor comparison to be found on earth.

The Holy Virgin was all beauty and all love; the sight of Her overwhelmed me. In Her finery as in Her person, everything radiated the majesty, the splendor, the magnificence of a Queen beyond compare. She seemed as white, immaculate, crystallized, dazzling, heavenly, fresh and new as a virgin. The word LOVE seemed to slip from Her pure and silvery lips. She appeared to me like a good Mother, full of kindness, amiability, of love for us, of compassion and mercy.

The crown of roses which She had placed on Her head was so beautiful, so brilliant, that it defies imagination. The different colored roses were not of this earth; it was a joining together of flowers which crowned the head of the Most Holy Virgin. But the roses kept changing and replacing each other, and then, from the heart of each rose, there shone a beautiful entrancing light, which gave the roses a shimmering beauty. From the crown of roses there seemed to arise golden branches and a number of little flowers mingled with the shining ones. The whole thing formed a most beautiful diadem, which alone shone brighter than our earth's sun.

The Holy Virgin had a most beautiful cross hanging round Her neck. This cross seemed golden, (I say golden rather than gold-plated, for I have sometimes seen objects which were golden with varying shades of gold, which had a much more beautiful effect on my eyes than simple gold-plate). On this shining, beautiful cross, there was a Christ, it was Our Lord on the Cross. Near both ends of the cross there was a hammer, and at the other end, a pair of tongs. Christ was skin-colored, but He shone dazzlingly; and the light that shone forth from His holy body seemed like brightly shining darts which pierced my heart with the desire to melt inside Him. At times, Christ appeared to be dead. His head was bent forward and His body seemed to give way, as if about to fall, had He not been held back by the nails which held him to the Cross.

I felt a deep compassion and would have liked to tell His unknown love to the whole world, and to let seep into mortal souls the most heartfelt love and gratitude towards a God who had no need whatsoever of us to be everything He is, was and always will be. And yet, O love that men cannot understand, He made Himself man, and wanted to die, yes, die, so as to better inscribe in our souls and in our memory, the passionate love He has for us! Oh, how wretched am I to find myself so poor in my expression of the love of our good Savior for us! But, in another way, how happy we are to be able to feel more deeply that which we cannot express!

At other times, Christ appeared to be alive. His head was erect, His eyes open, and He seemed to be on the cross of His own accord. At times too, He appeared to speak: He seemed to show that He was on the cross for our sake, out of love for us, to draw us to His love, and that He always has more love to give us, that His love in the beginning and in the year 33 is always that of today and will be forever more.

The Holy Virgin was crying nearly the whole time She was speaking to me. Her tears flowed gently, one by one, down to Her knees, then, like sparks of light, they disappeared. They were glittering and full of love. I would have liked to comfort Her and stop Her tears. But it seemed to me that She needed the tears to show better Her love forgotten by men. I would have liked to throw myself into Her arms and say to Her:

"My kind Mother, do not cry! I want to love You for all men on earth." But She seemed to be saying to me: "There are so many who know me not!"

I was in between life and death, and on one side, I saw so much desire by this Mother to be loved, and on another side, so much cold and indifference... Oh! my Mother, most beautiful and lovable Mother, my love, heart of my heart!

The tears of our sweet Mother, far from lessening her air of majesty, of a Queen and a Mistress, seemed, on the contrary, to embellish Her, to make Her more beautiful, more powerful, more filled with love, more maternal, more ravishing, and I could have wiped away Her tears which made my heart leap with compassion and love. To see a mother cry, and such a Mother, without doing everything possible to comfort Her and change Her grief to joy, is that possible? Oh! Mother, who is more than good, You have been formed with all the prerogatives God is able to make; You have married the power of God, so to speak; You are good, and more, You are good with the goodness of God Himself. God has extended Himself by making You His terrestrial and celestial masterpiece.

The Most Holy Virgin had a yellow pinafore. What am I saying, yellow? She had a pinafore more brilliant than several suns put together. It was not a tangible material, it was composed of glory, and this glory was scintillating, and ravishingly beautiful. Everything in the Holy Virgin carried me firmly and made me kind of slide into the adoration and love of my Jesus in every state of His mortal life.

The Most Holy Virgin had two chains, one a little wider than the other. From the narrower one hung the cross which I mentioned earlier. These chains (since they must be given the name of chains) were like rays of brightly shining glory, sparkling and dazzling. Her shoes (since they must be called shoes) were white, but a silvery brilliant white. There were roses around them. These roses were dazzlingly beautiful, and from the heart of each rose there shone forth a flame of very beautiful and pleasing light. On Her shoes there was a buckle of gold, not the gold of this earth, but rather the gold of paradise.

The sight of the Holy Virgin was itself a perfect paradise. She had everything needed to satisfy, for earth had been forgotten. The Holy Virgin was surrounded by two lights. The first light, the nearer to the Most Holy Virgin, reached as far as us. It shone most beautifully and scintillatingly.

The second light shone out a little around the Beautiful Lady and we found ourselves bathed in it. It was motionless (that is to say it wasn't scintillating) but much more brilliant than our poor sun on earth. All this light did not harm nor tire the eyes in any way.

In addition to all these lights, all this splendor, there shone forth concentrations or beams of light and single rays of light from the body of the Holy Virgin, from her clothes and from all over Her.

The voice of the Beautiful Lady was soft. It was enchanting, ravishing, warming to the heart. It satisfied, enhanced every obstacle, it soothed and softened. It seemed to me I could never stop eating up Her beautiful voice, and my heart seemed to dance or want to go towards Her and melt inside Her.

The eyes of the most Holy Virgin, our Sweet Mother, cannot be described in human language. To speak of them, you would need a seraph, you would need more than that, you would need the language of God Himself, of the God who formed the Immaculate Virgin, the masterpiece of His omnipotence. The eyes of the majestic Mary appeared thousands of times more beautiful than the rarest brilliants, diamonds and precious stones. They shone like two suns; they were soft, softness itself, as clear as a mirror. In her eyes, you could see paradise. They drew you to Her, She seemed to want to draw and give Herself.

The more I looked, the more I wanted to see; the more I saw, the more I loved Her and I loved Her with all my might.

The eyes of the beautiful Immaculate One were like the door to God's Kingdom, from which you could see all that can elate the soul. When my eyes met those of the Mother of God and of myself, I felt inside me a happy revolution of love and a declaration that I love Her and am melting with love. As we looked at each other, our eyes spoke to each other in their fashion, and I loved Her so much I could have kissed Her in the middle of Her eyes, which touched my soul and seemed to draw it towards them and make it melt into Hers. Her eyes set up a sweet trembling in all my being; and I was afraid to make the slightest movement which might cause Her the smallest displeasure.

Just the sight of the eyes of the purest of Virgins would have been enough to make the heaven of a blessed creature, enough to fill the soul with the will of the Most High amid the events which occur in the course of mortal life, enough to make the soul perform continual acts of praise, of thanksgiving, of atonement and expiation. Just this sight focuses the soul on God, and makes it like a living-death, looking upon all the things of this earth, even the things which seem the most serious, as nothing but children's playthings. The soul would want to hear no one speaking unless they spoke of God, and of that which affects His Glory.

Sin is the only evil She sees on earth. She will die of grief unless God sustains Her.

Amen.

MARIA OF THE CROSS, Victim of Jesus
MELANIE CALVAT, Shepherdess of La Salette
Castellamare, 21st of November 1878.
"I stand upon the head of the serpent. My heel will crush him, but not until man and the world have been cleansed. I come as a Mediatrix of all graces, Representative through My Son in the Father.Ē - Our Lady of the Roses, March 18, 1973
Directives from Heaven...
D8 - Blessed Virgin Mary

PDF
D194 - Mary, Mediatrix of All Graces

PDF
Articles...
The Queenship of Our Lady
http://www.tldm.org/news7/Queenship.htm

Mary, our sweet Mother
http://www.tldm.org/News7/MaryOurSweetMother.htm

Our Lady, the All-Pure
http://www.tldm.org/News8/OurLadyAllPure.htm

The Brown Scapular
http://www.tldm.org/news3/scapular.htm


The Battle of Lepanto
http://www.tldm.org/news6/lepanto.htm


Mary, Mediatrix of all Graces
http://www.tldm.org/news5/mediatrix1.htm

Our Lady prefigured in Genesis 3:15
http://www.tldm.org/News6/Genesis3.15.htm


The true story of the Virgin Birth
http://www.tldm.org/news/virginbirth.htm


Fr. Schiffer and seven other priests survived Hiroshima by praying the Rosary daily
http://www.tldm.org/news7/Schiffer.htm


The meaning of the "consecration" of Russia
http://www.tldm.org/News7/Alonso.htm

Miraculous stories of the Brown Scapular
http://www.tldm.org/News7/MiraculousStoriesScapular.htm

Melanie Calvat's description of Our Lady of La Salette
http://www.tldm.org/News7/LaSalette.htm
Crucifix on front and back door... The only real protection against terrorists...
Jesus - "Pray and wear your sacramentals. And, also, My children, I ask you again to place a crucifix upon your door. Both front and back doors must have a crucifix. I say this to you because there will be carnage within your areas, and this will pass you by if you keep your crucifix upon your doors." (6-30-84) (Testimonies of lives and homes saved by the crucifixes.) http://www.tldm.org/news/crucifix.htm
Heavenís Home Protection Packet...
Our Lord stated we must have crucifixes upon the outside of all of our outside doors. In the "Heavenís Home Protection Packet" there are instructions, four crucifixes, and a tube of special cement for wooden or metal crucifixes. Wooden crucifixes adhere better to the doors when the aluminum strap is removed from the back. Put a light coat of cement on the back of the crucifix and then press it to the outside of the door. If you have any problems, you can call us at 616-698-6448 for assistance. This Heavenís Home Protection Packet is available for a donation of $5.00 plus $3.00 shipping and handling. Send $8.00 to TLD Ministries, P.O. Box 40, Lowell, MI 49331. Item # P15 (Order Form)
Heavenís Personal Protection Packet . . .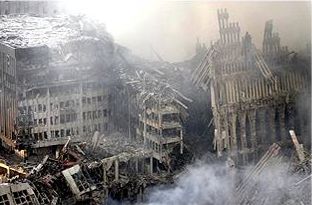 Our Lady tells us to be protected from all evil, we must wear the following sacramentals around our necks: a rosary, a crucifix, the St. Benedict medal, Our Lady of the Roses medal, the Miraculous Medal, and the scapular. We have all of these sacramentals in a packet we call "Heaven's Personal Protection Packet." This packet is available for a donation of $5.00 plus $3.00 shipping and handling. Send $8.00 to TLD Ministries, P.O. Box 40, Lowell, MI 49331. Item # P5 (Order Form)
Our Lady of the Roses, Mary Help of Mothers promises to help protect our children. On September 13, 1977, She said, "He has an army of ogres wandering now throughout your country and all of the countries of the world. They are in possession of great power; so wear your sacramentals, and protect your children and your households. Learn the use every day of holy water throughout your household. Insist even with obstructions, insist that your children always wear a sacramental. One day they will understand that they will repel the demons."
On February 1, 1974, Our Lady said, "My children, know the value of these sacramentals. Guard your children well. You must awaken to the knowledge that you will not be protected without the sacramentals. Guard your children's souls. They must be surrounded with an aura of purity. Remove them if necessary from the sources of contamination, be it your schools or even false pastors."
This Heavenís Personal Protection Packet is available for a donation of $5.00 plus $3.00 shipping and handling. Send $8.00 to TLD Ministries, P.O. Box 40, Lowell, MI 49331. You may use your MasterCard, VISA, or American Express and call 1-616-698-6448. Item # P5 (Order Form)
The Virgin Maryís Bayside Prophesies book . . .
The six volumes have all of Our Ladyís Bayside messages from 1970 through 1994. Some of these have never been published before. This is a type of a survival book. It tells what is coming and how to prepare for it spiritually and materially. It is a must book for the days ahead. This is a great way to spread Our Ladyís messages to our family, friends and relatives. Item #001 Cost $6.95 (Order Form)
Incredible Bayside Prophecies on the United States and Canada book . . .
We have researched the Bayside Prophecies on the United States and Canada and put these outstanding prophecies in a 360 page pocket size paperback book. Veronica said it was very good. It tells what is going to happen here and how to prepare for it. Every North American must read this book! Item #B2 Cost $5.00 (Order Form)
Your names have been written in HeavenÖ "It is not by accident that you are called by My Mother, for your names have been written in Heaven.... But with this great grace you have great responsibility to send this Message from Heaven throughout the world, for if you are able to recover just one more for Heaven, an additional star shall be placed in your crown." - Jesus, August 5, 1975
A great obligation to go forward... "It is not by accident that you are called by My Mother, for it is by merit and the prayers that have risen to Heaven for your salvation. For those who have received the grace to hear the Message from Heaven, you have a great obligation to go forward and bring this Message to your brothers and sisters. Do not expect a rest upon your earth, for you will have eternal rest very soon." - Jesus, June 12, 1976
The sin of omission... "The sin of omission shall condemn many to hell, be they layman or Hierarchy. I repeat: not the sin of commission, but the sin of omission will commit many to hell." Our Lady of the Roses, October 6, 1980
We encourage everyone to print or email copies of this web page to all the Bishops and all the clergy. Also, email or send this web page to the news media and as many people as possible.
| Home - Latest News | Introduction | Bayside Prophecies | Directives from Heaven | Order Form | Miracles & Cures | Veronica Lueken | Miraculous Photos | Bible | Radio Program |
The electronic form of this document is copyrighted.
Quotations are permissible as long as this web site is acknowledged with a hyperlink to: http://www.tldm.org
Copyright © These Last Days Ministries, Inc. 1996 - 2006 All rights reserved.
P.O. Box 40 616-698-6448
Lowell, MI 49331-0040
Revised: April 02, 2012