| Home - Latest News | Introduction | Bayside Prophecies | Directives from Heaven | Order Form | Testimonies | Veronica Lueken | Miraculous Photos | Bible | Radio Program |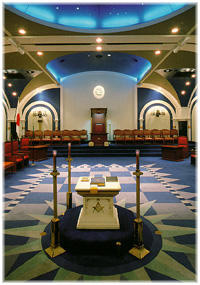 United Nations, occult, Masons
It's Halloween every day at the U.N.
"The state of your world has been reduced by the immorality. The state of your world is capitulating now to all of the forces of the octopus that will seek to bring about a one-world religion and a one world government under a supreme dictator of evil." - Our Lady of the Roses, March 18, 1978
Canada Free Press reported on November 2, 2006:
As JasGrave333 notes, "The picture centered above is not a cultic CGI chapel from a computer game, but the Temple of Understanding at the United Nations.

"Notice the symbol at the bottom of the UN Temple central alter (sic)? "Yes, the crossed symbol of the Square and Compass, the Free Masonry symbol."

Free Mason symbols are not just at home in Manhattan and Washington, they are maintained in just about every corner of the globe.

Masonic Lodge 911 is located on Delaware Road in Kenmore.

Courtesy of Dan Walther, a major in an Army National Guard unit based at the Connecticut Street Armory, there's now a Masonic lodge in Iraq.

"A third-generation Mason, Walther joined Master Builder Masonic Lodge 911 in Kenmore when he was 21, eventually serving as the lodge's master. Now 46, the Town of Tonawanda resident is returning to his base just north of Tikrit after a 15-day leave. (Ryan Haggerty, The Buffalo News, June 21, 2005). "He rejoined the National Guard's Engineer Brigade, 32nd Infantry Division, and will serve as the master of Land, Sea and Air Masonic Lodge 1, the only Masonic Lodge in Iraq.

"The United States is home to more than 13,000 Masonic lodges, whose members adhere to a motto of "friendship, morality and brother love," according to the Grand Lodge of the State of New York's Web site. Masons are dedicated to doing good, not operating underground, Walther said.

"Masonry is not a secret society," he said."Masonry is a society with secrets. If we were a secret society, we wouldn't have signs outside our buildings."

Opening a lodge outside Saddam Hussein's hometown required help from Masons across New York, Walther said.

Saddam and the Masons have a lot in common: both have a love affair with the occult.

"The Grand Lodge of the State of New York and all the Masons have been extremely supportive of everything we've done," Walther said." When the word got around, there was a bunch of red tape to cut through, and everybody jumped up and said, "What can I do?"

New York's Masonic War veterans provided Walther with the supplies he needed at no cost.

The Masons' tight knit relationships should attract new members from the base, Walther said.

"Walther's commitment to Masonry is so deep that he kept his return home a secret from everyone, including his family, so that he could surprise his friend Kent Dorney when Dorney was sworn in as master of the Kenmore lodge. Walther arrived home on Memorial Day, but he had to hide from Dorney, who lies a half-mile away, until the ceremony five days later. The surprise was worth the wait," Dorney said.

Saddam, whose mother was a fortuneteller, merely "reads" the desert sands.

As untold tourists can tell you, the UN has its own soothsayer, Sri Chimnoy, who "reads" hands upon request.

But surely among bureaucratic babble centers, the European Union holds the most unique position in the world of the occult.

Located in the City of Brussels where spelling "Christ" with a capital "C" can get you a fine, the EU has a love affair with the number 666.

Included in the Report on the opening of the Fifth Elected Parliament of Europe in Strasbourg and its occupancy of the new Parliament Buildings, by Ian R.K. Paisley, M.P., M.E.P., is a description of the vacant seat Number 666 in the European Parliament:" The prophetic significance of the European Union has been revealed as the saga unfolds. (See our first two articles on "The Conspiracy behind the European Union".) First, the sign, which it chose as its symbol, was the Woman riding the Beast. This comes from a prophecy in Revelation 17. The depiction of the harlot woman was reproduced on the centenary stamp of the European Union, in a huge painting in the Parliament's new building in Brussels, and by a huge sculpture outside the new E.U. Council of Ministers Office in Brussels. The new European coinage, the Euro, bears the same insignia. The Tower of Babel has been used on the posters emanating from Europe--a truly suggestive prophetic sign.

"Now, a massive Crystal Palace tower (unofficially called the Tower Building) houses the Fifth Parliament of Europe.

"It is certainly a building of the Space Age. The seats of its massive hemicycle are designed like the crew seats in the Star Trek space machines. There are 679 of them--but wait for it! While these seats are allocated to Members, one seat remains unallocated and unoccupied. The number of that seat is 666. The relevant section of the seating-plan provided to each member reads as follows:

655 Couteaux

656 Fitzsimons

657 Hyland

658 Kuntz

659 De La Perriere

660 Marchiani

661 Montfort

662 Quiero

663 Souchet

664 Thomas-Mauro

665 Zissener

666 ----------------

667 Cappato

668 Turco

669 Bonino

670 Pannella

671 Dupuis

672Della Vedova

673 Dell'Alba

674Gorostiaga Atxalandabaso

675 Gobbo

676 Speroni

677 Bossi

678 Formentini

679 Crowley


"Revelation 13:18: "Here is wisdom. Let him that hath understanding count the number of the beast: for it is the number of a man; and his number is Six Hundred threescore and six." That is 666.

"Today this scripture is being fulfilled before our very eyes.

"The Antichrist's seat will be occupied. The world awaits his full and final development. The Lord will destroy him by the spirit of His mouth (the Word of God) and by the brightness of his coming (2 Thes. 2:8).The coming of the Lord draweth nigh."
"Yes, many will receive the manifestation of seeing with their human eyes these demonical creatures of hell. It is for the edification of mankind. There will be great mysteries; there will be great miracles set upon earth. However, My child, all must be wary because when he, the man of deception, is recognizable to mankind—as he will set you with number upon the path of deception—he, too, will be a figure of virtue. He will be covered as a sheep with robes of purity, but look into his heart, My child."
Veronica - Oh, I see a horrible, black-looking, ugly thing that was down there in the, in the pit. It's inside of this man who—outside he looks, he looks holy and human; but he's actually one of those things-he's actually a creature of hell.
Our Lady - "Now, My child, I will give you one secret unknown to many, but you must make it known to mankind. This man of deception shall try to follow My Son. He will convince many that he is the Messiah. You must make it known now that the Messiah will not come unless He comes down with the legions of angels from the heavens, as He ascended.
"Repeat anew, My child: this false messiah shall not be accepted upon earth. My Son, Jesus, is the only Messiah. He has already come to your earth, but He will return. But He will come down from the heavens as He ascended, with the legions of saints, those who have washed themselves clean with the Blood of the Lamb." - Our Lady of the Roses, April 13, 1974
"It is in the direction of the Eternal Father that you remove from your country the forces of satan now running rampant in the grouping you call the United Nations.
"You must as a nation take yourself away from this group of satan. You have opened your doors to the enemies of God! These enemies do not defend you, but they wait to pounce upon you like vultures! They are bringing you down to your knees now, My children. Like vultures, they will await their time." - Our Lady of the Roses, September 13, 1974
"Harken now and heed My words. You are being blindly led into the darkness. There is within your country an evil conspiracy in this web of defeat. And I do not say 'deceit'; I say 'defeat' for your country, for you have brought this upon yourselves. You have opened your doors to a brood of vipers. Your country will be cleansed by trial.
"Your country is now turning back to pagan practices, My children. Satan has entered upon your hearts well. You accept him of free conscience.
"All who will stand to defend My Son in these trials, many will be martyred.
"Your government, your schools, and now My Son's House has been entered. Many have sold their souls to get to the head. The abyss, the deep pit, is filling fast." - Our Lady of the Roses, April 10, 1972
Directives from Heaven...
http://www.tldm.org/directives/directives.htm
D12 - One World Government / Religion PDF
D122 - Antichrist PDF
D180 - UN & One World Government PDF
D287 - Conspiracy
Articles...
The emerging global government
http://www.tldm.org/news5/emerging.htm

U.S. ambassador says U.N. is "twilight zone" unreflective of reality
http://www.tldm.org/news9/unitednationstwilightzone.htm

Clinton one-world government conference to address "threat" of religion
http://www.tldm.org/news8/oneworldgovernmentconference.htm

United Nations gender treaty promotes abortion worldwide
http://www.tldm.org/news5/un%2Dtreaty.htm

U.S. refuses to fund U.N.'s forced abortions
http://www.tldm.org/news5/funding.htm

Moving towards a one-world religion
http://www.tldm.org/news4/one%5Fworld.htm

United Nations plans to build a global religion
http://www.tldm.org/News6/GlobalReligion.htm

Psychiatrists who rationalize sin and promote global government
http://www.tldm.org/News7/PsychiatristsRationalizingSin.htm

The World Council of Churches: "an instrument of the adversary"
http://www.tldm.org/News6/WCC.htm
Links:
There are 4 things you must have to survive the days ahead:
1.) The Douay-Rheims Holy Bible...
"You must all obtain a copy of the Book of life and love, the Bible. Do not accept the new mods. Try to find in your bookstores the old Bibles, My children, for many are being changed to suit the carnal nature of man. I repeat, sin has become a way of life." - Our Lady, October 6, 1992
"I must ask you all to read but a few short chapters a day now, the Book of life and love, your Bible. Knowledge must be gained for all the disciples of My Son, for you will be attacked by scientific minds. But do not be concerned what you will say to them when accosted, for the words will be given to you by the Spirit." - Our Lady, April 10, 1976 (Order Form)
2.) The total Virgin Mary's Bayside Prophesies in 6 paperback books...
The Virgin Mary brings directions from God, the Father in Heaven on how to survive the end times. God, the Father, through the Virgin Mary, tells what is coming, how to prepare for it, how to survive it, and how to even stop it. These six volumes along with the Bible are most important to save yourself and your loved ones. Order it now. Tomorrow may be to late. These 6 pocket size paperback books costs $33.00. (Order Form)
3.) Heaven's Home Protection Packet...
Heaven's Home Protection Packet...
Our Lord stated we must have crucifixes upon the outside of all of our outside doors. In the "Heaven's Home Protection Packet" there are instructions, four crucifixes, a tube of special cement for wooden or metal crucifixes. Wooden crucifixes adhere better to the doors when the aluminum strap is removed from the back. Put a light coat of cement on the back of the crucifix and then press it to the outside of the door. If you have any problems, you can call us at 616-698-6448 for assistance. This Heaven's Home Protection Packet is available for a donation of $7.00 plus $3.00 shipping and handling. Send $10.00 to TLD Ministries, P.O. Box 40, Lowell, MI 49331. Item # P15 (Order Form)

Crucifix on front and back door... The only real protection against terrorists...
Jesus - "Pray and wear your sacramentals. And, also, My children, I ask you again to place a crucifix upon your door. Both front and back doors must have a crucifix. I say this to you because there will be carnage within your areas, and this will pass you by if you keep your crucifix upon your doors." (6-30-84) (Testimonies of lives and homes saved by the crucifixes.) http://www.tldm.org/news/crucifix.htm (Order Form)
4.) Heaven's Personal Protection Packet...
Heaven's Personal Protection Packet . . .

Our Lady tells us to be protected from all evil, we must wear the following sacramentals around our necks: a Rosary, a crucifix, the St. Benedict medal, Our Lady of the Roses medal, the Miraculous Medal, and the scapular. We have all of these sacramentals in a packet we call "Heaven's Personal Protection Packet." This packet is available for a donation of $6.00 plus $3.00 shipping and handling. Send $9.00 to TLD Ministries, P.O. Box 40, Lowell, MI 49331. Item # P5
(Order Form)
Our Lady of the Roses, Mary Help of Mothers promises to help protect our children. On September 13, 1977, She said, "He has an army of ogres wandering now throughout your country and all of the countries of the world. They are in possession of great power; so wear your sacramentals, and protect your children and your households. Learn the use every day of holy water throughout your household. Insist even with obstructions, insist that your children always wear a sacramental. One day they will understand that they will repel the demons."
On February 1, 1974, Our Lady said, "My children, know the value of these sacramentals. Guard your children well. You must awaken to the knowledge that you will not be protected without the sacramentals. Guard your children's souls. They must be surrounded with an aura of purity. Remove them if necessary from the sources of contamination, be it your schools or even false pastors."
This Heaven's Personal Protection Packet is available for a donation of $6.00 plus $3.00 shipping and handling. Send $9.00 to TLD Ministries, P.O. Box 40, Lowell, MI 49331. You may use your MasterCard, VISA, or American Express and call 1-616-698-6448. Item # P5 (Order Form)
Your names have been written in Heaven… "It is not by accident that you are called by My Mother, for your names have been written in Heaven.... But with this great grace you have great responsibility to send this Message from Heaven throughout the world, for if you are able to recover just one more for Heaven, an additional star shall be placed in your crown." - Jesus, August 5, 1975
A great obligation to go forward... "It is not by accident that you are called by My Mother, for it is by merit and the prayers that have risen to Heaven for your salvation. For those who have received the grace to hear the Message from Heaven, you have a great obligation to go forward and bring this Message to your brothers and sisters. Do not expect a rest upon your earth, for you will have eternal rest very soon." - Jesus, June 12, 1976
The sin of omission... "The sin of omission shall condemn many to hell, be they layman or Hierarchy. I repeat: not the sin of commission, but the sin of omission will commit many to hell." - Our Lady of the Roses, October 6, 1980
We encourage everyone to print or email copies of this web page to all the Bishops and all the clergy. Also, email or send this web page to the news media and as many people as possible.
| Home - Latest News | Introduction | Bayside Prophecies | Directives from Heaven | Order Form | Miracles & Cures | Veronica Lueken | Miraculous Photos | Bible | Radio Program |
The electronic form of this document is copyrighted.
Quotations are permissible as long as this web site is acknowledged with a hyperlink to: http://www.tldm.org
Copyright © These Last Days Ministries, Inc. 1996 - 2012 All rights reserved.
P.O. Box 40 616-698-6448
Lowell, MI 49331-0040
Revised: January 09, 2012