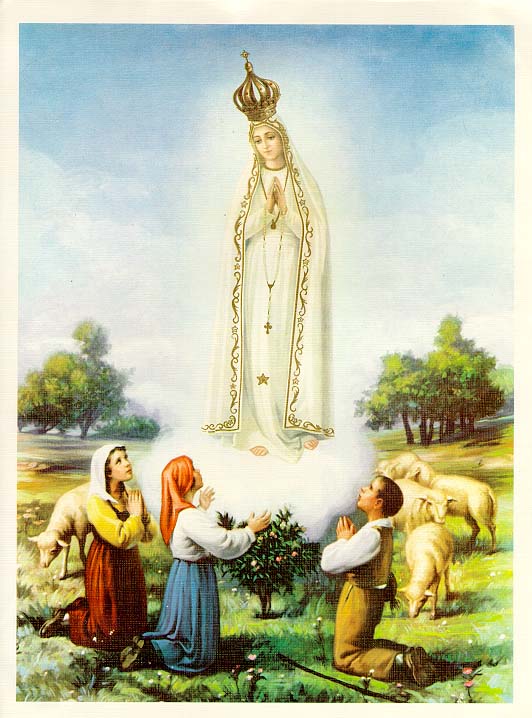 The Bayside Prophecies on the Consecration of Russia
NOT WORLD, RUSSIA!
"The red horse is war! And war is in the balance next, My child. And what can you do about this? This is My direction from Heaven—and We hope, My children, that you will get this out to the world: Unless the bishops and the Holy Father in unity with all the bishops of the world, unless they consecrate Russia to My Mother's Immaculate Heart, the world will be doomed! Because Russia will continue to spread her errors throughout the world, rising up wars and carnage and pestilence and famine. Is this what you want, My children?
"Every single soul upon earth that hears My voice this evening has an obligation, for the sanctification of their own souls and the souls of those they love, to listen to Me and follow the direction. I wish that all who hear My words this evening will go forward and besiege, if necessary, the Holy Father and the bishops with a request for this consecration of Russia. We do not mean the world, My children, We mean Russia!" - Jesus, June 17, 1989

SHALL NOT ESCAPE
"The United States of America shall not escape this time the punishments and the desolation of the nation that has gone now throughout the world, with Russia as the main force for this evil.
"Man was created to live peacefully. Man was created to know his God, and in this manner to have a world that is not a paradise, but one in which man could live in peace and security. But now all of the leaders of the world run about and they say it is peace, it is security. Their words are like two prongs from the mouth: they say those words, but then they turn their backs and they are busy getting ready for a major invasion of the United States and Canada.
"Yes, My child, all who read and listen to the Message must know that there is a plan now for Russia, a plan against the United States and Canada. Your nation and Canada are surrounded!" - Our Lady, March 26, 1983
MANPOWER OF CHINA
"Russia will also utilize the manpower of China as they make their thrust forward.
"I realize, My child, that this message has a great emotional impact upon you. Do not be afeared." - Jesus, March 26, 1983
YOU REFUSE TO LOOK
"O My children, I warned you many years ago, I warned you in Fatima that, unless you prayed and did penance, Russia and the agents of the sickle and the hammer would go throughout the world cutting down nations and bringing death, destruction, and slavery.
"And you, My country, America the beautiful, you are all-wise but stupid in management, for you have the picture of your coming destruction right before your face and you refuse to look." - Our Lady, April 2, 1977
CONSECRATE RUSSIA OR DIE
"O Our wandering sheep are going without true leaders. My priests of the world, I say to you now: you must listen to My voice from Heaven. You must consecrate Russia to My Immaculate Heart or you will die." - Our Lady, April 4, 1984
CONTACT HOLY FATHER
"Russia, being an atheistic country, My children—Russia, you cannot believe what they tell you, nor what they print in their tabloids. Russia has but one plan: to capture the whole world. They will do this without heart or conscience. Therefore, know that I ask you again, as your God in the Trinity, I ask you to contact the Holy Father—through pen or prose, or the written script—to contact the Holy Father and beg him to consecrate Russia to the Immaculate Heart of My Mother." - Jesus, May 17, 1986

COMPLETE CAPITULATION
"We have asked you in the past and your present time to pray for the conversion of Russia. Too few have come forward to pray for this conversion; therefore, their errors now have been spread throughout your world.
"Your country, America the beautiful, is being prepared now for complete capitulation. Now you know, My children, and now you must act upon this knowledge, or you, too, will feel captivity and slavery and the closing of My houses throughout your country. You have blindly walked right into the trap of enslavement set upon you through devious infiltration of your government, your schools, and your medias of communication.
"Awaken now from your slumber and seek your return from your course of destruction by getting down upon your knees and praying in heartfelt, sincere prayer to the Eternal Father, to guide you back from your present road of destruction.
"Your countrymen have sought to silence the voice of My Mother throughout your world. You will not continue to silence the voice-boxes throughout the world, for you are sowing the seeds of your own destruction!" - Jesus, June 5, 1975

COSMETIC ACT TO DELUDE YOU
"I assure you, My children, there is no freedom in Russia. It is all a delusion.
"They seek the monies of the world from the nations of the world. And why do you not learn a lesson? It happened in the time of Lenin; it happened in the time of Stalin. And there you are all on the same road, ready to give billions of monies that should be given to those of your nation and the free nations of the world.
"Do not be deceived, My children, Russia is not free. It is a cosmetic act to delude you. Lenin and Stalin used the same tactics, My children. Why do you not learn from your errors?" - Our Lady, June 18, 1992
WORLD WAR III
"Day by day man is killing now. Many countries shall be embroiled in wars, until we have the greatest war ever seen, nor shall ever be seen again, the Third World War, which shall engulf the nations. And many nations shall disappear from the force of the armaments being gathered now throughout Russia.
"Yes, My child, no matter how the world reacts to the truth, you will shout it from the rooftops that Russia has not accepted any overtures from Rome. Unless Russia can be dedicated to the Immaculate Heart of Jesus and Mary, unless they will recognize the truth, they will continue to go throughout the world sowing seeds of discord, discontentment, and war. You know, My children, that war is a punishment for man's sins, but also, war is an indication of the loss of the knowledge of God." - Our Lady, August 21, 1985
"I MADE A PROMISE"
"When I came to Fatima many years ago, I knew that communism would go throughout the world destroying many nations and attacking My Son's Church. Therefore, I made a promise that if the Pope, the Pope of those days and the Pope today, would unite with all the bishops of the world, all together on one day—not the world—but the bishops and the Pope will unite and pray for the consecration of Russia. I do not mean the world, My children; I mean Russia—Russia, the scourge of mankind. You will pray for Russia. One day must be allotted in which Pope John Paul II and also, all the bishops of the world must unite on one day, I repeat, and pray for Russia; or Russia will continue to be the scourge from God. Russia will continue to go throughout the world annihilating people and places and countries." - Our Lady, October 2, 1987
NOT A MOMENT TO LOSE
Our Lady - "You ask Me, My child, why My tears are flowing? Come with Me and look!"
Veronica - Oh, my goodness! I, I see . . . I, I never saw so many dead people!
Our Lady - "Man against man, nation against nation. No flesh shall be spared."
Veronica - Oh, I see a great, horrible war! I see . . . it looks like a mushroom, a tremendous explosion, and everything is gone! Oh!
Our Lady - "Satan, My child, shall have his hand upon the button."
Veronica - Our Lady is pointing over, and She's going . . . and She's pointing over—it's like you're looking over a large body of water. Now there's the land, and I see many people. They're dressed in uniforms. I recognize them, and on their hats is like a red star. They're, they're army uniforms. Our Lady. . . oh, I know—oh, my goodness, it is Russia!
Our Lady - "See, My child, there are not enough prayers to stop the evil. Unless you pray more now for the conversion of Russia, a great War will soon be upon your earth.
"Socializing, My child, will avail nothing to mankind, for the man who is not of God the Father, his word is not of truth. There is no honor without your God. Promises, promises, pact upon pact, with not a word of truth behind them!
"My child, hasten to spread the word! Much evil is planned against your glorious land. Hasten! Spread the word! You as a nation are being deluded. There are enemies all about you, waiting. They plan to move upon you from within. Pray a constant vigilance of prayer. You have not a moment to lose." - Our Lady, February 1, 1975
The Real Russia
"For the great majority of mankind are satisfied with appearances as though they were realities... and are often more influenced by the things that seem than by those that are."
- Machiavelli
Despite all wishful thinking to the contrary, the consecration of Russia remains unfulfilled. An objective and knowledgeable student of the Fatima apparitions could tell you as much. But in today's climate of "diabolical disorientation" (Sister Lucy's phrase), many of the clergy are satisfied with promoting a "dumbed-down" Fatima message that does not mesh with Our Lady's words nor with political and religious events occurring worldwide. Furthermore, there is a shameful policy of appeasement carried out by certain ecclesiastics that will, in the words of Our Lady, "lead to enslavement for many." (June 18, 1987) As Our Lady of the Roses has warned us, the changes in Russia have been "a cosmetic act to delude you." (June 18, 1992)
June 6, 2000,

"Russian Threats – Then and Now," (WorldNetDaily.com exclusive):

Today, Russia may be conducting nuclear deception on a far vaster scale beneath Yamantau Mountain, where it has dug out a gigantic underground military complex designed to withstand a sustained nuclear assault. U.S. intelligence sources tell WorldNetDaily that the Yamantau complex is but one of some 200 secret deep underground nuclear war-fighting sites in Russia, many of which have been significantly upgraded over the past six years at the cost of billions of dollars. Since the end of the Cold War in 1991, U.S. intelligence sources believe the Russian government has pumped more than $6 billion into Yamantau alone, to construct a sprawling underground complex that spans an area as large as Washington, D.C., inside the Beltway—some 400 square miles.... Russia is pouring money into this and other underground nuclear sites at the same time U.S. taxpayers have provided billions of dollars in aid to Russia to help dismantle nuclear warheads taken off line as a result of START I and START II [treaties].

Read entire story...
June 6, 2000, (WorldNetDaily.com): As WorldNetDaily revealed yesterday (June 5, 2000), it is now known that the Soviet Union used secret underground bases in Eastern Europe to conceal nuclear missiles at the end of the Cold War, as an integral part of its nuclear war-fighting strategy. In all, some 73 SS-23 missiles, packing a nuclear punch 365 times the bomb that detonated over Hiroshima, were hidden by the Soviets in violation of the INF Treaty, which went into force in June 1988.

June 6, 2000, "Russian Threats – Then and Now," (WorldNetDaily.com exclusive): "As WorldNetDaily's Kenneth Timmerman reported, we now have hard proof that Russia never declared to the U.S. nuclear-tipped SS-23 missiles in direct violation of a 1987 arms-control agreement… The existence of these missiles that were supposed to have been destroyed long ago raises the question of Russia's credibility as well as its intentions towards the United States… It is not only possible, but likely—given Moscow's track record—that much bigger reserves of weapons are still being hidden within Russia's own borders. Of immediate concern is the vast underground site built into the Ural Mountains known as Yamantau… Yamantau is believed to conceal one of Russia's darkest nuclear secrets… According to U.S. intelligence sources, the Russian government has pumped more than $4.5 billion into building a sprawling underground complex at Yamantau—impervious to direct nuclear assault—that spans an area as large as Washington, D.C., inside the Beltway, or some 400 square miles… How many times do we need to witness Russian cheating on missile pacts before abandoning a misguided policy? What will it take to wake up U.S. leaders to such international duplicity—a nuclear attack? What do you suppose that nuclear war-fighting bunker in Yamantau is for—an underground housing development?"

May 31, 2000, China's persecutions continue and priest is arrested:

The Fides news agency reports that "since September 1999 the [Chinese communist] government has fostered a new campaign to force those Catholics faithful to Rome to join the 'patriotic association', the church approved by the state. In the past months, since February this year, the police has destroyed 7 churches and has arrested numerous faithful and priests. Even Bishop Lin Xili, 81 years old, has been kidnapped."

March 20, 2000, (Newmax.com):

China's People's Liberation Army has outlined plans, including a nuclear conflict with the United States, to "liberate" Taiwan, Hong Kong's South China Morning Post newspaper reported Monday. The PLA issued a 16-page publication, the Howangjio Weekly, that was devoted to Taiwan, that was sold on street corners. In contrast, most Chinese newspapers had little to say about Taiwan's pro-independence vote. The PLA has reportedly been working on a new generation of nuclear weapons, the publication said, and it outlined steps by which China would threaten the United States with nuclear war. China would then sway U.S. public opinion by making economic concessions, and it would increase arms purchases from Russia, the Post reported. It would then stage a limited attack on Taiwan and if that failed, China would mobilize its people into exercises that would show that it is preparing to survive a nuclear war, the newspaper said. "The United States will not sacrifice 200 million Americans for 20 million Taiwanese and eventually they are going to back down," the publication said.

January 25, 2000, Russia's highest ranking defector warns of a surprise nuclear strike against United States: "Stanislav Lunev, the highest-ranking Soviet spy ever to defect, warned members of Congress Monday a pre-emptive nuclear strike by Russia on American soil is a real possibility. At a House Committee on Government Reform hearing here, the one-time colonel in Soviet and then Russian Federation military intelligence, gave a chilling presentation of his country's Cold War plans to defeat the United States. Under federal witness protection, Lunev was escorted into the hearing room with a black bag covering his head. From behind a screen to shield him from the view of the audience, Lunev testified Soviet generals had designed a special plan for the future war against America and its allies in which special-operation forces commanders would come to the United States and other NATO countries a few days – maybe even a few hours – before actual war. Using weapons systems that had already been hidden at strategic points throughout the United States, he said, the Soviet generals would have demolished the country's political infrastructure by destroying strategic facilities and assassinating top military leaders such as the president and vice president just hours or minutes before a nuclear missile strike." (NewsMax.com, January 25, 2000)

February 25, 1999, Sunday Times of London: "American officials believe Russia may have stolen some of the nation's most sensitive military secrets, including weapons guidance systems and naval intelligence codes, in a concerted espionage offensive that investigators have called operation Moonlight Maze. The intelligence heist, that could cause damage to America in excess of that caused by Chinese espionage in nuclear laboratories, involved computer hacking over the past six months. This was so sophisticated and well coordinated that security experts trying to build ramparts against further incursions believe America may be losing the world's first 'cyber war.'"


January 10, 1997:

The Cardinal Kung Foundation, based in Stamford, Connecticut, USA, releases today a copy of the Chinese Communist Party's document for Chongren Xian in the Fuzhou District of Jiangxi Province in China. This document details a procedure to eradicate the underground Catholic Church in China. Joseph Kung, President of the Foundation, said: "The document proves that the ongoing persecution of the Roman Catholic Church by the Chinese Government is not regional, or an isolated case of abuse of power by a certain government official. On the contrary, it is a carefully planned strategy by the central government to destroy the Roman Catholic Church commonly known as the underground church. Although this document specifically addresses a township in Jiangji province, it is based on a national document 'The Procedures Legally to Implement the Eradication of Illegal Activities of the Underground Catholic Church.'"

Cold War over? Russia diplomat Stanislev Borisovich Grusev was expelled from the U.S. after he was caught bugging the top floor of the State Department building. The room that was bugged is often used for high-level discussions.

February 21, 1997: Prime Minister Victor Chernomyrdin "was at the Odinstovo nuclear command center, overseeing an exercise whose assignment was 'to destroy the U.S. in less than an hour.'" (January 2000 McAlvaney Intelligence Advisor)


Aldrich Ames spy case:

"In Washington officials speculated that the Ames case could prove to be the worst betrayal of intelligence agents in U.S. history. With Ames refusing to talk and his wife only hinting that she might cooperate, spymasters and legislators could only guess at the extent of the damage. Ames knew the true names of virtually all the Soviet agents, and later Russian ones, being recruited. As many as a dozen CIA operations may have been compromised as a direct result of the Ameses' activities, resulting in the execution of as many as 10 Soviet agents." (Time, March 7, 1994, "Double Agent", p. 30)

"The Ames affair, however, should awaken Americans from their euphoria about the 'new democratic Russia,' our friend, ally, and partner in freedom and progress. Russia today is a schizophrenic Jekyll-and-Hyde creature, with reformers vying ever less successfully with the hard men of the old regime and rising nationalists and ultranationalists to decide the national destiny." (The Wanderer, "The End of the Affair," Patrick Buchanan, March 10, 1994)

November 15, 1992: "Russian spy operations against the U.S. have shown little decline following the collapse of the former U.S.S.R. Western intelligence agencies report that Russian spying is on the rise around the world." (The Washington Times, November 15, 1992)


General Sir Walter Walker:

"I consider it my duty, as a former NATO Commander-in-Chief, to tell you of the extremely dangerous threats that lie ahead. It is because I know for certain that we are now in a period of the greatest strategic deception, perhaps in all history, that I feel I should not allow this occasion to pass without warning you of the future that lies in the next decade. There has been a lot of talk recently about NATO's new look. One keeps on reading the words

—I quote: 'NOW THAT THE COLD WAR IS OVER.' In light of what I am telling you I say most emphatically that the Cold War is NOT yet over, but only in a state of remission. The hard truth is that the dreaded KGB is being strengthened and expanded. Last year the American FBI apprehended 30 foreign spies, 28 of whom were KGB, a new record. Today the KGB employs one and half million people and six million informers. And despite the Soviet economic crisis, the KGB has received a 20% increase in its latest budget. I leave you with the stark fact that unless we stand fast and stop the rot, the demonstrable truth is that, contrary to the Kremlin's self-serving pose of humility, the Soviet Union is not 'on the verge of collapse.' Western defense, on the other hand is."


General Colin Powell:

"Whatever the future state may look like, the land of the czars and commissars, after all is said and done, will still possess by far the strongest military force on the Eurasian land mass. The Soviet Union, now and in the future, will remain the one country capable of destroying the United States in less than 30 minutes." (American Legion magazine, October 1991, p. 21)

"The fall of communism has not ended the struggle for the Polish Church. Many Catholics had hoped that post-communist Poland would become a model nation with a public role for the Church in shaping the national political and cultural agenda. But it now appears that Poles are not interested in paying the moral price for a society based on Christian principles. Church-supported legislation prohibiting the killing of the unborn, with sanctions on those who performed or procured abortions, was voted down on January 7 [1993] by the Polish parliament, despite evident support for passage from Poland's Primate, Cardinal Jozef Glemp, and the apostolic nuncio, Jozef Kowalczyk. Poland thus appears increasingly on the road toward full secularization on the western model...." (Catholic World Report, "World Watch," March 1993, p. 10)


February 11, 1992:

"It is now known that the KGB infiltrated the independence movements and democracy parties that sprang up around the Soviet Union during the Gorbachev liberalization... Since many of these parties have now come to power, it means that the KGB agents and informers are represented in the highest levels of government throughout every East bloc country and the former Soviet republics." (The Washington Post, February 11, 1992)


September 14, 1993:

U.S. defense officials said, "The Russian nuclear exercises, along with signs of the continued construction and improvement of underground nuclear blast shelters around Moscow, are signs the Russian military still is making preparations to fight a nuclear war with the United States. 'You can't dismiss the threat,' one official said." (The Washington Times, September 14, 1993)


From a column by Mona Charen: "During the Gorbachev years alone the Soviets increased their number of ICBMs by 715, compared to the United States' 70

—a ratio of 10 to 1 in favor of the Soviets; during that period they added 270 long-range bombers compared to our 103; they build 490 submarine based ballistic missiles while we build 200; they built 54 nuclear submarines compared to our 24; and they produced 13,100 multiple rocket launchers compared to our 1,635."


August 14, 1990:

The Washington Times reported on August 14, 1990 that Colonel-General Albert Makashov (a Soviet general specializing in tank warfare) arrived in Bagdad two weeks before the Kuwait invasion on July 17, and remained in Iraq until August 13. "The Soviets played a critical role in operational planning, communications, and logistics for the invasion of Kuwait." (Financial Times, August 8, 1990). The same article stated that the attack on Kuwait "bore all the earmarks of Soviet satellite intelligence."

New Lies for Old: "The creation of a false, controlled opposition movement like the dissident movement serves internal and external strategic purposes. Internally it provides a vehicle for the eventual false liberalization of a communist regime; it provokes some would-be opposition elements to expose themselves to counteraction, and others are driven to conformity or despair. Externally, 'dissidents' can act as vehicles for a variety of disinformation themes on the subject of the evolution of the communist system. A well-advertised wave of persecution of dissidents, partly genuine and partly spurious, generates Western sympathy for, and vulnerable alignments with, those who are secret creatures of the regime. It sets the scene for an eventual dramatic 'liberalization' of the system by heightening the contrast between neo-Stalinism and future 'socialism with a human face.'" (Anatoliy Golitsyn, New Lies for Old, pp. 241-242)

Sister Lucy, in a July 15, 1946 interview with William Thomas Walsh, stated the following: "What Our Lady wants, is that the Holy Father and all the bishops consecrate Russia to Her Immaculate Heart, by a special ceremony. If that consecration is done, the Holy Virgin will convert Russia and peace will reign over the world. If not, the errors of Russia will be propagated everywhere."
Walsh - "In your opinion, does that mean that all countries, without exception, will be conquered by communism?"
Sister Lucy - "Yes."
- (William Thomas Walsh, Our Lady of Fatima, pp. 234-235)
Sister Lucy on the consecration of Russia: "The Holy Father speculates that it has been done, done in the best possible way under the circumstances. Done on the narrow road of the collegial consecration that She [Our Lady of Fatima] has demanded and has been wanting? No, that has not been done." (Sister Lucy to Cardinal Law of Boston, May 1989)

Communism:
"See to it, Venerable Brethren, that the Faithful do not allow themselves to be deceived! Communism is intrinsically wrong, and no one who would save Christian civilization may collaborate with it in any undertaking whatsoever. Those who permit themselves to be deceived into lending their aid towards the triumph of Communism in their own country, will be the first to fall victims of their error."
- Pope Pius XI, Divini Redemptoris, encyclical on atheistic communism.