URGENT MESSAGE FOR THE HOLY FATHER!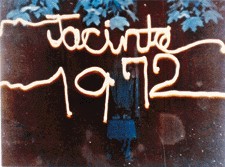 TELL THE THIRD SECRET WORD FOR WORD . . .
"I wish at this time, My children, to repeat again the need to write, to speak, to meet with the Holy Father in Rome, and plead with him to have Lucy come forward and tell the Third Secret word for word, as I give to you each evening on My appearances upon the grounds of Bayside, and Flushing Meadows." - Our Lady, June 18, 1986
TO HIDE A FACT IS OFTEN DESTRUCTIVE . . .
"My child and My children, I do not wish to elaborate nor add to My Mother's statements to you this evening of facts and what is to be. But there is one incident that has appalled us all in Heaven that must be made known to mankind, because I feel in My heart for My Mother, Her great hurt and sorrow that Her Message at Fatima was not completely given to mankind. This evening I speak to you, My child Veronica, for you to tell the world that to hide a fact is often destructive. And this fact will be made known now, with or without Lucy, or others, who cannot speak out because they are under obedience to their elders." - Jesus, June 18, 1986
For more information see: http://www.tldm.org
URGENT! FAX THIS PAGE TO AS MANY PEOPLE IN THE VATICAN AS POSSIBLE!
- - - - - - - - - - - - - - - - - - - - - - - - - - - - - - - - - - - - - - - - - - - - - - - - - - - - - - - - - - - - - - - - (cut here)- -
Home Introduction Prophecies Directives Testimonies Veronica News Order Form Photos Bible Magazine Newsletters