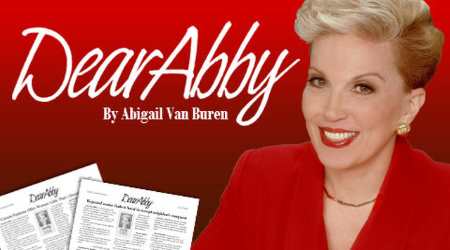 These Last Days News - June 15, 2017
'Dear Abby' Signals the Moral Decline of the US...
SIN IS CONDONED NOW
"My children, I tell you now as your Mother that My tears fall upon you, for you do not know what you are doing. You are bringing upon you a great punishment.
"Are you so blind that you do not recognize the acceleration of sin among you? Murders abound, thievery, all manner of carnage, destruction of young souls, abortion, homosexuality, condemned from the beginning of time by the Eternal Father. Yet sin has become a way of life. Sin is condoned now, even unto the highest judges of your land and your lands throughout the world. As you have sown so shall you reap. Sin is death, not only of the spirit, but of the body. Wars are a punishment for man's sin, his greed, his avarice. Pride and arrogance is bringing down into hell mitres from My Son's House." – Our Lady, August 14, 1981
FAMILY CIRCLE
"The strength for souls will be found in the family circle." - Our Lady, December 31, 1972
GREATEST ATTACK
"Evil creations from hell--all manner of abominations are entering into the homes of your nation and the countries throughout the world. It will be an absolute necessity now for all parents to act as a director, a leader in the homes. The greatest attack from satan shall be upon family life. If you break down the family, you will break down the nation." - St. Joseph, March 15, 1978
The above Messages from Our Lady were given to Veronica Lueken at Bayside, New York. Read more
WND.com reported on May 29, 2017:
by Larry Tomczak

To get a finger on the pulse of our culture, I decided to do an experiment. For months I've faithfully read the "Dear Abby" advice columns to learn the current problems average people face in our topsy-turvy world.

This advice column is something of a national institution going back over 60 years and is a fairly reliable indicator of real people seeking real answers to real problems today. Daily it dispenses counsel to 110 million readers in 1,400 newspapers worldwide!

While growing up many of us read the columns out of curiosity, or our parents clipped them out for us to teach us practical wisdom on topics like handling squabbles with in-laws and neighbors, family life, child-rearing, dating and good health. Sometimes there'd be an amusing account of a pet problem or handling grandma's quirks.

Have you read the column lately? Are you aware how far things have departed into the bizarre as sinful conduct is airbrushed away while consequences remain? The eye-opening discovery I found was that many people are needlessly suffering because they simply don't know truth.

Survey the scene

Here's a sampling of some of the column's content (that's appropriate for publication!):

Twenty-five-year-old gay guy is dating a 50-year-old divorced man who cheated on his wife with another young fellow who left him right before he met the next gay guy.
An abused wife, once divorced, is miserable and wants to kill herself as her husband has them involved with swingers while she's had emergency surgery and almost died, but he resented her for it and now she doesn't know if she should leave him.
A woman married for 29 years struggles that her husband asks for "threesomes," believing he won't be complete without this though she's hurt and contemplating divorce.
After a spouse enters a long-term care facility, the other wonders about "friends with benefits," if it's done discreetly.
A lesbian, who's dominant, is in a relationship with a woman but hurt because the other one doesn't pay for dates.
A wife married for 10 years discovered her mate putting nail polish on his toes and wonders if he's a cross-dresser.
Two married coworkers are spending "time" with each other as he plans on leaving his wife and children, and she wonders whether to wait for him.

This is a window into America today. How about premarital sex, abortion, transgenders, pornography addicts, voyeurs and exhibitionists? Counsel given young people comes from unscriptural resources.

What's the point?

This experiment is another cultural indicator of our serious moral decline. It's urgent to recognize America's desperate need for spiritual awakening.

"Truth is fallen in the street" (Isaiah 59:14). We've drifted off course from our Judeo-Christian foundations, and society is in meltdown.

Romans 1:21-32 outlines the downward spiral we're experiencing: reject truth, lose discernment, reap moral chaos.

Prophetic "watchmen" highlight these discouraging developments to jolt people to cultural realities. Hopefully, we'll jettison complacency, pray fervently and engage responsibly for spiritual transformation.

George Otis Jr., globe-trotting for decades documenting genuine awakenings, says there are three essentials for transformation:

Realize the gravity of the situation.
Understand time is running out.
Respond to God's lifeline of opportunity through repentance and resolve to follow Him.

We're not who we think we are

Researcher George Barna sobers us: "Only 10 percent of American adults have a biblical worldview!" Seven of 10 Americans call themselves "Christian," yet surveys reveal serious departure from biblical truth.

His extensive work shows most Christian adults want to learn a biblical worldview on today's issues, but most Christian pastors won't equip them! They fear losing giving members, so they remain muzzled rather than being mouthpieces of truth.

Passing on Truth

Os Guinness, author of "Impossible People," illustrated the importance of transmitting truth to the next generation.

In 1928 the relay race was introduced into the Olympics. Team USA was always on the winners' platform at Olympic games. That is until 2008.

Apart from the Jamaicans, the Americans were fastest in the world yet this time gained no medals in the men's or women's relays! The problem: they were superb runners but failed in handing off the baton.

Here's the deal: America's crises is a crisis of truth. Millions have no moral compass. They're adrift on a sea of confusion, looking to Dear Abby and others for guidance. They need help!

The good news is that we're commissioned as His ambassadors. We've been given a reprieve with this recent election and have the opportunity to be catalysts who turn things around! Our sacred responsibility is to pray and transfer truth as we engage people winsomely today.

Hurting people seeking answers from Abby are typical of people who need God's Word. I strongly encourage you to avail yourself of the Bullseye Challenge that meets this need by preparing informed influencers in 30 days.

Don't delay! Lay hold of the baton in these desperate times.

"Walk in wisdom toward those who are outside, wisely using the opportunity. Let your speech always be with grace, seasoned with salt, that you may KNOW HOW YOU SHOULD ANSWER EVERYONE" (Colossians 4:5-6, emphasis mine).

"Desperate times require desperate measures." – Hippocrates

EDITOR'S NOTE: We welcome your comments at the end of this page. Email a link or print out a copy of this web page to your clergy, family, friends and relatives. Email this page to a friend.
THE FOUNDATION
"My child, you are observing the foundation for all life and dedication to the Eternal Father-the home and the family. In your world today that has been caught in the snare of the wiles of satan, many families are heading to oblivion, disintegration, and destruction. The forces of evil, the agents of 666, have now infiltrated into the very heart of mankind: the home, the family." - Our Lady, July 24, 1976
"THE EVIL IS ACCELERATING"
"My children, I counsel you again to retain your sacramentals and wear them. You cannot be without your armor in this battle. The evil is accelerating. Lucifer will make a concerted effort to stop you. I am, as your Mother, preparing you for this battle by guidance from My Son in the Eternal Father and the Holy Spirit of light." – Our Lady, August 19, 1978
We strongly encourage you to print and/or email copies of this web page to all the bishops and clergy. Also, email or mail a copy of this web page to the news media and as many other people as possible. Email a copy of this page to everyone you know.
We urgently need your prayers and financial support to be able to continue to create these web pages. Click here... Thank you in advance.
When you pray the Holy Rosary, you have Our Lady's hand in your hand. When you pray the Holy Rosary, you have the power of God in your hands. Start now! Let's All Pray the Rosary Together Around the World that the family unit will be protected and defended from the forces of evil... Click here...

The Virgin Mary's Bayside Prophecy Books are Now Available in E-book Version. Click Here Now!
Our Lady of the Roses Awesome Bayside Prophecies... http://www.tldm.org/Bayside/ These prophecies came from Jesus, Mary, and the saints to Veronica Lueken at Bayside, NY, from 1968 to 1995.
WAR OF THE SPIRITS
"My child and My children, We are fully aware of the increase of attacks upon My Mother and upon all the children of the light who shall find it a true crucifixion to remain upon earth.
"My children, I have told you in the past that this is a time of war of the spirits. It is a war far deadlier than any human war using man-made implements upon earth. For now, My children, we are in a war engaged with satan for souls. The eternal light is now being tested upon every human being of conscionable age upon earth. My children, the evil is accelerating. This can only mean that the Ball of Redemption cannot be held back. Many will die in the great flame of the Ball of Redemption! Do not scoff at My words, O you who have rejected the light, for the skin shall burn from your bodies and blow away!
"My children, as in the past, you are deaf to My calling to you for penance. My Mother has accepted a heavy penalty to rescue you, for She is doing this mission at Her expense, as She listens to all of the blasphemy against Her and Her nature of purity and holiness." – Jesus, May 30, 1978

"BECAUSE OF SIN, INSANITY IS NOW ENCOMPASSING THE MINDS OF MEN"
"My children, because of sin, insanity is now encompassing the minds of men; satan has poisoned many minds. Scientists are ever seeking but never coming to the truth! Scientists are trying to create a life that is not in any way the nature of mankind. Man is seeking and shall destroy his nature.
"My children, unless you pray more, unless you do penance and acts of atonement now, I cannot hold back the punishment, the Chastisement from mankind any longer. As your days proceed, evil is accelerating and the chastisements, minor and major, shall increase. There will be earthquakes in divers places; there will be floods and pestilence, and there will be the eruption of the elements. My children, My counsel to you shall all come to pass." – Our Lady, June 4, 1977

REMAIN FAITHFUL AND TRUE UNDER SIEGE
"My child and My children, We have looked upon the world now and find that We are fast approaching the latter days. This will be a time of toil for all. Those who will work with Me shall be called now disciples of the latter days. Already, My children, you have gathered for some time. You all know who I am speaking to at this time. I say again, all those who have been picked from among Our vineyard of souls upon earth to come forward as disciples in the latter days to defend the Faith, to remain faithful and true under siege, shall gain Heaven and immortal life. You will find life everlasting with the Father.
"However, I acknowledge the fact that, My child, I have taken you from your home in a weak state; but you know how urgent it was from Our discourse with you all day today, My child, that you get here this evening. For the evil is accelerating in the world. We cannot hold back the Chastisement much longer. The Father has at the foot of His throne the Ball of Redemption." – Jesus, October 2, 1989

SATAN STAGING HIS FINAL BATTLE
"My child, I have cautioned you in the past and I repeat Myself for your welfare and the continued progress of your work, your mission from Heaven, to close your ears to those who seek to destroy the Mission from Heaven with idle tales of gossip and untruth. Know, My child, that satan is staging his final battle against all of the children of God. The warnings given from Heaven have not been accepted by all, but I assure you, My children, that soon--and very soon, I say--you will all be forced to your knees.
"There is an accelerating web of evil that is extending itself into the lives of every man, woman, and child now upon your earth." – Our Lady, December 24, 1976

WORLD STEEPED IN MURDERS AND FOUL DEEDS
"The state of the world that is now steeped in murders and all manner of foul deeds, reaching into the judicial systems of the world--this state has been brought about by the fall of mankind to sin. For when man seeks to build a world without his God, relying only on human knowledge and instinct, he can only meet with a sorrowful end.
"As I told you in the past, it will be father against son, mother against daughter, division in the homes, as this will be a product of the accelerating evils." – Our Lady, March 18, 1978

ONSLAUGHT OF EVIL ACCELERATING IN THE CHURCH
"I do not have to repeat to you the numerous warnings of the calamities that are to come upon mankind. All warnings were given as conditional. However, the groups of sheep have scattered and must be unified against the onslaught of evil that is accelerating and in My Church. I appeal to you, My children, to go forward in prayer and sacrifice and to approach Our pastors as disciples of Heaven. It is not the desire of the Eternal Father to set the Chastisement upon mankind. However, the Eternal Father will chastise those He loves.
"It is only through great suffering that your nation will emerge from the mire of sin and evil that it has led itself into by disregarding the warnings of My Mother through your years upon earth." – Jesus, April 10, 1976

THESE ARE THE LATTER DAYS
"My children, parents, I caution you again to take full charge of the rearing of your children by good example and giving them a true foundation for their faith, by bringing to your children the knowledge of their God and the commandments of their God.
"There is little upon earth now, My children, little in penance and atonement in comparison to the world's millions of people to make restitution for these offenses to the Eternal Father, little to hold back the accelerating evil and the great warnings and chastisements that will be given to mankind in an effort to awaken him from his errors and sin.
"These are the days spoken of and written of through countless years of earth's times. These are the latter days, and there will be a crucible of suffering. The saints shall come out of the fires of suffering." – Jesus, July 25, 1977

STOP CHANGES
"Pastors, those who have in their care Our sheep, you must stop now these changes that you seek in novelty, for they are destroying the young souls and scattering Our sheep.
"I repeat, My children, the great Council in Rome of Vatican II, the promises were great, but satan sat among you and he played you like the chessboard.
"You were given a foundation of Faith based on Tradition and knowledge of the prophets. You cannot start this new religion, for it will lead you to one religion that is not of My Son, that will not have His true foundation, and you will take My Son's Body and defame it, no longer giving the knowledge of His Divinity. What manner of foul escapades are you planning, O you of little faith? Whatever shall become of you? The Red Hats have fallen and the Purple Hats are being misled. Woe, woe, woe to the inhabitants of the earth!" - Our Lady, August 5, 1976

SAFEGUARD
"My child and My children, I need not repeat to you the necessity to retain tradition. It was like a valve, a safeguard from the eruption of My Son's Church, a schism, a division within My Son's House upon earth. I cry unto you, your Mother, as I hasten back and forth bringing you the Message, the counsel from Heaven. You must recognize--bishops, cardinals and pastors, you must recognize what is happening now in My Son's House. There is being rebuilt before your very eyes another religion, another church of man. No angels are helping in this building." - Our Lady, September 7, 1978

YOUR SIN
"Shall you stand, O Red Hats and Purple Hats, before My Son and say that your teaching has been pure in His sight? I say unto you: you cannot cover your sin. My Son looks into your hearts, and you too, who have received glory in your vocation upon earth--you too, without merit, shall be cast into the abyss of hell. Woe to the teachers who have gone forward with itching ears, implementing, experimenting with My Son's doctrines and teachings, casting aside all Tradition for a modern way. And this way is from satan!" - Our Lady, May 20, 1978

NO COMPROMISE
"You must not, O pastors, you must not compromise your faith; do not be misled. O pastors, you have forgotten your teachings. You must renew in a manner that is not new. You must go back, I say, go back and start anew with Tradition! You cannot separate Tradition, for you held the truth. You were given the grace, the greatest of gifts to mankind, to be born into or come into by conversion, My Son's Church. And now you go about, O you of little Faith, to chip away and chop at the walls until it crumbles. But you shall not remove the foundation, for the foundation is My Son. You are re-crucifying Him in His own House." - Our Lady, April 10, 1976

GUIDE CHILDREN
"The children must be guided by the family. The truth, the Faith, the Tradition, must be instilled in their hearts by the mothers and fathers of a family. Do not expect your children to go beyond your doors and be instructed in truth, for the world has been given to satan. Many who should be showing a firm and true example, have gone the easy way of the flesh, for they care more for the treasures and glory of this world, earth, than what the future has for them." - Our Lady, December 6, 1975

ASSUME RESPONSIBILITY
"Parents will assume the greatest responsibility for keeping Tradition and Faith, the firm foundation of Faith in the hearts of their children. There will be much woe set upon the earth by the evil on. 666, the forces of hell, are now doing full battle against the children of God." - Our Lady, June 16, 1977
Directives from Heaven... http://www.tldm.org/directives/directives.htm
D36 - Bishops (Part 1) PDF
D37 - Bishops (Part 2) PDF
D85 - Tradition PDF
D122 - Antichrist PDF
D129 - Third Secret, Part 1 - 666 in Rome PDF
D130 - Third Secret, Part 2 - Satan entered the Church in 1972 PDF
D131 - Third Secret, Part 3 - Satan in highest realms of the hierarchy PDF
D132 - Third Secret, Part 4 - Bishop against bishop, cardinal against cardinal PDF
D167 - The Family - Part 1 PDF
D168 - The Family - Part 2 PDF
D186 - Excommunication PDF
D188 - Wrath of God PDF
D190 - Cardinals, Part 1 PDF
D191 - Cardinals, Part 2 PDF
D192 - Cardinals, Part 3 PDF
D300 - Satan's War Against the Papacy, Part 1 PDF
D301 - Satan's war against the Papacy, Part 2 PDF
D396 - Acceleration of Evil PDF
EDITOR'S COMMENT: Evil is accelerating and the Anti-Christ forces are gaining power in the world. When the persecution starts, all Christian web sites on the internet will be forced to close. Be sure to have in your possession all the following items: the Bayside Prophecy books, Bayside Medals, Douay-Rheims Bibles, the Protection Packets, Candles, Sacramentals, and Religious Books. Purchase these items now while they are still available! You will urgently need them in the days ahead. Also, you can print out all PDF files for the Directives from Heaven and all of the Bayside Prophecies. Copy Our Lady's messages and the Directives from Heaven now while they are still available! Pray to the Holy Spirit for wisdom and guidance on how to prepare now and for the days ahead when the Antichrist is revealed. Viva Cristo Rey!
There are 4 Things You Must Have to Survive the End Times:
1.) The Douay-Rheims Holy Bible...
"I ask that all who hear My voice will take their Bibles, and if they do not have one, search, but find the right Bible, those printed not after 1965, My children." - Jesus, October 5, 1985
"You must all obtain a copy of the Book of life and love, the Bible. Do not accept the new mods. Try to find in your bookstores the old Bibles, My children, for many are being changed to suit the carnal nature of man. I repeat, sin has become a way of life." - Our Lady, October 6, 1992
"I must ask you all to read but a few short chapters a day now, the Book of life and love, your Bible. Knowledge must be gained for all the disciples of My Son, for you will be attacked by scientific minds. But do not be concerned what you will say to them when accosted, for the words will be given to you by the Spirit." - Our Lady, April 10, 1976
The Douay-Rheims Bible was published in 1899. It is the official Bible of the Roman Catholic Church. Almost all other Bibles have been rewritten by Satan. See: http://www.tldm.org/directives/d33.htm , http://www.tldm.org/directives/d415.htm and http://www.tldm.org/directives/d182.htm If you don't have a Douay-Rheims Bible order it now! (Order Form) Yours and your loved ones salvation could depend on it.
Read the Bible cover to cover. If you read 4 chapters a day, you will complete the whole Bible in 334 days. I have read the Bible 2 times and working on the third time. A 75 year old Baptism gentleman told me that he and his wife have read the Bible nine times. Wow!
2.) The Complete Virgin Mary's Bayside Prophesies in 6 Paperback Books...
The Virgin Mary brings directions from God, the Father in Heaven on how to survive the end times. God, the Father, through the Virgin Mary, tells what is coming, how to prepare for it, how to survive it, and how to even stop it. These six volumes along with the Bible are most important to save yourself and your loved ones. Order it now. Tomorrow may be to late. These 6 pocket size paperback books costs $33.00. (Order Form)
3.) Heaven's Home Protection Packet...
Heaven's Home Protection Packet...
Our Lord stated we must have crucifixes upon the outside of all of our outside doors. In the "Heaven's Home Protection Packet" there are instructions, four crucifixes, a tube of special cement for wooden or metal crucifixes. Wooden crucifixes adhere better to the doors when the aluminum strap is removed from the back. Put a light coat of cement on the back of the crucifix and then press it to the outside of the door. If you have any problems, you can call us at 616-698-6448 for assistance. This Heaven's Home Protection Packet is available for a donation of $10.00 plus $4.00 shipping and handling. Send $14.00 to TLD Ministries, P.O. Box 40, Lowell, MI 49331. Item # P15 (Order Form)

Crucifix on front and back door... The only real protection against terrorists...
Jesus - "Pray and wear your sacramentals. And, also, My children, I ask you again to place a crucifix upon your door. Both front and back doors must have a crucifix. I say this to you because there will be carnage within your areas, and this will pass you by if you keep your crucifix upon your doors." (6-30-84) (Testimonies of lives and homes saved by the crucifixes.) http://www.tldm.org/news/crucifix.htm (Order Form)
4.) Heaven's Personal Protection Packet...
Heaven's Personal Protection Packet . . .
Our Lady tells us to be protected from all evil, we must wear the following sacramentals around our necks: a Rosary, a crucifix, the St. Benedict medal, Our Lady of the Roses medal, the Miraculous Medal, and the scapular. We have all of these sacramentals in a packet we call "Heaven's Personal Protection Packet." This packet is available for a donation of $7.00 plus $3.00 shipping and handling. Send $10.00 to TLD Ministries, P.O. Box 40, Lowell, MI 49331. Item # P5 (Order Form)

Our Lady of the Roses, Mary Help of Mothers promises to help protect our children. On September 13, 1977, She said, "He has an army of ogres wandering now throughout your country and all of the countries of the world. They are in possession of great power; so wear your sacramentals, and protect your children and your households. Learn the use every day of holy water throughout your household. Insist even with obstructions, insist that your children always wear a sacramental. One day they will understand that they will repel the demons."
On February 1, 1974, Our Lady said, "My children, know the value of these sacramentals. Guard your children well. You must awaken to the knowledge that you will not be protected without the sacramentals. Guard your children's souls. They must be surrounded with an aura of purity. Remove them if necessary from the sources of contamination, be it your schools or even false pastors."
This Heaven's Personal Protection Packet is available for a donation of $7.00 plus $3.00 shipping and handling. Send $10.00 to TLD Ministries, P.O. Box 40, Lowell, MI 49331. You may use your MasterCard, VISA, or American Express and call 1-616-698-6448. Item # P5 (Order Form)
Incredible Bayside Prophecies on the United States and Canada book . . .
We have researched the Bayside Prophecies on the United States and Canada and put these outstanding prophecies in a 360 page pocket size paperback book. Veronica said it was very good. It tells what is going to happen here and how to prepare for it. Every North American must read this book! Item #B2 Cost $5.00 (Order Form)
Your names have been written in Heaven… "It is not by accident that you are called by My Mother, for your names have been written in Heaven.... But with this great grace you have great responsibility to send this Message from Heaven throughout the world, for if you are able to recover just one more for Heaven, an additional star shall be placed in your crown." - Jesus, August 5, 1975
A great obligation to go forward... "It is not by accident that you are called by My Mother, for it is by merit and the prayers that have risen to Heaven for your salvation. For those who have received the grace to hear the Message from Heaven, you have a great obligation to go forward and bring this Message to your brothers and sisters. Do not expect a rest upon your earth, for you will have eternal rest very soon." - Jesus, June 12, 1976
The sin of omission... "The sin of omission shall condemn many to hell, be they layman or Hierarchy. I repeat: not the sin of commission, but the sin of omission will commit many to hell." Our Lady of the Roses, October 6, 1980
My gift to help spread Our Lady of the Roses' messages to the world.

We encourage everyone to print or email copies of this web page to all the Bishops and all the clergy. Also, email or send this web page to the news media and as many people as possible.
| Home - Latest News | Introduction | Bayside Prophecies | Directives from Heaven | Order Form | Miracles & Cures | Veronica Lueken | Miraculous Photos | Bible | Radio Program |
The electronic form of this document is copyrighted.
Quotations are permissible as long as this web site is acknowledged with a hyperlink to: http://www.tldm.org
Copyright © These Last Days Ministries, Inc. 1996 - 2017 All rights reserved.
P.O. Box 40 616-698-6448
Lowell, MI 49331-0040
Revised: June 15, 2017