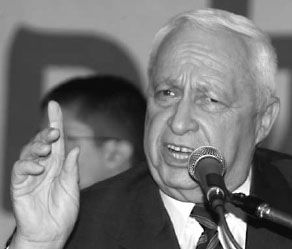 Ariel Sharon delivers ultimatum to Syria...
"Syria has the key to the solution of world peace or the Third World War." - Our Lady, May 30, 1981
Fox News - April 11, 2002
JERUSALEM - Israeli Prime Minister Ariel Sharon Wednesday intensified his criticism of Secretary of State Colin Powell's decision to meet with Yasser Arafat, saying there can be no peace with the Palestinian leader because he stands at the center of "an empire of terror."
In an off-camera interview with Fox News, his first with an American news organization since Israel confined Arafat to his West Bank headquarters last month, Sharon revealed he had also sent a message through Vice President Dick Cheney advising Syria to rein in the Hezbollah terrorist group or face a massive Israeli retaliation....
Sharon noted an increase in attacks across the Lebanese-Israeli border by Hezbollah, a Syrian and Iranian-backed group. "I delivered a message for the Syrians via the United States but it was passed on at a low level the first time and nothing happened," Sharon said.
"Then I talked to Cheney and said, if the shelling from Hezbollah continues, Israel will have to take extremely severe action against Syria and Lebanon. Cheney called Bashar Assad on Tuesday and relayed the message, but so far I haven't seen anything change.
"I told Cheney exactly what we are going to do. The message was very clear." http://www.foxnews.com/story/0,2933,49999,00.html
The amazing Bayside Prophecies...
These prophecies came from Jesus, Mary, and the saints to Veronica Lueken at Bayside, NY, from 1968 to 1995.
SYRIA HOLDS THE KEY
Our Lady - "Wars are a punishment for man's sins. Syria holds the key to peace at this time. However, I place in front of you, My children, a graphic picture for you to understand. It will be a parable for some, and some will turn away not willing to hear what Heaven has to say in these desperate times."
Veronica - Our Lady is pointing up with Her finger, like this, to Her right side, and high above Her the sky is opening up—all the clouds are floating away and the sky is opening up and I see a map of the Mideast. And then Our Lady is pointing up farther and that's another map of China and Russia. Our Lady is turning back now: She was looking upward also.
Our Lady - "My child and My children, there are scoffers who will say there shall not be a Third World War. They do not know and cannot conceive of the plan of the Eternal Father. Be it known now that the Father has great heart for all His children, but when the sin reaches a peak only known to the Father the amount of sin among mankind, then the Father will take action." - May 28, 1983
THE WORD 'HOLY' STRIKES A CHORD OF MISERY...
"Wars are a punishment for man's sins. Already your sons are being sent to be there with the invasion in the Mideast. Is this what you want, My children? Can you not give your prayers and acts of reparation for those who have no one to pray for them? They are all Our sheep and We wish that they would be gathered into a holy land. The word 'holy' strikes a chord of misery, My child; I have no way to explain but to tell you, misery." - Our Lady, May 25, 1983
WAR IN THE MIDEAST
Veronica - There is a great war ahead. It will coincide with the war in the Mideast. - February 17, 1974
D136 - Visions of the Great War: The Mideast
Related Articles…
Watch the Lebanon-Israeli border Hizbullah
Tensions on the Lebanon-Israeli border and the "worst-case scenario"
Powell addresses Hezbullah attacks, AP News, April 15, 2002
Yasser Arafat - "He will promote the Great War"
| Home | Introduction | Prophecies | Directives | Order Form | Testimonies | Veronica | News | Photos | Bible | Magazine | Newsletters | Radio Show |
We encourage everyone to print or email copies of this web page to all the Bishops and all the clergy. Also, send this page to as many people as possible.
The electronic form of this document is copyrighted. http://www.tldm.org
Copyright © These Last Days Ministries, Inc. 1998 - 2002 All rights reserved.
P.O. Box 40
Lowell, MI 49331-0040
Revised: February 03, 2010