| Home - Latest News | Introduction | Bayside Prophecies | Directives from Heaven | Order Form | Testimonies | Veronica Lueken | Miraculous Photos | Bible | Radio Program |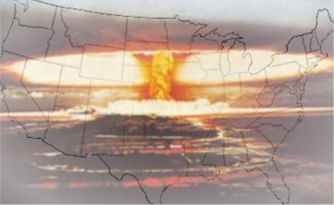 Our Lady of the Roses gave 17 requests to save America from annihilation…

"I tell you for your own good, My children of the United States of America, that once was a nation under God and indivisible, that you will fall! If you do not come out of your slumber now, you will fall!" - Our Lady of the Roses, June 18, 1992
E

nd abortion:

"Your country and many countries of the world stand now in judgment by the Eternal Father for the murders of the unborn. No man shall destroy a creation of the Eternal Father. The spirit of life is breathed at the moment of conception into the body of a living child. At the moment of conception, the soul is placed by the Eternal Father into that child, and no excuses for murder shall be accepted by the Eternal Father." – Our Lady, June 5, 1976


E

nact just laws to stop the spread of homosexuality:

"And the great issue now of homosexuality in your country, that shall be on the balance that Michael holds. Unless this balance is evened by removing this evil from your country and bringing in just laws to prevent the spread of homosexuality, you cannot be saved; your country cannot be saved." - Jesus, November 1, 1985

Restore My Church upon earth: "I give you a final warning from the Eternal Father. You will turn back and restore the earth. You will turn back and restore My Church upon earth. You shall not set up a new church of man, for I shall destroy it. You shall see nations disappear from the earth in seconds." - Jesus, October 2, 1980

Consecrate Russia or die: "O Our wandering sheep are going without true leaders. My priests of the world, I say to you now: you must listen to My voice from Heaven. You must consecrate Russia to My Immaculate Heart or you will die." - Our Lady, April 14, 1984

Elect God-fearing leaders:

"For that one reason among many, the United S

tates will suffer unless there is placed into your government a group that fears the Lord if they cannot love the Lord. They will fear Him and find measures to stop the slaughter of the unborn." - Our Lady, April 14, 1984


P

ray for your leaders daily:

"As I tried to instruct you all in the past: that you must pray much for the leaders of your country and the leaders of the nations of the world, because if you do not, this will bring on the most disastrous war to mankind. It is coming in steps, My children." – Our Lady,

June 18, 1992




R

estore prayer to the schools:

"I have but one more discourse with you, My child - that is that you must go forward and demand that the prayers be returned to the schools. In that manner, We can approach the children and return them to their rightful place in the reign of God." - Jesus,

October 5, 1985




Restore Ten Commandments to homes, schools, and government:

"The Eternal Father desires the return of His Commandments to the homes and to the schools and to your government." - Jesus, November 24, 1973


Cast out the moneychangers in the

U.S.

government:

"My child, you must not have fear at speaking the truth. It is for the salvation of souls and the recovery of your country. America the beautiful must not fall to Communism, My child. America the beautiful shall not be sold into slavery. Cast out the moneychangers in your government! What manner of government is there that condones sin? Abomination upon abomination--giving monies for the murder of children, giving monies for the murder of the elderly! Your government, My child, has been infiltrated by men of sin." - Our Lady,

September 13, 1975




S

et up a task force to stop pornography:

"My child, you must set up a task force to stop the waves of evil in pornography that is engulfing your country and the world. Action is needed! There are many true spirits who will help you in this fight. It is truly a battle of the spirits!" – Our Lady,

August 14, 1975

A Polaroid snapshot taken by a pilgrim from California during the June 18, 1988 Rosary Vigil. Miraculously, an image of the earth being planet-struck by a comet appears. This is indicative of Our Lady's message that evening to the seer Veronica Lueken.

R

emove sex education in the schools:

"A foul situation has come about in the schools, both public and private. They are now teaching sex education, My children. And this is a debauchery of your young souls. Parents, are you so blind that you do not investigate, or ask your children what has happened in their classes today at school?" - Our Lady, September 27, 1986


Remove teachers who promote the destruction of souls:

"You must remove the reading matter, the books filled with obscenities--pornography, you call it, My child--errors and degradation, soul destructors. You must clean your schools. Remove the teachers who promote the destruction of souls. Parents, as guardians of your children's souls, you must have the courage to come forward and act upon this, for it will be you as parents who shall cry tears of bitter remorse when you know that these children have been lost forever to the Eternal Kingdom." - Our Lady, July 25, 1975


C

ast the U.N. from the shores of the

United States

:

"You must now, My child, speak out the truth. Your country must send from its shores the coalition—the United Nations. Your country must purge itself of the many seekers of fortune at the expense of a loss of the souls of thousands, those who seek worldly gain and riches by bringing into your nation corrupters of souls and mind destroyers—pornography and drugs, My child." -Our Lady,

September 13, 1975




America

being deluded by

Russia

: "You do not know how close you are to being one of the nations to be annihilated. I speak this of the

United States of America

, because they are being deluded by

Russia

. Russia has in armaments six times the number of missiles that we store. While they say they deploy them, and take them out of existence that is not true. They are increasing and increasing; for they have only one thought in mind—that is to take over the whole world." - Our Lady,

October 2, 1987




Strengthen family life:

"Pray constantly your Rosary, your beads of prayer to Heaven. Remain unified in your family lives. The institution of your country—the great foundation is based on family life. Destroy the family and you destroy your country." - Our Lady, June 18, 1980


Parents - discipline your children:

"Do not feel, parents, that you are doing unjustment to your children when you reprimand them when they do wrong. You must keep a stern attitude also toward the rearment of your children." - Our Lady,

June 18, 1994




Pray together as a family:

"Pray a constant vigilance of prayer in your homes. A family that prays together will stay together! Without God in your home there will be separation and discord. A home in this fight with Lucifer cannot survive without prayer and dedication to your God." - Our Lady,

June 18, 1979
Contact your Congressman and Senator and tell them to restore our country to "one nation under God."
Directives from Heaven...http://www.tldm.org/directives/directives.htm
D158 - America the Beautiful PDF
D224 - Restore America to One Nation Under God PDF
Articles…
President Lincoln: the duty of nations to God. Read more...

President Washington: "Religion and morality are indispensable supports" to our country. Read more...

Benjamin Franklin: "without His concurring aid we shall succeed in this political building no better than the builder of Babel." Read more...
| Home - Latest News | Introduction | Bayside Prophecies | Directives from Heaven | Order Form | Testimonies | Veronica Lueken | Miraculous Photos | Bible | Radio Program |
We encourage everyone to print or email copies of this web page to all the Bishops and all the clergy. Also, email or send this web page to the news media and as many people as possible.
The electronic form of this document is copyrighted.
Quotations are permissible as long as this web site is acknowledged through hyperlink to: http://www.tldm.org
Copyright © These Last Days Ministries, Inc. 1996 - 2005 All rights reserved.
P.O. Box 40 616-698-6448
Lowell, MI 49331-0040
Revised: April 02, 2012