| Home - Latest News | Introduction | Bayside Prophecies | Directives from Heaven | Order Form | Testimonies | Veronica Lueken | Miraculous Photos | Bible | Radio Program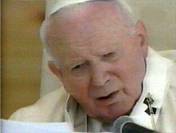 John Paul II and a Vatican official spoke out against homosexuals in the Catholic priesthood…
"I am your God, and I say unto you: continue to change My Church and you will fall! You will build a secular church, bringing in all--even heretics, even homosexuals. All aberrations condemned by the Eternal Father, you will permit in the name of humanism. Nay, no! I say unto you as your God. You will be given a short reign, for I consider you then an abomination, and as such you will be removed." - Jesus, May 23, 1979
"Continence, My child, is the sacrifice asked by the Father. You cannot divide yourselves; there must be a full dedication to the will of God." - Our Lady of the Roses, March 24, 1974
The National Catholic Register reported on a September 5, 2002 speech given by Pope John Paul II, who stated that sexually disordered men are not appropriate candidates for the priesthood:
"It would be lamentable if, out of a misunderstood tolerance, they ordained young men who are immature or have obvious signs of affective deviations that, as is sadly known, could cause serious anomalies in the consciences of the faithful, with evident damage for the whole Church," the Holy Father said.
The term "affective deviations" is used by priestly formators to describe individuals with disordered sexual orientations - such as homosexuality or ongoing heterosexual activity - that are incompatible with priestly celibacy.
The Modesto Bee reported on September 19, 2002:
A staff member of an influential Vatican office has published an article arguing that gays should not be ordained as priests in the wake of the clerical sex abuse scandal.
If a man is gay, "then he should not be admitted to holy orders, and his presence in the seminary would not only give him false hope but it may, in fact, hinder" the therapy he needs, Monsignor Andrew Baker of the Congregation of Bishops wrote.
The Washington Times reported on September 20, 2002:
A Vatican official said today that homosexuals should not be recruited for the Catholic priesthood because they will undermine its mission and ministry.
Writing in the influential Jesuit journal America, Monsignor Andrew R. Baker of the Vatican's Congregation of Bishops in Rome said "same sex attraction" gives rise to an array of problems.
"First and foremost among them is the possible simultaneous manifestation of other serious problems such as substance abuse, sexual addiction and depression," the monsignor wrote.
"I will not stand for My priests who condone homosexuality and allow it in My priesthood! I will not stand for My priests who allow the murder of the unborn with their permissiveness! I will not stand by and allow My priesthood to be destroyed!" - Jesus, June 18, 1982
Directives from Heaven...
D63 - The Third Secret

PDF
D172 - Priestly Celibacy

PDF
D174 - Homosexuality, Part 2

PDF
D176 - Sodom and Gomorrah

PDF
D177 - Seminaries

PDF

Articles...
Clear Vatican statement against ordaining homosexuals: "a person who is homosexual or has homosexual tendencies is not, therefore, suitable to receive the sacrament of sacred orders."
http://www.tldm.org/News5/Estevez.htm

Bishop D'Arcy urges ban on gay priests
http://www.tldm.org/News7/D'Arcy.htm

Philippine Bishops Conference bans homosexual seminarians and priests
http://www.tldm.org/News7/PhilippineBishopsBanHomosexuals.htm
Homosexuality and Hope: excerpts taken from a document by the Catholic Medical Association
http://www.tldm.org/news6/ssa.htm
Homosexuality: dispelling the lies
http://www.tldm.org/News4/homosexuality2.htm
Vatican document: homosexuals should not be ordained or admitted to the seminary
http://www.tldm.org/News5/Vatican_document.htm
Santo Domingo Cardinal says gays do not belong in seminaries
http://www.tldm.org/News7/homosexualityCardinalNicolas.htm
Austrian seminary: no more homosexuals
http://www.tldm.org/News7/HomosexualityAustrianSeminary.htm
Links...
Vatican Monsignor says gays shouldn't be priests, Washington Times, September 20, 2002
http://www.washtimes.com/national/20020920-85049356.htm
Catholic official argues against gay priests, Modesto Bee, September 19, 2002
http://www.modbee.com/24hour/nation/story/543081p-4290797c.html
Pope to Church: Risky seminarians must go, National Catholic Register, Sept. 15-21, 2002
http://www.ncregister.com/Register_News/091002sem.htm
Pope John Paul II: Men with deviant affections can't be priests, ABC News, September 5, 2002
http://abcnews.go.com/wire/World/reuters20020905_339.html
Open Letter of the Catholic Medical Association to the U.S. bishops
http://www.cathmed.org/news_detail.asp?id=41&tableID=news
Catholic Medical Association: Homosexuality and Hope
http://www.cathmed.org/publications/homosexuality.html
| Home - Latest News | Introduction | Bayside Prophecies | Directives from Heaven | Order Form | Miracles & Cures | Veronica Lueken | Miraculous Photos | Bible | Radio Program |
We encourage everyone to print or email copies of this web page to all the Bishops and all the clergy. Also, send this page to as many people as possible.
The electronic form of this document is copyrighted. http://www.tldm.org
Copyright © These Last Days Ministries, Inc. 1998 - 2005 All rights reserved.
P.O. Box 40
Lowell, MI 49331-0040
Revised: April 02, 2012