Bishop says that two-thirds of high school catechetical materials in United States are faulty...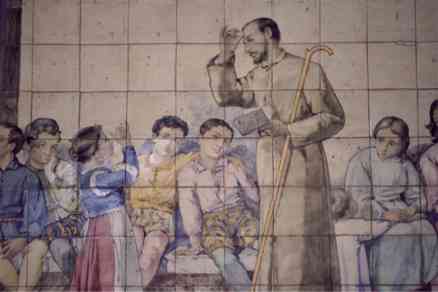 "The catechisms, My children--We find abominations, lies, and sinfulness abounding in these books. Your children, their minds are being corrupted and destroyed. The eyes are the mirror of the soul.
"Each parent has an obligation to his children to remove these diabolical books from his school. The laxity of parents, the apathy of those who have influence . . . O My children, tears shall be shed; there will be gnashing of teeth soon! I ask you, I plead to you as your Mother to prepare your household now." - Our Lady, May 29, 1976
Zenit reported on December 24, 2003:
Nearly two-thirds of high school catechetical materials used throughout the United States are not in conformity with the Catechism of the Catholic Church.
Archbishop Alfred Hughes of New Orleans, chair of the U.S. bishops' ad hoc committee for the Implementation of the Catechism, reported the results of the committee's evaluation of catechetical books at the episcopate's conference last fall. He urged that bishops in their own dioceses restrict the use of catechetical texts to those that have received the judgment of conformity by the committee.
"The catechisms--the truth is not being given as given by the Holy Spirit to mankind. The truth is going into darkness." - Bishop Neumann, June 5, 1976
Our Lady of the Roses awesome Bayside Prophecies... http://www.tldm.org/../Bayside/ These prophecies came from Jesus, Mary, and the saints to Veronica Lueken at Bayside, NY, from 1968 to 1995.
INDOCTRINATED IN HERESY
"Your children must be protected from the evils that abound in your school systems in your country and most nations throughout the world. They are being taught immorality and a loss of faith in the supernatural and the knowledge of their God. All manner of heresy has been indoctrinated into their youthful minds. It is a diabolical plan of Lucifer." - Our Lady of the Roses, June 18, 1979
SPEAK OUT
"Many homes shall be torn asunder by the fall of the children. Parents shall shed tears of anguish. Therefore, prevent this now while your children are at a young age. Give them a firm foundation of their faith. Be not afraid to speak out against heresy and abominations, even if you have to do this against your clergy. For many now have fallen in with the modernists, the socialists, the communists, and some the satanists. Therefore, My children, I make known to you the crisis that lies ahead." - Our Lady of the Roses, June 18, 1979
HERESY, APOSTASY ABOUND
"Because of the arrogance and pride of My clergy, many of Our sheep, Our children, are lost to the Kingdom of Heaven. Many mitres are destined for the abyss. Heresy and apostasy abounds upon earth." - Jesus, June 18, 1979
MOURNFUL HERESY
"Heresy, O mournful heresy! Pastors, this shall not be tolerated. You must not destroy Our young flowers, the children. You must nurture them with pure waters of faith. This faith must not be tainted by modernism and humanism. You have set upon the world a confusion of mind and a darkening of spirit." - Our Lady of the Roses, November 20, 1975
MUST NOT COMPROMISE
"You must not compromise your Faith. You cannot lower your standards and bring others into My Son's Church, for you bring in all manner of heresy and abominations. By your example did you gather Our sheep, and by your example now do you scatter them. I say, as your Mother: Turn back from your road, for you are on the way to perdition." - Our Lady of the Roses, June 5, 1976
HERESY PREVAILS
"Each man shall be accountable for his own soul. You shall not allow heresy to prevail in My House! You shall not permit the corruption and destruction of the young souls with error, fallacy, and heresy! You shall not, in the name of technology and science, corrupt the teachings given to you by those who came before you, sent by the Eternal Father to enlighten you on the path and the way to your Kingdom, the Kingdom of your God in Heaven!" - Jesus, February 10, 1976
HELL-HOLES OF HERESY
"Can you, O bishops, not spare but the little time to look into your seminaries? I say but one expression to you: they have become hell-holes of error and heresy! Clean out your seminaries, My bishops! My Son will lay upon you a heavy hand in penance! Is this what you want? Do you not have the courage of your convictions to stand by the truth of your Faith? Have you given yourselves to such foul sin, O bishops, in your personal lives that you do no longer recognize sin as being a way of life? Are you also condoning sin to become a way of life?" - Our Lady of the Roses, October 2, 1976
HERESY IN THE CLASSROOMS
"And what are they teaching in the classrooms? Oh, my sister, you must tell the world—all the children of earth, of the Eternal Father—that they are teaching heresy! Oh, that's untruth. Satan is deluding many and poisoning their minds. Heresy, O mournful heresy!" - St. Theresa, May 17, 1975
Directives from Heaven...
D16 - Role of Parents

PDF
D17 - Fall of Education

PDF
D161 - The Great Apostasy

PDF
D164 - Heresy

PDF
D183 - Sex Education

PDF
Articles…
"Kneel before your God in the Eucharist"
http://www.tldm.org/News5/kneeling.htm
Vatican on kneeling for holy Communion
http://www.tldm.org/vatican%20letter.htm
The case for the Latin Mass
http://www.tldm.org/news5/latinmass.htm
Should women cover their heads in Church?
http://www.tldm.org/news6/veils.htm
Pope John Paul II recommends praying the St. Michael Exorcism
http://www.tldm.org/news6/exorcism.htm
Restore the high altar
http://www.tldm.org/news5/main%5Faltar.htm
"You cannot separate Tradition from your Faith"
http://www.tldm.org/news6/tradition1.htm
Vatican II, part 1: Infiltration of the Church
http://www.tldm.org/News6/VaticanII-1.htm

Vatican II, part 2: Dark clouds forming before Vatican II
http://www.tldm.org/News6/VaticanII-2.htm
Vatican II, part 3: the satanic revolution gains momentum at the Council
http://www.tldm.org/News6/VaticanII-3.htm
Links...
When Catholic Catechetical Works Don't Teach the Faith: Archbishop Hughes Outlines Deficiencies, and a Plan of Action
http://tcrnews2.com/genzenit1.html
Home | Introduction | Prophecies | Directives | Order Form | Testimonies | Veronica | News | Photos | Bible | Magazine | Newsletters | Radio Show |
We encourage everyone to print or email copies of this web page to all the Bishops and all the clergy. Also, send this page to as many people as possible.
The electronic form of this document is copyrighted.
Quotations are permissible as long as this web site is acknowledged through hyperlink to: http://www.tldm.org
Copyright © These Last Days Ministries, Inc. 1996 - 2003 All rights reserved.
P.O. Box 40
Lowell, MI 49331-0040
Revised: April 02, 2012