| Home - Latest News | Introduction | Bayside Prophecies | Directives from Heaven | Order Form | Testimonies | Veronica Lueken | Miraculous Photos | Bible | Radio Program |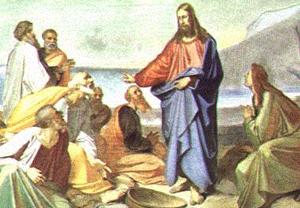 Protestants preaching from Catholic pulpits?
"I repeat, My child and My children: separated brethren must change. They have protested in the past; they have taken themselves away from the truth and the one true Church. They must reject the errors they have made in the past and come back and start again. They cannot bring their errors into My Son's House. You are opening the doors now for all manner of heretics, separated brethren. They do not come to unite in good spirit and heart; they come to take over. They seek to change you, O pastors, who are being deluded. And what do I see in My Son's House but separated brethren upon His pulpit!" - Our Lady, March 18, 1977
You have to see it to believe it: a Protestant preaching to a Catholic congregation from the Catholic pulpit. For those who have not experienced such an abomination in their own parish, it may seem farfetched. But it is actually a fairly common occurrence now, parish priests allowing Protestant ministers to preach at Catholic pulpits, and vice-versa.
The rationale given for this type of behavior is that by interaction with Protestant denominations (and even allowing them to preach from the Catholic pulpit), unity may once again be re-established. But what type of unity is sought?
Let me refer to the incident I witnessed. A Lutheran minister, introduced by the Catholic parish priest, preached from the pulpit, saying that the Catholic Church and the Lutheran church have been in dialogue for the past 40 years. During this time, a "consensus" had been made on some points, while there still remained "extraneous things" that prevented full union. Excuse me? "Extraneous things"? In the mind of the Lutheran minister, these "extraneous things" include:
Rejection of the Pope as the visible head of the only true Church established by Christ;


Rejection of the doctrine of transubstantiation;


Rejection of the sacrificial nature of the Mass;


The nullity of Anglican Orders (see the Apostolic Letter issued by Pope Leo XIII on September 13, 1896 in which he pronounces that "ordinations performed according to the Anglican Rite have been and are completely null and void.")
Plainly stated, Lutherans are heretics. They reject many of the saving truths of the Catholic Faith and have chosen to accept heresies (spiritual poison) in place of these saving truths.
Bishop Fisher was a prominent player in the Church's battle against the heresies of Martin Luther. On 12th May 1521 at St. Paul's Cross, Bishop Fisher preached a two-hour sermon against Lutheran heresies. Bishop Fisher was martyred for the Faith under the orders of King Henry VIII, because he would not be silent in the face of the adulterous behavior of the king.
"You must stand forth as bearers of the light, carriers of the truth. You have been given by your baptism entrance into the only true religion upon earth, the Roman Catholic Church under My Son, Jesus. Though man in his arrogance and pride has forgotten His role and His rule, you must carry it forward. Retain the Faith and the truth in the hearts of mankind." - Our Lady, September 7, 1978
Directives from Heaven... http://www.tldm.org/directives/directives.htm
D123 - Catholic Church, Part 1 PDF
D124 - Catholic Church, Part 2 PDF
D125 - Ecumenism PDF
D164 - Heresy PDF
Articles...
| Home - Latest News | Introduction | Bayside Prophecies | Directives from Heaven | Order Form | Miracles & Cures | Veronica Lueken | Miraculous Photos | Bible | Radio Program |
"My children, My little humble children, I appeal to you as your Mother, go forward on foot, knock on the doors; bring the light to your brothers and sisters. For those who have been given great grace, much is expected of them." Our Lady of the Roses May 26, 1976
We encourage everyone to print or email copies of this web page to all the Bishops and all the clergy. Also, email or send this web page to the news media and as many people as possible.
The electronic form of this document is copyrighted.
Quotations are permissible as long as this web site is acknowledged through hyperlink to: http://www.tldm.org
Copyright © These Last Days Ministries, Inc. 1996 - 2005 All rights reserved.
P.O. Box 40 616-698-6448
Lowell, MI 49331-0040
Revised: April 02, 2012