| Home - Latest News | Introduction | Bayside Prophecies | Directives from Heaven | Order Form | Testimonies | Veronica Lueken | Miraculous Photos | Bible | Radio Program |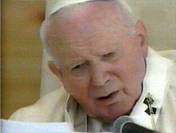 Vatican warns that feminism is "lethal" to familiesÖ
"My child, you understand well why this direction is no longer accepted upon earth. You have now a new rebellious group called ERA, 'equal rights for women.' O My children, what a delusion this is among you! Do you not recognize that you will lose more than you shall ever gain because you defy the direction of the Eternal Father.
"Paul the Apostle wrote down the words given to him by My Son, Jesus. Adam was created in the image of God as man, and woman was given unto him as his helper. As such, My children, man must always be the head of the household. There shall not be strength in a home divided." - Our Lady of the Roses, July 15, 1978
Reuters reported on July 31, 2004:
Modern feminism's fight for power and gender equality is undermining the traditional concept of family and creating a climate where gay marriages are seen as acceptable, the Vatican says.
In a 37-page document "On the Collaboration of Men and Women in the Church and in the World", the Vatican said women should be respected and have equal rights in the workplace, but differences between the sexes must be recognised and exalted.
"Recent years have seen new approaches to women's issues" including a tendency "to emphasise strongly conditions of subordination in order to give rise to antagonism", it said on Saturday.
The document, which re-stated Catholic Church positions, including the ban on female priests, said that many women felt they had to be "adversaries of men" in order to be themselves.
"Faced with the abuse of power, the answer for women is to seek power. This process leads to opposition between men and women ... which has its most immediate and lethal effects in the structure of the family."
The document is a booklet-letter to bishops by Cardinal Joseph Ratzinger, the head of the Congregation for the Doctrine of the Faith, the Vatican department in charge of safeguarding and interpreting doctrine.
It criticises feminism's attempt to erase gender differences.
This has "inspired ideologies which, for example, call into question the family in its natural two-parent structure of mother and father, and make homosexuality and heterosexuality virtually equivalent, in a new model of polymorphous sexuality," it says.

NO TO GAY MARRIAGE

Pope John Paul has repeatedly defended traditional marriage from the trend towards legalising same-sex unions in the United States and Europe.
After Massachusetts became in May the first state in America to permit gay marriages, the issue has been hotly debated ahead of U.S. presidential elections.
The document called for greater recognition of a woman's role as a mother and urged society to value it as real work.
But it also said women's access to the workplace and to positions of authority should not be limited.
"Although motherhood is a key element of women's identity, this does not mean that women should be considered from the sole perspective of physical procreation," it said.
The Vatican said women who choose to be full-time mothers should not be stigmatised, but at the same time, it appealed to governments to make it easier for mothers to hold outside jobs without "relinquishing their family life".
In the introduction, Ratzinger says the letter is meant "as a starting point for further examination in the Church, as well as an impetus for dialogue".
Among other issues, the document addresses the recurring question of whether the priesthood should be opened to women -- a possibility repeatedly denied by the pope.
The document says woman's role within the Church as a witness and "bride", as exemplified by the Virgin Mary, is key but different from man's.
"The reservation of priestly ordination solely to men does not hamper in any way women's access to the heart of Christian life," it said.
The Church teaches that it cannot change the rules banning women from the priesthood because Christ chose only men as his apostles.
Groups that favour female ordination say Christ was only acting according to the social norms of his times.
"Do you not recognize, My children, the signs of your times? Read and learn: 'Women will become unlike women. They shall go forth, and seven women will take hold of one man and say to him: Make me as you are. I wish to eat your bread.' [see Isaias 4:1]
"Know, My child, this simple lesson, that in these days of the latter times, women shall seek to cast off their role as mother and a woman. Woman will cast it off under the direction of satan, and murder her children. Woe to the woman who does not repent of this vile abomination! She has walked the road to eternal damnation and hell. Repent, O woman, or forever be lost!" - Our Lady of the Roses, March 18, 1975
Directives from Heaven... http://www.tldm.org/directives/directives.htm
D23 - Abortion

PDF
D173 - Women Priests

PDF
D174 - Homosexuality, Part 2

PDF
D179 - Women's Liberation

PDF
D248 - Man's Authority

PDF
D249 - Fathers

PDF
D250 - Mothers

PDF


Articles...
Marxist roots of radical feminism
http://www.tldm.org/news5/radical.htm
Robert Bork on radical feminism
http://www.tldm.org/news5/bork%5Ffeminism.htm
Reflections on "women's liberation"
http://www.tldm.org/news5/reflections.htm
The Holy Bible on man's authority in the household
http://www.tldm.org/News7/BibleOnMan'sAuthority.htm
St. Edith Stein on woman's nature

http://www.tldm.org/News8/St.EdithSteinWoman'sNature.htm
LinksÖ
LETTER TO THE BISHOPS OF THE CATHOLIC CHURCH ON THE COLLABORATION OF MEN AND WOMEN IN THE CHURCH AND IN THE WORLD, Sacred Congregation for the Doctrine of the Faith, May 31, 2004
http://www.vatican.va/roman_curia/congregations/cfaith/documents/rc_con_cfaith_doc_20040731_collaboration_en.html

Vatican says feminism 'lethal' to families, Reuters, July 31, 2004
http://www.reuters.co.uk/newsPackageArticle.jhtml?type=topNews&storyID=557123&section=news
Feminismís Marxist roots, Dale OíLeary
http://www.ewtn.com/library/ISSUES/FEMINISM.TXT
Feminist Assault on Reasonableness, Phyllis Schlafly
http://www.ewtn.com/library/ISSUES/PS1296.TXT
Morphing Catholicism into Eco-feminism

, by Donna Steichen
http://www.ewtn.com/library/NEWAGE/ECO-FEM.TXT
The seduction of feminism

, David Reardon
http://www.ewtn.com/library/PROLIFE/SEDOFF.TXT
Reflections on womenís liberation
http://www.tldm.org/News5/reflections.htm
On feminism, Jeff Nyquist
http://www.jrnyquist.com/2002february4/on_feminism.htm
There are 4 things you must have to survive the days ahead:
1.) The Douay-Rheims Holy Bible...
"You must all obtain a copy of the Book of life and love, the Bible. Do not accept the new mods. Try to find in your bookstores the old Bibles, My children, for many are being changed to suit the carnal nature of man. I repeat, sin has become a way of life." - Our Lady, October 6, 1992
"I must ask you all to read but a few short chapters a day now, the Book of life and love, your Bible. Knowledge must be gained for all the disciples of My Son, for you will be attacked by scientific minds. But do not be concerned what you will say to them when accosted, for the words will be given to you by the Spirit." - Our Lady, April 10, 1976 (Order Form)
2.) The total Virgin Maryís Bayside Prophesies in 6 paperback books...
The Virgin Mary brings directions from God, the Father in Heaven on how to survive the end times. God, the Father, through the Virgin Mary, tells what is coming, how to prepare for it, how to survive it, and how to even stop it. These six volumes along with the Bible are most important to save yourself and your loved ones. Order it now. Tomorrow may be to late. These 6 pocket size paperback books costs $33.00. (Order Form)
3.) Heaven's Home Protection Packet...
Heavenís Home Protection Packet...
Our Lord stated we must have crucifixes upon the outside of all of our outside doors. In the "Heavenís Home Protection Packet" there are instructions, four crucifixes, a tube of special cement for wooden or metal crucifixes. Wooden crucifixes adhere better to the doors when the aluminum strap is removed from the back. Put a light coat of cement on the back of the crucifix and then press it to the outside of the door. If you have any problems, you can call us at 616-698-6448 for assistance. This Heavenís Home Protection Packet is available for a donation of $5.00 plus $3.00 shipping and handling. Send $8.00 to TLD Ministries, P.O. Box 40, Lowell, MI 49331. Item # P15 (Order Form)

Crucifix on front and back door... The only real protection against terrorists...

Jesus - "Pray and wear your sacramentals. And, also, My children, I ask you again to place a crucifix upon your door. Both front and back doors must have a crucifix. I say this to you because there will be carnage within your areas, and this will pass you by if you keep your crucifix upon your doors." (6-30-84) (Testimonies of lives and homes saved by the crucifixes.) http://www.tldm.org/news/crucifix.htm (Order Form)
4.) Heaven's Personal Protection Packet...
Heavenís Personal Protection Packet . . .

Our Lady tells us to be protected from all evil, we must wear the following sacramentals around our necks: a Rosary, a crucifix, the St. Benedict medal, Our Lady of the Roses medal, the Miraculous Medal, and the scapular. We have all of these sacramentals in a packet we call "Heaven's Personal Protection Packet." This packet is available for a donation of $5.00 plus $3.00 shipping and handling. Send $8.00 to TLD Ministries, P.O. Box 40, Lowell, MI 49331. Item # P5 (Order Form)

Our Lady of the Roses, Mary Help of Mothers promises to help protect our children. On September 13, 1977, She said, "He has an army of ogres wandering now throughout your country and all of the countries of the world. They are in possession of great power; so wear your sacramentals, and protect your children and your households. Learn the use every day of holy water throughout your household. Insist even with obstructions, insist that your children always wear a sacramental. One day they will understand that they will repel the demons."
On February 1, 1974, Our Lady said, "My children, know the value of these sacramentals. Guard your children well. You must awaken to the knowledge that you will not be protected without the sacramentals. Guard your children's souls. They must be surrounded with an aura of purity. Remove them if necessary from the sources of contamination, be it your schools or even false pastors."
This Heavenís Personal Protection Packet is available for a donation of $5.00 plus $3.00 shipping and handling. Send $8.00 to TLD Ministries, P.O. Box 40, Lowell, MI 49331. You may use your MasterCard, VISA, or American Express and call 1-616-698-6448. Item # P5 (Order Form)

Your names have been written in HeavenÖ "It is not by accident that you are called by My Mother, for your names have been written in Heaven.... But with this great grace you have great responsibility to send this Message from Heaven throughout the world, for if you are able to recover just one more for Heaven, an additional star shall be placed in your crown." - Jesus, August 5, 1975

A great obligation to go forward... "It is not by accident that you are called by My Mother, for it is by merit and the prayers that have risen to Heaven for your salvation. For those who have received the grace to hear the Message from Heaven, you have a great obligation to go forward and bring this Message to your brothers and sisters. Do not expect a rest upon your earth, for you will have eternal rest very soon." - Jesus, June 12, 1976

The sin of omission... "The sin of omission shall condemn many to hell, be they layman or Hierarchy. I repeat: not the sin of commission, but the sin of omission will commit many to hell." Our Lady of the Roses, October 6, 1980

We encourage everyone to print or email copies of this web page to all the Bishops and all the clergy. Also, email or send this web page to the news media and as many people as possible.

| Home - Latest News | Introduction | Bayside Prophecies | Directives from Heaven | Order Form | Miracles & Cures | Veronica Lueken | Miraculous Photos | Bible | Radio Program |

The electronic form of this document is copyrighted.
Quotations are permissible as long as this web site is acknowledged with a hyperlink to: http://www.tldm.org
Copyright © These Last Days Ministries, Inc. 1996 - 2006 All rights reserved.
P.O. Box 40 616-698-6448
Lowell, MI 49331-0040
Revised: April 02, 2012