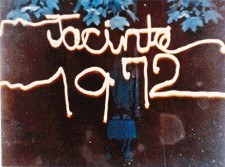 The "Jacinta 1972" photo taken by Robert F. on September 14, 1971. Jacinta, the child-seer of Fatima, appeared to Veronica at a vigil to confirm that she had written the message on the picture. She wanted to draw attention to the prophecy that she had made before her death concerning the year 1972. The date refers to the year of the takeover of Pope Paul VI's reign by satan and his agents through faithless members of the Curia, which is also part of the REAL Third Secret of Fatima. Also, in the wording "Jacinta" is found the hour, day, month and year of the Chastisement to befall mankind.
"I ask that the photograph given from Heaven, 'Jacinta 1972', be propagated, made known worldwide; for within this photograph lies the date, the month, the hour, the year, of the coming Chastisement. Search it well, My children: for those who are given the grace will find the answer to the puzzle. 'Jacinta of Fatima — 'Jacinta 1972'." (Our Lady, October 6, 1979)
Also see letters, numbers, and dates in this "Jacinta 1972:" http://www.tldm.org/Jacinta1972.Update.htm
|We encourage everyone to print or email copies of this web page to all the Bishops and all the clergy. Also, email or send this web page to the news media and as many people as possible.
"My children, My little humble children, I appeal to you as your Mother, go forward on foot, knock on the doors; bring the light to your brothers and sisters. For those who have been given great grace, much is expected of them." - Our Lady of the Roses, May 26, 1976
"As disciples of the latter days, My children, much shall be asked of you, but I assure you: all that you give in faith and charity shall be returned to you threefold." - Jesus, June 1, 1978
| Home - Latest News | Introduction | Bayside Prophecies | Directives from Heaven | Order Form | Miracles & Cures | Veronica Lueken | Miraculous Photos | Bible | Radio Program |
The electronic form of this document is copyrighted.
Quotations are permissible as long as this web site is acknowledged through hyperlink to: http://www.tldm.org
Copyright © These Last Days Ministries, Inc. 1996 - 2005 All rights reserved.
P.O. Box 40 616-698-6448
Lowell, MI 49331-0040
Revised: December 03, 2012