| Home - Latest News | Introduction | Bayside Prophecies | Directives from Heaven | Shopping Cart | Testimonies | Veronica Lueken | Miraculous Photos | Bible | Radio Program |
Our Lady of the Roses, Mary Help of Mothers Shrine
Reported Cures of Cancer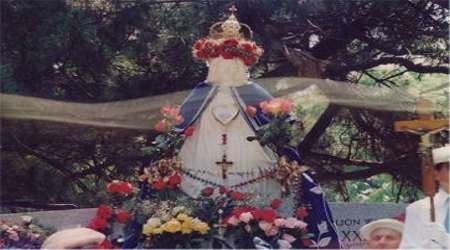 October 28, 1990
Dear Veronica,


I pray this letter finds you well and recovering from your recent illness. You are remembered in my petitions and Rosaries for healing.
I am writing this letter as a testimony of the miraculous healing that Jesus and Our Lady of the Roses have performed for my 80 year old aunt. I can't help but feel that this is just the beginning, for the work that the Lord begins, never goes unfinished.
About four years ago I heard about the apparitions at Bayside, and although I am a Roman Catholic, I did not at that time, entirely believe in them or receive information about them with any great enthusiasm. I even kidded about them to a friend. I neglected to mention that prior to this I had not always been going to Mass and the sacraments as I should have been doing.
Then one day as I was praying I turned my life over to God and asked that He let me know and do His will. He did not disappoint me, since after that He gave me the grace to pray with increased devotion and attend Mass and the sacraments regularly.
Some time later, (about a year or so) when I had forgotten my friend had told me about the apparitions at Bayside, I received a pamphlet in the mail advertising mystic and religious happenings. One thing led to another and before long I wrote Our Lady's Worker for further information and video cassettes. After I received the vigil calendar I went to the Vatican Pavilion site and prayed the Rosary. This was just the beginning of one of the many times that I was to return to pray. In many of my visits I have also been fortunate to receive religious miraculous photographs and upon one occasion carried the statue of the Blessed Mother in procession.


At one of the Vigils I remember leaving a list of long petitions for healing and special help for the aging and ailing members of my family, and for myself. Some time after this I convinced my 80 year old aunt, (who is in charge of a younger mentally retarded sister as well as her mentally retarded sister) and my mother to come to one of the vigils. This elderly aunt had been given a Rosary that was originally silver in color) by a friend who had returned from Italy. After another visit to Bayside this aunt, who has glaucoma, was discovered to have breast cancer which had spread to her liver and her bones. The doctor (an oncologist) had given her from 8 months to a year to live. After a year of bringing her for chemotherapy (in the course of that year, I noticed that her Rosary had turned to gold). I reminded her that this was Jesus and Our Blessed Mother's way of letting her know that she would be healed. This past August she underwent a third battery of tests in order to see how far the cancer had progressed and it was gone--from her liver, her bones and her breast. I praise God and honor Our Blessed Mother everyday for this great miracle by saying the Rosary daily. I continue to tell friends and members of my family about all that has happened and feel confident that this is just the beginning of the wonderful things that God has in store for those who believe in Him and do His Will.

Gratefully acknowledging this miracle, I remain faithfully yours,

J. M.
---
Samir F. El Daief, M.D.
F.A.C.S., F.R.C.S., F.R.C.S.E.
1340 Dekalb Street - Suite 2
Norristown, PA 19401
(215) 272-7234

General - Vascular - Thoracic surgery



February 28, 1991

The Lady Of The Roses Shrine
New York

Dear Sir:

This is to testify that Mrs. Rose Iannozzi has been stricken with an advanced carcinoma of the ovary with ascities. As you well know this is a very lethal disease. She had surgery done about seven years ago and since the surgery and chemotherapy that followed, she was cured completely from her cancer.
I believe that this is very unusual, especially in advanced cases.
Thank you for your inquiry.

Very truly yours,

Samir F. El Daief, M.D.
---
March 16, 1991


Dear Sister:


Last Fall, I wrote to you regarding my 33 year old brother (N. G. Manitoba, Canada), who had a cancerous brain tumour. He underwent surgery in October, was given cancer treatments in November & December, and sent home with the news that no one could help him any more. The tumour was still growing deeper in his brain. At the time that he was told nothing could be done, the Doctor asked that he come in a month's time for one last C.T. Scan and to renew his prescriptions. On February 22, he went for his C.T. Scan, and lo and behold, the tumour and cancer had disappeared! The Doctors couldn't explain to him what had happened. It is so obvious that God had heard our prayers. I would like to thank you for your help and prayers and let you know about the wonderful news. . . .


Sincerely,



A. G. K.


Winnipeg, Canada
---
March 27, 1991
To whom concern:
Please send me 5 rose petal from Our Lady of the Roses.
Sincerely,
V. B.
[P.S.] All my family live in Costa Rica. One of my brother-in-law got cure when I send to him one rose petal 3 years ago. Doctors told him that he had cancer and he [had] 3 months to live....
from Washington, D.C.
---
August 26, 1983
Dear Veronica,
Please tell Jesus and Mary that I thank them with all my heart for curing me of cancer. I believed with all my heart and wanted that cure so badly.
I would like the following to be a testimonial of what happened to me. About five years ago, I was told by my doctor that I had cancer of the right breast, and so I had it removed. Later, he told me that I still had it. So I went through chemotherapy, because that was all they could do for me.
Earlier this year, I saw an article in the Buffalo Evening News about Our Lady of the Roses Shrine, Mary Help of Mothers, Veronica Lueken, and the Bayside pilgrimages. There was also a Buffalo-based phone number I could call if I was interested.
I was interested indeed, with all these years of suffering. I wanted so much to be cured that I called and asked questions. But with my illness and pain I couldn't go on the pilgrimages. So I wrote a letter and they placed it as a petition at the shrine on my behalf. Sometime in April, I received a newsletter and two rose petals. I had my friend, Bev, pin a rose petal on the inside, on the right side of my blouse. On August 8th, I received a letter saying that my petition to be cured had been placed at the vigil.
I went to my regular doctor to find out the results of my semi-annual cancer check-up. He told me that it was a miracle! I was cured! My doctor said that he will testify for me. He also said that I have one more year of check-ups, and that I should keep saying my prayers and not backslide.
I won't. I'll keep going to confession, Sunday Mass, and continue saying my rosary.
Thank you and bless you in all your work,
from Buffalo, New York
---
Guatemala of the Assumption, January 7, 1996
Dear Brothers in Jesus Christ,
I wish to hereby express my deepest appreciation to Our Lady of the Roses, Mary Help of Mothers for Her intercession before God the Father, God the Son and God the Holy Ghost for having cured me of cancer.
Seven years ago, during Easter Week of 1989, an ovarian cancer that I had burst. I had had it for a few months but within the span of one and a half months it grew to the size of a pregnancy. I ignored it because I had already had an enormous ovarian cyst removed.
Because I felt so bad when it burst, I visited my fellow doctor colleagues in the Emergency of the Military Hospital (Reg. 108788) where I was diagnosed with ovarian cancer. They found that the cancerous seromucous liquid had invaded my right lung (Meiggs' Syndrome), and that I could only breath with one lung, and was barely able to speak.
I was operated upon at the Regional Hospital of Cobán, Alta Verapaz on March 29, 1989, and my cancerous ovary was removed. It measured 16x13x8 cm, when the normal size of an ovary is that of a nut. The dark bloody liquid, as well as the ovary, were analyzed in the Path Lab and the diagnosis was that of PAPILLARY OVARIAN CISTOADENOCARCINOMA, with ramifications throughout my body (metastasis).
This diagnosis was confirmed by the Cancer Institute (Reg. 126870). Upon learning of the diagnosis, I immediately prayed to OUR LADY OF THE ROSES begging Her to cure me. I did not tell Her how; I did not know how, I only knew that my life had ended.
I suffered the treatments of cancer, since it had already metastasized. Chemotherapy is very expensive and extremely painful. It should go on for life, or at least for 5 years, and even while in treatment, one can die from the disease. I only received 2 full treatments, a half of another, and a fourth of another, because of it's high cost. I knew the pains of cancer: I could not sleep from the pain; I could not eat because of the pain, I could not even think because the pain grasped my very thoughts.
Little by little I started to improve. God has granted me more life through OUR LADY OF THE ROSES! I give this testimony which I offered Her. I am very grateful to Her and to the Blessed Trinity for giving me the time to amend my life.
Affectionately,
Dra. Odilia Leiva Bejórquez
Member No. 7199
Guatemala, Guatemala
Central America
---
NOT A TRACE OF CANCER
May 13, 2002
To Our Lady of the Roses,
This letter is to acknowledge the miraculous cure experience by my sister Norma. Back in January 14, 2001, I sent a letter for her and sent her a rose petal and a rosary. After surgery, the Doctor said he had tried to get all the cancer, but that she would need chemotherapy and radiation treatments. We prayed and never gave up on her and asked friends and relatives to pray for her. Two weeks ago she got her results from a biopsy taken a week before. Not a trace of cancer was to be found. My sister and my family are very grateful for your prayers. Norma will keep her rose petal and her rosary close to her always.
Sincerely,
Mrs. C.
Corpus Christi, Texas
---
ALL THE CANCER WAS CONTAINED
November 19, 2001
Dear Mr. Lueken,
Please use this note to show other people the true miraculous power of Our Lady and Jesus. On July 27, I was seeing my doctor regarding a female problem I had. My previous test results came back positive for cancer. As I sat in my doctors office I was terrified! to say the least. All I could hear were her words, "it's cancer." I would now face a complete hysterectomy. I went home and took a Blessed Rose Petal and prayed every chance I got. I slept with it, went to work with it, and carried it with me at all times. I begged Our Blessed Mother and Jesus to grant me a cure. A warm feeling would come over me as I fell asleep. The day of my surgery, I was really not as scared as I thought I would be. After it was all over the doctors came out and told my daughter all the cancer was contained and no further treatment would be required!! I am truly sure that this was a cure from Our Lady and Jesus. St. Theresa and many other Saints played a role in this also. If you see fit, please feel free to use this as a testimonial for others. God Bless you and your staff.
Ms. S.
Chicago, IL
To read about more cures, click here...
| Home | Introduction | Prophecies | Directives | Order Form | Testimonies | Veronica | News | Photos | Bible | Magazine | Newsletters | Radio Show |
The electronic form of this document is copyrighted.
Quotations are permissible as long as this web site is acknowledged through hyperlink to: http://www.tldm.org
Copyright © These Last Days Ministries, Inc. 1996 - 2016 All rights reserved.
P.O. Box 40
Lowell, MI 49331-0040
Revised: December 05, 2016
We encourage everyone to print or email copies of this web page to all the Bishops and all the clergy. Also, send this page to as many people as possible.