Home - Latest News
Bayside Prophecies
Directives from Heaven
Miracles & Cures
Veronica Lueken
Miraculous Photos

Virgin Mary's Bayside Prophecies Store
Know Your Mass book...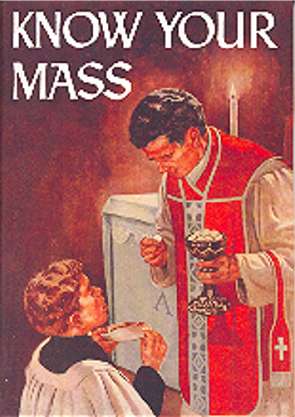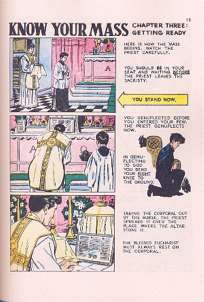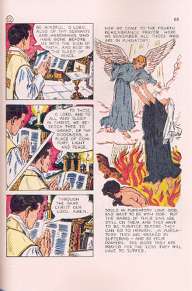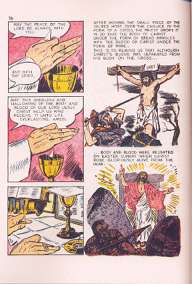 Know Your Mass book...
by Fr. Demetrius Manousos. Originally published by the Catechetical Guild in 1954 (Imprimatur Francis Cardinal Spellman), this is a "comic" book unlike any other. Know Your Mass is a detailed, fully illustrated, step-by-step explanation of the Traditional Latin Mass now reprinted for the first time in full color! The book presents the theology of the Mass in a manner easily understood by children and yet is incredibly interesting and informative for adults as well. This should come as no surprise to those who have read The Seven Sacraments, another Angelus Press reprint by Fr. Manousos, who has the amazing ability to take solid theology and present it to children...without dumbing it down. He was truly a gifted writer. This makes Know Your Mass an excellent catechetical tool for all ages. All parts of the Holy Sacrifice are covered, from the preparation for Mass, the altar, sacred vessels and vestments, liturgical actions, the sanctuary, and some liturgical history as well, including helpful suggestions for children to get the most–or should we say GIVE the most–at Mass. Ideal, NO, PERFECT, as a First Holy Communion gift. Great for converts as well. Anyone who delves into this book cannot come away ignorant of the true significance of the liturgical representation of Our Lord's Sacrifice on Calvary that is the Holy Mass. Highly recommended. 96pp, softcover. $15.00 Item# B353


Qty: Price: $15.00



Directives from Heaven... http://www.tldm.org/directives/directives.htm

D1 - The Holy Sacrifice of the Mass

PDF
D2 - The Holy Eucharist

PDF
D19 - Prayers

PDF
D20 - Importance of Prayer (Part 1)

PDF
D21 - Importance of Prayer (Part 2)

PDF
D79 - Restore My Church

PDF
D90 - Truth

PDF
D91 - Grace

PDF
D93 - Merit

PDF
D94 - Sanctification

PDF
D146 - Honor the Eucharist, Part 1

PDF
D147 - Honor the Eucharist, Part 2

PDF
D148 - Adoration

PDF
D177 - Seminaries

PDF
D178 - Head Coverings

PDF
D231 - Statues, relics, & holy images

PDF
D232 - The Religious Habit & Clerical Garb

PDF
We urgently need your help to keep this web site going. Please send what ever you can. God bless you and thank you in advance.
Receive threefold...
Jesus - "As disciples of the latter days, My children, much shall be asked of you, but I assure you: all that you give in faith and charity shall be returned to you threefold."(6-1-78)
We shall reminisce...
On March 18, 1976 Our Lord said: "I promise you, My children, your labors shall bear great fruit for the eternal Kingdom of your God. You shall all gather one day with Me and We shall reminisce of the days upon earth and the glory that your efforts and your struggles through this mission have brought to the Eternal Father, and the many souls that you have rescued from the abyss."
Home Latest News | Bayside Prophecies | Directives from Heaven | Miracles & Cures | Veronica Lueken | Miraculous Photos |
The electronic form of this document is copyrighted.
Quotations are permissible as long as this web site is acknowledged through hyperlink to: http://www.tldm.org
Copyright © These Last Days Ministries, Inc. 1996 - 2004 All rights reserved.
P.O. Box 40 616-698-6448
Lowell, MI 49331-0040
Revised: January 19, 2011