Note: TLDM is not definitive in its interpretation of this vision, but merely wishes to indicate that the points in the vision correspond to several major U.S. military sites.

Camp Pendleton, California (Marine)
35 miles north of San Diego. 37,500 active duty; 51,600 family members; 3,600 civilians.
Vandenberg Airforce Base, California (Air Force)
Vandenberg Air Force Base is located on the Central Coast of California about 150 miles northwest of Los Angeles. It is operated by the 30th Space Wing, and is the only military installation in the United States from which unmanned government and commercial satellites are launched into polar orbit. It is also the only site from which intercontinental ballistic missiles (ICBMs) are launched toward the Kwajalein Atoll to verify weapon systems performance. Read more...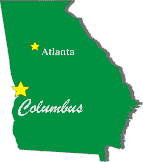 Fort Benning, Georgia (Army)
Fort Benning is located six miles southeast of Columbus, Georgia. The Post consists of approximately 182,000 acres of river valley terraces and rolling terrain.
Fort Benning is known as the "Home of the Infantry," where the United States Army Infantry School was established and through the years gradually emerged as the most influential infantry center in the modern world.
With the Infantry, Fort Benning has added other very significant missions as the years progressed. Among them, Airborne School, where soldiers learn to engage in battle from the sky; Ranger School, where soldiers learn advanced tactics and skills warfare; the 29th Infantry Regiment teaches soldiers how to operate and maneuver the Bradley Fighting Vehicle in combat. Also, Fort Benning is on the cutting edge of future technology, with Battle Labs shaping the way the military will fight future wars.
Contact Fort Benning staff by phone or FAX (requires Adobe Acrobat Reader to download), Click below...
http://www.benning.army.mil/Directory/USAIC%20Staff%20Directory.pdf
---
The awesome Bayside Prophecies... http://www.tldm.org/Bayside/default.htm
These prophecies came from Jesus, Mary, and the saints to Veronica Lueken at Bayside, NY, from 1968 to 1995:
MAJOR INVASION
"Man was created to live peacefully. Man was created to know his God, and in this manner to have a world that is not a paradise, but one in which man could live in peace and security. But now all of the leaders of the world run about and they say it is peace, it is security. Their words are like two prongs from the mouth: they say those words, but then they turn their backs and they are busy getting ready for a major invasion of the United States and Canada.
"Yes, My child, all who read and listen to the Message must know that there is a plan now for Russia, a plan against the United States and Canada. Your nation and Canada are surrounded!" - Our Lady, March 26, 1983
DANGER AHEAD FOR INVASION
"I have come this evening, My children and My child, specifically to warn you of the vast danger that the United States of America and Canada are approaching. The enemies now are gathered from within. I say also, My children, that this also will caution those who live near the waters of the great seas. There is danger ahead for invasion. O My children, pray—pray a constant vigilance of prayer. Wars are a punishment for man's sin." - Our Lady, June 18, 1983
MASTER PLAN OF TAKEOVER
"Do not take lightly the reports of ships out on the sea and submarines. They are there, My child and My children, and they are not out for a joy ride. It is all part of the master plan for the takeover of the United States and Canada.
"I know, I heard the voice also, My child, that said that the United States shall be taken over without a shot to ring out. That is not true, My children. Should they advance upon you as they plan, there will be bloodshed in the streets, blood flowing and mother's hearts breaking in sorrow. Oh, how they will gnash their teeth and cry bitter tears of regret that they did not foresee or listen to the voices from Heaven crying out: Prepare now, for you do not have much longer to exist as a free nation.
"My child and My children, I could go back through the years and remember how many times I came upon earth to try to warn you. Those nations that listened were free from harm. But they had to pray the Rosary—the Rosary and the Scapular." - Our Lady, April 14, 1984
Directives from Heaven... http://www.tldm.org/directives/directives.htm
D10 - Consecrate Russia PDF
D57 - The Great WW III Chastisement (Part 1) PDF
D58 - The Great WW III Chastisement (Part 2) PDF
D59 - The Great WW III Chastisement (Part 3) PDF
D101 - Russia and China, Part 1 PDF
D102 - Russia and China, Part 2 PDF
D103 - Communism PDF
D104 - Invasion PDF
Articles...
Planned U.S. invasion through Mexico
http://www.tldm.org/news3/Nicaragua.htm

Russia plans to invade the U.S. with missiles
http://www.tldm.org/news2/missiles.htm

Al Qaeda might to try exploit security gaps in the Mexican border
http://www.tldm.org/news7/Al-QaidaMexico.htm

Are terrorists breaching U.S. - Mexico border with tunnels?
http://www.tldm.org/news6/tunnels.htm

Russian arms network seen behind Al Qaeda
http://www.tldm.org/News4/arms_network.htm

Major invasion of U.S. - Border patrol overwhelmed by illegals: in 2004, the border patrol arrested 65,814 OTMs (other-than-Mexicans)
http://www.tldm.org/news7/borderPatrolOverwhelmed.htm
There are 4 things you must have to survive the days ahead:
1.) The Douay-Rheims Holy Bible...
"You must all obtain a copy of the Book of life and love, the Bible. Do not accept the new mods. Try to find in your bookstores the old Bibles, My children, for many are being changed to suit the carnal nature of man. I repeat, sin has become a way of life." - Our Lady, October 6, 1992
"I must ask you all to read but a few short chapters a day now, the Book of life and love, your Bible. Knowledge must be gained for all the disciples of My Son, for you will be attacked by scientific minds. But do not be concerned what you will say to them when accosted, for the words will be given to you by the Spirit." - Our Lady, April 10, 1976 (Order Form)
2.) The total Virgin Mary's Bayside Prophesies in 6 paperback books...
The Virgin Mary brings directions from God, the Father in Heaven on how to survive the end times. God, the Father, through the Virgin Mary, tells what is coming, how to prepare for it, how to survive it, and how to even stop it. These six volumes along with the Bible are most important to save yourself and your loved ones. Order it now. Tomorrow may be to late. These 6 pocket size paperback books costs $33.00. (Order Form)
3.) Heaven's Home Protection Packet...
Heaven's Home Protection Packet...
Our Lord stated we must have crucifixes upon the outside of all of our outside doors. In the "Heaven's Home Protection Packet" there are instructions, four crucifixes, a tube of special cement for wooden or metal crucifixes. Wooden crucifixes adhere better to the doors when the aluminum strap is removed from the back. Put a light coat of cement on the back of the crucifix and then press it to the outside of the door. If you have any problems, you can call us at 616-698-6448 for assistance. This Heaven's Home Protection Packet is available for a donation of $5.00 plus $3.00 shipping and handling. Send $8.00 to TLD Ministries, P.O. Box 40, Lowell, MI 49331. Item # P15 (Order Form)

Crucifix on front and back door... The only real protection against terrorists...

Jesus - "Pray and wear your sacramentals. And, also, My children, I ask you again to place a crucifix upon your door. Both front and back doors must have a crucifix. I say this to you because there will be carnage within your areas, and this will pass you by if you keep your crucifix upon your doors." (6-30-84) (Testimonies of lives and homes saved by the crucifixes.) http://www.tldm.org/news/crucifix.htm (Order Form)
4.) Heaven's Personal Protection Packet...
Heaven's Personal Protection Packet . . .

Our Lady tells us to be protected from all evil, we must wear the following sacramentals around our necks: a Rosary, a crucifix, the St. Benedict medal, Our Lady of the Roses medal, the Miraculous Medal, and the scapular. We have all of these sacramentals in a packet we call "Heaven's Personal Protection Packet." This packet is available for a donation of $5.00 plus $3.00 shipping and handling. Send $8.00 to TLD Ministries, P.O. Box 40, Lowell, MI 49331. Item # P5 (Order Form)

Our Lady of the Roses, Mary Help of Mothers promises to help protect our children. On September 13, 1977, She said, "He has an army of ogres wandering now throughout your country and all of the countries of the world. They are in possession of great power; so wear your sacramentals, and protect your children and your households. Learn the use every day of holy water throughout your household. Insist even with obstructions, insist that your children always wear a sacramental. One day they will understand that they will repel the demons."
On February 1, 1974, Our Lady said, "My children, know the value of these sacramentals. Guard your children well. You must awaken to the knowledge that you will not be protected without the sacramentals. Guard your children's souls. They must be surrounded with an aura of purity. Remove them if necessary from the sources of contamination, be it your schools or even false pastors."
This Heaven's Personal Protection Packet is available for a donation of $5.00 plus $3.00 shipping and handling. Send $8.00 to TLD Ministries, P.O. Box 40, Lowell, MI 49331. You may use your MasterCard, VISA, or American Express and call 1-616-698-6448. Item # P5 (Order Form)

Your names have been written in Heaven… "It is not by accident that you are called by My Mother, for your names have been written in Heaven.... But with this great grace you have great responsibility to send this Message from Heaven throughout the world, for if you are able to recover just one more for Heaven, an additional star shall be placed in your crown." - Jesus, August 5, 1975

A great obligation to go forward... "It is not by accident that you are called by My Mother, for it is by merit and the prayers that have risen to Heaven for your salvation. For those who have received the grace to hear the Message from Heaven, you have a great obligation to go forward and bring this Message to your brothers and sisters. Do not expect a rest upon your earth, for you will have eternal rest very soon." - Jesus, June 12, 1976

The sin of omission... "The sin of omission shall condemn many to hell, be they layman or Hierarchy. I repeat: not the sin of commission, but the sin of omission will commit many to hell." Our Lady of the Roses, October 6, 1980

We encourage everyone to print or email copies of this web page to all the Bishops and all the clergy. Also, email or send this web page to the news media and as many people as possible.

| Home - Latest News | Introduction | Bayside Prophecies | Directives from Heaven | Order Form | Miracles & Cures | Veronica Lueken | Miraculous Photos | Bible | Radio Program |

The electronic form of this document is copyrighted.
Quotations are permissible as long as this web site is acknowledged with a hyperlink to: http://www.tldm.org
Copyright © These Last Days Ministries, Inc. 1996 - 2014 All rights reserved.
P.O. Box 40 616-698-6448
Lowell, MI 49331-0040
Revised: August 03, 2014