| Home - Latest News | Introduction | Bayside Prophecies | Directives from Heaven | Shopping Cart | Testimonies | Veronica Lueken | Miraculous Photos | Bible | Radio Program |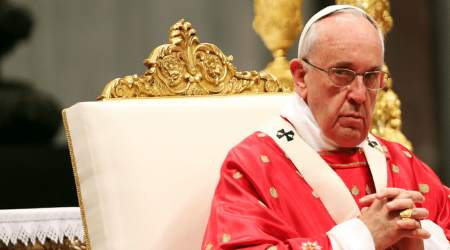 These Last Days News - December 15, 2016
Five Words That Would Calm the Storm...
"I see that the high priests of the House of God have become soft in their ways. They cater to their bodies and do not wish to sacrifice and make penance. There will be no easy road to the Kingdom. They will get down on their knees, and they will starve their worldly bodies until they rid themselves of the demons within them.
"Unless you listen now to my words of caution, you will fall into the trap that is being set for you. The enemy is within the House of God. He will seek to remove your Vicar from among you, and when he does he will place a man of dark secrets upon the Seat of Peter!" - St. Thomas Aquinas, August 21, 1972
"Rome will lose the faith and will become the seat of Antichrist." – Our Lady of La Salette, September 19, 1846
"Without the number of prayers needed to balance the scale and acts of reparation from the children of earth, there will be placed upon the Seat of Peter one who will put and place souls and the House of God into deep darkness." - Our Lady, March 18, 1974
The above Messages from Our Lady were given to Veronica Lueken at Bayside, New York. Read more
OnePeterFive.com reported on December 13, 2016:
by Steve Skojec

In one of the pivotal scenes of the Gospel — one of several moments in which the apostles begin to recognize Christ's true power — we find Jesus asleep in the stern of a tempest-tossed boat.

And there arose a great storm of wind, and the waves beat into the ship, so that the ship was filled. And he was in the hinder part of the ship, sleeping upon a pillow; and they awake him, and say to him: Master, doth it not concern thee that we perish? And rising up, he rebuked the wind, and said to the sea: Peace, be still. And the wind ceased: and there was made a great calm. And he said to them: Why are you fearful? have you not faith yet? And they feared exceedingly: and they said one to another: Who is this (thinkest thou) that both wind and sea obey him? (Mark 4:37-40)

This is one of my favorite scriptures. Like so much of what happens in the New Testament, the speech is restrained, the drama of the scene muted. But explore the subtext: at least four of the apostles — Simon Peter, Andrew, James, and John — were experienced fisherman, who spent their lives on the water. The storm must have been absolutely ferocious for them to have been so terrified. They turn to Our Lord and find Him sleeping, and they get a bit upset. As they rouse Him with their concerns of imminent doom, He turns and with just three words — "Peace, be still" — he brings the storm to heel.

The Roman Pontiff, whom St. Catherine of Siena famously referred to as "Our Sweet Christ on Earth", also has the power to calm the raging storm now buffeting the Barque of Peter. It is not the battering of wind and waves that endangers the vessel, but confusion, error, and doubt — and worse, a rapidly metastasizing schism, spreading like a deadly poison throughout the Mystical Body of Christ.

When it comes to the self-made crisis in the Church — the mounting battle over marriage, divorce, remarriage, sacraments for those in objective grave sin, and the question of the existence of objective sin itself — our Holy Father, like the very Christ he is duty-bound to serve, has at his disposal five simple words that would pacify the tempest:

"No. Yes. Yes. Yes. Yes."

These are, of course, the only answers that a Catholic could ever give to the dubia. There are no other options. No exceptions. No pastoral discernment. No need for verbosity or for yet more nuance.

Distilled down to a crudely simple form, the dubia are essentially as follows:

Can the divorced and remarried who are still engaged in a sexual relationship receive absolution and communion without a change of life?
Do absolute moral norms still exist?
Does objective grave sin still exist?
Is the teaching still valid that however much circumstances may lessen an individual's guilt, those circumstances cannot change an intrinsically evil act into a subjectively good act?
Does the Church's teaching that an appeal to conscience cannot overcome absolute moral norms still hold true?

These five questions are so simple, their answers so obvious, they require no more than 30 seconds of Francis' time. (If it would make things easier, the five words could be spoken from the pressurized cabin of an airplane, an environment that seems to stimulate papal loquacity.)

Sadly, the only clarity Catholics now have from their shepherd-in-chief is the understanding that this will not happen. It has been nearly three months since Francis has been presented with the dubia. And what he has made obvious — through his own actions, inactions, and insinuations — is that even if he spoke, he would not answer in this simple, straightforward way. The stakes are just too high. For him to respond to the dubia in the orthodox fashion outlined above would be to undo the work of not just his precious synods, but his magnum opus, Amoris Laetitia.

If, on the other hand, he were to answer the dubia with the answers above inverted — as his exhortation seems to indicate is his thinking on these topics — he would, in essence, be making a public admission that he is a heretic — if we take as the definition of heretic that of St. Thomas: "a species of infidelity in men who, having professed the faith of Christ, corrupt its dogmas".

So he does not answer. He cannot. And yet, not to answer is to answer.

His silence, however, is anything but stoic. There are those who have been speaking on his behalf, acting like little better than henchmen, saying the things he is apparently afraid to say. Men close to him. Men such as a few of his newly-picked cardinals (or old friends in the curia or in other influential positions in Rome); certain useful prelates in the East; and certain advisers and allies in the media, such as Fr. Antonio Spadaro and papal biographer Austin Ivereigh.

It is this last figure who seems to have taken point in the all-out assault against papal questioners. In an invective-laden and self-indulgent diatribe at Crux, Ivereigh — who has constructed his own fortification against any personal criticism by successfully suing the Daily Mail for libel — tears viciously into the Four Cardinals and their supporters, impugning their motives and calling them "dissenters" from Church teaching akin to those who rose up during the papacy of John Paul II:

What to them seems entirely self-evident – arguments, logically developed from absolute first principles, backed by a few emeritus bishops, building to a case that cries out to be answered – almost always meets with silence from Rome. At this point there is a reaction of anger and stupefaction which over time coagulates into suppurating resentment.

Some will break off, claiming the one true Church lies elsewhere or nowhere, but most resentfully stay, "clinging onto my faith by my fingertips" as they like to say, or "still a Catholic – despite the pope's best efforts to drive me out."

Clinging to the pain of their betrayal, they take refuge in their progressive or traditionalist liturgies and incandescent websites, firing off letters and petitions from lobbies and associations, vainly demanding, as "faithful Catholics" that the pope do this, that, or the other.

[…]

Francis can no more respond to the cardinals' dubia than Benedict XVI could answer a petition to ordain women as deacons: because the Catholic Church has its own mechanisms of development, based on consultation and spiritual discernment.

Put another way, whether it is a conclave or a synod, the Catholic Church likes to lobby-proof its deliberations, precisely to allow the Holy Spirit space to breathe.

Francis cannot answer the cardinals directly – although he has done indirectly countless times – without undermining that action of the Holy Spirit present in the most thorough process of ecclesial discernment since Vatican II. As he last week told the Belgian Christian weekly Tertio, everything in Amoris Laetitia – including the controversial Chapter 8 – received a two-thirds majority in a synod that was notoriously frank, open and drawn out.

Roma locuta, causa finita, as Catholics used to say. And the case is even more closed this time, because it is the universal Church which has spoken, not just the pope.

To respond to the cardinals would be tantamount to rewinding the clock, to refuting the very process of the synod, in order to rehearse arguments that the synod settled, if not resolved.

Accusations of schism, bitterness, impulsivity, and resistance to the "Holy Spirit" are thereby mixed with the cultivated deception of a "two-thirds majority" that even Msgr. Pinto inadvertently admitted, in a recent interview with Edward Pentin, only came to exist after the rules were changed and the deck was stacked:

Given the clear manipulation at both synods, claiming they were the work of the Holy Spirit has disturbed some of the faithful. I therefore reminded him that the most controversial topics failed to obtain a two-thirds majority in the first synod, and so should customarily have been rejected (the Pope authoritatively instead insisted they be carried over to the second synod). To this, he replied: "Yes, but you bind the Holy Spirit to the two-thirds? That's a bit special, no?".

A two-thirds majority is required during a synod to offer reassurance that whatever passes is of the Holy Spirit. Synods also have no authority to change doctrine and discipline, as stated in canon 342 of the Code of Canon Law, but rather to assist the Pope in safeguarding and promotion of sound doctrine concerning faith and morals.

To further argue his point, Msgr. Pinto referred to the "wide consultation" around the synod in the form of questionnaires, and pointed out that for the second synod last year, bishops' conferences elected synod fathers to participate. He stressed that, for the second synod, every proposition passed by two-thirds. Therefore, for him, the two-thirds majority became an important sign of the Holy Spirit at work, but only when they all achieved the required majority to pass and did not need to be forced through from above.

Pentin, of course, reveals the way the papal cabal rigged the game:

Added to that inconsistency, he omitted to mention that not all the synod fathers were elected at the second synod: 45 were handpicked by the Pope (exceeding the usual 15% limit of total delegates) because most of them supported controversial disciplinary changes in this and other areas. They included Cardinal Godfried Danneels, the archbishop emeritus of Brussels, Belgium, found to have covered up a sexual abuse case.

[…]

At the conclusion of the synod, the remarried-divorcee discernment and accompaniment proposition ended up passing a two-thirds majority by just one vote, probably an impossible feat without the 45 unelected delegates and, it is argued, without the omissions in the text. [emphasis added]

It is of critical importance to remember that not a single defender of Amoris Laetitia has attempted answer the dubia. They can't, for the same reasons Francis can't: it would ruin their momentum, embolden their opponents, and reveal their true agenda.

So their arsenal instead consists of threats, character assassination, misdirection, gloating, and scorn. Lacking any honest rebuttal, they are capable only of casting stones. Not one of these papal stand-ins has made an effort to appear concerned with truth; their only observable motive is getting what they want. And what they want will result in not just the complete destruction of sacramental discipline and institutionalized sacrilege, but also a critical wounding of all of the Church's claims — about Christ, about the Eucharist, about the infallibility of the Magisterium on faith and morals. Opening the door to those cases — however limited — in which the Church would allow those living in manifest grave sin to receive absolution and Holy Eucharist is tantamount to the removal of the cornerstone; a seemingly insignificant piece that brings the entire edifice tumbling down.

This has been the theme of the entire Francis pontificate: it is a non-stop attack on truth, on authority, on the Sacraments, on orthodoxy, on the very ability of the baptized Christian to know right from wrong with certainty and to form his conscience and act accordingly. It appears, in some strange way, to be an attempt to put back the fruit of the tree of knowledge of good and evil, to take away from us the belief that we can ever know such things as "good" and "evil" or ever live up to the Divine Law — while planting the doubt that such a law exists at all. It is a bizarre, solipsistic deception, seeming very much like something straight from the mouth of the serpent in the third chapter of Genesis.

Where the popes once named Doctors of the Church, Francis spits invective at "Doctors of the Law."

Where the Church provided absolute moral clarity in a complex and fallen world, Francis rails against those seeking an understanding of "black and white".

Where the Catholics of old stood athwart an empire, barbarians, and tyrants, suffering martyrdom before giving a single pinch of incense to a false god, Francis mocks any who are so committed to their faith that they appear "rigid", deriding them as "fundamentalists" and slandering their desire to live out The Great Commission as proselytism, which, to his mind, is "the greatest sin".

Already, the moral turpitude enshrined in Amoris Laetitia has already crept out fetid tendrils to pollute other teachings of the Church. Just this week, the bishops of Atlantic Canada released a document "allowing priests latitude to decide whether to give euthanasia seekers the sacraments before they are killed."

Champagne also referred to the Holy Father's Amoris Laetitia in explaining the Atlantic bishops' vision of pastoral care for those contemplating or arranging for assisted suicide or euthanasia.

Amoris Laetitia affirms Catholic teaching while recognizing "there are people who are not yet there," Champagne said.

Thus when it comes to people who are suffering and contemplating, or are arranging for assisted suicide or euthanasia, "we will welcome them, try to understand and journey with them."

[…]

The Atlantic bishops' document … also quotes Pope Francis' apostolic exhortation Evangelii Gaudium, or Joy of the Gospel.

The Holy Father "reminds us that the one who accompanies others must realize that each person's situation before God and his/her life of grace are mysteries which no one can fully know from without," the Atlantic bishops write.

"Consequently, we must not make judgments about people's responsibility and culpability."

"To one and all we wish to say that the pastoral care of souls cannot be reduced to norms for the reception of the sacraments or the celebration of funeral rites," they note.

Relativism. All is now relativism within the Church. The intentional obliteration of absolute moral values and the notion of objective grave sin is a gateway to the justification of every kind of evil. The true "Francis effect" is nothing less than the near-total erosion of the Catholic Faith in pastoral practice. And yet this revolution — for it most certainly is a revolt — is shrouded in cowardice. Its leaders are so accustomed to slinking around in darkness that they cannot bring themselves — even though they control the entire visible hierarchy of the Church — to make bold and unequivocal their heretical aims.

You want to unmake the Church? Say so. Stop conniving like snakes. Be men of action. Stake your claim. Make clear your purpose. See if you really can "be as gods," triumphant and without the burden of consequence.

Cardinals and Bishops, Priests and Religious, laity of every kind who love Our Lord Jesus and His mystical bride, it is time to rise up together as a unified body and stand our ground. There is no more "wait and see". There is no more benefit of the doubt, because there is no more doubt. No more trepidation about whether this, at last, is the hill to die on. There are no more hills.

Cardinal Burke, you — and by extension, those courageous prelates who joined you in issuing and supporting the dubia — promised us an act of formal correction in the event that Francis did not respond to the dubiaas he should. We are awaiting the discharge of your sacred duty; we are anticipating the revelation to the Church of that which only the successors of the apostles can declare: whether the apparent material heresy of Jorge Mario Bergoglio — thus far accepted by the Universal Church as Pope Francis — is now manifest and obdurate, and whether the faithful have, therefore, a duty not to follow him.

Holy Father, time is running short, but you still have a chance to repent of what you have done. You could yet calm the storm with those five words: "No. Yes. Yes. Yes. Yes." Our Blessed Lord made clear that no other answer will suffice. (Mt. 5:37)

Otherwise, it is only a matter of time before a full-blown schism is upon us — and it will not be one of our making.

Correction: in the original article, we said "not a single defender of Amoris Laetitia has attempted answer the dubia." While this is true of those who are speaking on behalf of the pope, Rocco Buttiglione did attempt an answer in defense of AL, which we responded to here.

Editor's Comments: Matthew 16:18 "And I say to thee: That thou art Peter; and upon this rock I will build my church, and the gates of hell shall not prevail against it." Jesus said; "the gates of hell shall not prevail against 'IT'" (the Church) not 'HIM' (the Pope).
The Church survived the Imposter Pope Paul VI in the 1970's. http://www.tldm.org/News3/impostor.htm The Church survived erroneous popes in the past history of the Church and "IT" will survive them in the future.
"There will be an uncanonically elected pope who will cause a great schism, there will be diverse thoughts preached which will cause many, even those in the different orders to doubt, yea, even agree with those heretics which will cause my Order to divide, then will there be such universal dissensions and persecutions that if those days were not shortened even the elect would be lost." - St. Francis of Assisi (The Reign of Antichrist, Fr. R. Gerald Culleton)

EDITOR'S NOTTE: We welcome your comments at the end of this page. Email a link or print out a copy of this web page to your clergy, family, friends and relatives. Email this page to a friend./span>
CURIA
"My children, what I have warned you of the past is developing fast in Rome. The agents of 666 now are in full control of the Curia. O My children, I beg you, as your Mother, to pray and pray for your Vicar. Do much penance and acts of atonement for your bishops. Many shepherds have fallen asleep. Satan has poisoned the minds of many. The doors of the Eternal City of Rome were opened and demons entered to wreak havoc in the House of My Son." - Our Lady, June 18, 1977
WAR AMONG YOUR CLERGY
"The Eternal City of Rome shall go through labor pains. The struggle shall lead to blood within the streets. There shall be a war among your clergy. It shall be bishop against bishop and cardinal against cardinal, for 666 has entered upon Rome. I repeat, My children: awaken from your slumber! 666, the forces and agents of satan, have entered upon Rome!" - Our Lady, July 24, 1976
We strongly encourage you to print and/or email copies of this web page to all the bishops and clergy. Also, email or mail a copy of this web page to the news media and as many other people as possible. Email a copy of this page to everyone you know.
We urgently need your prayers and financial support to be able to continue to create these web pages. Click here... Thank you in advance.
When you pray the Holy Rosary, you have Our Lady's hand in your hand. When you pray the Holy Rosary, you have the power of God in your hands. Start now! Let's All Pray the Rosary Together Around the World for God to Restrain the Hierarchy of the Catholic Church from Error... Click here...

The Virgin Mary's Bayside Prophecy Books are Now Available in E-book Version. Click Here Now!
Our Lady of the Roses Awesome Bayside Prophecies... http://www.tldm.org/Bayside/ These prophecies came from Jesus, Mary, and the saints to Veronica Lueken at Bayside, NY, from 1968 to 1995.
HIGHEST MITRES
"Do not be misled by the outer clothing of man, for there are many wolves in sheep's clothing, wearing the apparel of rank. Know that many have given themselves to satan.
"Pray, pray much for those who wear the highest mitres, for they, too, have set themselves onto the road to hell. Your prayers and your acts of sacrifice and those who hear My voice, pray much for the Red Hats that have gone onto the wide road." - Our Lady, October 2, 1974

HIGHEST PLACES OF THE CHURCH
"We ask that you pray much. Pray for those in the House of God who have lost their way. Many mitres are now going onto the road to perdition. Pray for them, for it is of great sorrow to Our hearts to see a man of God fall from his mission.
"Satan has entered into the highest places of the Church.
"Pray much. I have asked you in the past to help patch the cracks. The bark of Peter flounders.
"You will stand fast with Our Vicar. Do not allow your hearts, through your ears and human senses, to be misled. The enemies of God send out false interpretations." - Our Lady, April 13, 1974

CONTROL OF MANY MAJOR POSITIONS
"Control—you must know, my child, and tell the world that satan has control now of many major positions in the House of God, in the Eternal City of Rome. Traitors surround your Vicar. His sufferings are great.
"Already they have chosen his successor. But pray, my children, pray much that he does not be removed, for woe to the world! The crucifixion of the Mystical Body of Christ! Woe to mankind!"
Veronica - Now Michael is stepping back, and he's now pointing with his spear. He has a spear in his right hand. He's pointing with his spear now, and he's pointing to a cardinal. And he's now writing above his head: "W".
Now he's going over—I should be able to see him; he's standing right in front of him, and he's pointing to the next cardinal, and he's writing above his head: "A".
And he's then going to the next one—he's sitting way over at the end, though, and he's writing above his head: "S".
Now he's coming forward, and he's pointing his spear with disdain at a "V", a big "V". A big "V" now is appearing on the head of, I guess he's a bishop, or archbishop. He's wearing the same kind of a, like a . . . a . . . he's got a biretta-like, one of those little round hats. It's sort of a purplish color. And now above his head is written the letter "V".
Now Michael is bending forward.
St. Michael - "They are the initials, my child. You will pray for them, and ask many of earth's children to pray that they come out of the darkness. Their souls wallow in sin. They are blinded, and they are misleading those under their rule.
"V. does much damage to the Holy Father [Pope Paul VI] by changing his correspondence. V. rewrites his letters. V. censors his mail. He did not, my child, receive the medals you sent to him. He did not receive your correspondence, my child. The Holy Father shall receive his knowledge from Mary, the Queen of Heaven and his Mother." - St. Michael, August 21, 1974

"SET TO RIGHTS THE DAMAGE"
"I, Michael, guardian of the House of God, give fair warning to all cardinals and bishops in all houses upon earth, churches, that you must set to rights the damage that you have created, the damage that has destroyed many souls.
"It will be a command of the Father from Heaven that all in authority defrock and excommunicate those under their rule who seek to destroy the Faith as given by the Father from Heaven.
"Speak, my child; speak now as I have directed you. There is a major law in the Faith of Jesus Christ that none shall enter into secret societies of the Masons. The sons of satan are rulers, known by the name of Freemasons. All who join this heinous..."
Veronica - Oh! Oh, my goodness! Oh!
St. Michael - "All who join this secret society will immediately be condemned to the abyss forever.
"Those in rule will excommunicate and defrock all who enter and make pact with the separated brethren and who will compromise the Faith with the separated brethren." - St. Michael, August 21, 1974

PLAN OF LUCIFER
"You will stand behind your Vicar. The agents of hell surround him. They will not remove him from the Seat of Peter. A greater punishment falls upon man should he be removed from the Seat of Peter! It is the plan of Lucifer to sit his agent upon the Seat. I have warned you many times that your ways have led you into great destruction.
"The hand of God will fall heavy upon your world. For a man to let himself fall into perdition in his lay life . . . but when this perdition has entered into the House of God, it calls for a speedy and fast destruction! For all that is rotten will fall. Weak vines will break, boughs will be bent, but the cross of the living God shall not be bent by the will of man and to satisfy the desires of a corrupt generation! No-o-o! For woe to those who promote evil in the House of God! They will be held accountable in full measure for the fall of the souls entrusted to their care." - Our Lady, May 30, 1973

ANTIPOPE OF HISTORY
"My children, in the past My Church, My people have gone through crucibles of suffering, but I say unto you: My House, My Church upon earth is passing through a trial far greater than any in past history. Lucifer and his agents now are working with diligence and are most successful at this moment in their striving to topple the Seat of Peter and to place in Rome a pope that is the antipope of history." - Jesus, June 18, 1978

SATAN'S AGENT
"The Holy Father will soon undergo a great trial. You will all gather round him and support him on his cross. You will not set up the machinery for the entrance of satan's agent onto the Seat of Peter, for when you do you have reached the beginning of the end!" - St. Peter, August 5, 1972

TRAVELING ROAD OF FALLEN ANGELS
"To all of Our bishops and cardinals: awaken from your sleep! This warning is given so that you will have time to make amends. You are burrowing like rats into the foundation of My House! In your quest to improve, you are destroying My House! In your arrogance, you are traveling the road of the fallen angels! Modernization—you shall not change to please human nature! You will bring man to his God through discipline. The rules have been given to you, set down very clearly in the Book of life, the Bible. You will not change the words to suit your fallen nature! My word to you is this: Return My House to the rule! A House in darkness will shut its doors. The filth must be cleansed!" - Jesus, December 6, 1974

USING RANK TO DESTROY SOULS
"Those who have the highest rank in My Son's House, in the houses throughout your world, are using their rank to destroy many souls. Pray, pray much for them, for they, too, shall burn in the fires of hell." - Our Lady, August 14, 1974

MAN OF DARK SECRETS
"I see that the high priests of the House of God have become soft in their ways. They cater to their bodies and do not wish to sacrifice and make penance. There will be no easy road to the Kingdom. They will get down on their knees, and they will starve their worldly bodies until they rid themselves of the demons within them.
"Unless you listen now to my words of caution, you will fall into the trap that is being set for you. The enemy is within the House of God. He will seek to remove your Vicar from among you, and when he does he will place a man of dark secrets upon the Seat of Peter!" - St. Thomas Aquinas, August 21, 1972

CARDINAL AGAINST CARDINAL
"When I am returned to remain guard at the tabernacles, and my name is returned, you will find the people flocking back into the houses of their God. Instead, now I have been locked out and satan has been invited in. His agents fill the seats of the houses of God. The battle will rage with great ferocity in the House of God—bishop against bishop, cardinal against cardinal, until the score has been settled in favor of the Eternal Father, your Creator." - St. Michael, August 21, 1974
Directives from Heaven... http://www.tldm.org/directives/directives.htm
D36 - Bishops (Part 1) PDF
D37 - Bishops (Part 2) PDF
D122 - Antichrist PDF
D129 - Third Secret, Part 1 - 666 in Rome PDF
D130 - Third Secret, Part 2 - Satan entered the Church in 1972 PDF
D131 - Third Secret, Part 3 - Satan in highest realms of the hierarchy PDF
D132 - Third Secret, Part 4 - Bishop against bishop, cardinal against cardinal PDF
D133 - The Apocalypse / Revelations PDF
D155 - Antipope of History PDF
D186 - Excommunication PDF
D188 - Wrath of God PDF
D190 - Cardinals, Part 1 PDF
D191 - Cardinals, Part 2 PDF
D192 - Cardinals, Part 3 PDF
D300 - Satan's War Against the Papacy, Part 1 PDF
D301 - Satan's war against the Papacy, Part 2 PDF
EDITOR'S COMMENT: Evil is accelerating and the Anti-Christ forces are gaining power in the world. When the persecution starts, all Christian web sites on the internet will be forced to close. Be sure to have in your possession all the following items: the Bayside Prophecy books, Bayside Medals, Douay-Rheims Bibles, the Protection Packets, Candles, Sacramentals, and Religious Books. Purchase these items now while they are still available! You will urgently need them in the days ahead. Also, you can print out all PDF files for the Directives from Heaven and all of the Bayside Prophecies. Copy Our Lady's messages and the Directives from Heaven now while they are still available! Pray to the Holy Spirit for wisdom and guidance on how to prepare now and for the days ahead when the Antichrist is revealed. Viva Cristo Rey!
Articles...
Bishop Athanasius Schneider: Synod Interim Report 'Clearly a Prefabricated Text' Representing a 'Radical Neo-Pagan Ideology'...
http://www.tldm.org/News25/Bishop-Athanasius-Schneider-Synod-Interim-Report-Clearly-A-Prefabricated-Text-Representing-A-Radical-Neo-Pagan-Ideology.htm

Archbishop Burke preaches tough Communion rule: Turn away abortion-rights backers under pain of mortal sin
http://www.tldm.org/News11/ArchbishopBurkeToughCommunionRule.htm

Archbishop Burke: Bishops must discipline pro-abortion Catholic politicians
http://www.tldm.org/News11/ArchbishopBurkeDisciplineProAbortCatholicPoliticians.htm

Pope Benedict supports excommunication for pro-abortion politicians: "Incompatible with receiving Communion"
http://www.tldm.org/News10/PopeExcommunicateDenyCommunionToProAbortCatholicPoliticians.htm

Pope Benedict XVI says that refusing Holy Communion to pro-abortion politicians is a "doctrine of the Church"
http://www.tldm.org/News7/Ratzinger3.htm

Honduran Cardinal: "A politician who publicly supports abortion, he excommunicates himself"
http://www.tldm.org/News10/HonduranCardinalCommunionMustBeDenied.htm

Pope Benedict warns pro-abortion politicians against receiving Communion unworthily
http://www.tldm.org/News10/PopeUnworthyCommunion.htm

Catholics must be free of grave sin to receive Holy Communion
http://www.tldm.org/News6/ReceptionofCommunion.htm

Archbishop Burke: more profoundly sorrowful would be a bishop who failed "to safeguard the worthy reception of Communion"
http://www.tldm.org/news6/Burke2.htm

Sacrilegious Communion and the U.S. bishops
http://www.tldm.org/News6/sacrilege.htm

Austrian Bishop Lugner says mall owner excommunicated for providing space for abortion clinic
http://www.tldm.org/News10/AbortionBishop%20Lugner.htm

Bishop Henry says he would refuse Prime Minister Holy Communion, would consider excommunication
http://www.tldm.org/News7/AbortionBishopHenry.htm
Links...
Bishops and bald eagles, Judie Brown, March 2, 2007
http://www.renewamerica.us/columns/brown/070302

Cardinal Ratzinger said, "The minister of Holy Communion must refuse to distribute it." He did not say 'could,' or 'may,' but that he "must," Barbara Kralis, July 6, 2004
http://www.renewamerica.us/columns/kralis/040706

Prohibition is worthless without enforcement, Barbara Kralis, June 24, 2004
http://www.renewamerica.us/columns/kralis/040624

Is not murder just as evil as lust in the eyes of God? Barbara Kralis, June 8, 2004
http://www.renewamerica.us/columns/kralis/040607

Ten questions regarding the denial of the Eucharist, Barbara Kralis, May 24, 2004
http://www.renewamerica.us/columns/kralis/040524
There are 4 Things You Must Have to Survive the End Times:
1.) The Douay-Rheims Holy Bible...
"I ask that all who hear My voice will take their Bibles, and if they do not have one, search, but find the right Bible, those printed not after 1965, My children." - Jesus, October 5, 1985
"You must all obtain a copy of the Book of life and love, the Bible. Do not accept the new mods. Try to find in your bookstores the old Bibles, My children, for many are being changed to suit the carnal nature of man. I repeat, sin has become a way of life." - Our Lady, October 6, 1992
"I must ask you all to read but a few short chapters a day now, the Book of life and love, your Bible. Knowledge must be gained for all the disciples of My Son, for you will be attacked by scientific minds. But do not be concerned what you will say to them when accosted, for the words will be given to you by the Spirit." - Our Lady, April 10, 1976
The Douay-Rheims Bible was published in 1899. It is the official Bible of the Roman Catholic Church. Almost all other Bibles have been rewritten by Satan. See: http://www.tldm.org/directives/d33.htm , http://www.tldm.org/directives/d415.htm and http://www.tldm.org/directives/d182.htm If you don't have a Douay-Rheims Bible order it now! (Order Form) Yours and your loved ones salvation could depend on it.
Read the Bible cover to cover. If you read 4 chapters a day, you will complete the whole Bible in 334 days. I have read the Bible 2 times and working on the third time. A 75 year old Baptism gentleman told me that he and his wife have read the Bible nine times. Wow!
2.) The Complete Virgin Mary's Bayside Prophesies in 6 Paperback Books...
The Virgin Mary brings directions from God, the Father in Heaven on how to survive the end times. God, the Father, through the Virgin Mary, tells what is coming, how to prepare for it, how to survive it, and how to even stop it. These six volumes along with the Bible are most important to save yourself and your loved ones. Order it now. Tomorrow may be to late. These 6 pocket size paperback books costs $33.00. (Order Form)
3.) Heaven's Home Protection Packet...
Heaven's Home Protection Packet...
Our Lord stated we must have crucifixes upon the outside of all of our outside doors. In the "Heaven's Home Protection Packet" there are instructions, four crucifixes, a tube of special cement for wooden or metal crucifixes. Wooden crucifixes adhere better to the doors when the aluminum strap is removed from the back. Put a light coat of cement on the back of the crucifix and then press it to the outside of the door. If you have any problems, you can call us at 616-698-6448 for assistance. This Heaven's Home Protection Packet is available for a donation of $10.00 plus $4.00 shipping and handling. Send $14.00 to TLD Ministries, P.O. Box 40, Lowell, MI 49331. Item # P15 (Order Form)

Crucifix on front and back door... The only real protection against terrorists...
Jesus - "Pray and wear your sacramentals. And, also, My children, I ask you again to place a crucifix upon your door. Both front and back doors must have a crucifix. I say this to you because there will be carnage within your areas, and this will pass you by if you keep your crucifix upon your doors." (6-30-84) (Testimonies of lives and homes saved by the crucifixes.) http://www.tldm.org/news/crucifix.htm (Order Form)
4.) Heaven's Personal Protection Packet...
Heaven's Personal Protection Packet . . .
Our Lady tells us to be protected from all evil, we must wear the following sacramentals around our necks: a Rosary, a crucifix, the St. Benedict medal, Our Lady of the Roses medal, the Miraculous Medal, and the scapular. We have all of these sacramentals in a packet we call "Heaven's Personal Protection Packet." This packet is available for a donation of $7.00 plus $3.00 shipping and handling. Send $10.00 to TLD Ministries, P.O. Box 40, Lowell, MI 49331. Item # P5 (Order Form)

Our Lady of the Roses, Mary Help of Mothers promises to help protect our children. On September 13, 1977, She said, "He has an army of ogres wandering now throughout your country and all of the countries of the world. They are in possession of great power; so wear your sacramentals, and protect your children and your households. Learn the use every day of holy water throughout your household. Insist even with obstructions, insist that your children always wear a sacramental. One day they will understand that they will repel the demons."
On February 1, 1974, Our Lady said, "My children, know the value of these sacramentals. Guard your children well. You must awaken to the knowledge that you will not be protected without the sacramentals. Guard your children's souls. They must be surrounded with an aura of purity. Remove them if necessary from the sources of contamination, be it your schools or even false pastors."
This Heaven's Personal Protection Packet is available for a donation of $7.00 plus $3.00 shipping and handling. Send $10.00 to TLD Ministries, P.O. Box 40, Lowell, MI 49331. You may use your MasterCard, VISA, or American Express and call 1-616-698-6448. Item # P5 (Order Form)
Incredible Bayside Prophecies on the United States and Canada book . . .
We have researched the Bayside Prophecies on the United States and Canada and put these outstanding prophecies in a 360 page pocket size paperback book. Veronica said it was very good. It tells what is going to happen here and how to prepare for it. Every North American must read this book! Item #B2 Cost $5.00 (Order Form)
Your names have been written in Heaven… "It is not by accident that you are called by My Mother, for your names have been written in Heaven.... But with this great grace you have great responsibility to send this Message from Heaven throughout the world, for if you are able to recover just one more for Heaven, an additional star shall be placed in your crown." - Jesus, August 5, 1975
A great obligation to go forward... "It is not by accident that you are called by My Mother, for it is by merit and the prayers that have risen to Heaven for your salvation. For those who have received the grace to hear the Message from Heaven, you have a great obligation to go forward and bring this Message to your brothers and sisters. Do not expect a rest upon your earth, for you will have eternal rest very soon." - Jesus, June 12, 1976
The sin of omission... "The sin of omission shall condemn many to hell, be they layman or Hierarchy. I repeat: not the sin of commission, but the sin of omission will commit many to hell." Our Lady of the Roses, October 6, 1980
My gift to help spread Our Lady of the Roses' messages to the world.

We encourage everyone to print or email copies of this web page to all the Bishops and all the clergy. Also, email or send this web page to the news media and as many people as possible.
| Home - Latest News | Introduction | Bayside Prophecies | Directives from Heaven | Order Form | Miracles & Cures | Veronica Lueken | Miraculous Photos | Bible | Radio Program |
The electronic form of this document is copyrighted.
Quotations are permissible as long as this web site is acknowledged with a hyperlink to: http://www.tldm.org
Copyright © These Last Days Ministries, Inc. 1996 - 2016 All rights reserved.
P.O. Box 40 616-698-6448
Lowell, MI 49331-0040
Revised: December 15, 2016