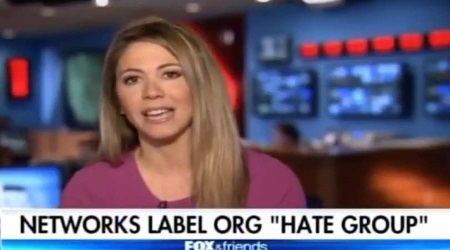 These Last Days News - July 18, 2017
ABC News Calls Religious Liberty Organization a 'Hate Group' for Christian View of Marriage...
"YOU WILL OFTEN BE DELUDED"
"Your news media, My children, are controlled, as other means of communication. You must be very careful what you read now, for you will often be deluded. Much that is credited as coming from the Holy Father is not coming from him, but from those about him who are now in full control.
"The forces, the red forces are gathering within the Eternal City of Rome and throughout all of Europe, My children. Unless man turns back quickly, blood shall flow in the streets. Revolution shall come, and many shall die. The world is entering a time of great trial. Pray a constant vigilance of prayer, My children." – Our Lady, September 7, 1976
POLITICAL POWERS, MONEY POWERS
"There is an octopus, a web of evil now fanning out throughout your world. Political powers, money powers--these have all gathered to bring about the destruction of Christianity. My children, the Luciferians are loose now in great numbers upon your earth. They will work through persons, places, and things. Remember this, My children: persons, places, and things." - Our Lady, June 18, 1978
The above Messages from Our Lord and Our Lady were given to Veronica Lueken at Bayside, New York. Read more
LifeSiteNews.com reported on July 17, 2017:
by Fr. Mark Hodges

ABC News and other mainstream media once again revealed an anti-Christian bigotry and demonstrated why Americans no longer trust them to tell the truth.

ABC's Pete Madden and Erin Galloway went on the attack against the Alliance Defending Freedom (ADF), one of the most respected religious liberty law firms in the country.

Madden and Galloway's piece was titled "Jeff Sessions addresses 'anti-LGBT hate group,' but DOJ won't release his remarks." It regurgitated the long-discredited Southern Poverty Law Center's (SPLC) false designation of the ADF as a "hate group."

Far from hating, the ADF is dedicated to defending the religious liberty of all Americans. ADF attorney Kerri Kupec explained that her organization's mission is to be an advocate for people to be able to live their faith without the threat of prosecution.

But because all Americans includes Christians who disagree that sodomy is healthy, the SPLC launched a smear campaign against them.

The ADF is respected across the country, arguing cases before the U.S. Supreme Court. They stand with bakers and florists, often pro-bono, against lawsuits forcing them to betray their sincerely held beliefs. In the last seven years, the ADF has won seven Supreme Court cases of infringement of First Amendment rights. (They just won Trinity Lutheran v. Comer by a high court vote of 7-2.)

ABC News did not offer any evidence that the ADF has any hateful bias toward anyone. Nevertheless, the Madden-Galloway feature, which was ostensibly about the Attorney General's presumed "anti-LGBTQI" speech to the ADF but never dug deep enough to quote a line from it, focused on "hate." In fact, the ABC News piece used the word "hate" 11 times in the short report.

It turns out Madden and Galloway were following the SPLC's press release, "Attorney General Jeff Sessions to Address Anti-LGBT Hate Group in Closed-Door Event."

Not surprisingly, NBC News, Newsweek, The Daily Beast and others joined the "hate group" chorus against the ADF.

In a statement calling out ABC News and demanding an apology, Kupec accused the media giant of "journalistic malpractice."

"For ABC News to essentially cut and paste false charges against Alliance Defending Freedom by a radically left-wing, violence-inciting organization like Southern Poverty Law Center is a discredit to ABC News and to the profession," Kupec charged. "ABC News has committed journalistic malpractice."

"For the sake of its own integrity, ABC News should issue an apology to Alliance Defending Freedom and retract the defamatory story," Kupec insisted.

Critics say this is just another example of why Americans have lost trust in the mainstream media. "Americans' trust in media is cratering, and the blatant bias and lack of professionalism that ABC attempted to pass off as news can only serve to confirm and intensify that distrust," Kupec observed.

"It is biased stories such as the Sessions-ADF one that give rise to public mistrust of the media," the Catholic League's Bill Donohue noted. "This is beyond 'fake news' — it is a mean-spirited and ideologically driven assault on Christian activist organizations."

"ABC News label(ing) such a respected and revered law firm as a 'hate group' is not just shameful – it's an outright lie," fellow journalist Todd Starnes scathingly critiqued. "Reporters Madden and Galloway should be ashamed of this disgusting piece of propaganda."

Many conservatives agree, and went to the Twittersphere to express their outrage against ABC News and other mainstream media anti-religious bias:

ABC News calls a Christian legal group a "hate group" for defending Christians in court. https://t.co/UujgYzvgYb

— Erick Erickson (@EWErickson) July 13, 2017

Wow, ADF is not a "hate group." Amazing that media keeps treating SPLC seriously. Extreme bias. https://t.co/R0lFCw8Gr4

— Guy Benson (@guypbenson) July 13, 2017

What a shameful and vicious smear by @NBCNews. ADF upholds marriage. If that makes them a "hate group," every Xtian church is a hate group. https://t.co/Nm2mI9nhX6

— Denny Burk (@DennyBurk) July 13, 2017

Smearing Christians who believe the Bill of Rights secures religious liberty as a "hate group" is how you got Trump. https://t.co/C4jCRdaReN

— Sean Davis (@seanmdav) July 12, 2017

Coming to the SPLC's defense was President Richard Cohen. He doubled down on the attack.

Cohen accused the ADF of "spread(ing) demonizing lies about the LGBT community" without listing a single instance. Cohen also charged that the ADF wants homosexuals "back in the closet for fear of going to jail," something the ADF has never advocated. He concluded that "the ADF is doing everything in its power to deny the equal protection of the laws to the LGBT community" — again, a stand the ADF rejects.

Cohen and his SPLC's blatant prejudice against Christians and Christian values is apparent in its listing of any organization disagreeing with the gay and transgender agenda as "hate" based. The SPLC even labels mainstream pro-marriage and pro-traditional family organizations as "hate groups," including the Family Research Council, the American Family Association, D. James Kennedy Ministries, Faith 2 Action, Liberty Counsel, Citizens for Community Values, and evangelical churches.

The "Southern Poverty Law Center is a far-left partisan goon squad that labels any ideology they oppose as hate," Starnes, a Fox News columnist, added.

Specifically, the SPLC targets any institution that disagrees with its denial of the scientifically documented fact that anal sodomy is physically, medically, biologically, psychologically, and emotionally harmful. "Any organization that stands for morality is being targeted," Citizens for Community Values' Barry Sheets summarized.

The SPLC slander is simply without restraint. Whole churches that teach children need both a mom and a dad are described by the SPLC as "in a white-hot fury" of hate. Without offering any corroborating evidence, the SPLC ruthlessly defames them. "These groups are really vile and nasty," they declare.

All in the name of civil rights.

Once a respected civil rights champion, the SPLC indiscriminately places Senator Paul Rand alongside Nazi skinheads. The SPLC even named Dr. Ben Carson to its "hate" list, and only removed his name when a flood of bad publicity followed.

Anyone disagreeing with the fallacy that Islam is peaceful gets labeled an SPLC "hater," too. Somali human rights activist Ayaan Hirsi Ali received the SPLC's "Anti-Muslim Extremist" designation for her criticism of Islam.

"Southern Poverty Law Center spends its time and money attacking veterans, nuns, Muslims who oppose terrorism, Catholics, Evangelicals, and anyone else who dares disagree with its far-left ideology," Kupec added.

The mainstream media's complicit bias is demonstrated not only in being an unfiltered mouthpiece for the ultra-liberal SPLC but in its hypocrisy at not doing so for select, favored groups.

The New Black Panthers and their racist agenda made the SPLC's list but did not get the same treatment as Christian groups. When Sessions noted alleged New Black Panther voter intimidation, The Daily Beast didn't mention its "hate group" listing. Ditto when The Daily Beast wrote about the group in an article about the Dallas police shooter. NBC News, likewise, ignored the group's SPLC listing in two articles.

But for Christian groups like the ADF, the "hate" listing gets center stage, focusing the entire article on it.

The SPLC even admits its bias. Heidi Beirich, the SPLC's Intelligence Project director, conceded to Politico that the group is "focused, whether people like it or not, on the radical right." The reason the SPLC targets the right, she added, is because "we believe that it's uniquely threatening to democracy."

Politico concluded that the SPLC has become "more of a partisan progressive hit operation than a civil rights watchdog … labeling legitimate players 'hate groups' and 'extremists' to keep the attention of its liberal donors and grind a political ax."

The SPLC's tactics have not gone unnoticed internationally. Israeli Ambassador to the U.S. Ron Dermer, after receiving pressure from the group, condemned the SPLC as "defamers and black-listers."

And being blacklisted by the SPLC destroys entire organizations. Donations dry up and liberal protesters harass labeled groups.

The purpose of SPLC blacklisting is to silence dissenters. Cornell Law Professor William Jacobson attests that the group uses its civil rights past to legitimize an anti-Christian crusade. He says the SPLC exploits "the reputation it gained decades ago fighting the Klan as a tool to bludgeon mainstream politically conservative opponents."

And the SPLC's hate-targeting has literal life-and-death consequences. After the SPLC listed the Family Research Council (FRC) as a "hate group," homosexual activist Floyd Lee Corkins entered the FRC building with a gun and 100 rounds of ammunition, shouting "I don't like your politics;" and started shooting Christians. He later admitted to trying to "kill as many as possible," specifically because the SPLC listed the FRC as a "hate group."

Last month's attempted massacre of conservative legislators was attempted by a follower of the Southern Poverty Law Center.

Nevertheless, the federal government lends legitimacy to the SPLC. The American Family Association's Meeke Addison concluded that the Obama administration's FBI contributed to the SPLC's stature.

"The FBI's past acknowledgement of SPLC only served to validate a political organization's fundraising efforts," Addison said. "The FBI's dissolution of any type of relationship with the SPLC is long overdue."

Liberal presidents and would-be presidents welcome the SPLC's guidance on policy. The SPLC worked with the Obama administration, and up to the day before last fall's election, the SPLC "coordinated" with the federal government in anticipation of a Clinton victory, according to Politico.

As for Sessions' speech to the ADF, he noted America's heritage and founding fathers' respect for religious freedom. "Our freedom as citizens has always been inextricably linked with our religious freedom as a people," Sessions said. He talked about the positive contribution "our faith communities" make to society. He defended the Religious Freedom Restoration Act, which Congress passed in 1993.

"This Department of Justice will never allow this secular government of ours to demand that sincere religious beliefs be abandoned," Sessions promised. "We will not require American citizens to give intellectual assent to doctrines that are contrary to their religious beliefs."

"We will defend freedom of conscience resolutely," Sessions concluded. "Every American has a right to believe, worship, and exercise their faith in the public square."

The Attorney General's speech can be read here.
ALL WHO ACKNOWLEDGE MY SON
"As your country and the world progresses into deeper darkness, all who stand for and acknowledge My Son will meet with much persecution." – Our Lady, July 25, 1974
"For that one reason among many, the United States will suffer unless there is placed into your government a group that fears the Lord if they cannot love the Lord. They will fear Him and find measures to stop the slaughter of the unborn." - Our Lady of the Roses, April 14, 1984
MEDIAS ARE FULLY CONTROLLED
"The medias are controlled, fully controlled, My child. Therefore, you cannot judge from the written word or the visual approach." – Our Lady, November 20, 1976

EDITOR'S NOTE: We welcome your comments at the end of this page. Email a link or print out a copy of this web page to your clergy, family, friends and relatives. Email this page to a friend.

The Virgin Mary's Bayside Prophecy Books are Now Available in E-book Version. Click Here Now!
We urgently need your prayers and financial support to be able to continue to create these web pages. Click here... Thank you in advance.
We strongly encourage you to print and/or email copies of this web page to all the bishops and clergy. Also, email or mail a copy of this web page to the news media and as many other people as possible. Email a copy of this page to everyone you know.

When you pray the Holy Rosary, you have Our Lady's hand in your hand. When you pray the Holy Rosary, you have the power of God in your hands. Start now! Let's All Pray the Rosary Together Around the World for the ability to see through the lies of the Devil in the Media... Click here...
Our Lady of the Roses' Awesome Bayside Prophecies... http://www.tldm.org/Bayside/default.htm
These prophecies came from Jesus, Mary, and the saints to Veronica Lueken at Bayside, NY, from 1968 to 1995:
CONTROLLED BY THE FATHER OF ALL LIARS
"In your country, the United States, you must pray for your leader. There is a great necessity for God-fearing men to be among you in positions, high positions in your government.
"My children, I am certain that you all are familiar with the corruption and the evil that has entered upon your government and all of the governments throughout your world. I have watched with dismay and sadness of heart as your governments gather together in a united nation. I feel that they have surrendered themselves now to the enemies of your God, for the major powers are gaining forces, forces of evil to destroy their fellow men.
"My children, do not be deceived by the reports being given to you from your news medias, for they are controlled by the father of all liars and his agents in human form. While your world cries peace, love, and brotherhood, they prepare for war! While your world cries peace, love, and brotherhood, they slaughter their brothers, they murder the children. And what kind of peace will you have when you defy your God? I say unto you: there will be no peace when man has given himself to sin.
"All the nations of the world gather while the vultures gather over their promised land, going unrecognized as signs of the times multiply." – Jesus, March 18, 1977

"WHAT IS COMING OUT IN YOUR PRESS IS CONTROLLED"
"And do not be swerved by the works of mankind. Because what is coming out in your press is controlled, My children, throughout your country and the world. You must pray to be enlightened, so that you will not be deluded by the forces of evil loosed in your country and other nations of the world." – Our Lady, October 6, 1992

VULTURES ARE GATHERING FOR THE KILL
"My children, parents, you must be now guardian of your children's souls. Satan is doing major battle upon the teachers in My Son's House.
"Your governments, your medias of communication, your medias of entertainment are now fully controlled. The United States of America has been plucked. The vultures are gathering for the kill." – Our Lady, April 2, 1977
Directives from Heaven... http://www.tldm.org/directives/directives.htm
D42 - Mass Media PDF
D135 - Moral Issues PDF
D266 - Persecution PDF
D354 - Prince of this World PDF
D391 - Media Controlled PDF
EDITOR'S COMMENT: Evil is accelerating and the Anti-Christ forces are gaining power in the world. When the persecution starts, all Christian web sites on the internet will be forced to close. Be sure to have in your possession all the following items: the Bayside Prophecy books, Bayside Medals, Douay-Rheims Bibles, the Protection Packets, Candles, Sacramentals, and Religious Books. Purchase these items now while they are still available! You will urgently need them in the days ahead. Also, you can print out all PDF files for the Directives from Heaven and all of the Bayside Prophecies. Copy Our Lady's messages and the Directives from Heaven now while they are still available! Pray to the Holy Spirit for wisdom and guidance on how to prepare now and for the days ahead when the Antichrist is revealed. Viva Cristo Rey!
Click here to email this page to a friend.
There are 4 Things You Must Have to Survive the End Times:
1.) The Douay-Rheims Holy Bible...
"I ask that all who hear My voice will take their Bibles, and if they do not have one, search, but find the right Bible, those printed not after 1965, My children." - Jesus, October 5, 1985
"You must all obtain a copy of the Book of life and love, the Bible. Do not accept the new mods. Try to find in your bookstores the old Bibles, My children, for many are being changed to suit the carnal nature of man. I repeat, sin has become a way of life." - Our Lady, October 6, 1992
"I must ask you all to read but a few short chapters a day now, the Book of life and love, your Bible. Knowledge must be gained for all the disciples of My Son, for you will be attacked by scientific minds. But do not be concerned what you will say to them when accosted, for the words will be given to you by the Spirit." - Our Lady, April 10, 1976
The Douay-Rheims Bible was published in 1899. It is the official Bible of the Roman Catholic Church. Almost all other Bibles have been rewritten by Satan. See: http://www.tldm.org/directives/d33.htm , http://www.tldm.org/directives/d415.htm and http://www.tldm.org/directives/d182.htm If you don't have a Douay-Rheims Bible order it now! (Order Form) Yours and your loved ones salvation could depend on it.
Read the Bible cover to cover. If you read 4 chapters a day, you will complete the whole Bible in 334 days. I have read the Bible 2 times and working on the third time. A 75 year old Baptism gentleman told me that he and his wife have read the Bible nine times. Wow!
2.) The Complete Virgin Mary's Bayside Prophesies in 6 Paperback Books...
The Virgin Mary brings directions from God, the Father in Heaven on how to survive the end times. God, the Father, through the Virgin Mary, tells what is coming, how to prepare for it, how to survive it, and how to even stop it. These six volumes along with the Bible are most important to save yourself and your loved ones. Order it now. Tomorrow may be to late. These 6 pocket size paperback books costs $33.00. (Order Form)
3.) Heaven's Home Protection Packet...
Heaven's Home Protection Packet...
Our Lord stated we must have crucifixes upon the outside of all of our outside doors. In the "Heaven's Home Protection Packet" there are instructions, four crucifixes, a tube of special cement for wooden or metal crucifixes. Wooden crucifixes adhere better to the doors when the aluminum strap is removed from the back. Put a light coat of cement on the back of the crucifix and then press it to the outside of the door. If you have any problems, you can call us at 616-698-6448 for assistance. This Heaven's Home Protection Packet is available for a donation of $10.00 plus $4.00 shipping and handling. Send $14.00 to TLD Ministries, P.O. Box 40, Lowell, MI 49331. Item # P15 (Order Form)

Crucifix on front and back door... The only real protection against terrorists...
Jesus - "Pray and wear your sacramentals. And, also, My children, I ask you again to place a crucifix upon your door. Both front and back doors must have a crucifix. I say this to you because there will be carnage within your areas, and this will pass you by if you keep your crucifix upon your doors." (6-30-84) (Testimonies of lives and homes saved by the crucifixes.) http://www.tldm.org/news/crucifix.htm (Order Form)
4.) Heaven's Personal Protection Packet...
Heaven's Personal Protection Packet . . .
Our Lady tells us to be protected from all evil, we must wear the following sacramentals around our necks: a Rosary, a crucifix, the St. Benedict medal, Our Lady of the Roses medal, the Miraculous Medal, and the scapular. We have all of these sacramentals in a packet we call "Heaven's Personal Protection Packet." This packet is available for a donation of $7.00 plus $3.00 shipping and handling. Send $10.00 to TLD Ministries, P.O. Box 40, Lowell, MI 49331. Item # P5 (Order Form)

Our Lady of the Roses, Mary Help of Mothers promises to help protect our children. On September 13, 1977, She said, "He has an army of ogres wandering now throughout your country and all of the countries of the world. They are in possession of great power; so wear your sacramentals, and protect your children and your households. Learn the use every day of holy water throughout your household. Insist even with obstructions, insist that your children always wear a sacramental. One day they will understand that they will repel the demons."
On February 1, 1974, Our Lady said, "My children, know the value of these sacramentals. Guard your children well. You must awaken to the knowledge that you will not be protected without the sacramentals. Guard your children's souls. They must be surrounded with an aura of purity. Remove them if necessary from the sources of contamination, be it your schools or even false pastors."
This Heaven's Personal Protection Packet is available for a donation of $7.00 plus $3.00 shipping and handling. Send $10.00 to TLD Ministries, P.O. Box 40, Lowell, MI 49331. You may use your MasterCard, VISA, or American Express and call 1-616-698-6448. Item # P5 (Order Form)
Incredible Bayside Prophecies on the United States and Canada book . . .
We have researched the Bayside Prophecies on the United States and Canada and put these outstanding prophecies in a 360 page pocket size paperback book. Veronica said it was very good. It tells what is going to happen here and how to prepare for it. Every North American must read this book! Item #B2 Cost $5.00 (Order Form)
Your names have been written in Heaven…
"It is not by accident that you are called by My Mother, for your names have been written in Heaven.... But with this great grace you have great responsibility to send this Message from Heaven throughout the world, for if you are able to recover just one more for Heaven, an additional star shall be placed in your crown." - Jesus, August 5, 1975
A great obligation to go forward... "It is not by accident that you are called by My Mother, for it is by merit and the prayers that have risen to Heaven for your salvation. For those who have received the grace to hear the Message from Heaven, you have a great obligation to go forward and bring this Message to your brothers and sisters. Do not expect a rest upon your earth, for you will have eternal rest very soon." - Jesus, June 12, 1976
The sin of omission... "The sin of omission shall condemn many to hell, be they layman or Hierarchy. I repeat: not the sin of commission, but the sin of omission will commit many to hell." Our Lady of the Roses, October 6, 1980
My gift to help spread Our Lady of the Roses' messages to the world.

We encourage everyone to print or email copies of this web page to all the Bishops and all the clergy. Also, email or send this web page to the news media and as many people as possible.
| Home - Latest News | Introduction | Bayside Prophecies | Directives from Heaven | Order Form | Miracles & Cures | Veronica Lueken | Miraculous Photos | Bible | Radio Program |
The electronic form of this document is copyrighted.
Quotations are permissible as long as this web site is acknowledged with a hyperlink to: http://www.tldm.org
Copyright © These Last Days Ministries, Inc. 1996 - 2017 All rights reserved.
P.O. Box 40 616-698-6448
Lowell, MI 49331-0040
Revised: July 18, 2017